When it comes to Father's Day, we all know it's all about the manly and usually meaty dishes with big flavours. Treat dad to an epic Father's Day meal fit for a king. Whether it's something you throw on the grill, a meat-focused dish, or seafood, here are some easy recipes that will show dad how much you appreciate him.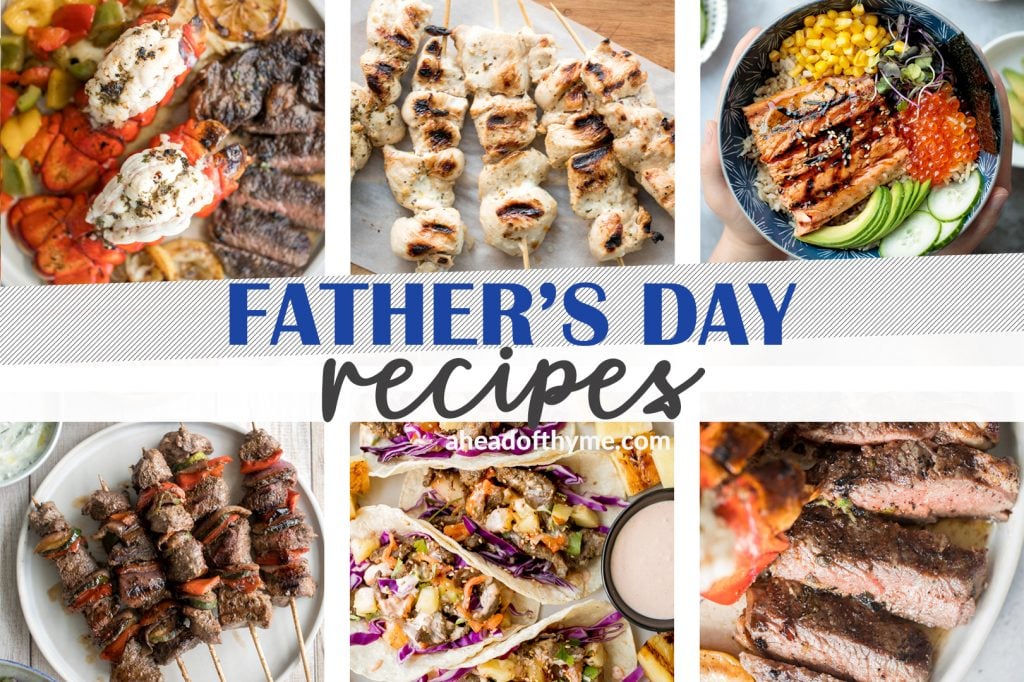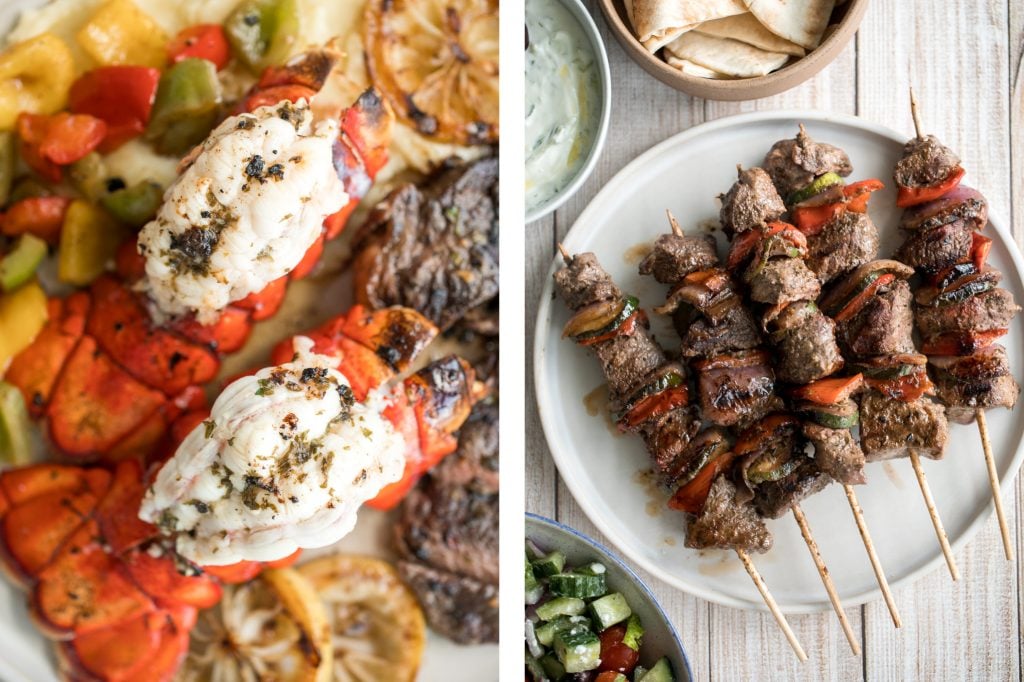 On the Grill
Father's Day is all about the grill, am I right? I mean after all, isn't grilling something that most dads love to do? I am talking about skewers, chicken wings, and grilled vegetables. Grilled food is just light, crisp, and so satisfying during the summer. Make him an epic, restaurant-quality Surf and Turf with Ribeye Steak and Lobster Tails. Or try some easy Greek Chicken Souvlaki Skewers or Souvlaki Beef Shish Kebabs with a side of homemade Tzatziki Sauce. Or my favourite sweet and tangy Teriyaki Chicken Skewers with Pineapple.
Bring on the Meat
If your dad is a carnivore, then win his heart with one of these meat-focused dishes that doesn't necessarily need to be fired up on the grill. Whether he is craving beef, chicken, or lamb, give him a dish he will never forget. Like these fusion Korean Beef Steak Tacos, or classic Lamb Chops with a Dijon Garlic Marinade. You can also go super fancy and give regular chicken a major upgrade by stuffing them with spinach and mushrooms in a Chicken Roulade with Creamy Alfredo Sauce.
From the Sea
Maybe Dad is a seafood kind of guy and is looking for something a little lighter. Treat him to some fresh wild-caught seafood in a Teriyaki Grilled Salmon Rice Bowl or Greek Salmon, or batter up some cod for some Healthy Fish and Chips with Homemade Tartar Sauce. Another very good idea: tacos. How about a combination of Fish Tacos with Lime Crema and Shrimp Tacos with Lime Crema Slaw? They never disappoint.
Side Dishes and Snacks
We can't forget about those sides, because although an entree with big bold flavours is pretty great, you have to dress them up with something on the side. How about some Grilled Corn on the Cob or Zucchini Boats. Or, try some refreshing Pico de Gallo Salsa or Whipped Ricotta Dip? Cornbread Muffins are a pretty great choice when you are looking for Father's Day recipes.
Summer Salads
Maybe dad wants to balance out that meat heavy meal with a light summer salad on the side. How about a refreshing Creamy Cucumber Salad or a vibrant and colorful Italian Pasta Salad which screams summer vibes. The options are truly endless.