We have rounded up 60 of the best and most popular chicken recipes that we have shared over the years including everything from skillet chicken recipes, baked sheet pan chicken dinners, whole chickens, better than takeout chicken recipes (and faster too!), chicken soups, chicken casseroles, chicken skewers, chicken appetizers, and more! So if you are looking for something to make with that package of chicken that you just picked up on your way home, then you have come to the right place. We are covering so many different flavour profiles here, plus lots of quick and easy options for busy weeknights.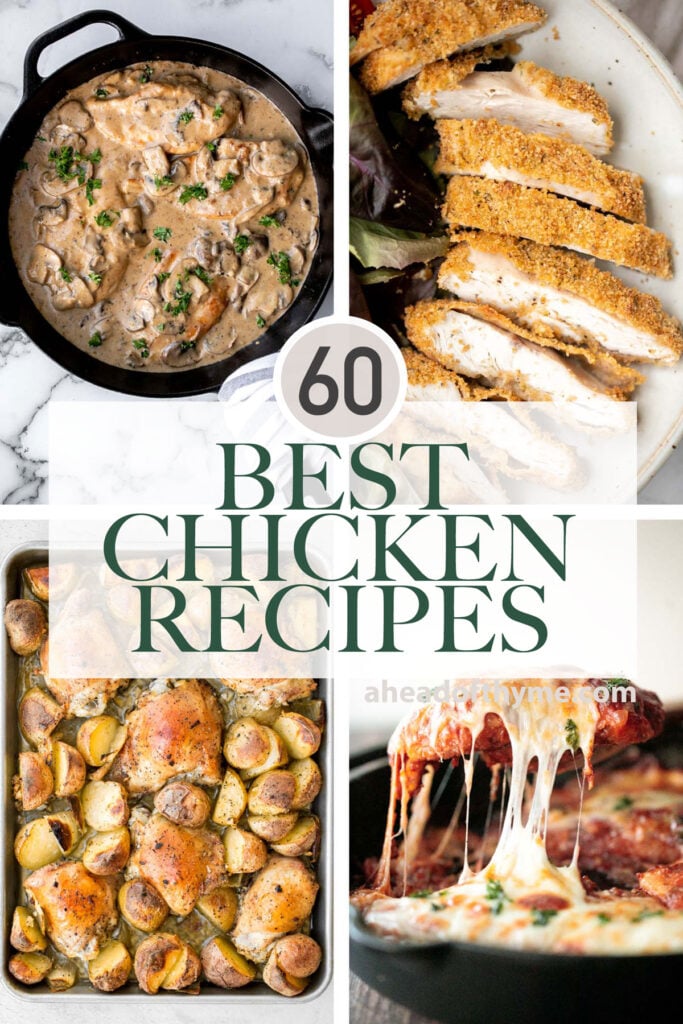 Seriously, let's dive in.
Stovetop Chicken Recipes
Chicken marsala in creamy mushroom sauce is a quick and easy 30-minute chicken dinner that is pure comfort food goals. A total crowd favourite.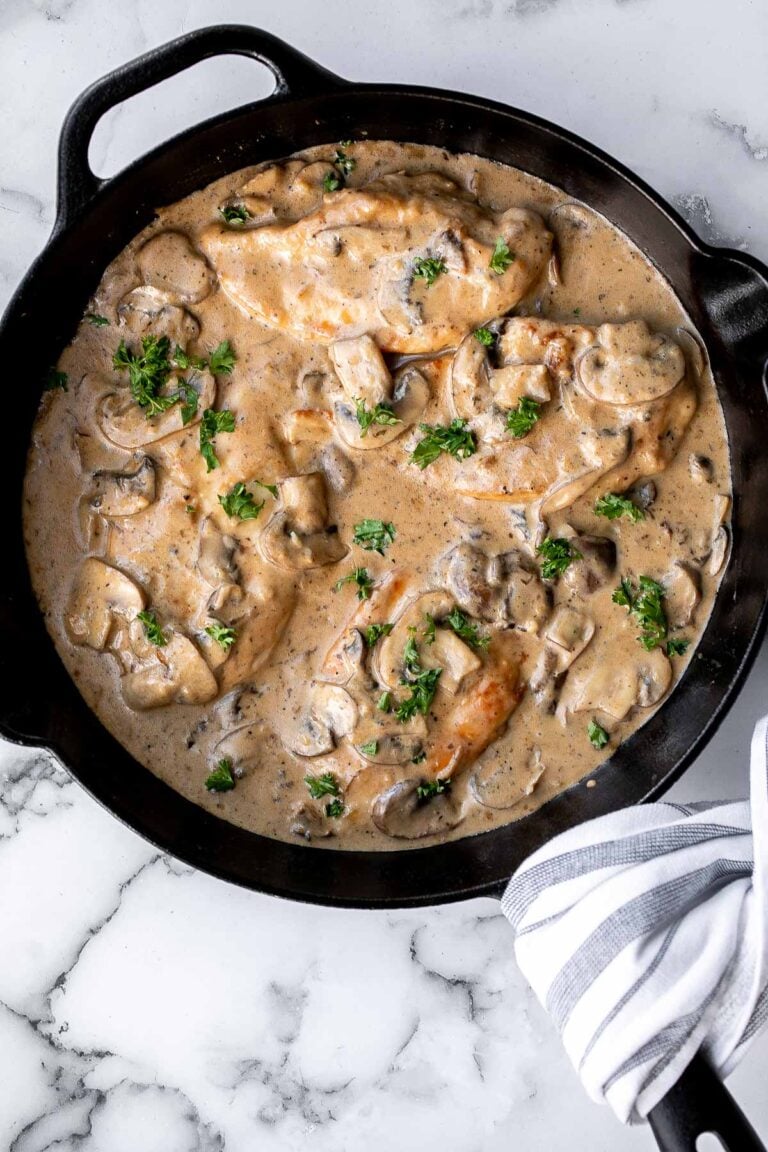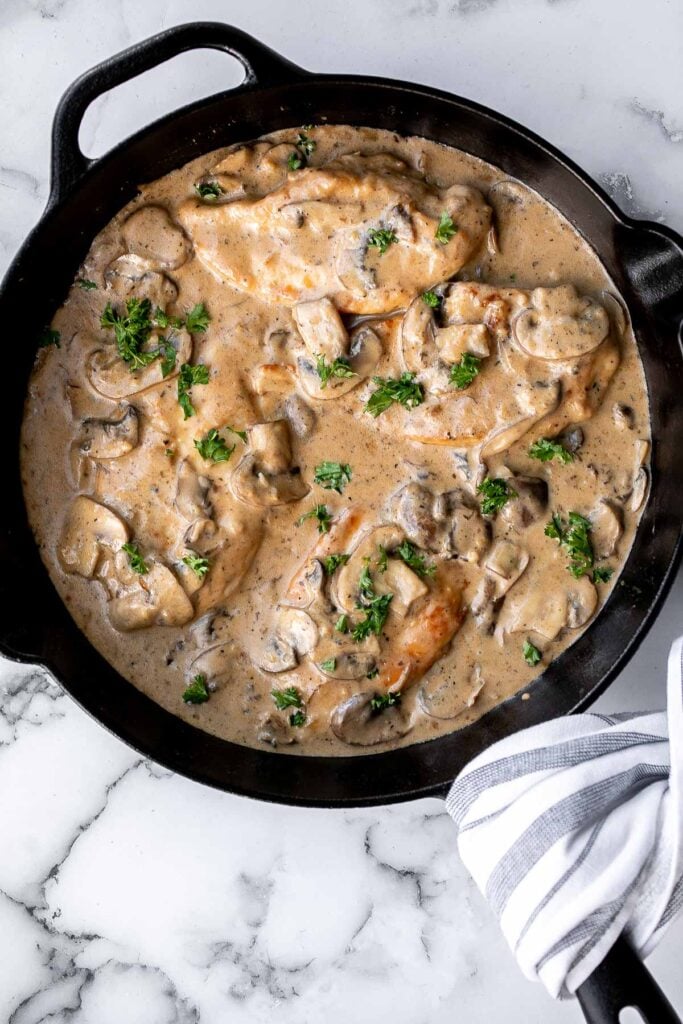 Quick and easy, creamy lemon chicken piccata is a simple and delicious 30-minute meal made with tender chicken breast in a light lemon sauce with capers.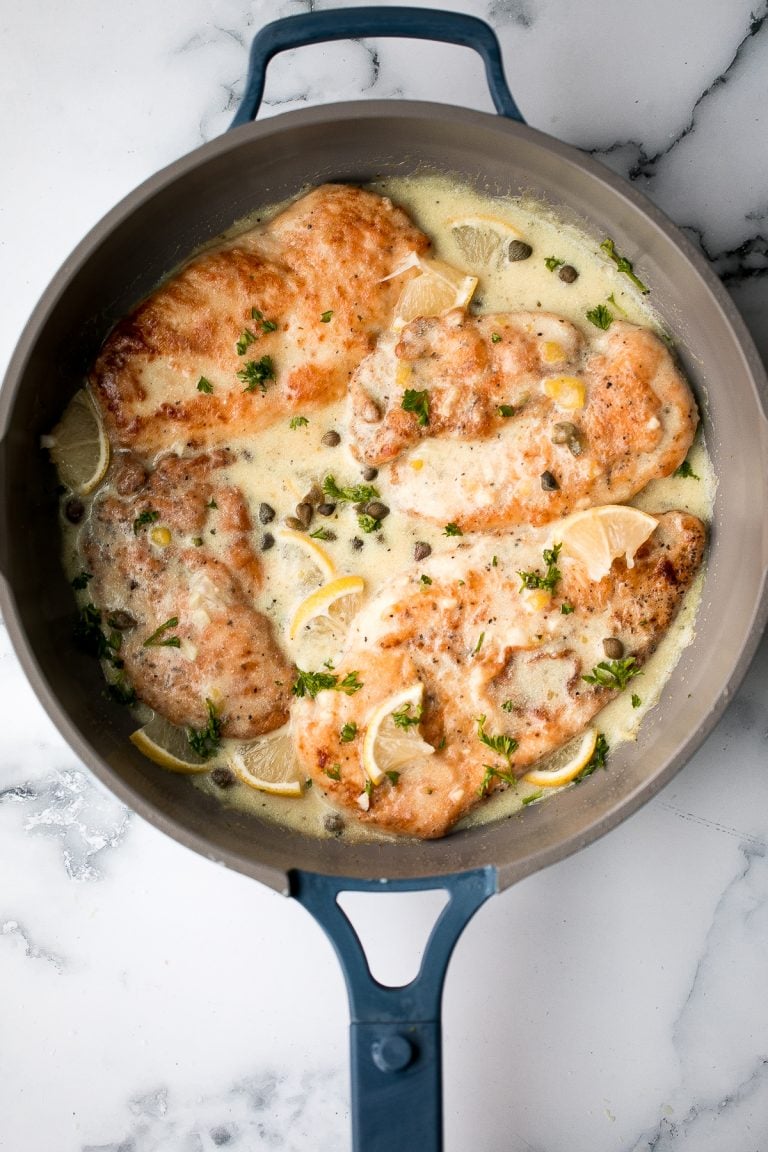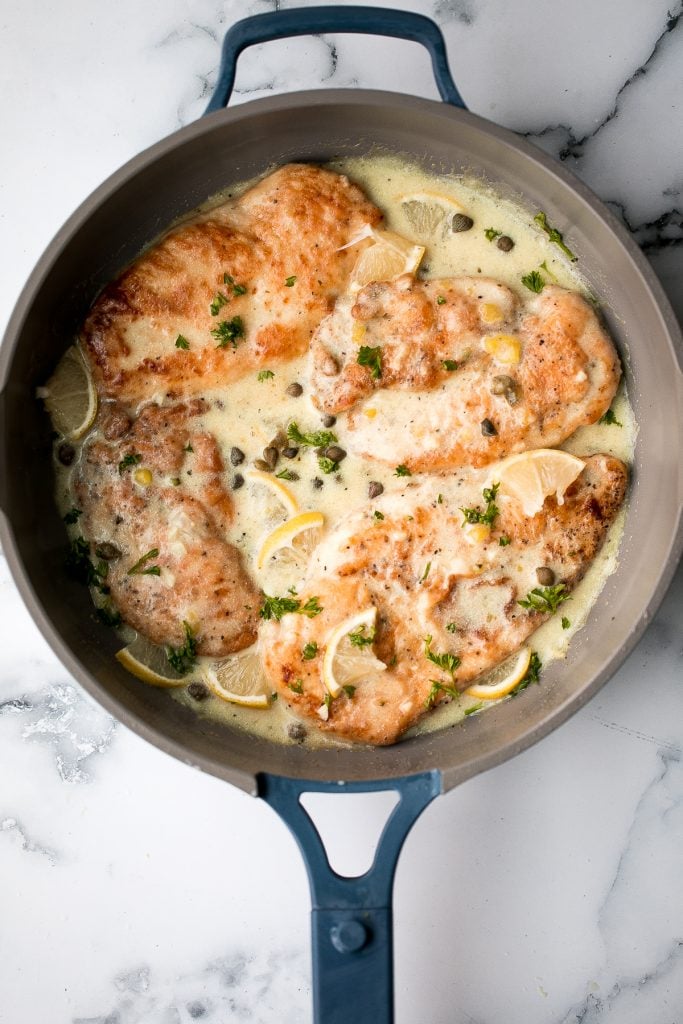 One Pot Spanish Chicken and Rice
Packed with flavour, real ingredients and vibrant colours, one pot Spanish chicken and rice is the perfect no fuss, no clean up weeknight meal.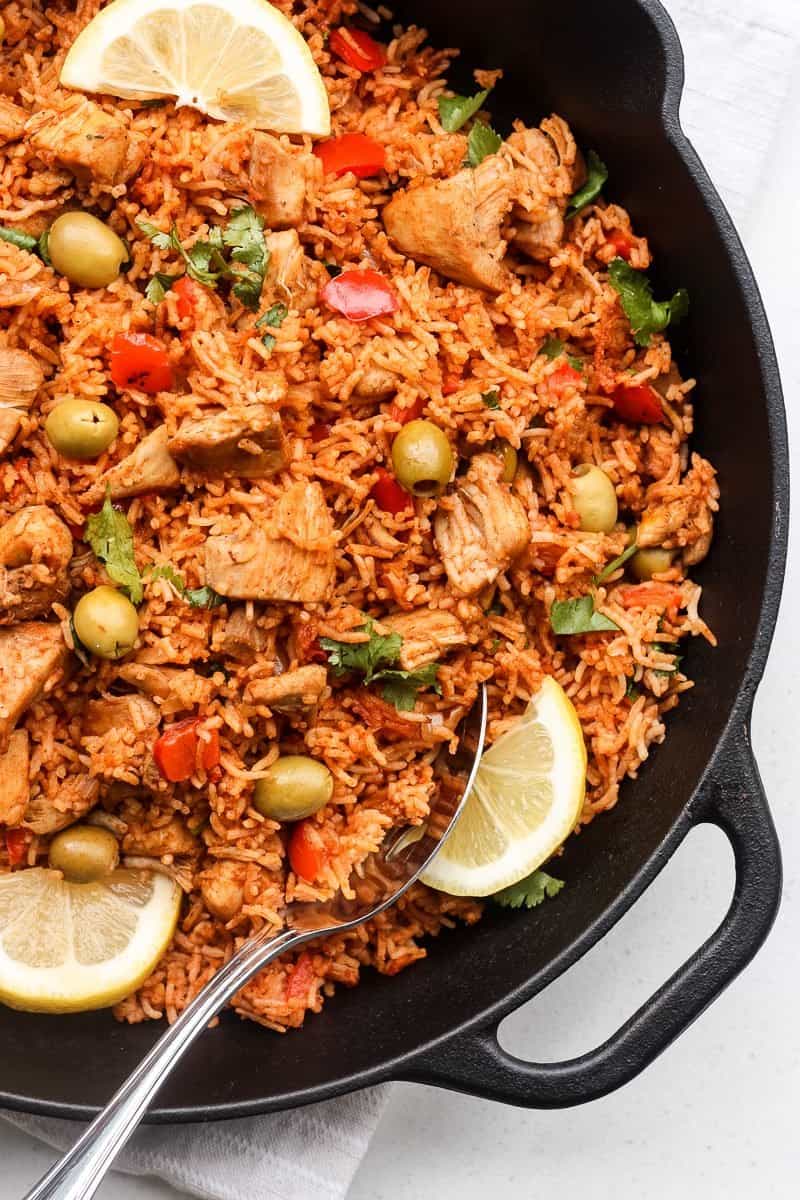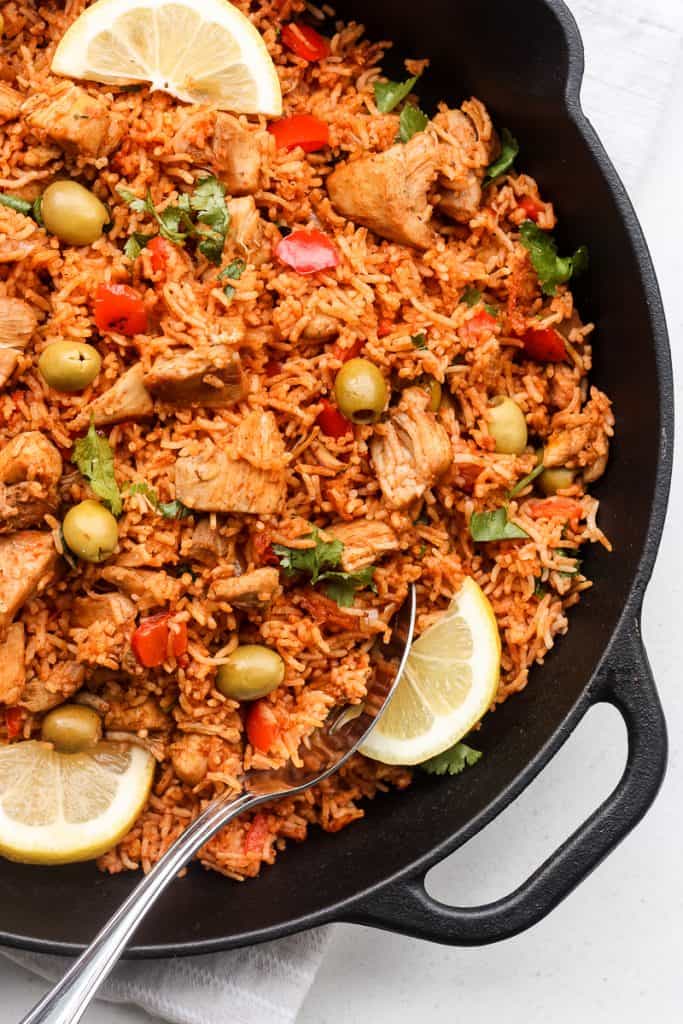 Creamy lemon parmesan chicken is a simple, quick and easy 30-minute meal that is packed with flavour. The most comforting and easiest weeknight dinner.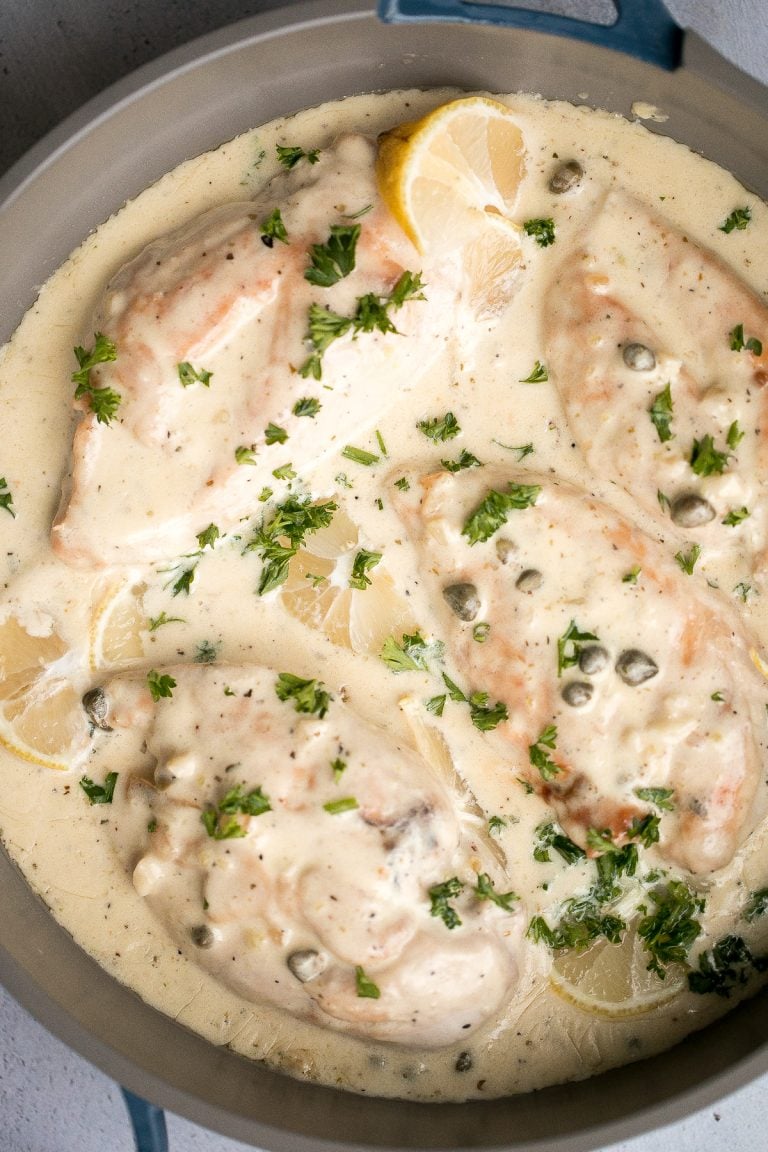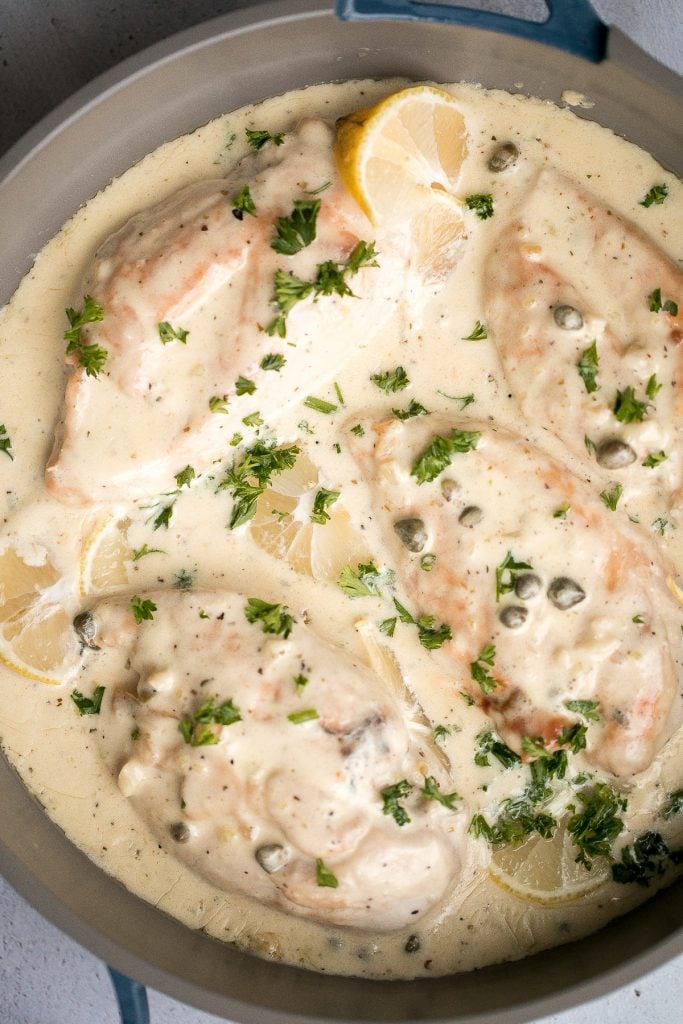 Creamy Chicken Roulade with Spinach and Mushrooms
Give your chicken breasts an upgrade by stuffing them to make fancy, juicy chicken roulade with spinach and mushrooms topped with a creamy alfredo sauce. Serve it over spaghetti alfredo with spinach and mushrooms.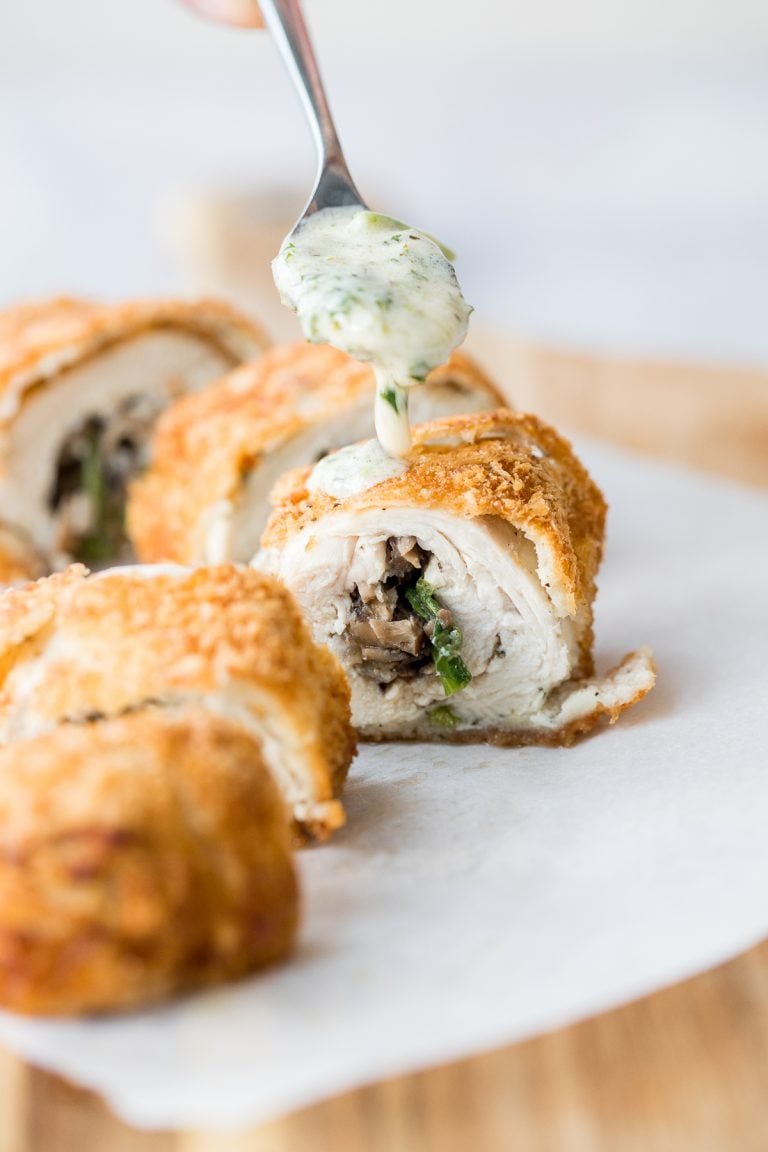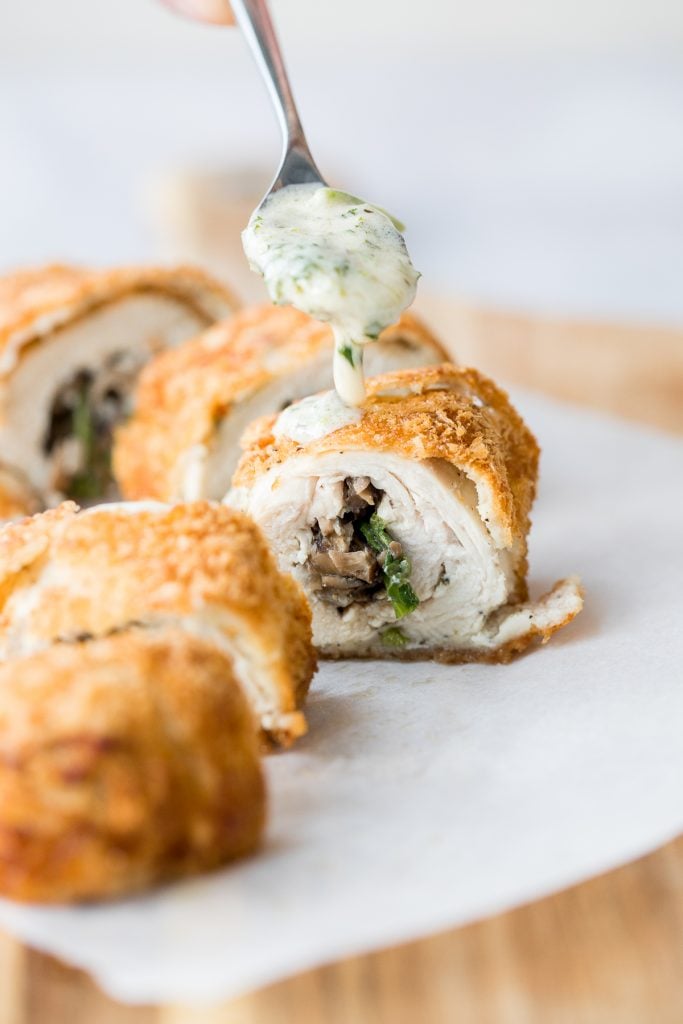 One Pot Coconut Curry Chicken and Rice
Creamy, delicious and flavourful, Thai-inspired one pot coconut curry chicken and rice is a 30-minute weeknight meal made with red curry and coconut milk.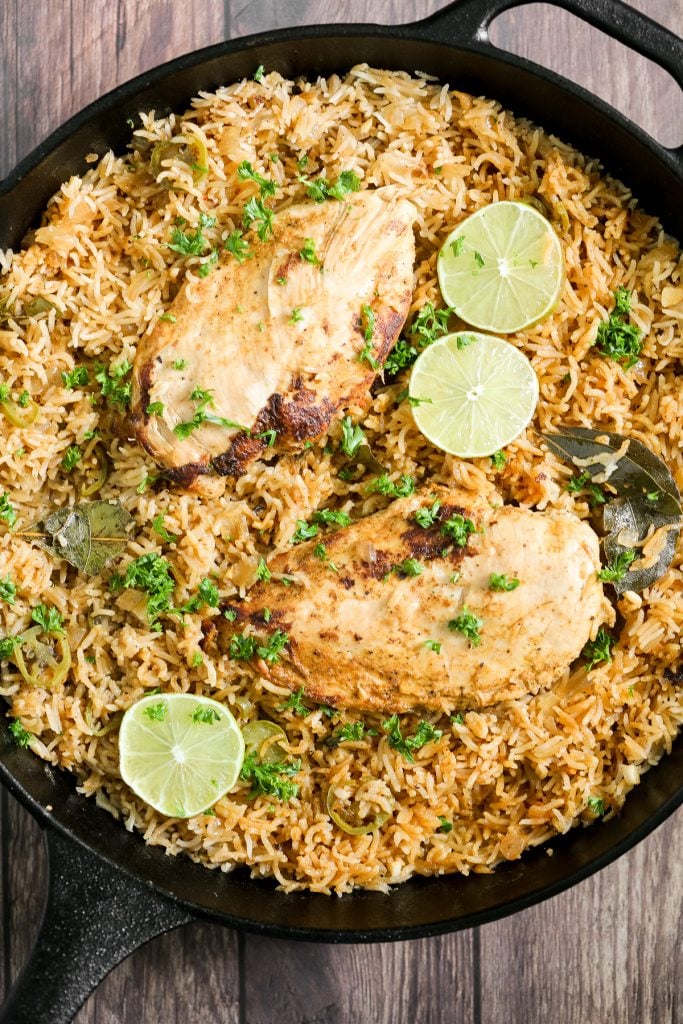 Chicken and Couscous with Sun-dried Tomatoes
Simple, healthy and flavourful chicken and couscous with sun-dried tomatoes is ready in under 30 minutes. The easiest weeknight dinner to make tonight!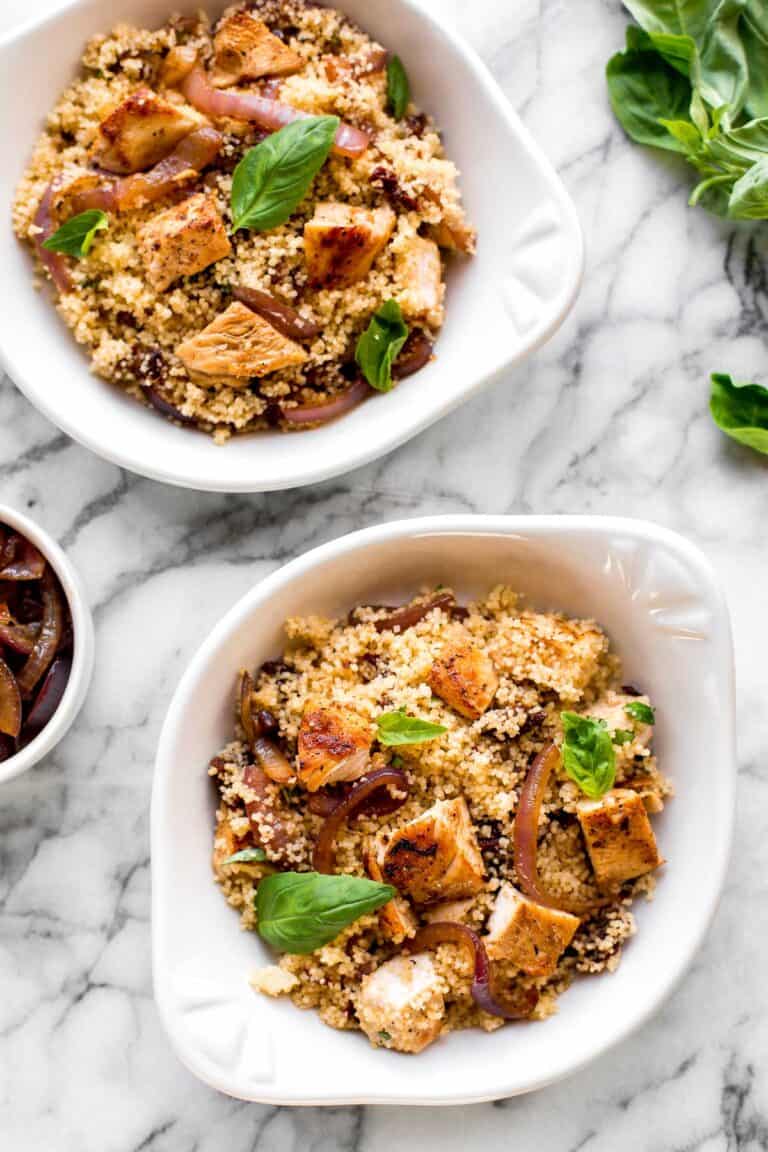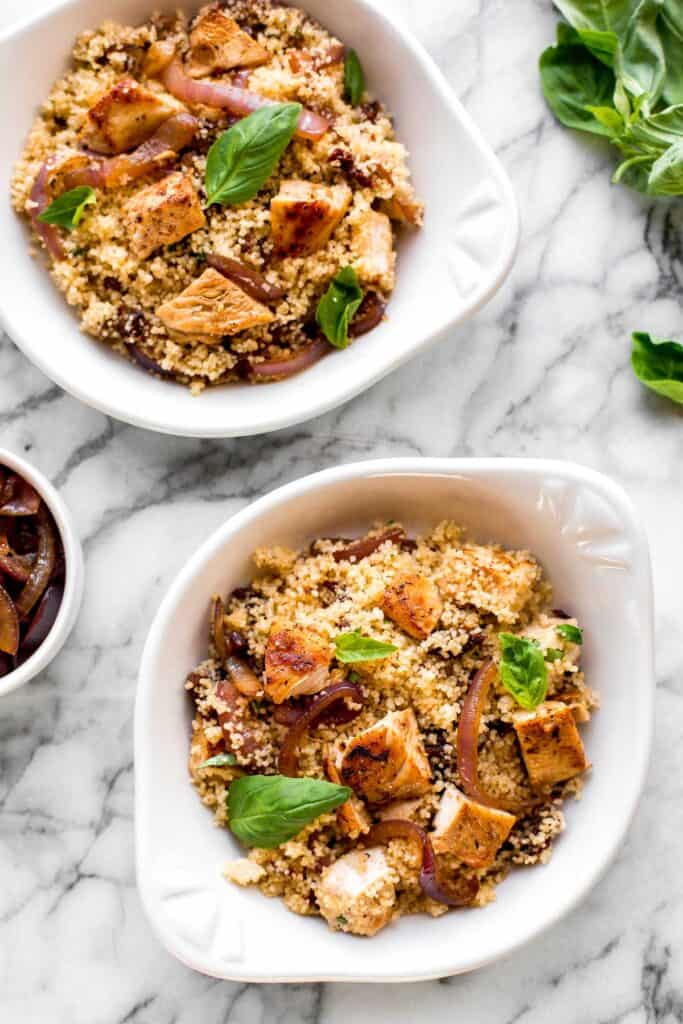 Skillet / Sheet Pan Chicken Recipes
One Pan Garlic Roasted Chicken and Baby Potatoes
One pan garlic roasted chicken and baby potatoes is an easy to make, delicious, and wholesome meal for the entire family. Prep this sheet pan in 10 minutes.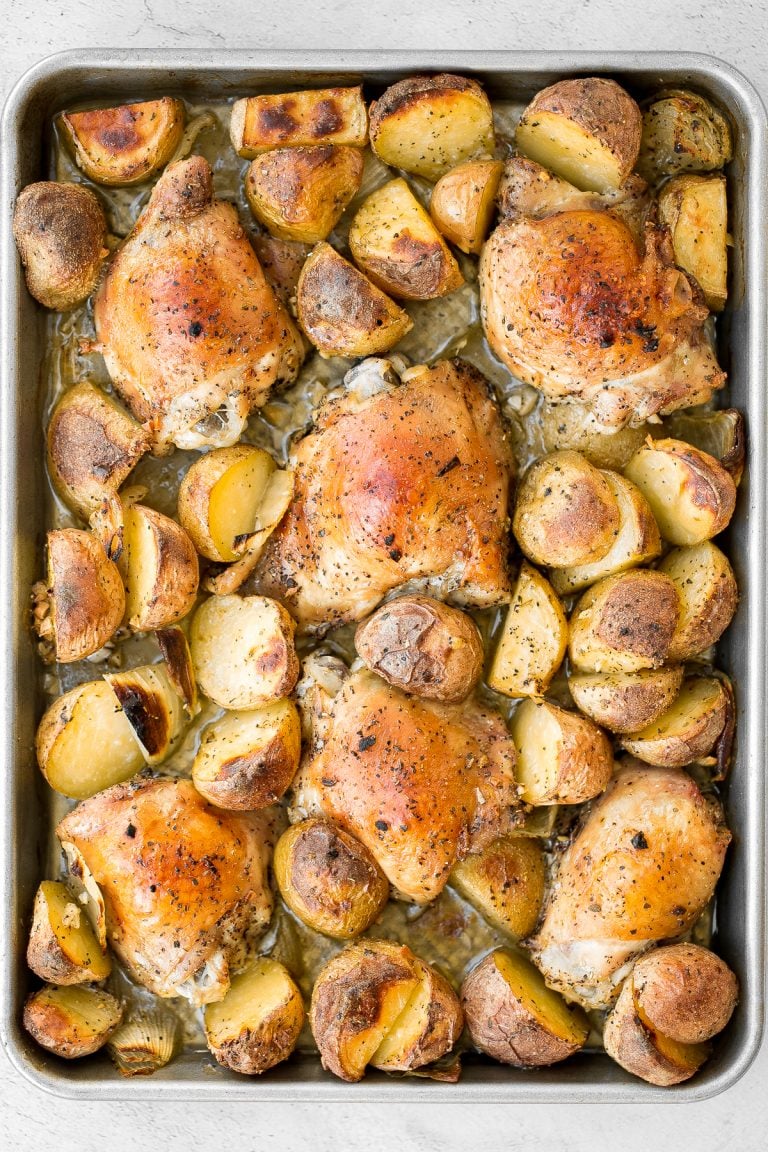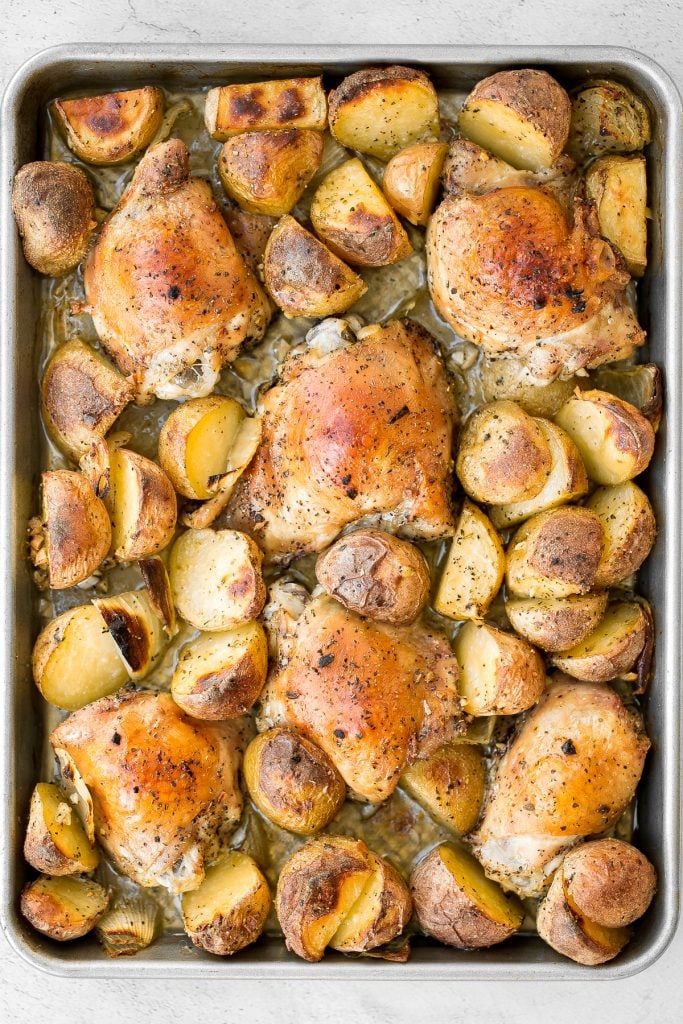 Apple Cider Chicken with Butternut Squash
One of my favourite chicken recipes is quick, easy, one pan apple cider chicken with butternut squash, apples, and thyme, cooked in an apple cider sauce. Serve this fall meal in just 40 minutes. Don't forget some crusty bread to soak up all that juice.
Easy Chicken Parmesan (Parmigiana)
Easy chicken parmesan (parmigiana) with crispy breaded chicken, tomato sauce, and melted mozzarella and parmesan cheese. The best comfort chicken dinner.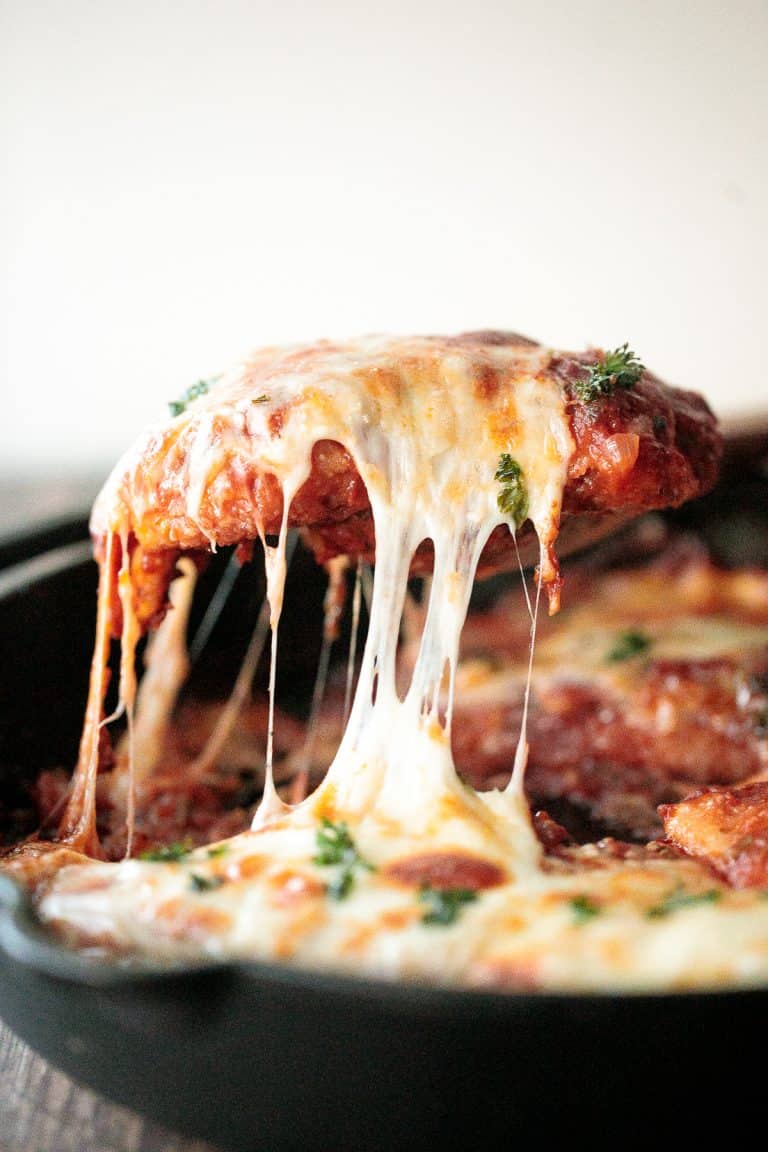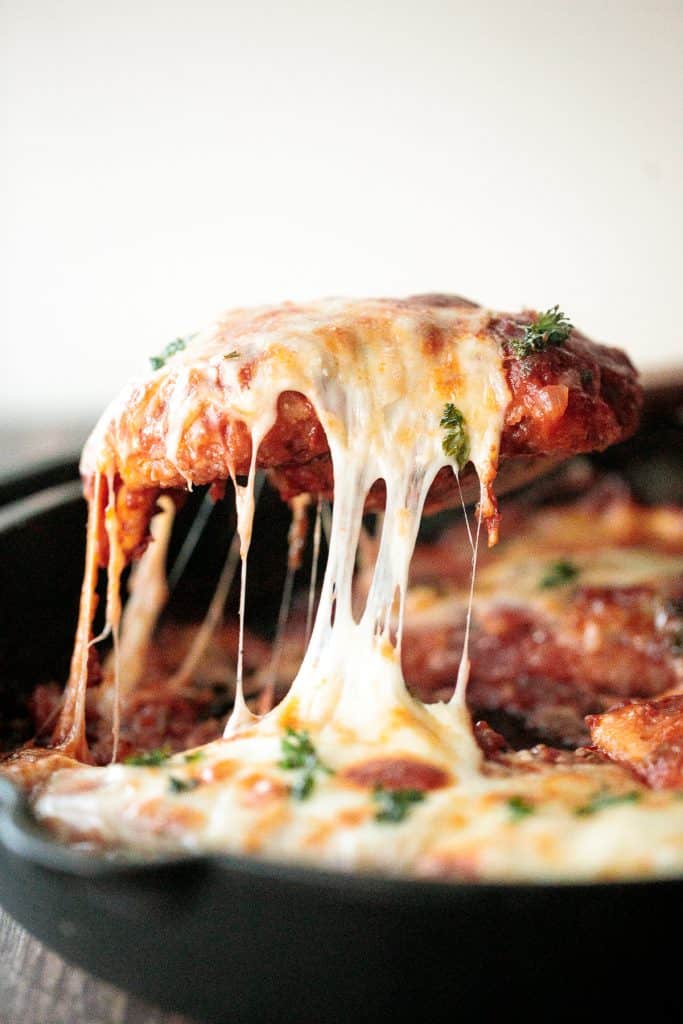 Skillet Chicken Thighs and Potatoes
Tender, juicy, and crispy one pan skillet chicken thighs and potatoes and carrots is an easy weeknight dinner on your dinner table in less than 45 minutes. Serve with a warm brussels sprouts salad on the side.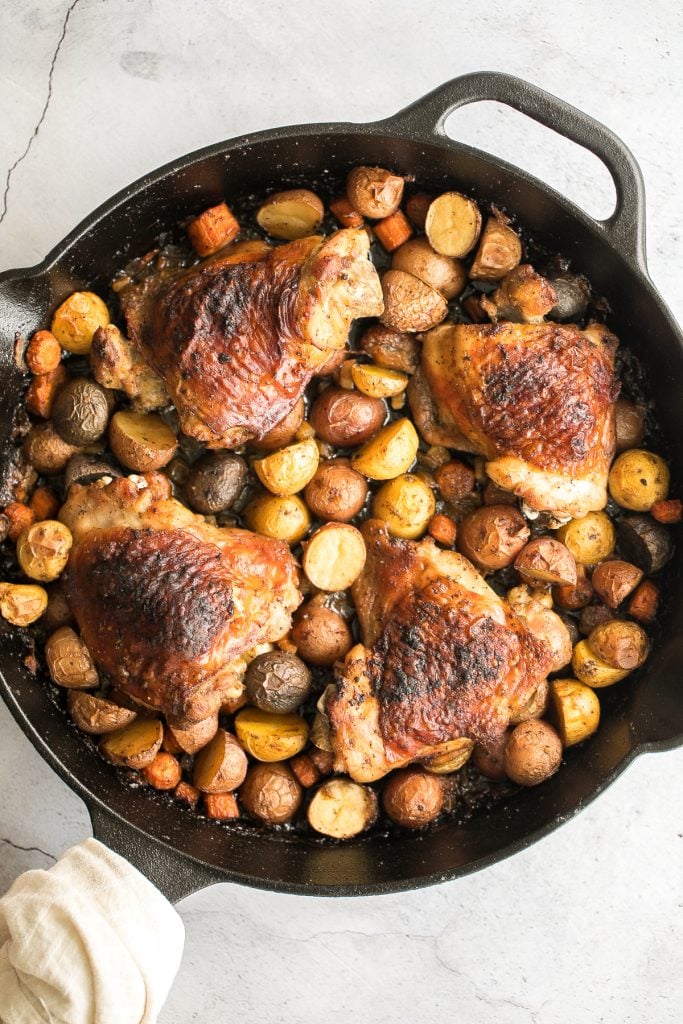 Sheet Pan Curry Chicken and Vegetables
Sheet pan curry chicken and vegetables with tender chicken thighs marinated in a delicious flavourful curry marinade is a complete one pan dinner. Serve with easy coconut rice or plain Basmati rice on the side.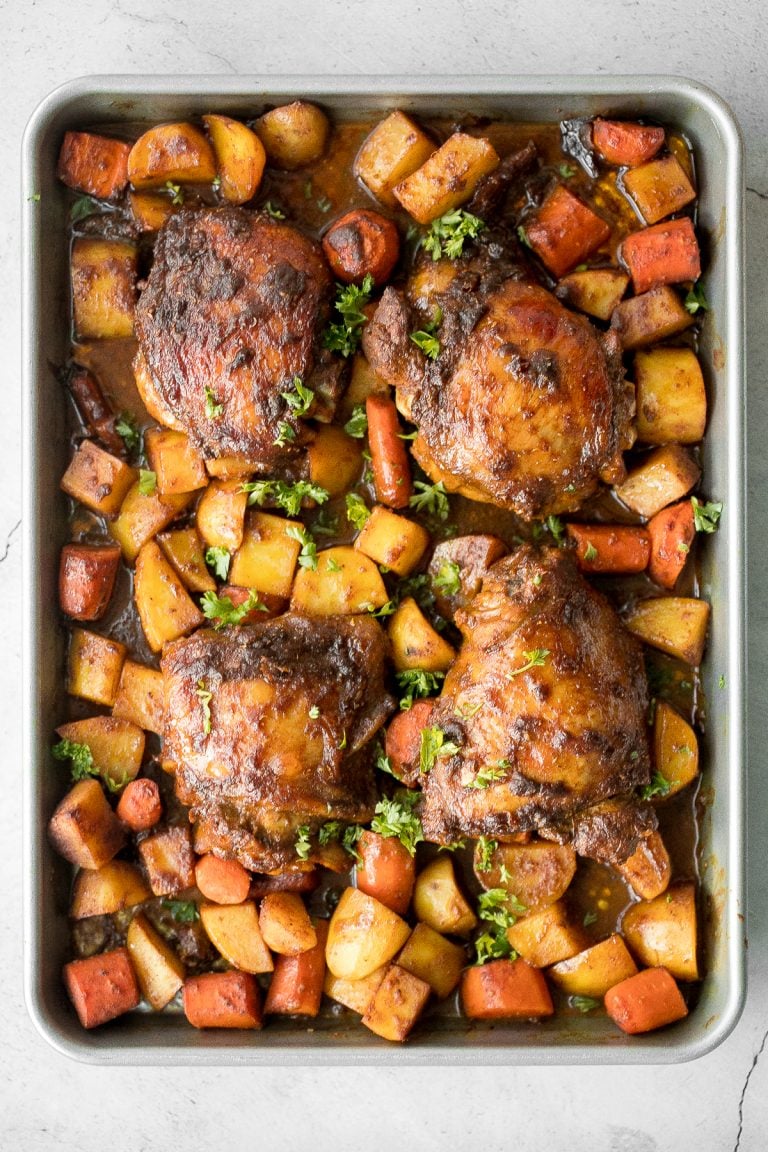 Apple Dijon Braised Chicken Thighs
Tender and juicy apple dijon braised chicken thighs with potatoes is juicy, tender and so succulent that it falls off the bone, yet so crispy outside. Serve with some bread to soak up all that juice. Try homemade ciabatta rolls or green onion dinner rolls.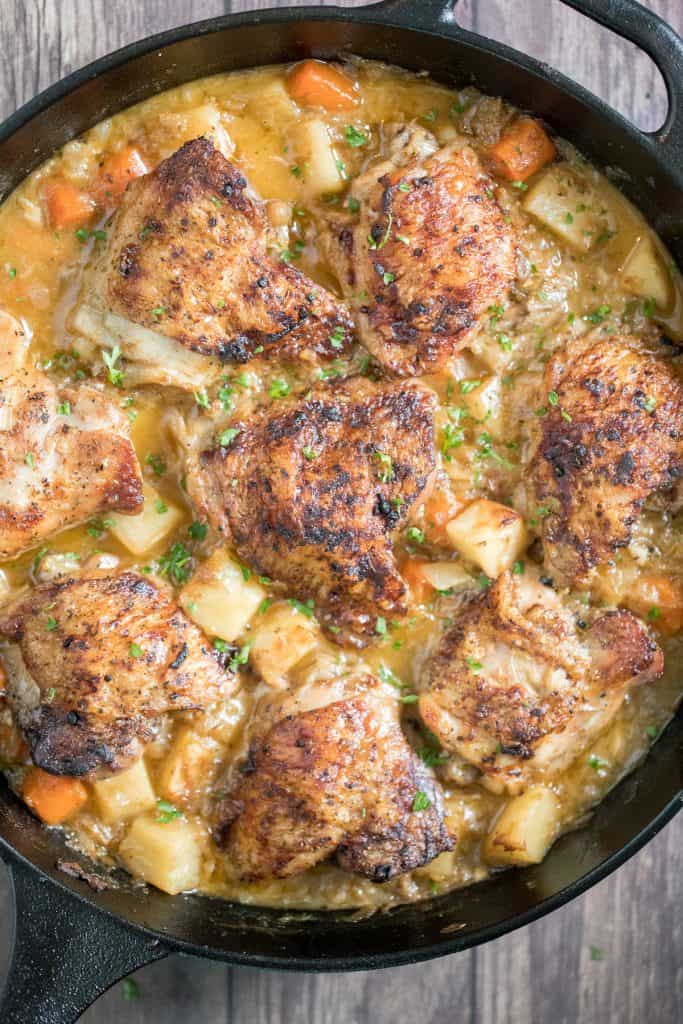 Skillet Chicken with Lemon Garlic Sauce
Delicious creamy skillet chicken with lemon garlic sauce is a one-skillet meal that is ready in 30 minutes. It's garlicky, saucy, creamy, and so flavourful. Bread is a must to dip into this delicious sauce. Try pull apart garlic bread or easy no yeast biscuits.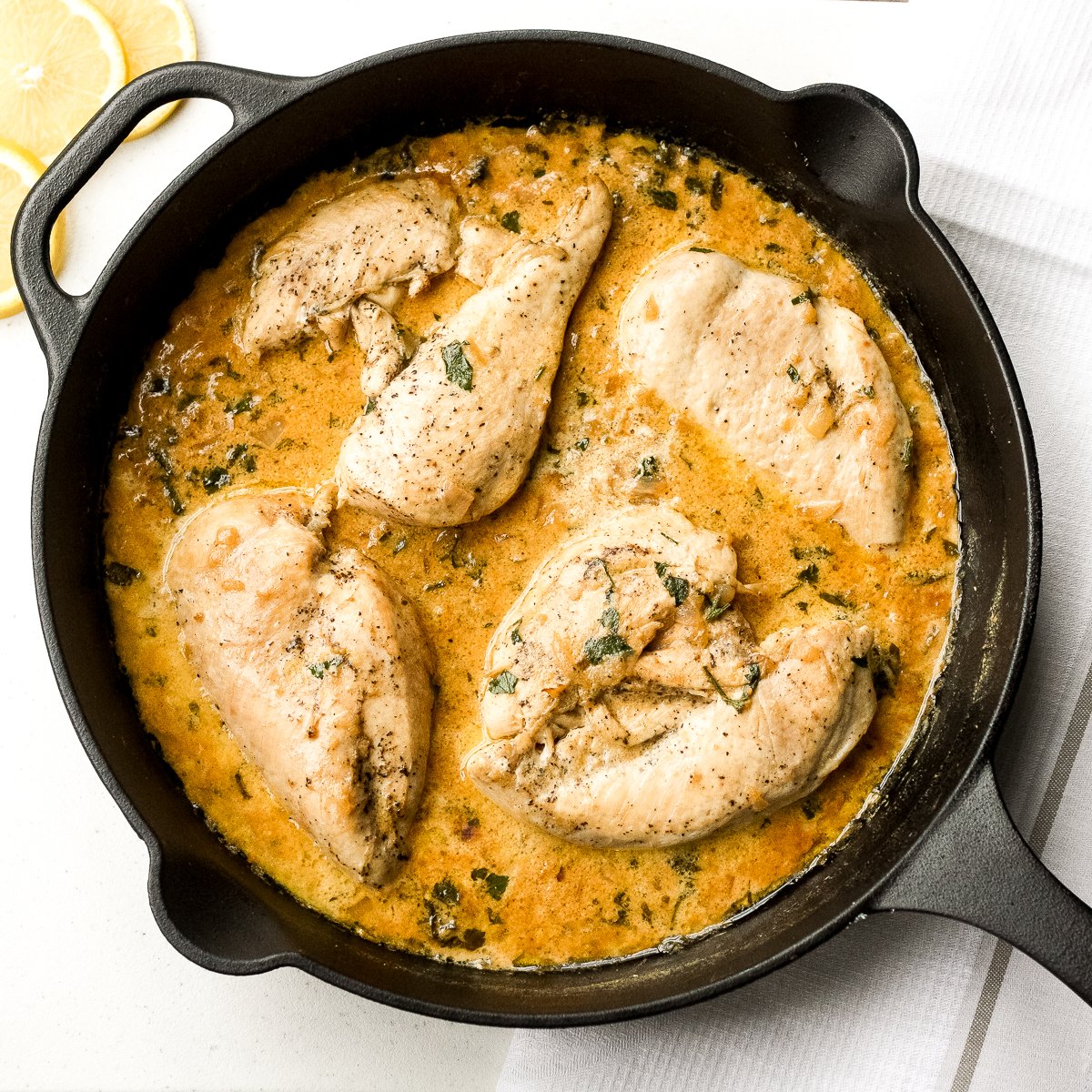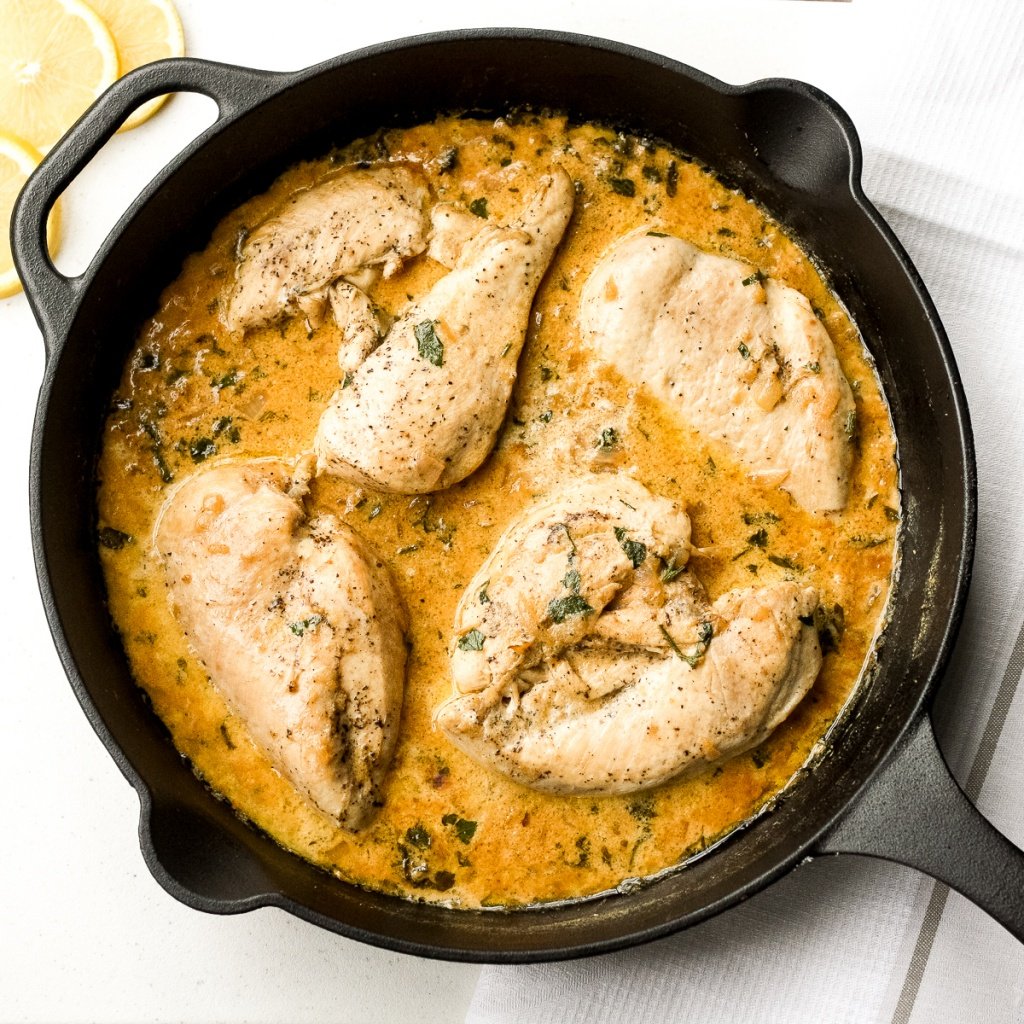 Baked parmesan crusted chicken is breaded in a herby parmesan breadcrumb mixture and baked until crispy perfection. So flavourful and delicious.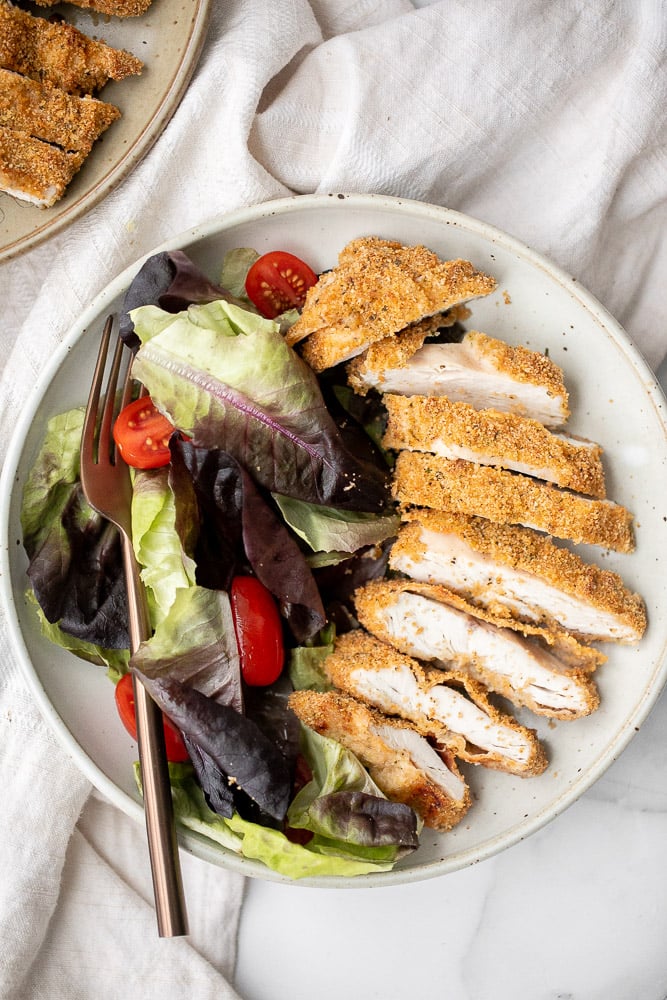 Meal Prep Sheet Pan Balsamic Chicken and Vegetables
Quick and easy, throw everything into one pan, Asian-style meal prep sheet pan sesame balsamic chicken and vegetables is flavourful, juicy and tender. Serve with some steamed rice.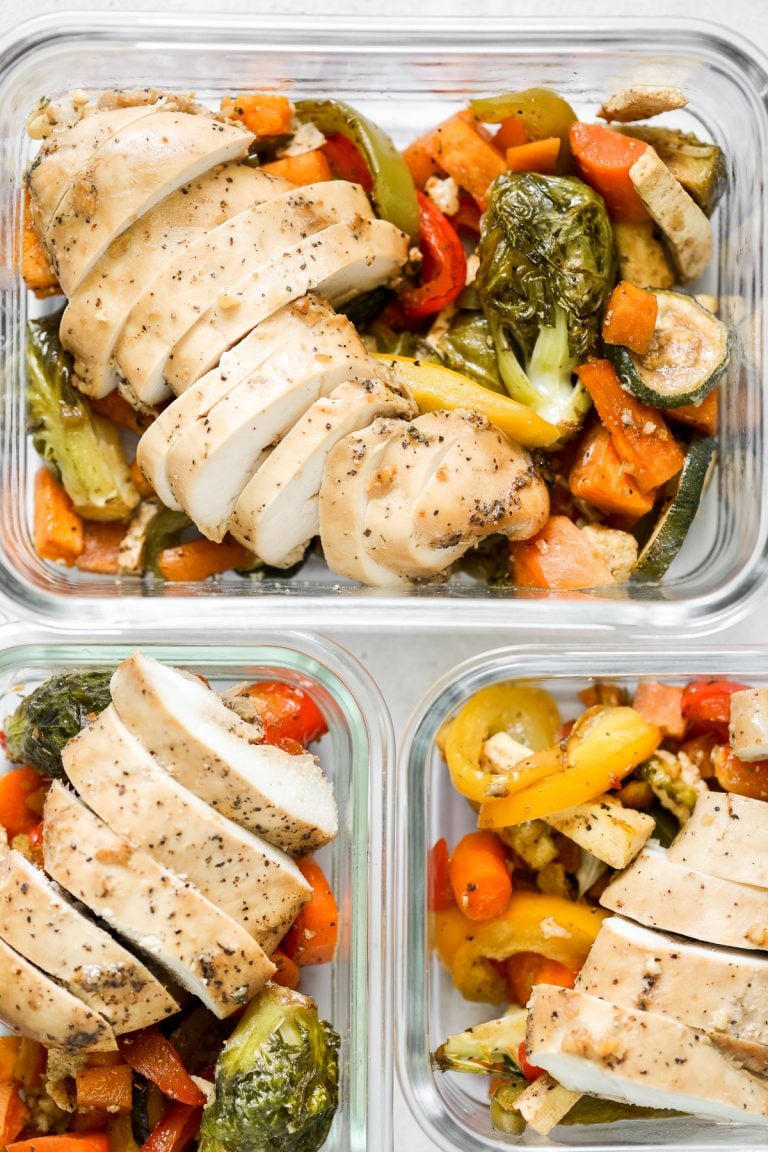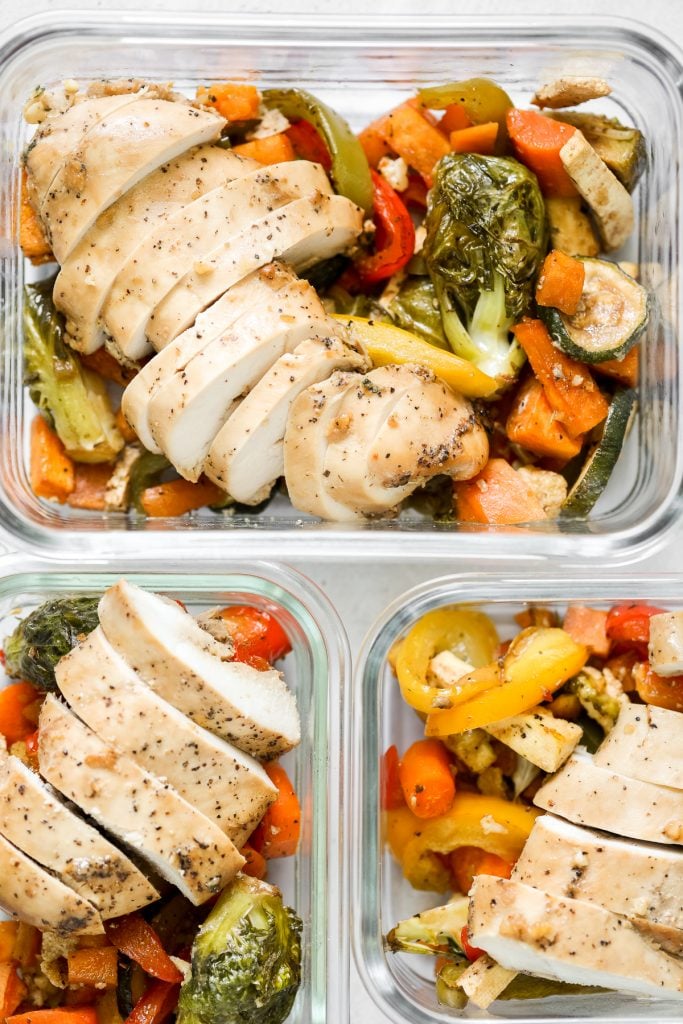 Sizzling and hot sheet pan chicken fajitas are on the table in less than 30 minutes. The best part is that you just throw everything into one sheet pan. Make it a total fiesta with some pico de gallo and fish tacos.
Roasted Balsamic Chicken with Cranberries
If you're scrambling to figure out dinner with less than 30 minutes on hand, this sweet and tangy roasted balsamic chicken with cranberries will save the day. Serve with some creamy mashed potatoes or garlic mashed cauliflower.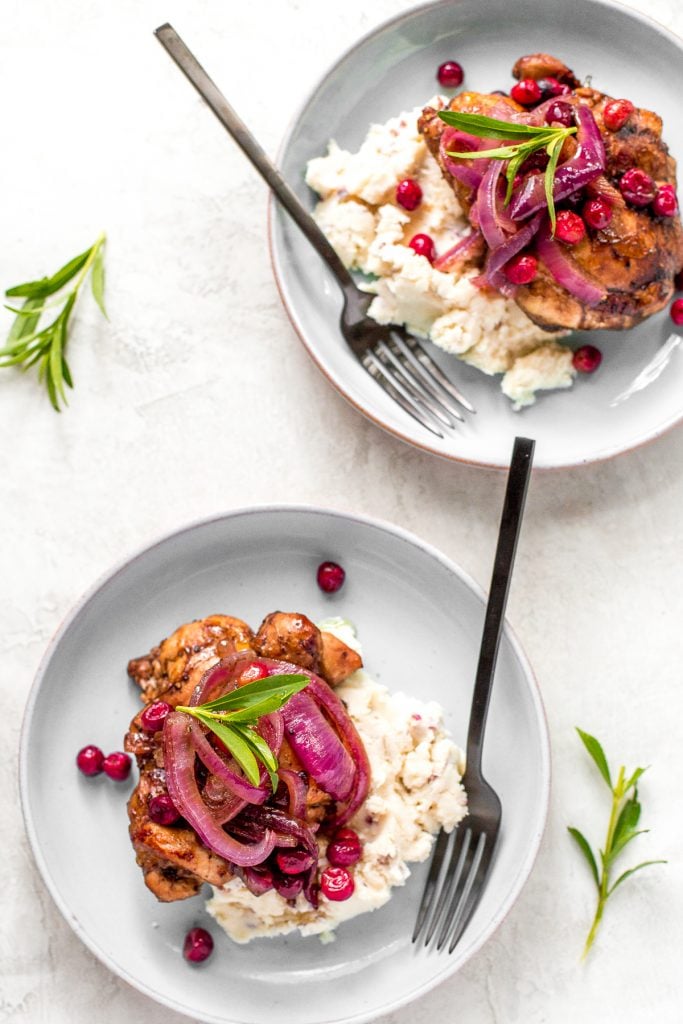 Tandoori Chicken Sheet Pan Dinner
In under 30 minutes, create intensely flavourful tandoori chicken sheet pan dinner loaded with vegetables, any night of the week. Good-bye takeout. Serve over easy coconut rice or plain Basmati rice.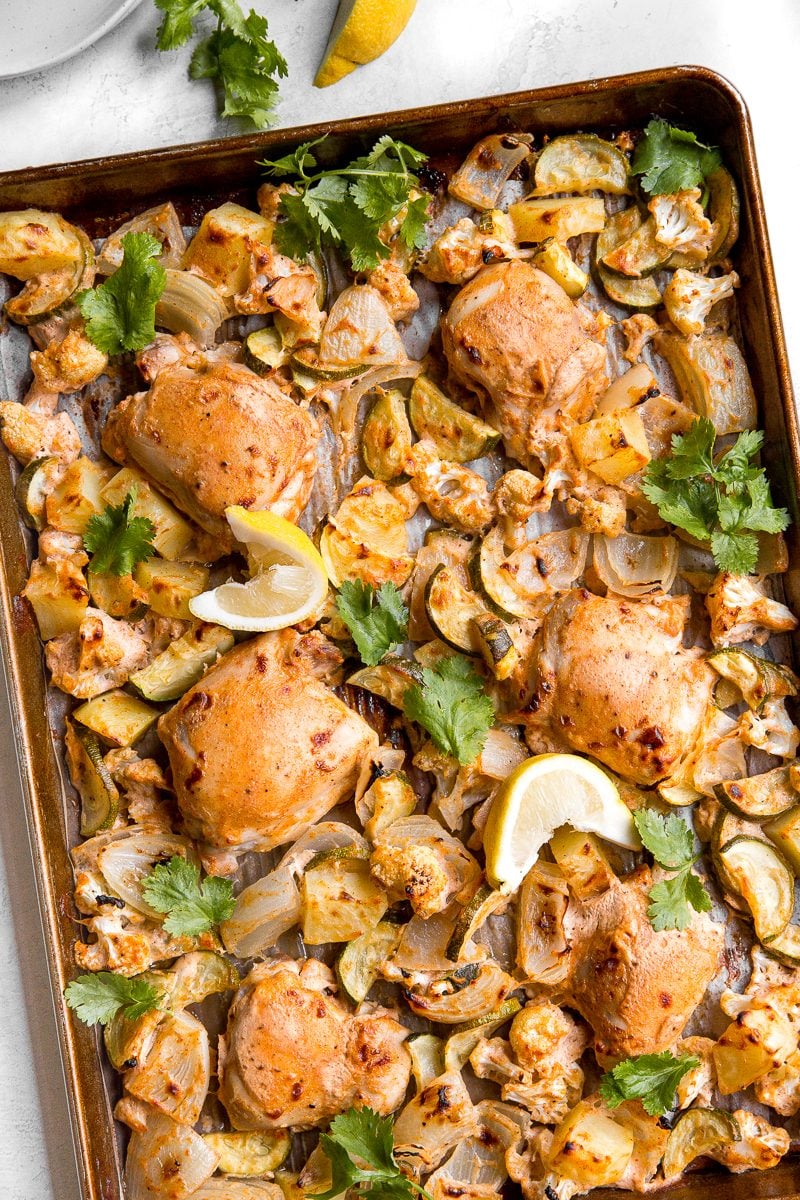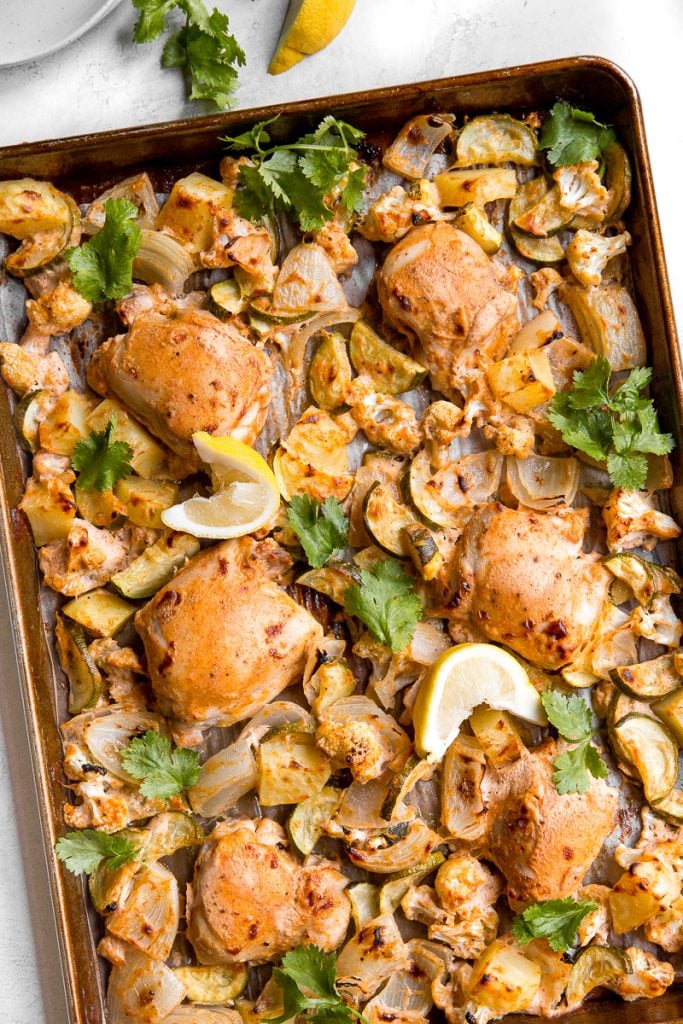 Sheet Pan Soy-Glazed Chicken Thighs
Sheet pan soy-glazed chicken thighs is the perfect weeknight meal -- 30 minutes in the marinade and 20 minutes in the oven. Easier and healthier than take-out. Serve with steamed rice and a vegetable stir fry.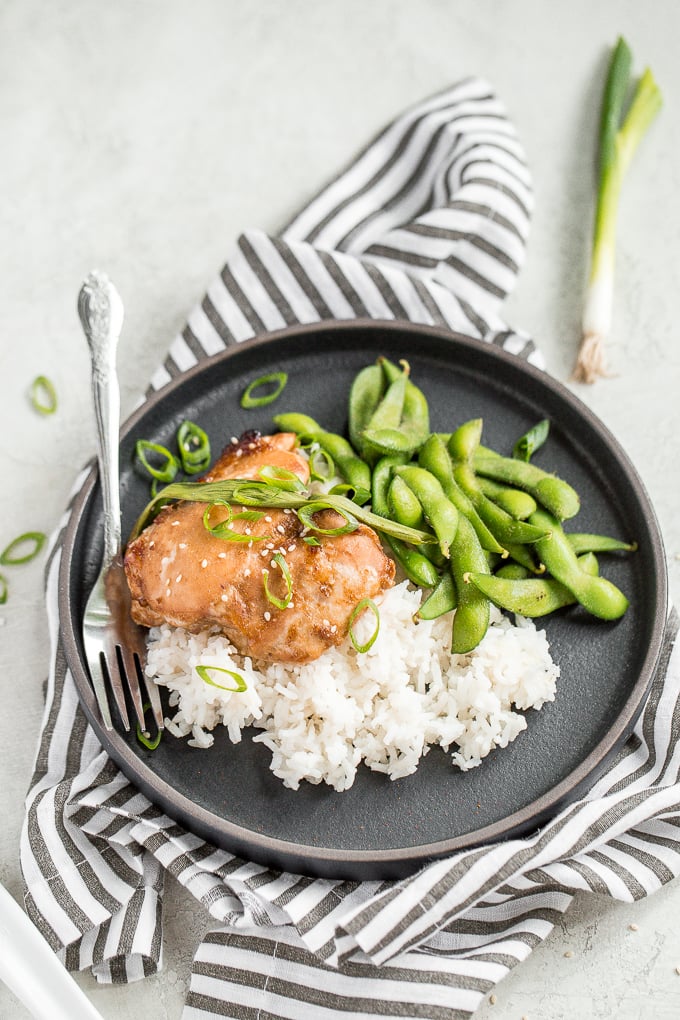 Whole Chicken Recipes
Dutch Oven Whole Roast Chicken
Easy Dutch oven whole roast chicken with the crispiest golden skin is juicy, tender and succulent and packed with flavour. Just takes 15 minutes to prep. Serve with creamy potatoes au gratin on the side.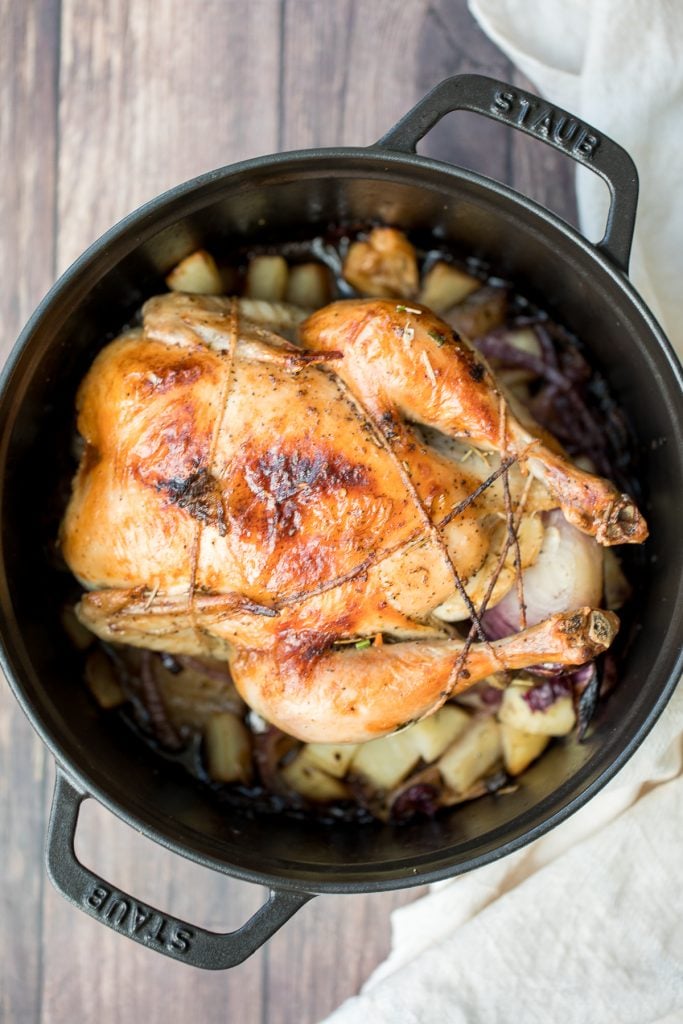 Roasted Spatchcock Chicken (Butterflied Chicken)
Quick and easy roasted spatchcock chicken (butterflied chicken) seasoned with garlic and thyme is juicy, tender, delicious and flavourful with minimal prep. Serve with some creamy mashed potatoes and garlic green beans.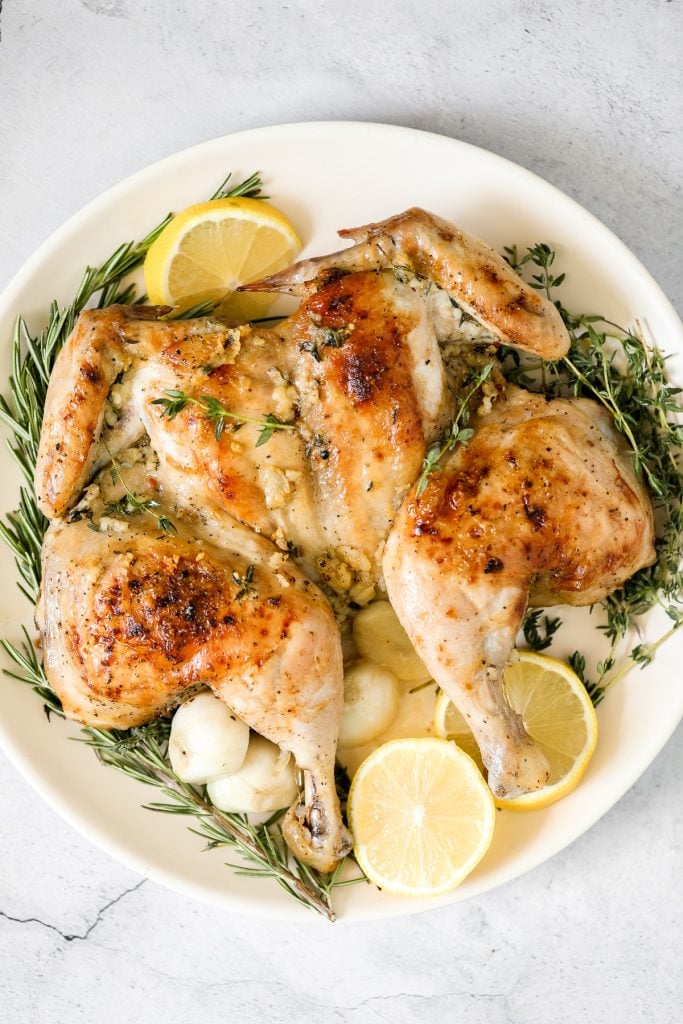 Greek Lemon Garlic Whole Roast Chicken
Easy Greek lemon garlic whole roast chicken is tender, juicy and succulent with the crispiest skin. Prep this flavourful one pan meal in just 15 minutes.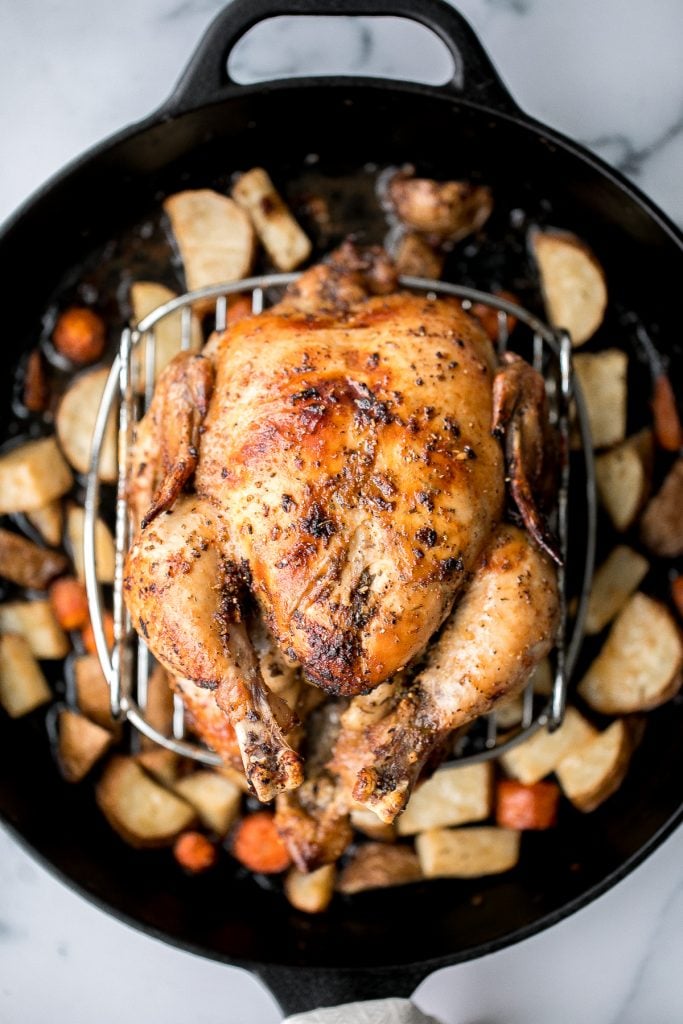 Slow cooker whole chicken is soft and tender and literally falls off the bone. It is the easiest way to cook a rotisserie chicken with a few minutes prep. Shred it and use it in lemon chicken orzo soup, 30-minute BBQ chicken pizza, or baked pasta with chicken.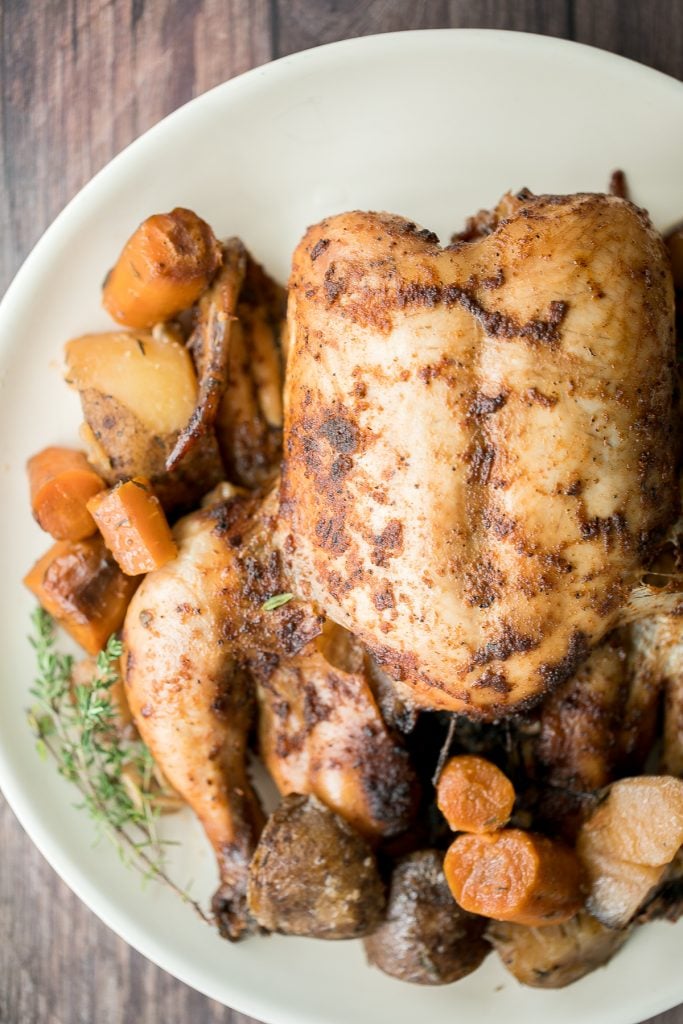 Better than Takeout Chicken Recipes
Kung Pao chicken is a Chinese chicken dish that is stir-fried with crisp vegetables and tossed in a delicious Asian sauce packed with flavour.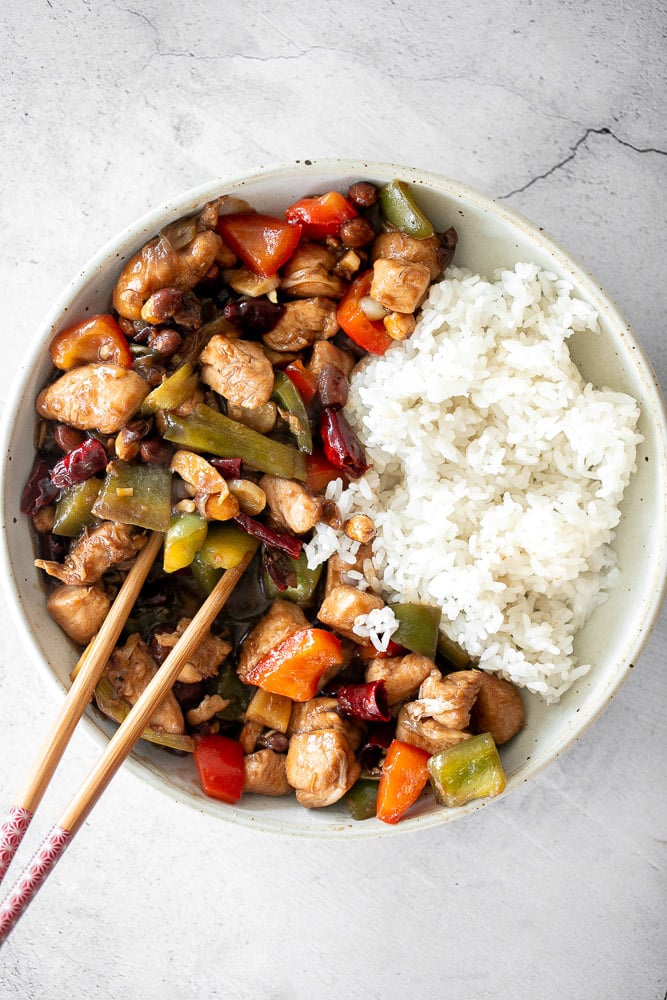 Baked General Tso's Chicken is a saucy, savoury, sweet, spicy Chinese-American takeout favourite made healthier with baked chicken, not fried.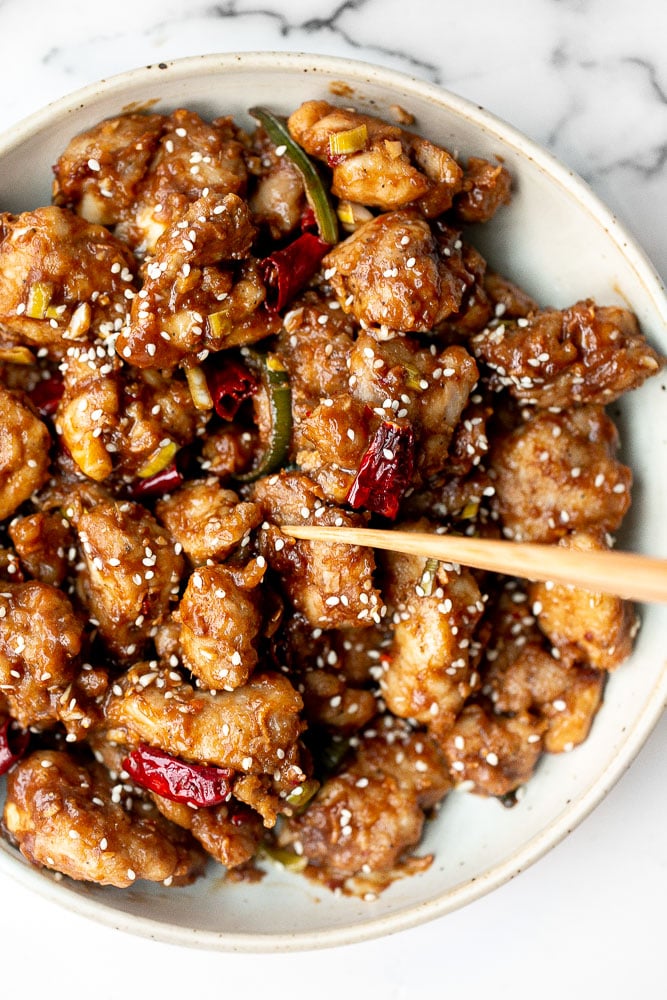 Better than takeout, healthy lemon chicken is a delicious, sticky chicken stir fry coated in a flavourful, sweet and tangy sauce. The best weeknight dinner.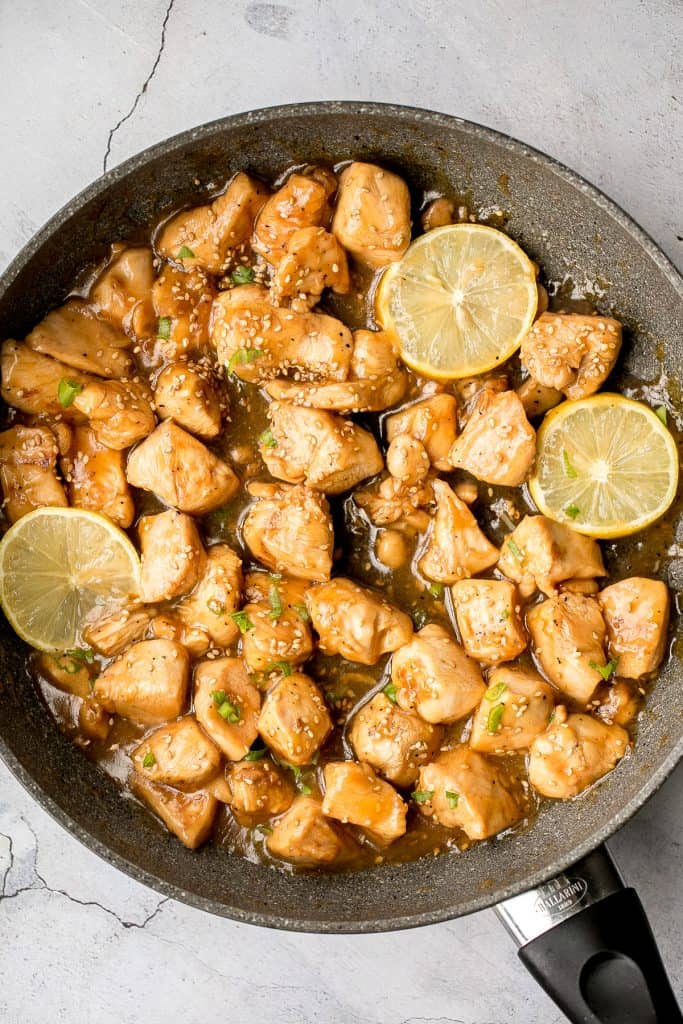 No more takeout when you can make flavourful, restaurant-style, authentic chicken Pad Thai at home in just 10 minutes. It's sweet, savoury, sour and nutty.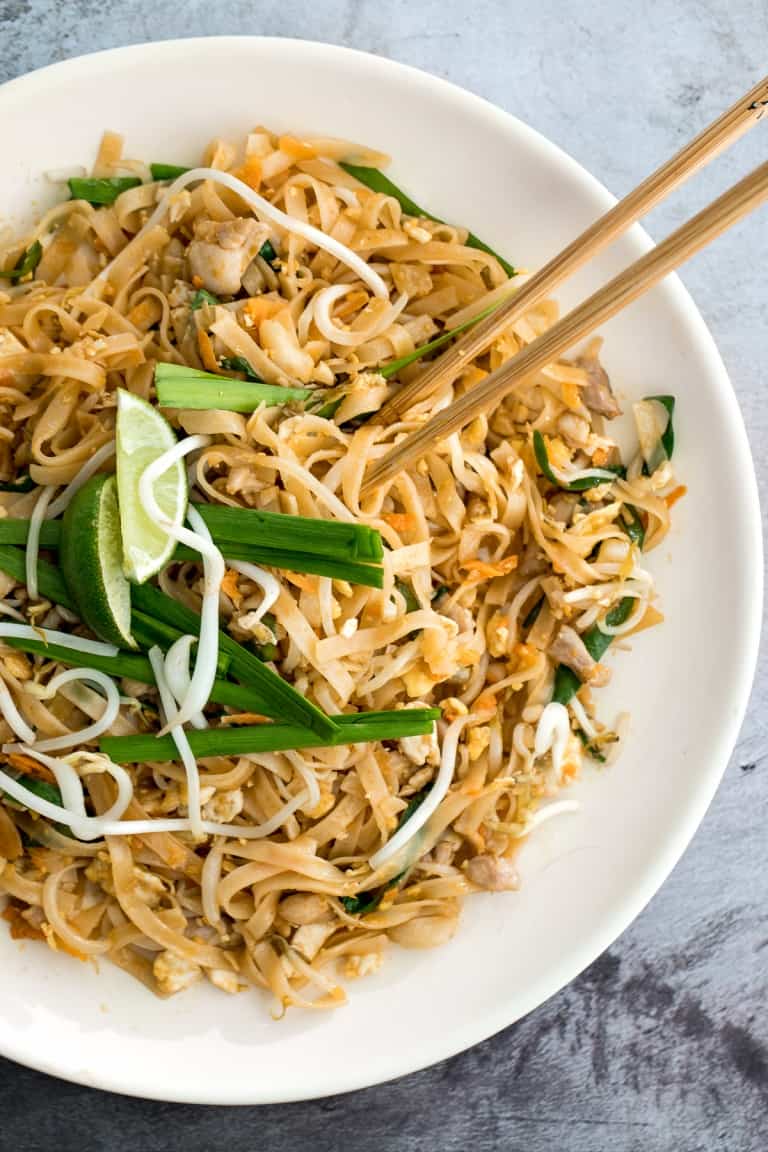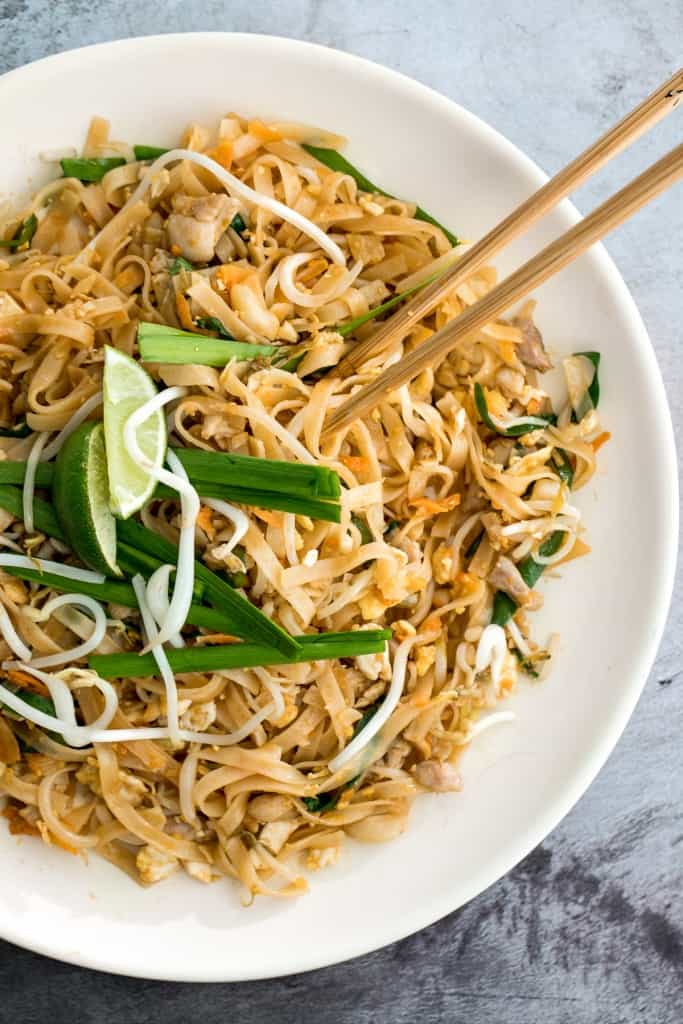 Better than takeout, baked sesame chicken with vegetables is delicious, flavourful, sticky and saucy. This healthier Chinese dish is quick and easy to make.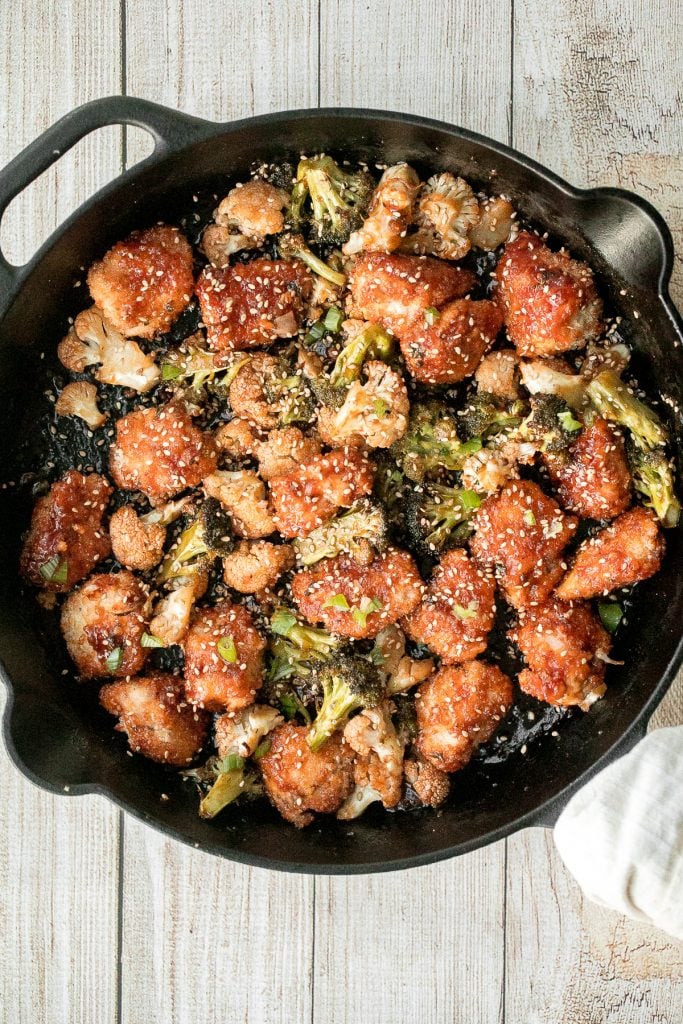 Better than take-out, flavourful and authentic Shanghai fried noodles with chicken, mushrooms, and bok choy is made in just 10 minutes - the easiest dinner!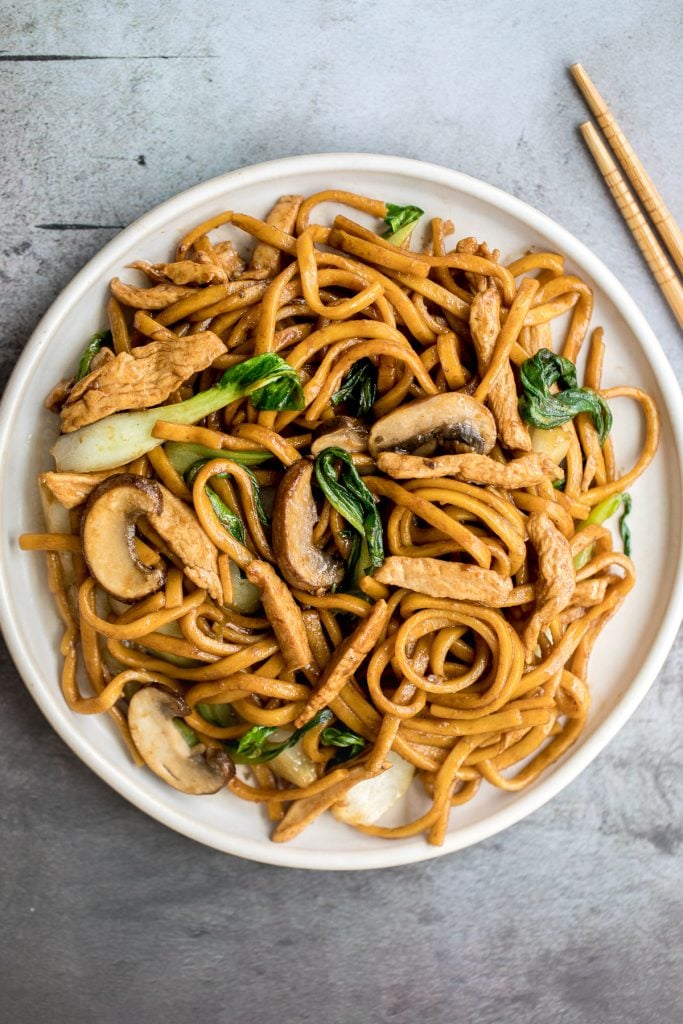 Aromatic Asian pan-fried lemongrass chicken is healthy, gluten-free, and takes less than 25 minutes to prep and cook. Now that's what I call the perfect weeknight meal. Use any leftovers in a lemongrass chicken banh mi sandwich.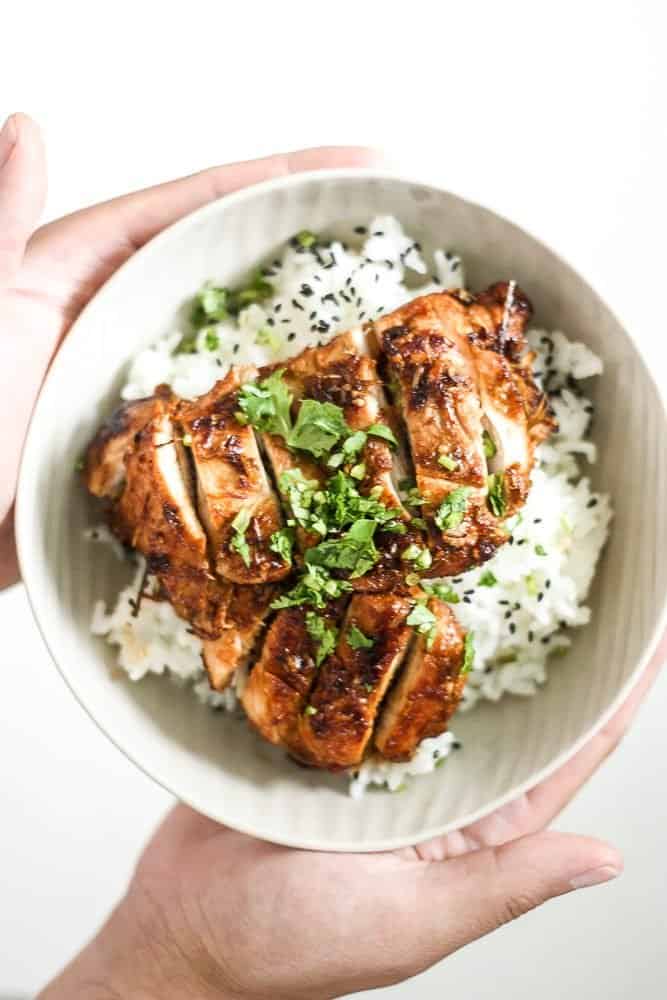 Better than takeout, make easy Indian butter chicken in just 30 minutes, with a creamy tomato-based sauce, charred chicken, and incredible spice + flavour. Serve with homemade garlic naan bread.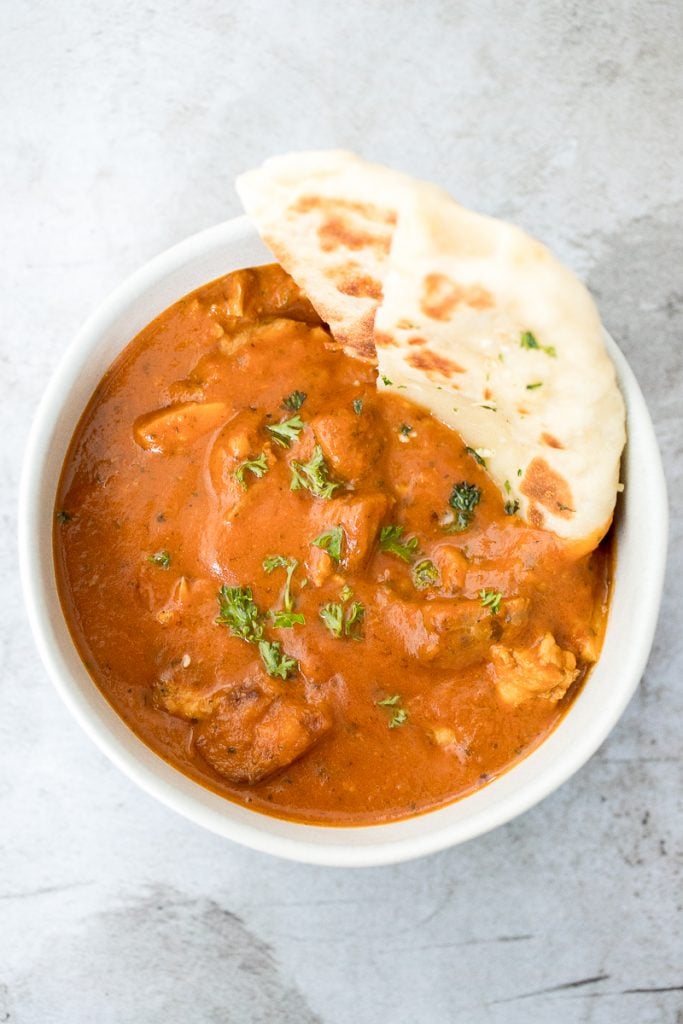 Flavourful curry chicken fried rice with chicken, mushrooms, peas, rice, and curry flavours is so easy to make in less than 10 minutes on busy weeknights. Serve with a fresh Chinese garlic cucumber salad on the side.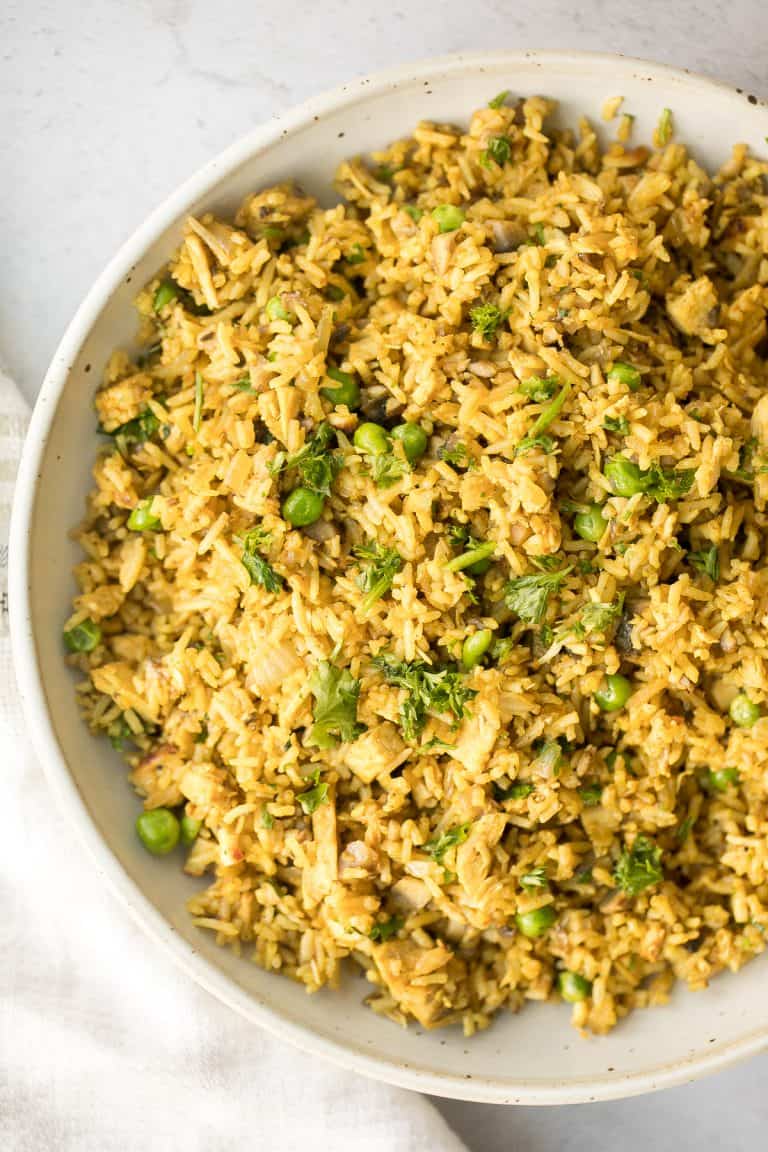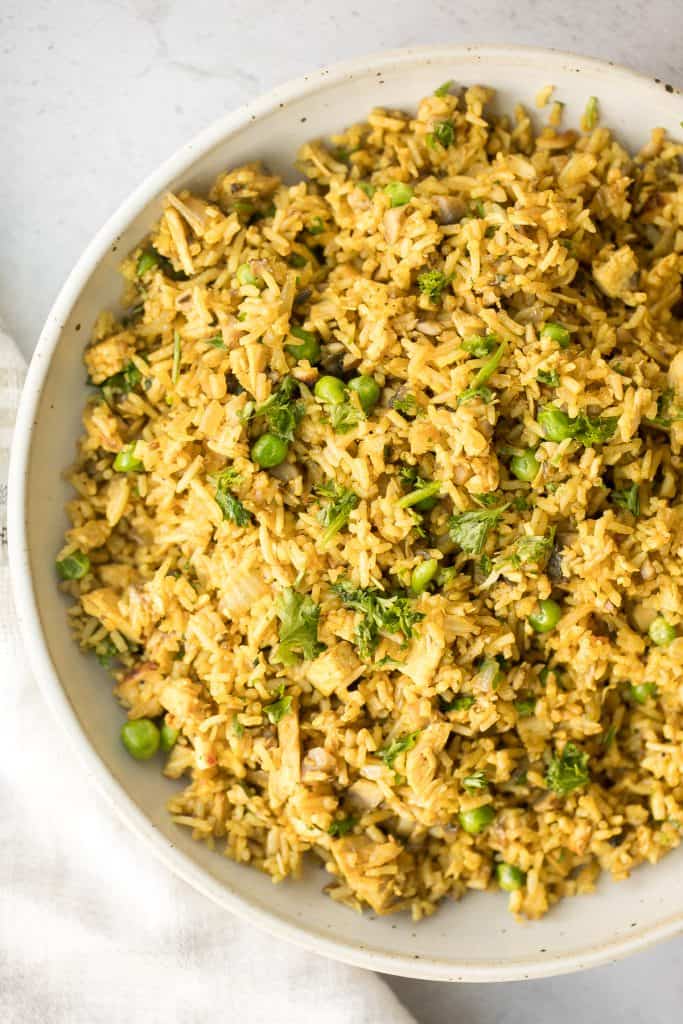 Char Siu (Chinese BBQ) Chicken
Sweet sticky and savoury Char Siu (Chinese BBQ) chicken is a delicious dinner packed with classic Asian flavours with incredible flavour.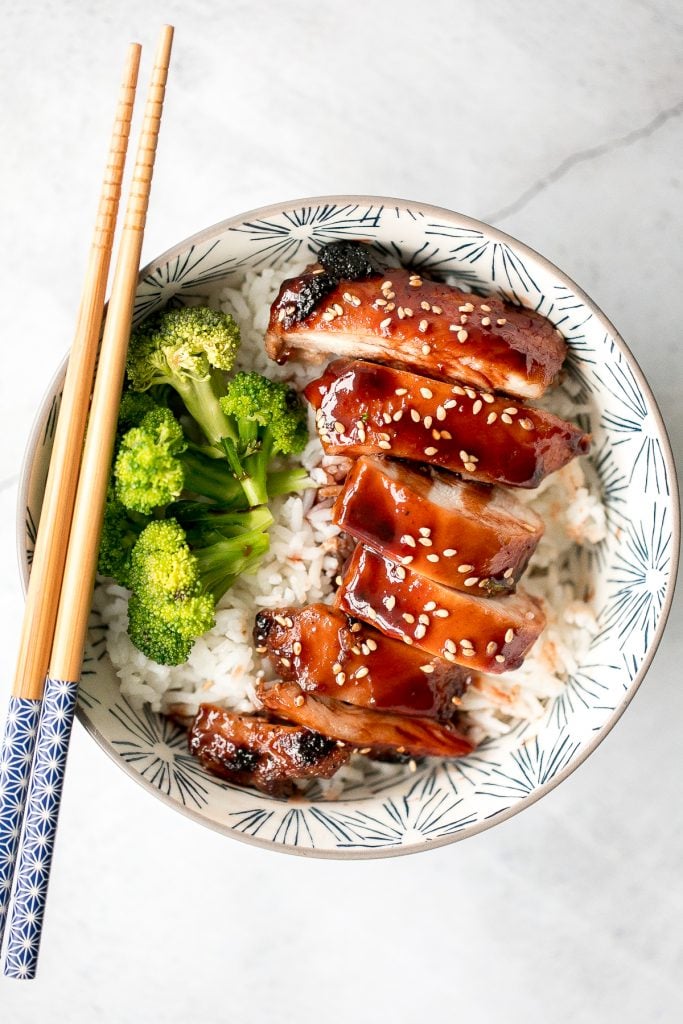 Learn how to make homemade chicken and cilantro wontons with this easy to follow recipe and instructions on how to fold wontons. For another variation, try chicken and shrimp dumplings.
Chicken Soup Recipes
Smooth, hearty and light, one pot lemon chicken orzo soup is pure comfort in a bowl. This family favourite is like chicken noodle soup with a major upgrade.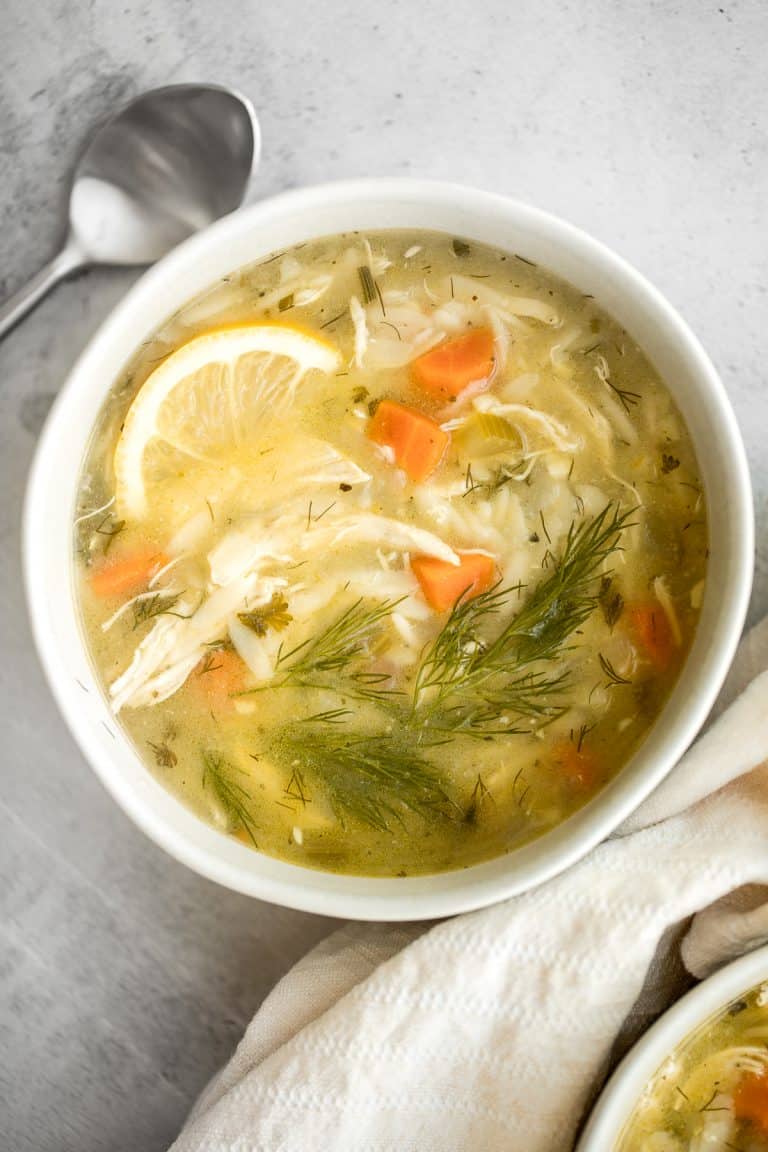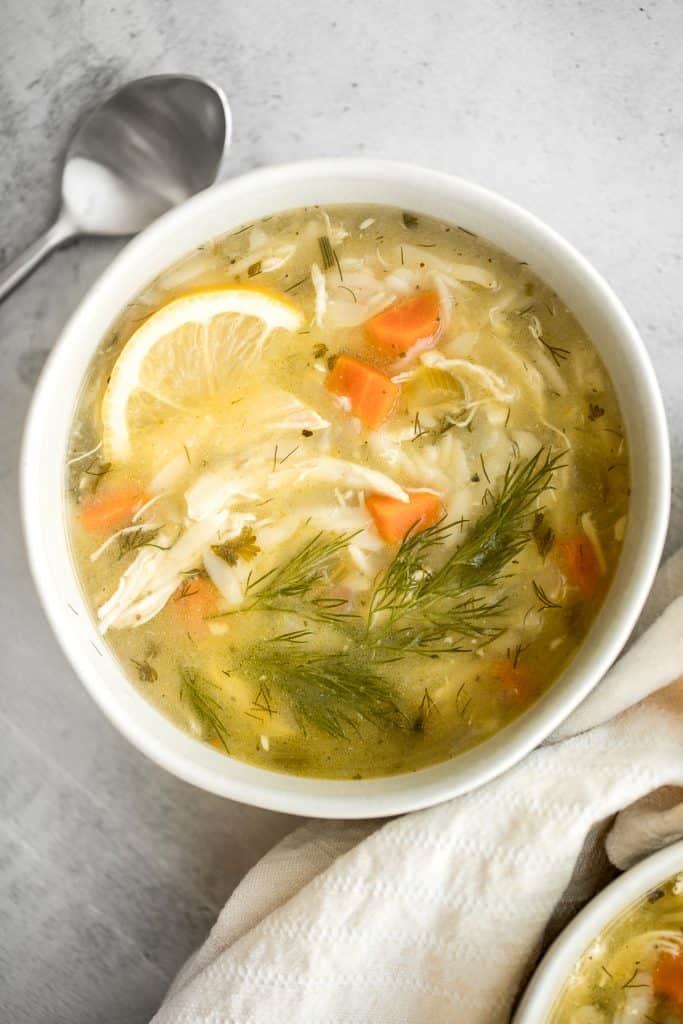 Hearty chicken tortilla soup is a delicious, wholesome and filling soup that you can make in about 30 minutes, packed with classic Mexican flavours.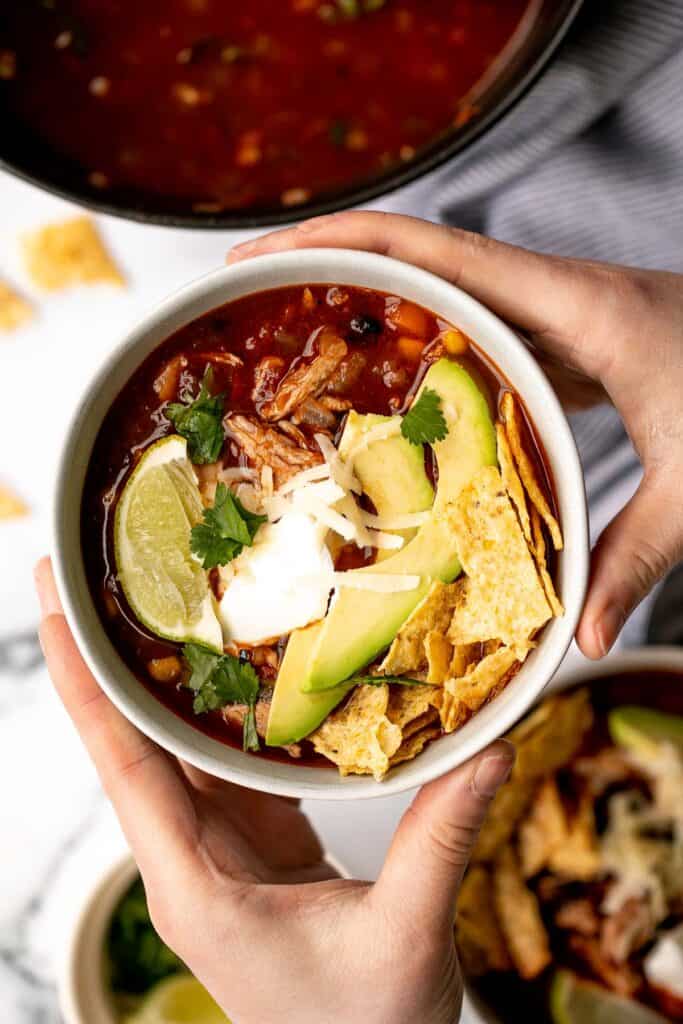 Healthy Miso Ramen with Chicken
It doesn't get any more cozier than a healthy miso ramen soup with chicken from the comfort of your own home. The vegan miso broth is what this ramen is all about. Seriously, weeknight dinners have never been tastier!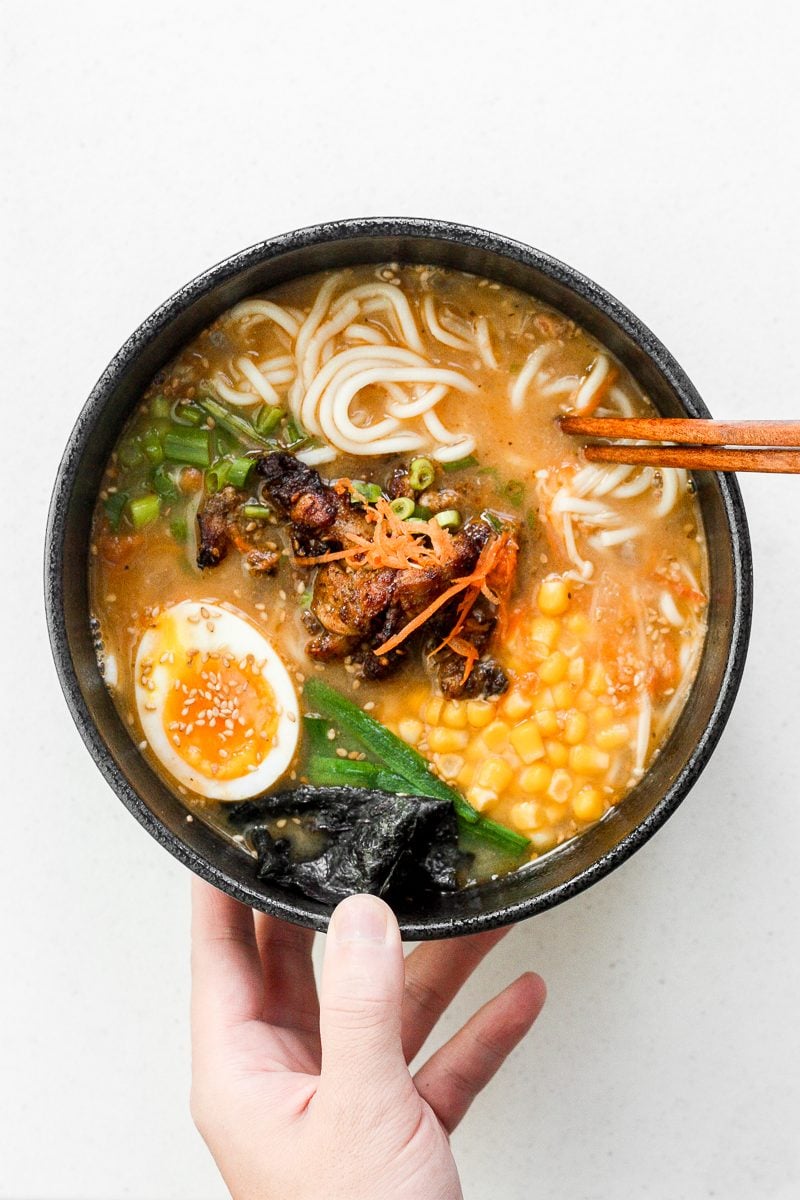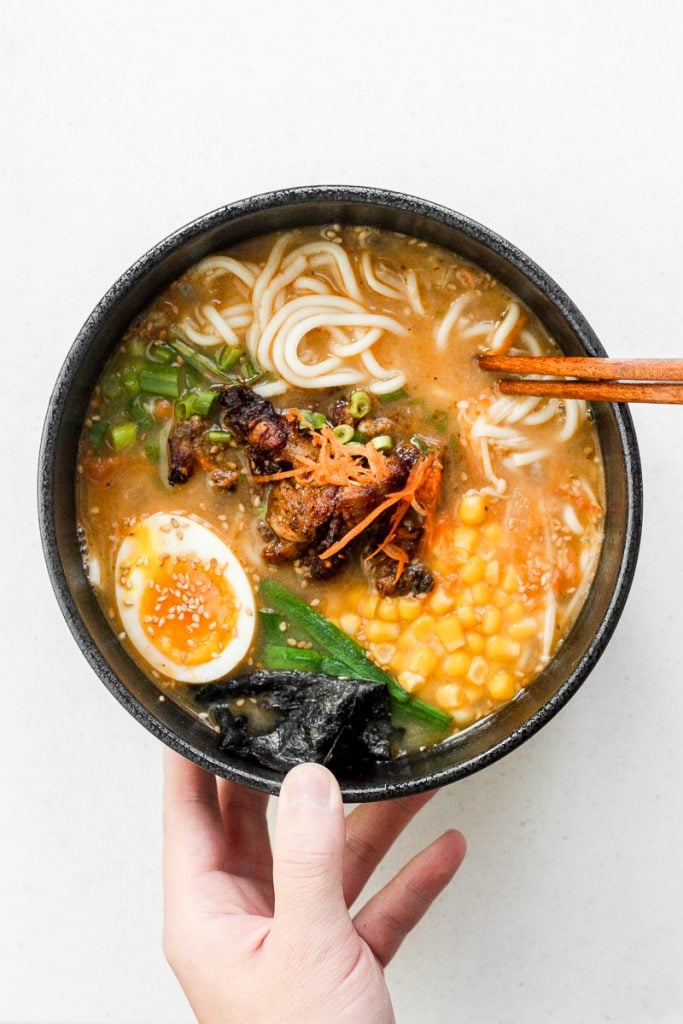 Wholesome hearty one pot leftover turkey wild rice soup can be adapted easily for chicken instead of turkey. It's the most comforting way to use any leftover chicken or a store-bought rotisserie chicken.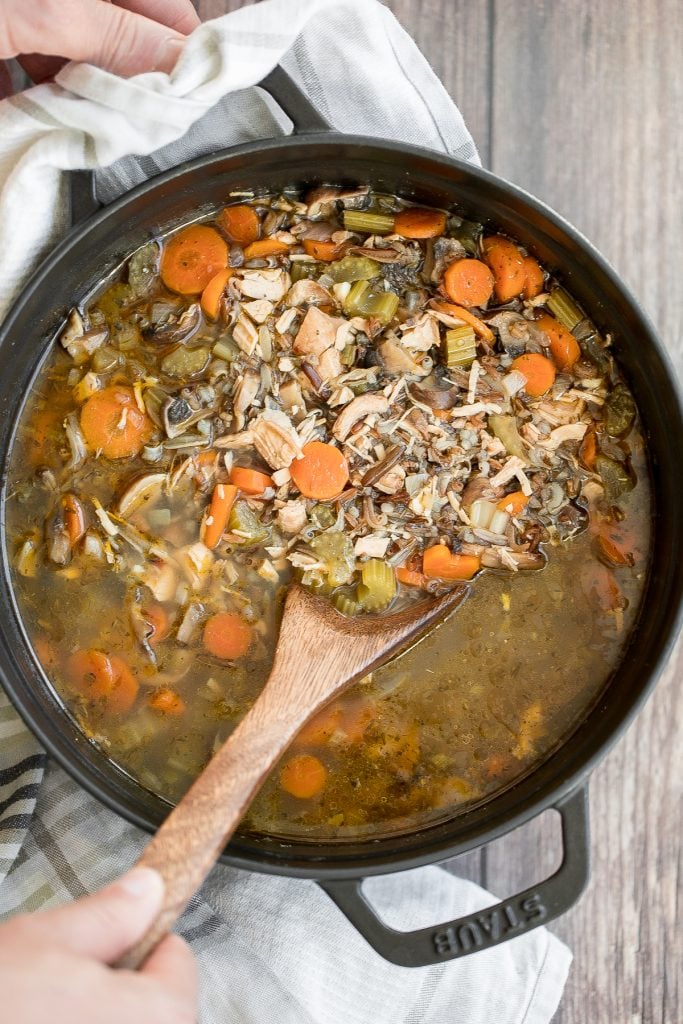 Warm and cozy, creamy turkey orzo soup is wholesome, hearty, filling, and flavourful. Make this delicious one pot meal using a rotisserie chicken instead in just 30 minutes.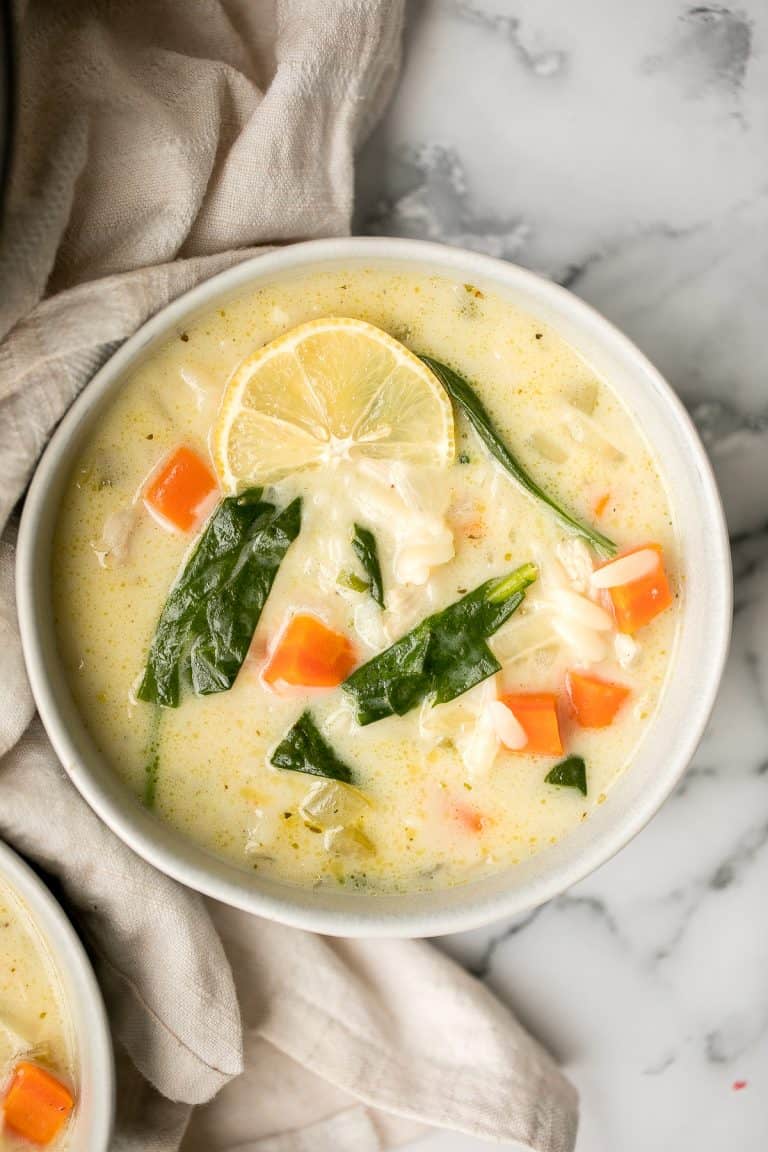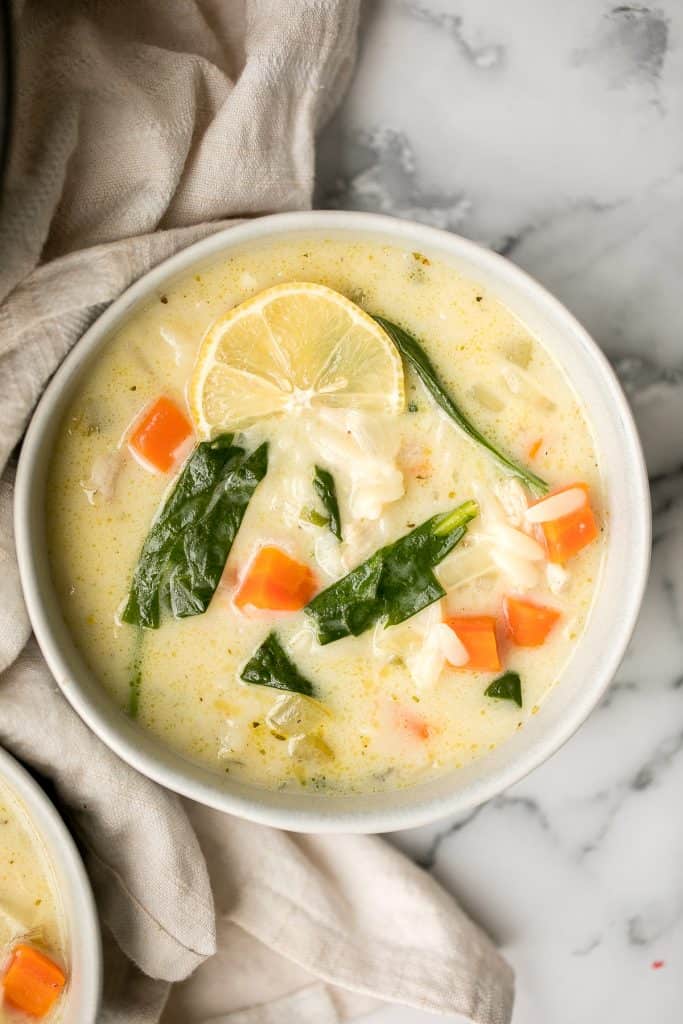 Chicken Casseroles
Creamy White Chicken and Spinach Lasagna
Creamy white chicken and spinach lasagna with tender shredded chicken is the most comforting creamiest cheesiest white lasagna. Easy to make ahead & freeze.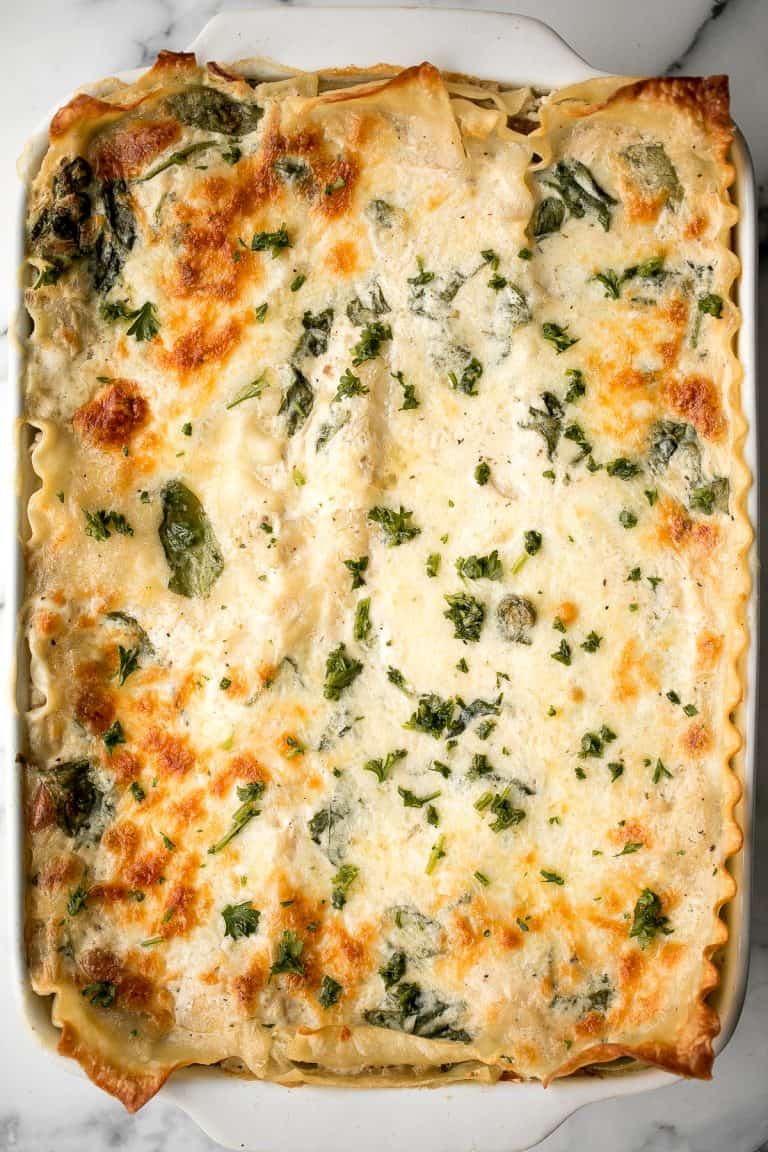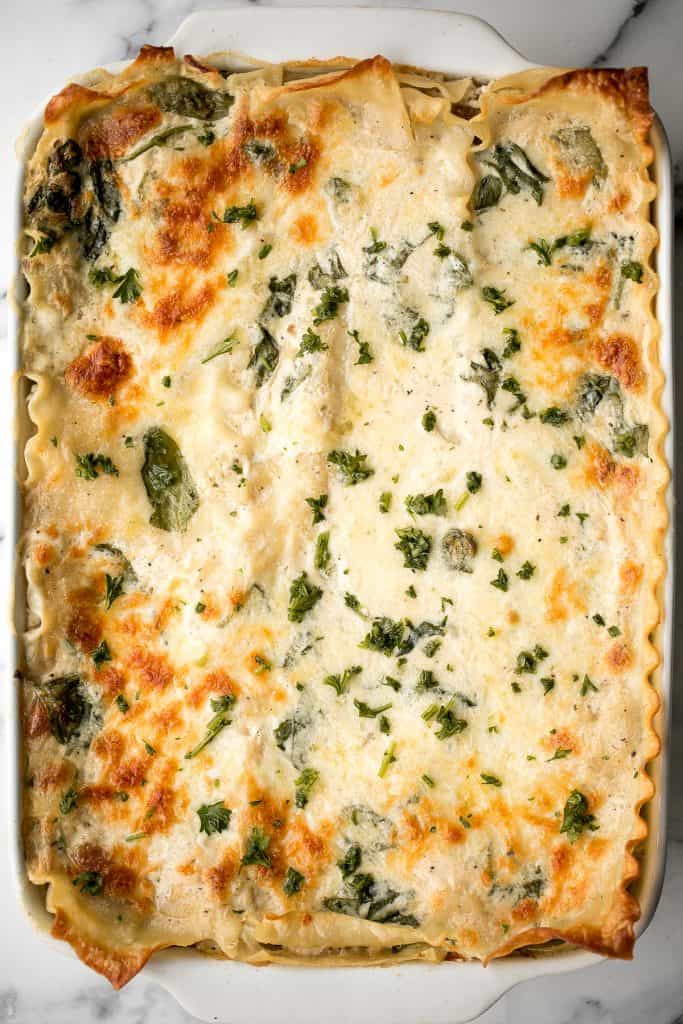 Creamy tetrazzini with spinach is a simple, easy and delicious pasta recipe that is comforting, creamy and cheesy. The recipe used turkey, but you can easily substitute it with leftover chicken or a storebought rotisserie chicken instead.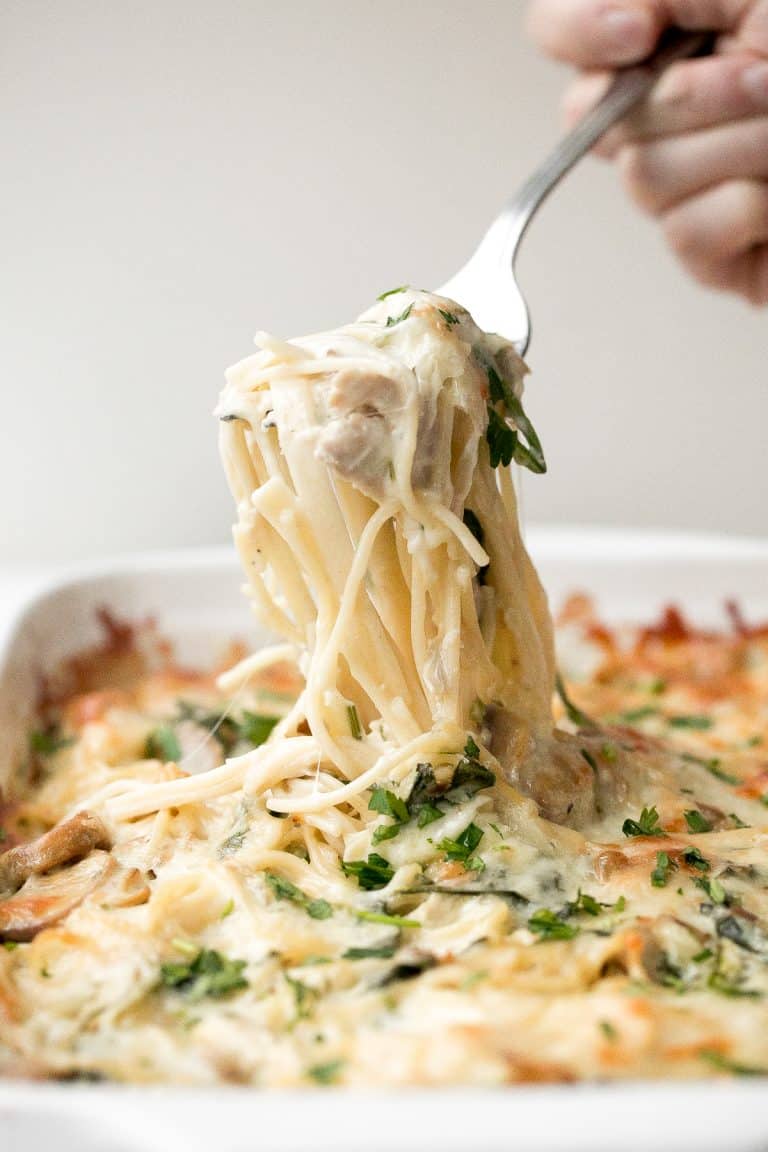 Creamy Chicken Broccoli and Quinoa Casserole
Nothing says comfort food better than a creamy chicken, broccoli and quinoa casserole made with fresh and healthy ingredients.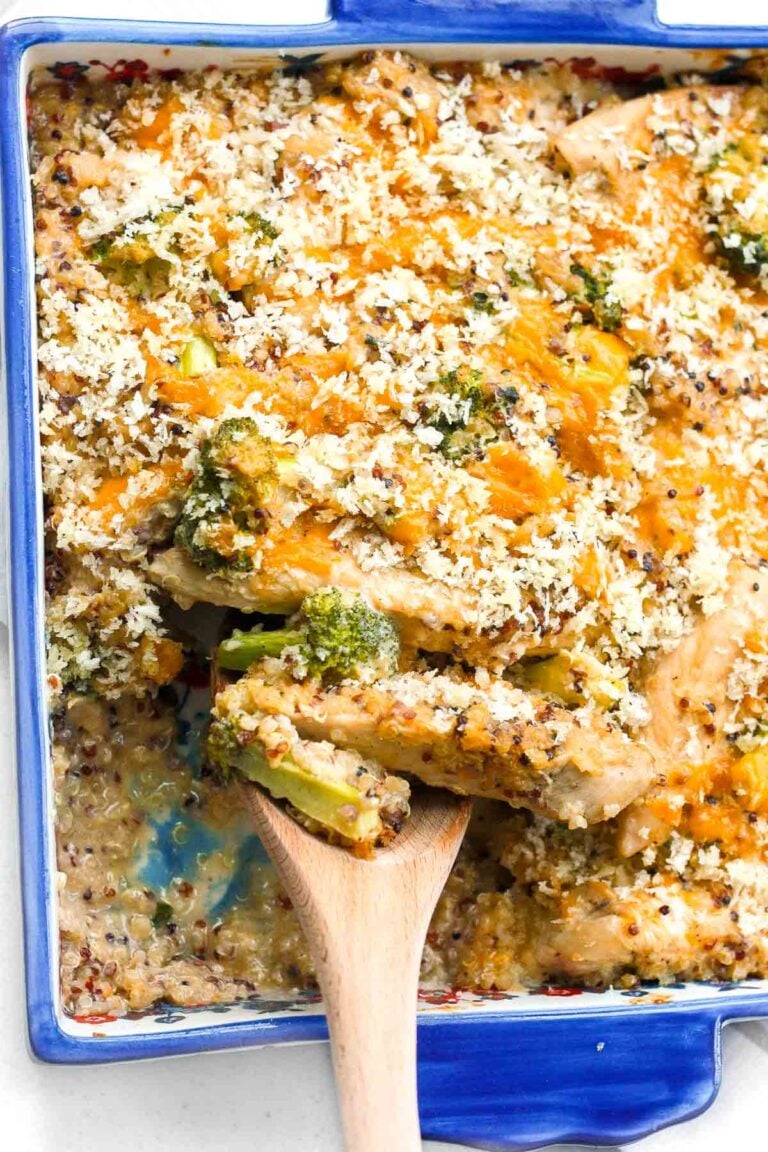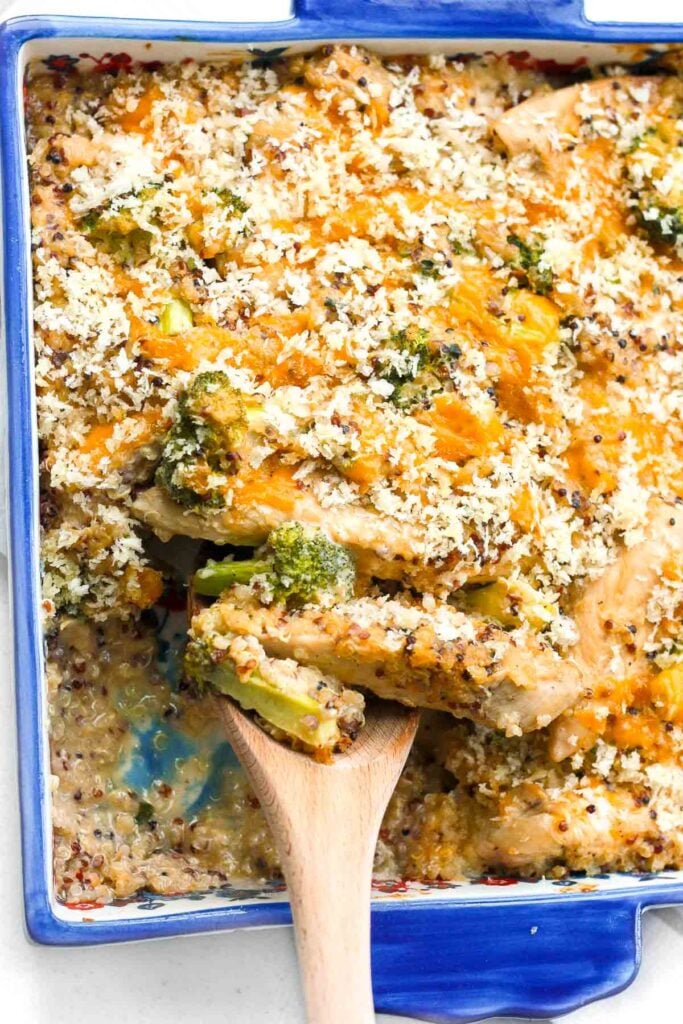 Chicken Skewer Recipes
Easy Greek Chicken Souvlaki Skewers
Easy Greek chicken souvlaki skewers marinated in garlic, fresh herbs, lemon and bay leaves for that classic Mediterranean flavour. Grill in under 15 minutes. Serve alongside some easy homemade tzatziki sauce and a Mediterranean orzo pasta salad. Or turn them into Greek chicken gyros wrapped in pita bread.
Teriyaki Chicken Skewers with Pineapple
Juicy and tender teriyaki chicken skewers with pineapple, bell peppers and red onions are sticky, sweet, savoury, and tangy. So flavourful and delicious. Serve over some steamed rice or easy coconut rice.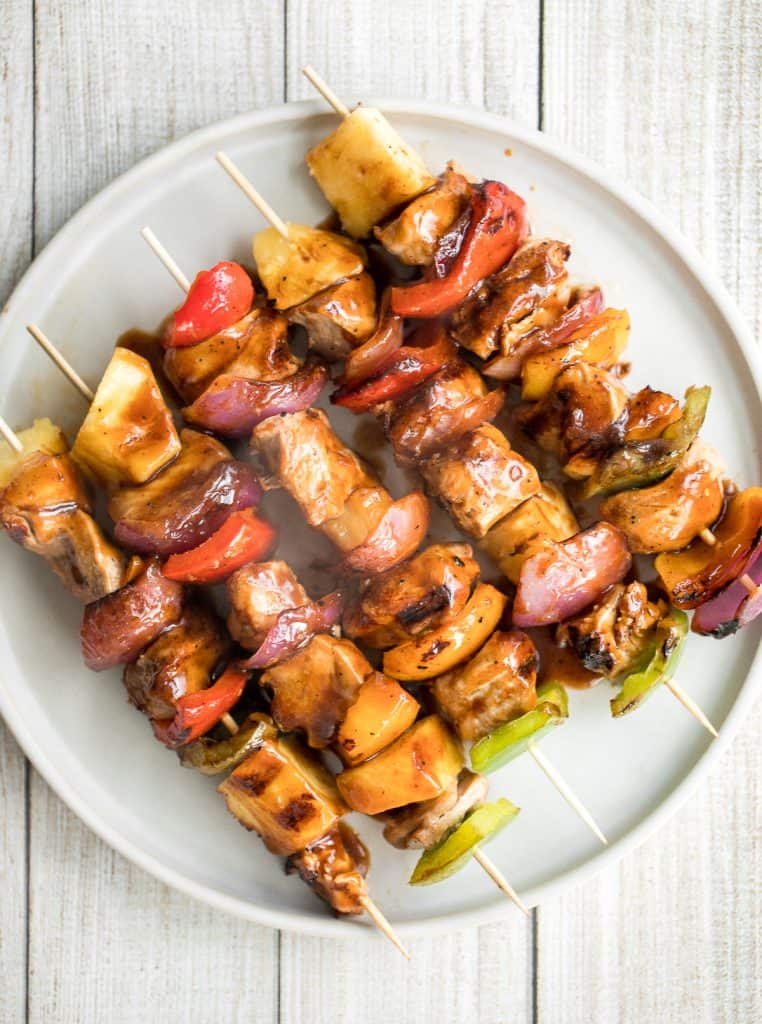 Chicken Satay Skewers with Peanut Sauce
Better than takeout, easy to make tender chicken satay skewers with coconut marinade and homemade peanut dipping sauce is savoury, sweet, tangy, and nutty. Serve it over some delicious easy coconut rice.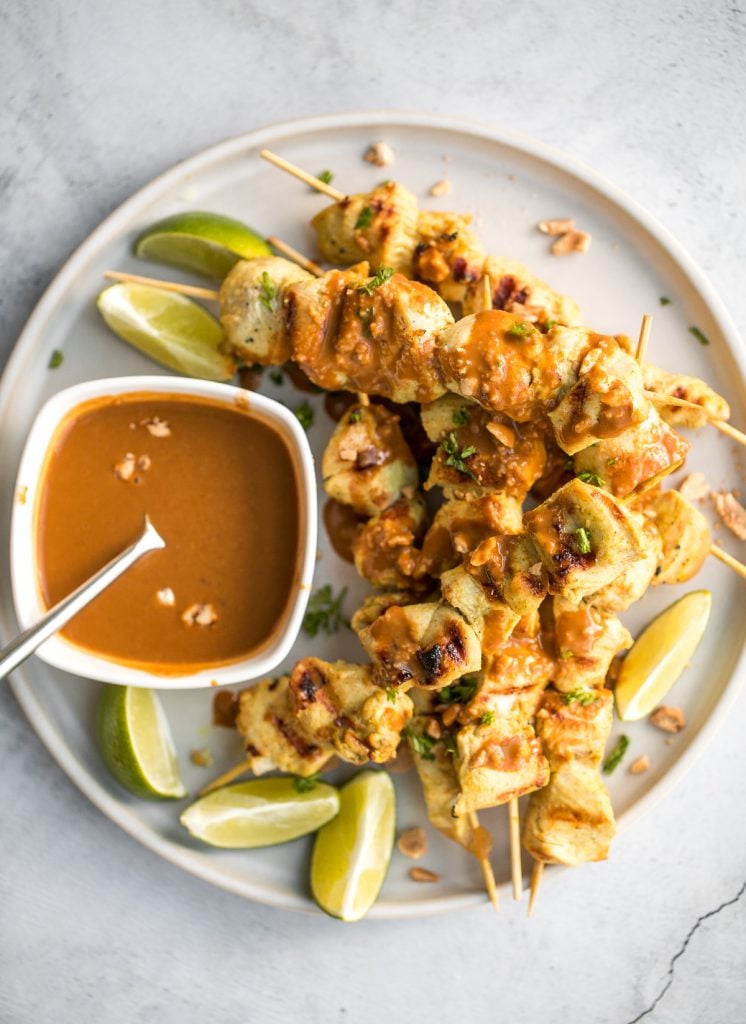 Grilled Orange Chicken Skewers
Flame-kissed, sticky and saucy, grilled orange chicken skewers with a rich, citrus-based marinade are delicious, juicy and so tender. Best summer weeknight dinner ever. Serve with a side of 10-minute vegetarian fried rice.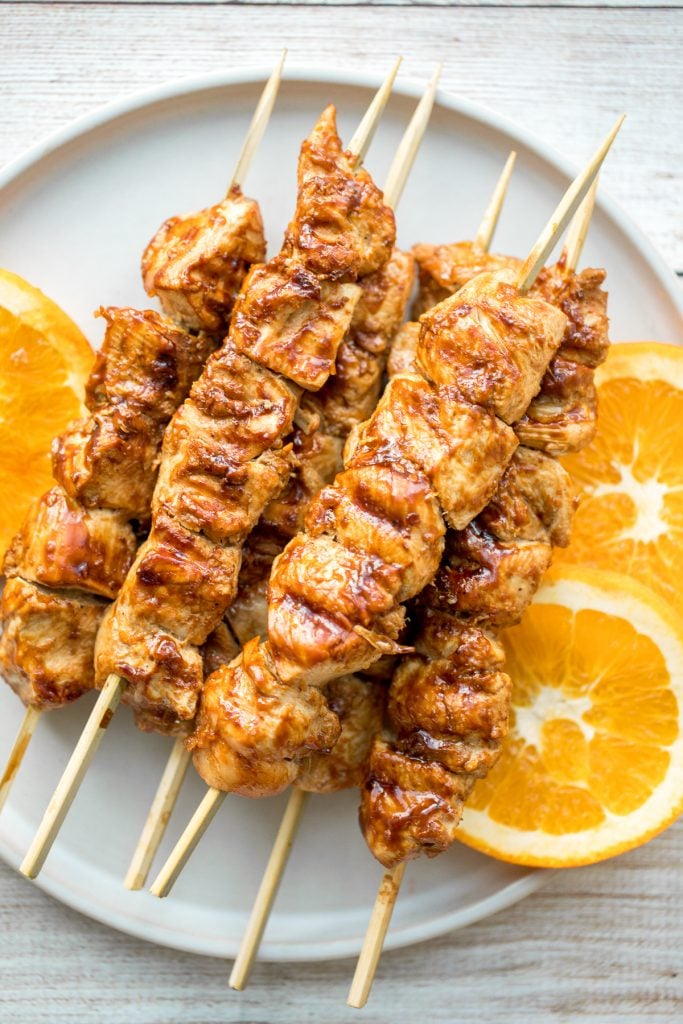 Persian Saffron Chicken Kebabs (Joojeh Kabob)
Quick and easy, classic Persian saffron chicken kebabs (joojeh kabob) is marinated in a simple saffron and lemon marinade for that classic Iranian flavour. Make it a full on Persian dinner with Basmati rice with saffron and Persian Shirazi salad with cucumber and tomato.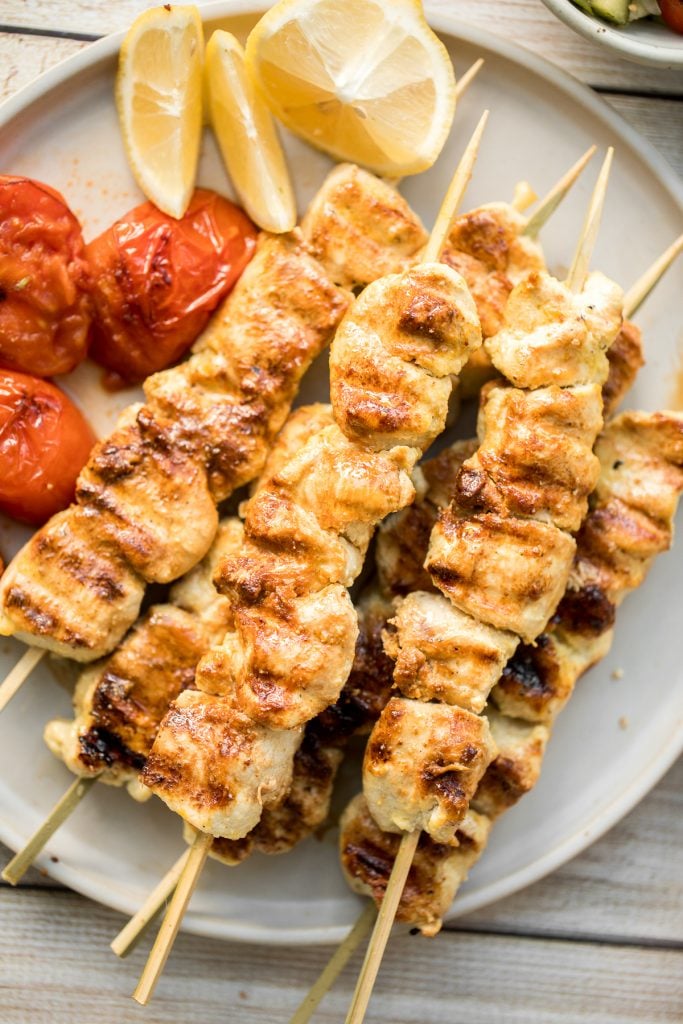 Chicken Appetizer Recipes
Easy homemade chicken nuggets with chicken breast are golden and crisp on the outside and juicy and tender inside. They're freezer-friendly so make extra.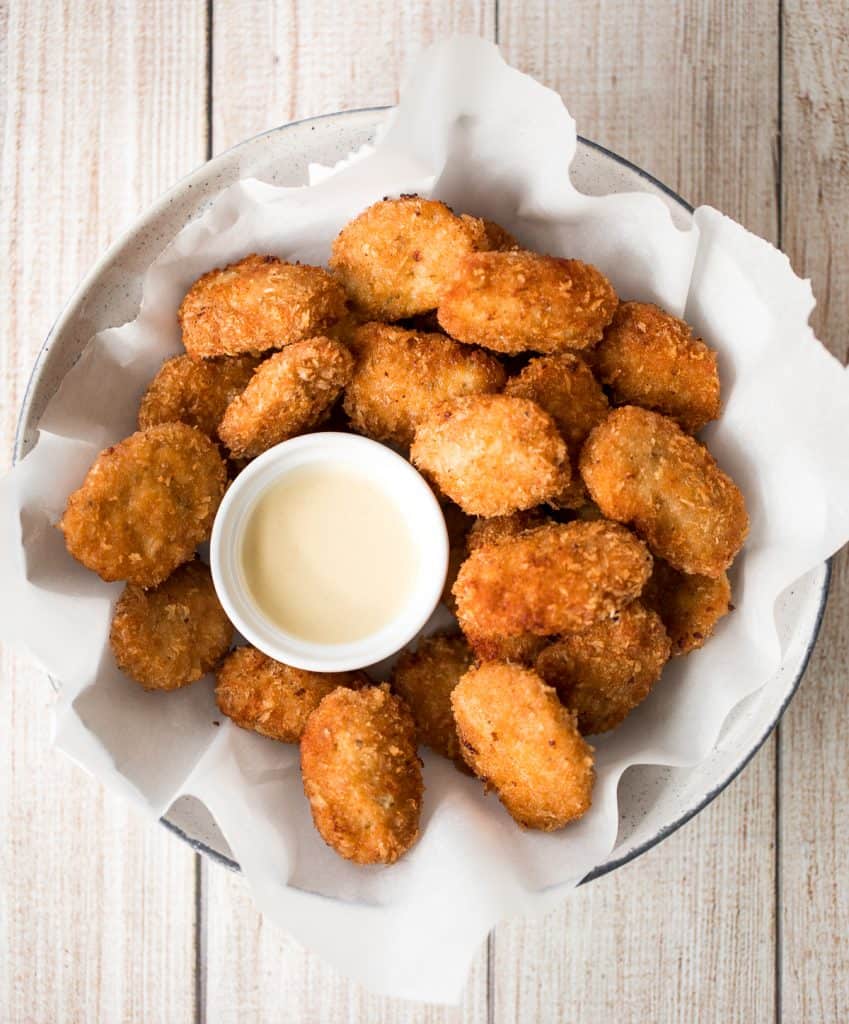 Easy Greek Chicken Gyros with Tzatziki
This refreshing and light, easy Greek chicken gyros is packed with tender souvlaki chicken, Greek salad, and homemade tzatziki sauce, all wrapped in a pita.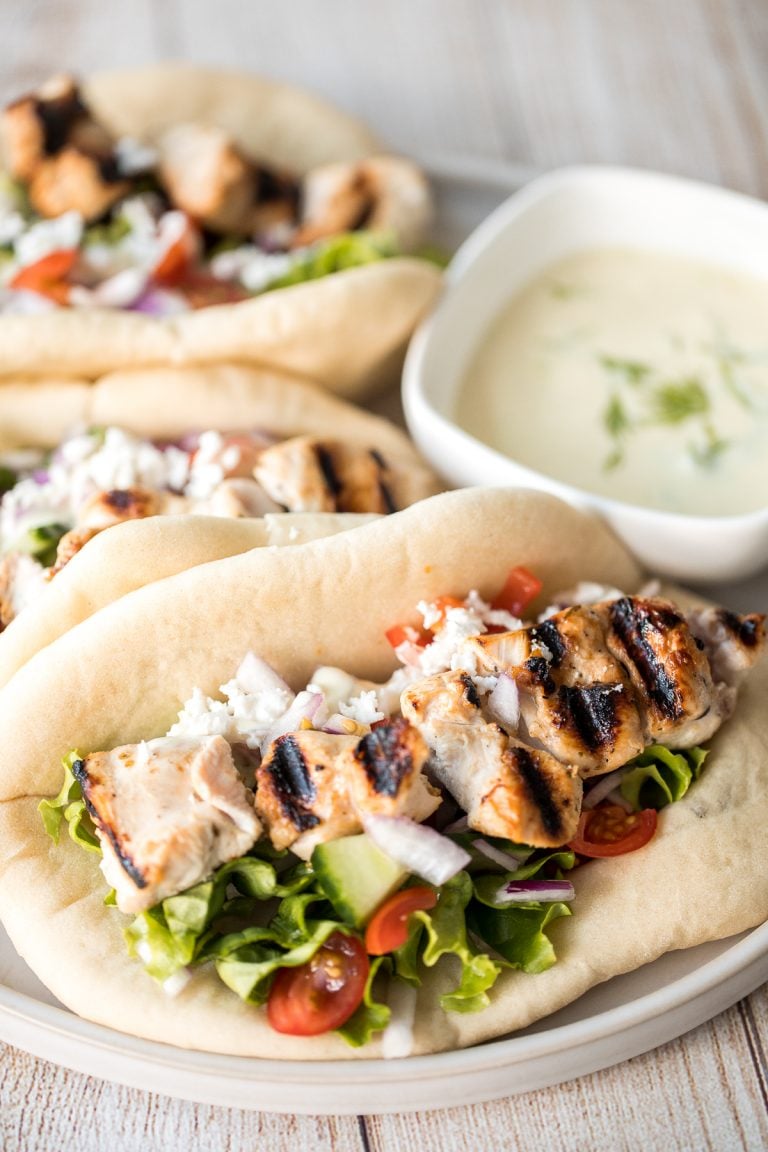 Sticky crispy baked sweet chili chicken bites is better than takeout and so easy to make healthier at home. An easy dinner or game day appy.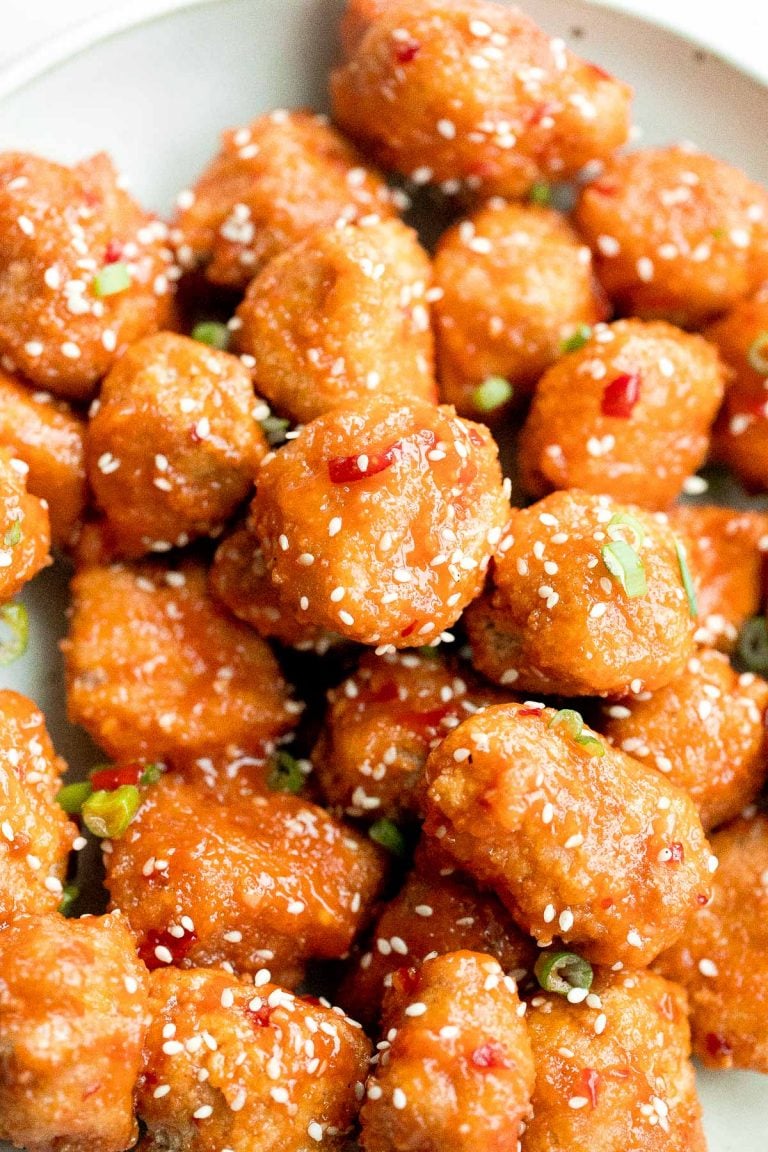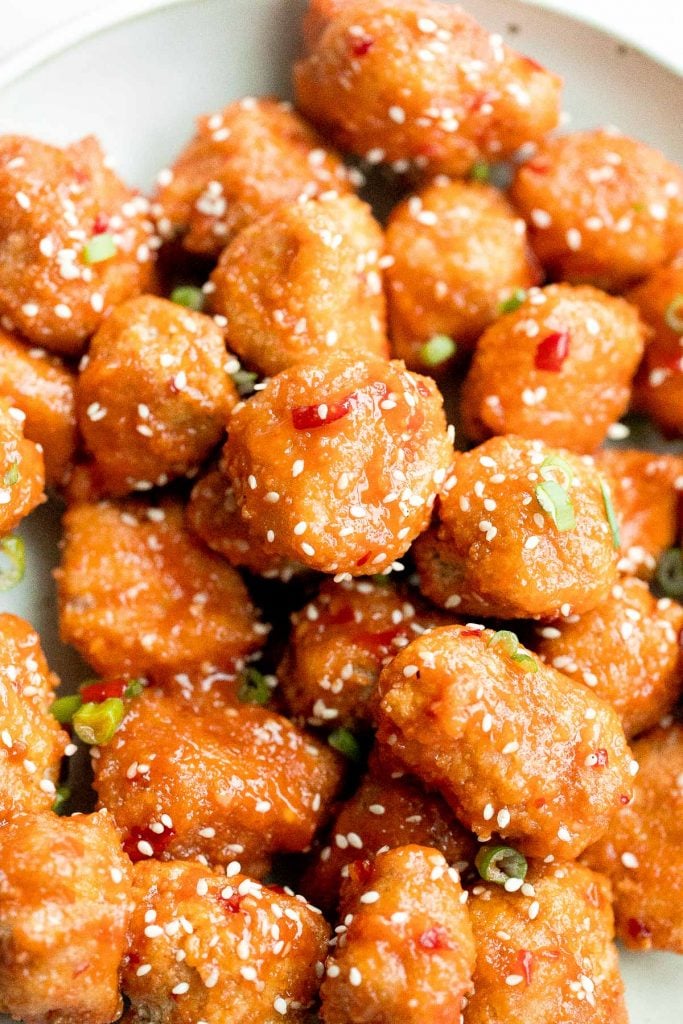 Forget delivery, make sweet, tangy and smoky BBQ chicken pizza from the comfort of your own home in under 30-minutes! Tasty, weeknight dinners have never been easier!
The Best Breaded Fried Chicken Wings (Air Fryer)
The BEST breaded fried chicken wings -- extra crispy and crunchy outside, tender and juicy inside. You can't even tell they're air fried, not deep-fried!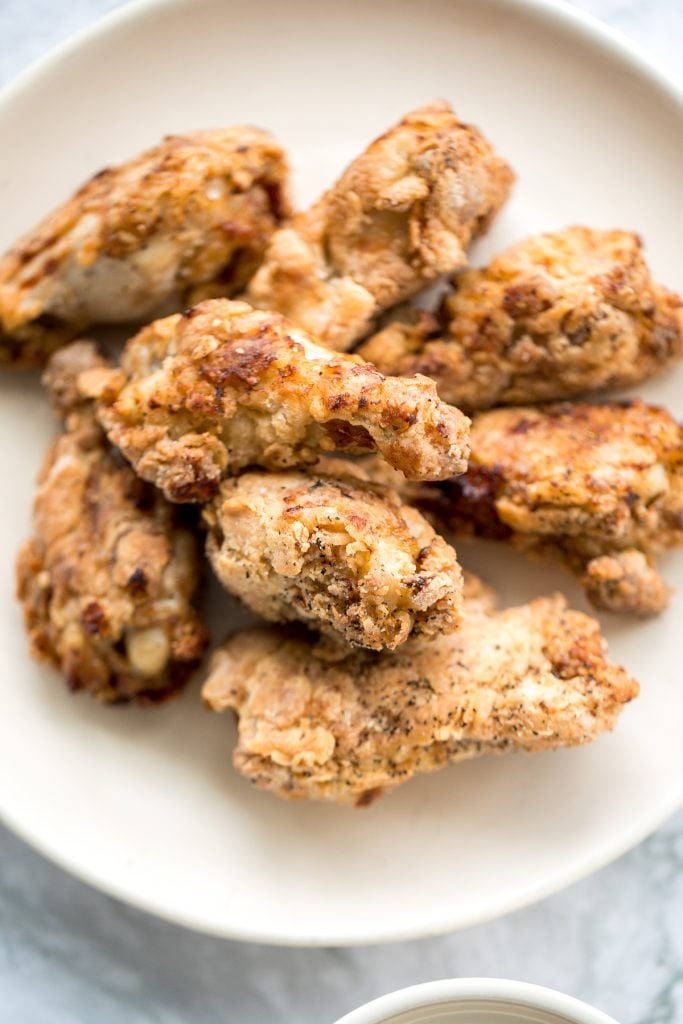 Butternut Squash Quesadillas with Chicken and Kale
Quick and easy butternut squash quesadillas with chicken and kale is the best fall weeknight meal. It's flavourful, so cheesy, and has the perfect crunch.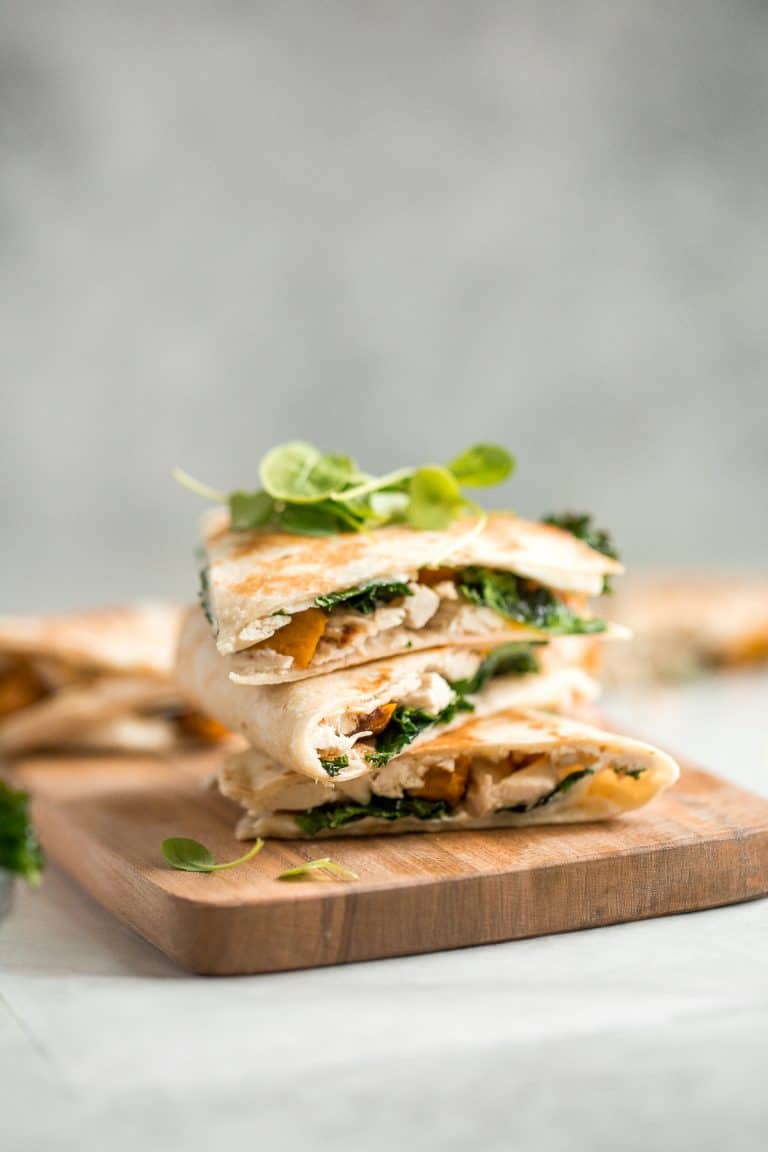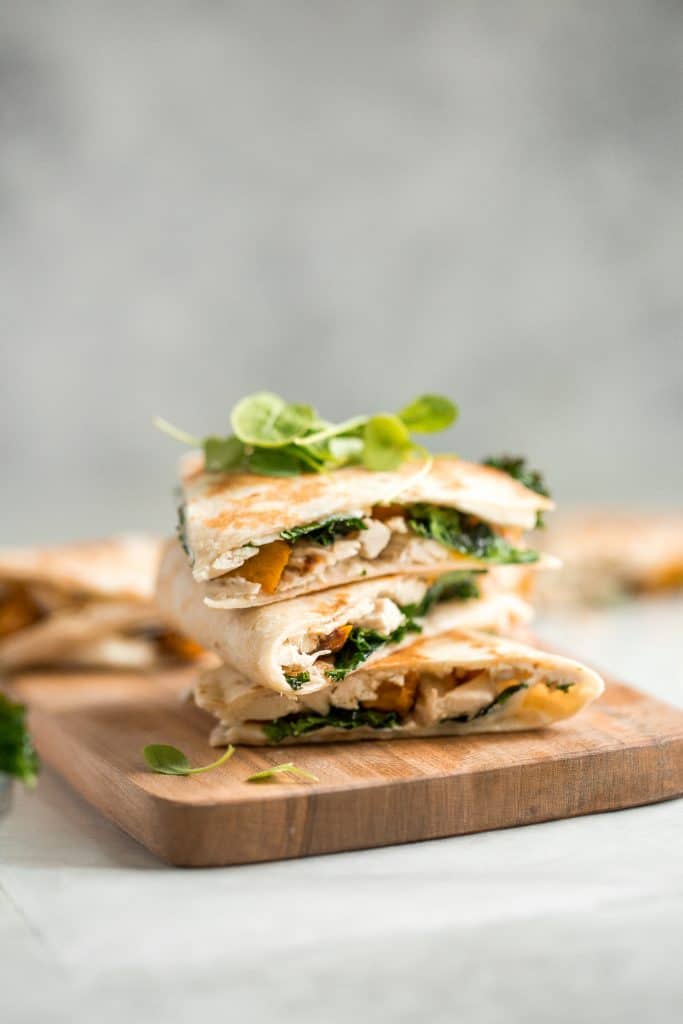 These sweet and sticky honey garlic chicken wings are baked or air fried until crispy and tossed in a honey garlic sauce. So addictive and so easy to make.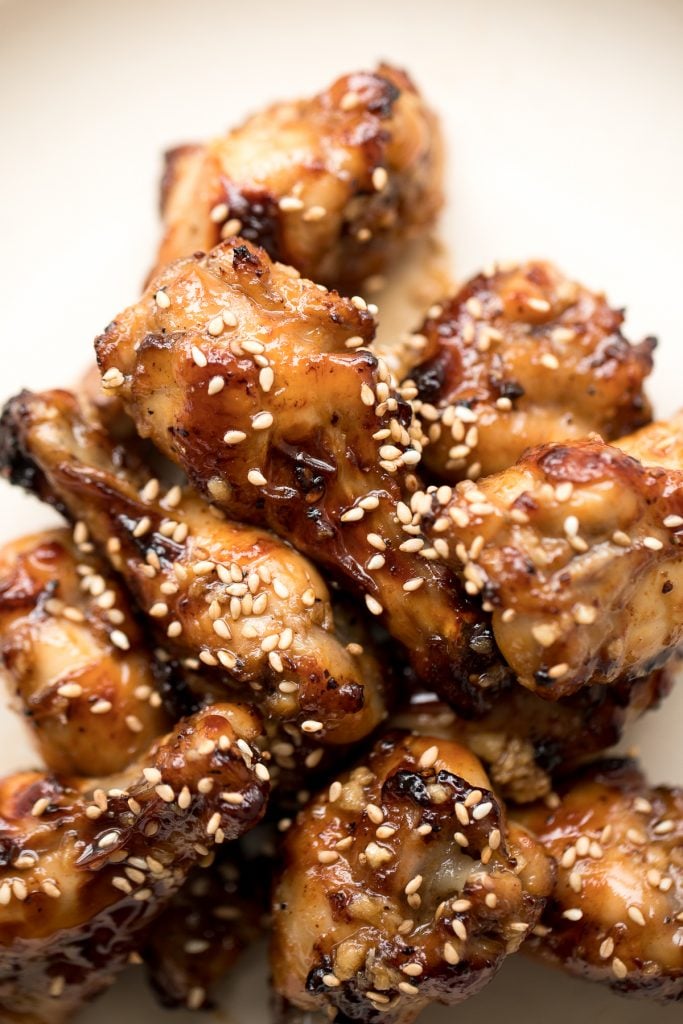 Szechuan Chicken Lettuce Wraps with Spicy Mayo
Spice it up and make copycat Szechuan chicken lettuce wraps with spicy mayo from the comfort of your own home with this easy to follow recipe. Plus, it is healthier than the original.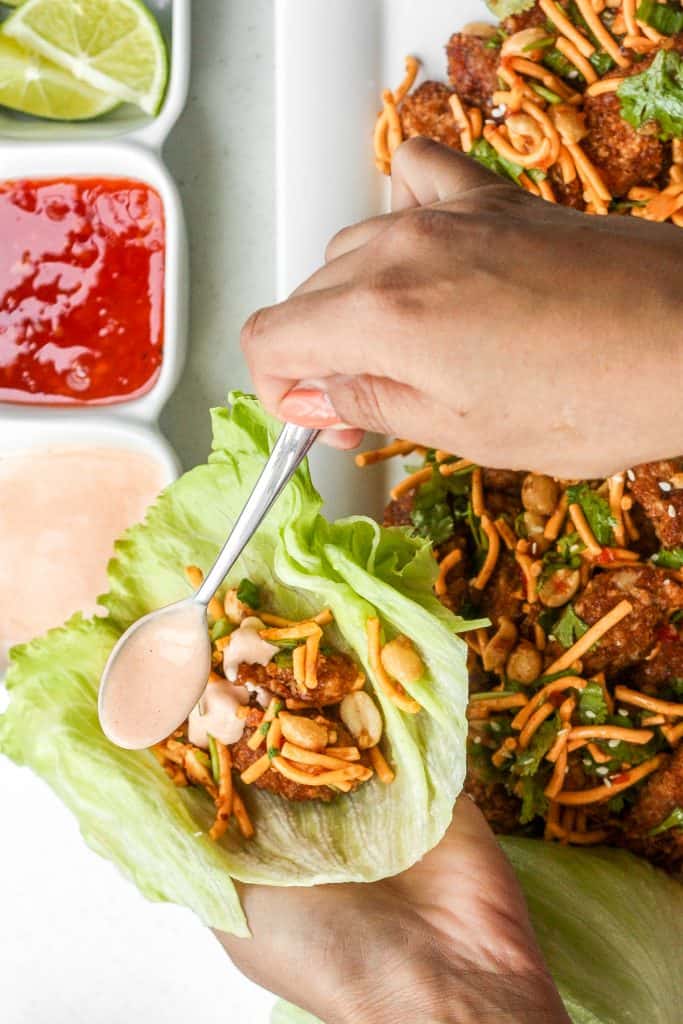 Quick, easy, delicious and saucy leftover butter chicken pizza with an ultra crispy pizza crust is made entirely in a cast-iron skillet in just 10 minutes.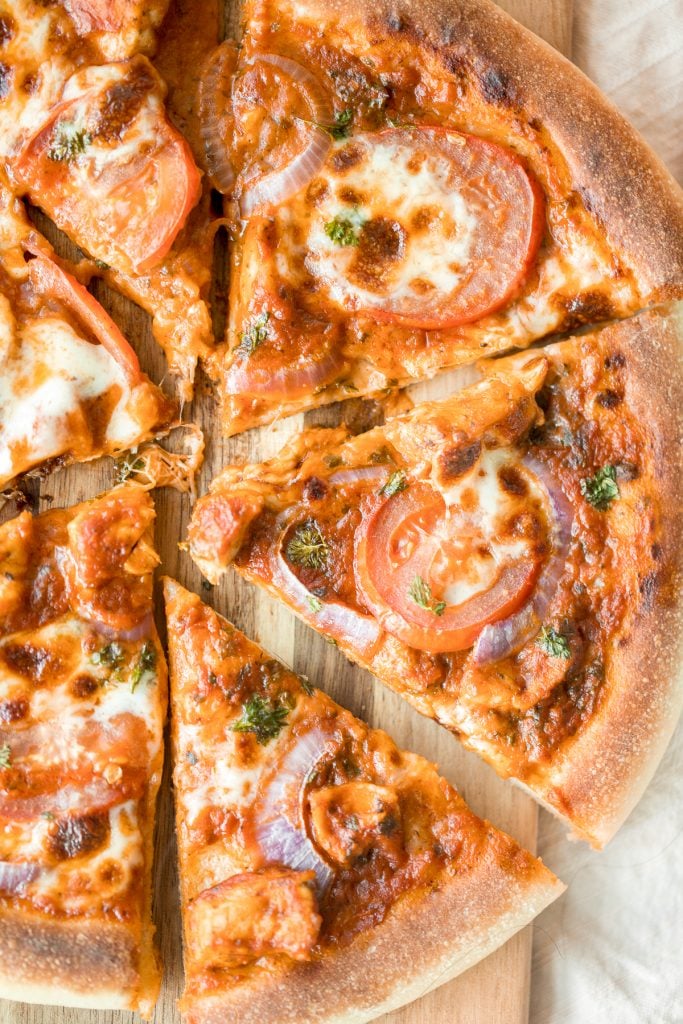 Sweet and sticky, baked BBQ chicken wings are perfectly crispy, so delicious, and smothered in barbecue sauce. They are the perfect game day appetizer.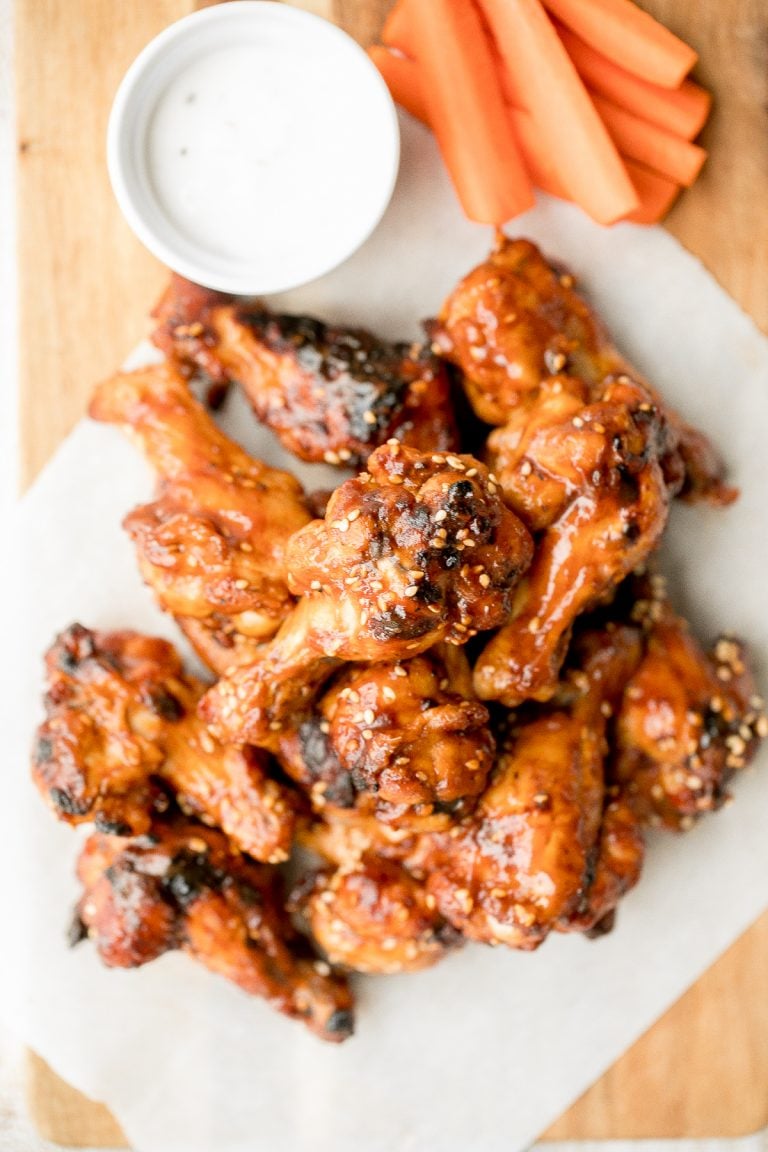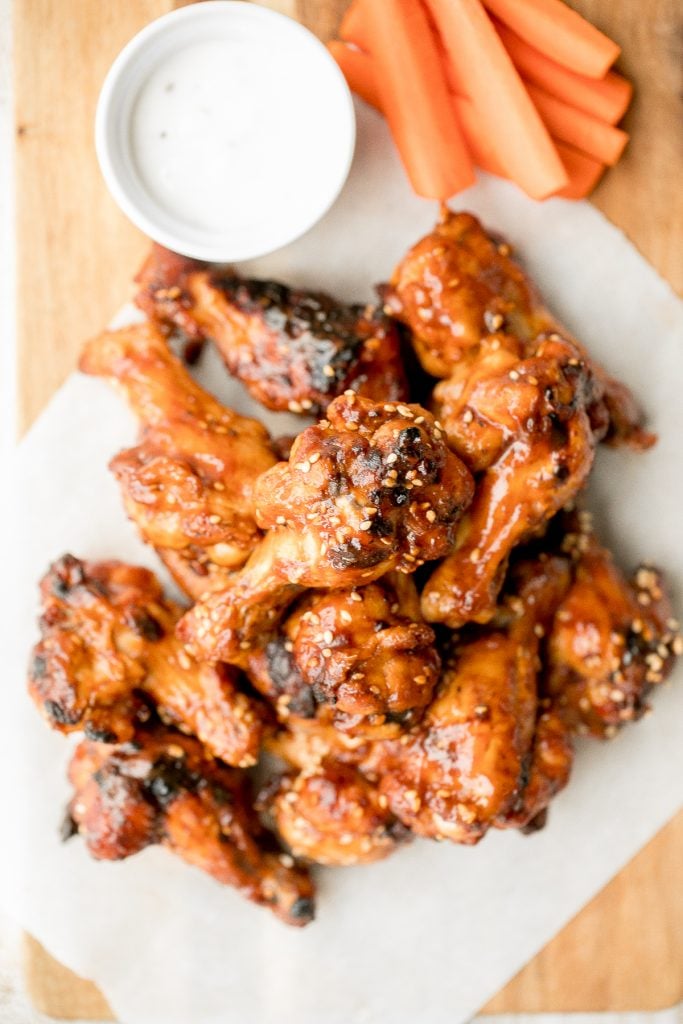 Lemongrass Chicken Banh Mi Sandwich
This easy-to-make, light and crunchy Vietnamese lemongrass chicken banh mi sandwich is packed with tender chicken, pickled vegetables and fresh herbs.
Juicy long strips of chicken shaped perfectly for dipping and coated with a flawless crispy and crunchy exterior, baked crispy chicken strips are a pleaser.
BBQ Chicken Stuffed Baked Potatoes
Try this gorgeous combination of BBQ chicken, scallions, cilantro and gruyere for an explosion of flavour in loaded BBQ chicken stuffed baked potatoes.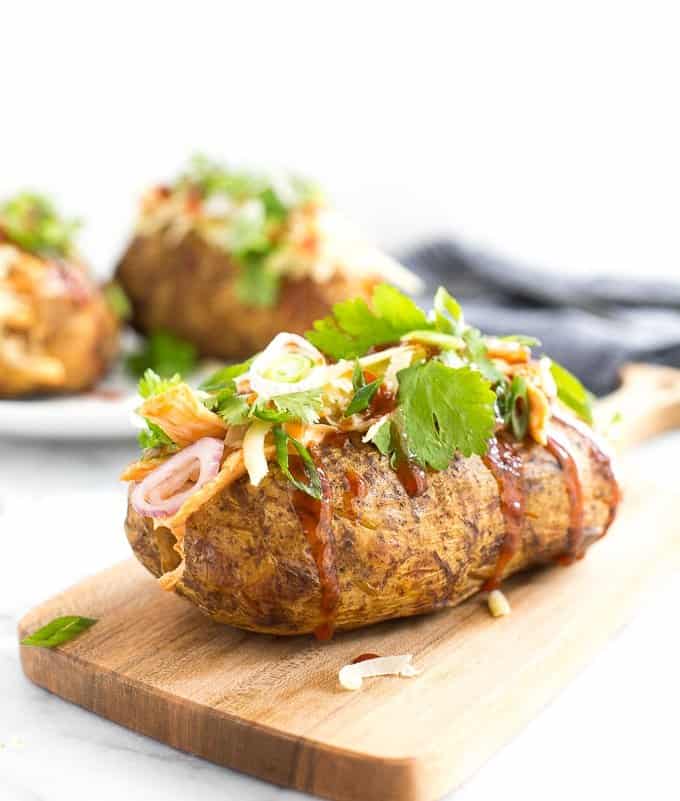 Is it even game day without game day buffalo hot wings? This classic appetizer is a total crowd pleaser and one of my most popular Super Bowl recipes.
How to Store Chicken
Store leftover chicken from any of these quick chicken recipes in an airtight container and place in the refrigerator for up to 3 days. Most of these recipes are also freezer-friendly and can also be stored in the freezer for up to 3 months.
To reheat, simply reheat in the air fryer at 300F for 5-10 minutes, or in the oven at 300F for 10 minutes. You can also reheat on the stove over medium heat until fully warmed through. the oven at 350 F for 10 minutes. If heating from frozen, let it thaw first in the refrigerator and then reheat.
How to Serve Chicken
You can never have too many sides when serving a delicious chicken dinner. Some of my favourite side dishes to serve are:
Did You Make Any of These Chicken Recipes?
Please leave a comment and rating below, and let me know what you thought of this round up of the best chicken recipes. Be sure to snap a picture and tag me on Instagram @aheadofthyme or share it on the Pinterest pin so that I can follow along.
HUNGRY FOR MORE? Don't forget to sign up for my email newsletter so that you don't miss any recipes. You can also follow along on Instagram and Pinterest for more recipe updates.
Print