You guessed it... another easy chicken weeknight meal. That's what happens when you buy a pack of chicken breasts from Costco. And right now, when it is so cold outside and literally on the verge of snow, nothing sounds more prefect that a bowl of creamy comfort food. So what happens when you have lots of chicken and craving comfort food? Creamy chicken, broccoli and quinoa casserole. Or in other words, the best casserole ever.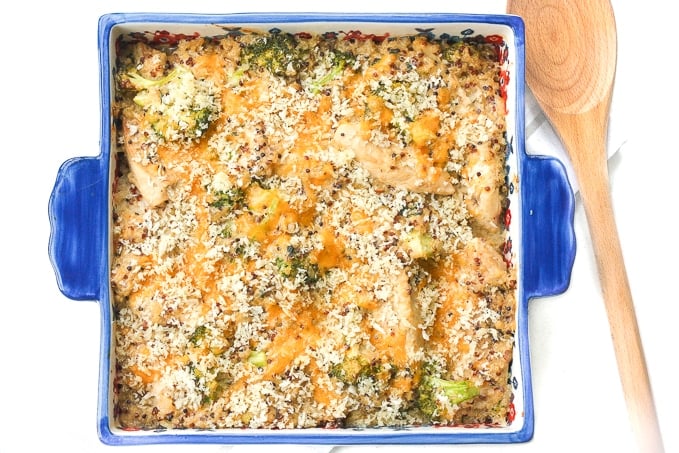 This casserole is made with fresh, healthy ingredients. I know what you are thinking, how is it healthy if it has cheese? Well a little cheese never hurt no one! This casserole is healthy because it uses real, wholesome ingredients from scratch. That means no canned goop soup full of preservatives and ingredients that you have never heard of. Juicy chicken, fresh broccoli and superfood quinoa, how can you can say no to that? Seriously... how?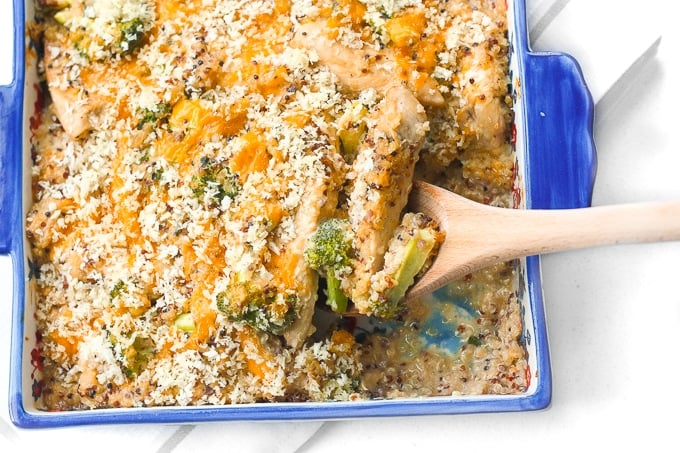 Growing up Persian, I am no stranger to a stewy dish. However, baked casseroles weren't really on the menu. I cannot believe how much I was missing out. If you are like me, and are kind of new to the casserole game, there is no better place to start than with a classic chicken and broccoli casserole. And why not make it healthy with real ingredients while you are it?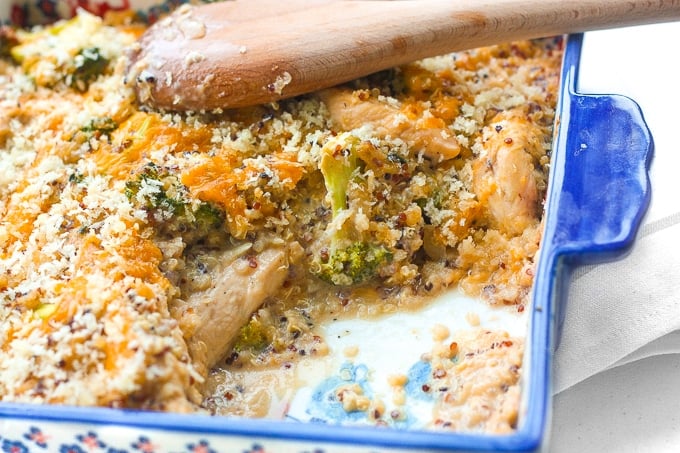 Print
Recipe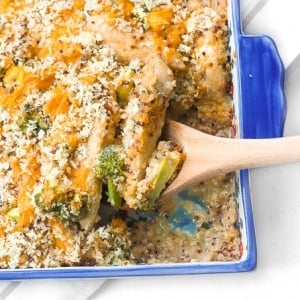 Creamy Chicken, Broccoli and Quinoa Casserole
---
Author:

Total Time:

30 minutes

Yield:

4 servings
Description
Nothing says comfort food better than a creamy chicken, broccoli and quinoa casserole made with fresh and healthy ingredients.
---
1 tablespoon

olive oil

2

boneless, skinless chicken breasts, sliced into strips
salt and pepper, to taste

1 tablespoon

unsalted butter

½

onion, finely chopped

1

clove garlic, minced

1 tablespoon

all-purpose flour

¾ cup

chicken or vegetable stock

¾ cup

milk or

half an

d half cream

1 tablespoon

parsley, chopped

2 cups

fresh broccoli florets

2 cups

cooked quinoa

½ cup

Greek yogurt

1 cup

cheddar cheese, shredded

¼ teaspoon

salt

¼ teaspoon

ground black pepper

¼ cup

Panko breadcrumbs
---
Instructions
Preheat oven to 350°F. Grease a 9-inch square casserole dish.
Season sliced chicken breasts generously with salt and pepper.
Heat olive oil in a large skillet over medium heat. Add chicken breasts and cook 3-4 minutes on each side, until browned. Set aside.
On the same skillet, melt butter over medium heat. Scrape the brown bits off the bottom of the pan. Add onions and sauté for 1 minute. Add garlic and sauté for another minute or 2 until onions are soft and translucent.
Add in flour and cook for 1 minute until lightly browned. Whisk in the chicken stock and milk. Bring to a boil and add parsley. Cook for 2 minutes, continuously whisking.
Turn heat down to low, add broccoli and simmer covered for 3 minutes.
Stir in quinoa, chicken, Greek yogurt, ¾ cup of the cheese, salt and pepper. Toss to combine.
Spread mixture into the casserole dish. Bake for 12 minutes.
Sprinkle the remaining cheese and the Panko bread crumbs on top. Bake for another 5 minutes until cheese in melted and top is lightly browned.
Prep Time:

10 mins

Cook Time:

20 mins

Category:

Main

Cuisine:

American