Looking for a new recipe for Meatless Monday? Look no further, today I am sharing delicious quinoa, cauliflower and chickpea vegetarian meatballs with tahini sauce. I have to admit that I cannot say that without my mouth watering a little bit...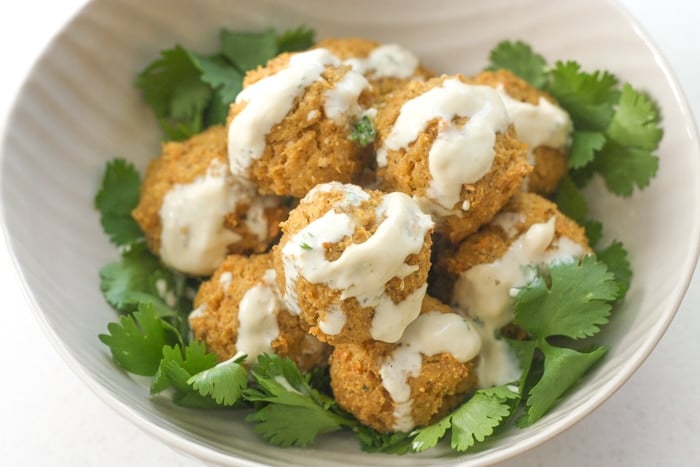 From what appears to be a long list of ingredients, this recipe is quite simple and requires only a few main ingredients along with an assortment of spices and herbs. You will need: cooked quinoa, cauliflower, canned chickpeas, breadcrumbs, eggs and a handful of spices and herbs. You will first need to cook the cauliflower. But keep in mind that this recipe calls for cooked quinoa and if you don't have any cooked on hand, no need to panic. I have laid out the basic steps on how to easily make quinoa, below.
How to Make Quinoa
In a medium bowl, rinse 1 cup of quinoa a few times (1 cup of uncooked quinoa will yield 3 cups cooked quinoa).
In a medium saucepan, boil 2 cups of water. Add the quinoa and continue to boil for about 15 minutes until the quinoa is tender and has absorbed most of the water.
Drain the quinoa and let it cool.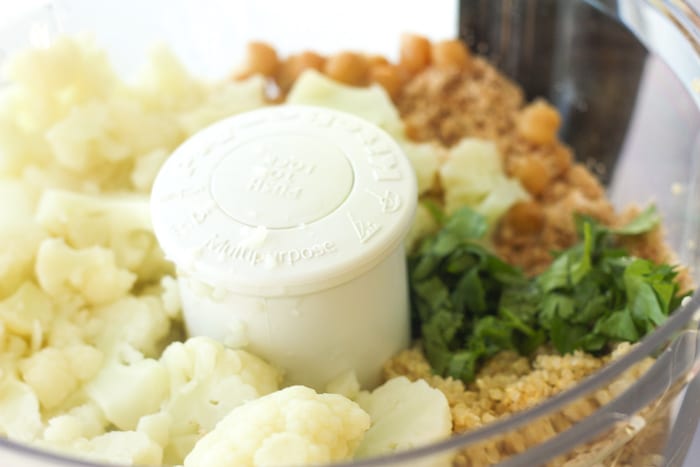 As you are gathering your ingredients, dump them straight into your food processor. That's right, everything (apart from the eggs) is going to be processed together. Man, I love this machine! It was seriously the best wedding gift that we received!
Once processed, scoop out your mixture into a large bowl and add the eggs. Stir well to combine. Roll your mixture into little balls and place on a lined baking tray. If the mixture is too sticky to handle, let it sit for 5-10 minutes. It may be too warm because of the freshly cooked cauliflower. If that doesn't make it easier to work with, add a little bit more breadcrumbs. Note that the mixture is supposed to be on the sticky side. As long as you get it into a ball shape, you are good. I find that it helps quite a lot if I rinse and dry my hands after rolling 5-6 balls.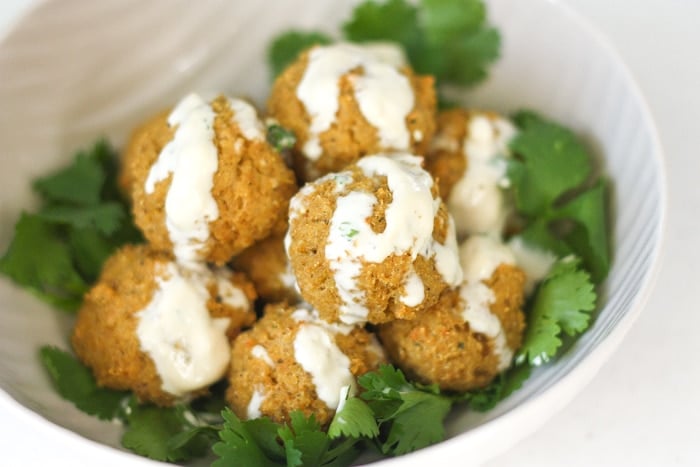 These little bites take only 30 minutes to bake in the oven. But to make this in even less time, you can opt to pan-fry the meatballs on your stove top instead. Heat up some oil over medium high and cook each side for about 3-4 minutes. However, be very careful when you are flipping the meatballs over because they are very soft and hard to handle. Which is why I opt for the oven. Plus, using the oven gives you time to make the tahini sauce, instead of having to watch over and monitor the frying pan. But it's your call 🙂
Once baked, let the meatballs cool for about 5 minutes and serve warm with a drizzle of tahini sauce. Serving with tahini sauce is my favourite way to eat these meatballs. I like them on their own or wrapped in a pita. I even like extra sauce on the side for dipping. But you can serve these meatballs in many different ways. For example, try it soaked in your favourite marinara pasta sauce or creamy rosé sauce served over pasta.
Since this recipe yields around 40 meatballs, get creative over the next day or 2 on how to eat them! Luckily these freeze well so you can also just freeze the left overs for another day.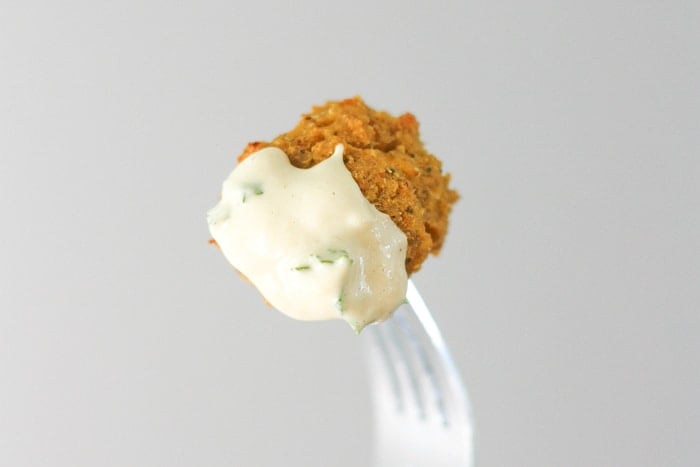 Tahini Sauce
I have to say that I do love these meatballs but they would be nothing without the tahini sauce. I love this stuff.
This recipe yields about 1 and ½ cup of tahini sauce. It is very likely that you will use this all up for the 40 meatballs that you make but if you happen to have some left over or made an extra batch, keep it refrigerated in an airtight container . There are plenty of other ways to use this delicious sauce in your meals over the next few days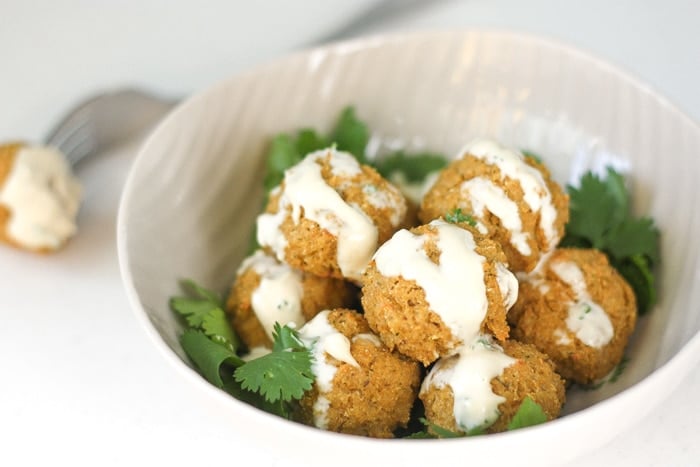 Print
Recipe
Quinoa, Cauliflower and Chickpea Vegetarian Meatballs with Tahini Sauce
---
Author:

Total Time:

40 minutes

Yield:

40 meatballs

Diet:

Vegetarian
Description
Vegetarian meatballs are easy to make with a combination of quinoa, cauliflower, chickpeas and an assortment of spices and herbs, drizzled with a homemade tahini sauce.
---
2 cups

cauliflower florets (about

half a

head of cauliflower)

3 cups

cooked quinoa

1 cup

canned chickpeas, drained and rinsed

1 cup

breadcrumbs

2

cloves of garlic

1 tablespoon

fresh cilantro, chopped

1 teaspoon

onion powder

½ tablespoon

italian seasoning blend

½ tablespoon

paprika

1 teaspoon

salt

½ teaspoon

ground black pepper

2

eggs
For the tahini sauce:
½ cup

tahini paste

¼ cup

fresh lemon juice

⅓ cup

lukewarm water

3 tablespoons

olive oil

2

cloves of garlic

⅛ teaspoon

ground cumin

½ teaspoon

sea salt

1

+

½ tablespoons

fresh parsley
---
Instructions
Preheat oven to 375 F.
Bring a medium pot of water to boil and cook the cauliflower for 5 minutes. Drain and place the cooked cauliflower into your food processor.
Add the cooked quinoa, chickpeas, breadcrumbs, garlic, cilantro, onion powder, italian seasoning blend, paprika, salt and pepper and puree on high until combined.
Scoop the mixture out into a large bowl and add the eggs. Mix well until the eggs are fully incorporated.
Let the mixture sit for 5 minutes. Roll out into small 1 inch thick balls and place onto a lined baking tray.
Bake for 30-35 minutes until the balls are golden brown and firm on the outside, yet soft inside.
Make the tahini sauce: While the "meatballs" are baking, make your tahini sauce. Combine all ingredients, except for the parsley, into a blender and puree until smooth. Pour into a small bowl and add the parsley. Stir to combine.
Prep Time:

10 minutes

Cook Time:

30 minutes

Category:

Appetizers

Method:

Bake

Cuisine:

Mediterranean
Keywords: vegetarian meatballs, chickpea meatballs, quinoa meatballs, cauliflower meatballs, falafel, tahini sauce