You and I both know that Mother's Day is all about brunch. But since all the restaurants are currently closed, taking your mom out for a lovely brunch is unfortunately not in the cards. Why not prepare the fancy and decadent Mother's Day brunch that she deserves at home? Whether you enjoy it together, or it's a meal that you drop off at her doorstep this year, here are some recipe ideas that will show her how much you appreciate her.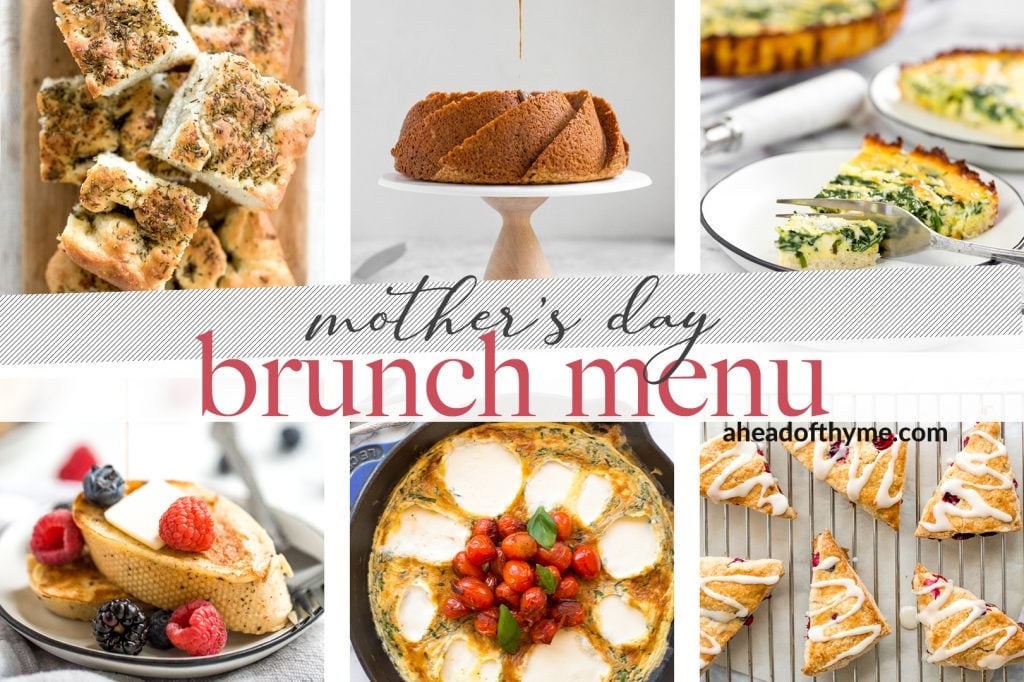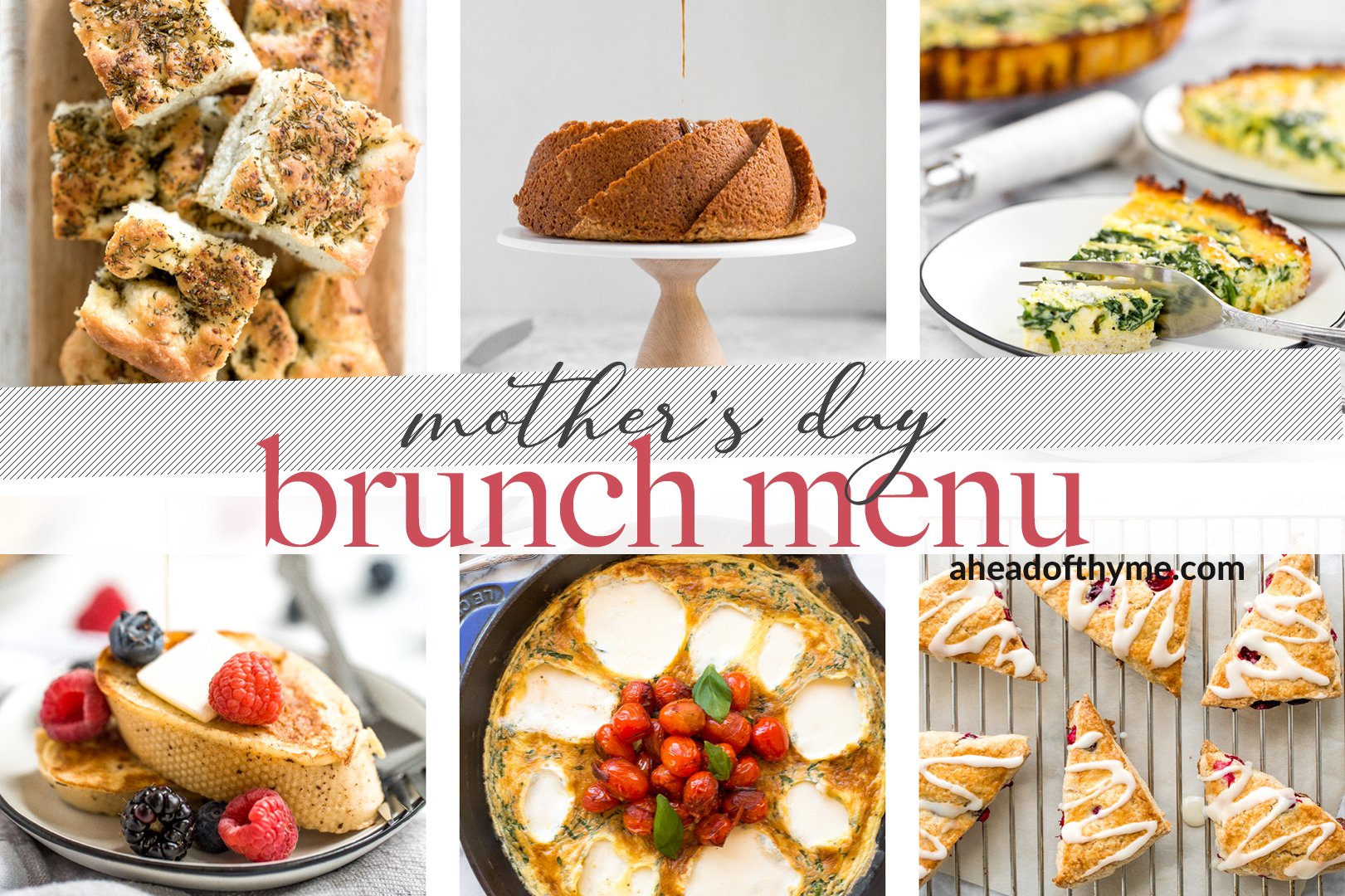 Sweet Showstoppers
Mother's Day brunch is all about those sweet showstoppers. I am talking about pancakes, waffles, crepes and french toast. They are carby, comforting, and drizzled with sweetness. Try super soft and fluffy old-fashioned pancakes, light and buttery nutella crepes, or triple berry french toast topped with a creamy egg mixture, an overload of berries and drizzled with maple syrup on top.
Effortless Eggs
Eggs are probably the most versatile breakfast item there is. They can be scrambled, fried, poached, hard-boiled, soft-boiled, whisked into an omelette, breakfast casserole or a frittata, and basically goes with everything. One of my favourite super easy make-ahead dishes is an egg and potato breakfast casserole where you basically combine ingredients into a casserole dish and bake. You also can't go wrong with a 15-minute caprese frittata. It's so quick and easy and made with everything you love tomatoes, basil, and fresh mozzarella wrapped between fluffy, light eggs.
Baked Goods
Baking is an expression of love and appreciation. Whether you are showing that to your mom on Mother's Day in the form of flaky and buttery croissants, scones packed with berries and a citrus glaze, fluffy and soft biscuits, or soft and moist muffins with a to die for streusel topping. Freshly baked goods is where it's at!
Savoury Tarts and Bites
Showcase fresh, seasonal ingredients in a savoury tart, quiche, galette, or crostini on your brunch spread. Light, spring flavours come together in some of my favourites like this comforting potato galette with arugula and crème fraîche, light and healthy spinach and feta quiche with a cauliflower crust, or tangy and sweet fig crostini with goat cheese and pistachios.
Homemade Bread
What if the bread you used in your french toast or breakfast bun was one that you made from scratch, with your bare hands? If that doesn't show true love, then I don't know what does. Take a stab at freshly baked french baguettes, no knead artisan bread, ciabatta bread, rosemary garlic focaccia bread, or easy no yeast biscuits. After all, something has got to soak up all the gooey egg yolks from those poached eggs that you are serving.
Cool and Refreshing
Add a healthy dose of vitamins and minerals to your brunch spread and a sweet and delicious way to start the day. My favourites are colourful fruit salad that is fully customizable, homemade strawberry lemonade, or fancy smoothie bowls topped with more fruit, granola, and coconut flakes. These recipes are all simple and super easy to make.
Spring Salads
To balance out all the sweet brunch items that we are going to indulge in, we need to add to the menu some fresh, crisp salads packed with seasonal ingredients. Some of my favourite brunch salads are strawberry avocado salad with poppy seed dressing with crumbled feta cheese and pecans or light and fresh spring pesto pasta salad with asparagus and chives. My most popular salad recipe, quinoa spinach power salad with lemon vinaigrette is also an excellent contender. It's refreshing, colourful, and extremely good for you.
Tea Time
On a final note, let's end Mother's Day brunch the right way -- with some epic desserts. No one will be able to resist a perfectly sweet and moist brown sugar bundt cake with a sweet glaze drizzled on top, or how about a classic New York cheesecake with a sweet strawberry sauce or salted caramel sauce on top. There is just something about that graham cracker crust, that rich cheesecake filling, and that sweet topping that is so irresistible.
Print
Easy Mother's Day Brunch Menu
---
Author:

Yield:

2-4 servings
Description
Prepare the fancy Mother's Day brunch at home that your mom deserves. This brunch menu contains easy breakfast recipes and ideas for an epic brunch spread.
---
Ingredients
Pick a selection of:
sweet showstoppers - pancakes, waffles, crepes, french toast
effortless eggs
baked goods - croissants, scones, biscuits, muffins, loafs
savoury tarts and bites - quiches, savoury tarts, galettes, crostini
homemade bread
cool and refreshing - fruits, smoothies, drinks
spring salads
tea time dessert - cake, cheesecake, cookies, cupcakes
---
Instructions
Plan your menu ahead of time. You can prepare many of these dishes in advance. Some can be frozen and reheated from frozen, others can be made and stored in an airtight container for a few days at room temperature or in the refrigerator.

All baked goods and dessert can be made in advance and stored in an airtight container either at room temperature or in the refrigerator according to recipe directions. Many of them (such as scones and biscuits) can be made weeks in advance, frozen, and reheated in the oven.
Salads and a charcuterie board items can be prepared in advance, and assembled before serving. 
All drinks can be made in advance and stored in the refrigerator.

Prep your ingredients as much as possible. Once you have decided on the dishes to serve, prepare as much as you can in advance. Whether that is chopping vegetables, beating eggs, or preparing salad dressings. You can store all your prepared ingredients in airtight containers in the refrigerator.
Set the table the night before. Take out the fancy dinnerware, flatware, glasses, placemats, and napkins and set the table the night before. It's one less thing to worry about on Mother's Day.
---