Our little man is officially 3 years old. To celebrate his third birthday, we hosted a three rex dinosaur birthday party with his friends and their families. If you are looking for some party inspiration for your dinosaur loving child, then you have come to the right place. I am taking the stress away and sharing ideas on every detail for an epic dino theme party including decor, craft table, party favors, desserts, and recipes, all in one place!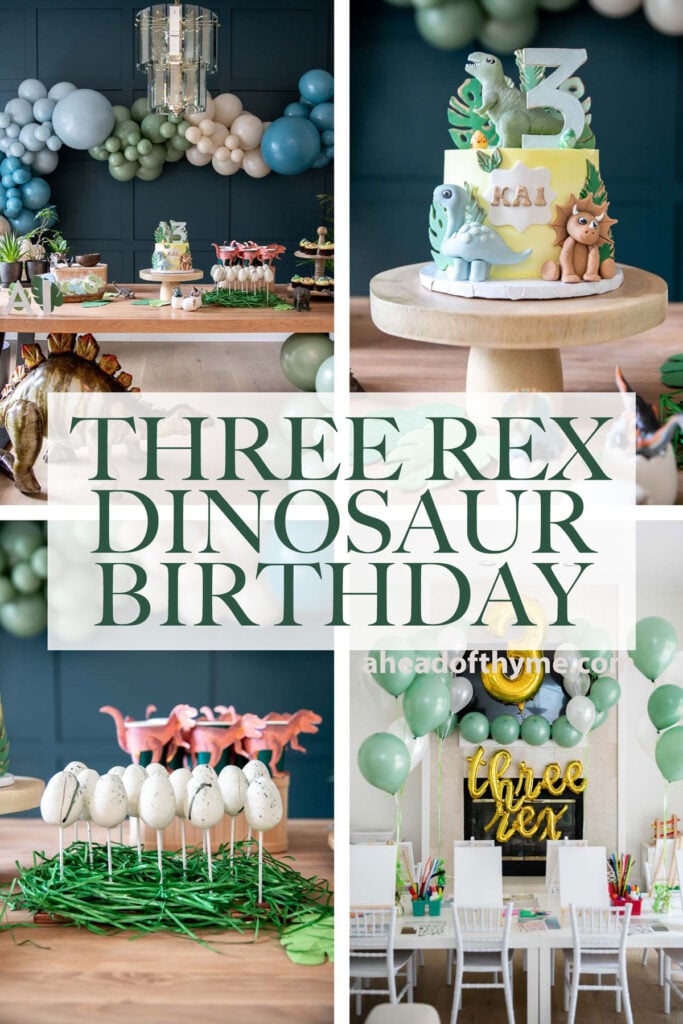 Three Rex Birthday Party
We are all about birthday themes that focus around a pun based on the age of the child. Last year, we threw a "Two Fast" Car Birthday, and the year before that we threw a "Wild One" Safari Birthday, so of course we had to do the same thing this year that would be perfect for our three year old. We considered a few popular themes like a construction theme (Dirty Thirdy), a jungle or bohemian party (Wild Young and Free), a space theme (3,2,1 Blast off), and a Mexican theme (Three-esta). But based on Kai's interests, we ultimately picked a dinosaur theme as he is obsessed with all things dinosaurs.
If you have planned a themed party for your child, you know that it takes countless hours of research and planning to put it all together. So, I am here to help save you time if you are thinking of throwing the perfect dino themed party for your little boy or girl with every last detail so that you don't have to spend too much time planning.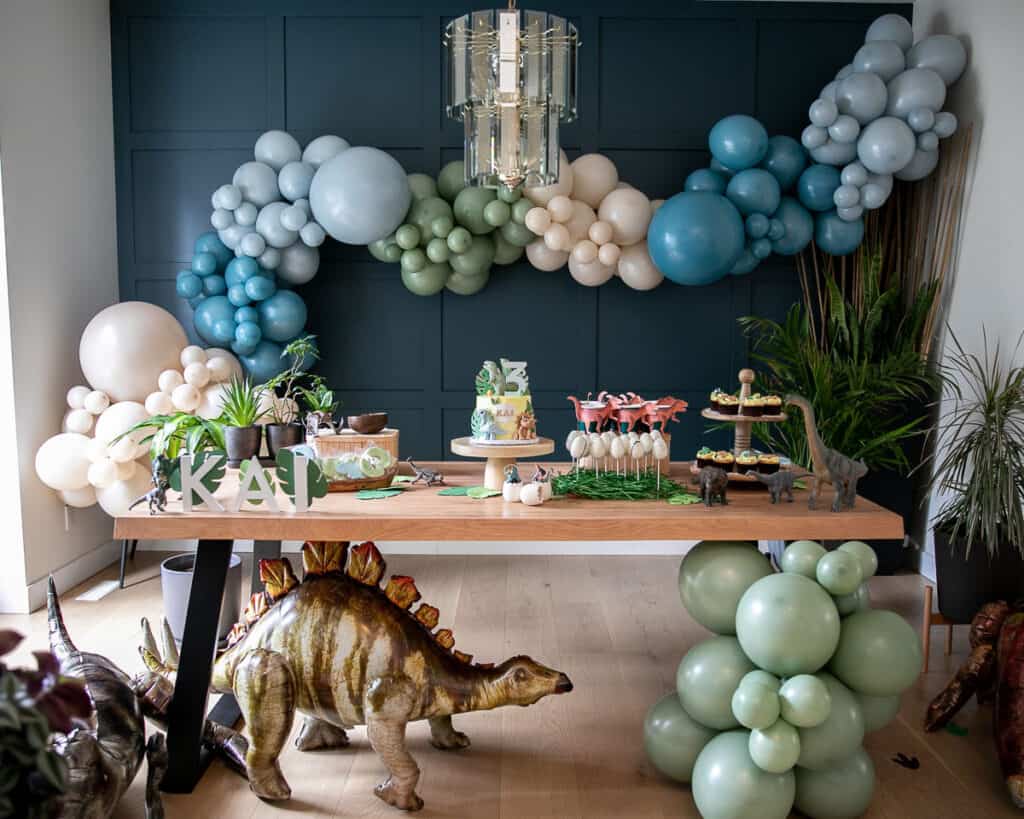 Dinosaur Birthday Party Dessert Table with Decor
Three Rex Dinosaur Party Decor
Let's talk about the decor or the items that will bring the theme of your party to life. I have linked everything I used for Kai's three rex third birthday party below (in affiliate links).
Balloons - This year, we went with a luxe style balloon garland for the dessert table, and helium balloons in the party/craft room.

Loose balloons. We also had a bunch of loose balloons floating around on the ground and hung to the front door outside.

Dinosaur figurines - I decorated the dessert table with an assortment of high-quality large dinosaur figurines including: t-rex, triceratops, brachiosaurus, brontosaurus, velociraptor, ankylosaurus, and pterodactyl. For a cheaper option, you can get a bundle of large dinosaur figurines at a fraction of the price.
Small dinosaur figurines - I decorated the food table with these small plastic dinosaur figurines.
Dinosaur eggs - I found hatched open porcelain eggs at my dollar store that was part of an Easter decorating kit. I stuffed a couple of them with small dinosaur figurines.
Foam leaves - we decorated the table with foam leaves that I picked up at the dollar store. You could also use these artificial palm leaves. These are also great to add to the balloon garland to give it a more lush jungle effect.
Wooden letters - I displayed my son's name using 5-inch white wooden letters. I taped some of the foam leaves on the back to make it fit with the dino theme.
Dinosaur footprints - I stuck these dinosaur footprints on the floor from our front door and leading straight to the dessert table.
Plush dinos - we also displayed a few plush dinosaurs around the house. They are the perfect touch to bring the whole look together. We went with medium-sized ones from Ikea.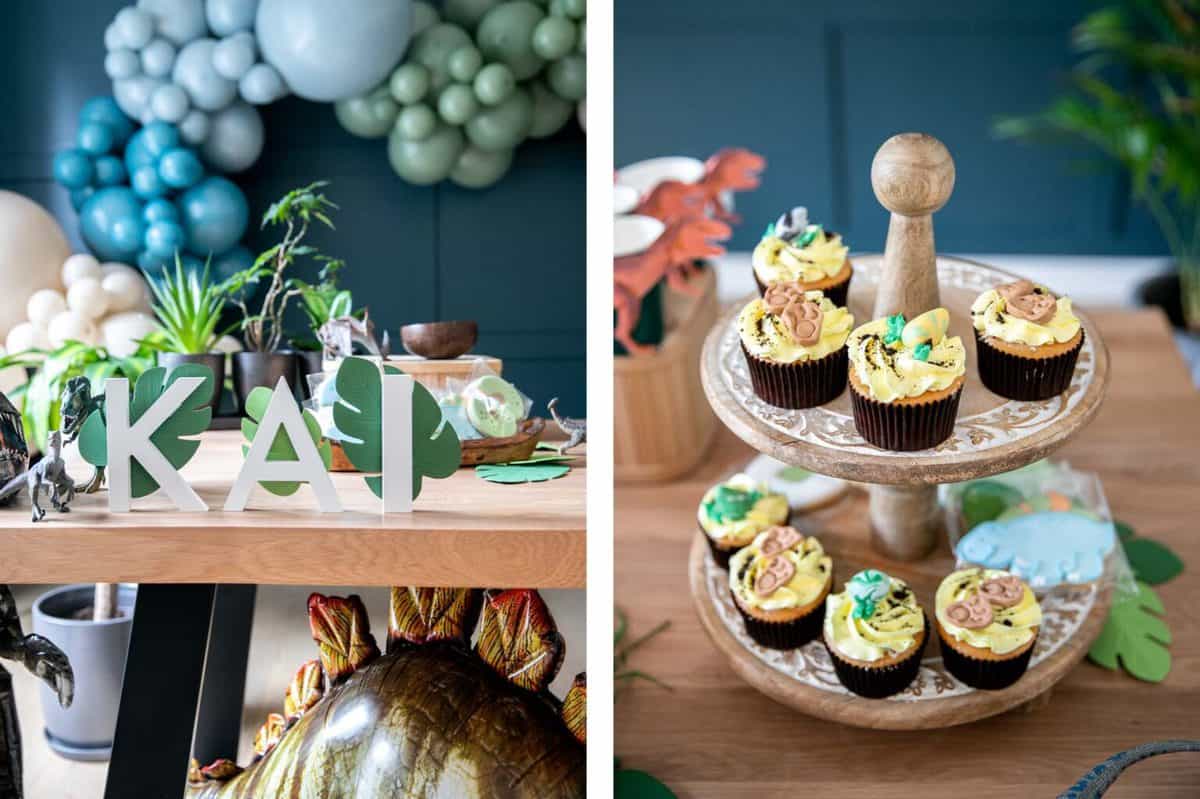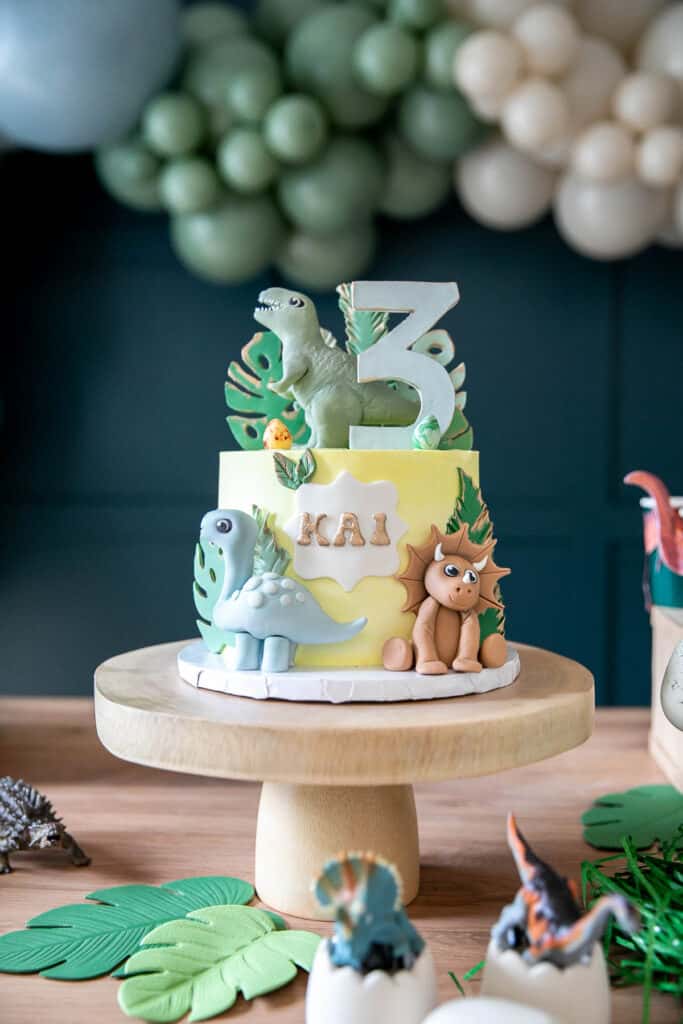 Three Rex Dinosaur Party Desserts
The desserts are also something that needs to be carefully planned. These items are basically extra decorations on your dessert table.
Kid's Birthday Party Desserts
Browse through following bite-sized desserts for more inspiration on some of my favourite bite-sized desserts and treats to serve at any birthday party.
Birthday Party Craft Table
One of my favorite things about this party is the craft table set up that we made. It was a great way to keep the kids entertained for quite some time. We rented 2 large kid's tables and put them together along with white chiavari chairs. Here are all the supplies that we used to make this epic birthday party craft table:
Food and Snacks for a Dinosaur Themed Birthday Party
When it comes to birthday parties, it's all about the finger foods and dips (the less messy the better right?). We provided large Dinosaur plates served with dark green napkins. You can mix and match and use dinosaur napkins or get a party bundle set. And don't forget green straws.
Swipe through my favourite hand-held party food recipes below. Don't forget some squeeze pouches or crackers for any little ones.
Some of the most popular recipes that are always a hit with kids are:
Pepperoni Pizza Rolls. Easy pepperoni pizza rolls are crispy on the bottom, tender and chewy inside, packed with pepperoni and cheese, and baked until bubbly. A total crowd pleaser!
Homemade Tater Tots. Homemade tater tots with bacon are golden and crispy on the outside, yet soft and tender inside. They're packed with flavour and a total family favourite.
Baked Mozzarella Sticks. Crunchy, cheesy, and paired with an awesome dipping sauce, these baked mozzarella sticks are just as amazing as what you would find in a restaurant!
Pigs in a Blanket. Pigs in a blanket from scratch are a delicious and easy appetizer or snack to make for your next party or gathering — juicy, cheesy, flaky, and buttery.
Veggie Tray. This homemade veggie tray is a quick, easy, and healthy snack or appetizer to make for your next party, with a variety of colorful vegetables and delicious dips.
Chicken Strips. Juicy long strips of chicken shaped perfectly for dipping and coated with a flawless crispy and crunchy exterior, baked crispy chicken strips are a kid's favorite meal.
Egg Salad Sandwich. The best egg salad sandwich is a quick and easy picnic classic loaded with perfect hard-boiled eggs, mayonnaise, a touch of dijon mustard and green onions.
In line with the dinosaur theme party, label little tent cards with creative phrases to describe the food such as:
dig in
dinosaur bones
t-rex claws
dino eggs
dino track cookies
ice age water
lava cake
t-rex nachos
jurassic garden
herbivores
Birthday Party Drinks
You can't have a birthday party without some juice. Serve some refreshing lemonade or iced tea, or even some bubble tea.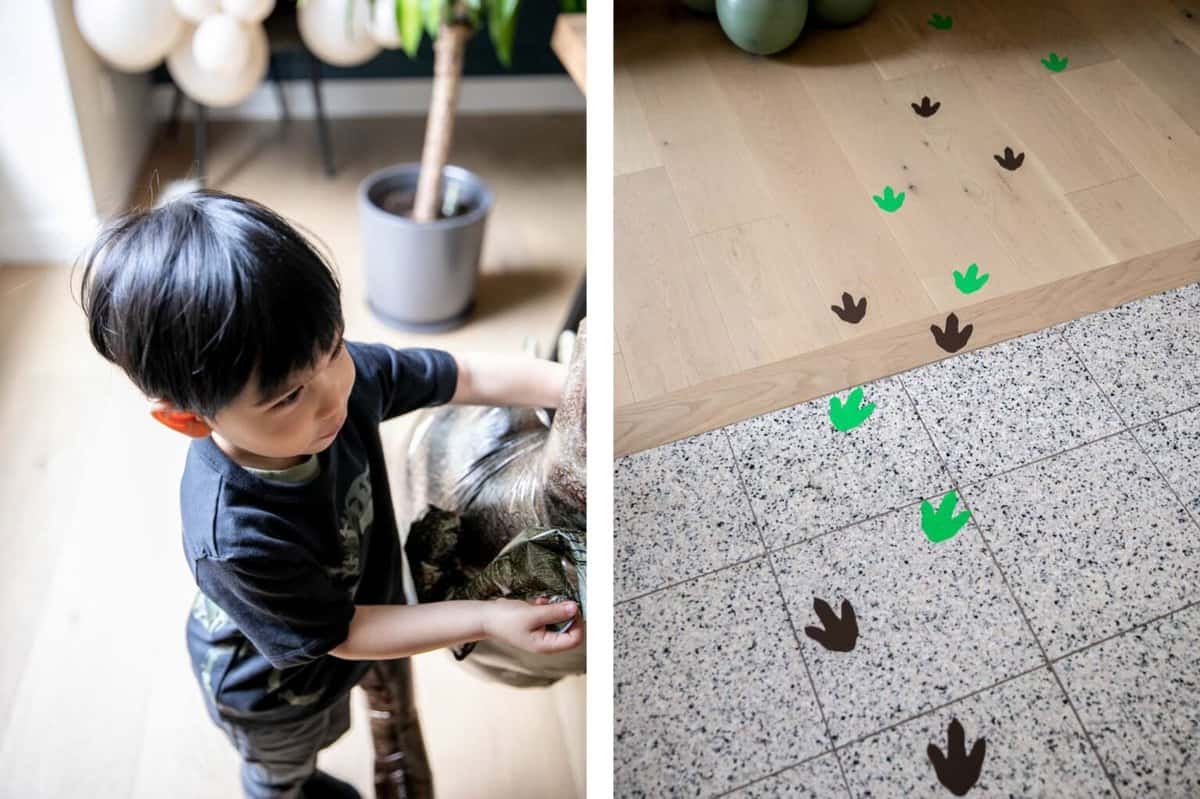 Dinosaur Birthday Party Favors
I set up the party favors on a separate table with a cute "adopt a dinosaur" sign. I made the sign on Microsoft Word and placed it into a wooden picture frame. We placed an assortment of medium sized dinosaur figurines that each child could take home, along with a favor box filled with dinosaur themed goodies.
I purchased these cute dinosaur treat boxes (I also loved these dinosaur treat bags). To complete the look, you can add a thank you tag tied onto the handle with burlap string, or add a dino thank you sticker on one side of the favor box.
I filled each box with:
You could also get a dinosaur favor bundle with everything that you need.
Print
Recipe
Three Rex Dinosaur Birthday Party
---
Author:

Total Time:

1 hour 5 miuntes

Yield:

6-8 servings
Description
The best three rex dinosaur birthday party with ideas for an epic dino theme party including decor, craft table, party favors, desserts, and recipes.
---
3

-

4

 finger foods

1

-

2

 dips

3

-

4

 desserts

1

 drink
---
Instructions
Full recipe. Check each recipe for full ingredient list and recipe instructions. 

Make ahead and store

. You can make or prepare almost all of the desserts ahead of time. You can store most of them at room temperature for a few days, in the refrigerator for up to one week, and in the freezer for up to 3 months. Most of the snacks can also be prepared ahead of time. Check each recipe for exact storage details.
Reheat. If you would like to reheat any of these recipes and serve them warm, just place the in a 300F preheated oven for 5-10 minutes. If heating from frozen, let it thaw first and then reheat. 
Prep Time:

45 minutes

Cook Time:

20 minutes

Category:

Party

Method:

Assemble

Cuisine:

Various
Keywords: three rex third birthday party, three rex birthday, three rex birthday party, dinosaur birthday, dinosaur party, third birthday party, boy birthday party, boy third birthday