Super Bowl Sunday is fast approaching and you are scrambling for ideas on what to serve at your party? Look no further. No matter which team is winning, you will score big with these top, crowd-pleasing 5 Easy Super Bowl Appetizers.
Click the headings or photos for the recipe!
Buffalo hot chicken wings are a CLASSIC game day appetizer. These taste just like restaurant wings without the hefty $10 price tag for 1 pound of wings. The only difference is that they are baked rather than deep-fried. Yet, they are just as crispy. In my eyes that is a bonus because that means that these are healthier!
This warm, rich and creamy baked spinach dip is one of our favourites. I would have to say that it tops a lot of people's list as well. Whenever I serve it, it is the first one to be finished. The reason that this is so delicious must have to do with the perfect balance between the spinach and the cheesy mixture. Or perhaps it is the slow, warm baking process that turns this dip into a bite of heaven! The oven creates a warm, creamy, cheesy and flavourful dip that melts in your mouth. Not to mention the little burnt and charred parts on the surface and edges. YUMMM! Serve this right out of the oven with a sliced baguette or with your favourite crackers.
I am a huge hummus addict. So when I discovered how to make my own, it was a huge awakening! Make your own creamy and smooth classic hummus in one simple step and witness the magic right before your eyes. Sure, you can go to the store and buy a pre-made container of hummus, but nothing compares to homemade. Plus, those tiny containers of this stuff are expensive! So, I saved lots of money by making my own and I can make as big or small a batch as I want! Now that you can see how easy it is to make, you really shouldn't have any excuses! This will make a healthy choice at your party.
Charred chicken soaked in fajita seasoning. Vibrant green and red bell peppers. Soft and silky onions. The right amount of shredded Monteray Jack and cheddar cheese. I am describing none other than baked to perfection chicken quesadillas. Anyone can make delicious quesadillas entrenched with savoury Mexican flavours! This recipe is so quick, easy and fun.
uicy long strips of chicken shaped perfectly for dipping into your favourite sauce, coated with a flawless crispy and crunchy exterior created by a combination of planko breadcrumbs, italian seasoning blend and paprika.... these baked crispy chicken strips are phenomenal! It is just so much more rewarding making homemade versions of your favourite recipes. And to top it off, the fact that this version is baked makes it a zillion times healthier for you than the deep-fried fast food kind.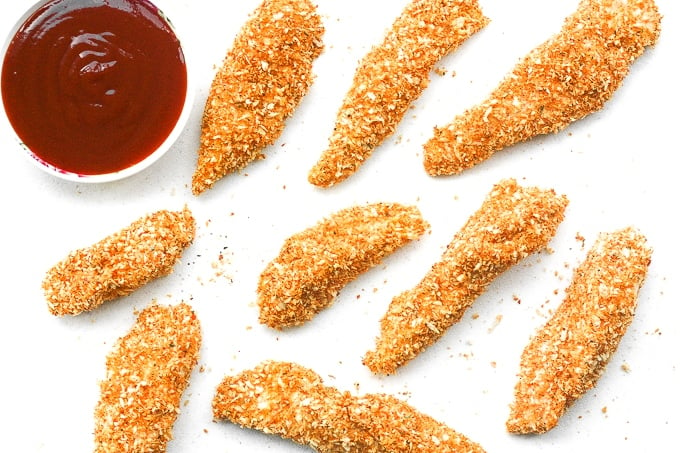 Also check out these bite size appys: