Looking for healthy snacks that you can make at home that are easy and delicious? Whether you are craving something that is savory and salty, sweet and fruity, rich and creamy, or nutty and crunchy, I have got you covered with over 50 of the most popular and best healthy snacks that you can make at home. So next time you want to reach for the cookie jar (even though there is nothing wrong with that!), try some healthy snack recipes that will give you energy and keep you full throughout the day, including snacks by the handful, easy dips and spreads, healthy baked goods and bread, smoothies, savory snacks, and more! Plus, there are lots of vegan and gluten-free options to choose from too.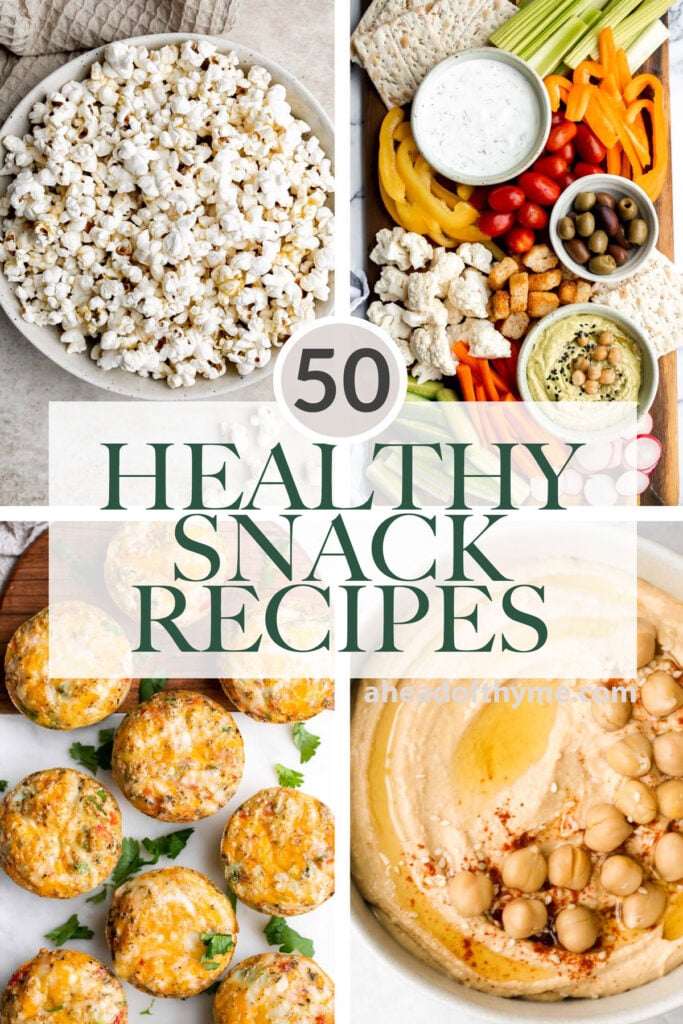 Our Most Popular Healthy Snacks
Homemade popcorn from scratch is quick and easy to make, a delicious and healthy snack, and is completely customizable with your favorite seasonings.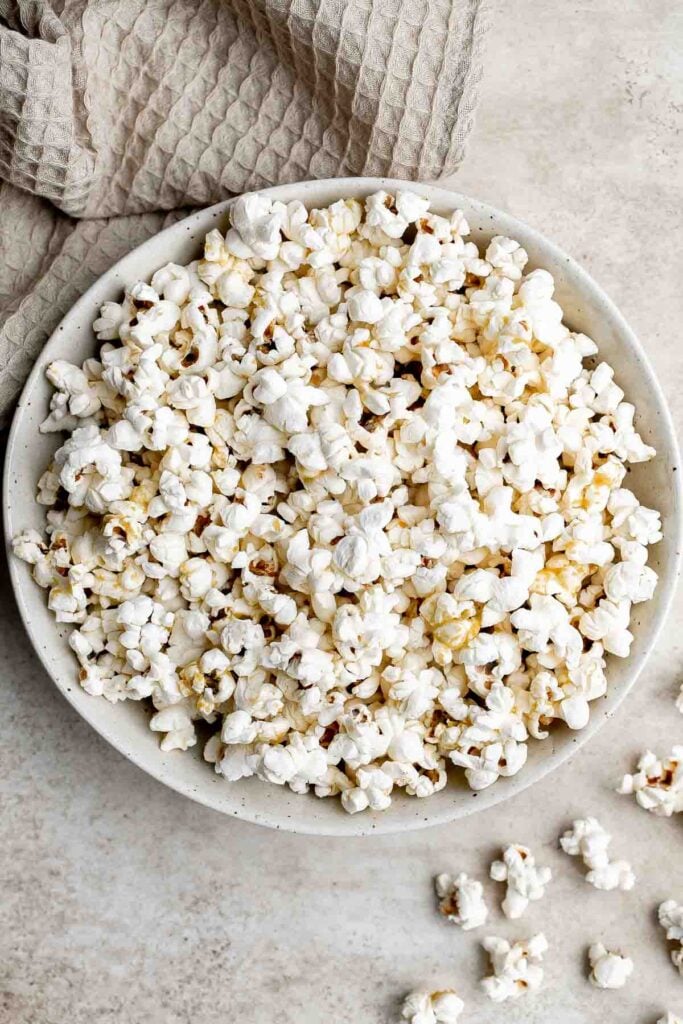 Tex Mex egg muffins are a delicious, filling, and healthy breakfast or snack. They are light and fluffy, perfect for meal prep, and freezer-friendly.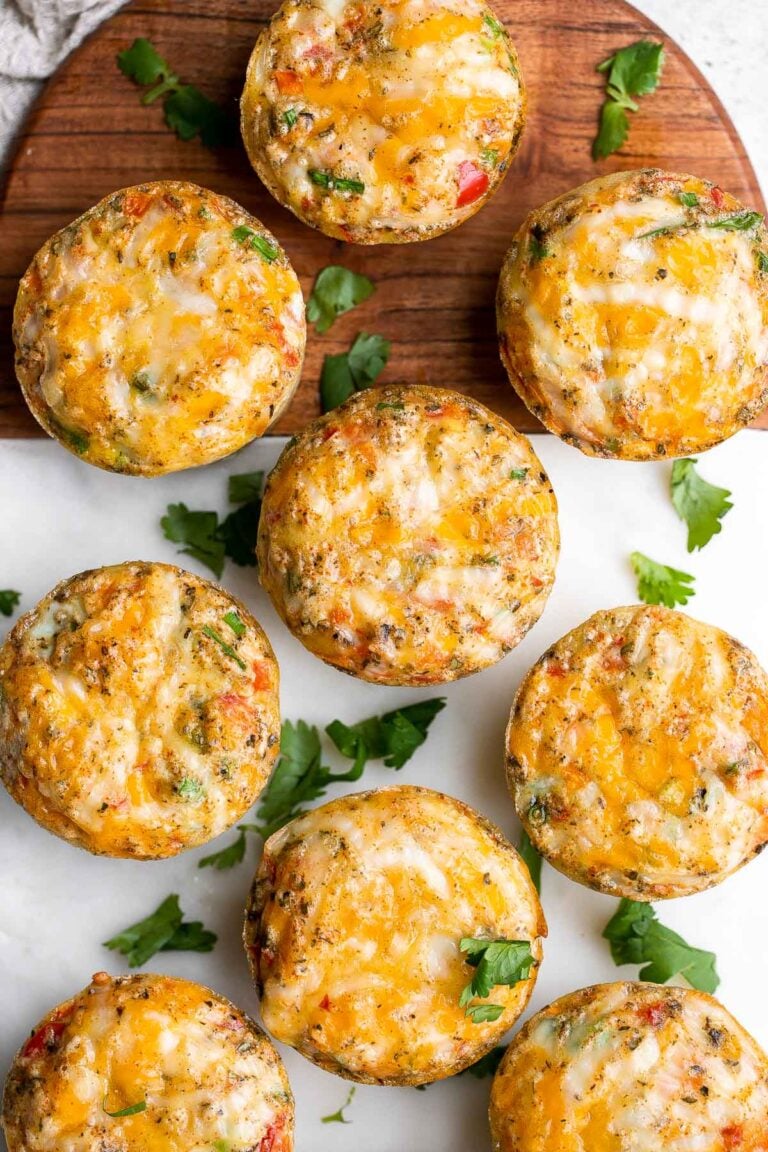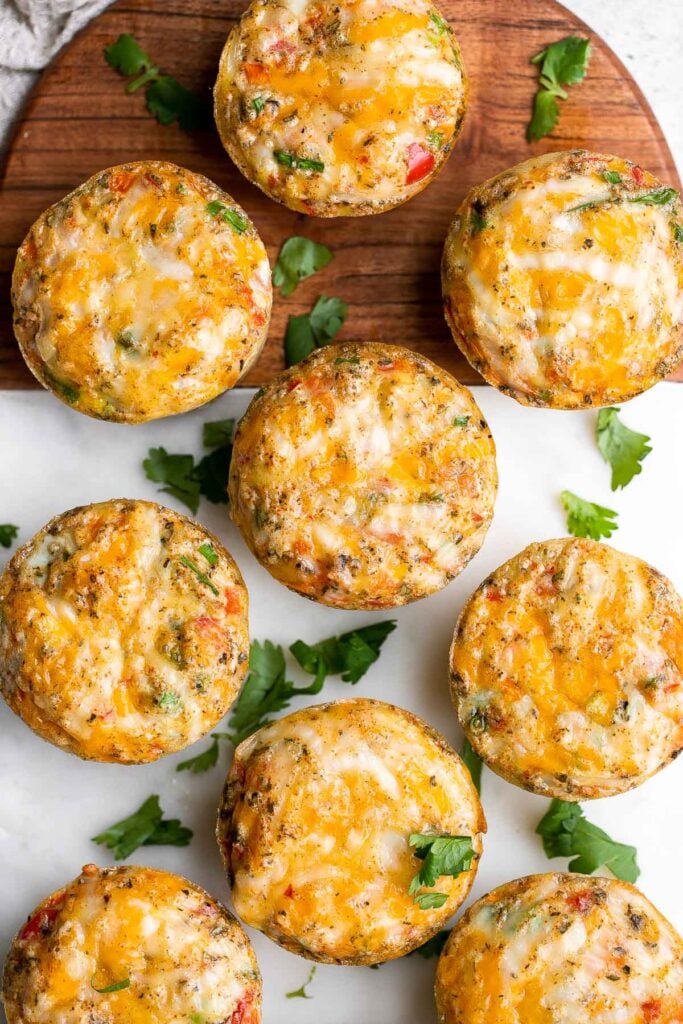 Antipasto skewers with tortellini are a quick, easy, and delicious appetizer with the best parts of a traditional antipasto platter but easier to eat.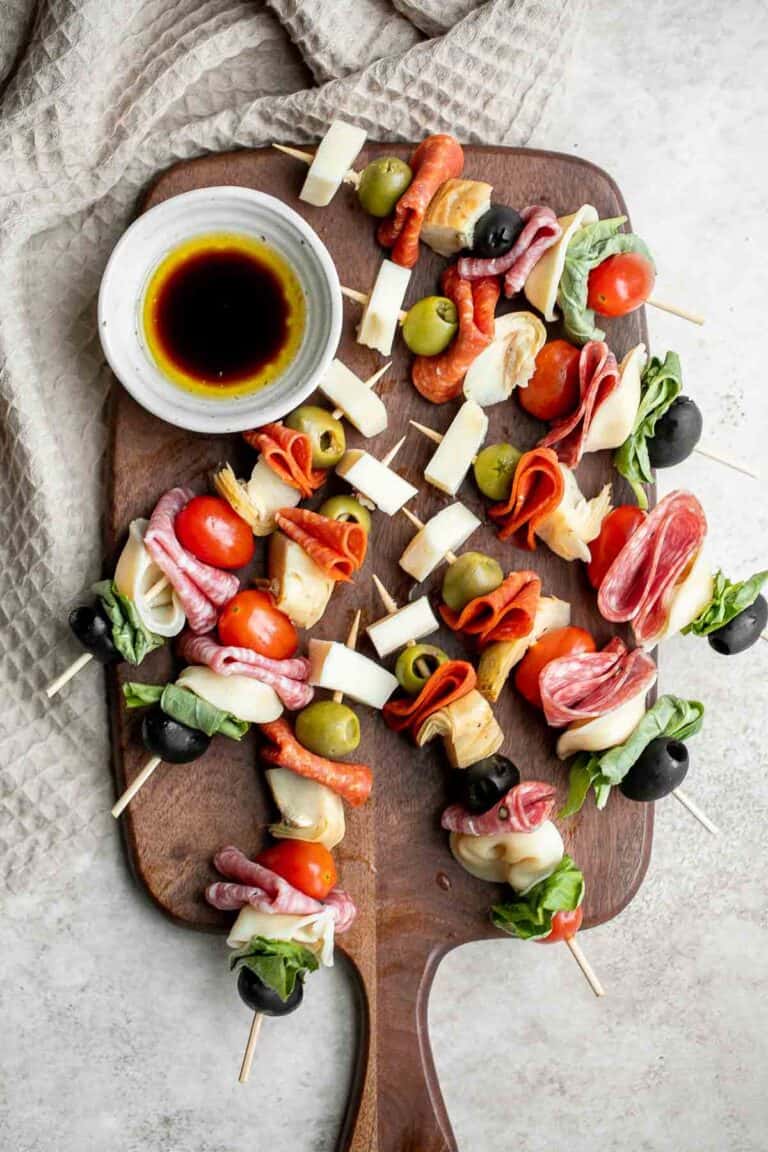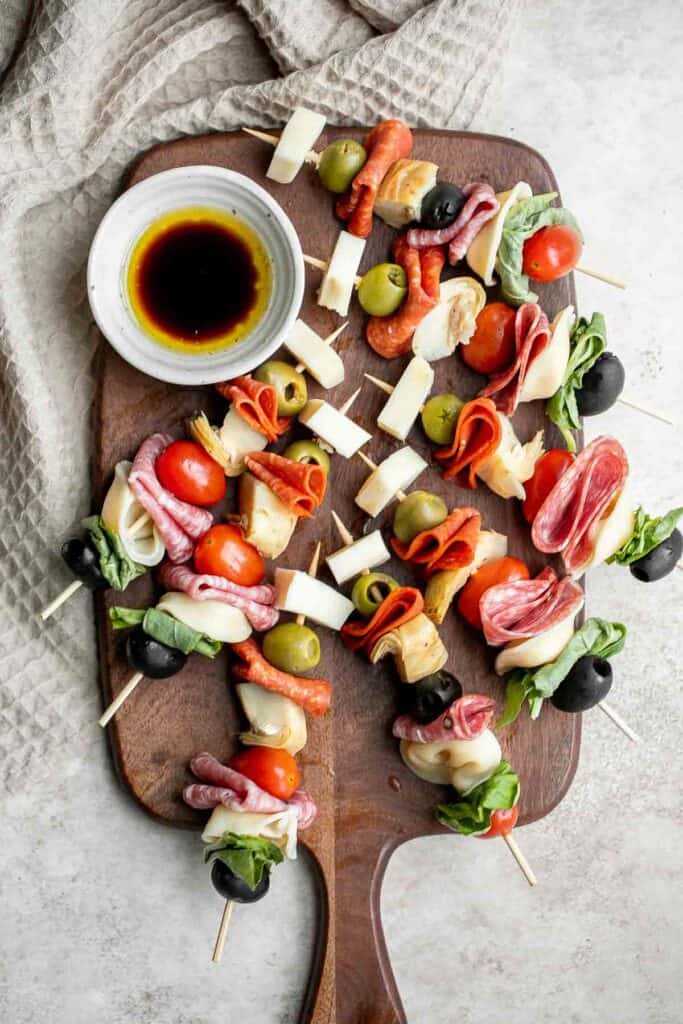 No Bake Protein-Packed Energy Bites
No bake protein-packed breakfast energy bites are chewy, easy to make, delicious, and loaded with healthy nutrients. Perfect for breakfast or as a snack.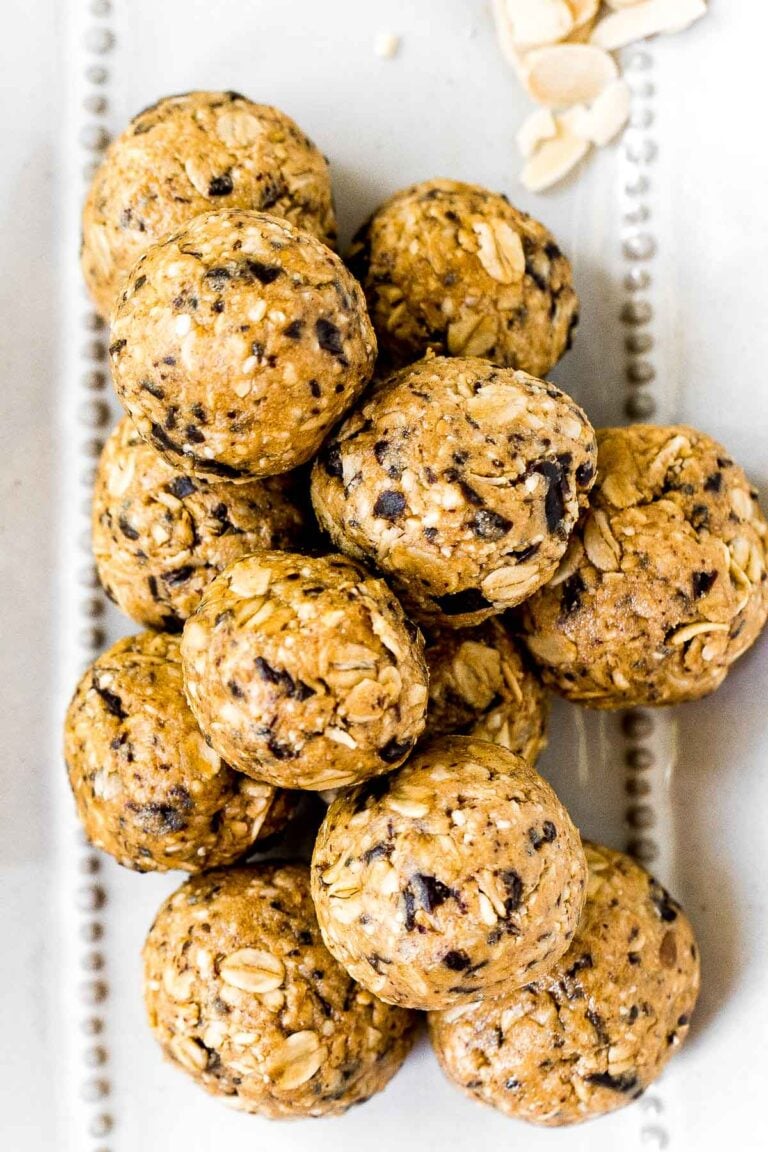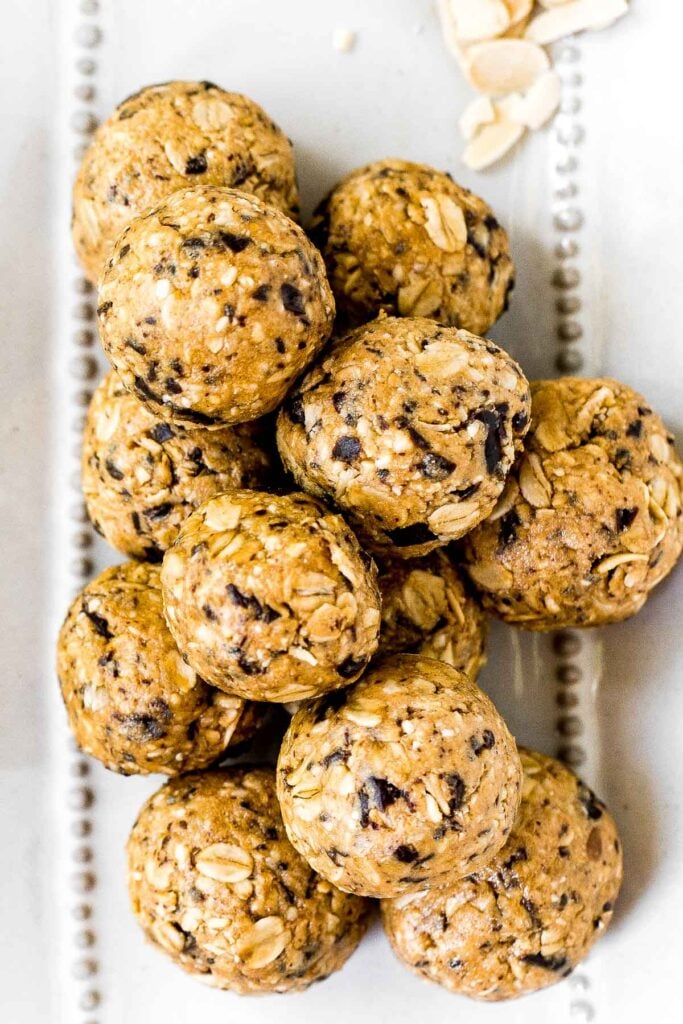 Whip up smooth and creamy classic hummus dip at home in just 5 minutes, by combining chickpeas, tahini, olive oil, lemon juice and garlic in the blender. Serve it with veggies or crackers, or use it in a vegan hummus wrap.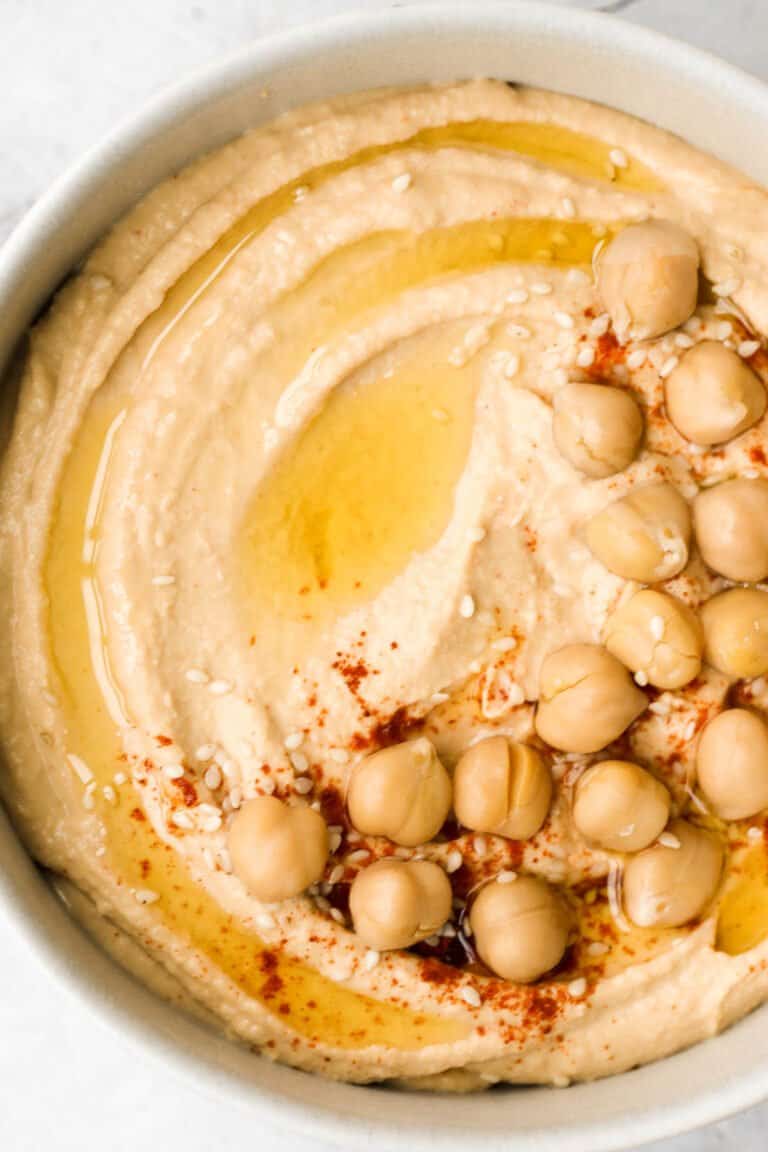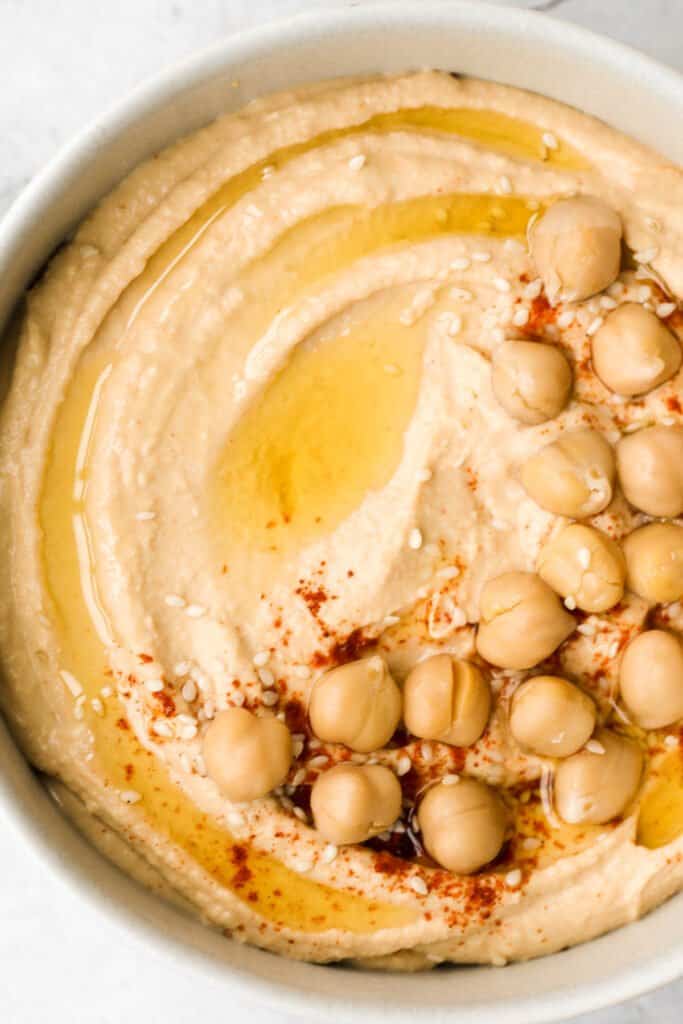 This homemade veggie tray is a quick easy healthy snack or appetizer to make for your next party, with a variety of colorful vegetables and delicious dips.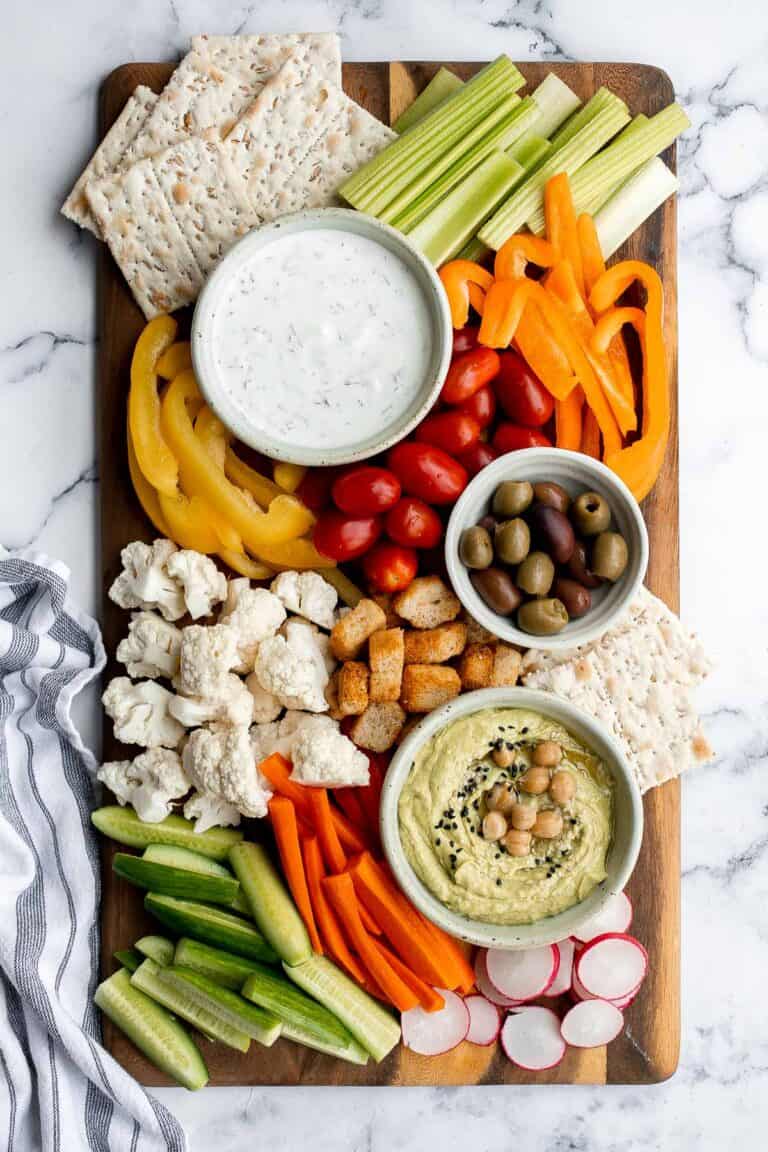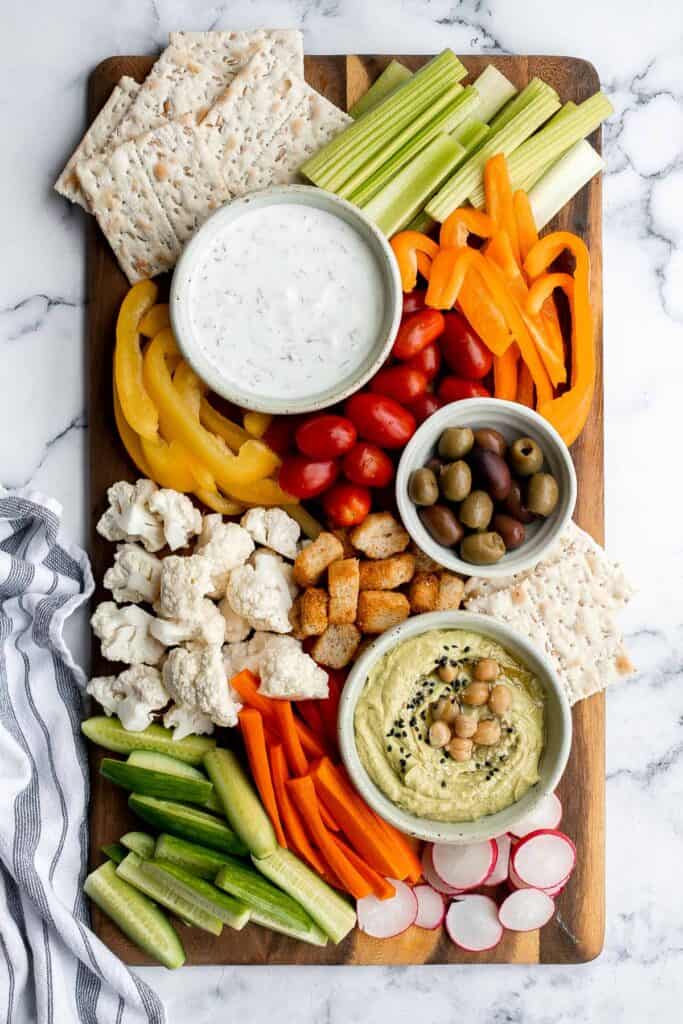 This Berry Smoothie Bowl is the best way to start the day. It's quick and easy to make, healthy, and packed with nutrients. Customize it with toppings!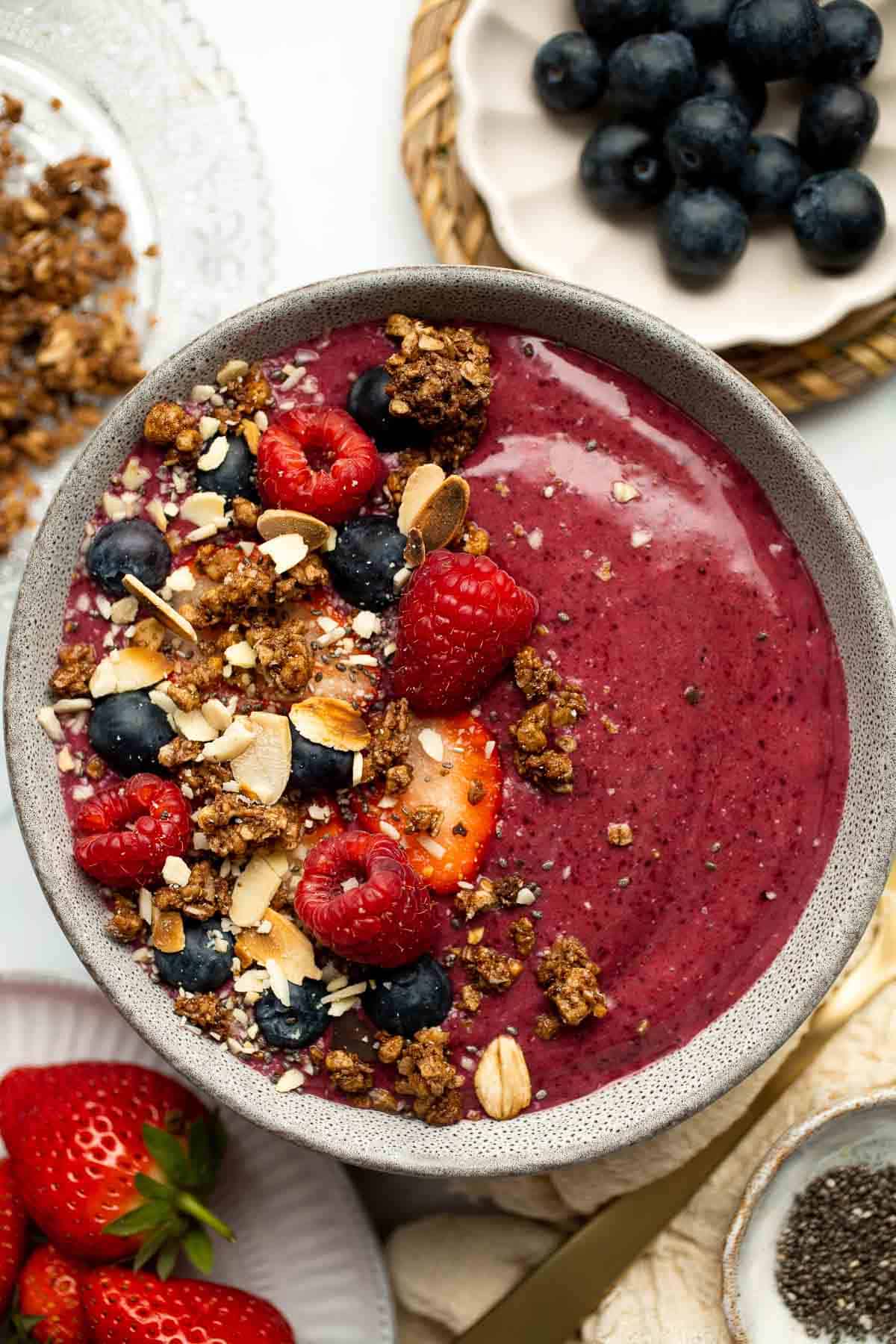 Blueberry yogurt muffins are buttery, moist, soft, and cakey and bursting with blueberries in every single bite. They are super quick and easy to make.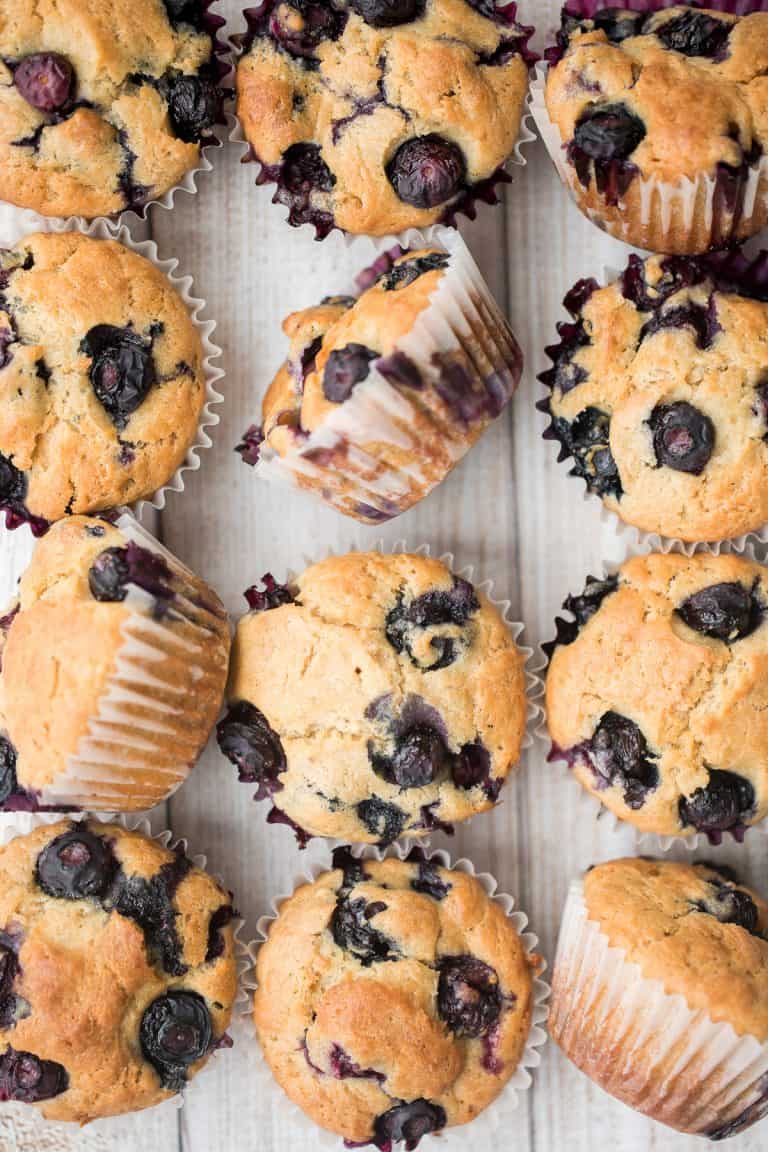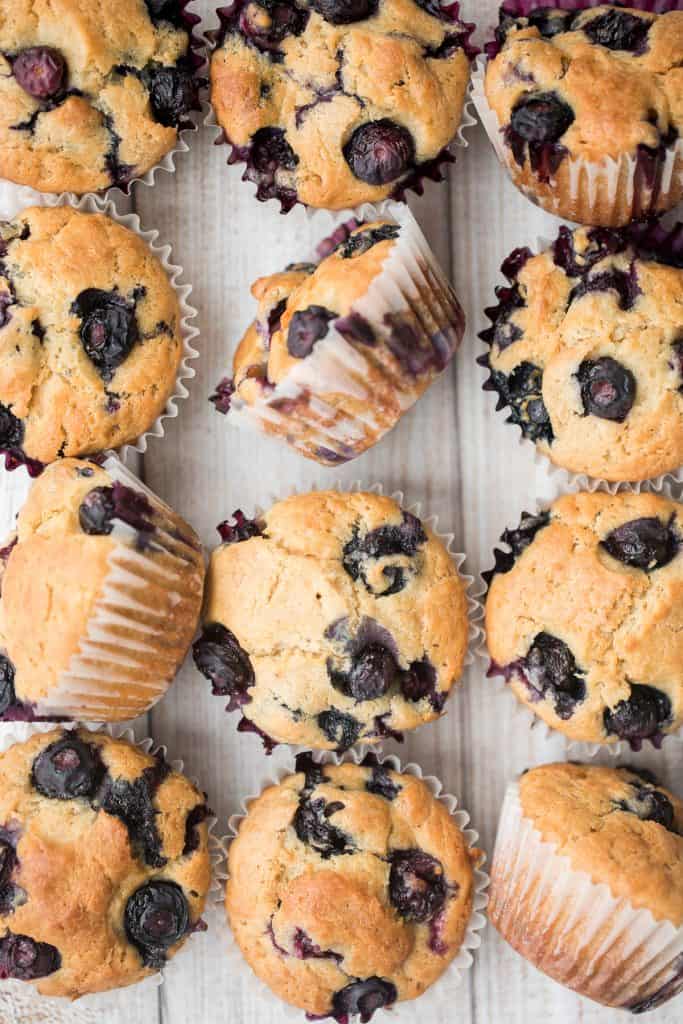 Classic deviled eggs are a simple, easy, and healthy appetizer to make when you need something quick for brunch, picnics, barbecues, potlucks, or Easter.
Healthy Snacks by the Handful
Homemade tortilla strips are crispy, crunchy, delicious, and easy to make using 3 simple ingredients. Serve as a snack or a topping on soups and salad.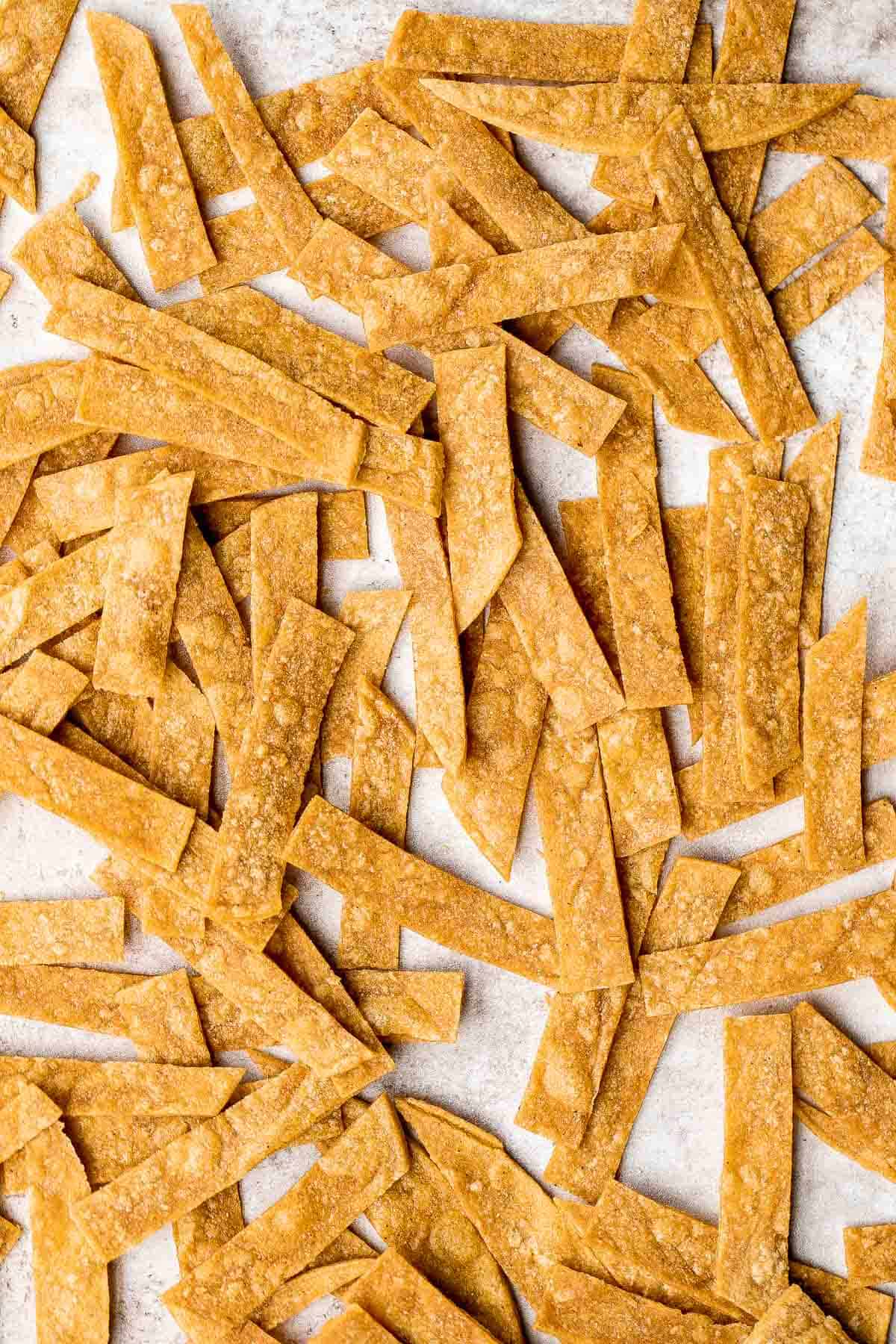 Cinnamon Apple Granola is quick and easy to make, tastes like apple pie, and is much better than store-bought — plus easier to make than you think! Some of my other favourite granolas to make are Pumpkin Pie Granola and Gingerbread Granola.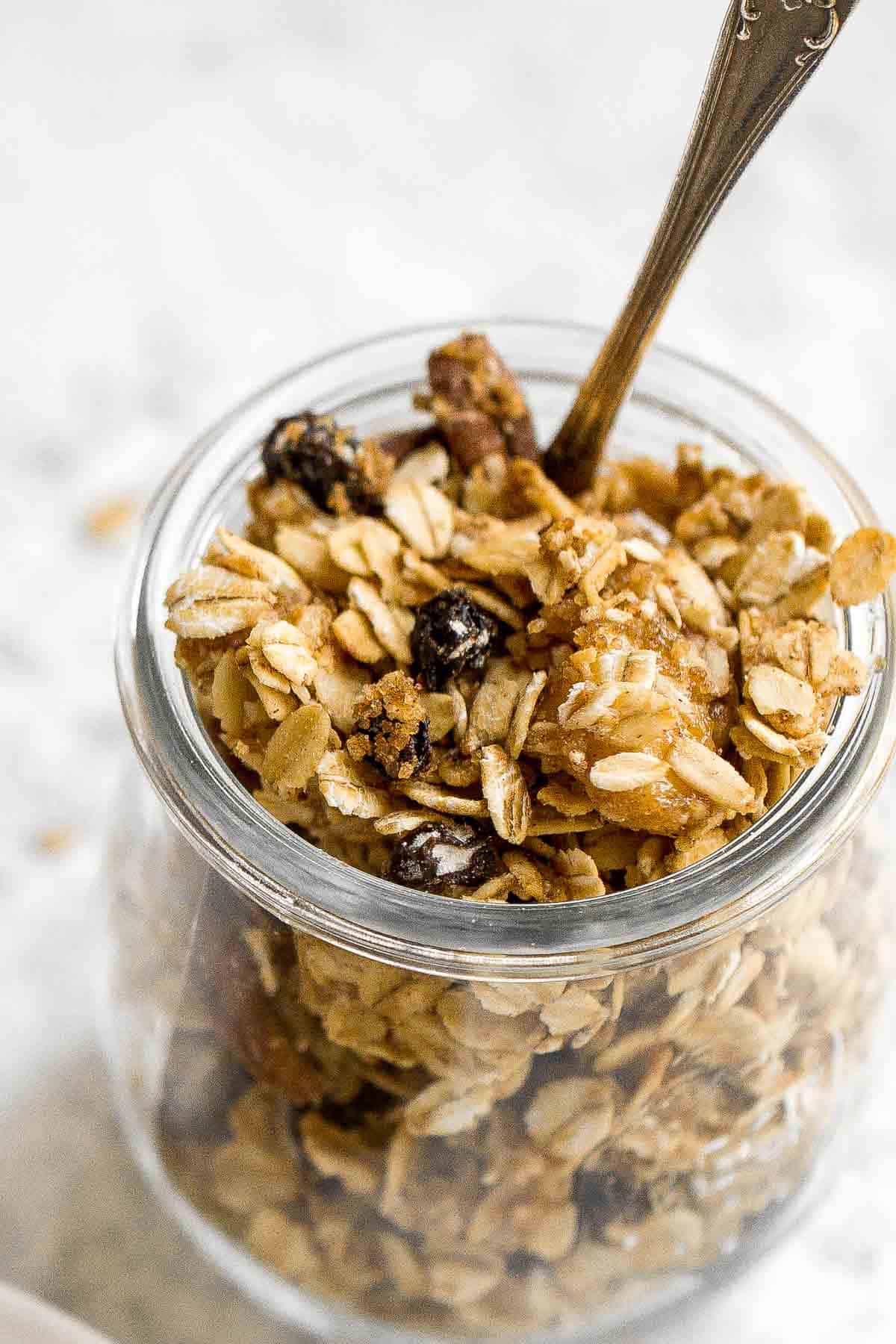 One-ingredient homemade baked apple chips are healthy, light, crispy and crave-worthy. Plus, unlike most store-bought chips, these contain no added sugar.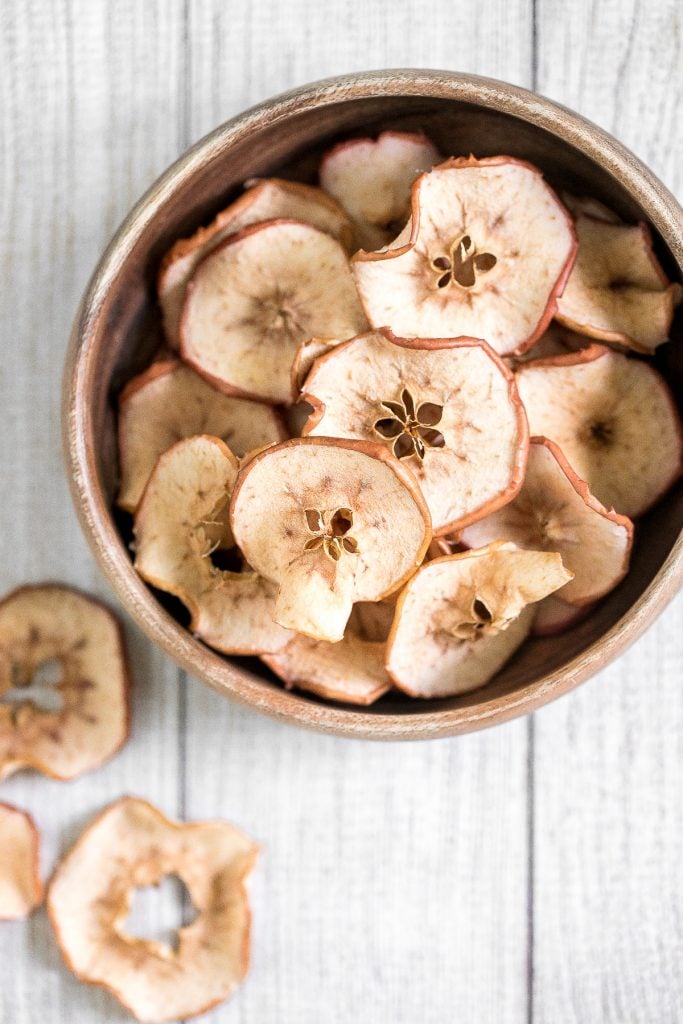 Say goodbye to store-bought popcorn and hello to homemade Kettle Corn — sweet and salty, loved by all, and quick and easy to make with just 4 ingredients.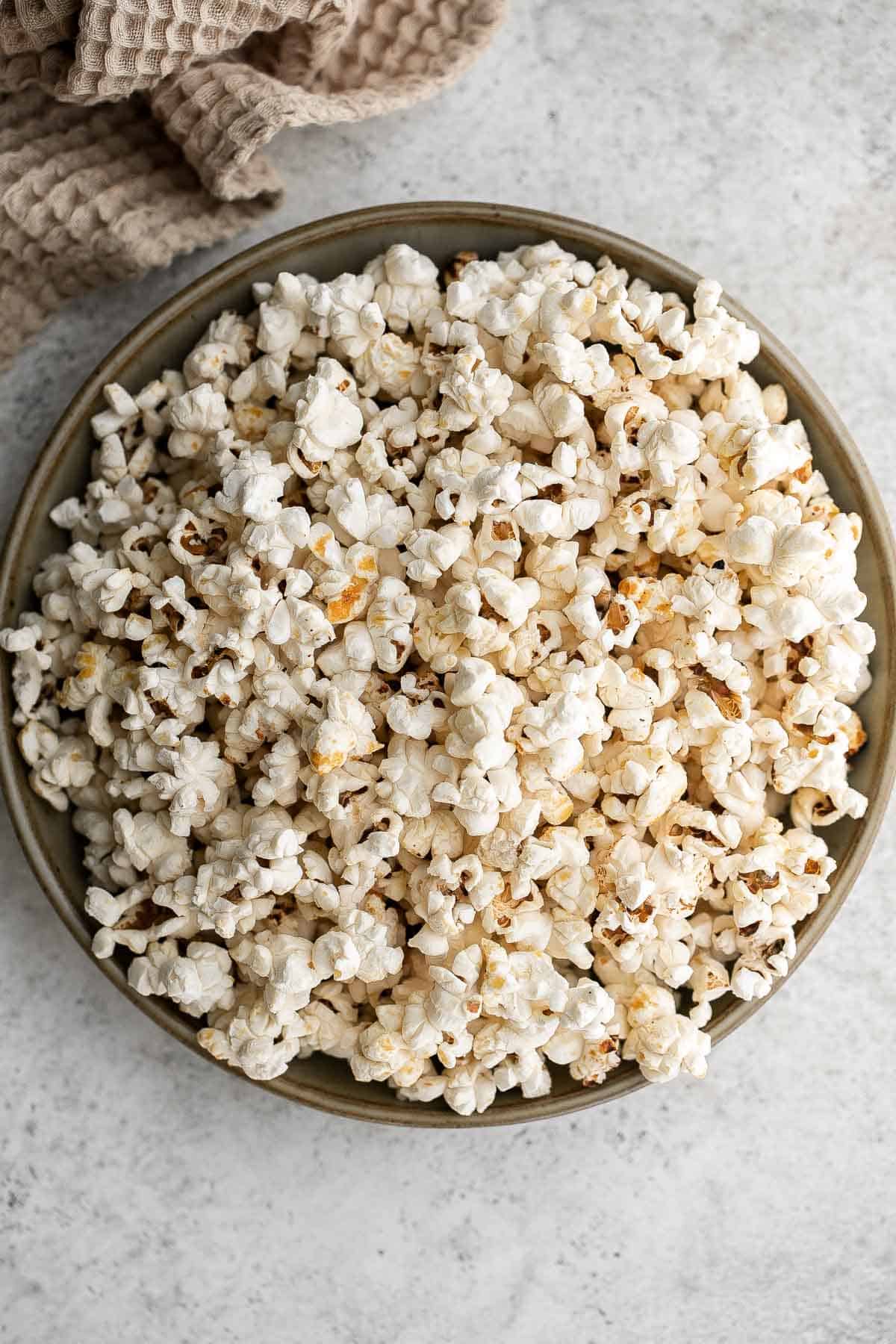 Enjoy street vendor roasted chestnuts at home in three different ways — roast in the oven, cook over the stove, or in the air fryer.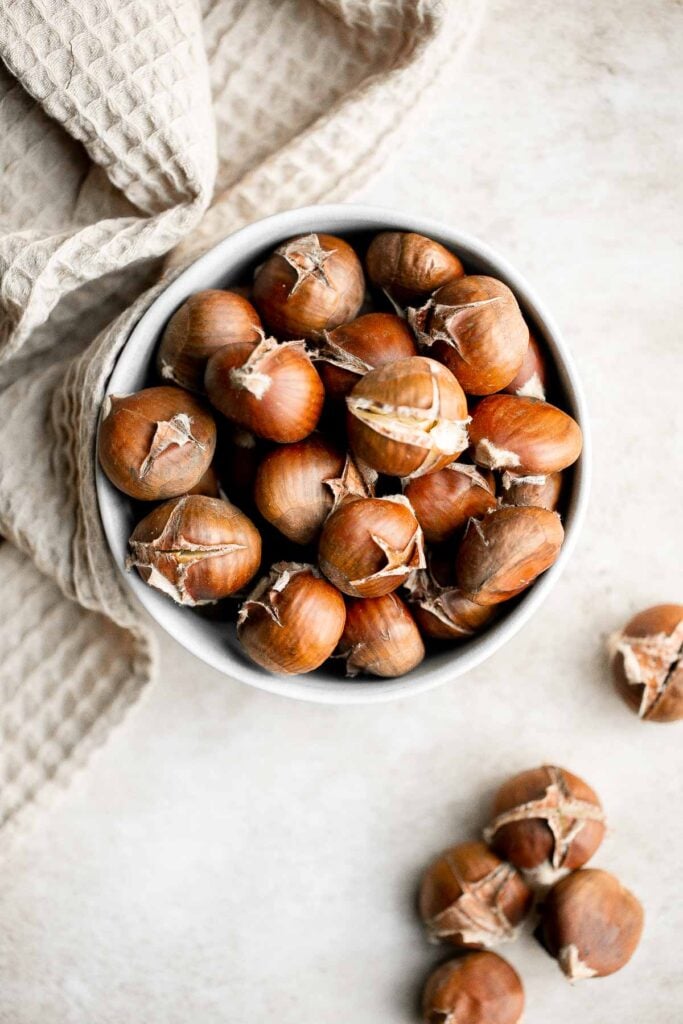 The easiest thing to fill up those lunch-boxes with are chewy almond cranberry granola bars. They are chewy and delicious, contain real dried fruit, and made healthier with less processed sugar. For a different flavour, try almond butter granola bars or pecan toffee bars.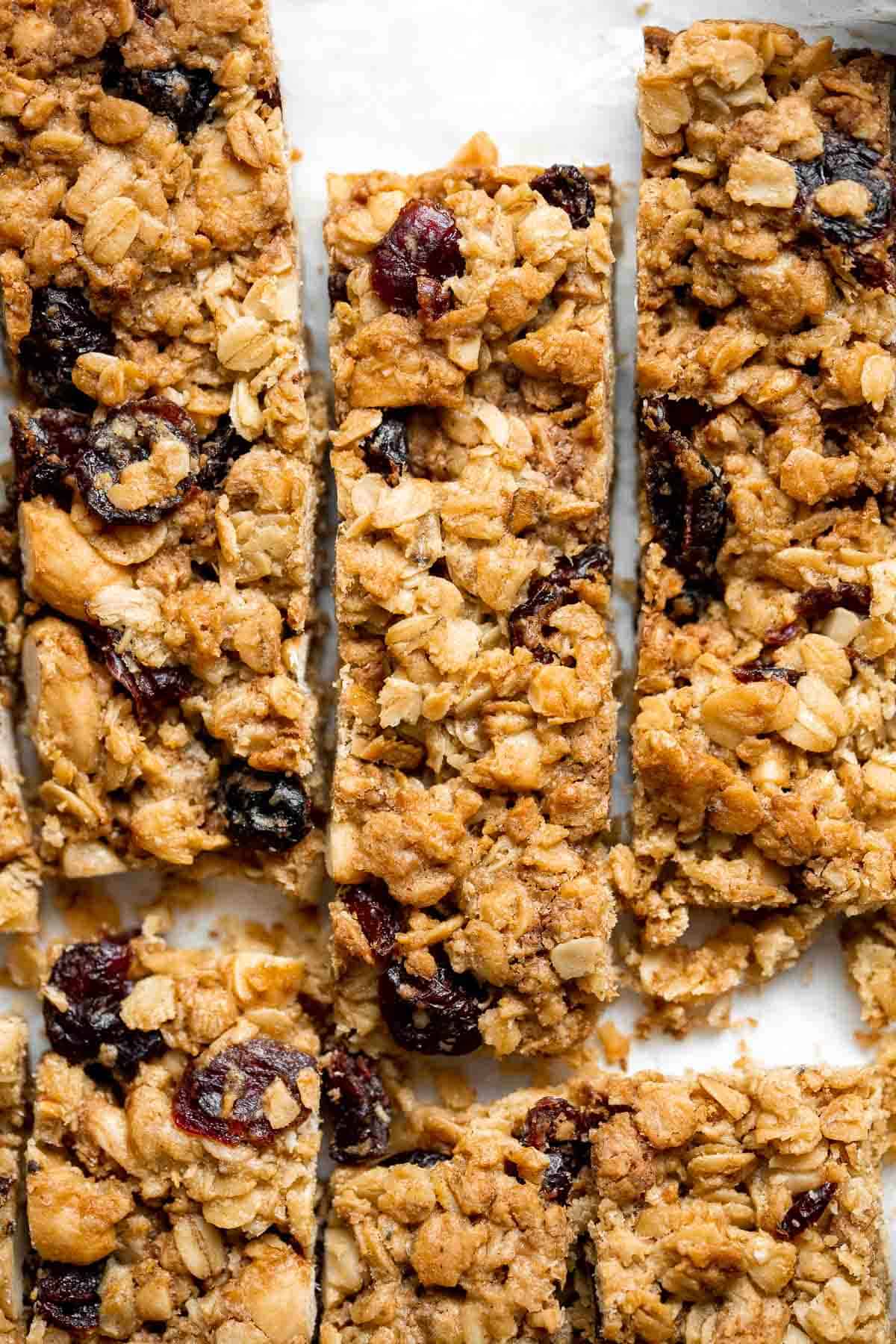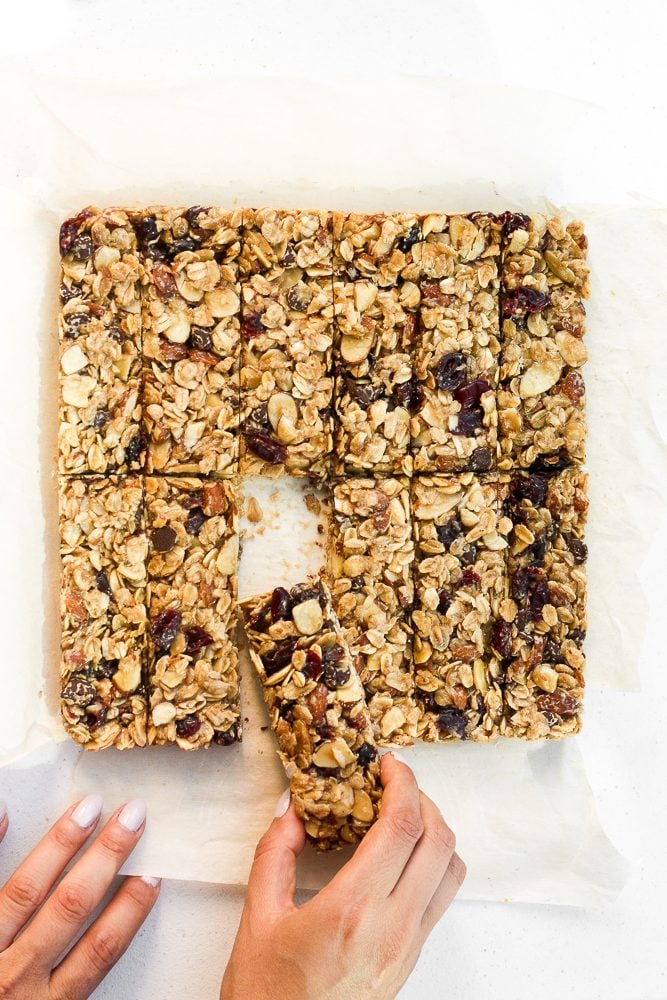 Quick and easy gingerbread granola with nuts, cranberries and warm winter spices is vegan, gluten-free, and refined sugar-free. The best Christmas snack.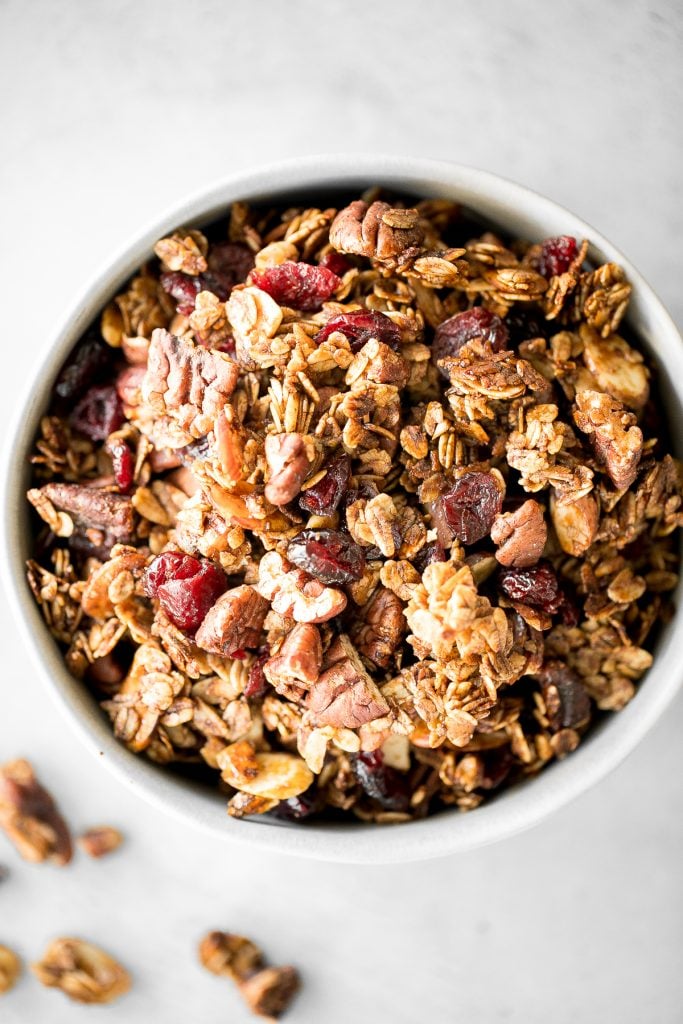 Quick and easy sourdough discard crackers are thin, crispy, crunchy and flavoured with sesame seeds, dried herbs and flaked salt. They are so addictive.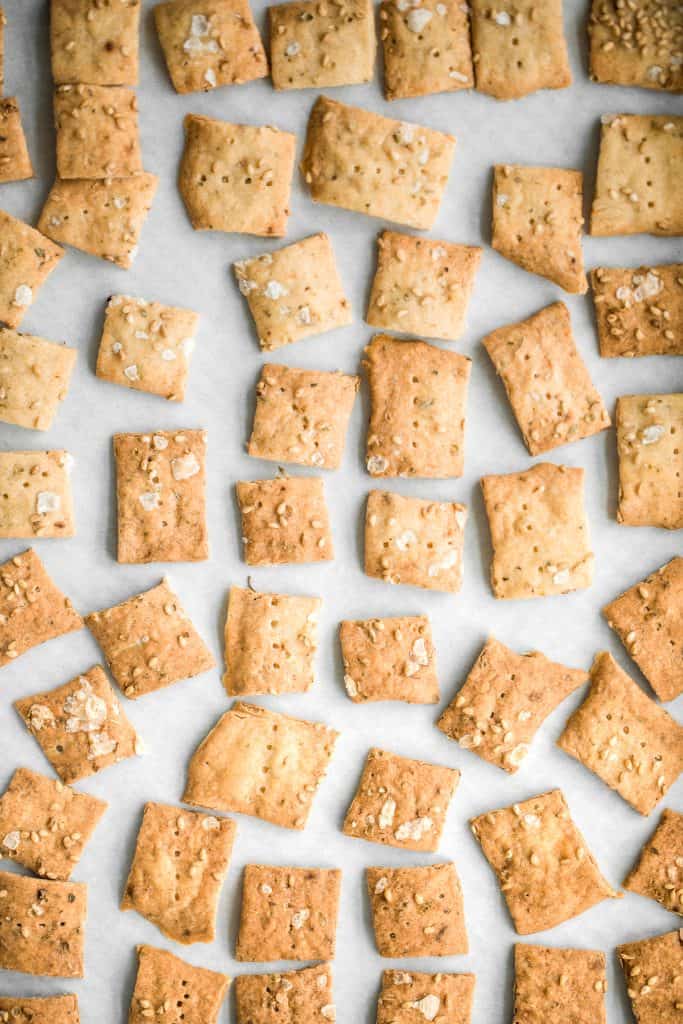 Wholesome and healthy pumpkin energy bites are a delicious, gluten-free and vegan alternative to pumpkin pie. Easy to whip up with just 15 minutes prep.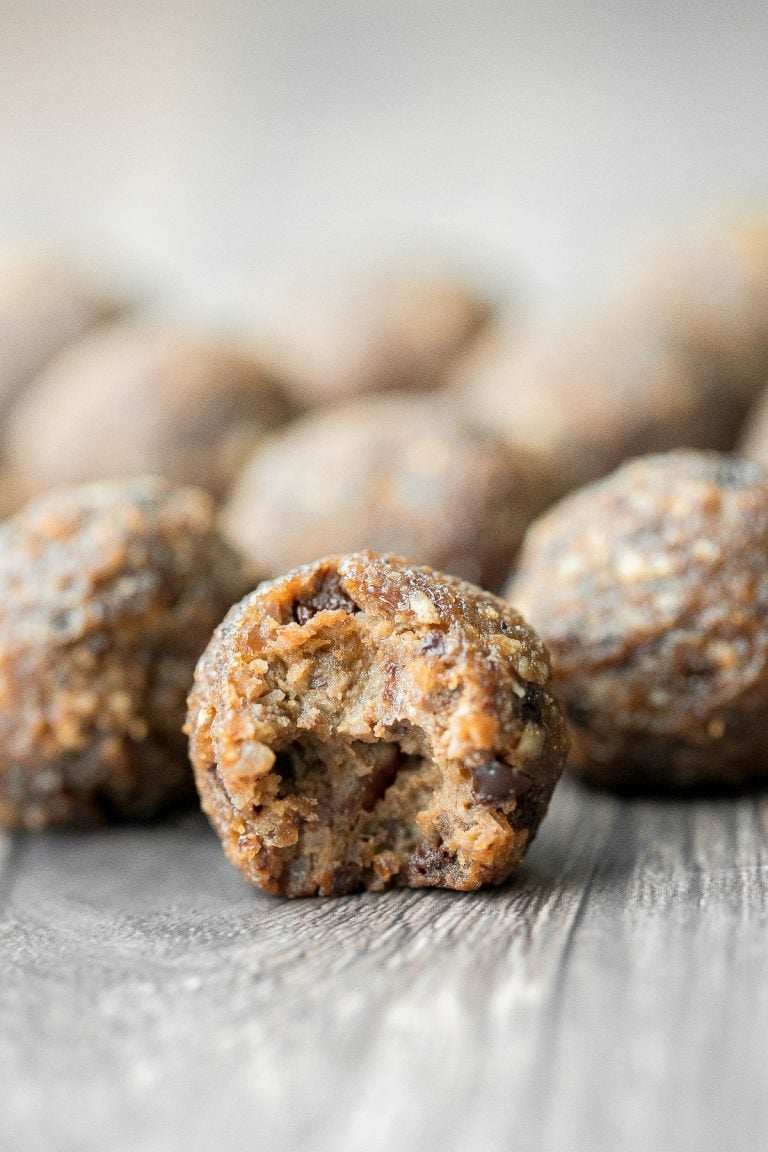 Gluten-free rice croutons are a delicious, crunchy, and chewy homemade snack with the same texture as the best part of rice — the crispy bottom of the pot!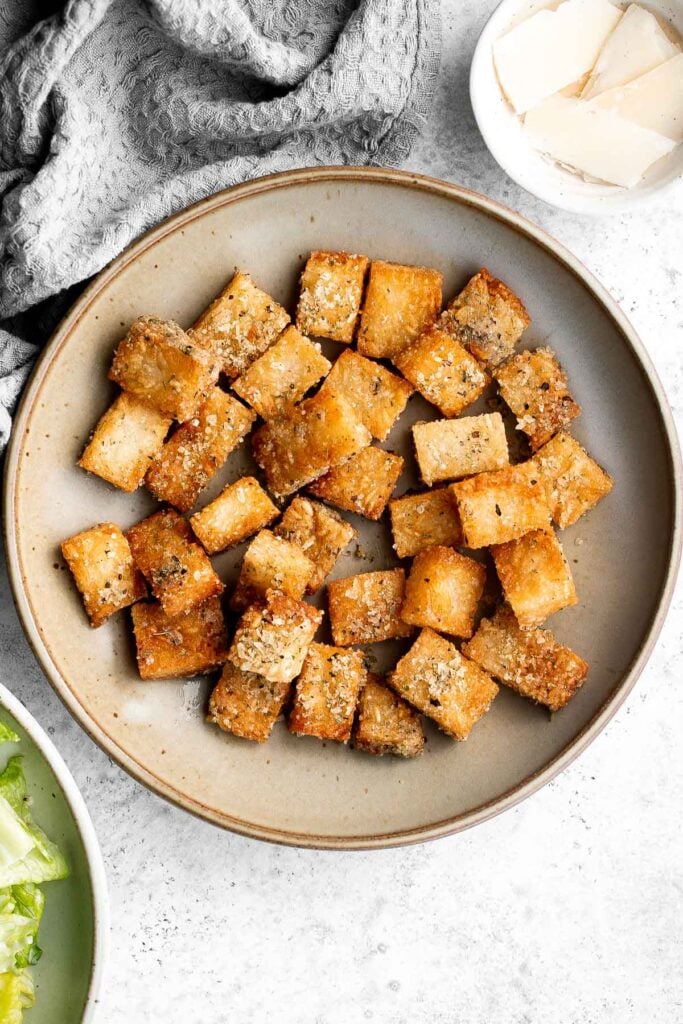 Quick and easy pumpkin pie granola packed with oats, pumpkin, pumpkin spice, and nuts, is vegan, gluten-free, and refined sugar-free. The best fall snack.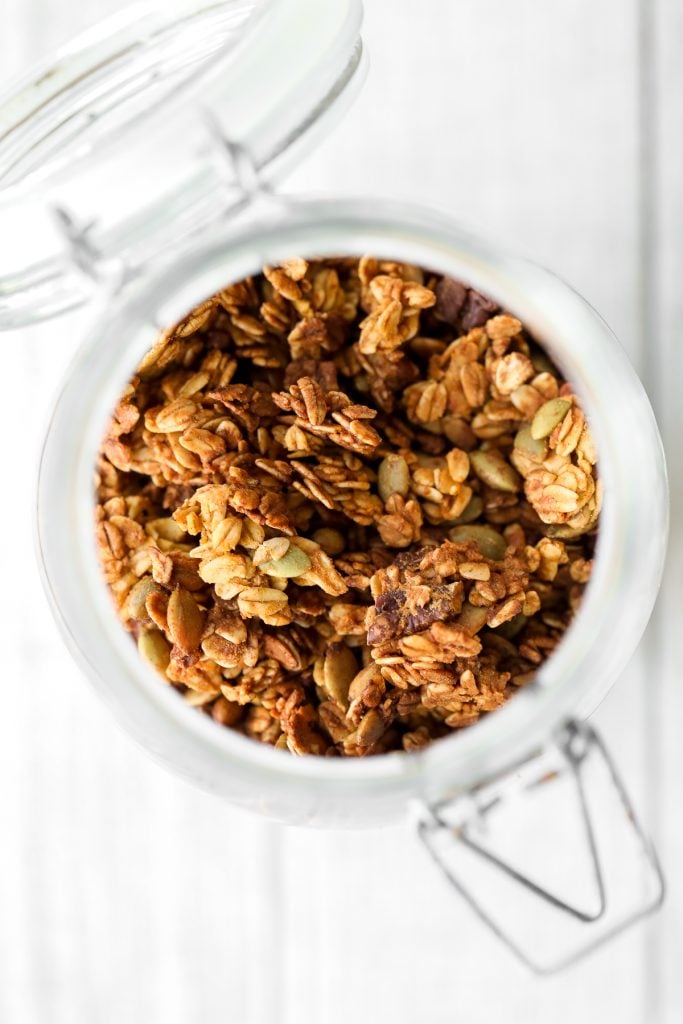 Healthy Dips and Spreads
Incredibly tasty, this easy and basic guacamole takes less than 5 minutes to make. It is the perfect healthy snack dip.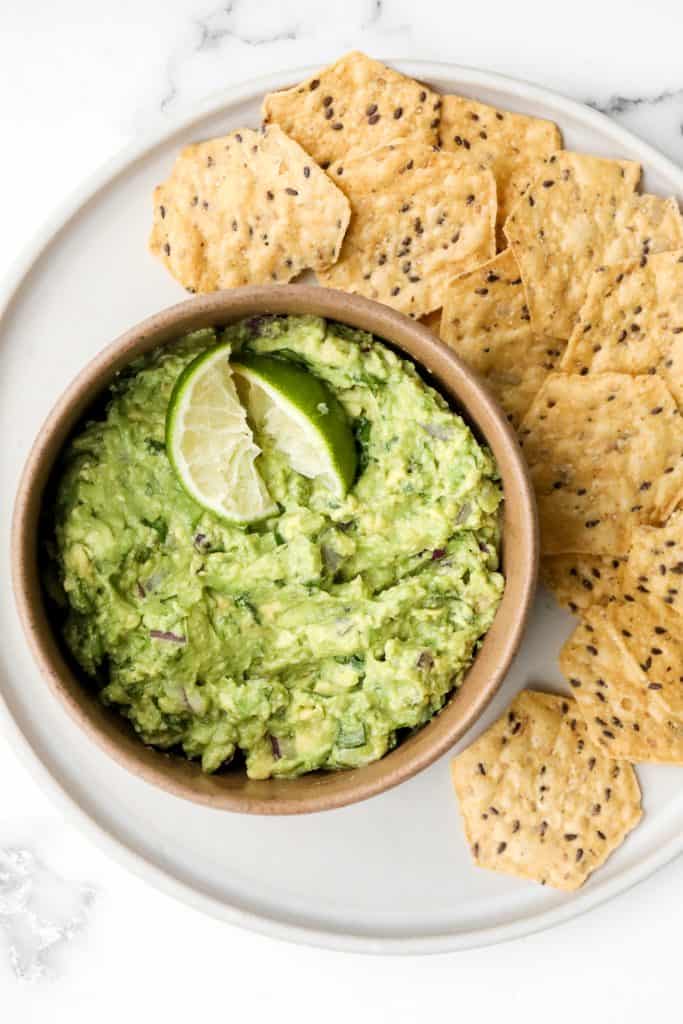 Light and airy, whipped ricotta dip is so easy to make in just 5 minutes with a few fresh ingredients including fresh herbs, olive oil, garlic, and honey.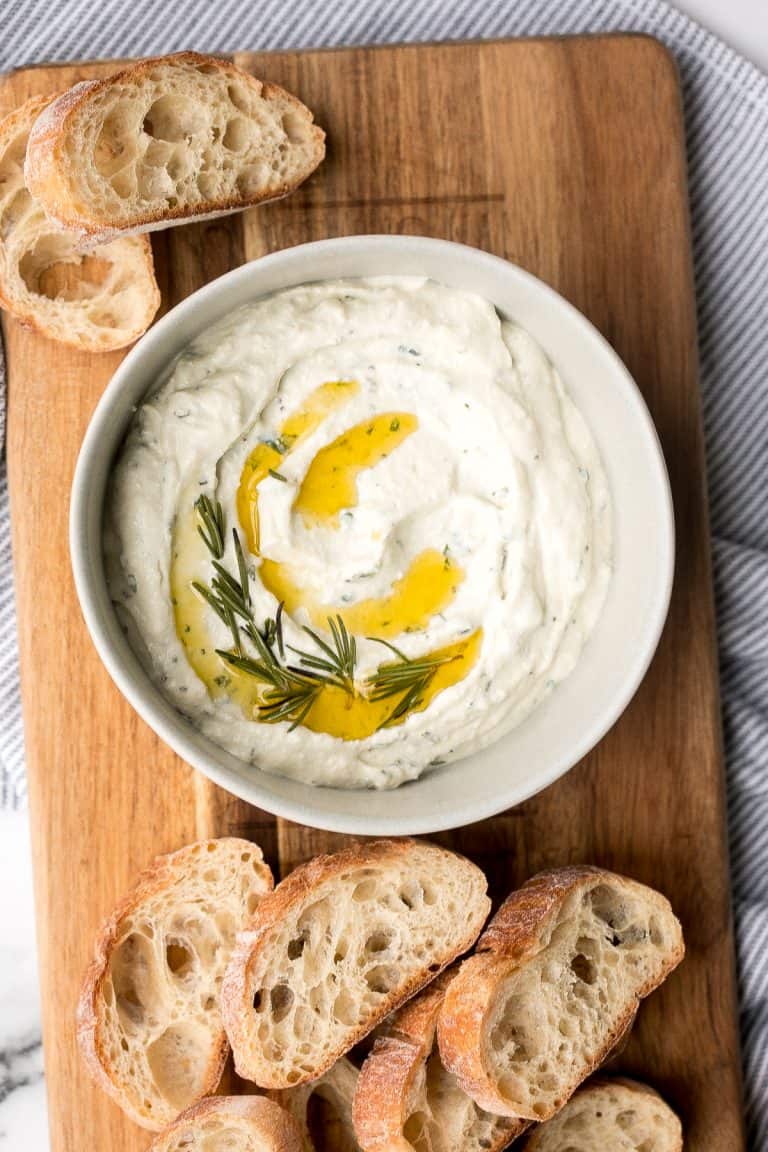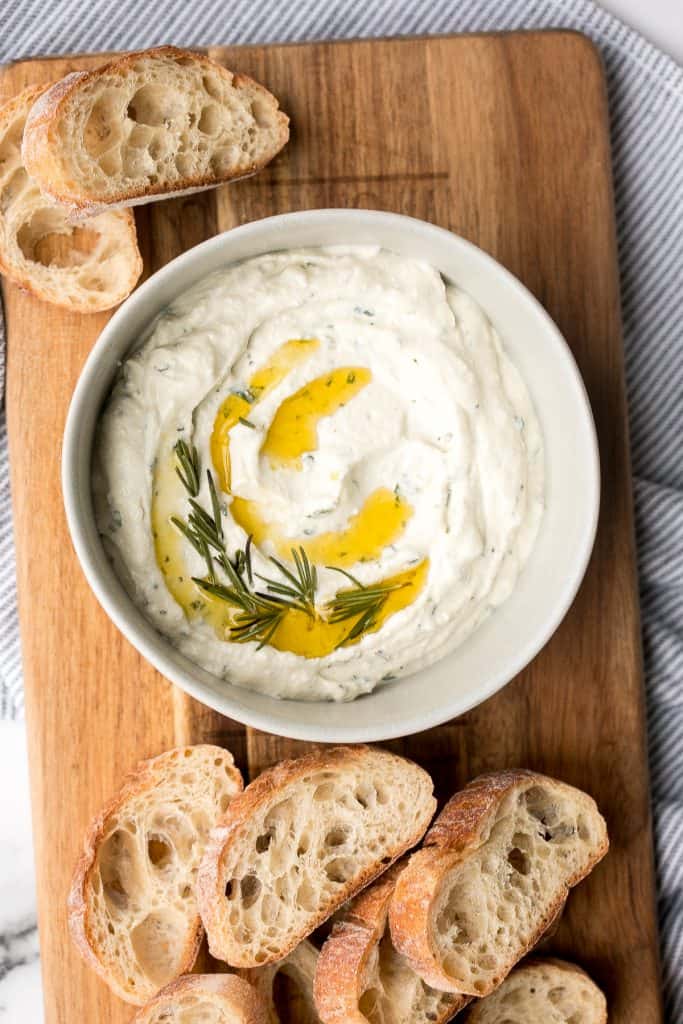 Easy 5-minute pico de gallo chunky salsa is packed with fresh tomatoes, onion, cilantro, and lime juice (and optional jalapeños for a spicy kick).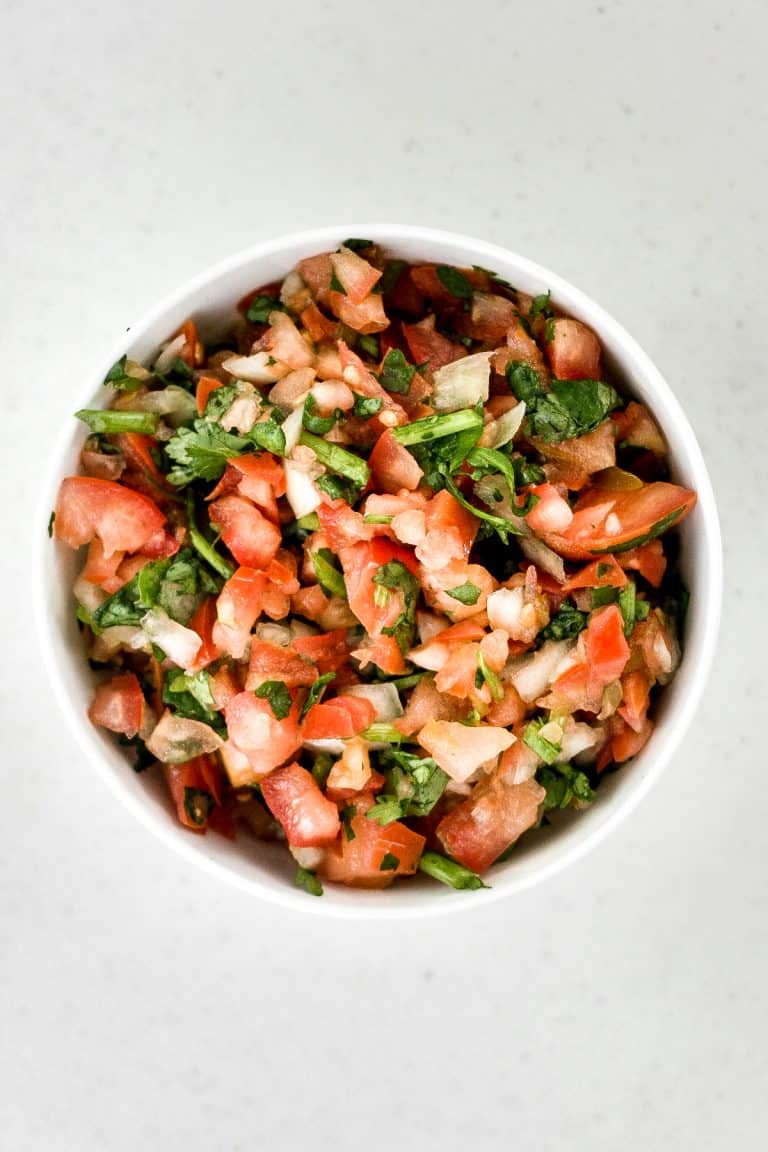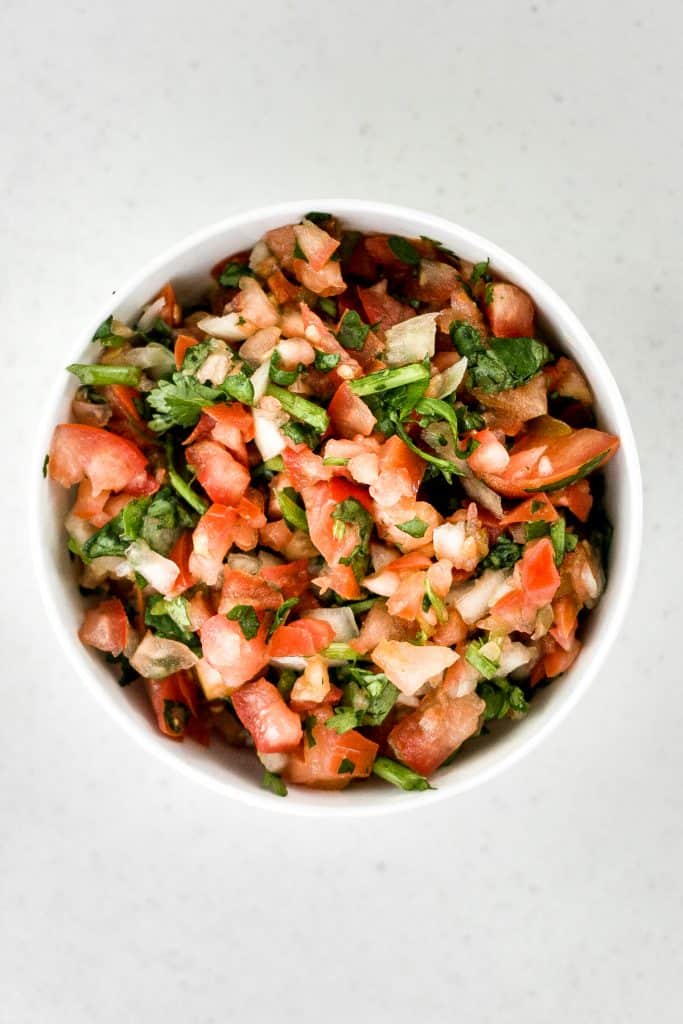 Quick and easy avocado hummus is creamy, smooth, healthy, and delicious. Loaded with chickpeas and avocado, it's the perfect blend of hummus and guacamole.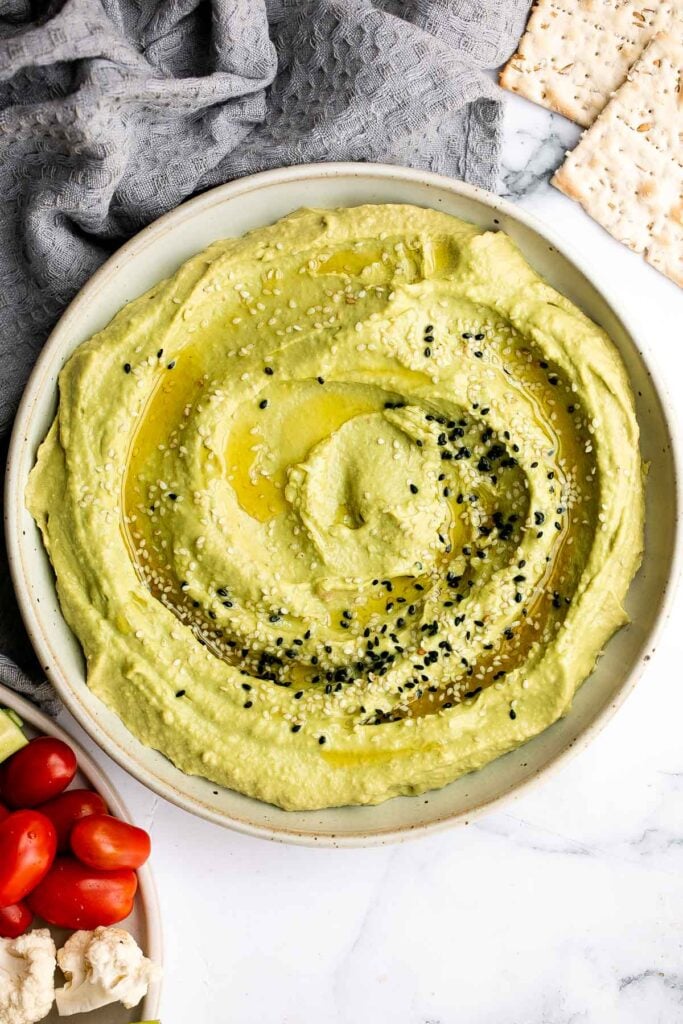 Easy Tzatziki Sauce (Cucumber Yogurt Dip)
Light and fresh, easy tzatziki sauce is a creamy yogurt cucumber dip packed with fresh cucumbers, garlic, dill, lemon juice and olive oil. So easy to make.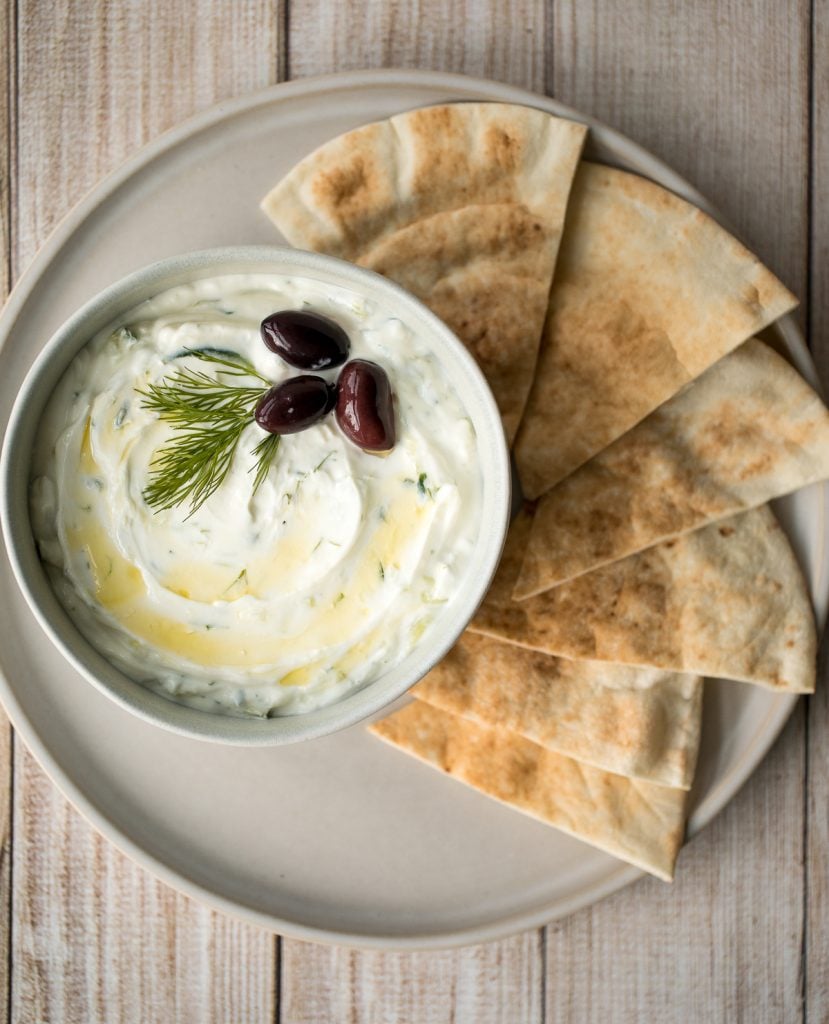 Baba ganoush is a creamy, roasted eggplant dip mixed with garlic and tahini for an explosion of flavour! It is perfect served with pita chips or veggies.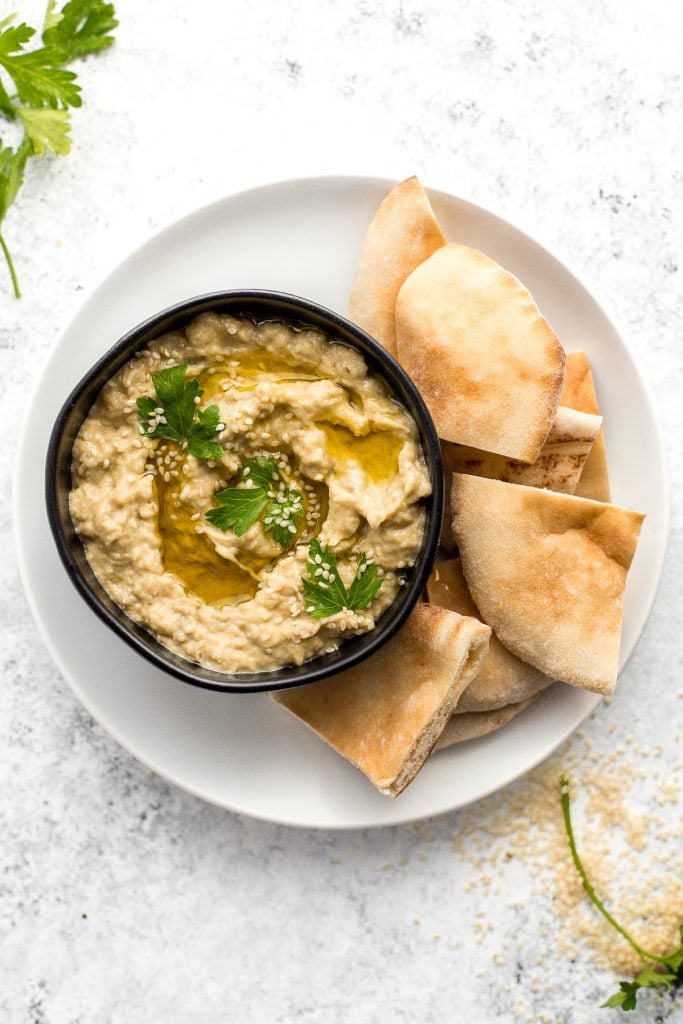 Marinara sauce is rich, vibrant, and loaded with flavor. It's easy to make with a few simple fresh ingredients. Serve as a dip or in pasta and pizza.
Olive tapenade is a delicious, flavorful, easy dip that comes together in minutes, made with the perfect combination of sharp, tangy, salty, and savory.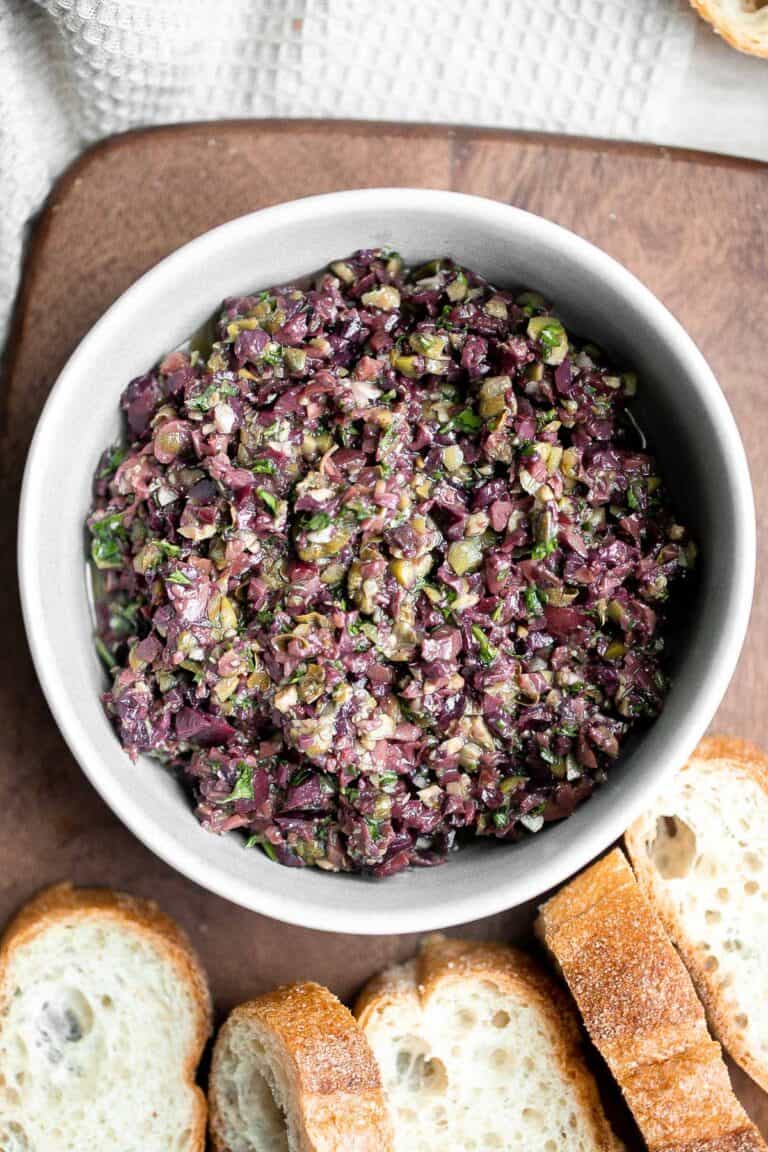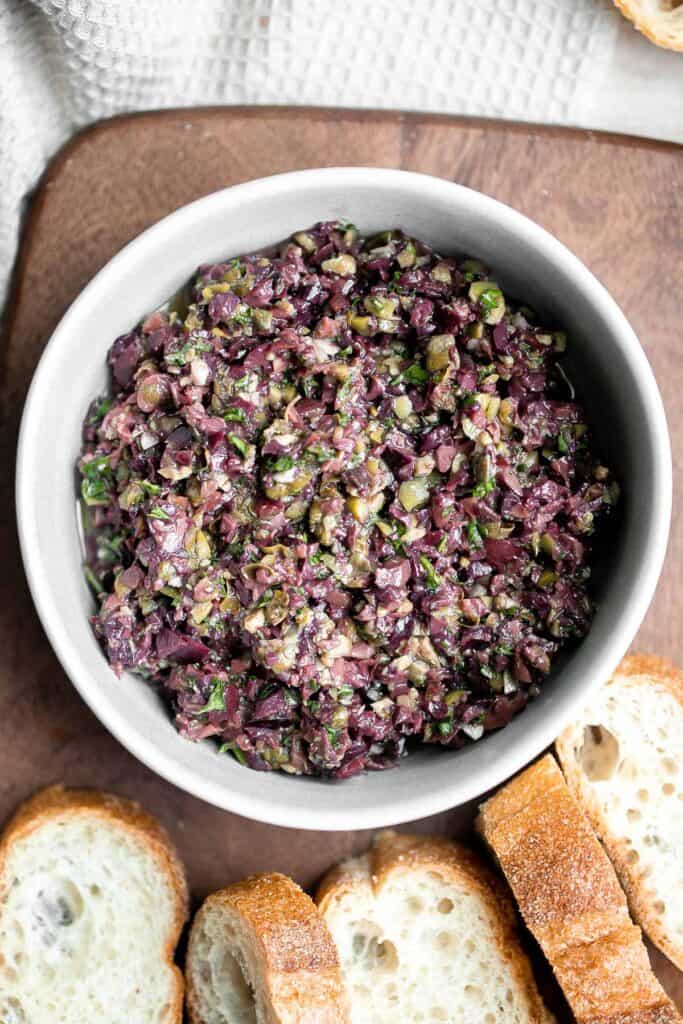 Smooth and creamy pesto hummus is a healthy, delicious and flavourful dip that is easy to make in just 5 minutes. It's vegan and gluten-free.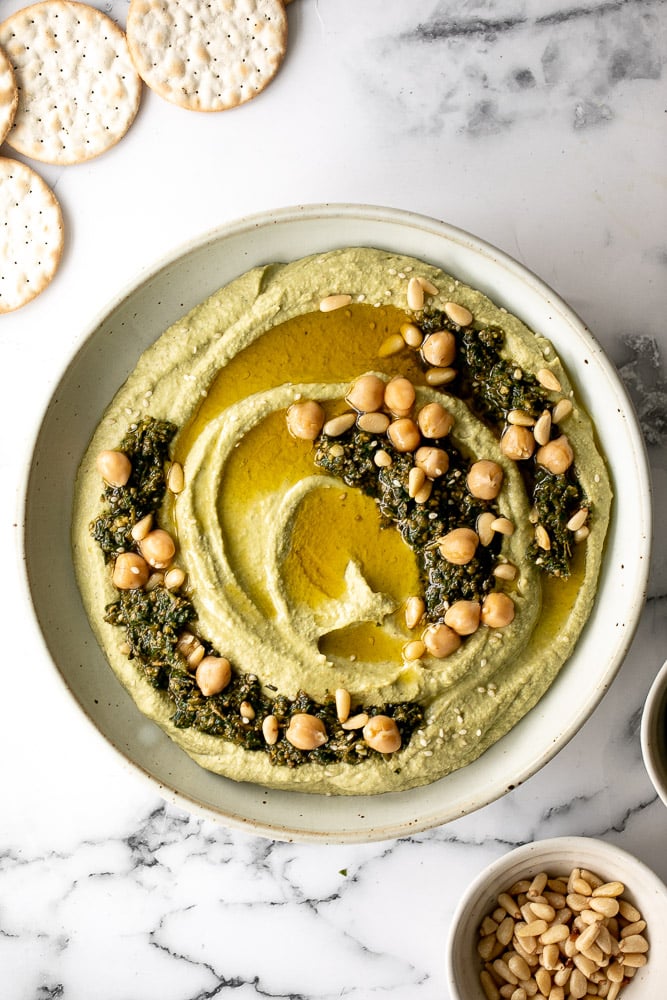 Fresh mango salsa is sweet, tangy, and delicious. It's a quick and easy recipe that you can whip up with just 6 ingredients and in under 10 minutes.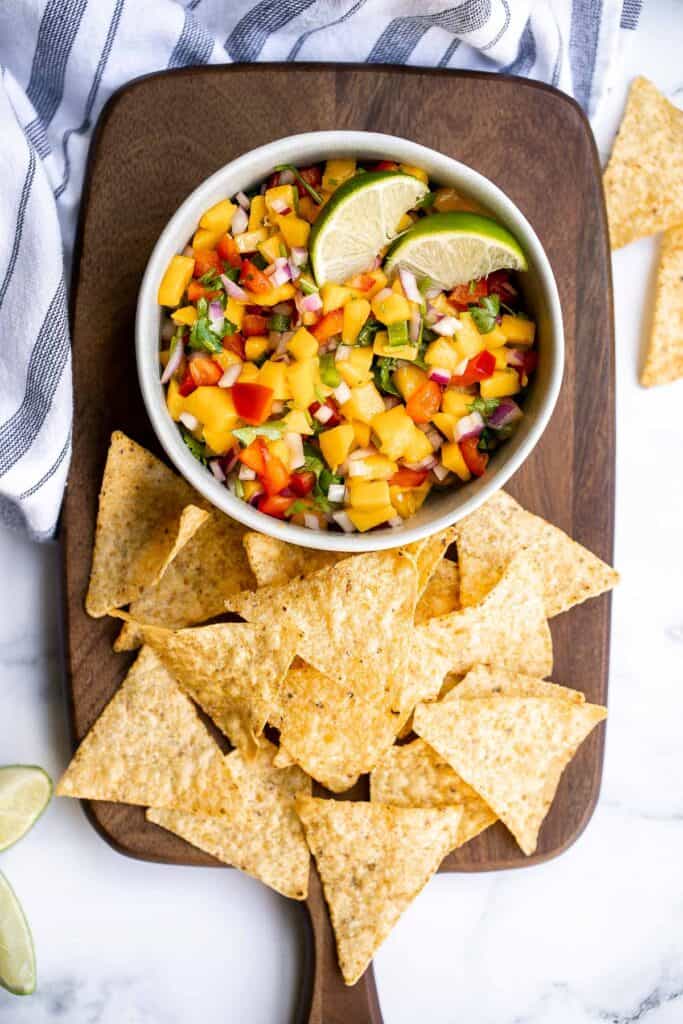 Whipped feta is light, airy, and fluffy. It's an easy yet impressive recipe that takes only 5 minutes to make in a blender with 3 simple ingredients.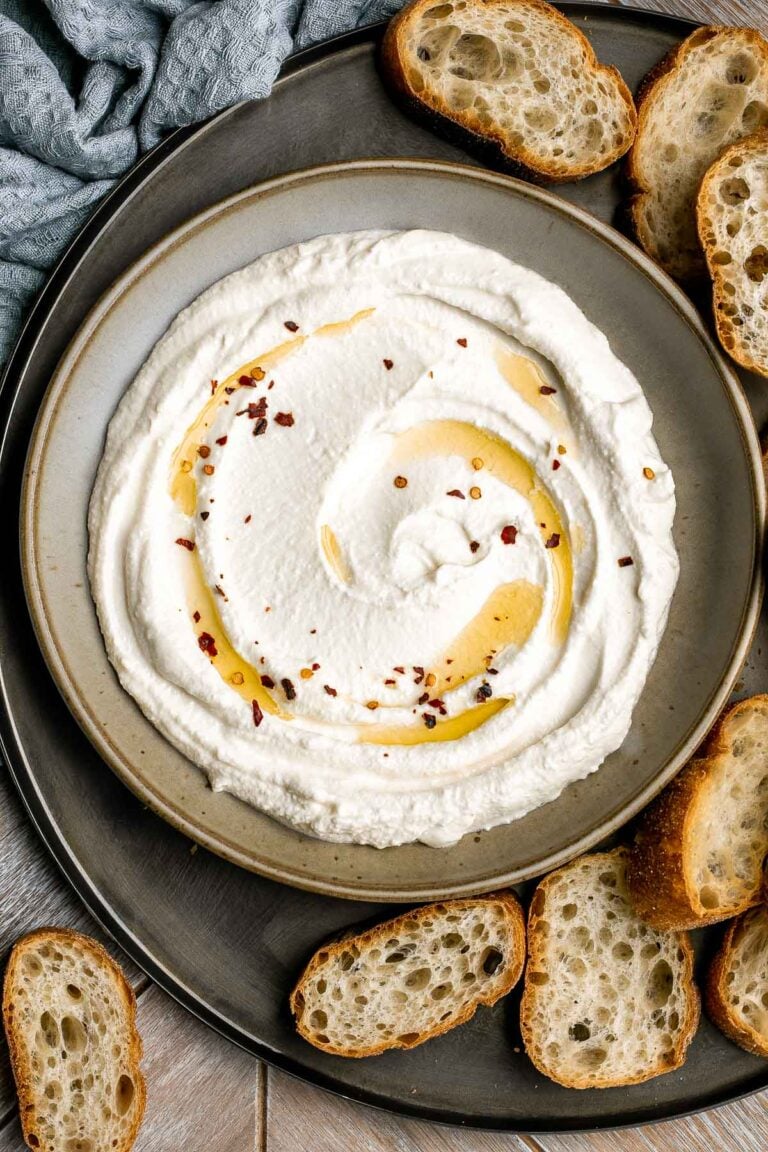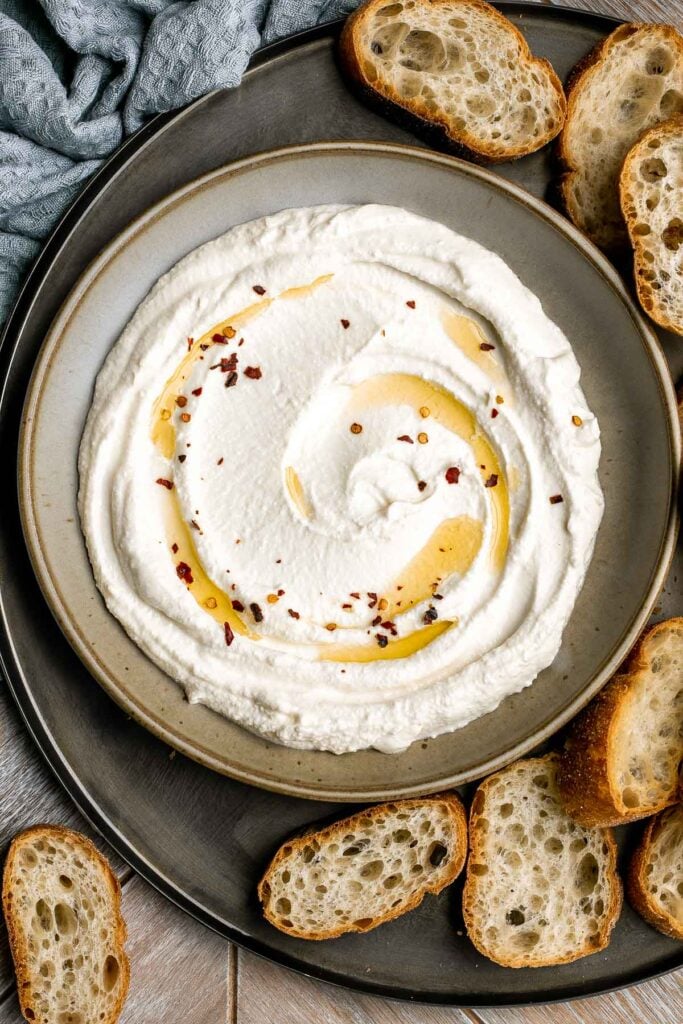 Healthy Baked Goods and Bread
Healthy banana bread is delicious and moist and contains no refined sugar or butter. Quick and easy to make with 10 minutes prep and few pantry staples.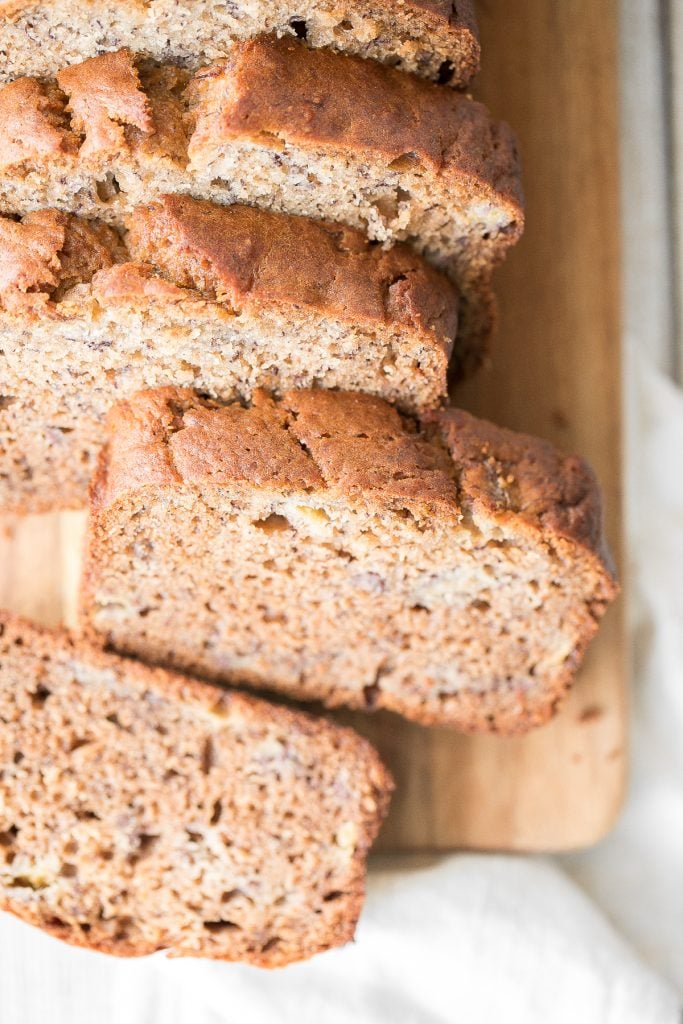 The best quick and easy salted soft pretzels are buttery, salty, and so delicious. They are golden brown and chewy on the outside, yet warm and soft inside.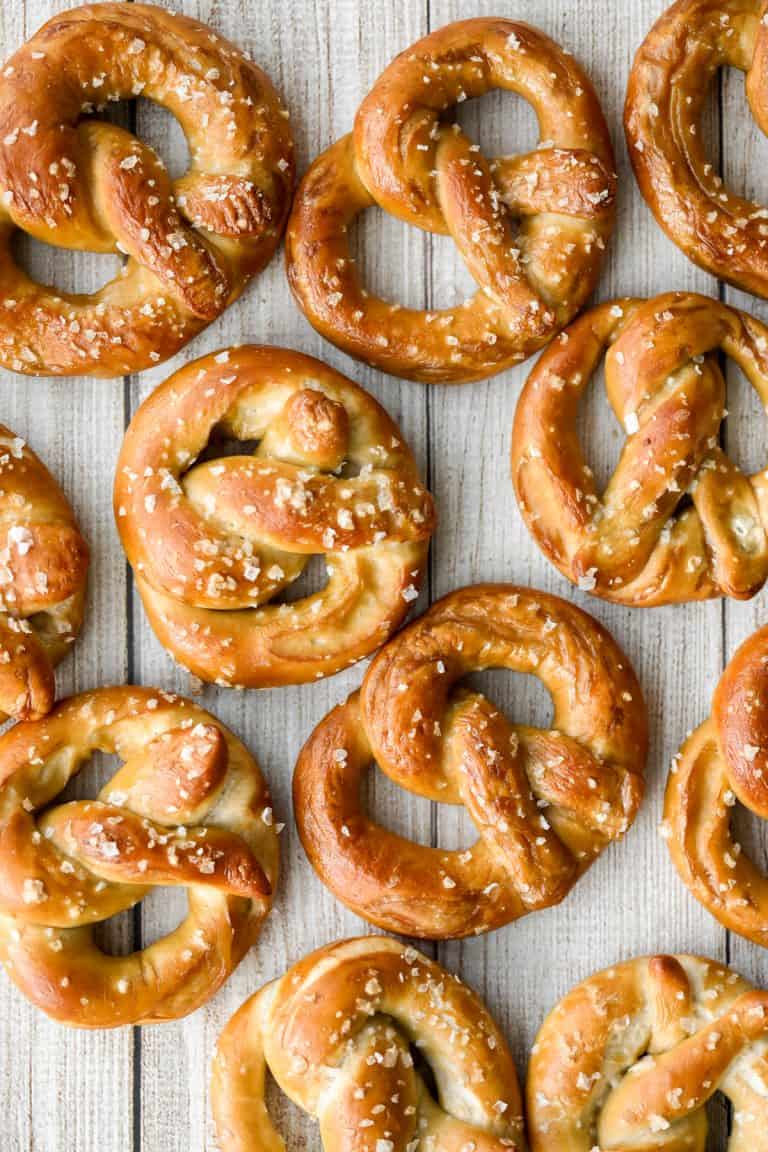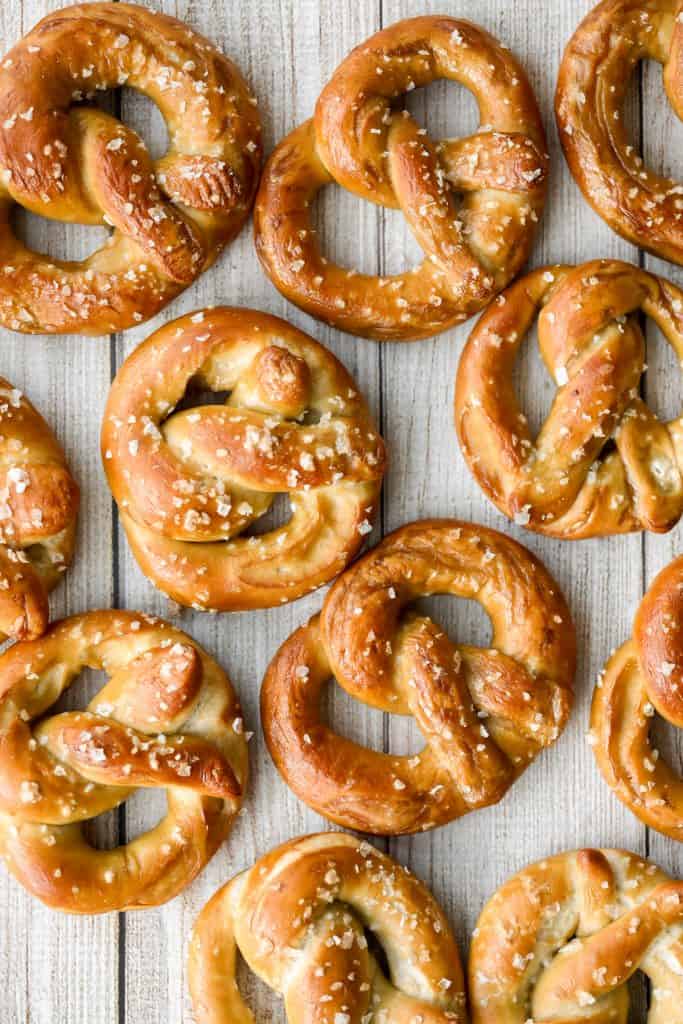 Glazed lemon blueberry scones are total breakfast goals. Blueberries and lemon partner together in a light, tender and flakey scone, drizzled with a sweet lemon glaze that is nothing short of impressive.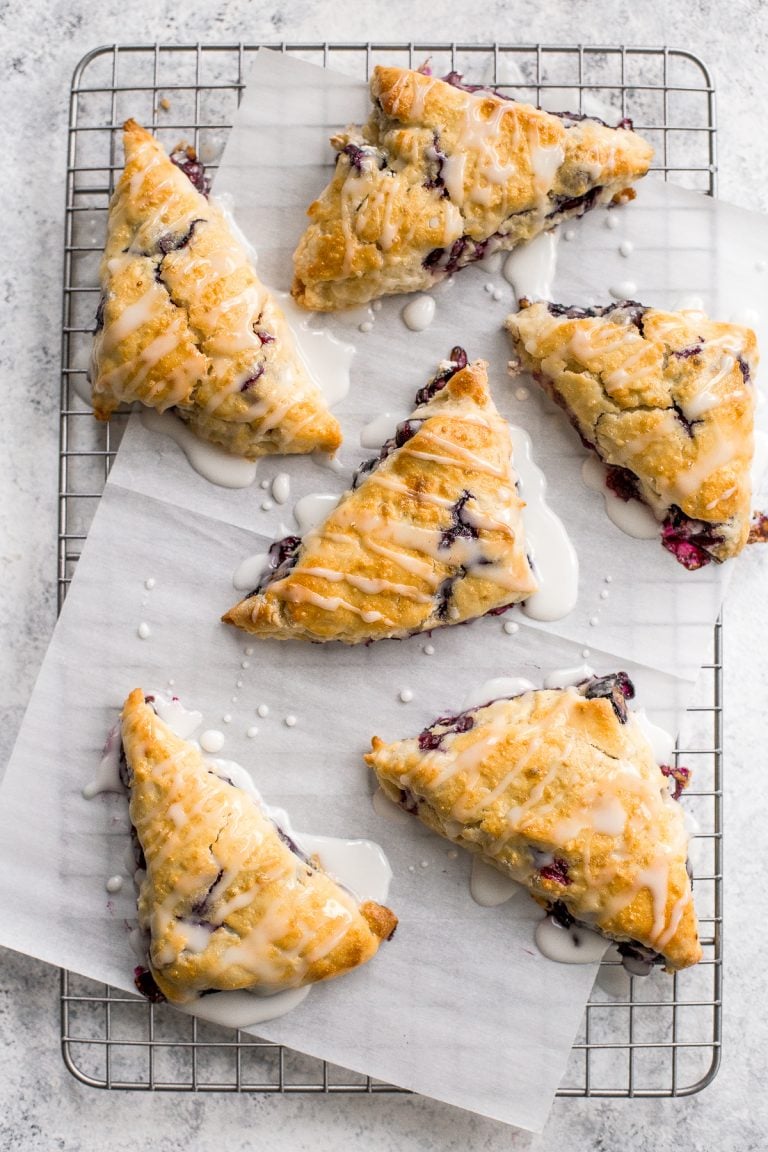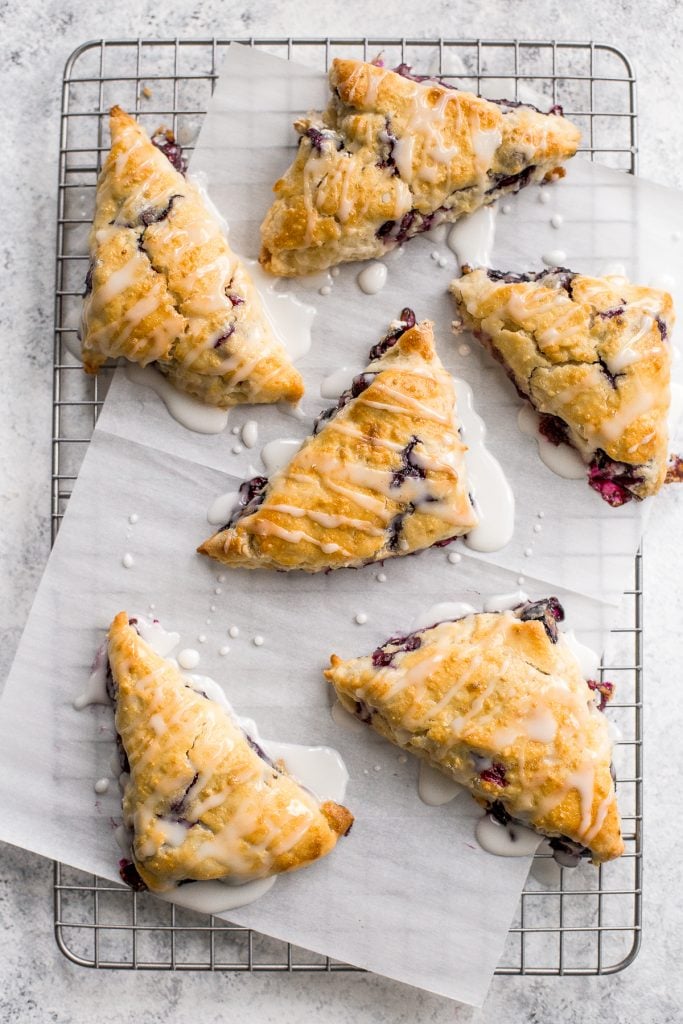 Quick and easy zucchini muffins are loaded with fresh zucchini which makes them fluffy, moist, delicious, and full of nutrients. Freezer-friendly too!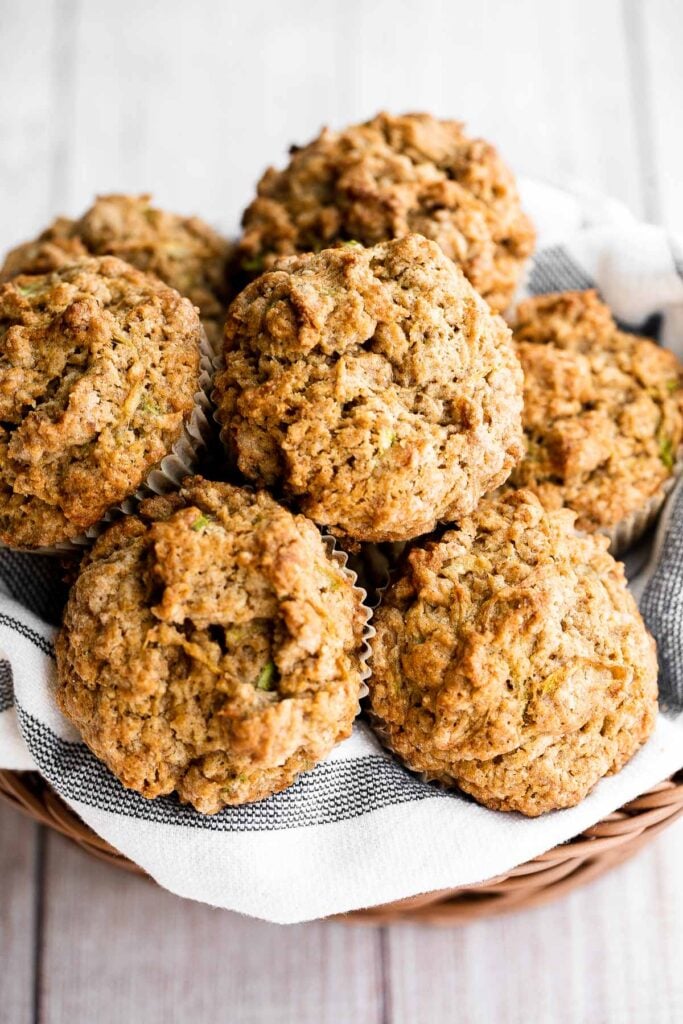 Banana Toast with Granola and Honey
Banana toast with granola and honey is the perfect, protein-packed meal, and it is ready in literally 5 minutes.
Easy Homemade Everything Bagels
Easy homemade everything bagels with a signature everything bagel seasoning blend on top are just like bakery-style bagels and so easy to make at home.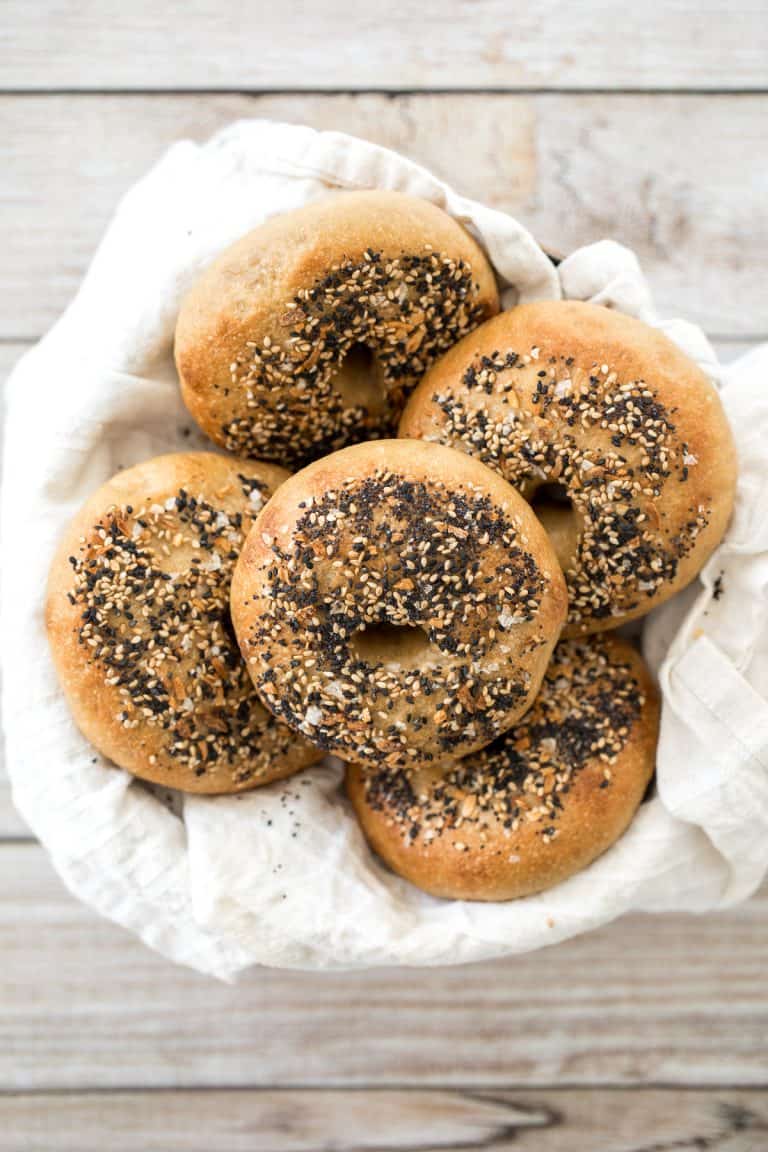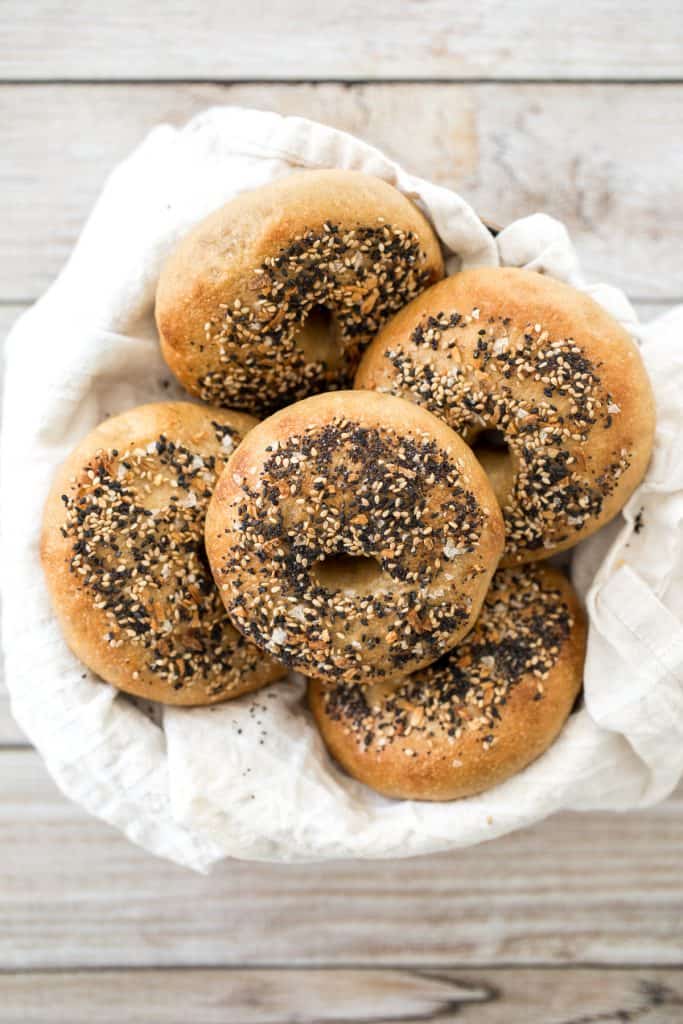 Buttery, soft and moist, cranberry yogurt muffins are packed with tarty and sweet cranberries in every single bite. This breakfast ideas is great for breakfast, snack or dessert.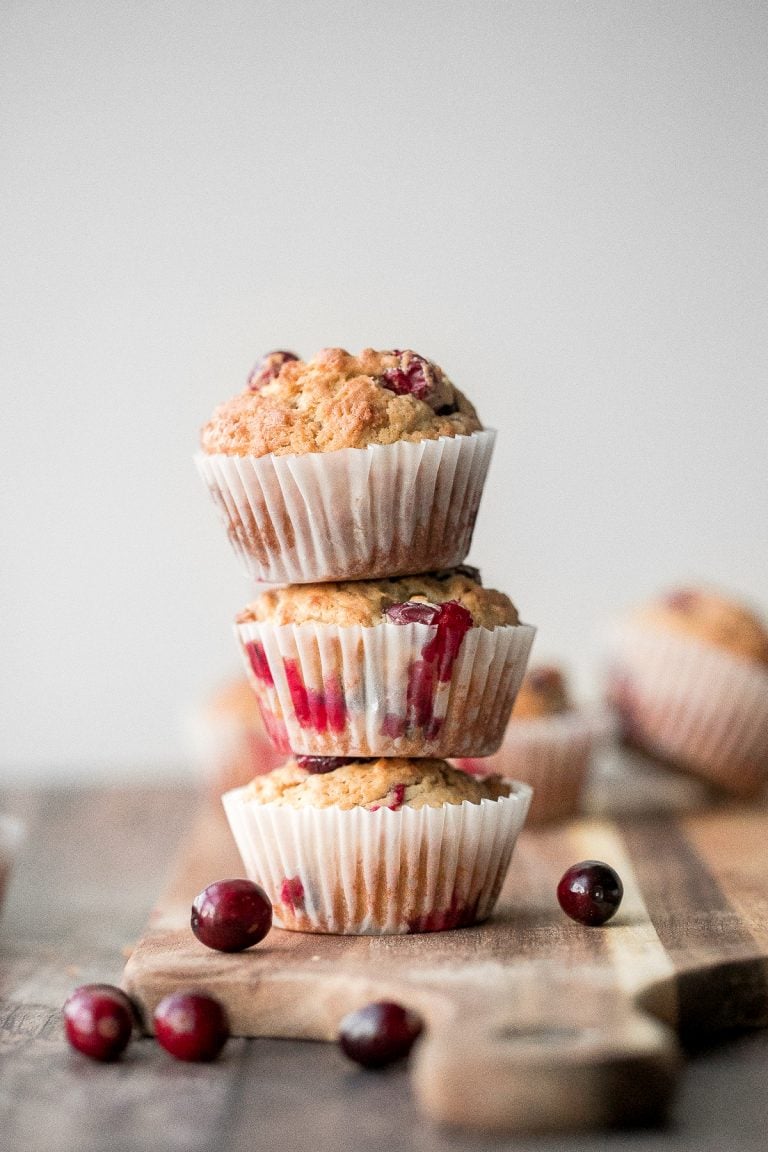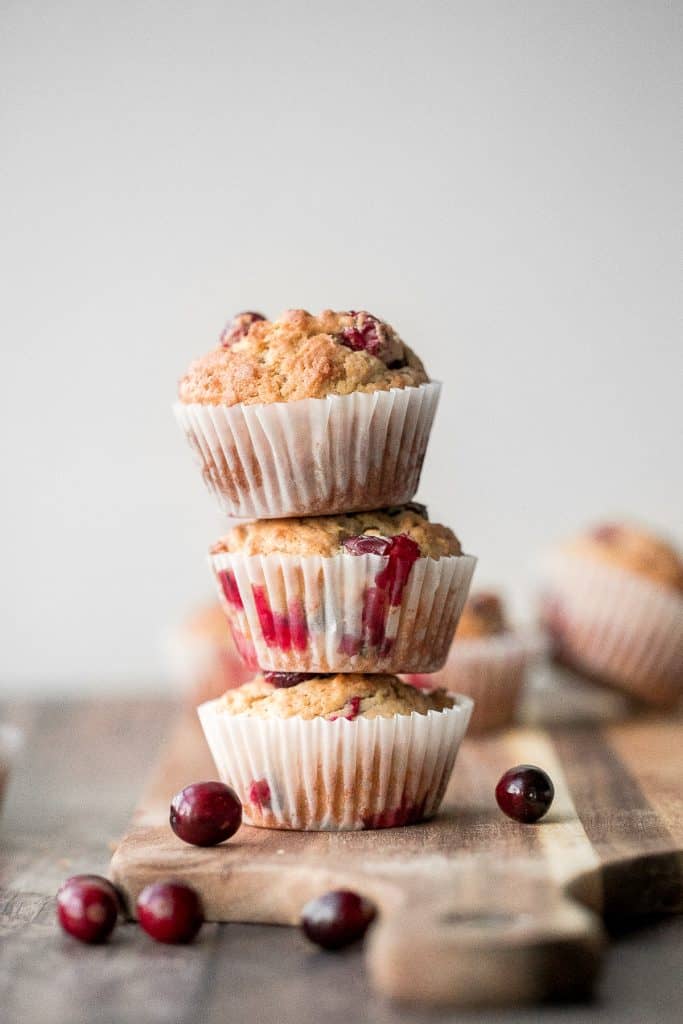 Homemade applesauce bread is fluffy, moist, and delicious. Loaded with fall flavors that transforms your favorite snack into a loaf cake.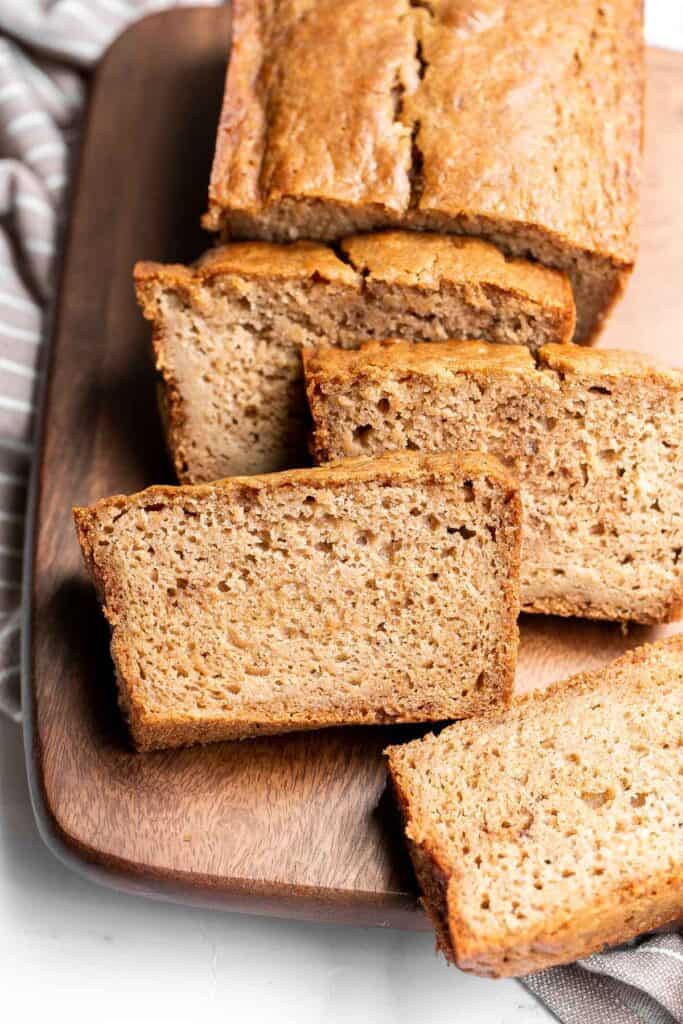 Healthy Smoothies and Fruit
Majoon Banana and Date Smoothie
Majoon banana and date smoothie is a delicious and healthy all-natural energy drink with bananas, dates and nuts. The perfect breakfast or snack.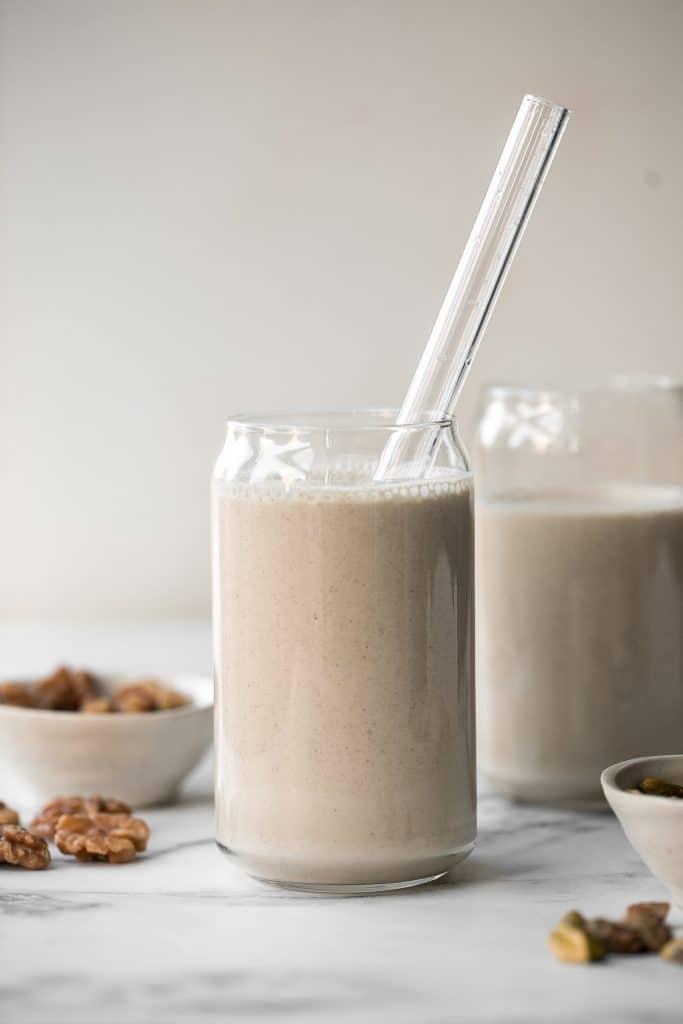 Layer fresh fruits, creamy Greek yogurt and crunchy granola to make this fruit and yogurt parfait for a delicious and healthy breakfast or a simple snack. It's one of the easiest breakfast ideas.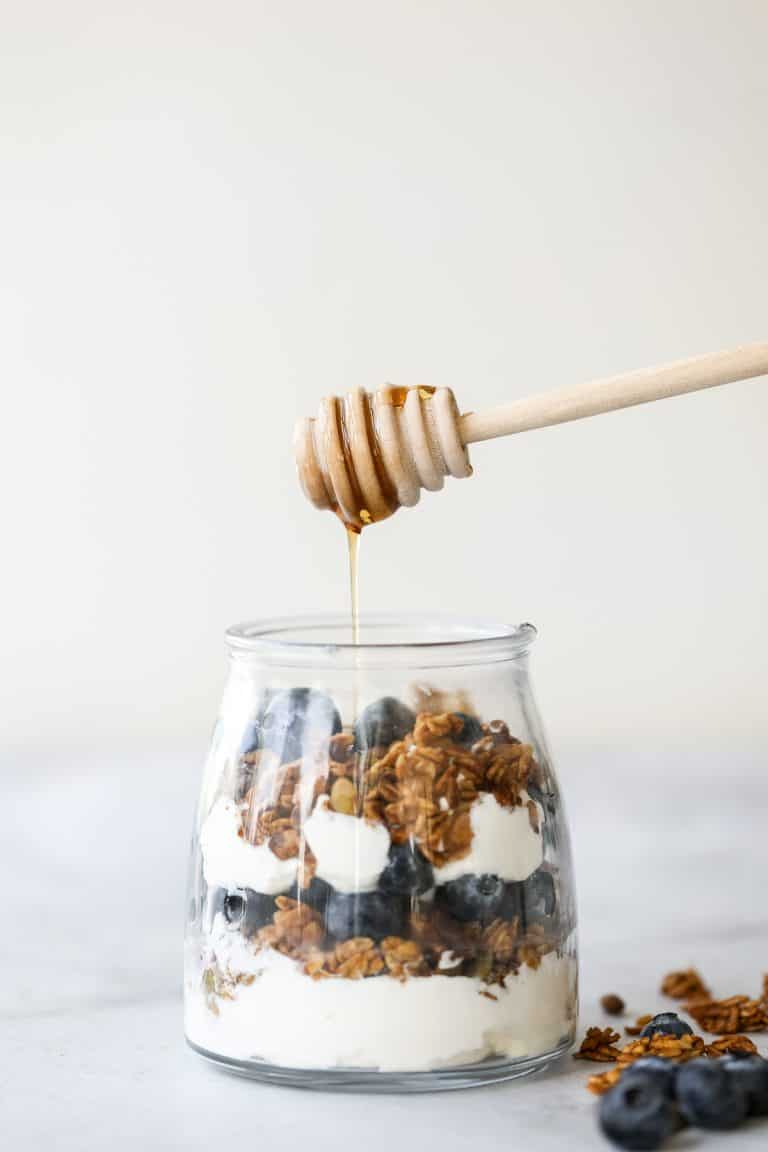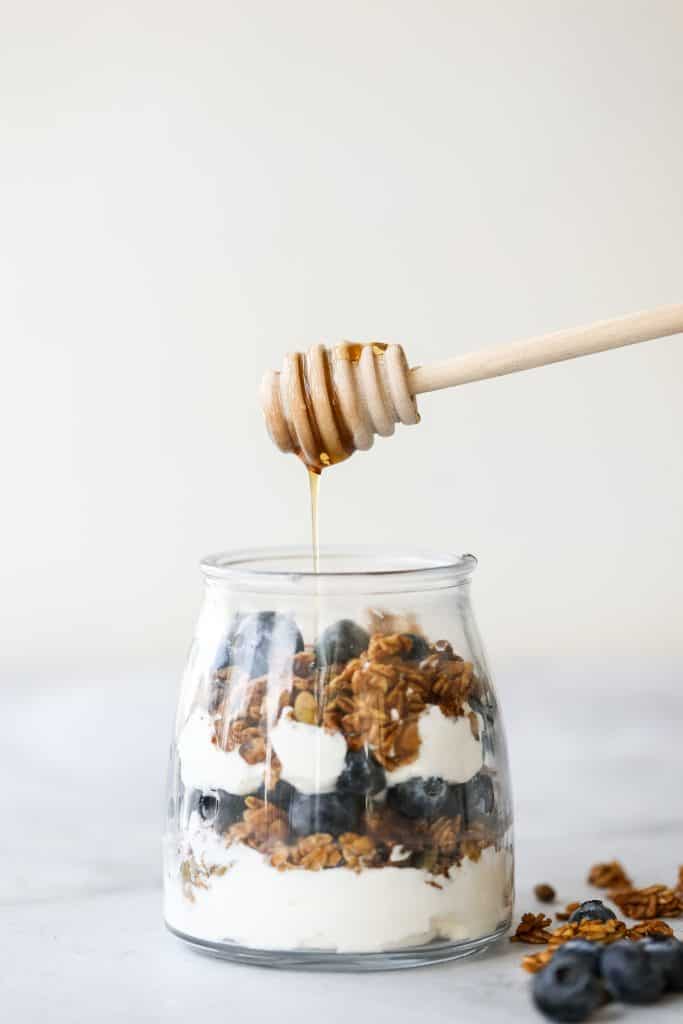 Healthy mango yogurt smoothie is refreshing, delicious, and healthy. Loaded with tropical mangos and low-fat yogurt, it's the perfect breakfast on the go.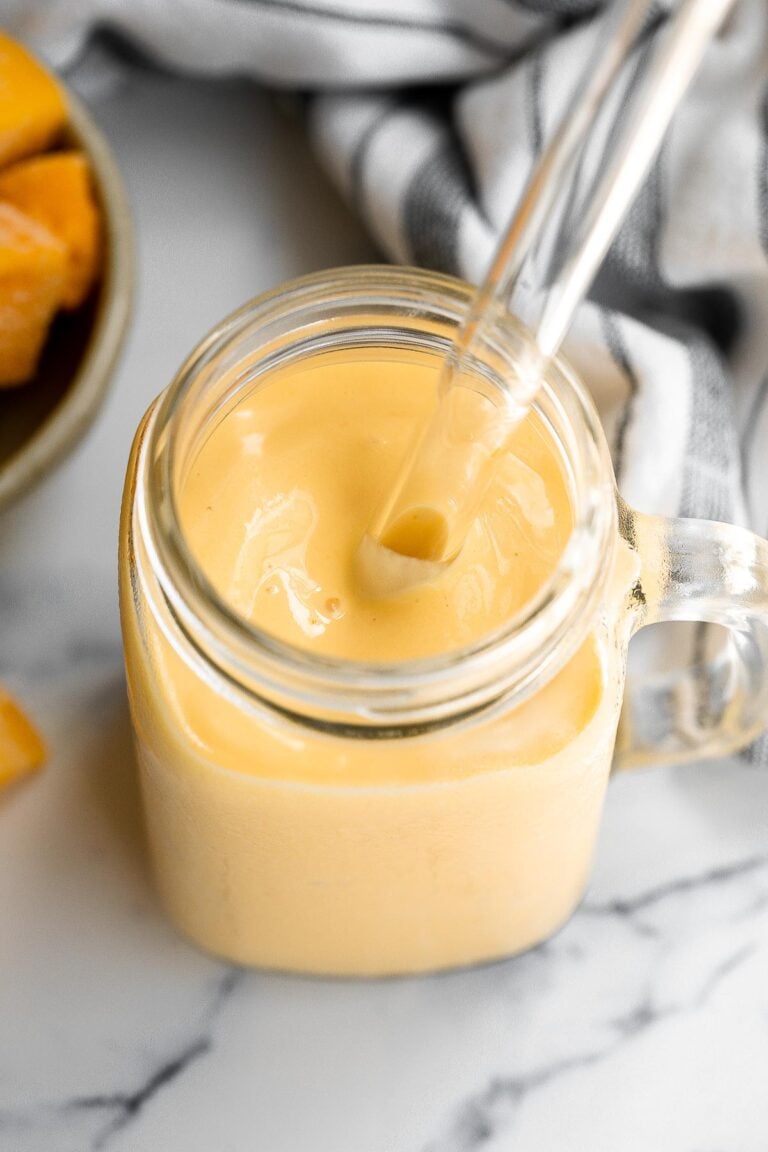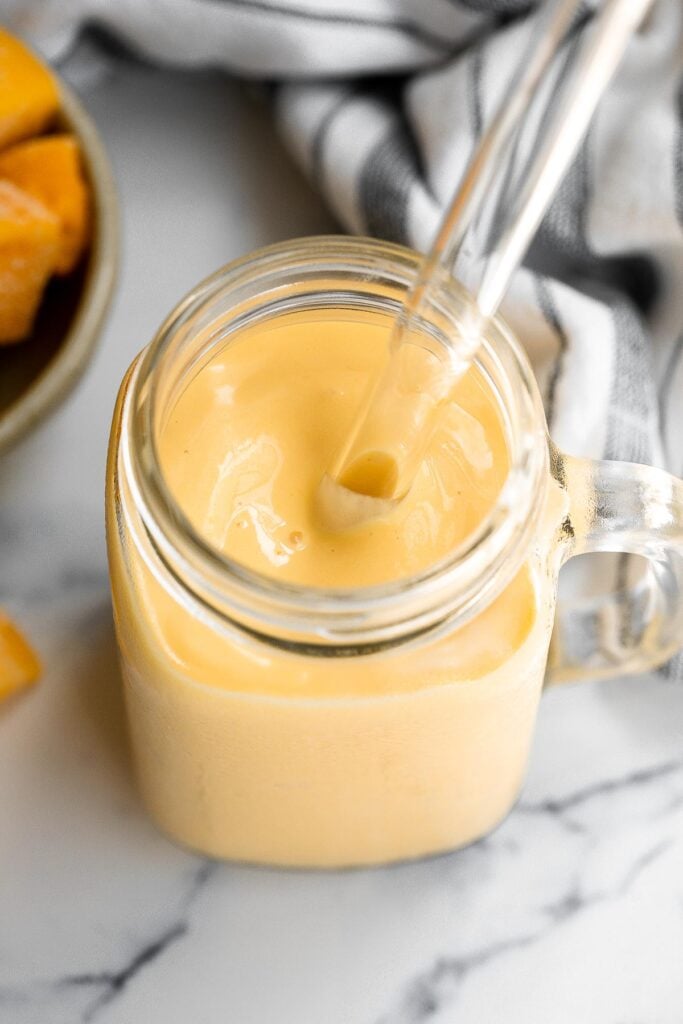 Quick and easy strawberry banana smoothie is the perfect breakfast on the go or refreshing snack. It's fruity, delicious, and packed with nutrients.
This green smoothie bowl is healthy, delicious, and nutritious. It's quick and easy to make in just minutes, for a quick energy boost to start the day.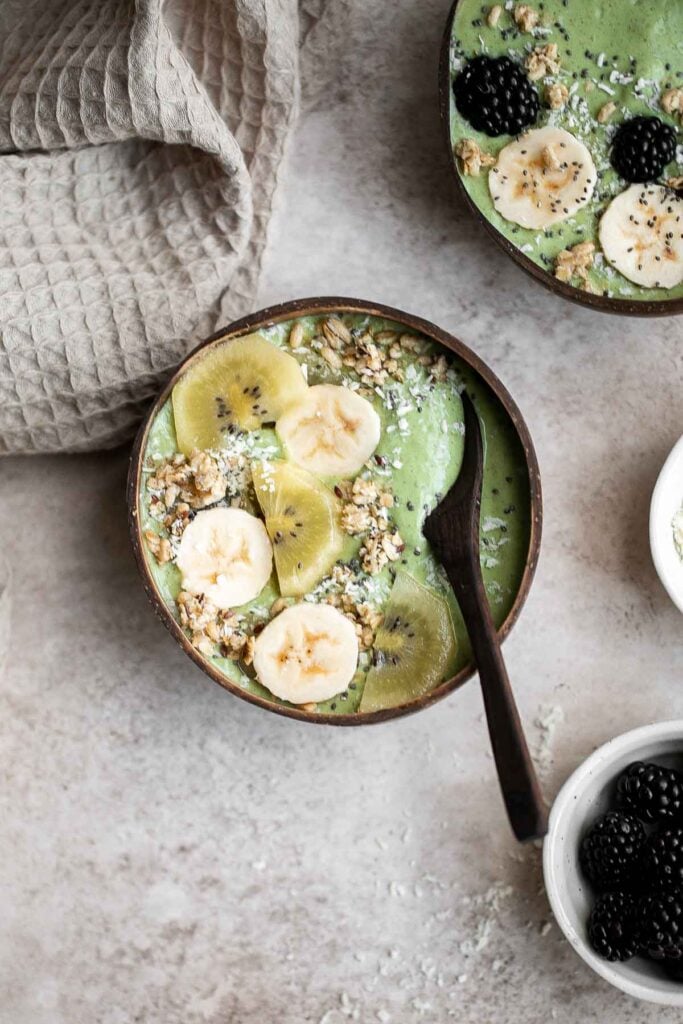 Thick and creamy homemade yogurt is so easy to make at home with just 2 ingredients, a heavy pot, and just a few minutes of actual hands on prep work.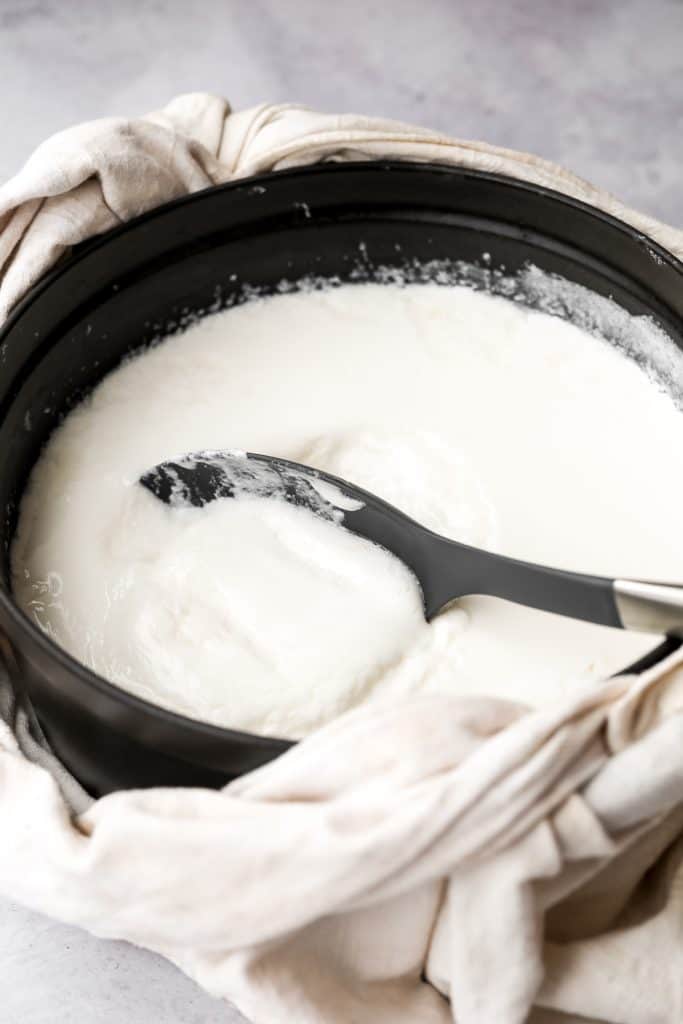 Add something refreshing to brunch with this Summer Fruit Salad. It's colorful, delicious, and naturally sweet (no processed sugar!). It's easy to make with fresh fruit tossed in a homemade dressing.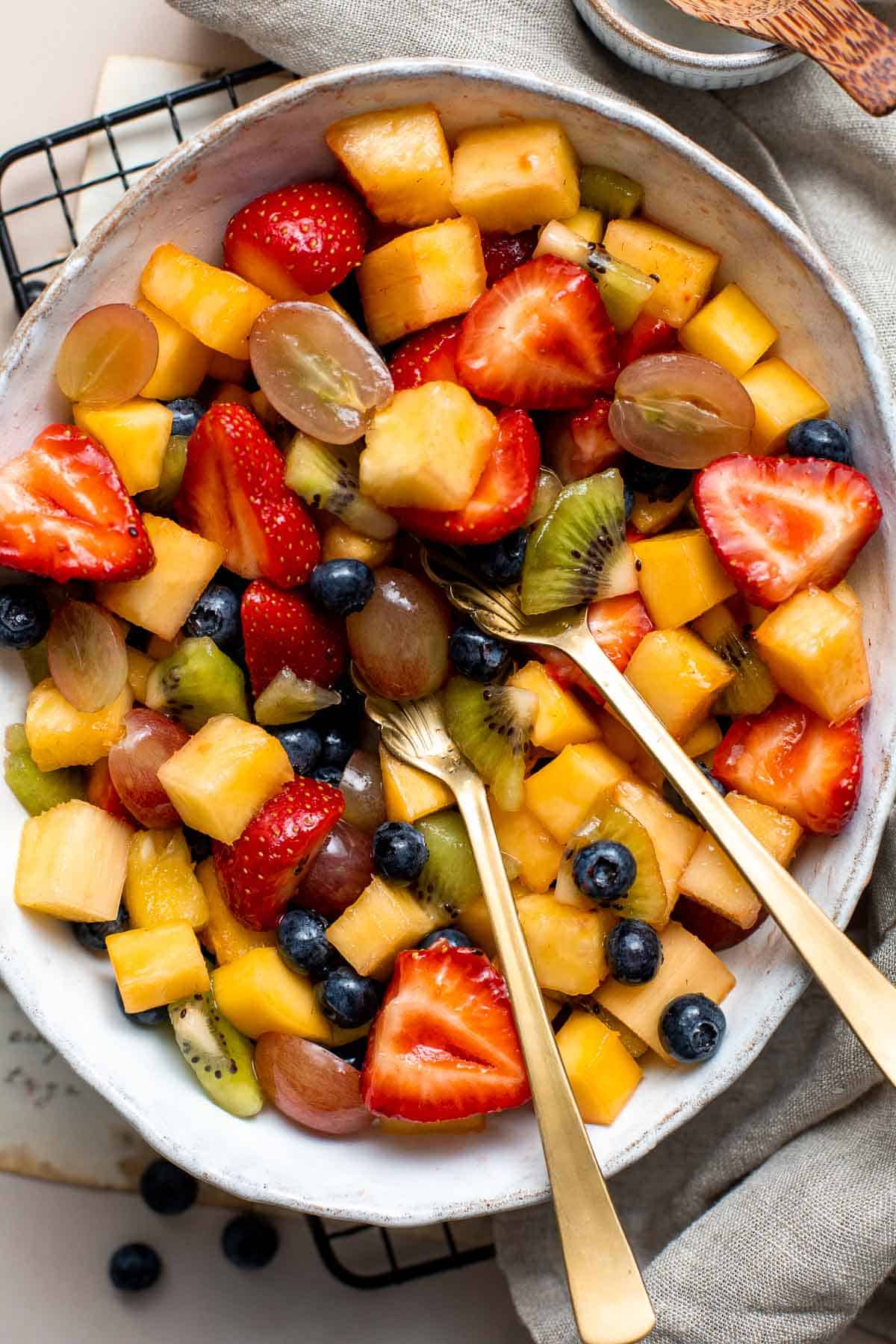 Healthy Apple Pie Fall Smoothie
The best way to get your "apple-a-day" daily is in a healthy apple pie fall smoothie! Ready in 5 minutes, it's got the taste of an apple pie, without all the calories.
Mango Pineapple Tropical Smoothie Bowl
Mango pineapple tropical smoothie bowl? Yes, please! Who doesn't love pineapples and mangos blended together and topped with more fruit, granola, and coconut?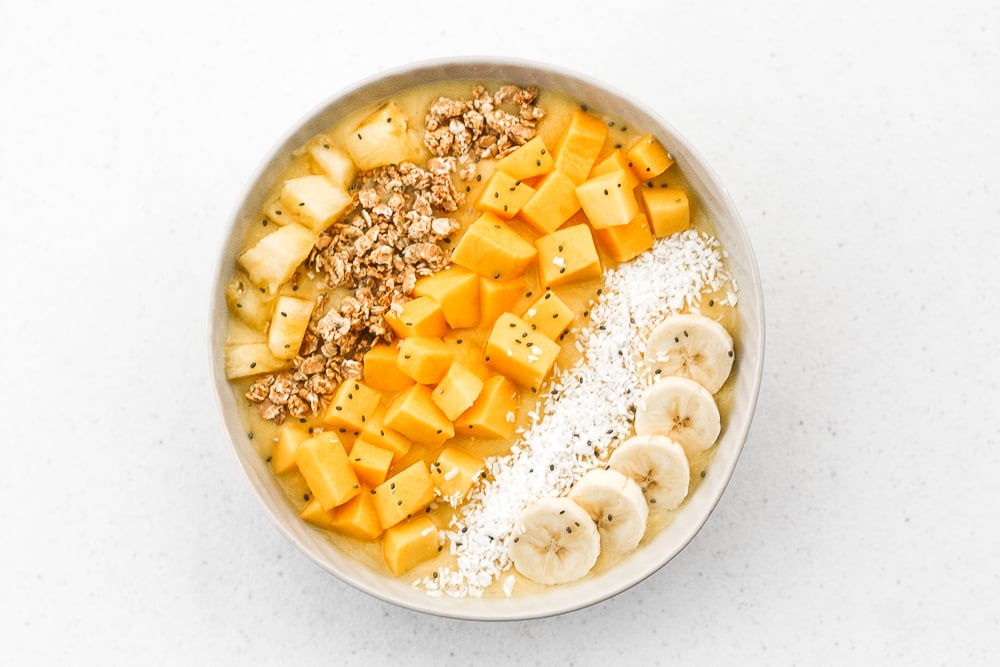 Savory Healthy Snacks
Vietnamese Summer Rolls with Chicken
Vietnamese summer rolls with chicken are fresh, light, and healthy. This Asian snack is a healthy lunch idea that takes less than 20 minutes to make and way easier than you think.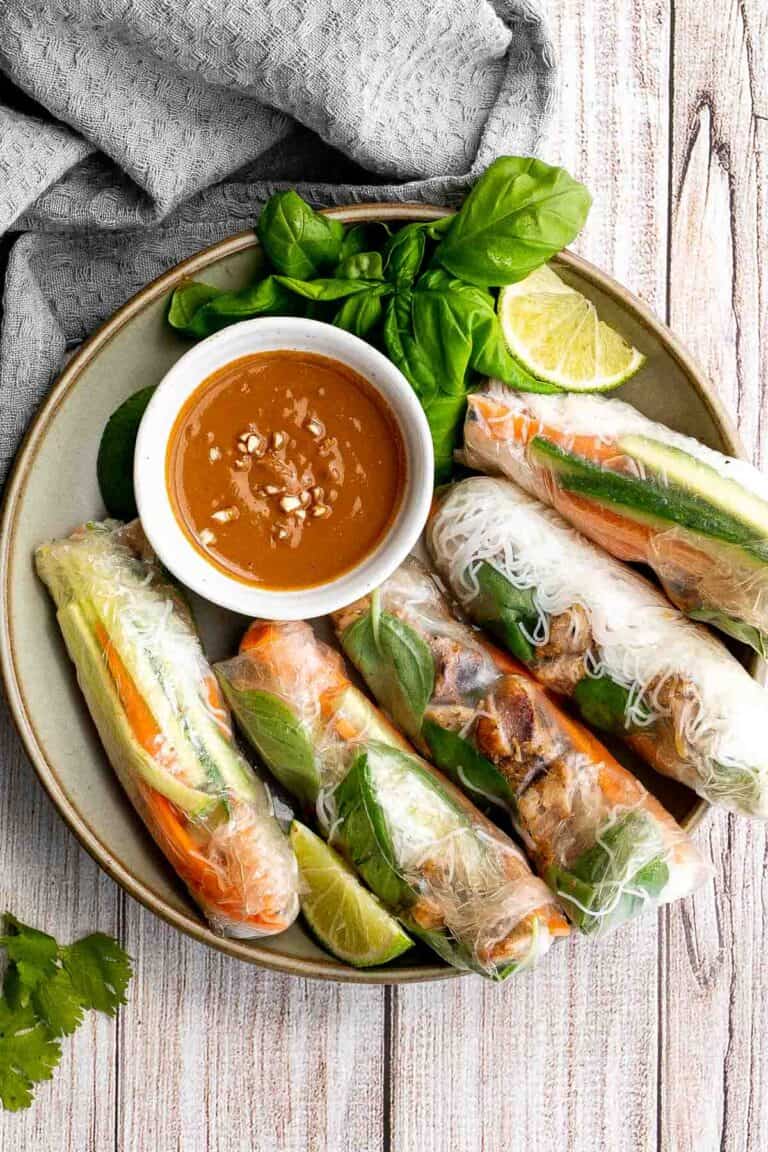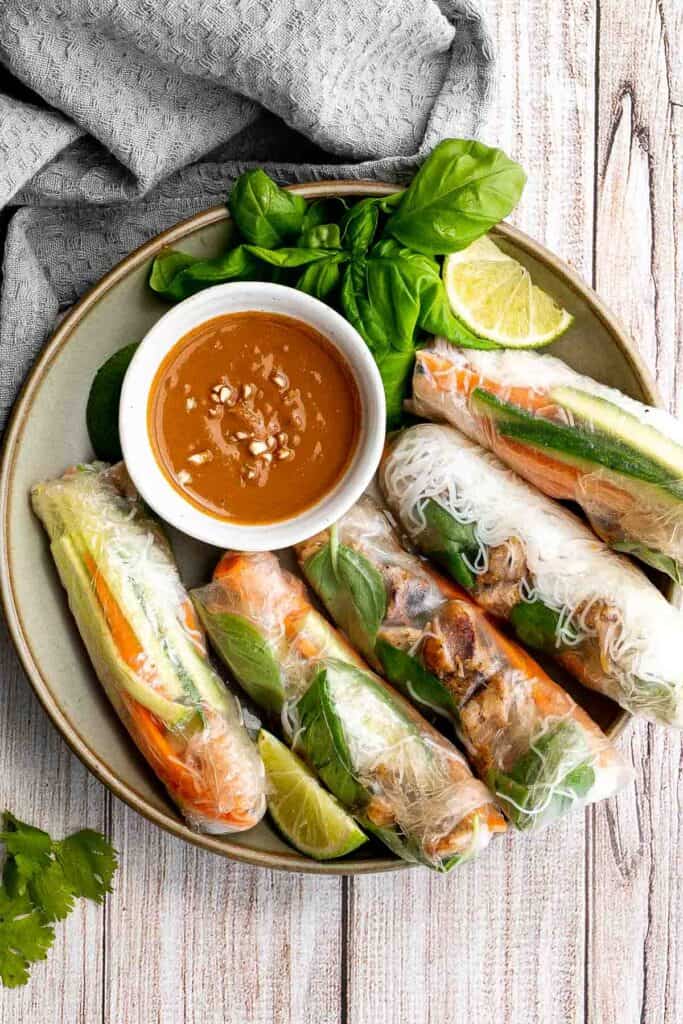 Homemade falafel are delicious, golden brown and crispy on the outside, fluffy tender and soft inside. Plus, they're vegan, loaded with plant-based protein.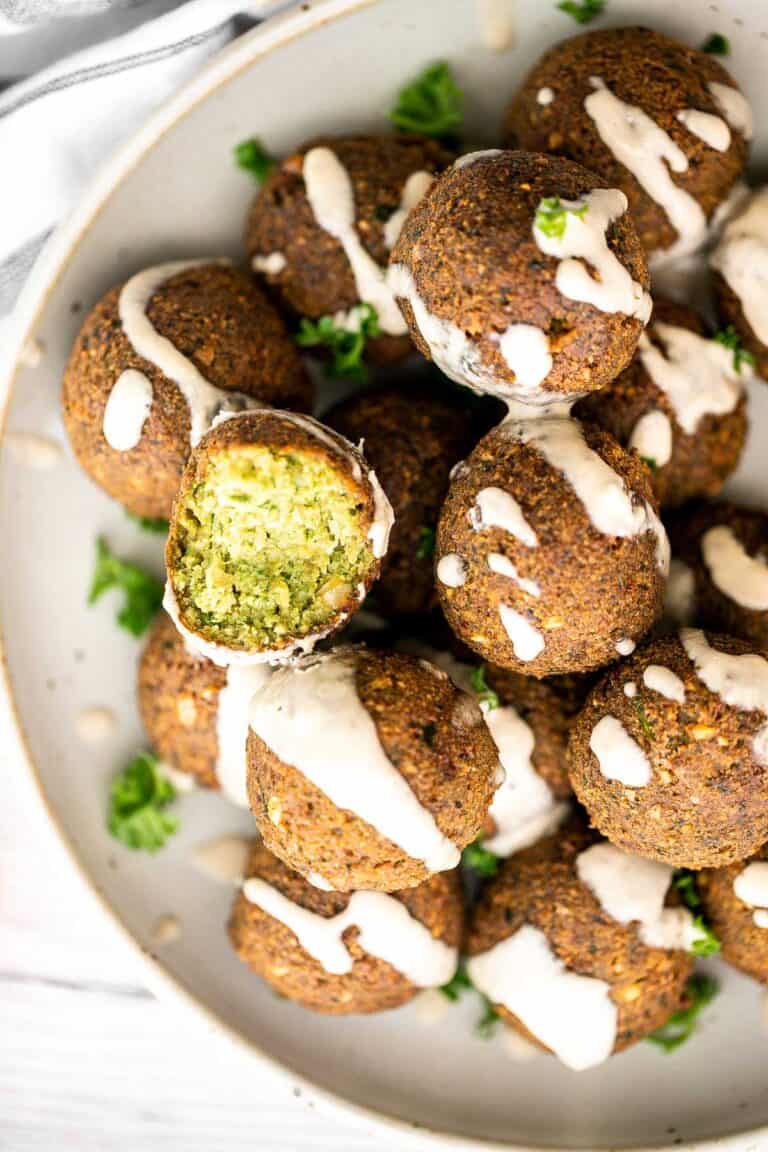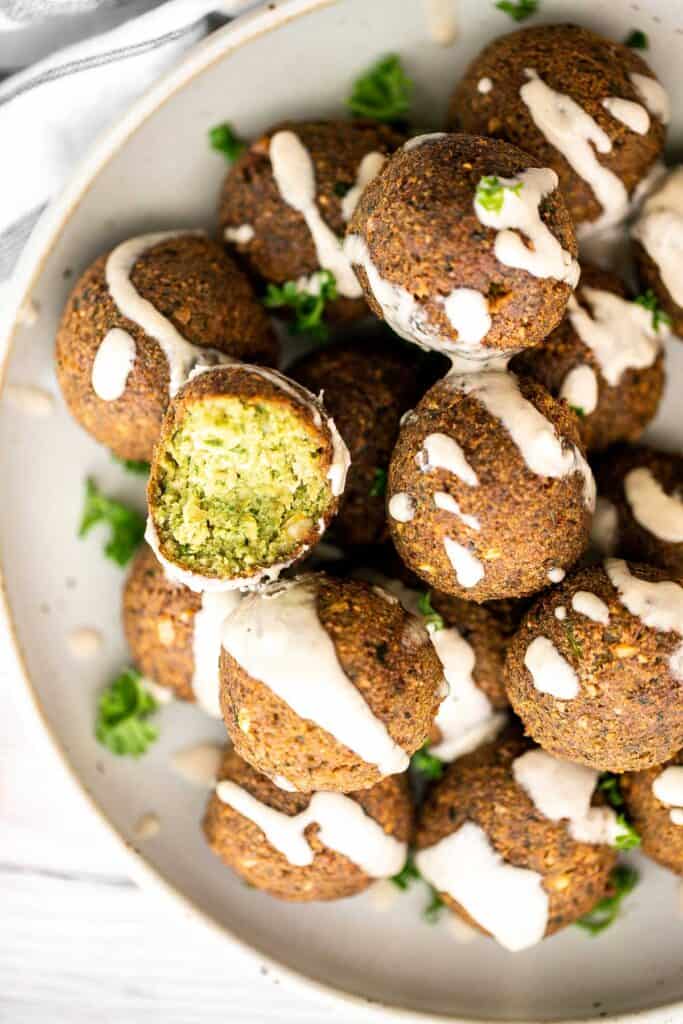 Shrimp avocado tostadas are a delicious, crunchy, quick and easy Mexican dish you can make in just 15 minutes, loaded with the best combination of toppings.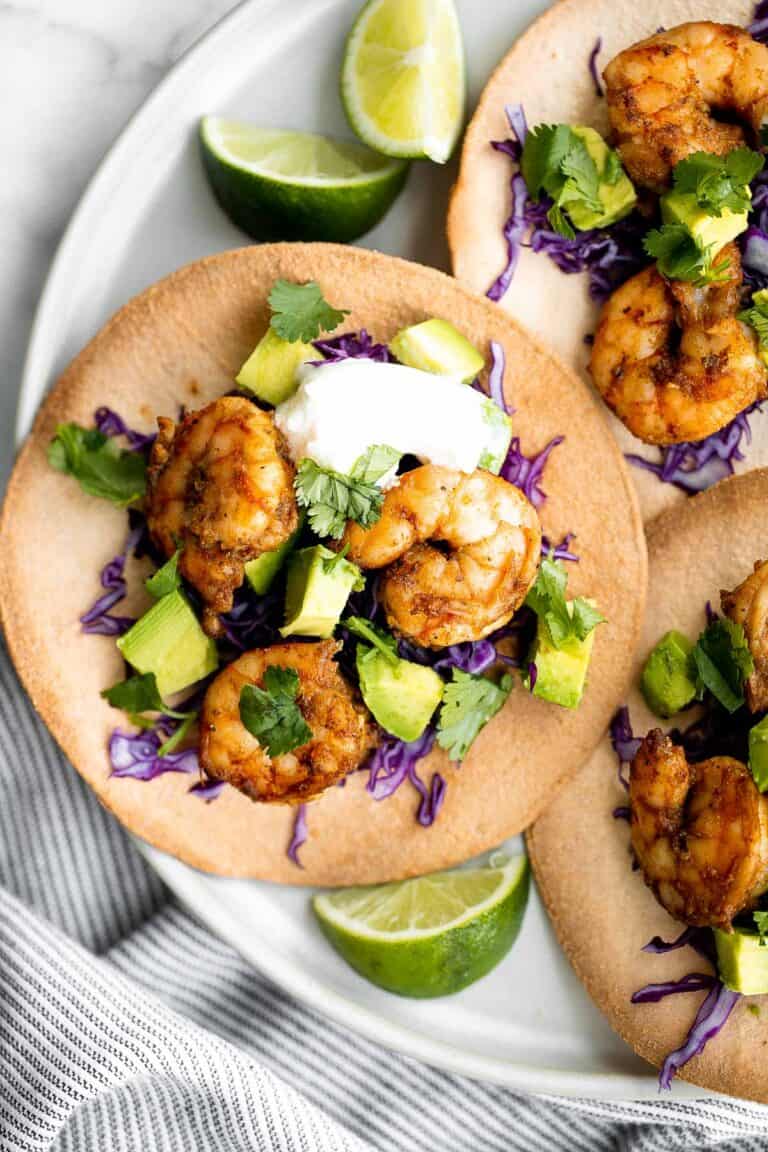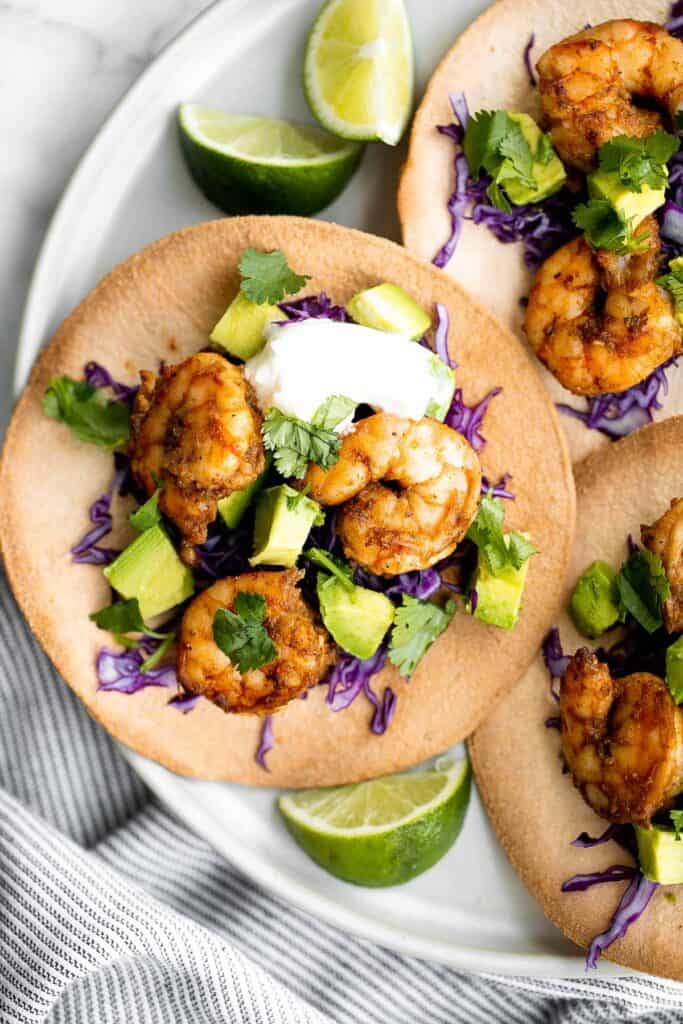 Baked Zucchini Boats with Marinara and Cheese
Baked zucchini with marinara and melted cheese is so quick and easy to make. It's vegetarian, gluten free, and packed with flavour. It's basically pizza but on a zucchini.
Turkey pinwheels are bite-sized finger food perfection and will make back-to-school lunch planning for the kids a total breeze. They are fully customizable and you can wrap them up in a tortilla or in pita bread.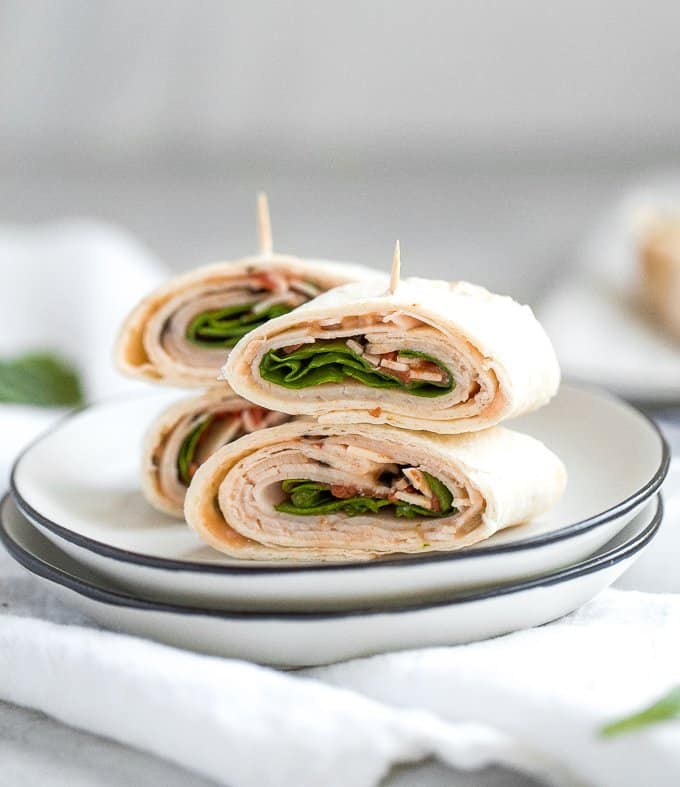 Easy Tomato Bruschetta with Balsamic Glaze
Tomato bruschetta with balsamic glaze is an easy Italian appetizer topped with tomatoes, onions, garlic, basil and olive oil. Delicious, fresh and simple. The perfect light Super Bowl recipe.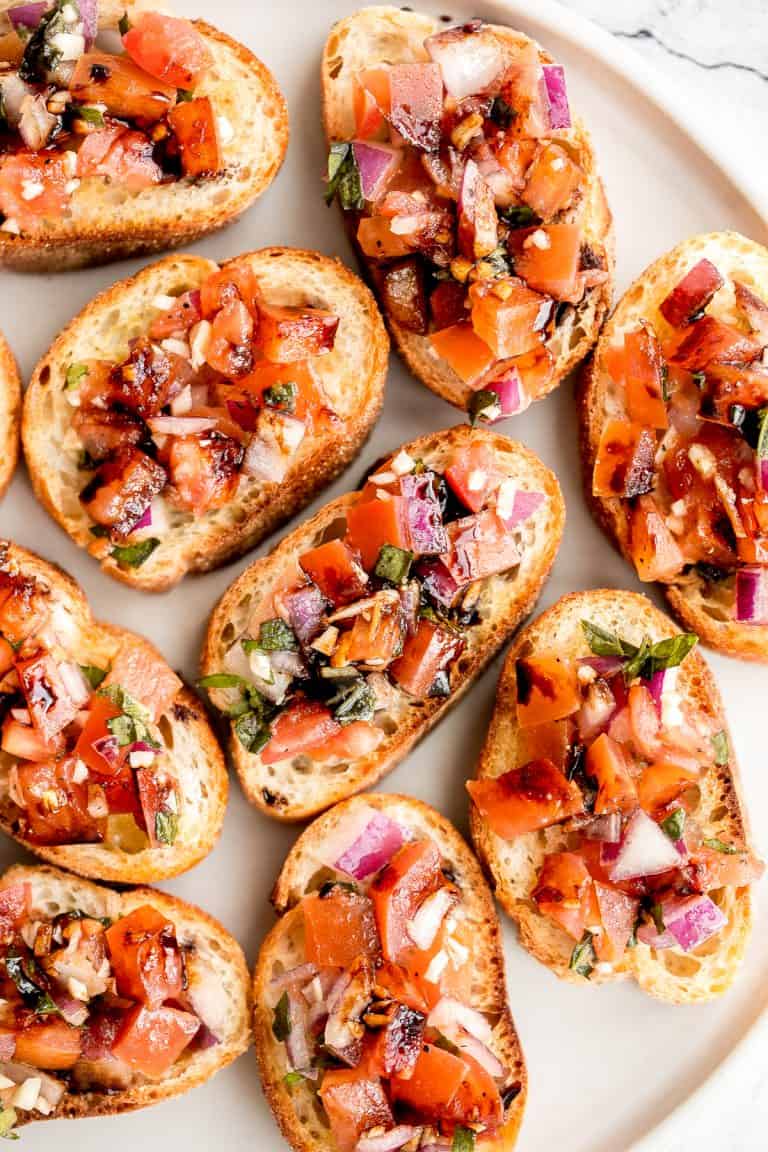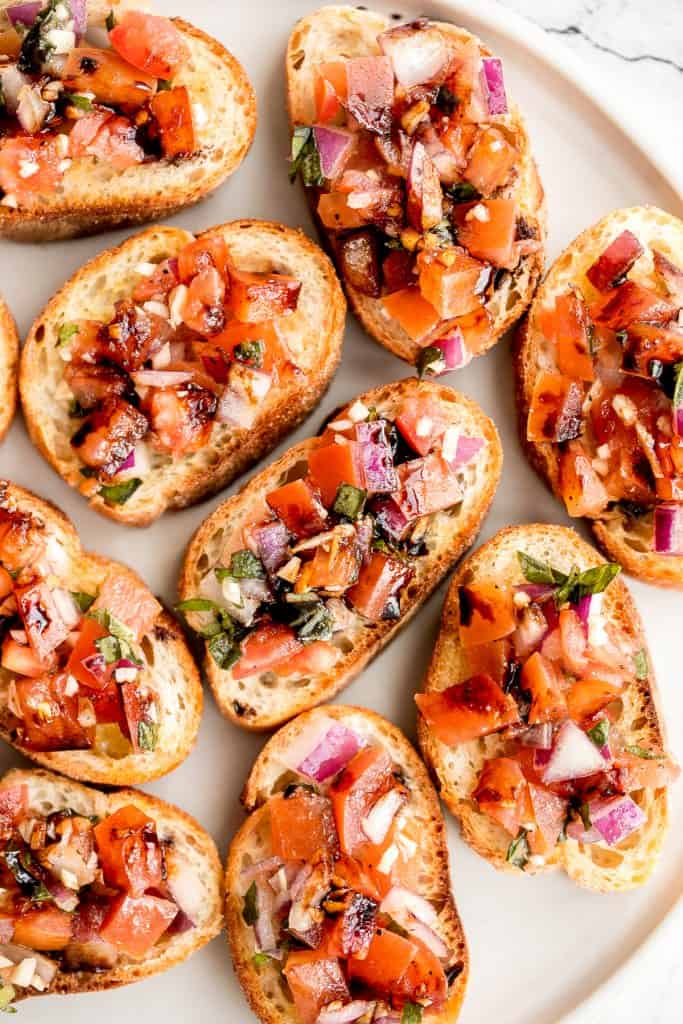 Mexican Tuna Cakes (Tortitas de Atun)
Mexican tuna cakes, or tortitas de atun, are quick, easy, and delicious. Made with canned tuna, these tuna patties come together in about 20 minutes.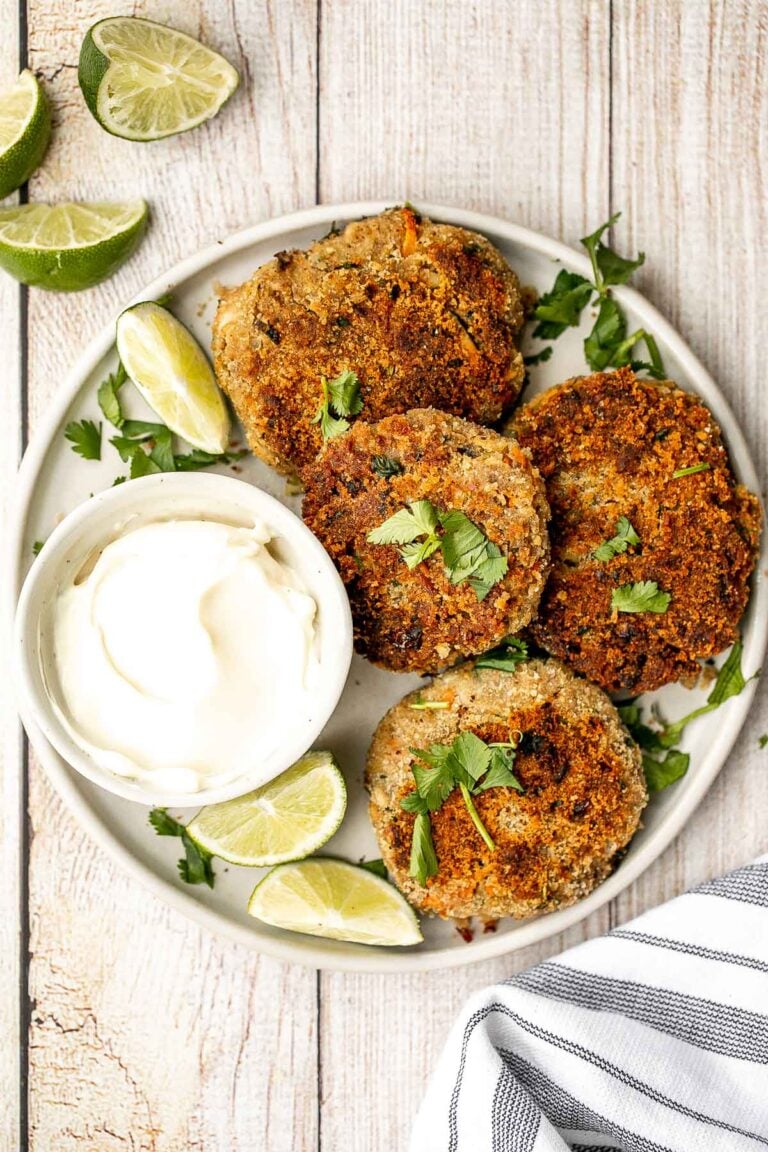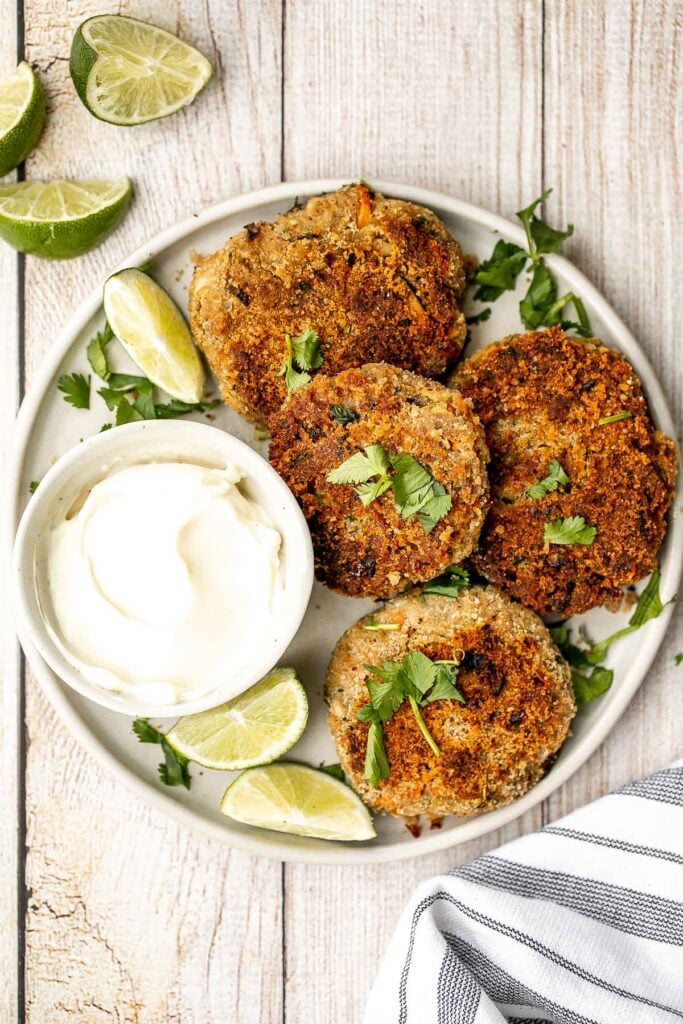 Vietnamese Salad Rolls with Peanut Dipping Sauce
Fresh, light and healthy Vietnamese salad rolls are packed with vermicelli noodles, shrimp, fresh vegetables and herbs and dipped in homemade peanut sauce.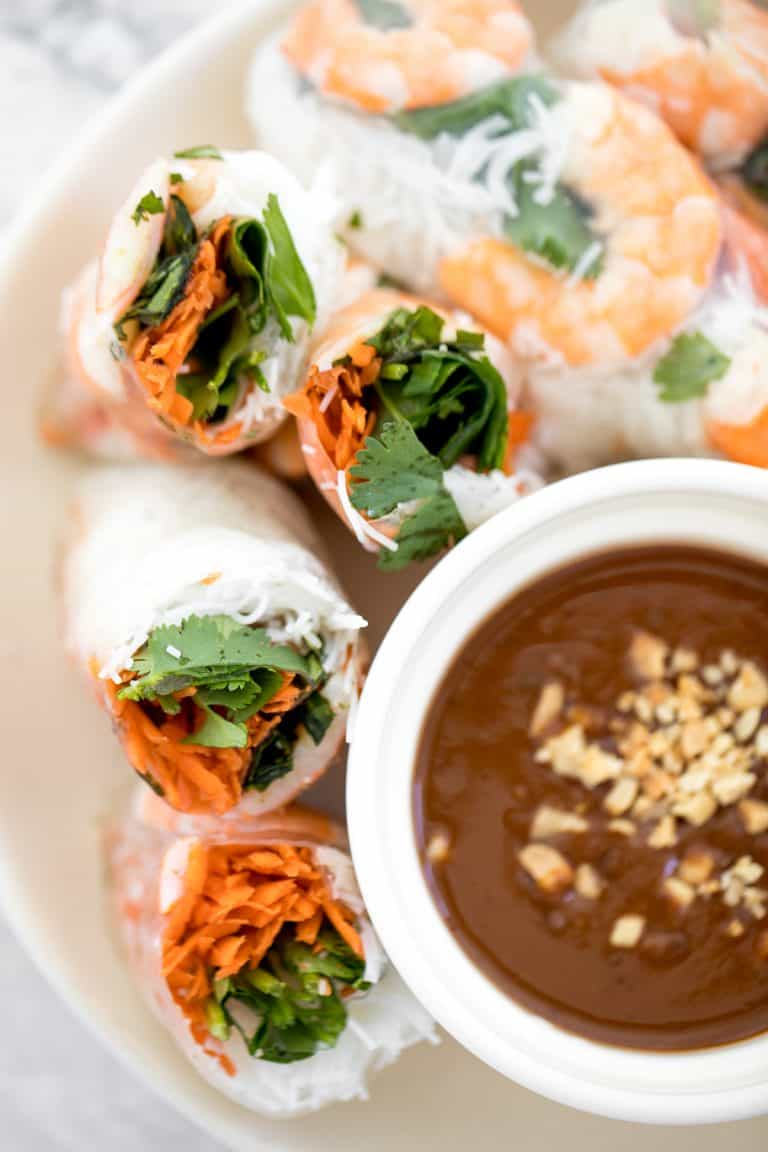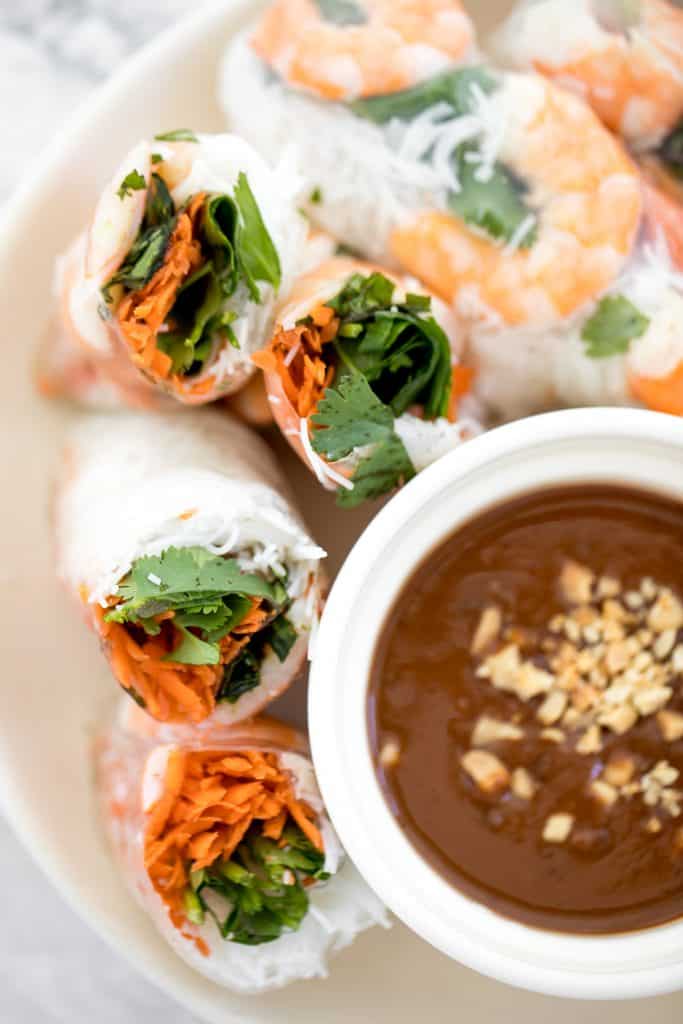 Healthy Snack Tips
Make ahead and freezer-friendly. You can make some of these easy healthy snacks ahead of time and store at room temperature or in the refrigerator for a few days or in the freezer for up to 3 months. Check individual post for full make ahead and storing instructions.
Prep in advance. You can also make things easier by prepping ingredients in advance and storing in the fridge until ready to use.
More Healthy Recipes
Did You Make Any of These Healthy Snack Recipes?
Please leave a comment and rating below, and let me know what you thought of this round up of the best healthy snacks we have to offer. Be sure to snap a picture and tag me on Instagram @aheadofthyme or share it on the Pinterest pin so that I can follow along.
HUNGRY FOR MORE? Don't forget to sign up for my email newsletter so that you don't miss any recipes. You can also follow along on Instagram and Pinterest for more recipe updates.
Print
Recipe
50 Best Healthy Snacks
---
Author:

Total Time:

10 minutes

Yield:

3-4 servings

Diet:

Vegan
Description
Over 50 best healthy snacks that you can make at home including snacks by the handful, dips and spreads, baked goods and bread, smoothies, and more! One of my favorites is homemade popcorn.
---
½ cup

 popcorn kernels

1 teaspoon

 vegetable oil

¼ teaspoon

 salt (or to taste)

¼ teaspoon

 garlic powder (or to taste)

½ teaspoon

 nutritional yeast (or to taste)
---
Instructions
Over medium heat, heat 2-3 popcorn kernels on a thick-bottomed skillet stove or cooking pot with the lid on until the kernels pop, about 2-3 minutes. This ensures the hot skillet is ready. Once the kernels pop, spread the rest of the popcorn kernels in a single layer in the skillet and close the lid. The kernels will start popping quickly, about 30 seconds. Shake the skillet gently and let the kernels cook over medium heat until you can no longer hear kernels popping, about 2-3 minutes.
Transfer the popcorn into a large mixing bowl. Add seasoning (oil, salt, garlic powder, and nutritional yeast) and toss well to coat. Serve immediately.
Prep Time:

2 minutes

Cook Time:

8 minutes

Category:

Snacks

Method:

Stovetop

Cuisine:

American
Keywords: 50+ best healthy snacks, healthy snack ideas, best snack recipes, healthy snack recipes, healthy snacks, homemade snacks