Looking for a healthy dinner that you can make tonight? I typically find myself gravitating towards healthy dinners and light meals after the holidays, especially after spending months indulging in the best comfort foods ever. Plus, easy healthy dinner recipes are just as delicious, flavorful, and satisfying (if not more!). So if you are wondering "what to make for dinner that's healthy", then you have come to the right place. We are sharing over 60 of the best healthy dinner ideas including healthy low carb dinner ideas, healthy chicken dinners, healthy seafood recipes, healthy one pot or sheet pan dinners, healthy Chinese stir fries, and filling protein-packed salads for dinner.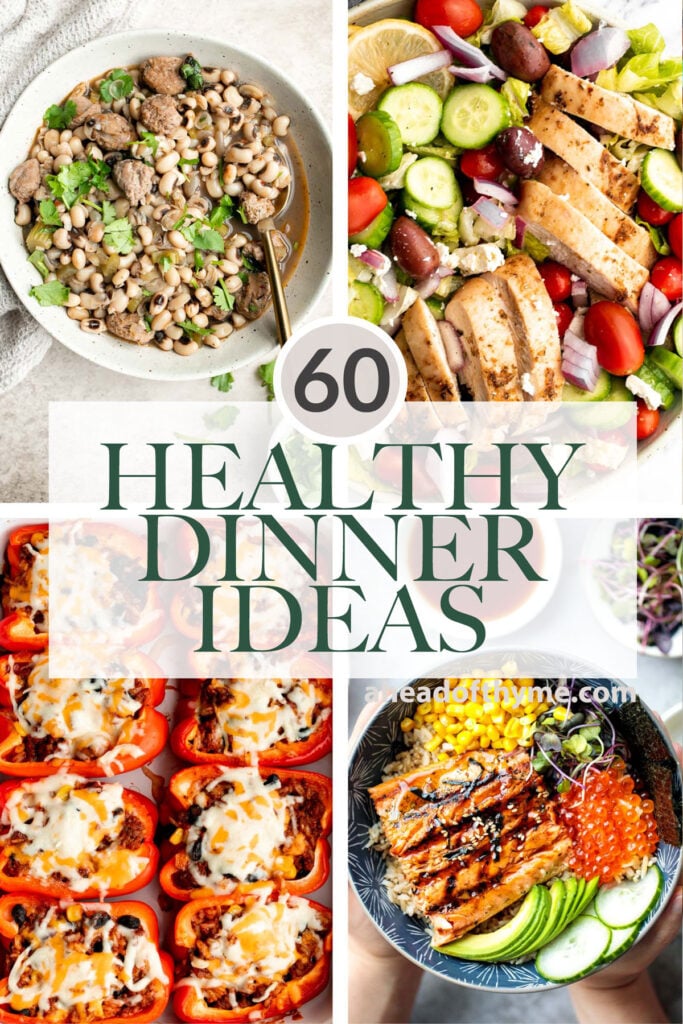 Our Best Healthy Dinner Ideas
Better than takeout, healthy lemon chicken is a delicious, sticky chicken stir fry coated in a flavourful, sweet and tangy sauce. The best weeknight dinner when you are looking for healthy dinner ideas.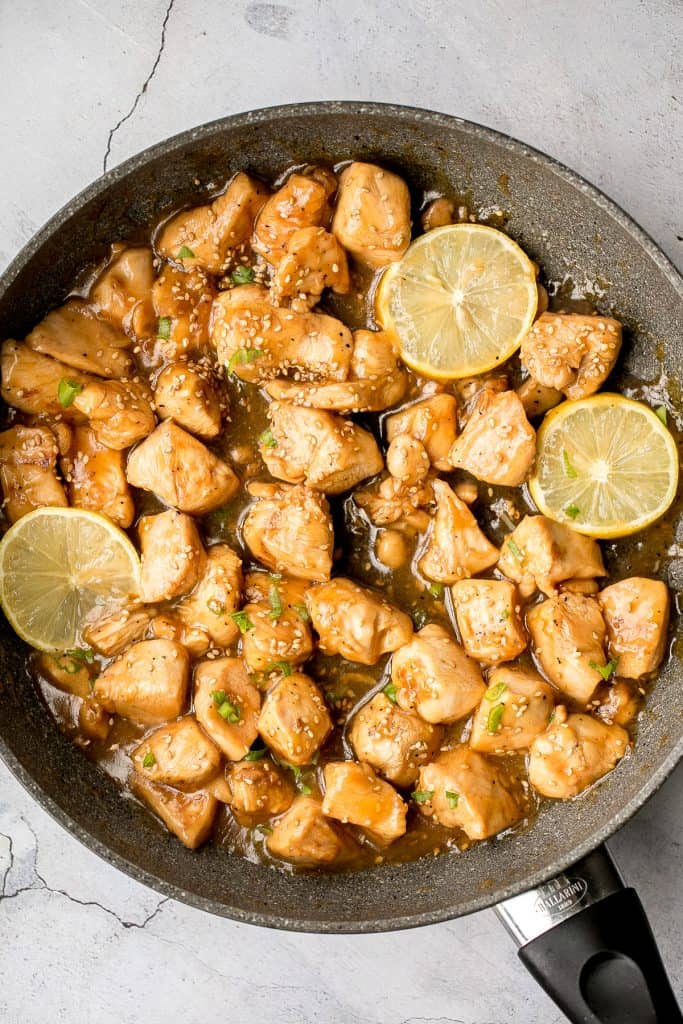 Delicious, moist and juicy Mediterranean chicken patties have everything you want in one bite: protein, veggies, herbs, and they're quick and easy to make. Serve it on it's own, with hamburger buns, or a side of Basmati rice.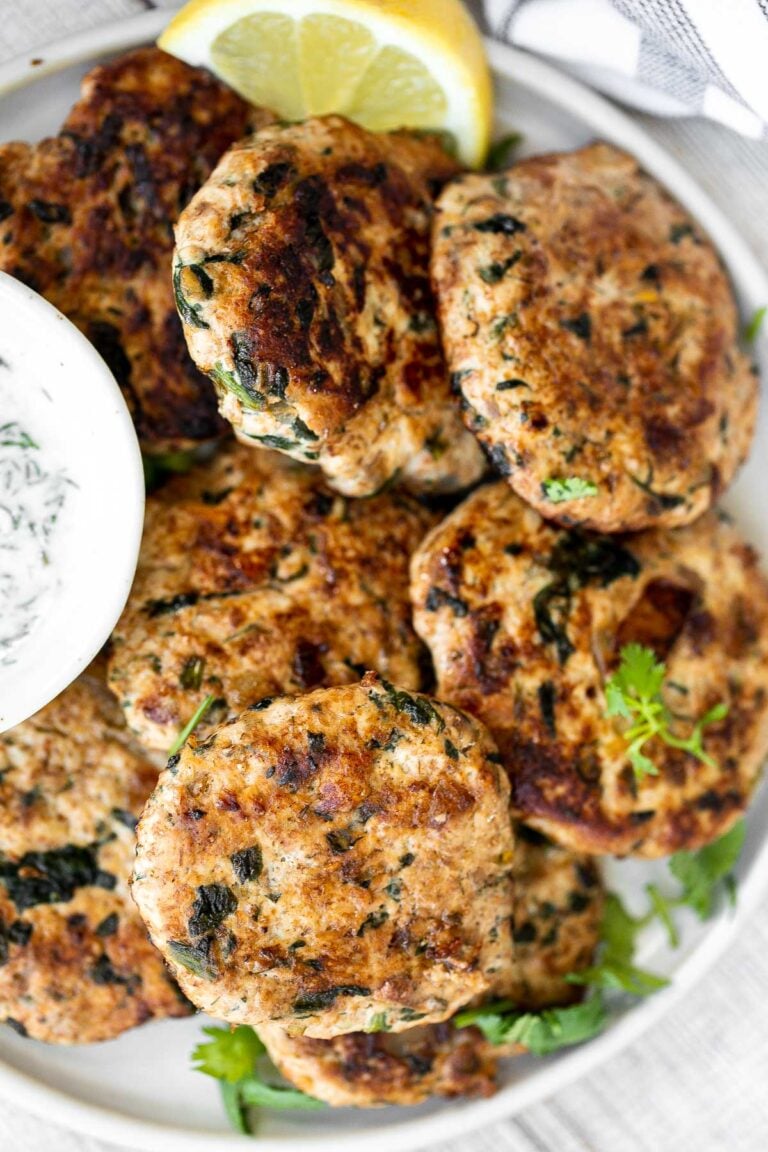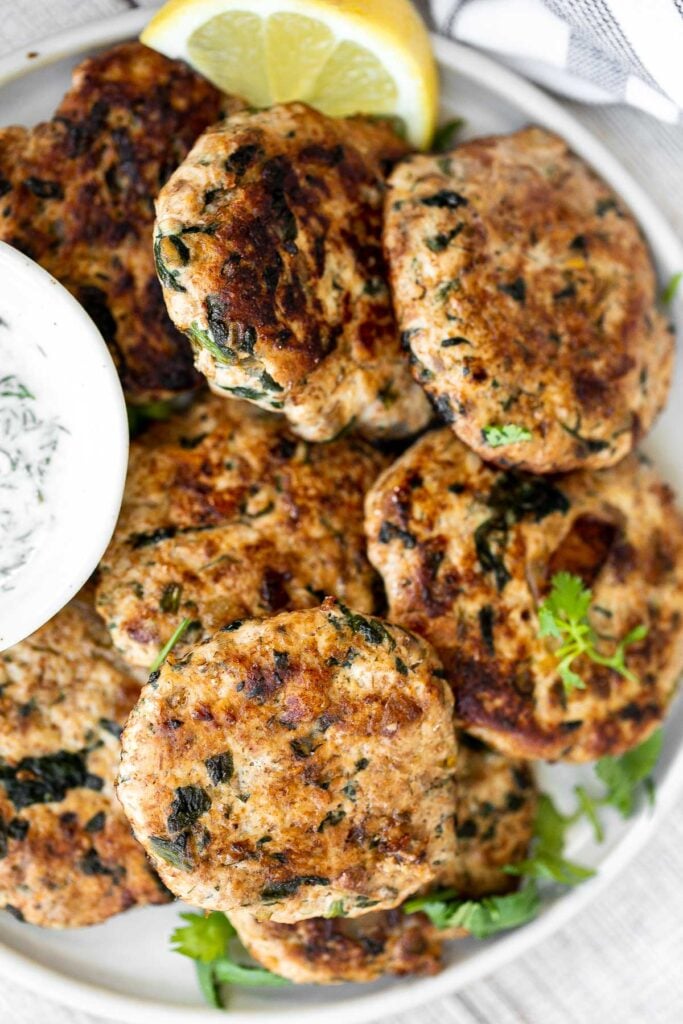 Easy to make, light and fresh teriyaki grilled salmon rice bowl is topped with vegetables, seaweed and salmon roe, with homemade teriyaki sauce on top. One of my favorite healthy dinner ideas.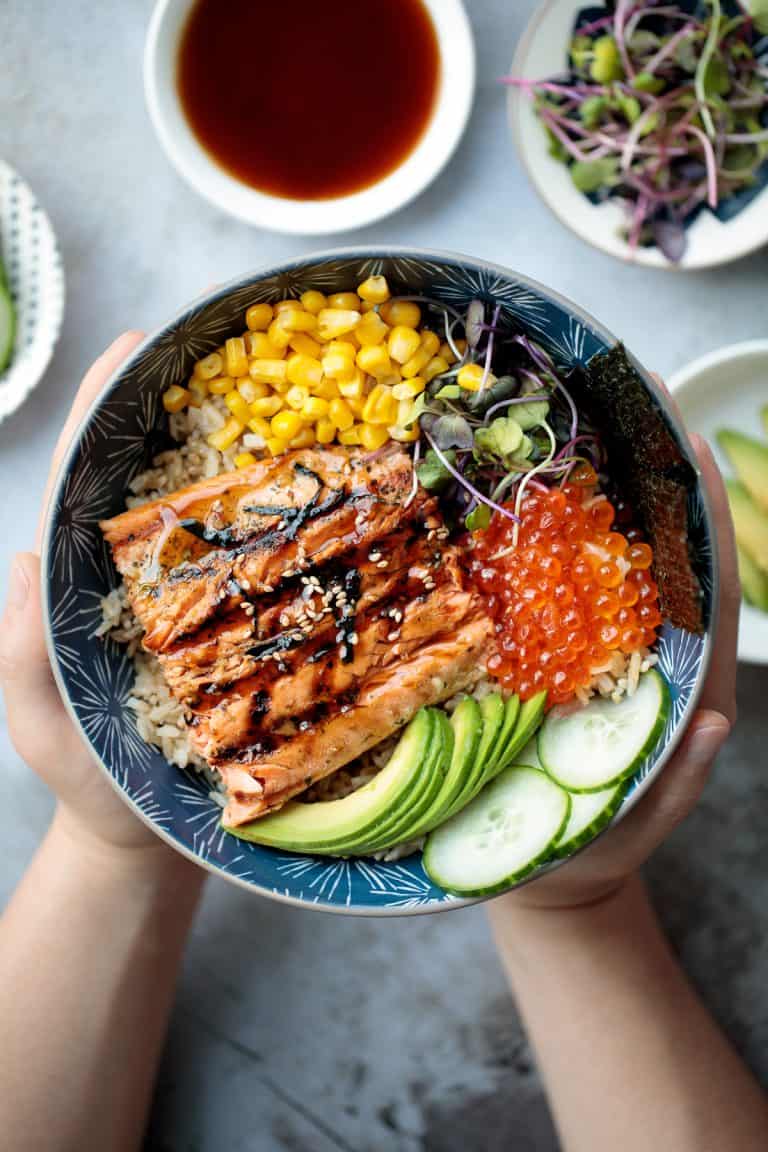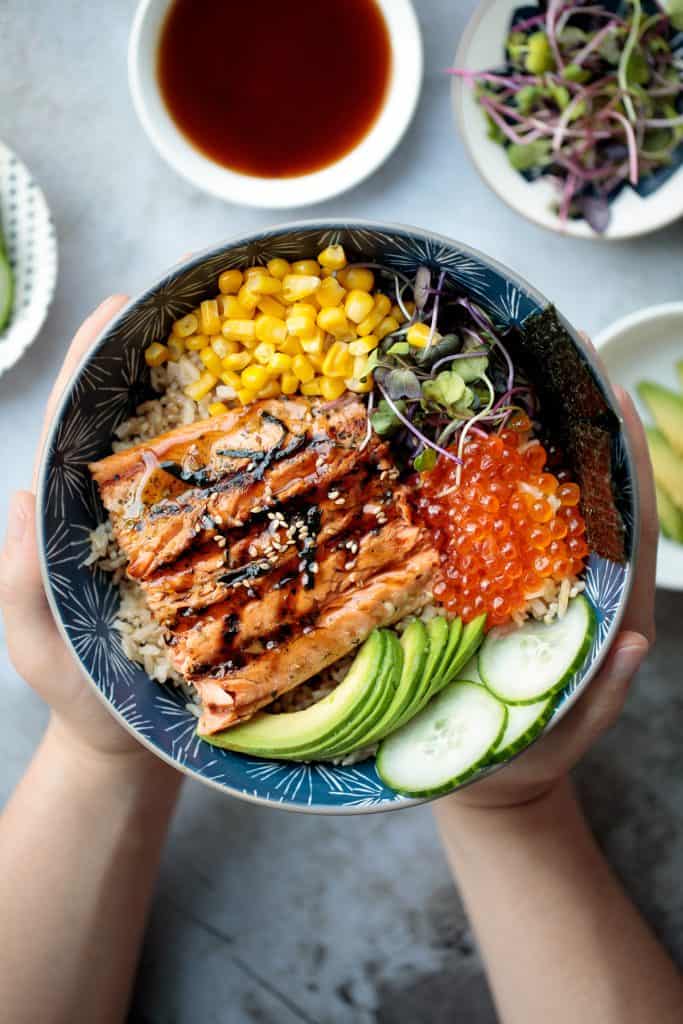 Fresh, homegrown bell peppers baked with an assortment of veggies and brown rice is what these easy vegan stuffed bell peppers are all about!! Ready in under an hour, serve this at your next fancy dinner party or make it for an easy weeknight dinner!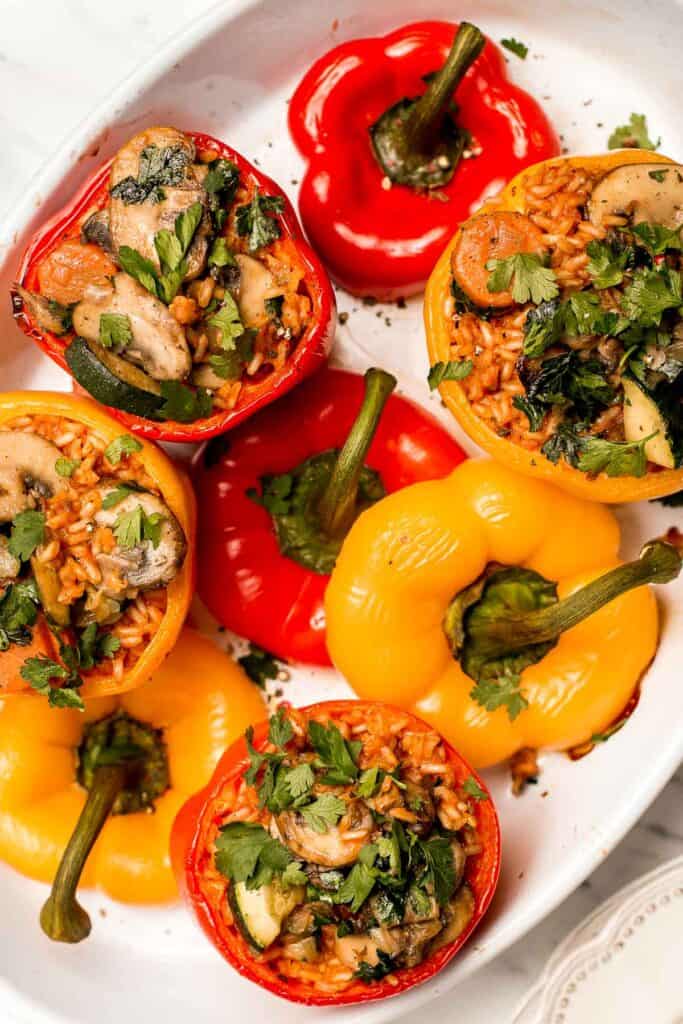 Quick and easy pesto penne pasta is a simple and light Italian pasta dish made with just five ingredients in under 15 minutes. The easiest healthy dinner.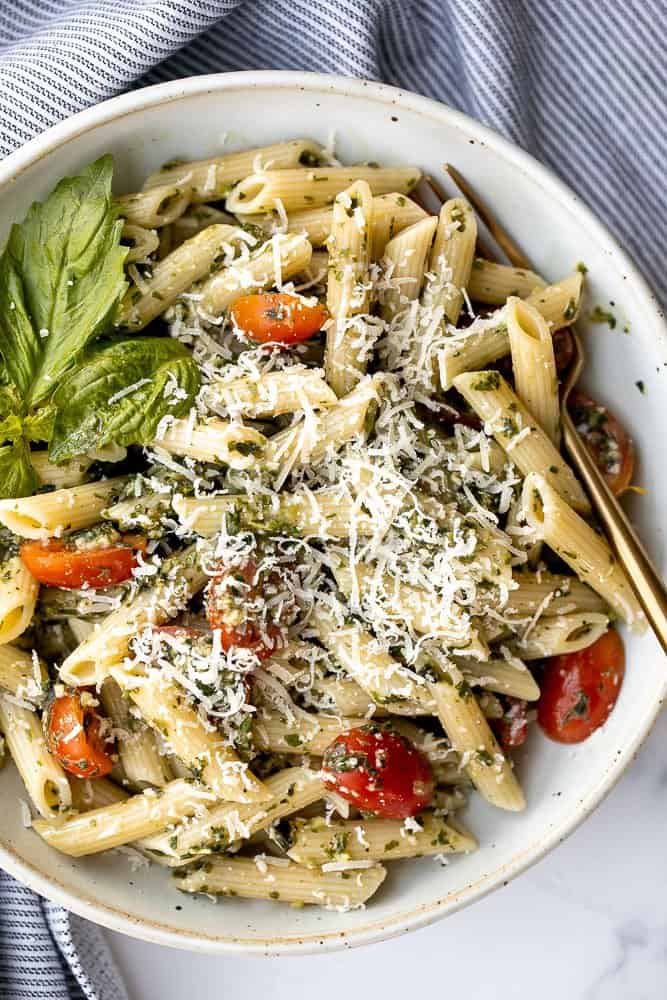 Homemade chicken noodle soup is classic, comforting, simple, quick, and easy to make at home. Plus, you can use leftover rotisserie chicken to save time. It doesn't get more nourishing that chicken noodle soup.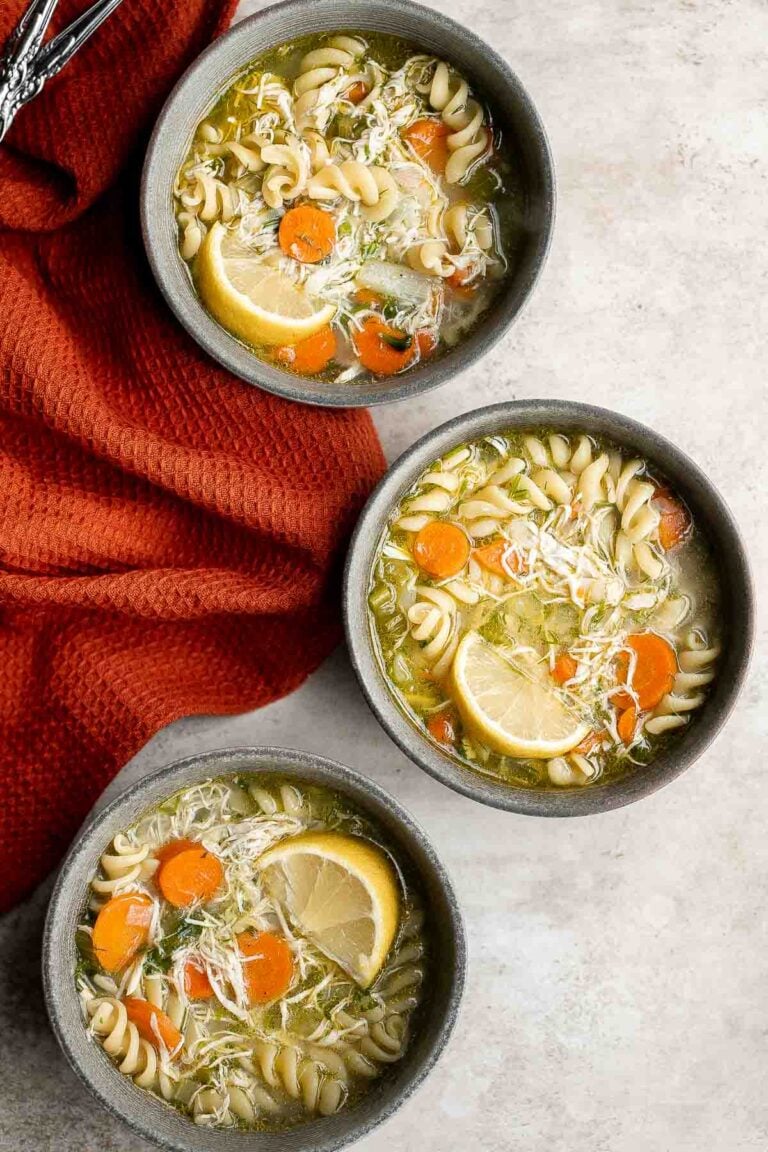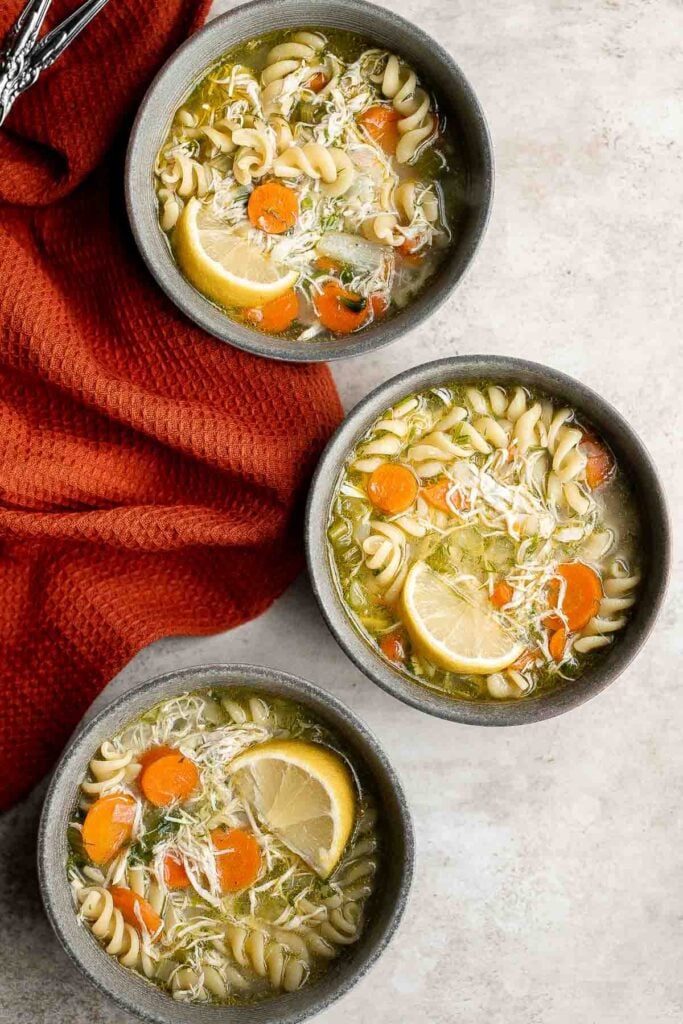 Korean beef steak rice bowl is loaded with tender and juicy strips of beef, marinated vegetable sides (banchan), and kimchi. Make it in under 30 minutes!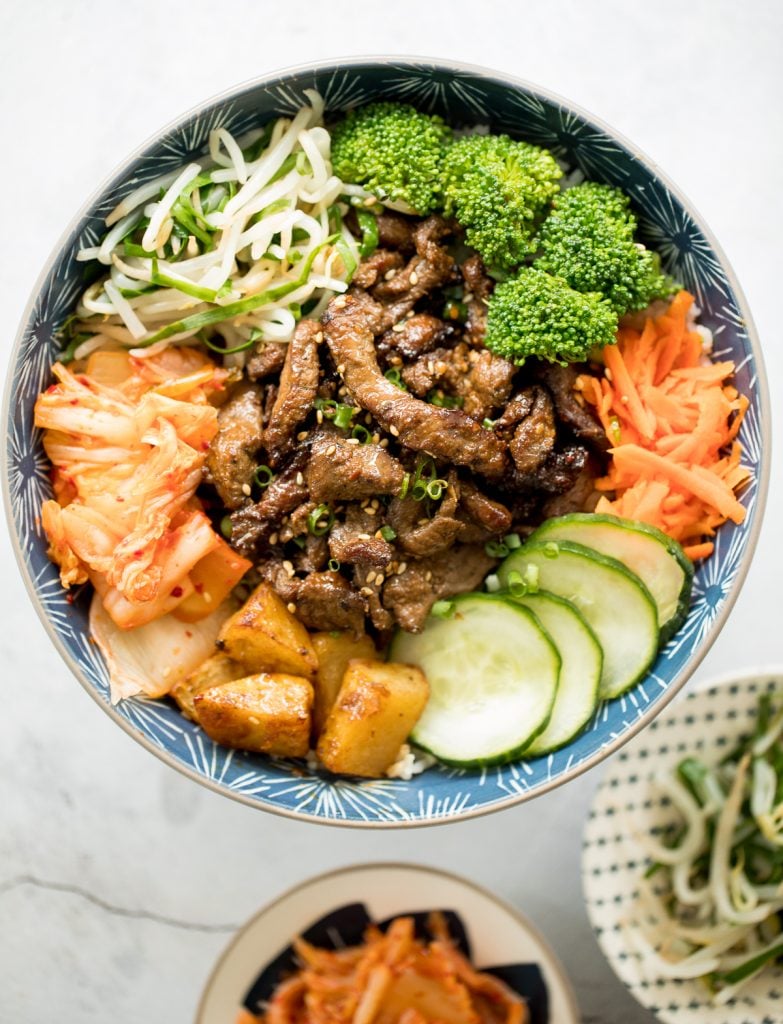 Healthy Low Carb Dinner Ideas
Southern Black Eyed Peas (Hoppin' John) is classic comfort food that is hearty, delicious, flavorful, and comforting. Serve it on New Year's for good luck.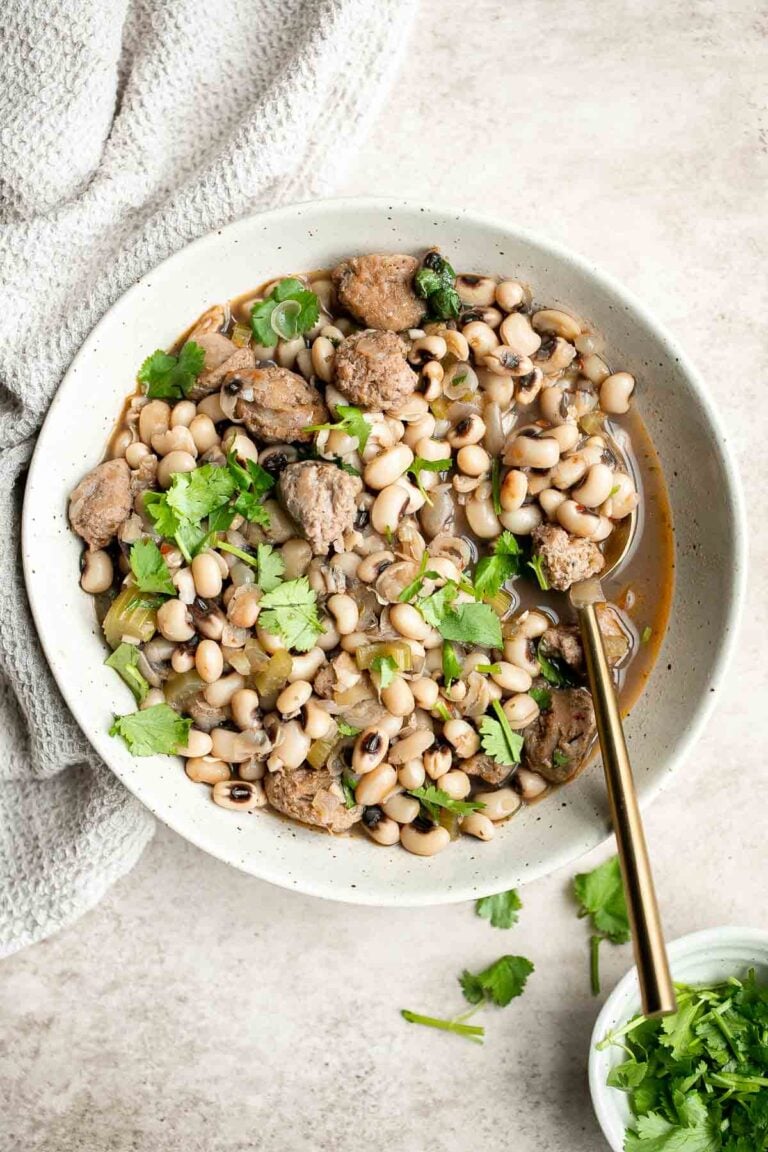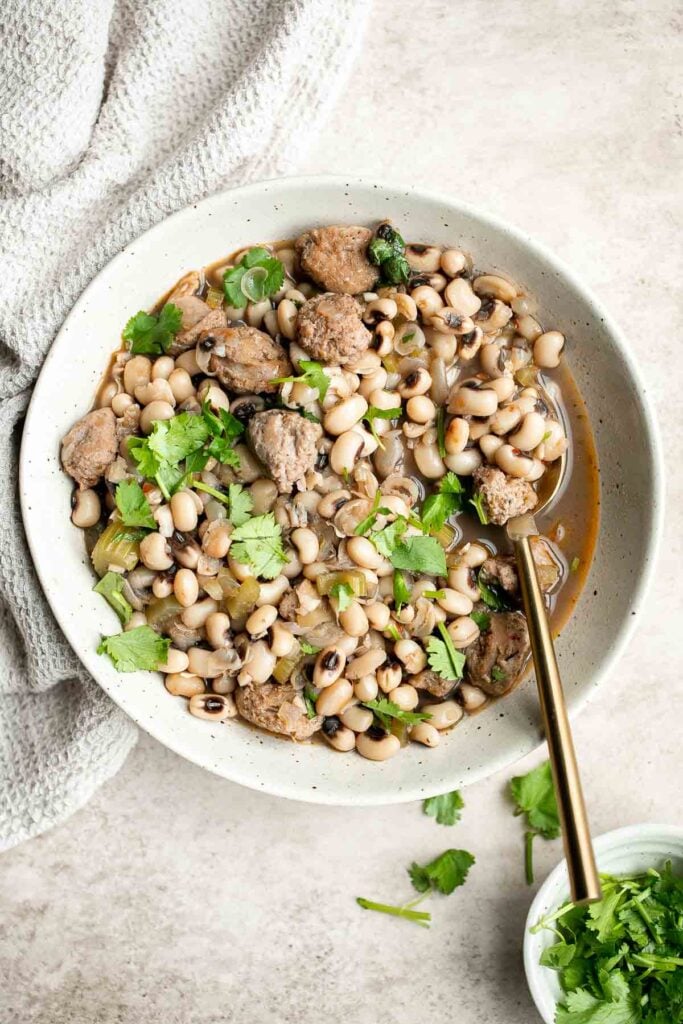 Quick, easy, and simple, vegan tofu and mushroom stir fry is a delicious meal that is ready in under 15 minutes. Serve it over a bowl of steamed rice. One of the easiest healthy dinner recipes.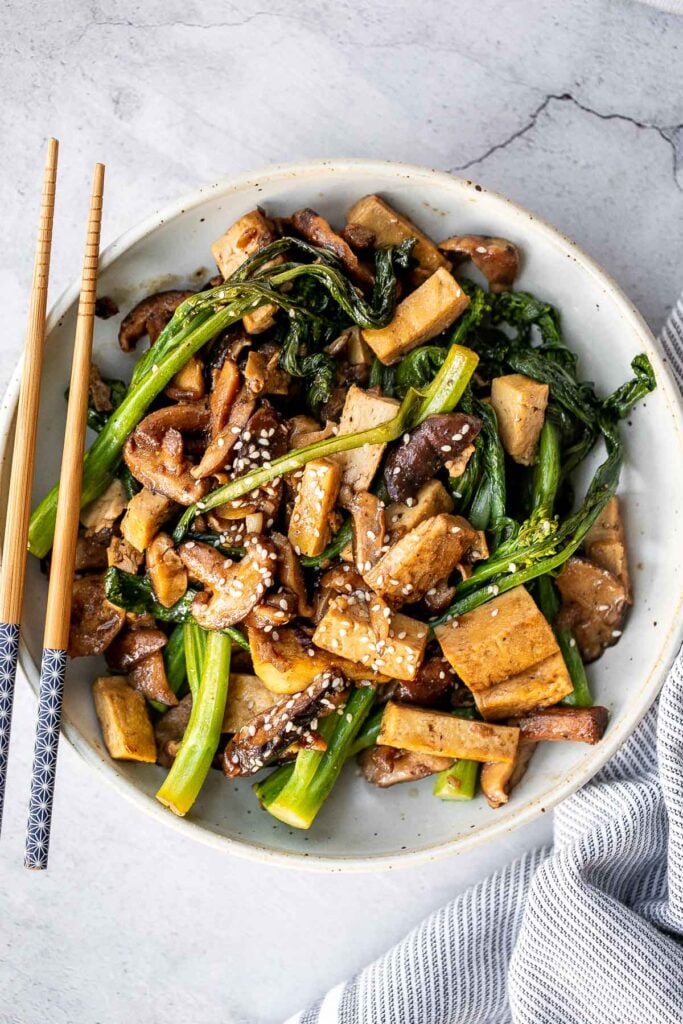 Ground beef stuffed peppers are delicious, healthy, and filling. Stuffed with beef rice and veggies, they're easy to make ahead and freezer-friendly.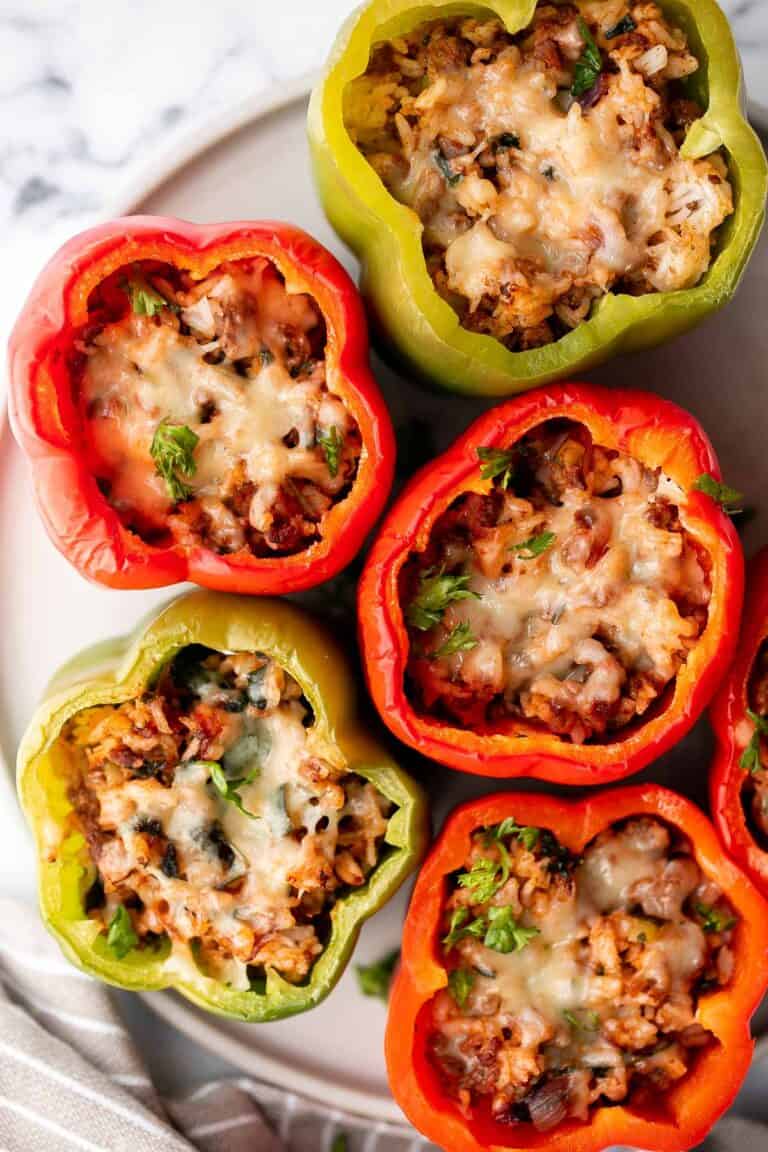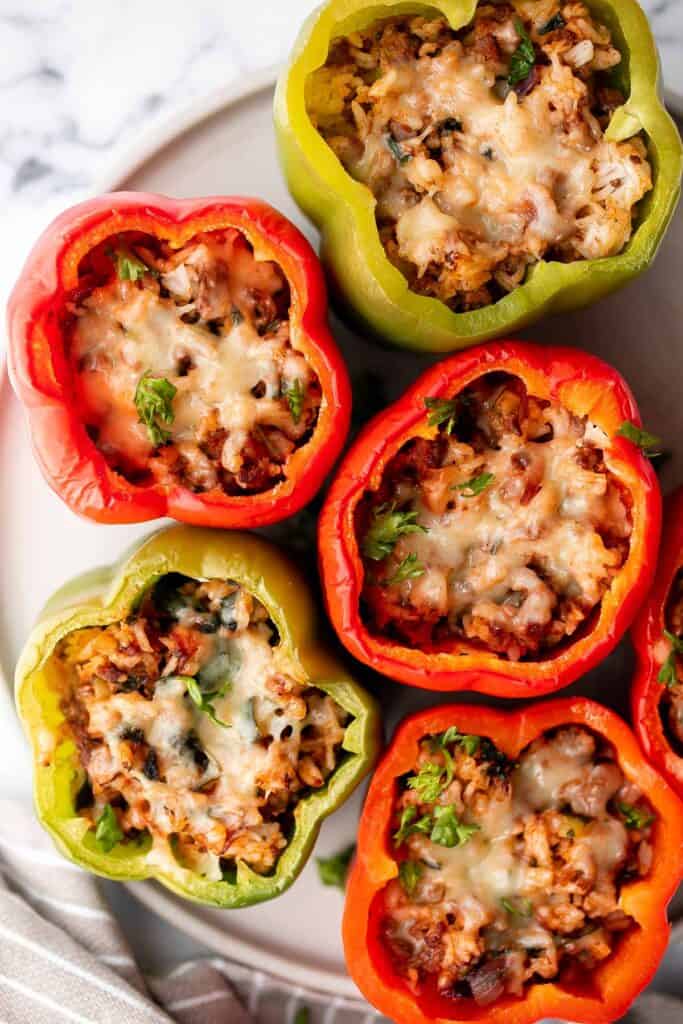 Homemade falafel are delicious, golden brown and crispy on the outside, fluffy tender and soft inside. Plus, they're vegan, loaded with plant-based protein. A filling healthy dinner recipe.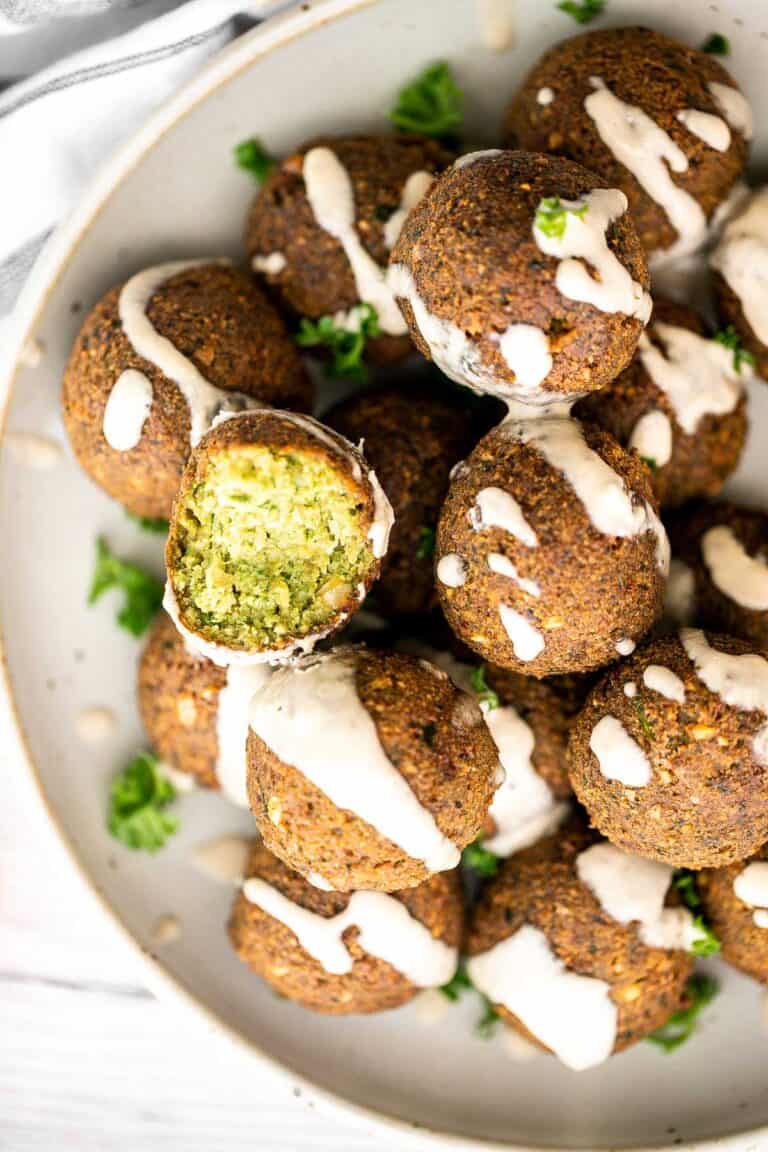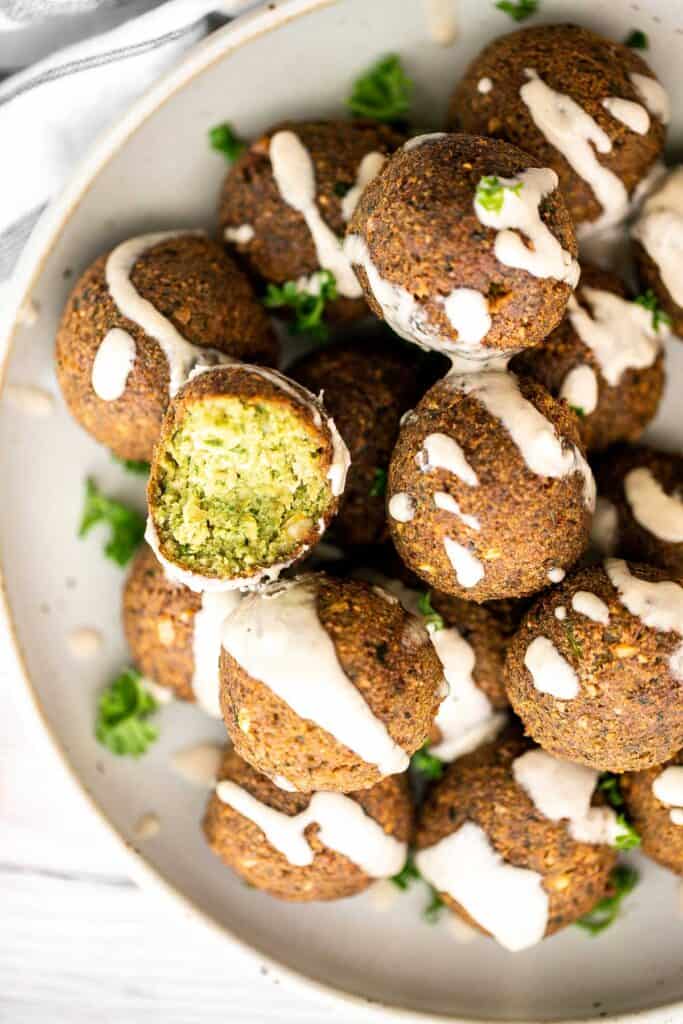 Shrimp Scampi with Zucchini Noodles
Shrimp scampi with zucchini noodles is filling, yet surprisingly light! Since we are using fresh zucchini noodles, you will feel no guilt in sopping up the sauce with an extra crusty piece of bread!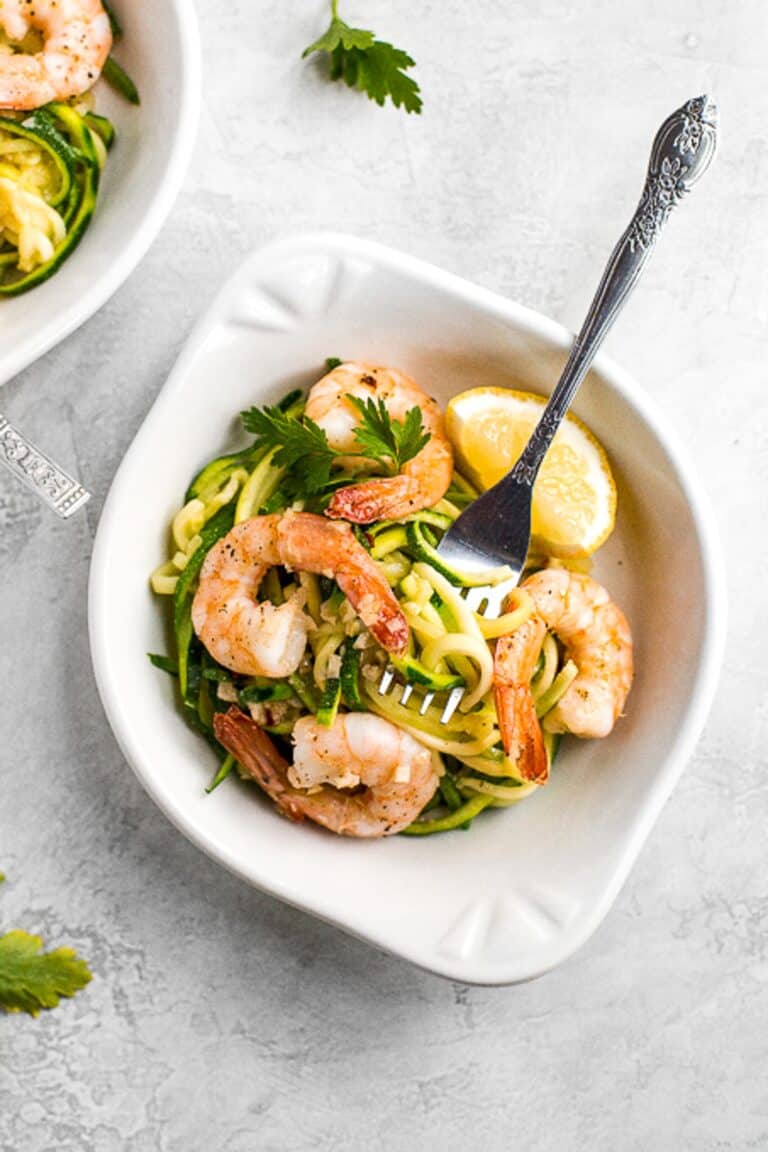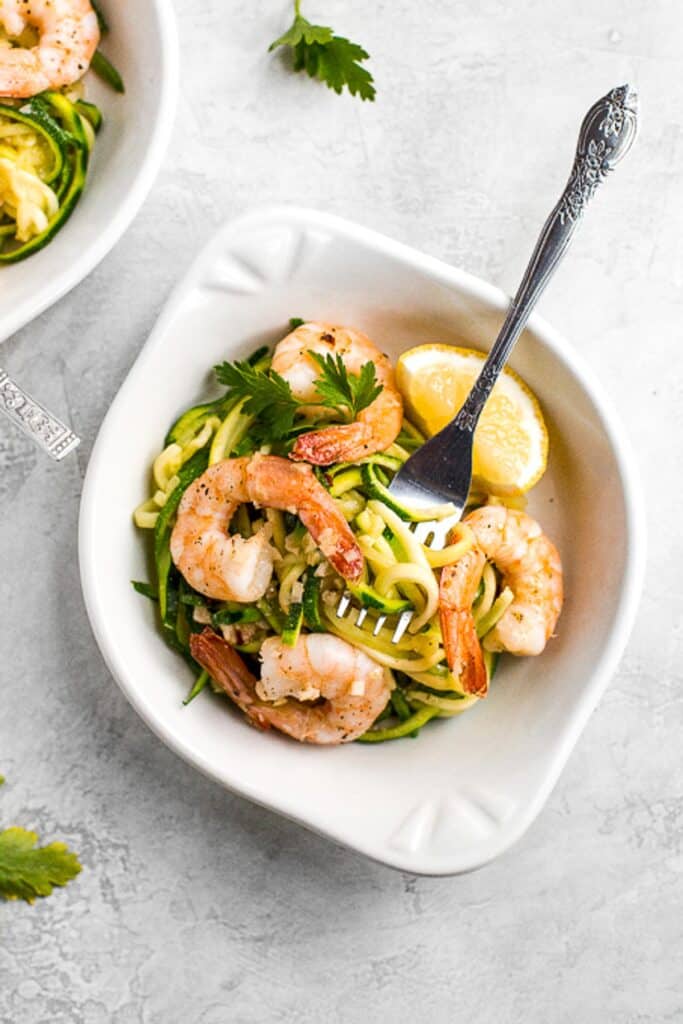 Sweet chili turkey meatballs are delicious, tender and juicy, loaded with classic Thai flavors, and quick and easy to make. Savory, sweet, and tangy. Air fryer instructions in recipe tips.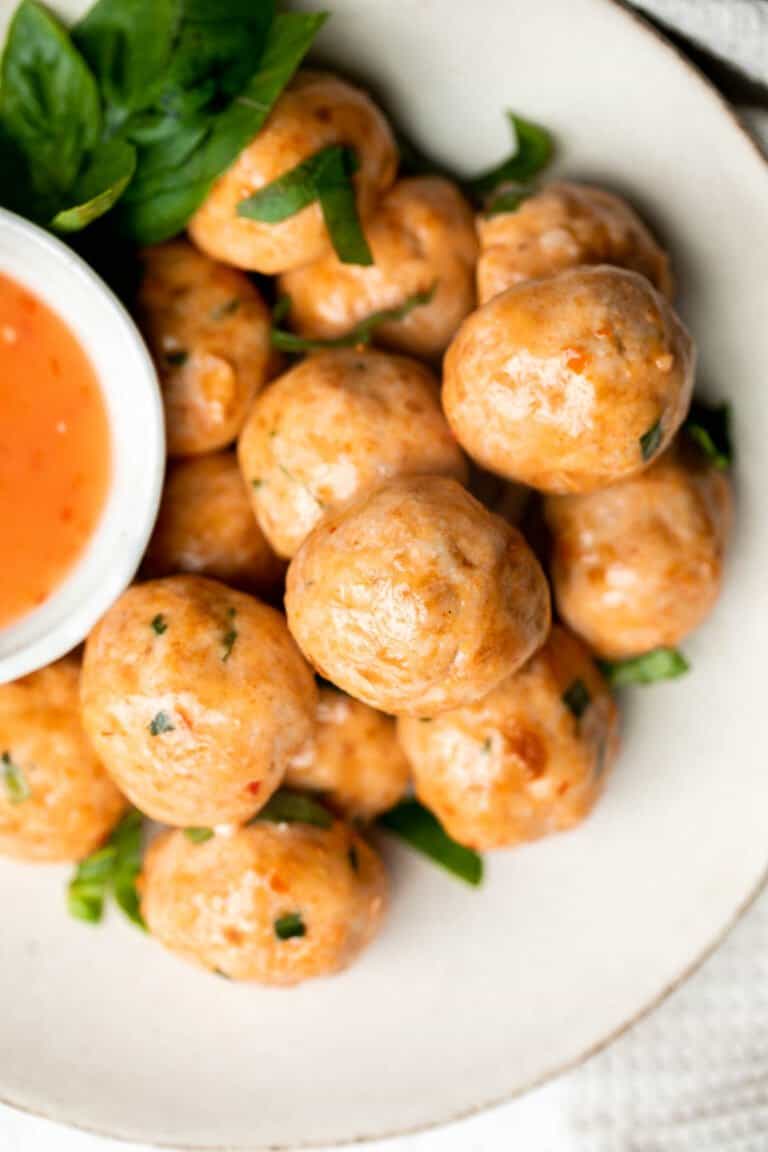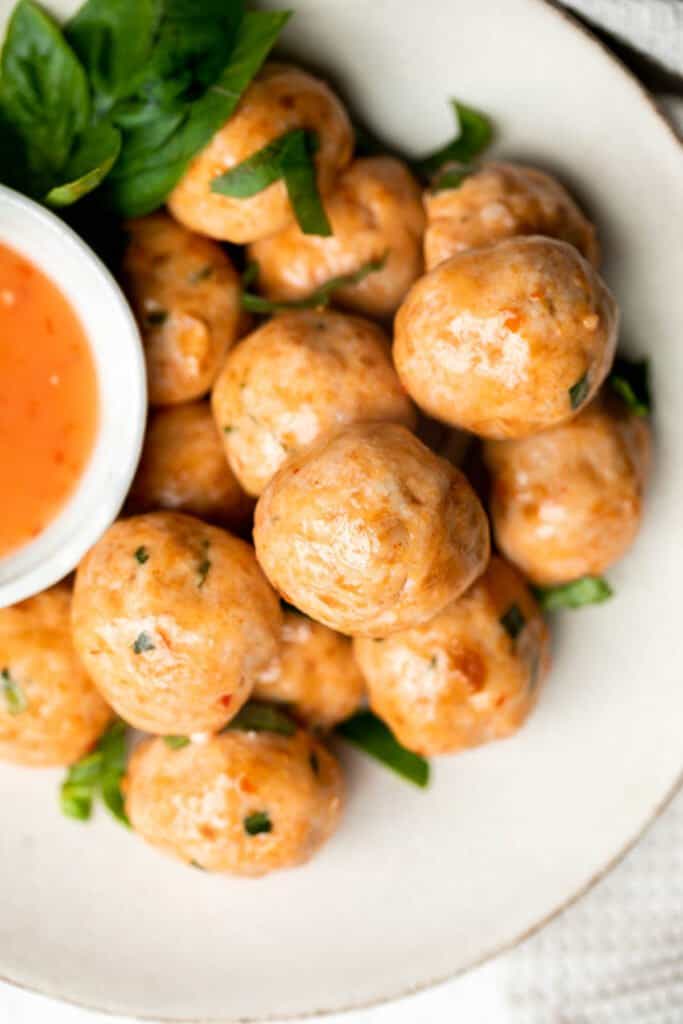 Curried Chickpea Stuffed Acorn Squash
Wholesome, hearty, curried chickpea stuffed acorn squash with curry flavours is the perfect vegan and gluten-free fall comfort food dinner to enjoy this winter.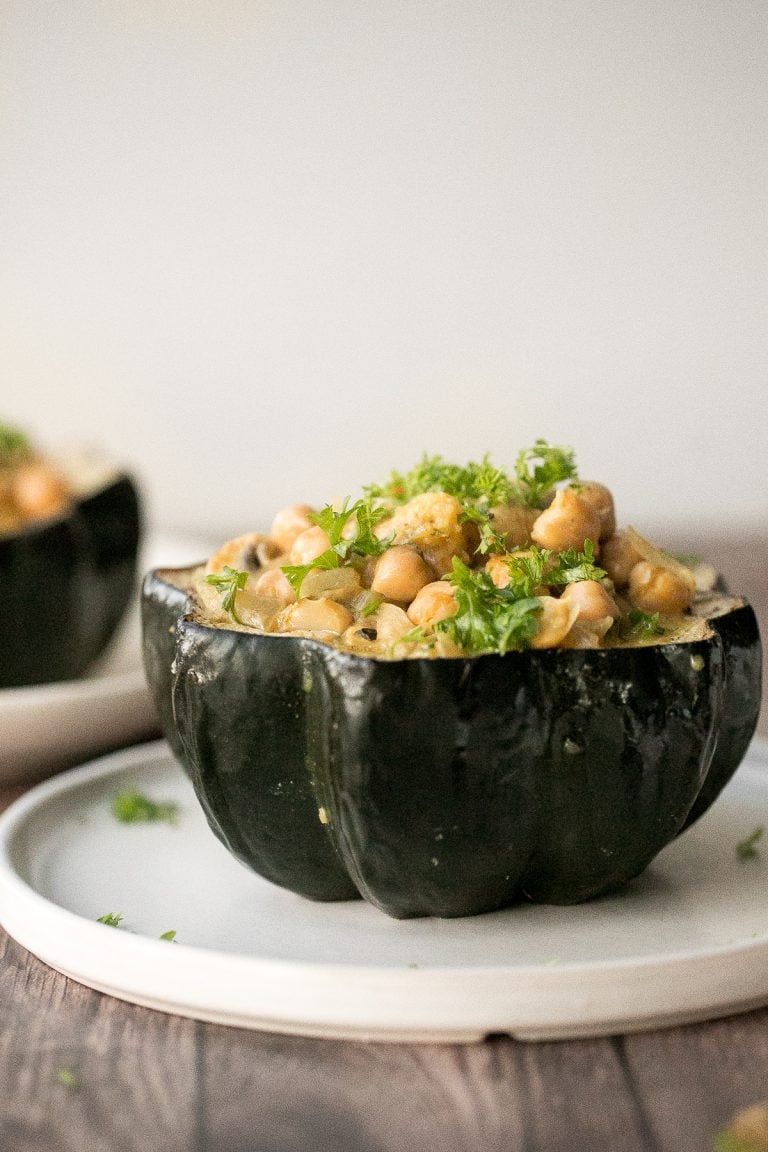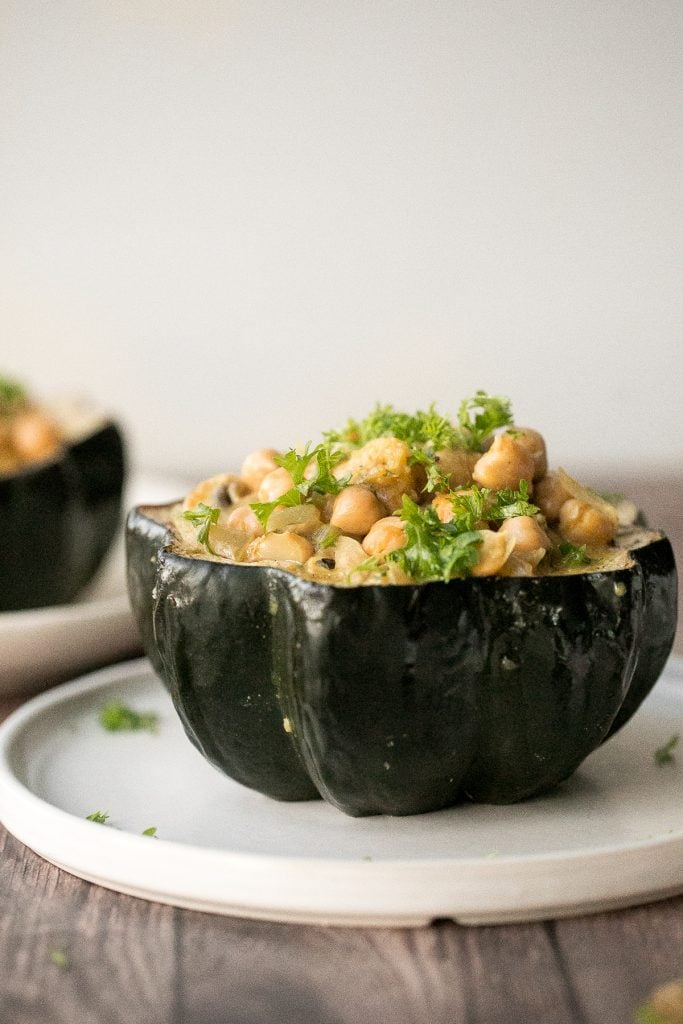 Szechuan Chicken Lettuce Wraps with Spicy Mayo
Spice it up and make copycat Szechuan chicken lettuce wraps with spicy mayo from the comfort of your own home with this easy to follow recipe. Plus, it is healthier than the original.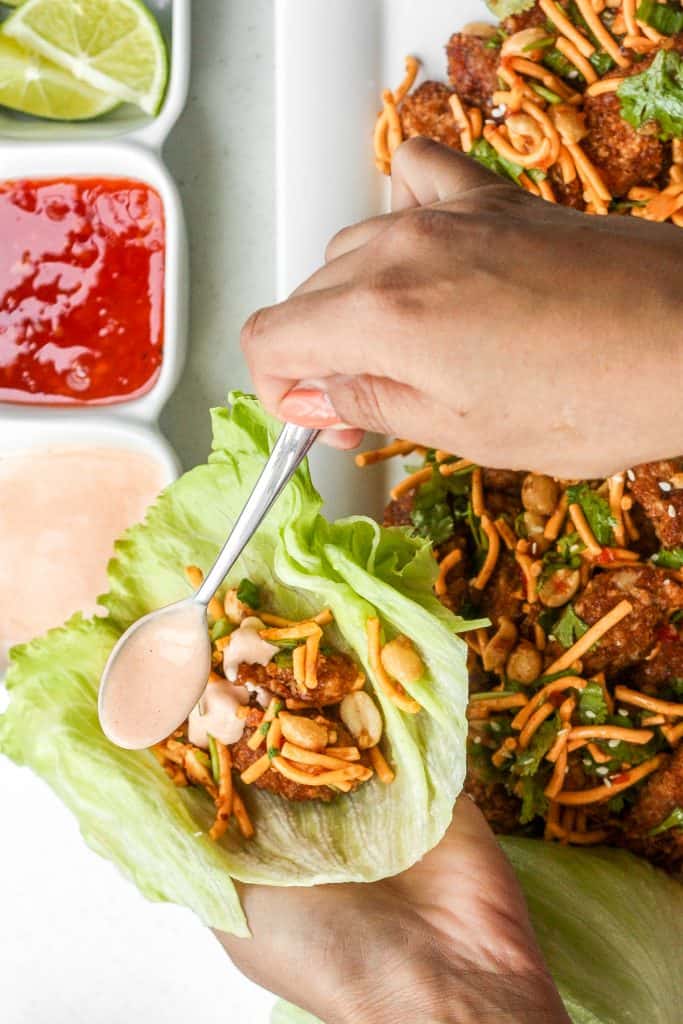 Healthy Chicken Dinners
Baked Chicken Breast with Greek Souvlaki Marinade
Juicy, tender, and moist, baked chicken breast with the best Greek souvlaki marinade is the most flavorful and delicious chicken dinner in under 30 minutes.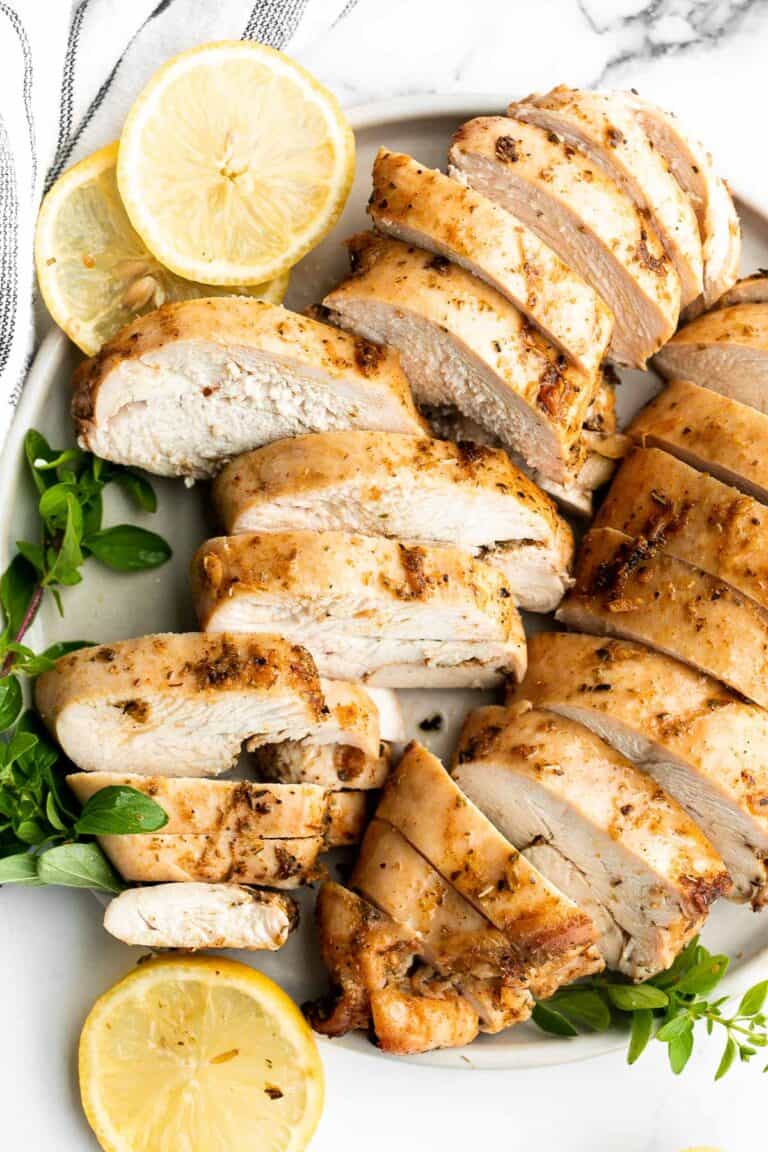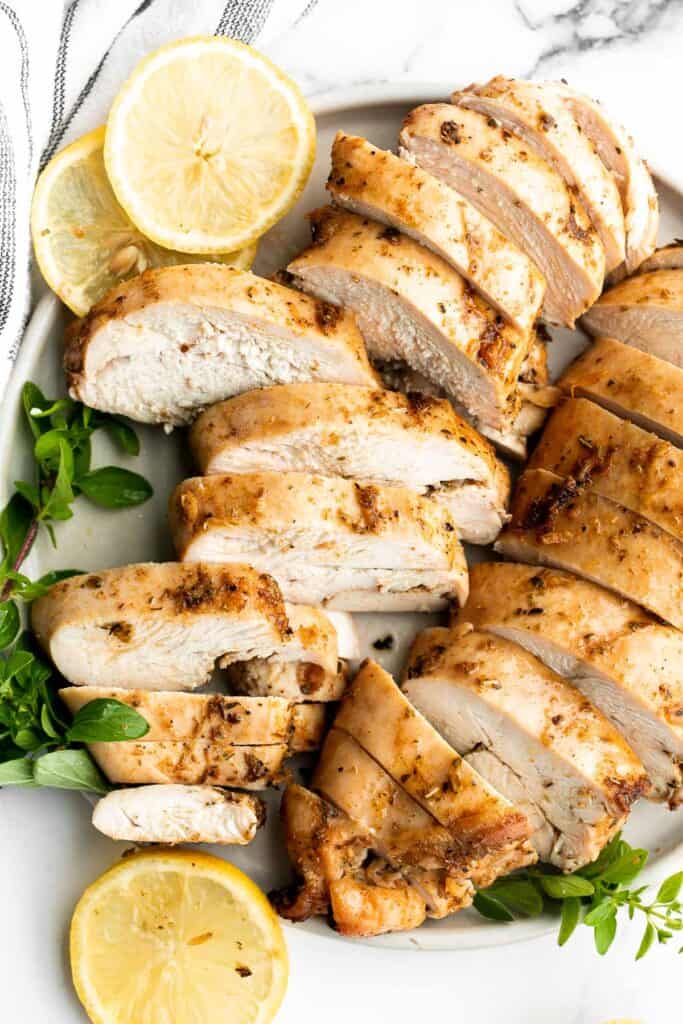 Air fryer chicken breast is crispy on the outside, juicy and tender inside, and packed with flavor in every bite. Quick and easy dinner on busy weeknights.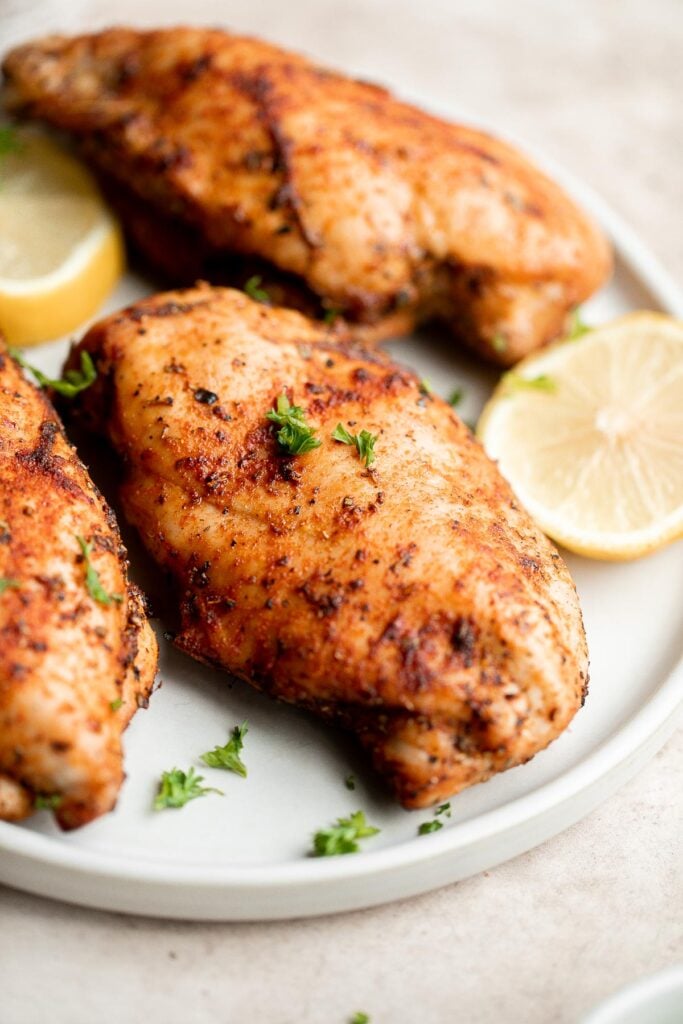 Dutch Oven Whole Roast Chicken
Easy Dutch oven whole roast chicken with the crispiest golden skin is juicy, tender and succulent and packed with flavour. Just takes 15 minutes to prep. Serve with creamy potatoes au gratin on the side.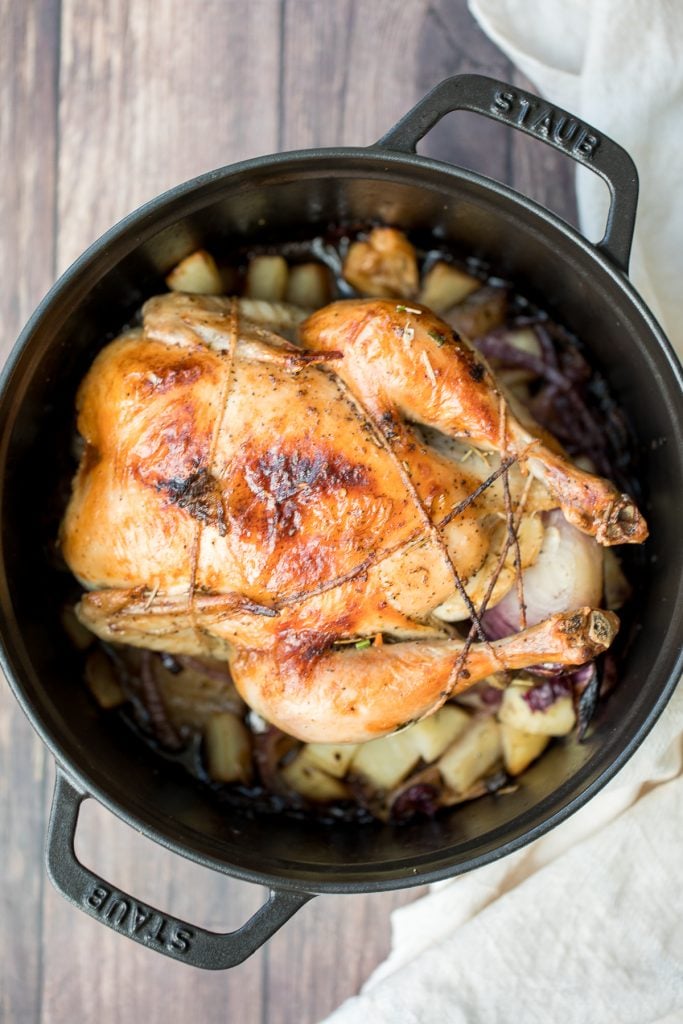 Aromatic Asian pan-fried lemongrass chicken is healthy, gluten-free, and takes less than 25 minutes to prep and cook. Now that's what I call the perfect weeknight meal. Use any leftovers in a Lemongrass Chicken Banh Mi Sandwich.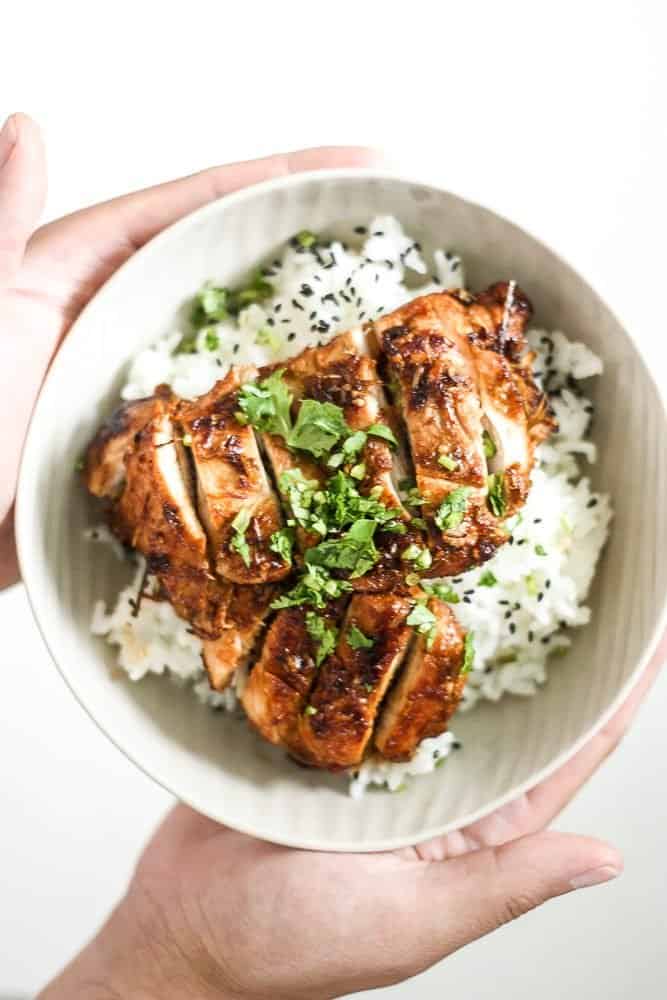 Skillet chicken fajitas are a light, fresh, and sizzling dish bursting with flavour, packed with colorful vegetables, and wrapped in warm tortillas or with a side of Cilantro Lime Rice.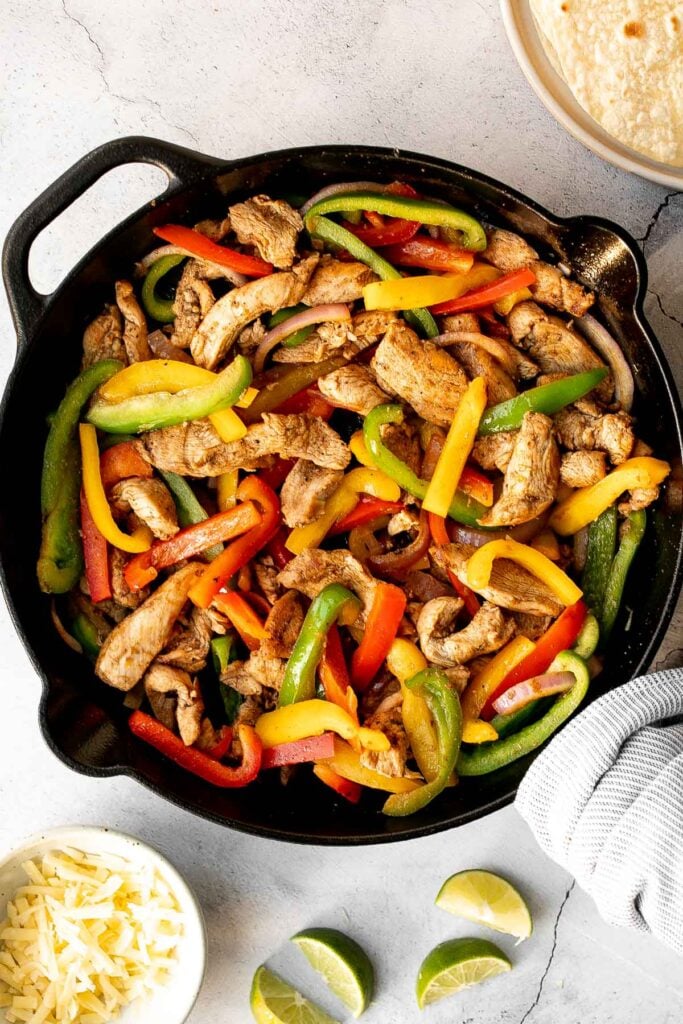 Roasted Spatchcock Chicken (Butterflied Chicken)
Quick and easy roasted spatchcock chicken (butterflied chicken) seasoned with garlic and thyme is juicy, tender, delicious and flavourful with minimal prep. Serve with some creamy mashed potatoes and garlic green beans.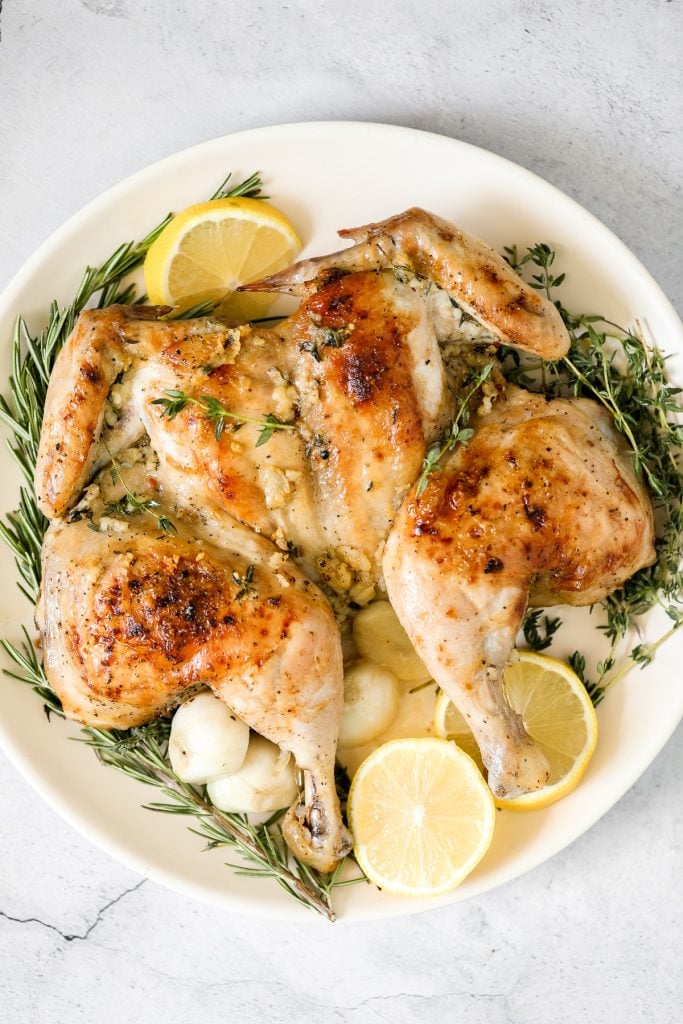 Skillet Chicken Thighs and Potatoes
Tender, juicy, and crispy one pan skillet chicken thighs and potatoes and carrots is an easy weeknight dinner on your dinner table in less than 45 minutes. Serve with a warm brussels sprouts salad on the side.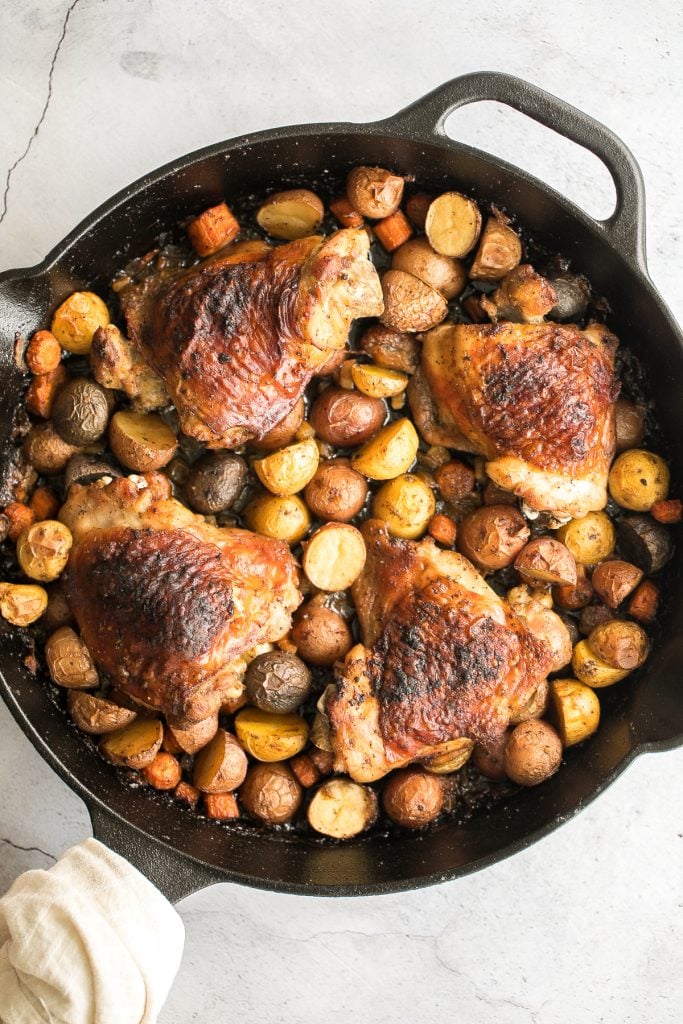 Vietnamese Noodle Bowl with Chicken
Vietnamese noodle bowl with lemongrass chicken, fresh vegetables and herbs, tossed in a homemade Vietnamese sauce is healthy, delicious, light, and filling.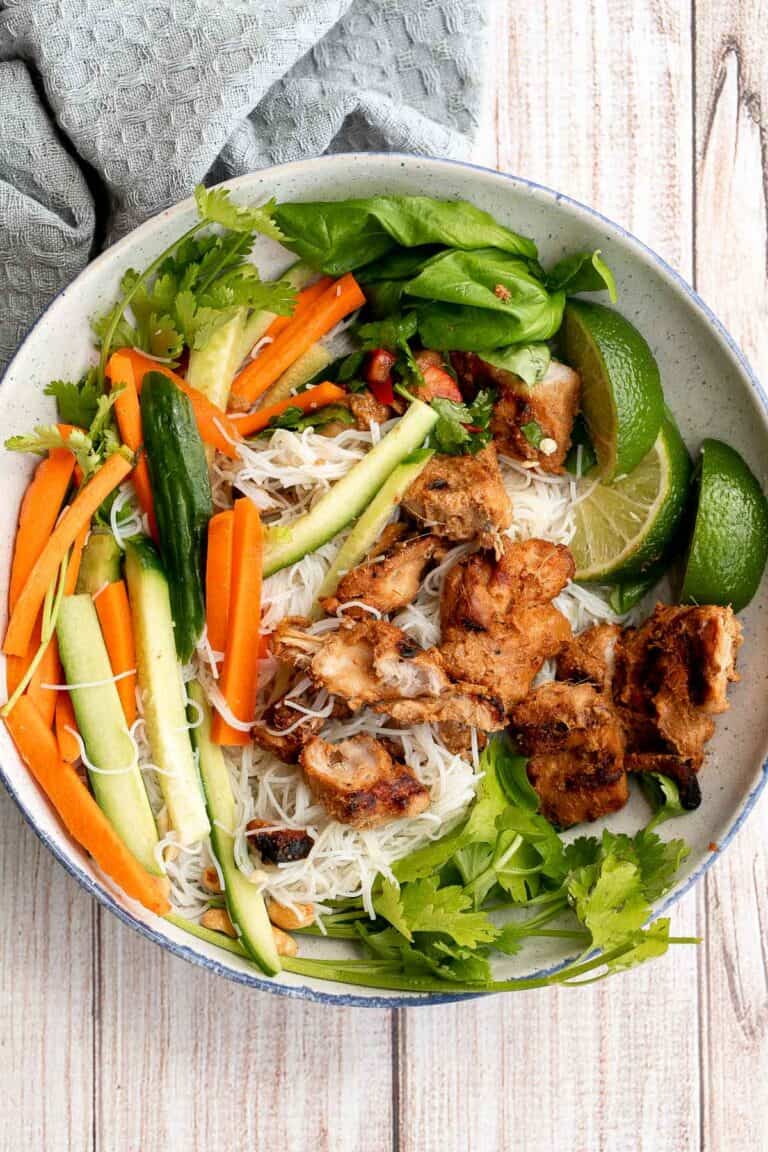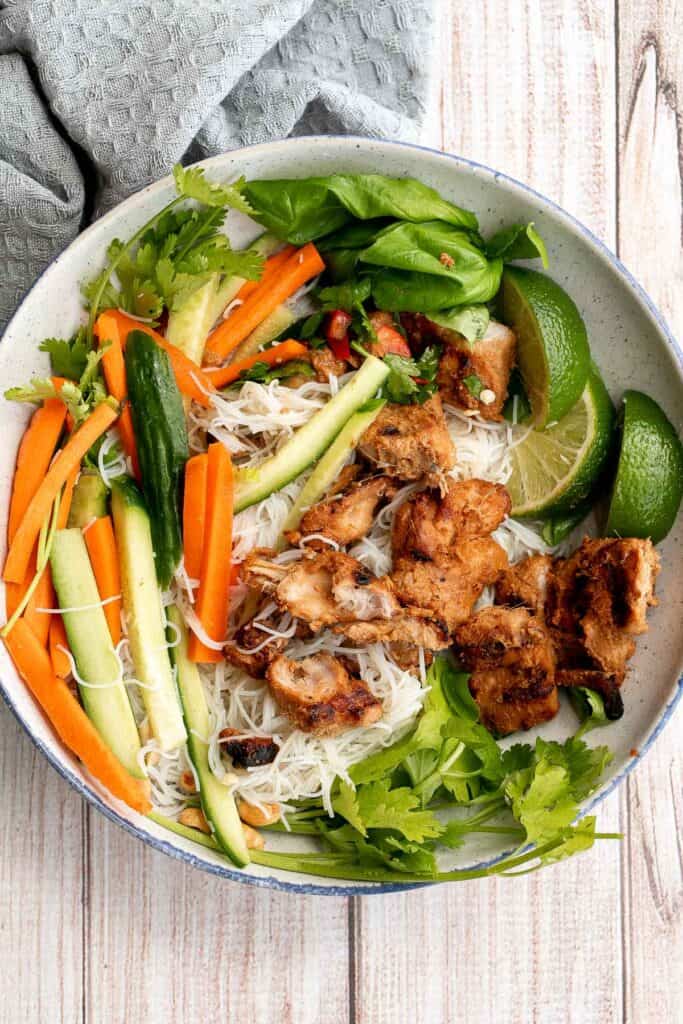 Healthy Seafood Recipes
Greek salmon is delicious, flaky, and tender. This healthy oven-baked salmon is packed with Mediterranean flavors and is ready in just 20 minutes.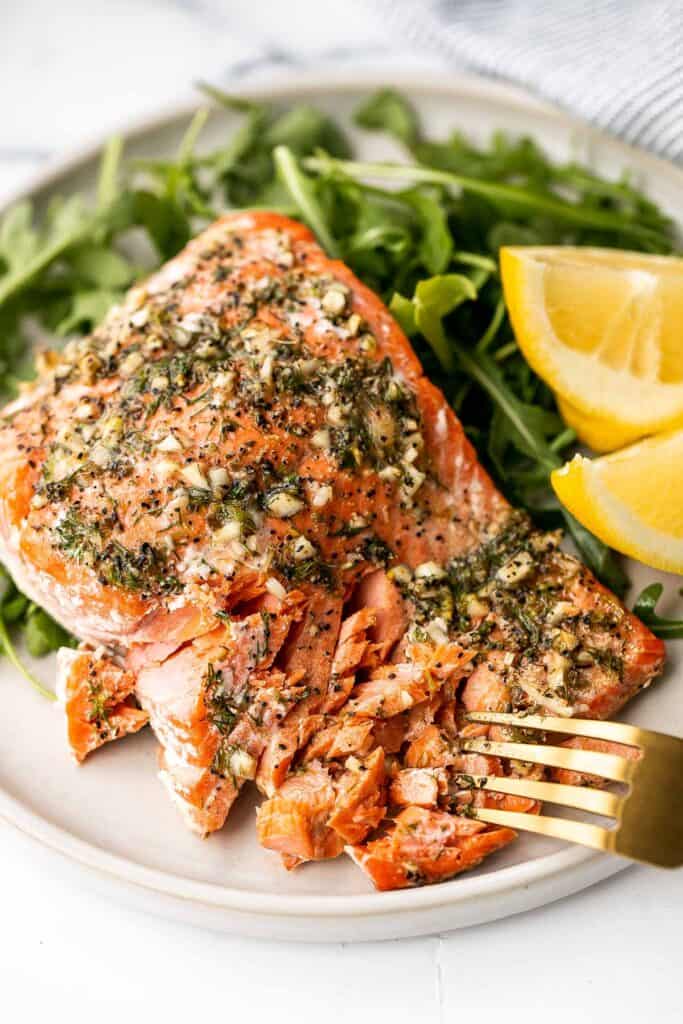 Garlic shrimp skewers are delicious and full of fresh flavor. These quick and easy kabobs can be grilled, baked or air fried for an easy summer dinner.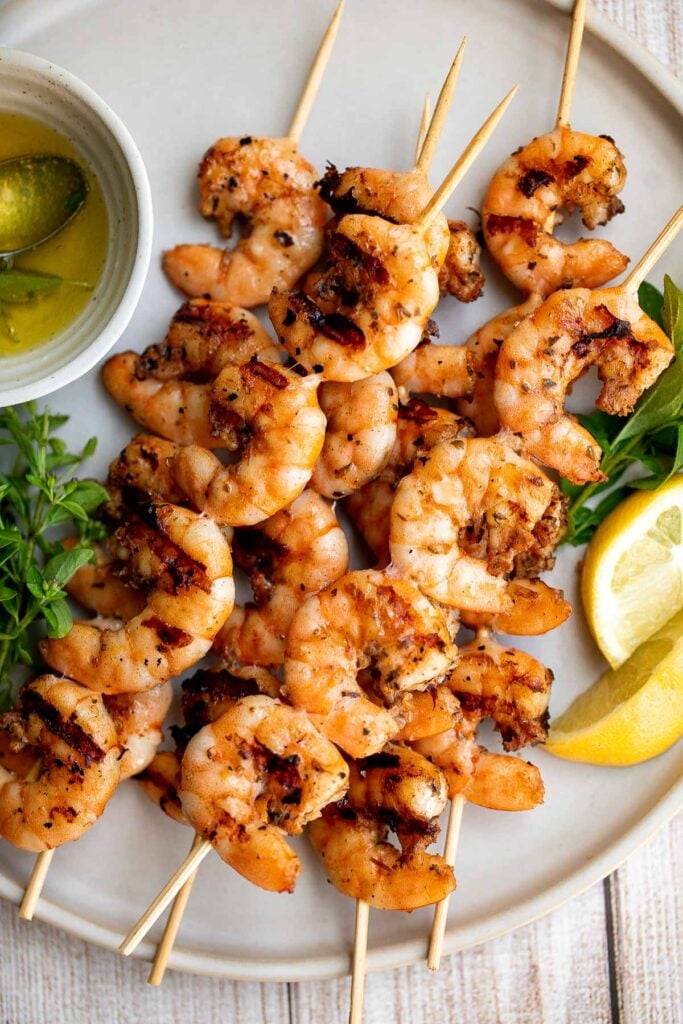 Baked miso salmon brings traditional Japanese flavours to the forefront, with a healthy and delicious meal that's easy to make on busy weeknights.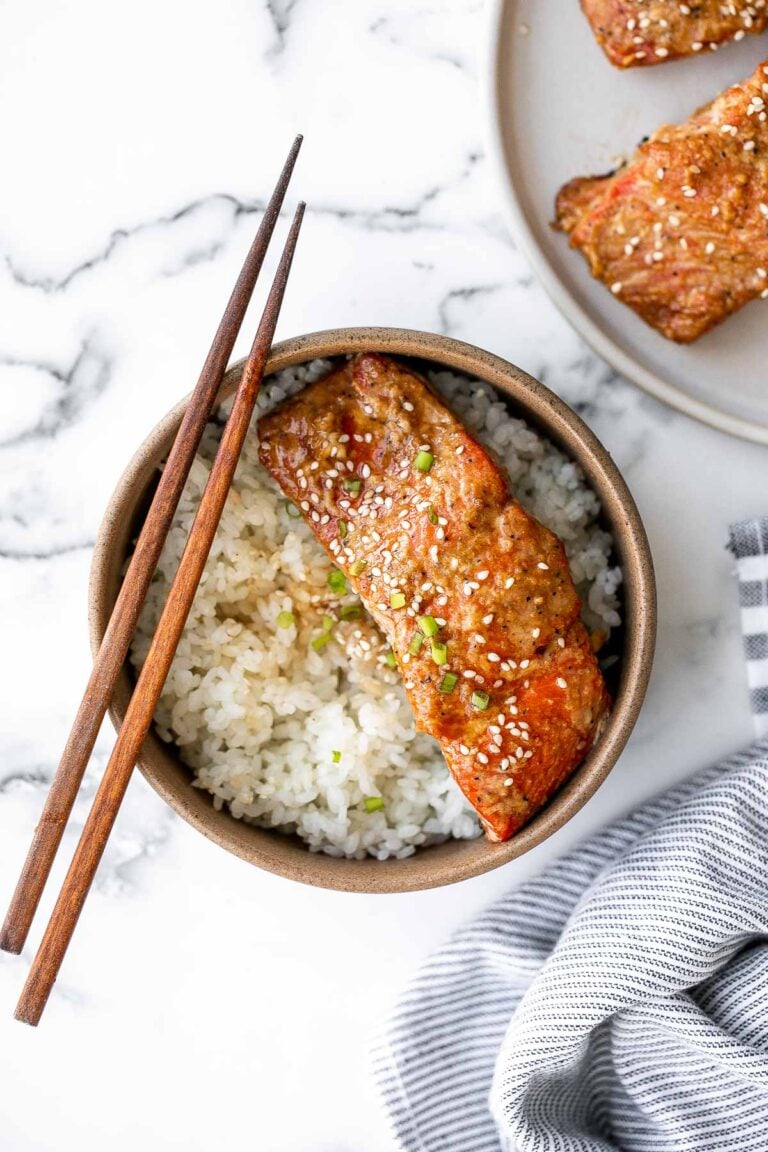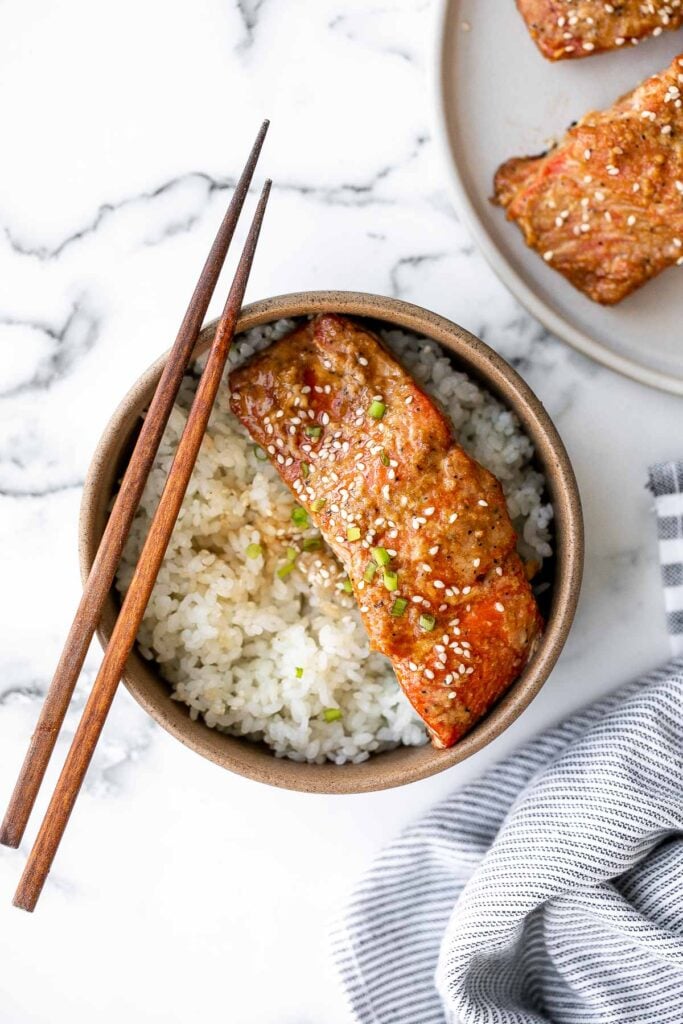 Yellow curry mussels are the epitome of delicious seafood - creamy, spicy, and savory. This flavourful one pot dish is quick + easy to make in 25 minutes.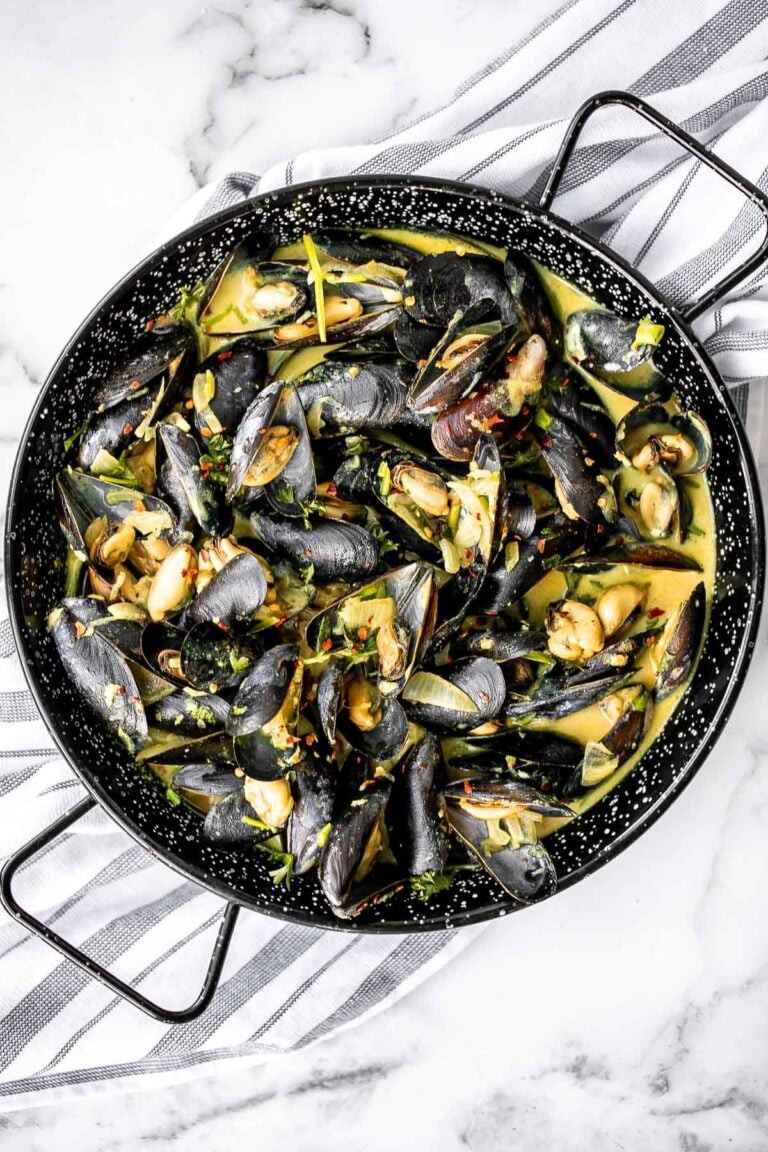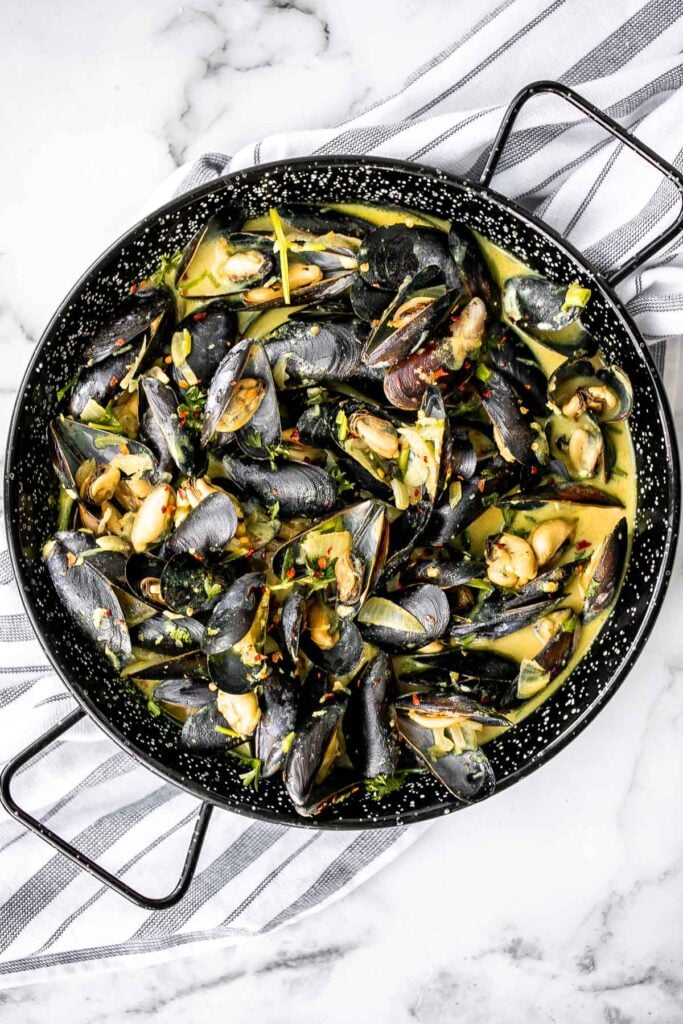 Tigers Prawns in Garlic Ginger Soy Sauce
10-minute tiger prawns in garlic ginger soy sauce is juicy, tender and immersed in incredible Asian flavours. It's the perfect weeknight meal.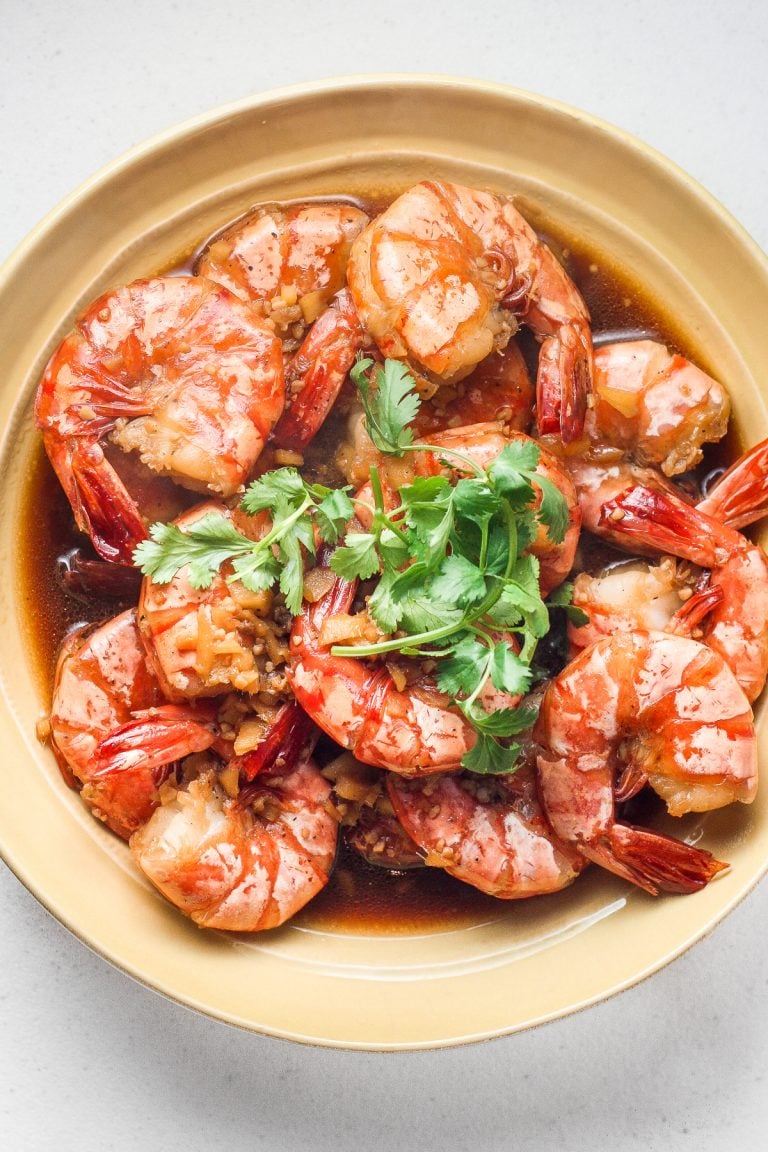 Tender, flaky, flavorful garlic butter salmon is well-seasoned, seared to perfection, and basted until juicy. Quick and easy to make in 20 minutes.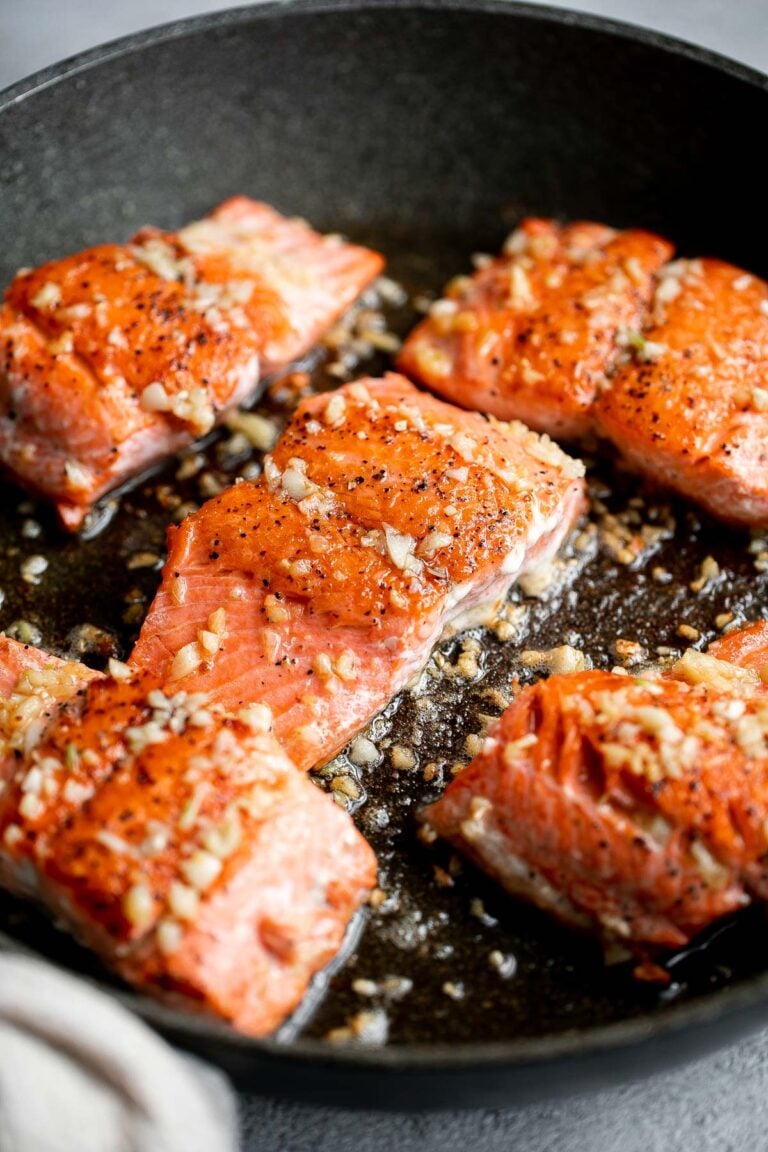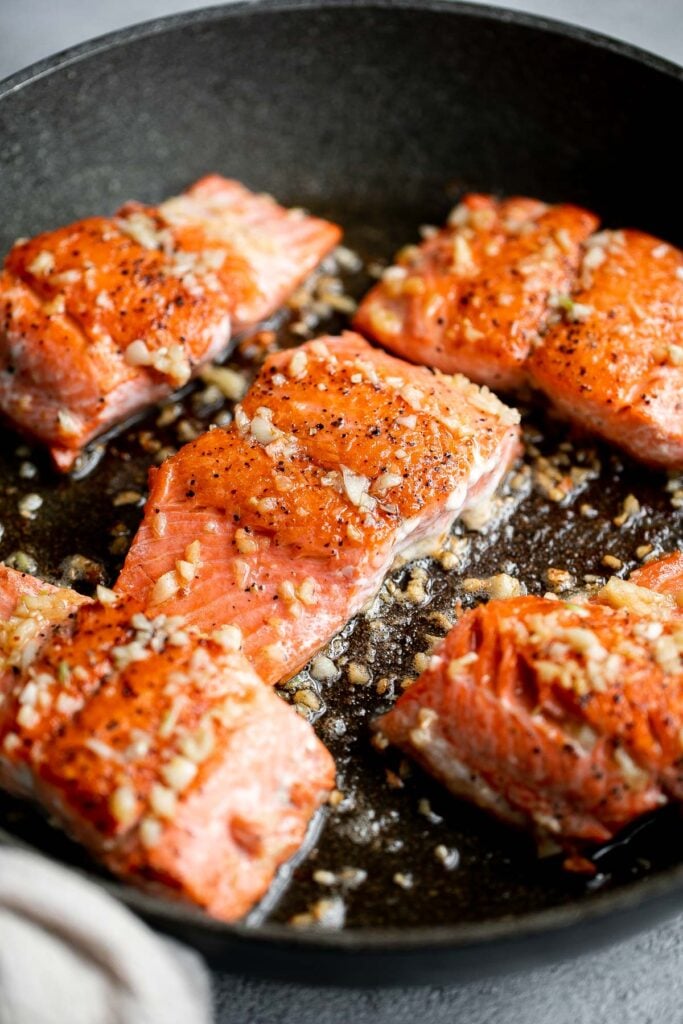 Crispy baked coconut shrimp is a delicious appetizer that is easy to make in 30 minutes. They are more flavourful, tastier and healthier than takeout.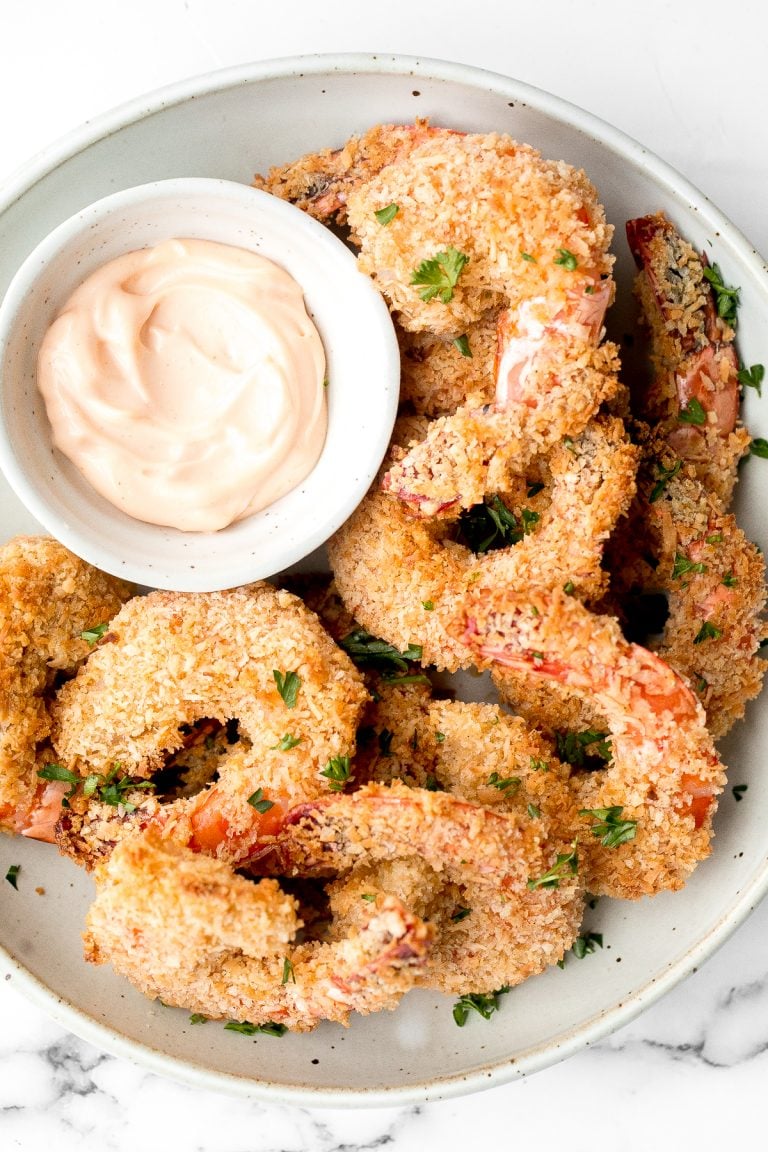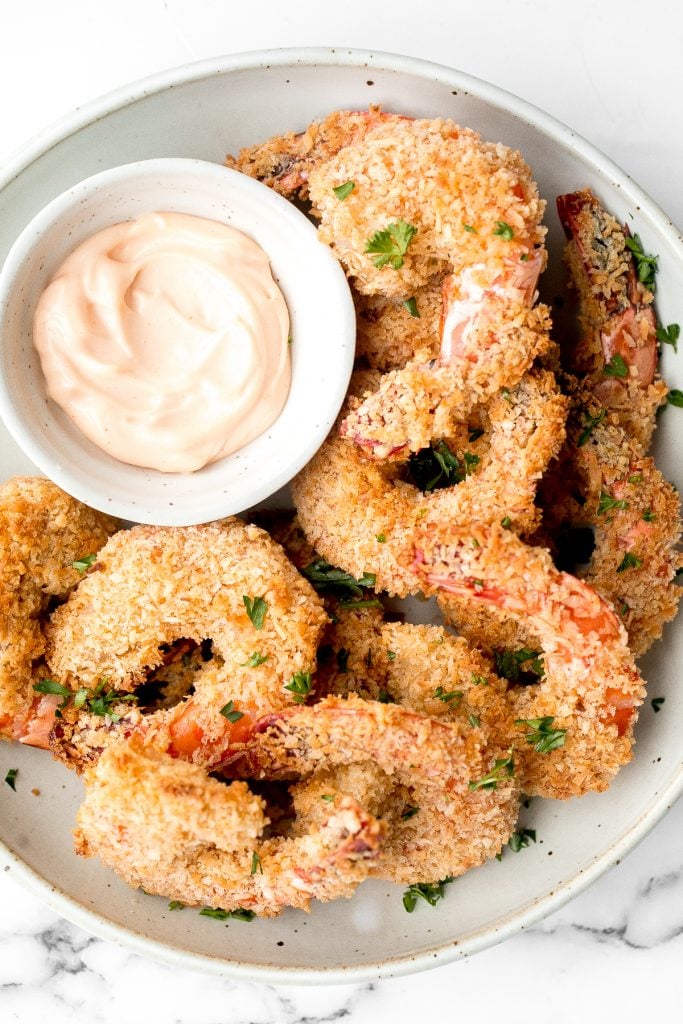 Garlicky, buttery, and perfectly seared scallops take less than 10 minutes to prep and cook. It's the easiest fancy, restaurant-grade meal to make at home.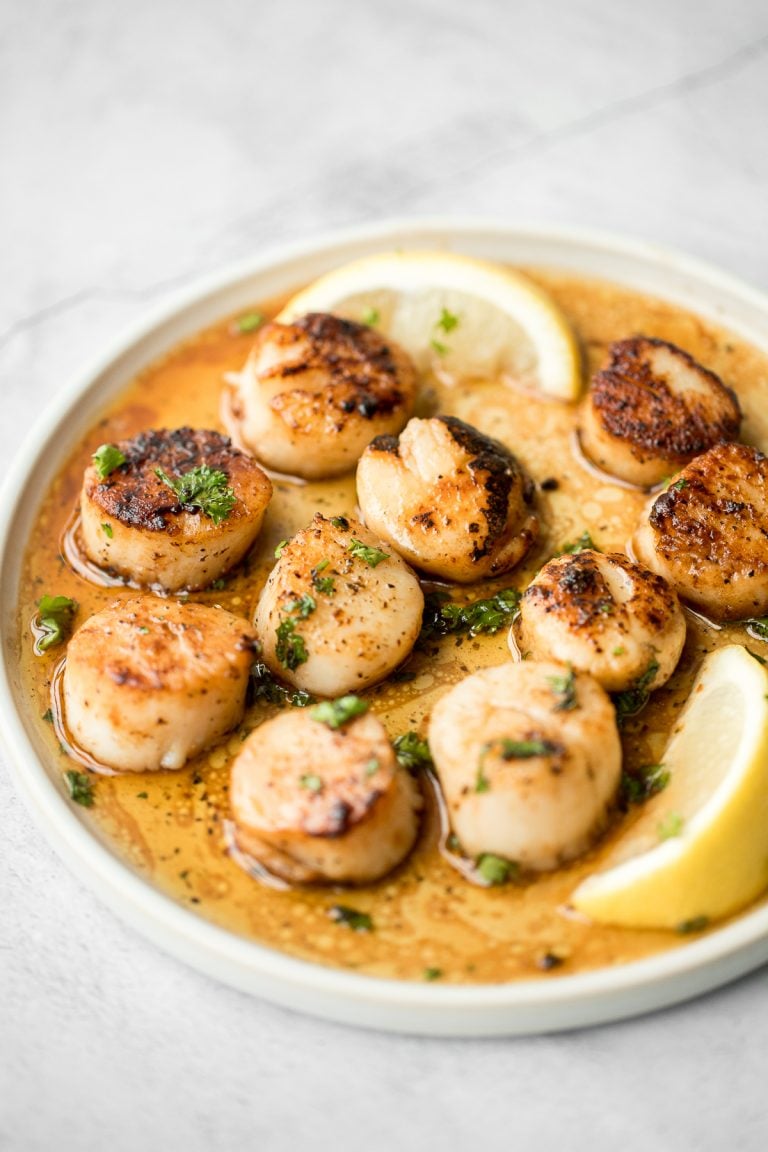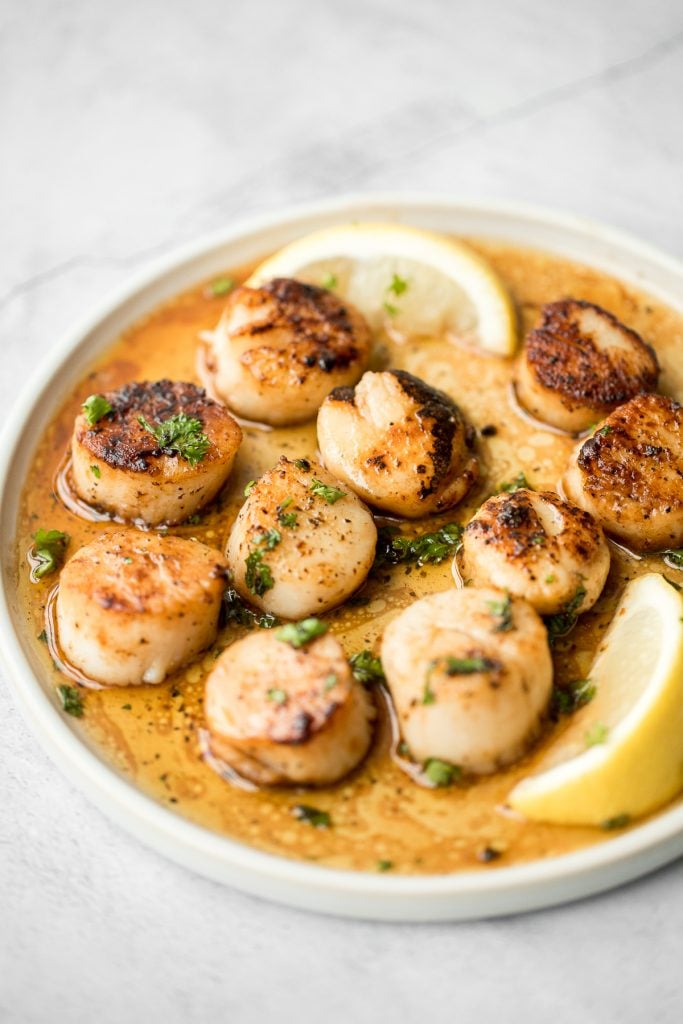 Easy, garlicky and buttery grilled shrimp boil with prawns, corn, baby potatoes and sausage, seasoned and tossed with parsley takes just 20 minutes to cook. Throw some whole potatoes on the grill too and serve this with some BBQ chicken stuffed baked potatoes.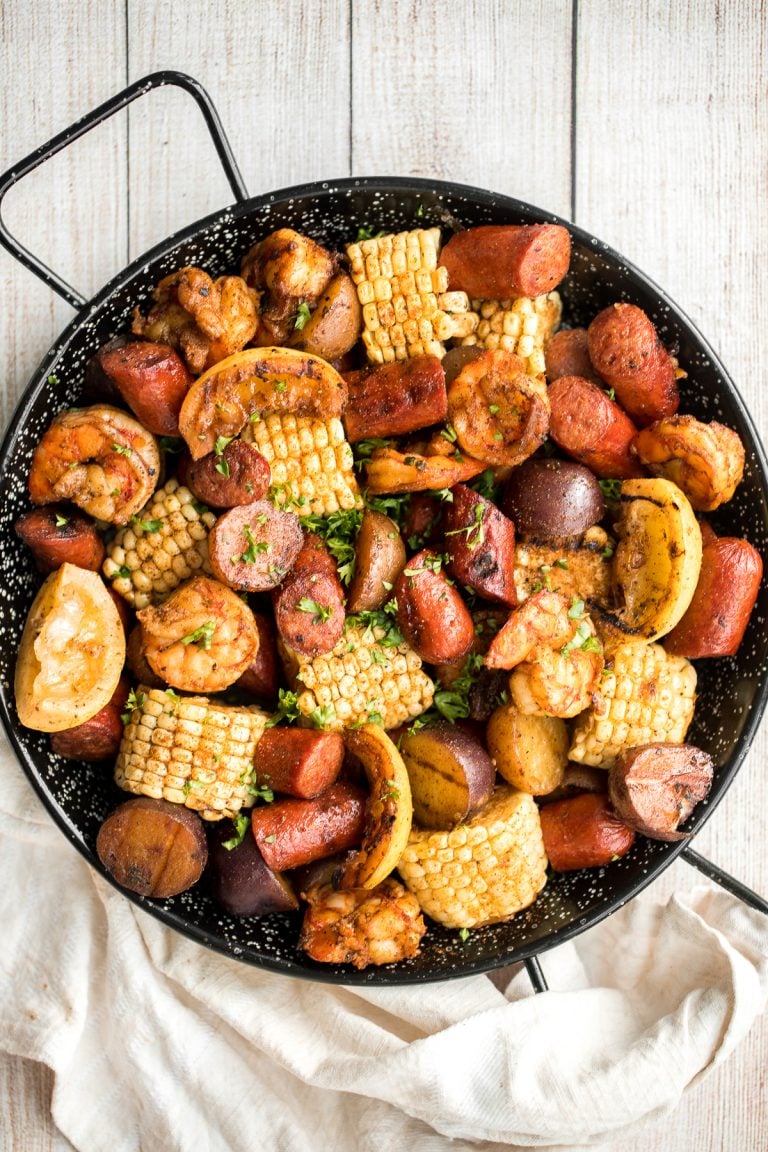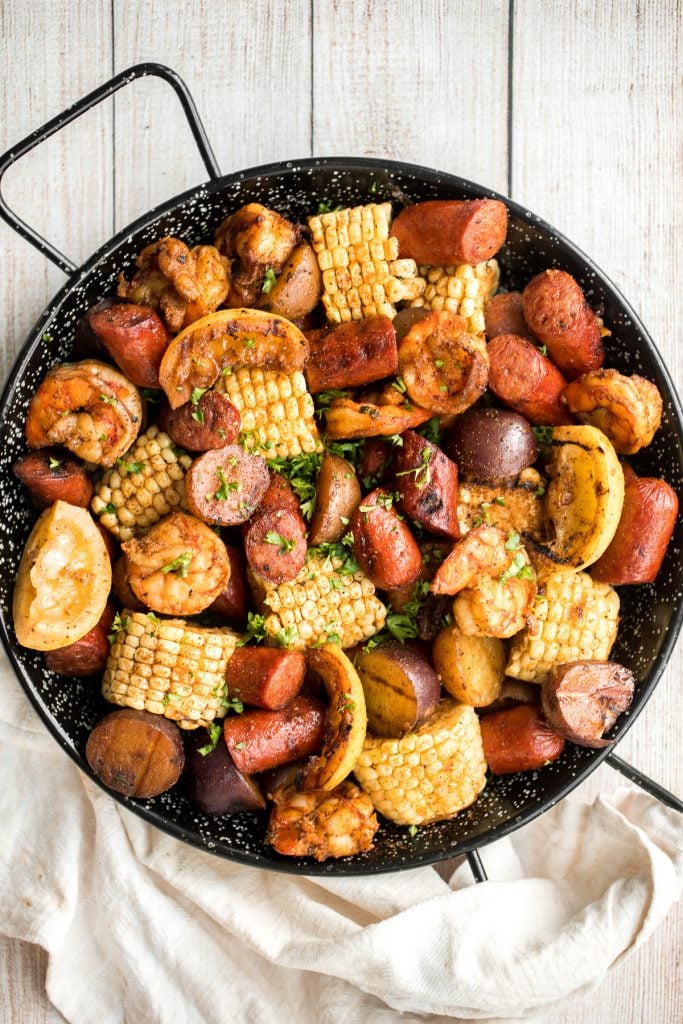 Healthy One Pot or Sheet Pan Dinners
One Pan Garlic Roasted Chicken and Baby Potatoes
One pan garlic roasted chicken and baby potatoes is an easy to make, delicious, and wholesome meal for the entire family. Prep this sheet pan in 10 minutes.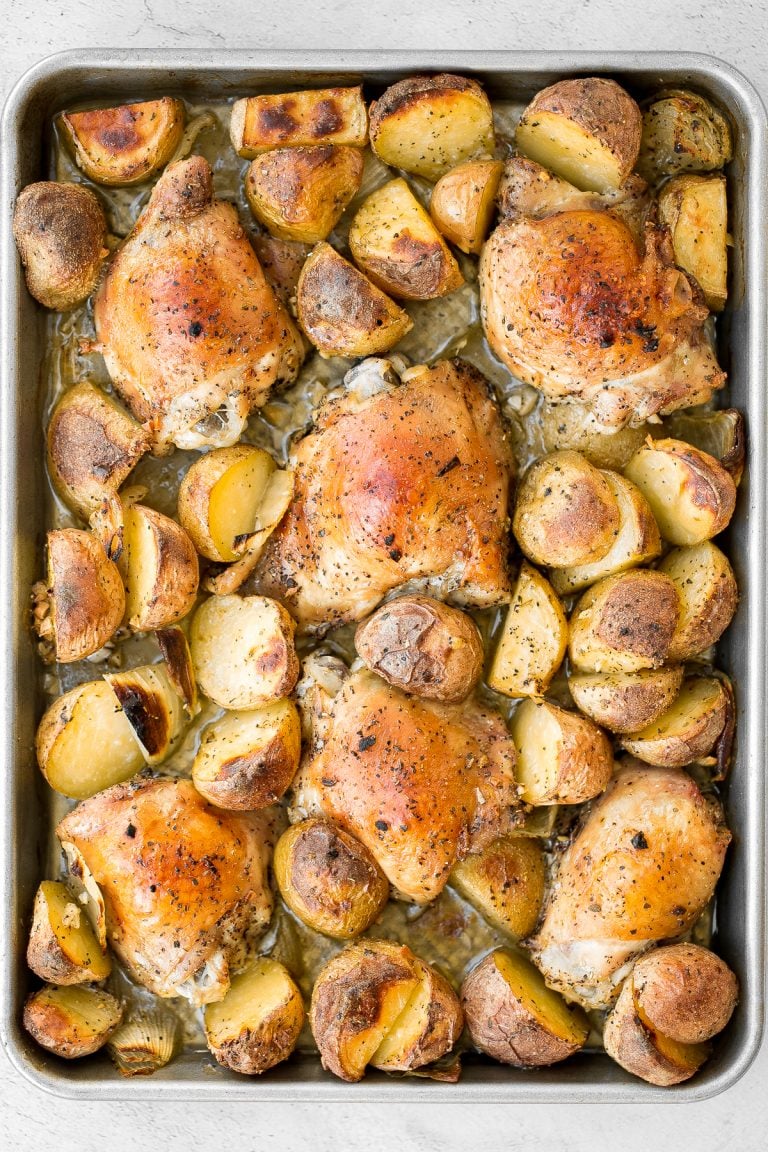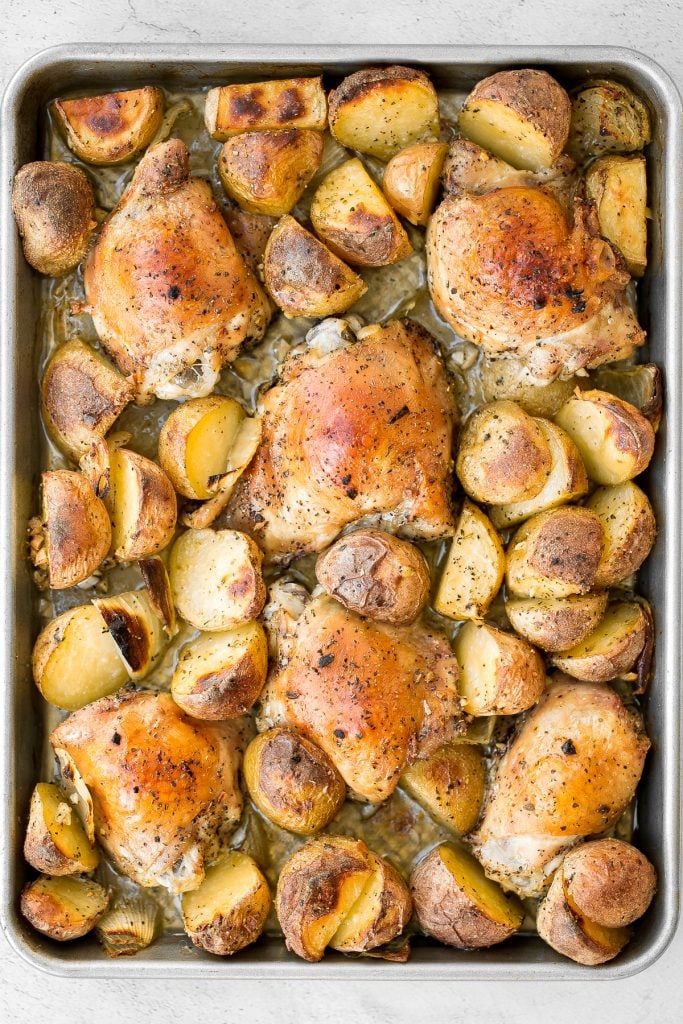 Minestrone soup is a hearty, healthy, nourishing, and delicious classic Italian soup, packed with vegetables and pasta simmered in a rich tomato broth.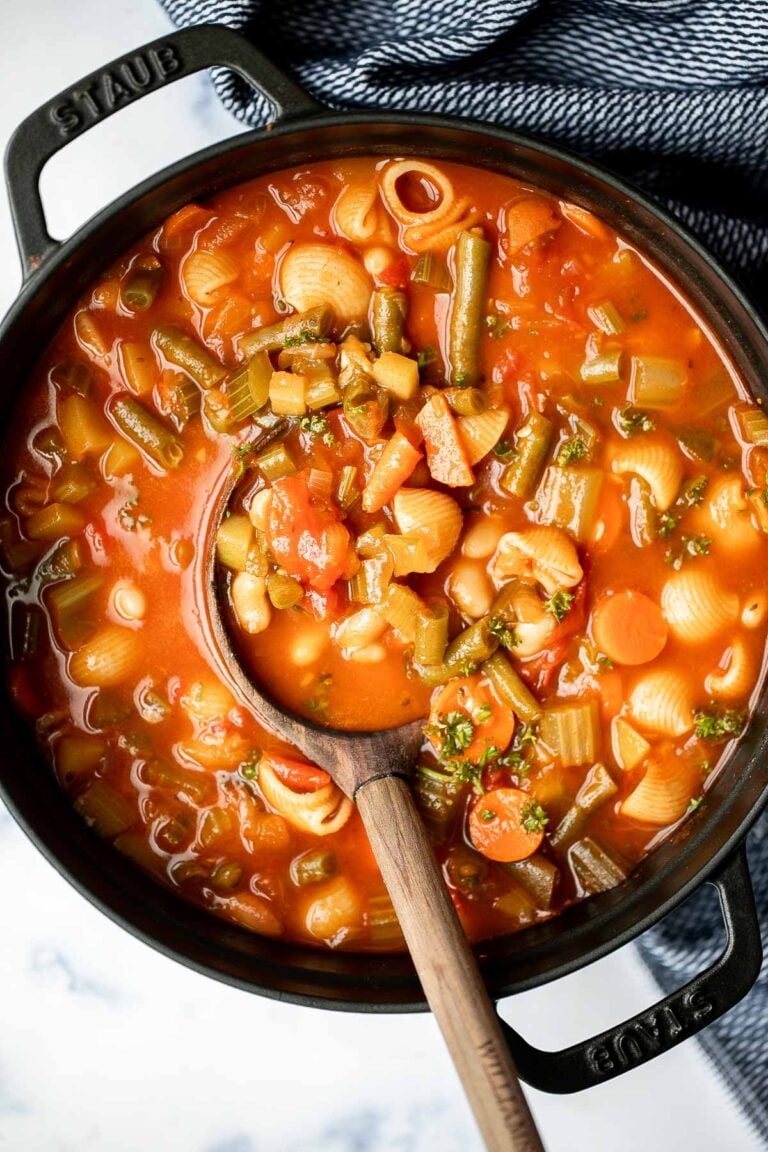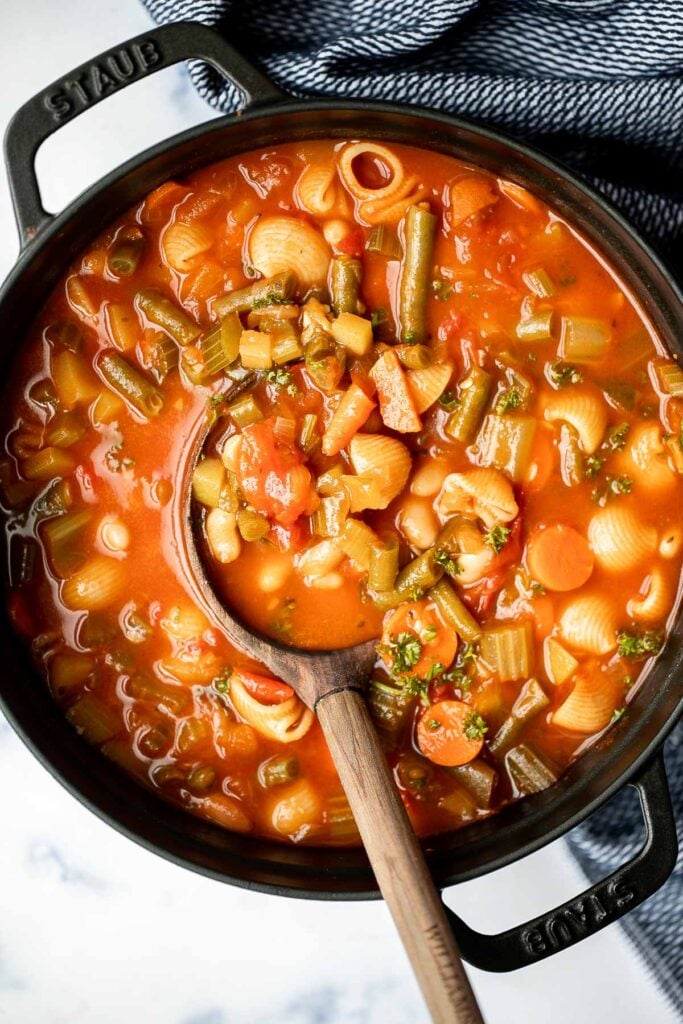 Sizzling and hot sheet pan chicken fajitas are on the table in less than 30 minutes. The best part is that you just throw everything into one sheet pan. Make it a total fiesta with some pico de gallo and fish tacos.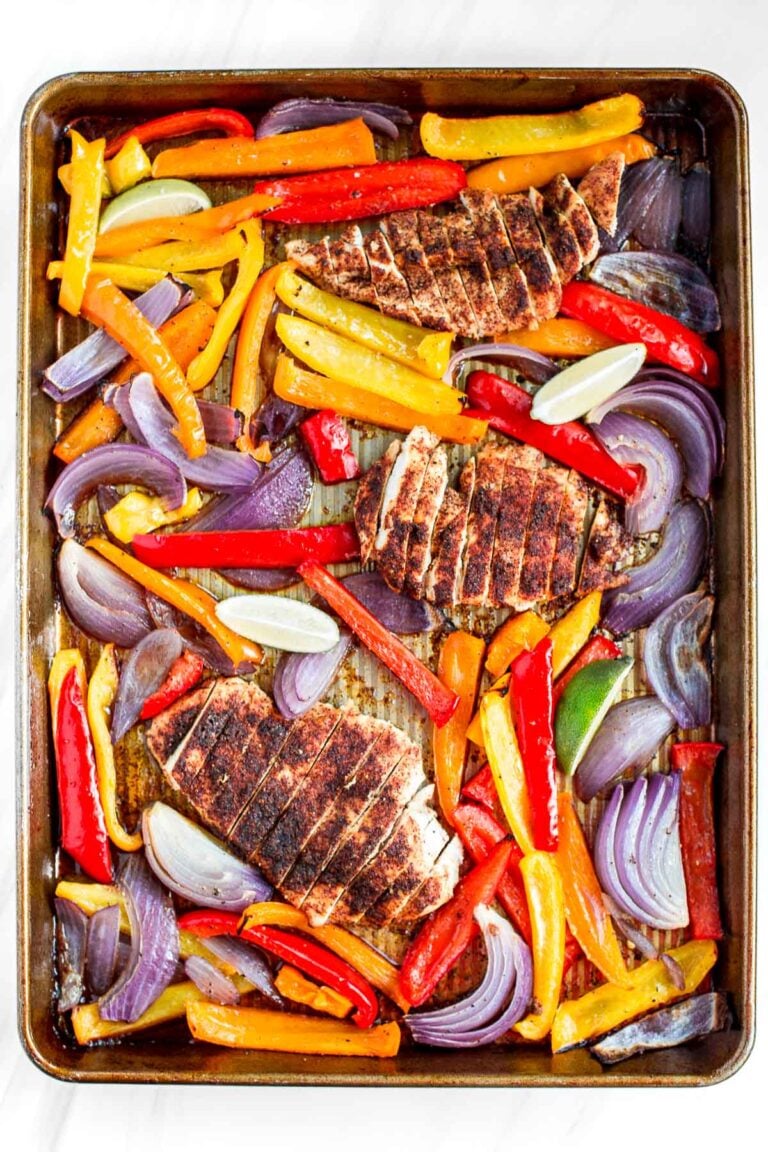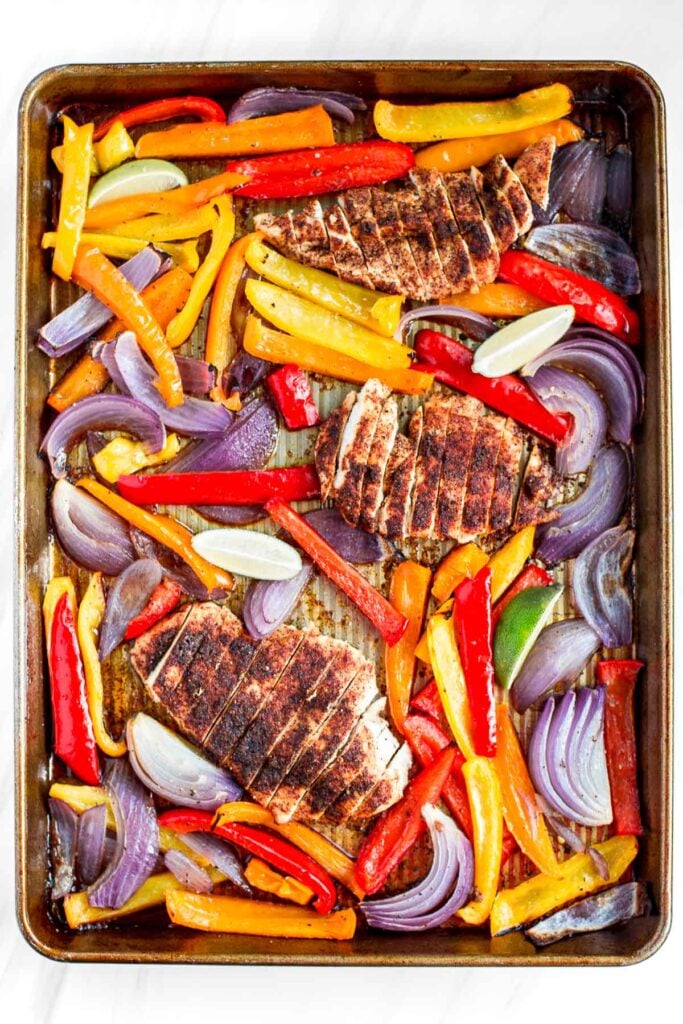 One Pot Spanish Chicken and Rice
Packed with flavour, real ingredients and vibrant colours, one pot Spanish chicken and rice is the perfect no fuss, no clean up weeknight meal.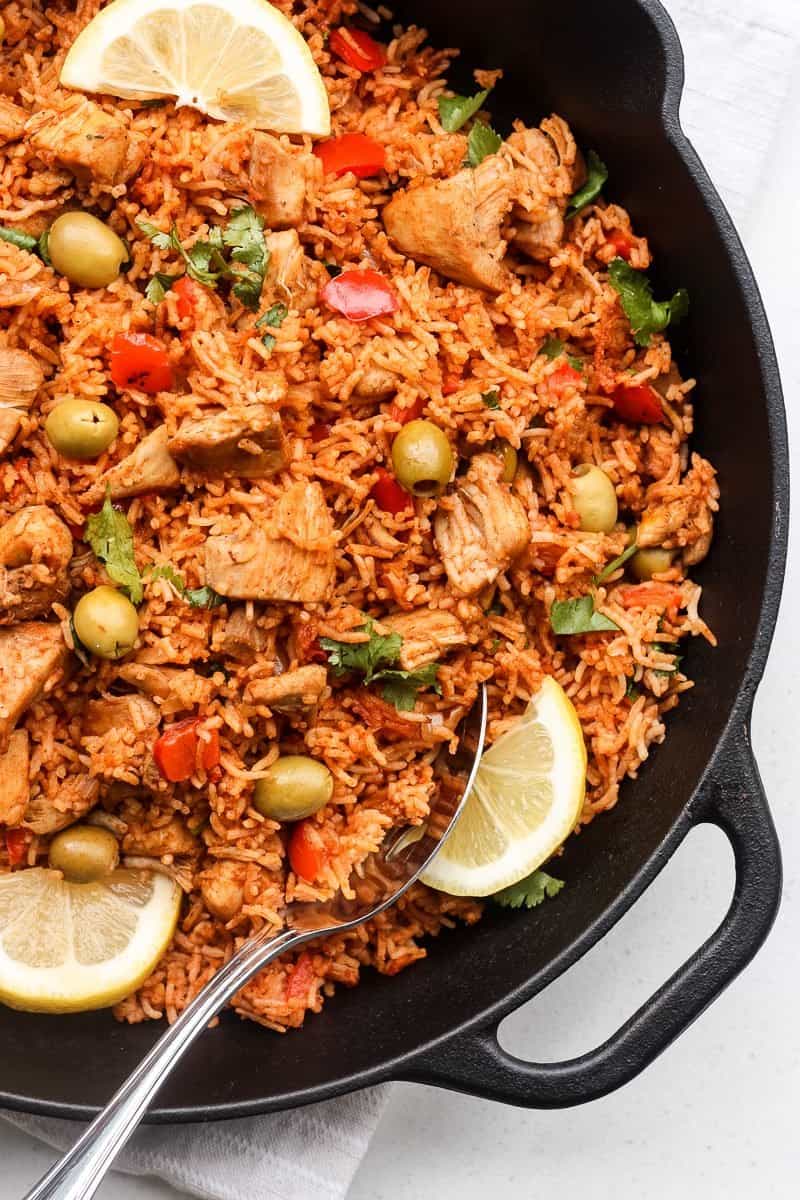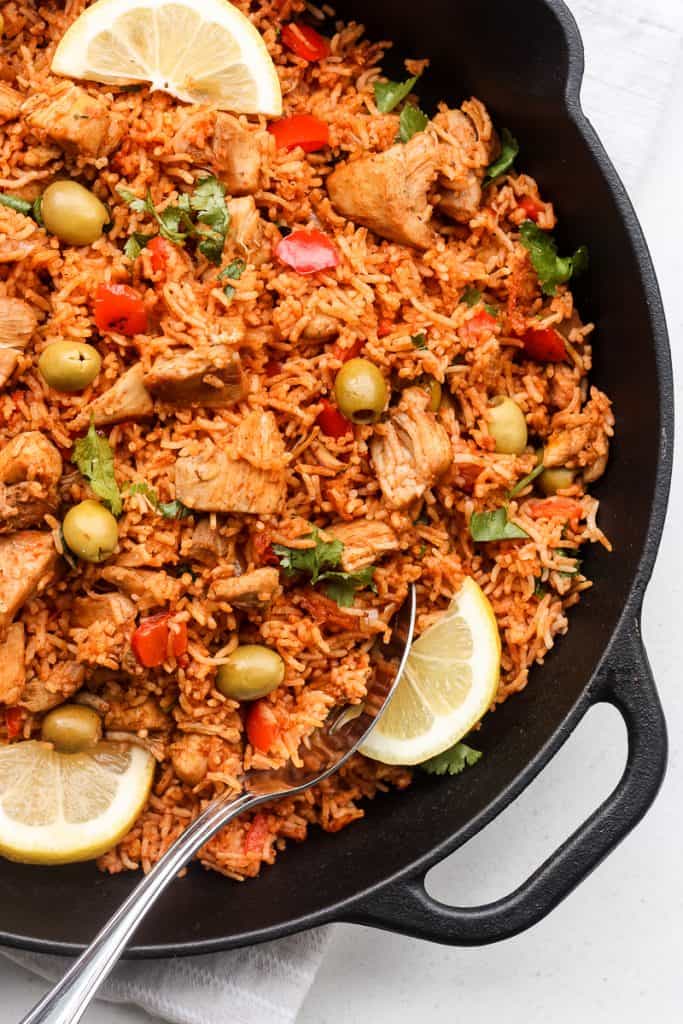 Sheet pan lamb chops with vegetables are healthy and delicious, easy to make, and easier to clean up. Perfect for busy weeknights or a holiday dinner.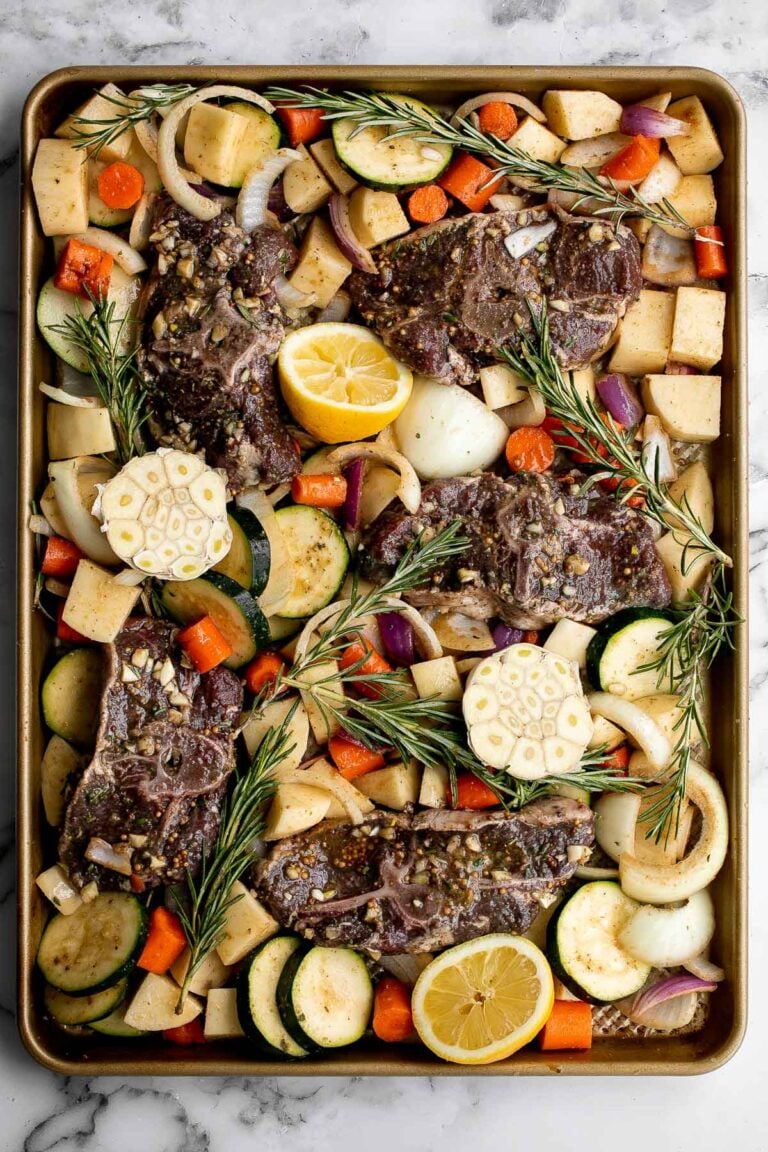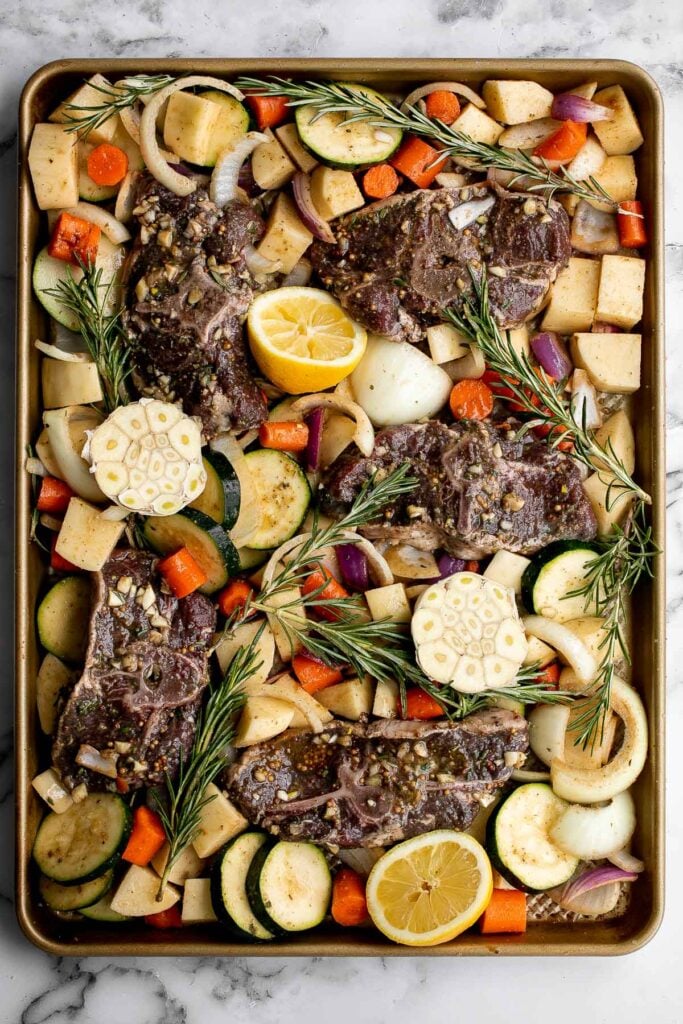 Vegetarian Mushroom Barley Soup
Wholesome hearty vegetarian mushroom barley soup is healthy, filling, and so delicious. This one pot meal is easy to make with just 10 minutes of prep.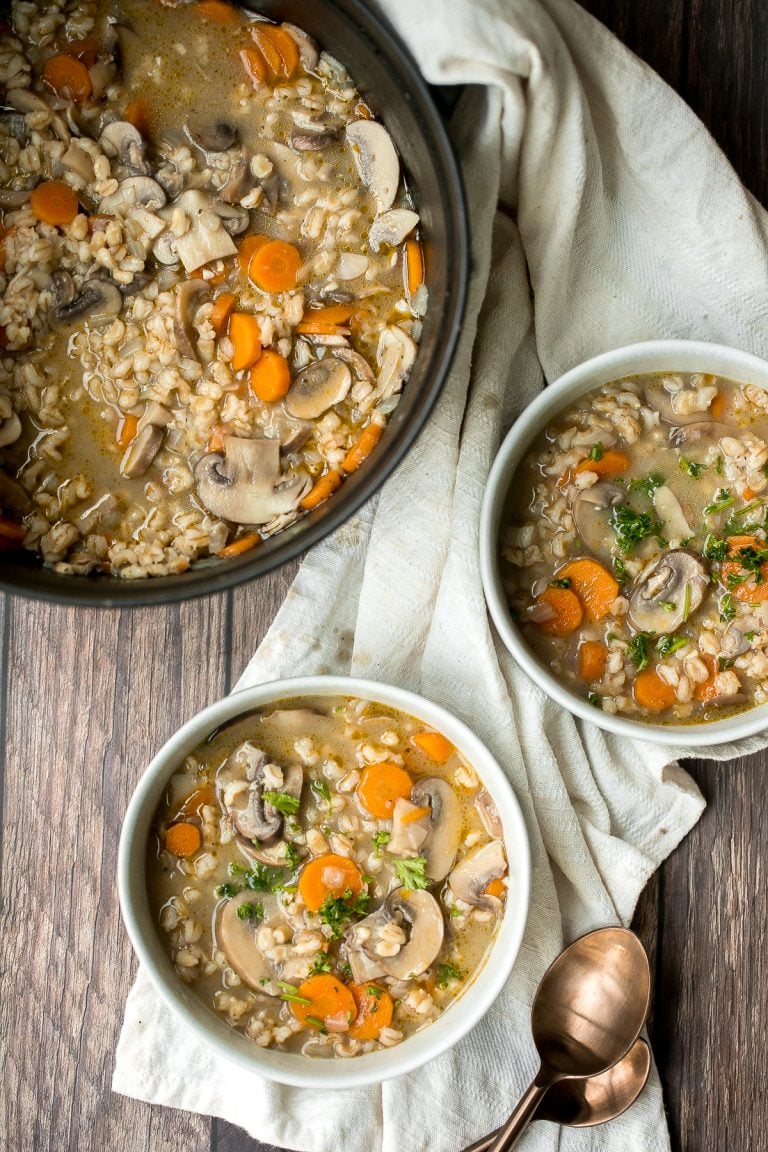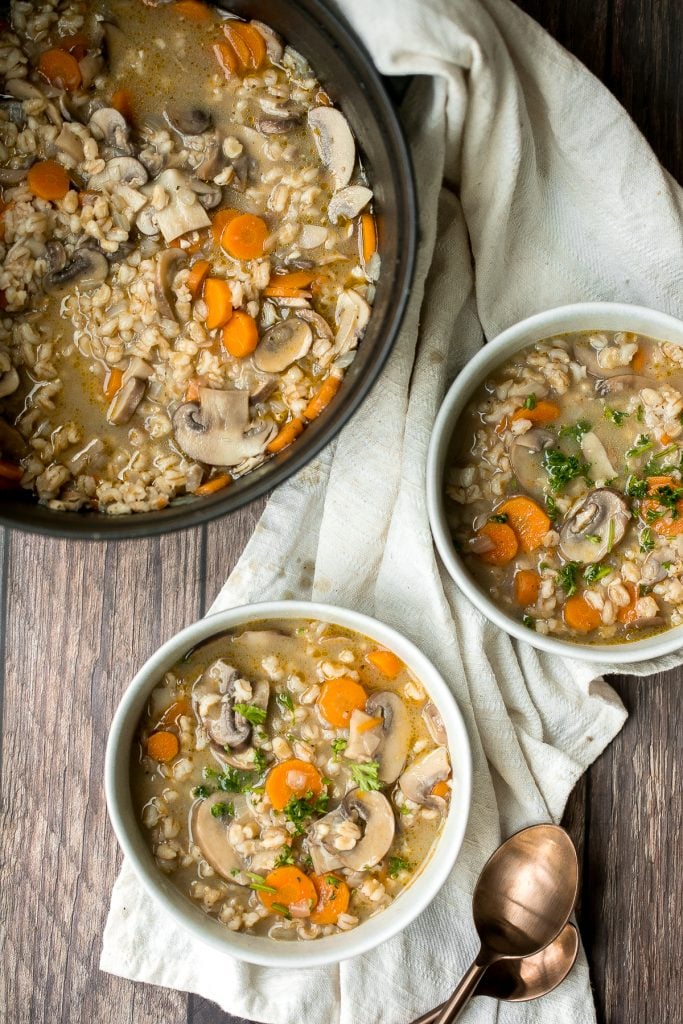 Easy 20-minute one pot lentils is vegan, gluten-free, and packed with protein. It's immune boosting properties makes it the perfect hearty meal and one of my favorite vegan winter dinner ideas.
Sheet Pan Miso Salmon with Bok Choy
Sheet pan miso salmon with bok choy and sweet potatoes equals unbelievable bursts of umami flavour in every single bite. Plus it's on the table in 30 minutes AND is super easy to clean up!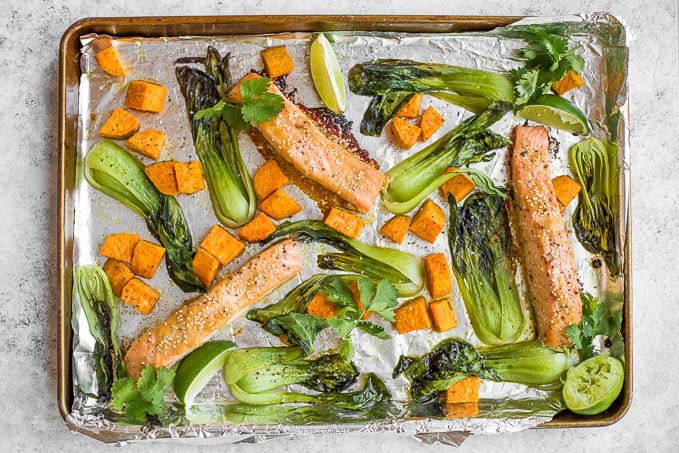 Thai Turkey Meatballs in Coconut Curry
Thai turkey meatballs in coconut curry are the perfect weeknight dinner when you want something delicious, healthy, flavorful, and satisfying.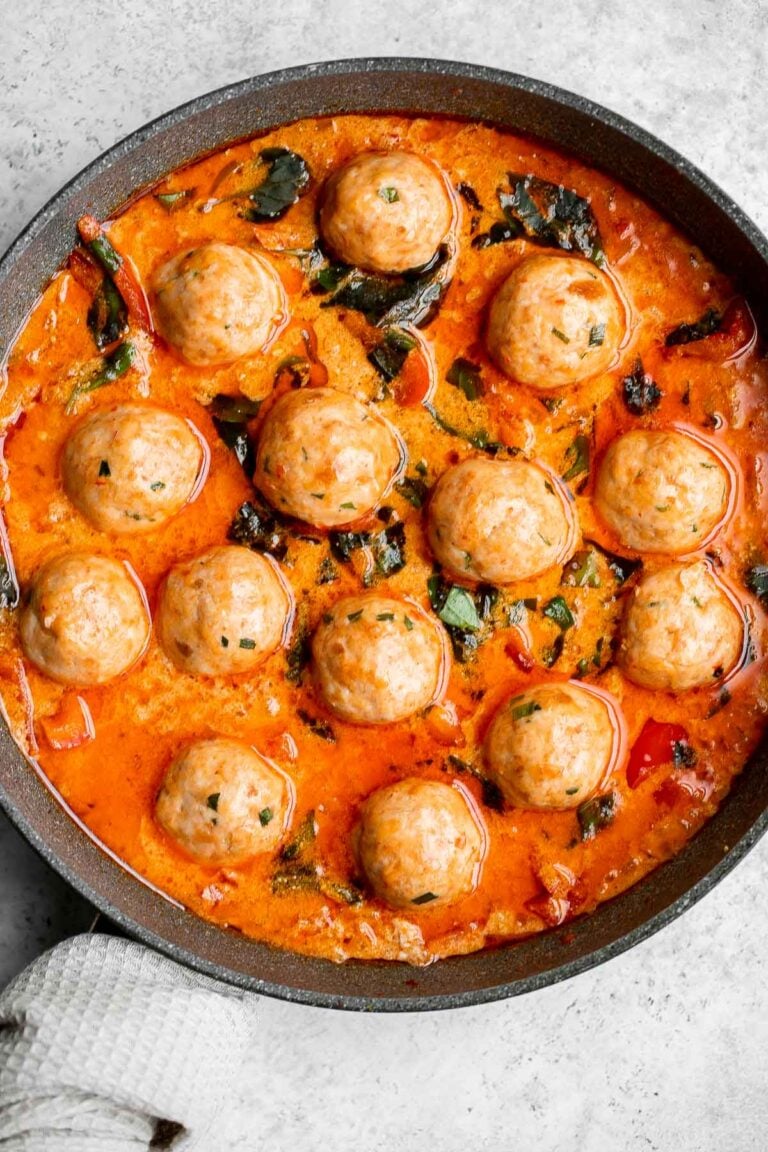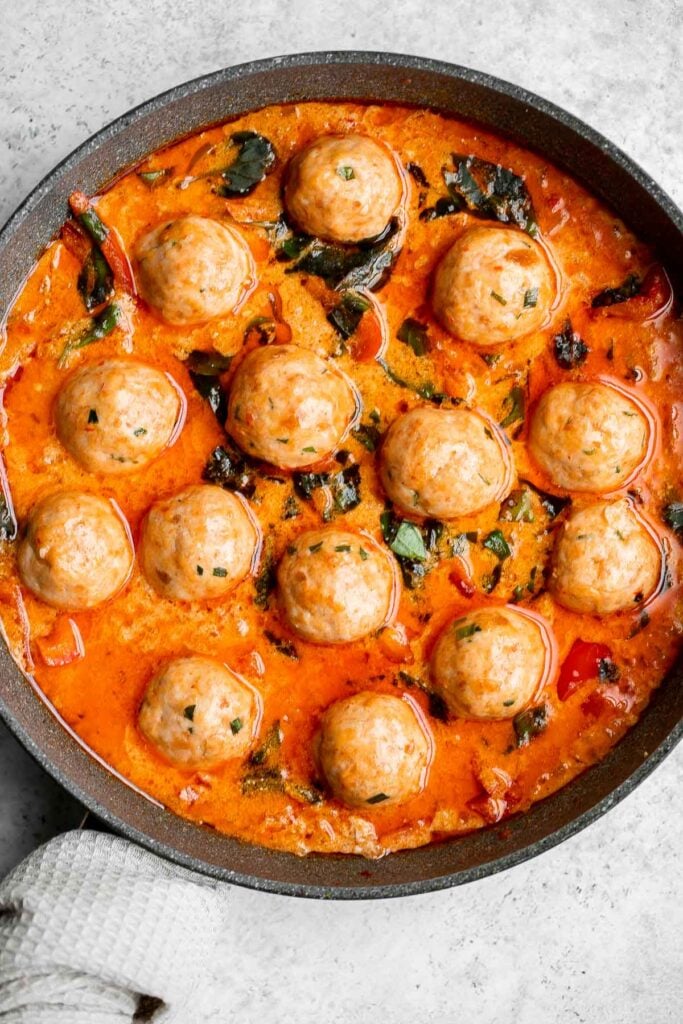 Spring Pesto Pasta with Asparagus
Spring pesto pasta with asparagus and chives is light and made with simple ingredients in under 20 minutes. Serve it hot for dinner or cold as pasta salad.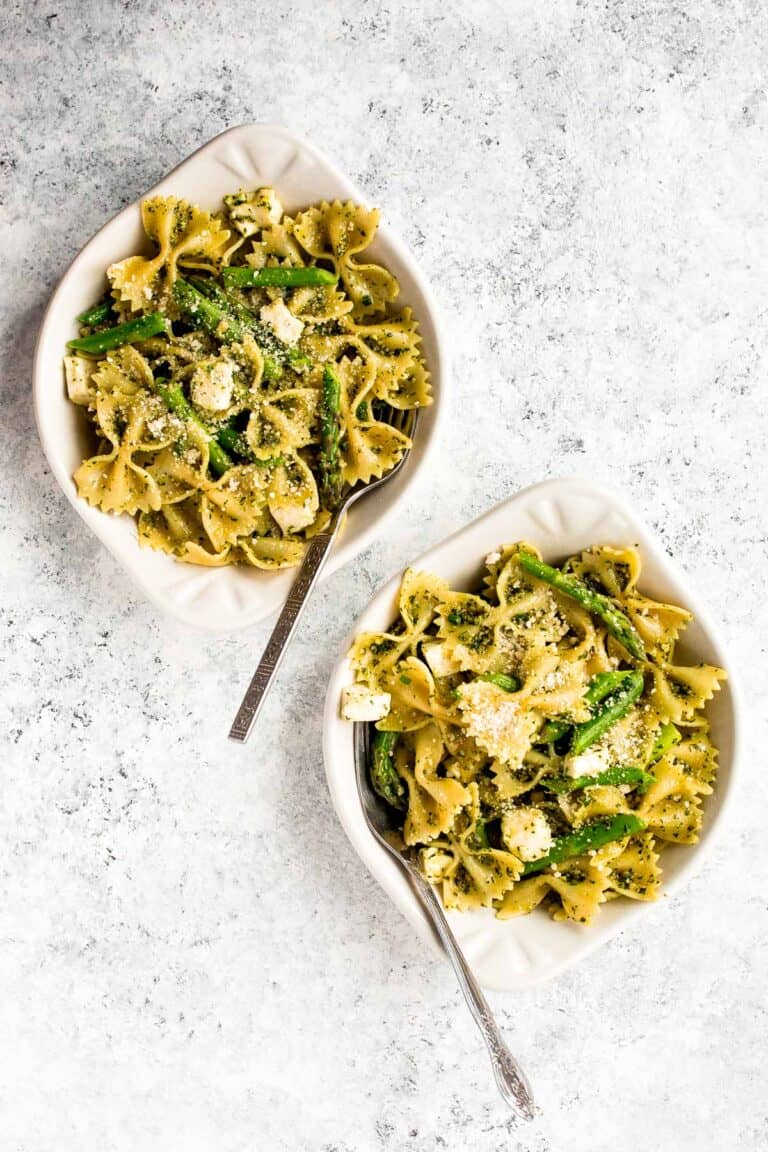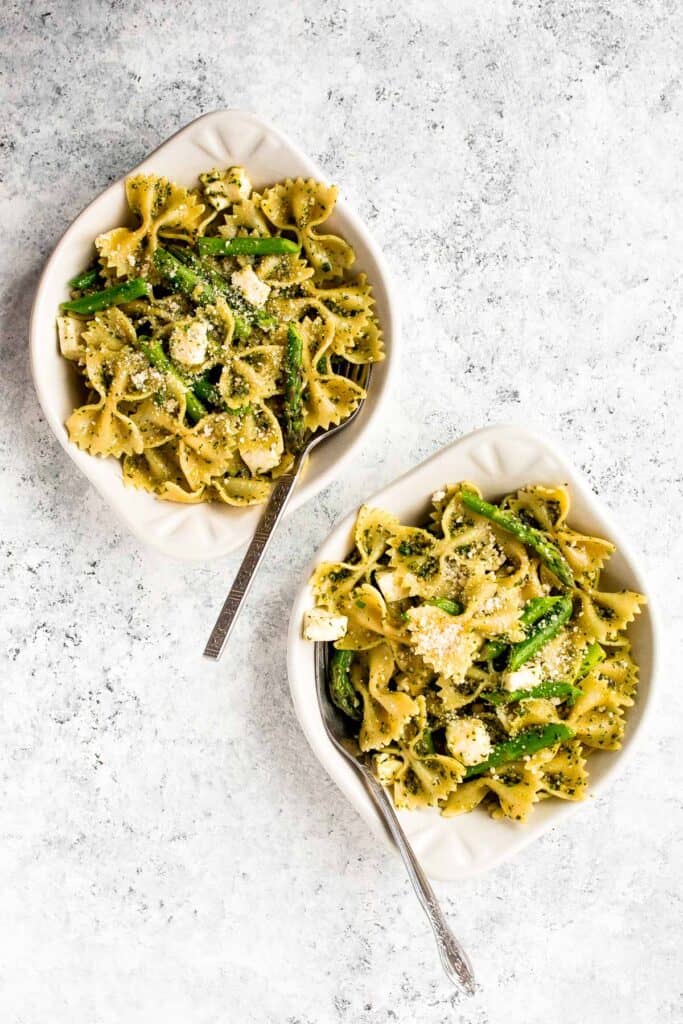 Indian-inspired, vegan, creamy coconut curry lentil soup is an easy and simple 30-minute pantry meal that is packed with spices for maximum flavour. Serve it as a soup or as a curry over some coconut rice.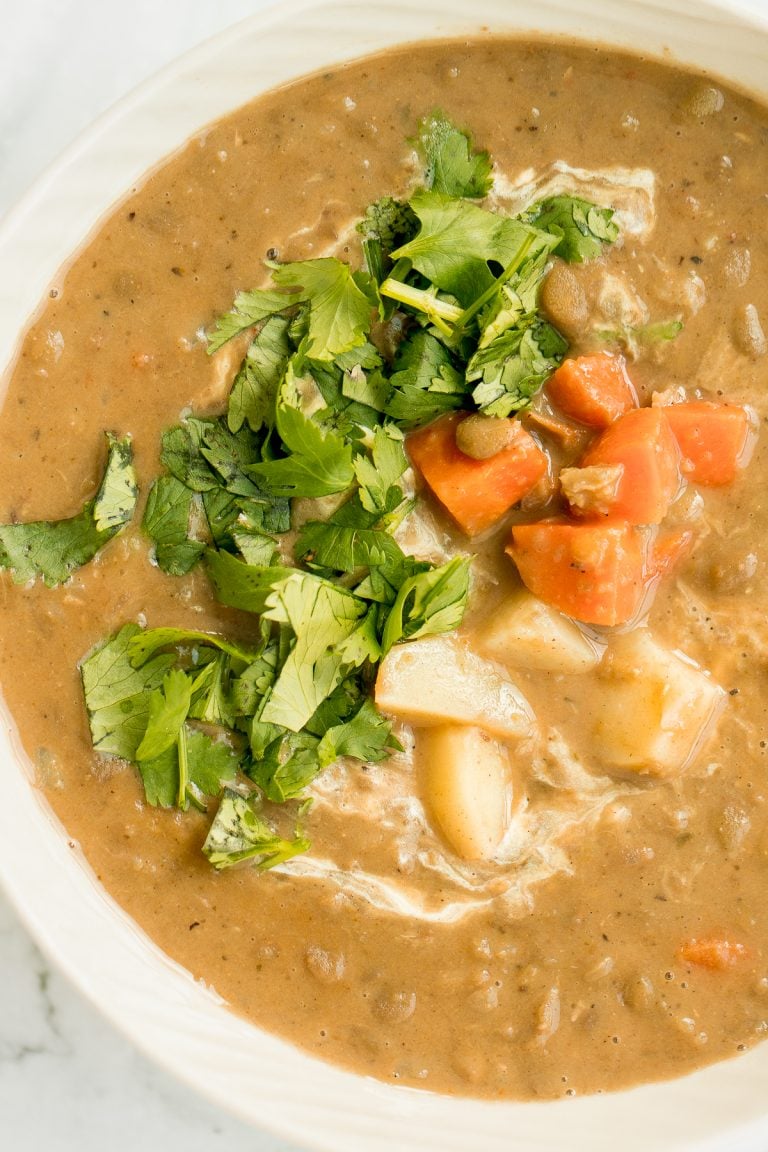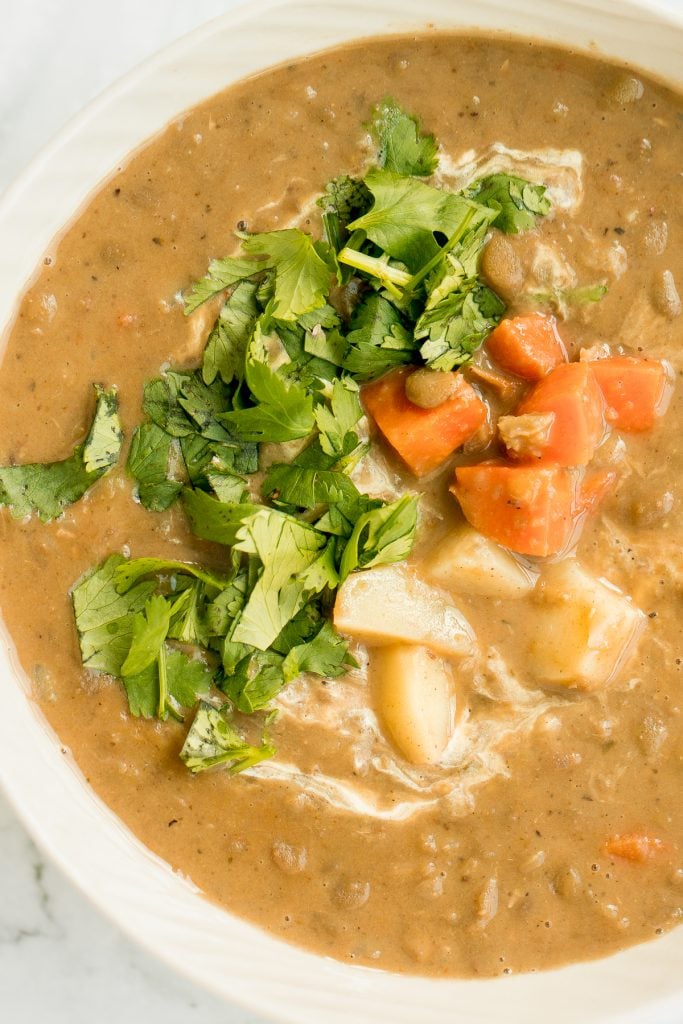 Healthy Chinese Stir Fries
Baked General Tso's Chicken is a saucy, savoury, sweet, spicy Chinese-American takeout favourite made healthier with baked chicken, not fried.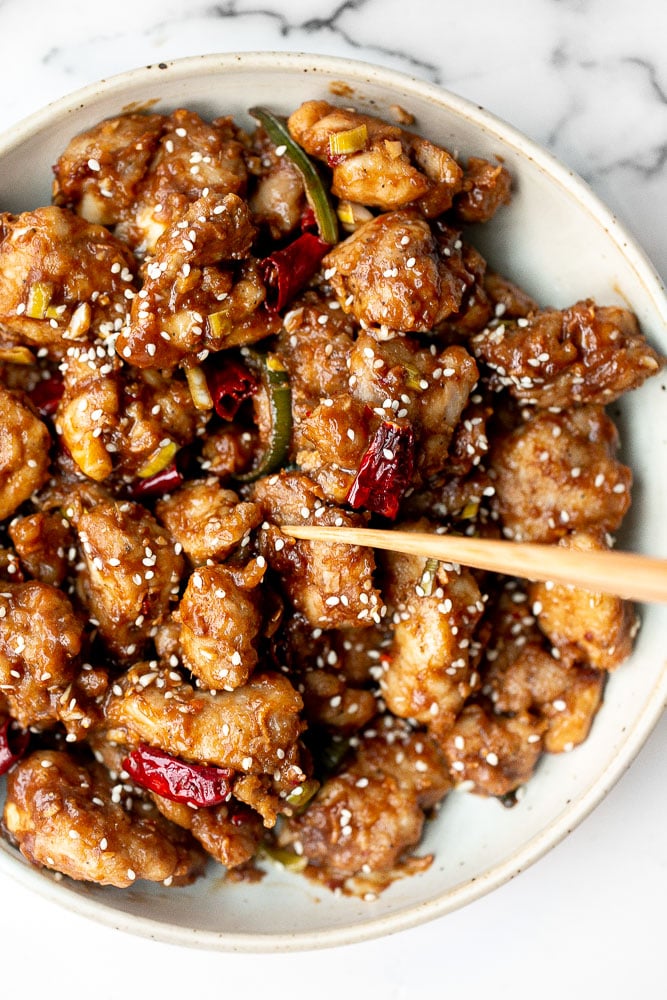 Beef and broccoli stir fry is a classic Chinese-American dish that is delicious, savory, hearty, and saucy. Better than takeout and ready in 25 minutes.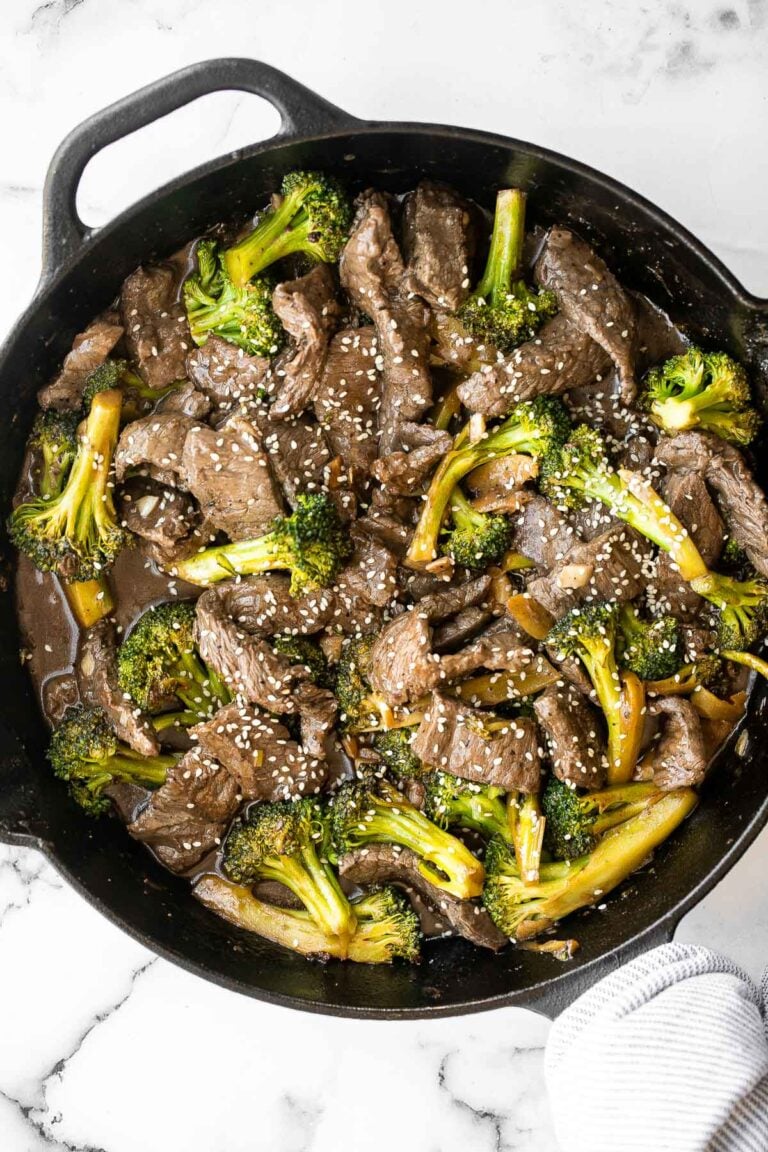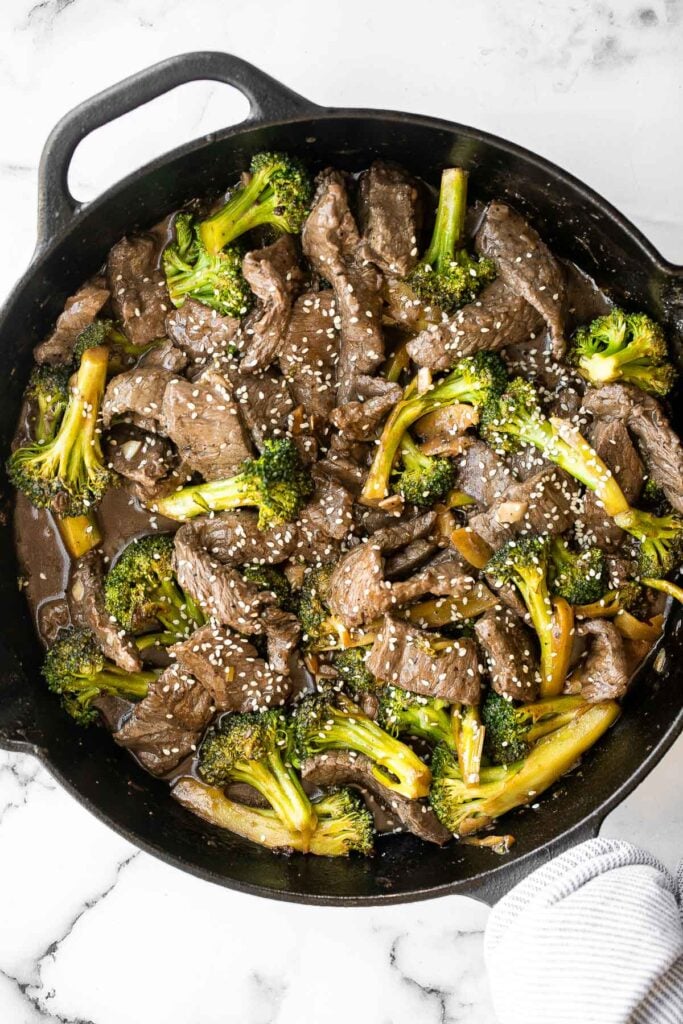 Air Fryer Vegetable "Stir Fry"
Simple air fryer vegetable "stir-fry" with tofu is the ultimate easy dinner ready in less than 10 minutes. It's healthy, vegan and gluten-free.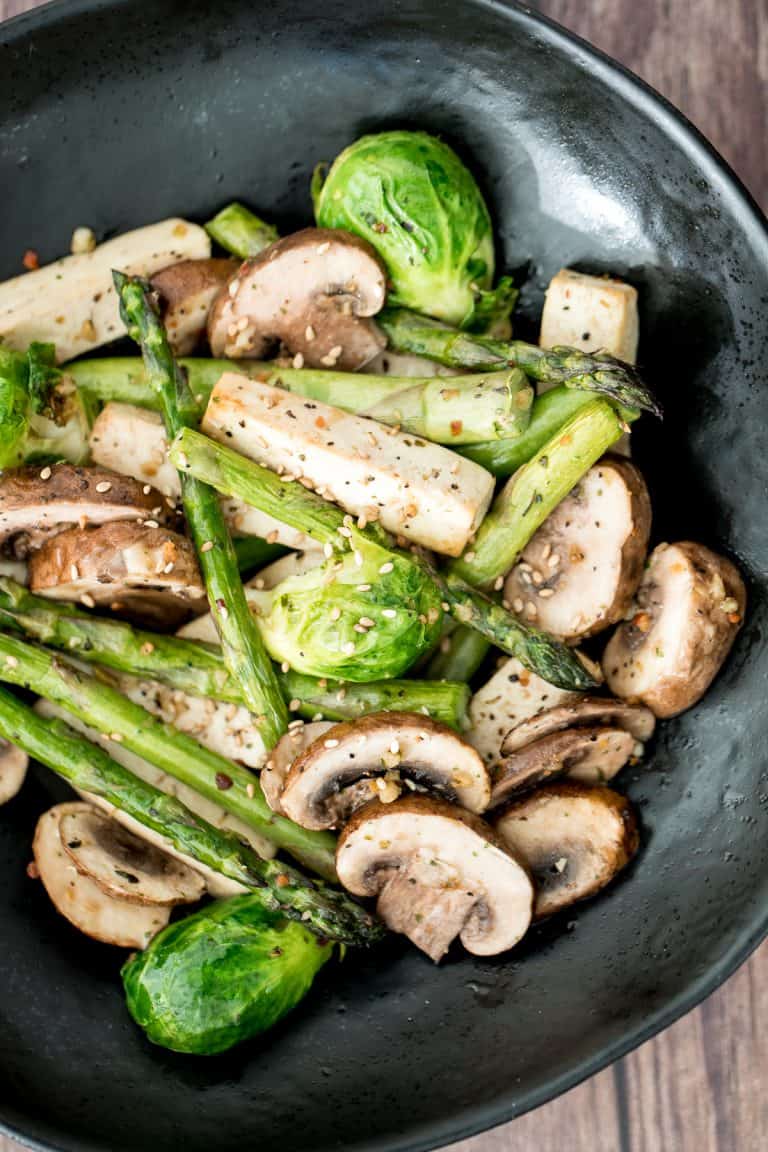 Quick and easy, one-pan, 10-minute seafood fried rice with tiger prawns is so much healthier, tastier and better than takeout. It's the easiest weeknight meal.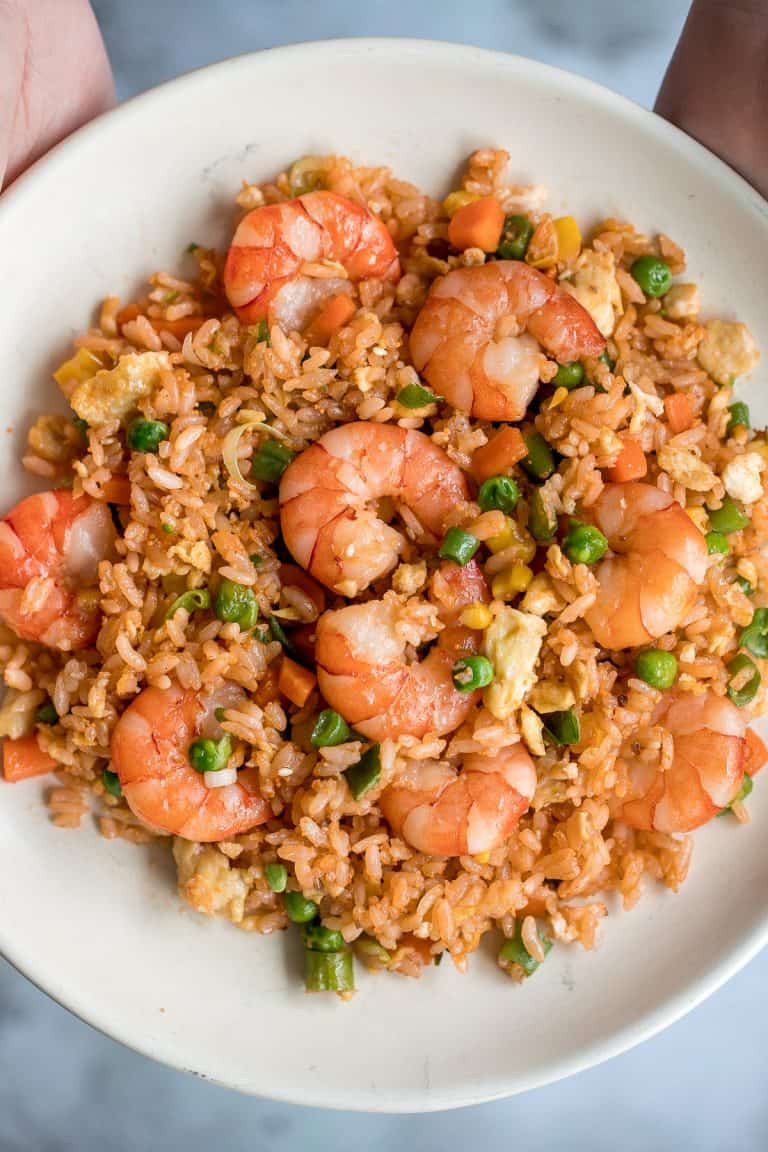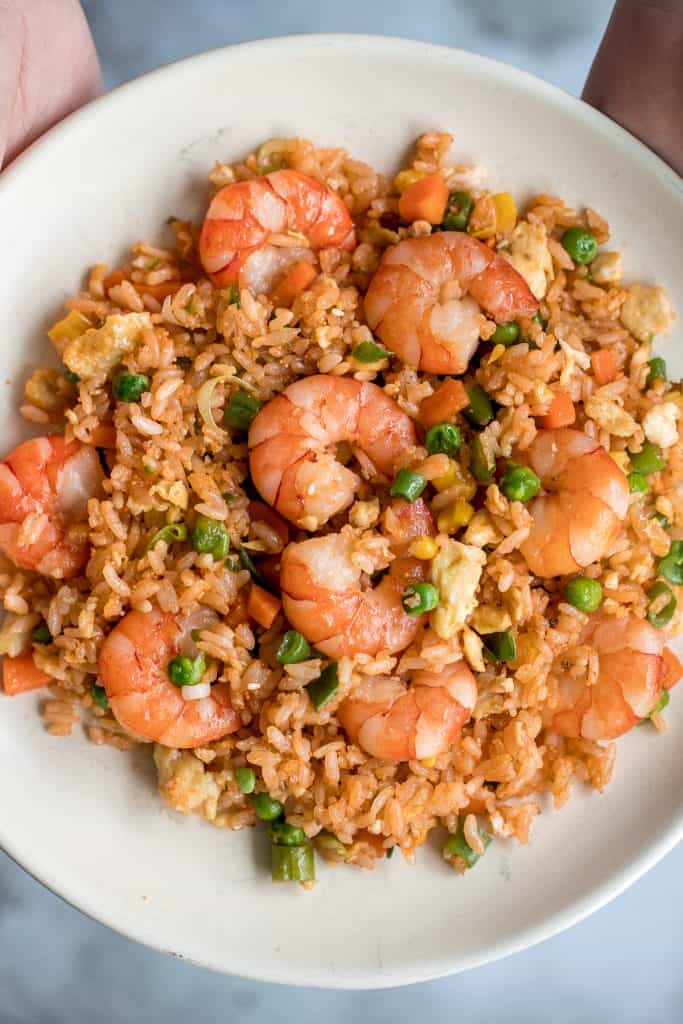 Say goodbye to takeout and make easy 15-minute lo mein at home using fresh and healthy ingredients. Or try Vegetarian Chow Mein for an easy summer dinner recipe.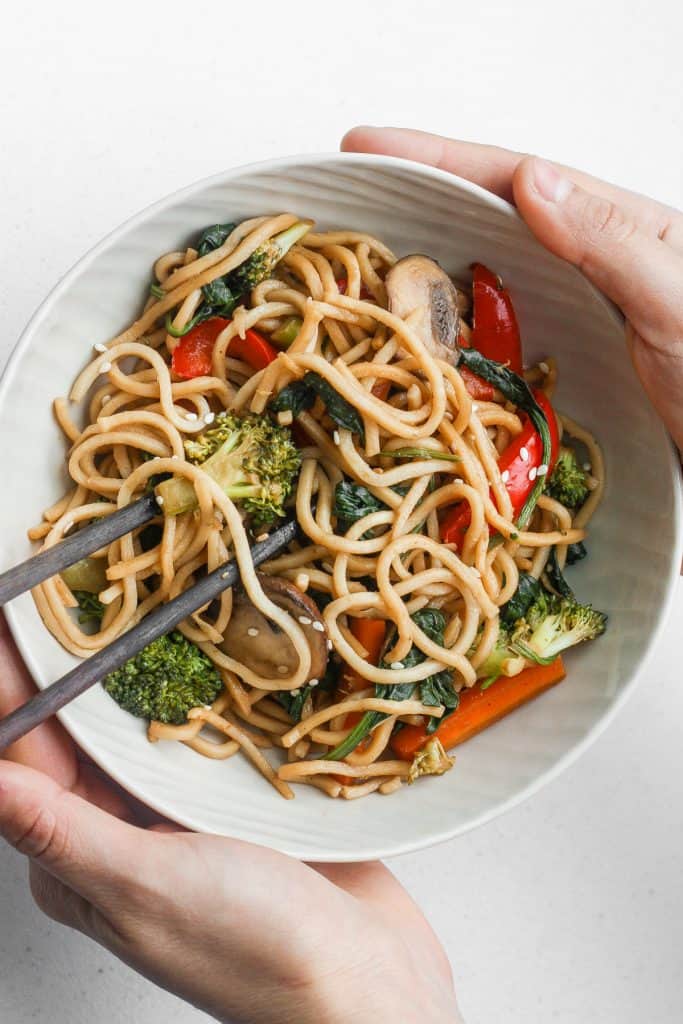 Kung Pao chicken is a Chinese chicken dish that is stir-fried with crisp vegetables and tossed in a delicious Asian sauce packed with flavour.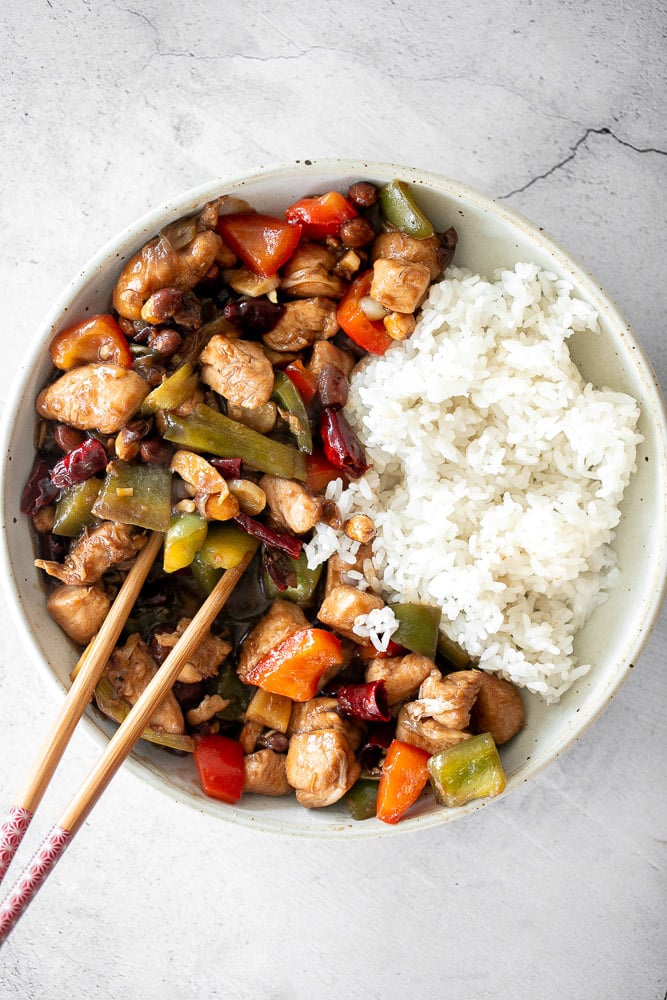 Flavourful curry chicken fried rice with chicken, mushrooms, peas, rice, and curry flavours is so easy to make in less than 10 minutes on busy weeknights. Serve with a fresh Chinese garlic cucumber salad on the side.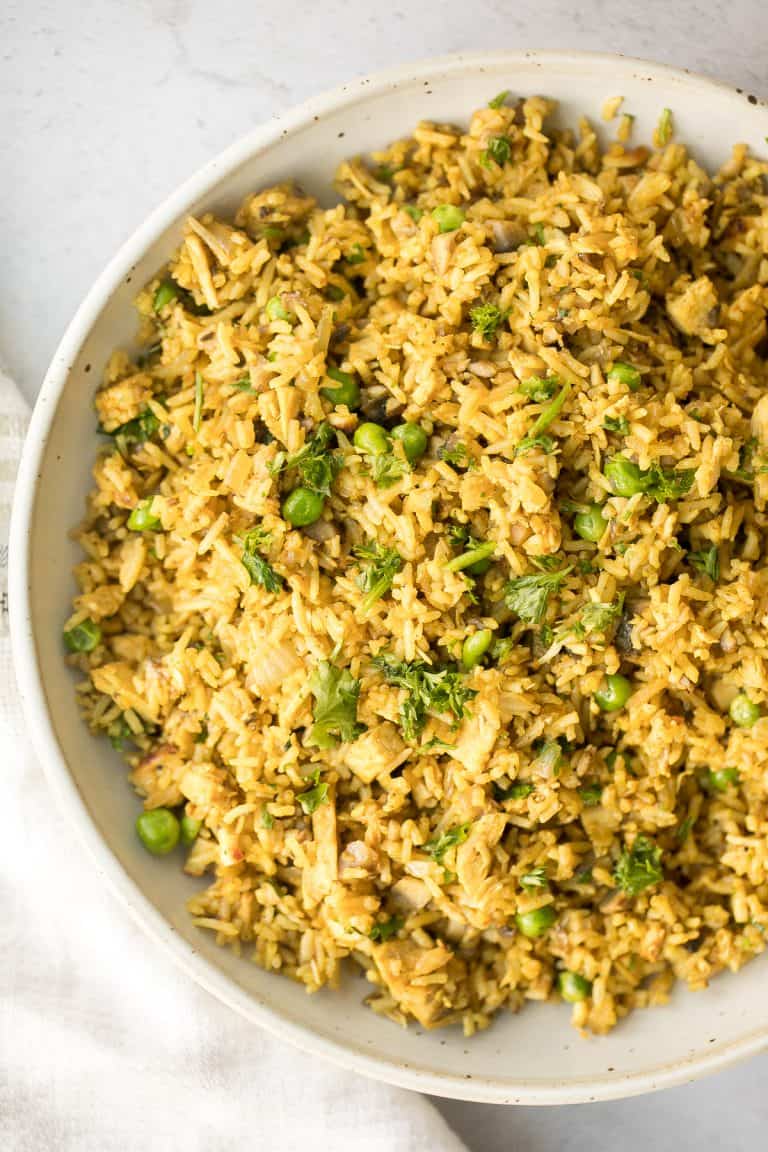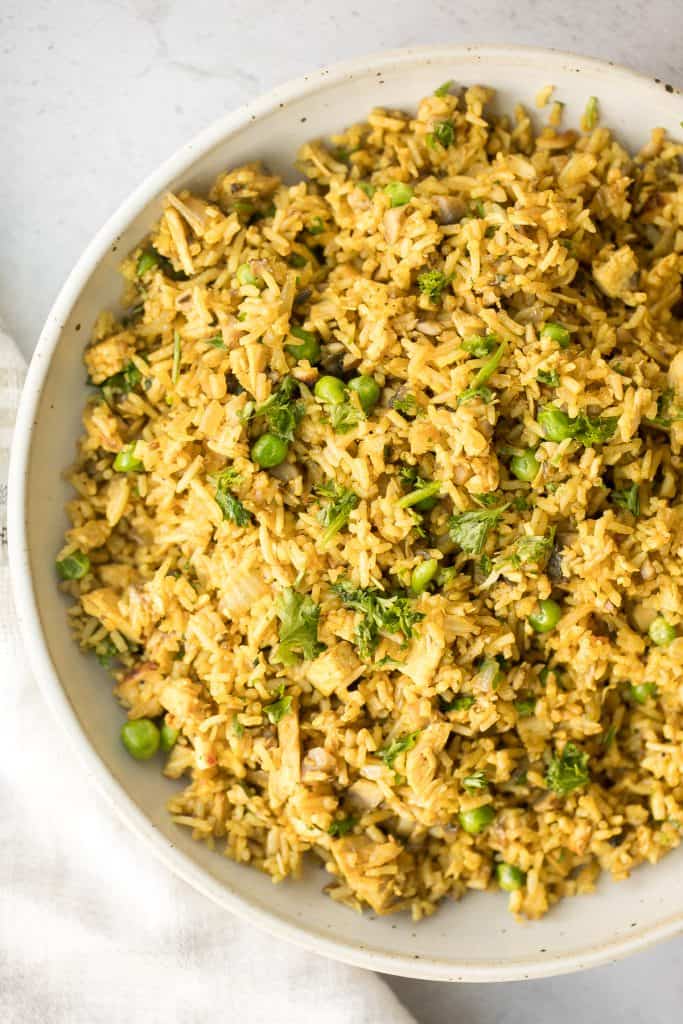 Better than takeout, baked sesame chicken with vegetables is delicious, flavourful, sticky and saucy. This healthier Chinese dish is quick and easy to make.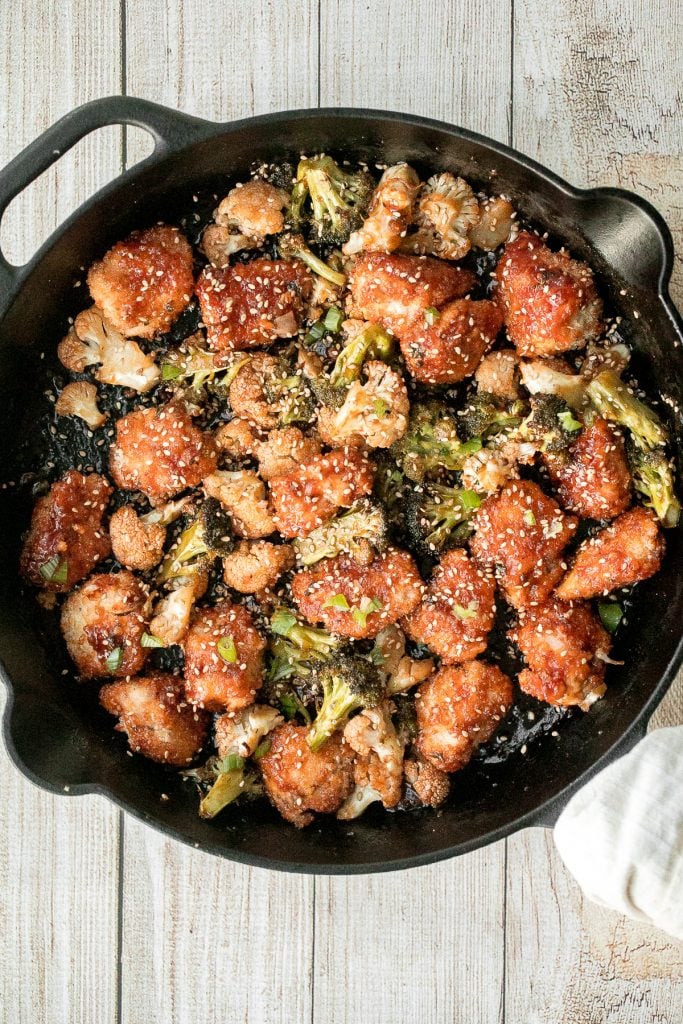 Better than takeout, quick easy stir-fried vegetarian chow mein is packed with vegetables and coated in a delicious savoury sauce. Make it in 15 minutes.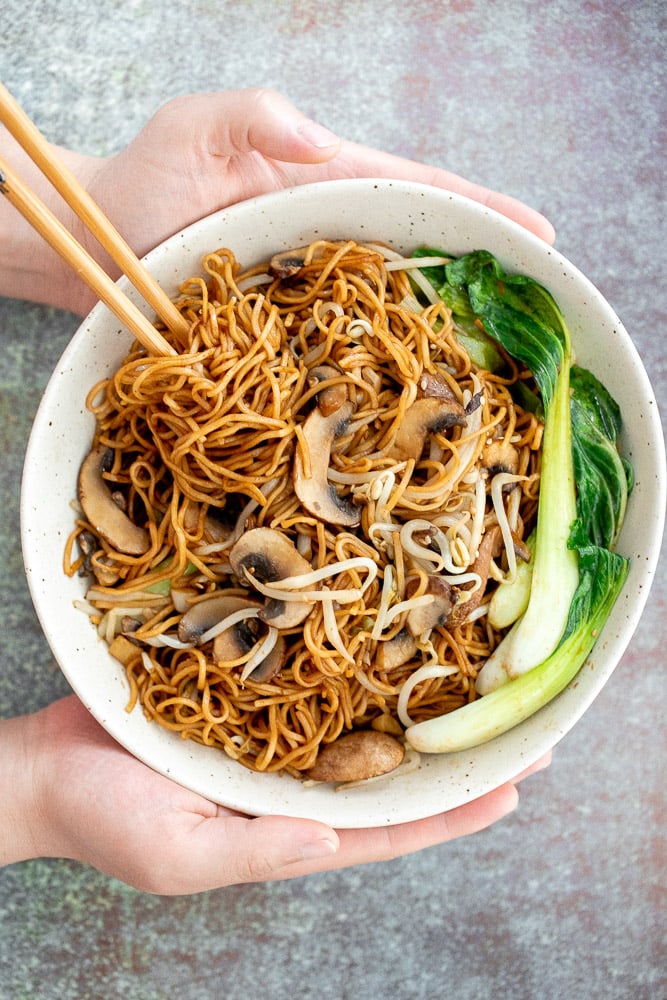 Filling Salads for a Healthy Dinner
Chicken Garden Salad with Ranch Dressing
Chicken garden salad with ranch dressing is fresh, healthy, hearty, and colorful. It's a filling and wholesome lunch or dinner that is versatile too. You can't get a healthy lunch idea than a fresh salad.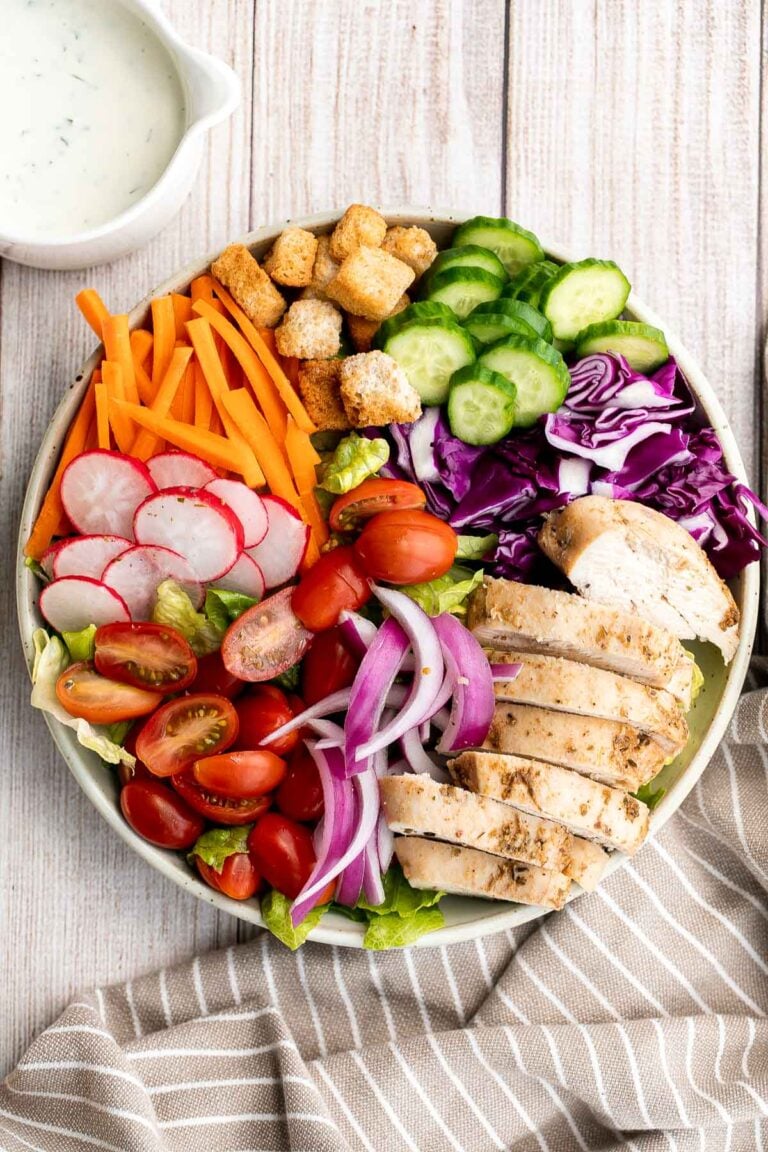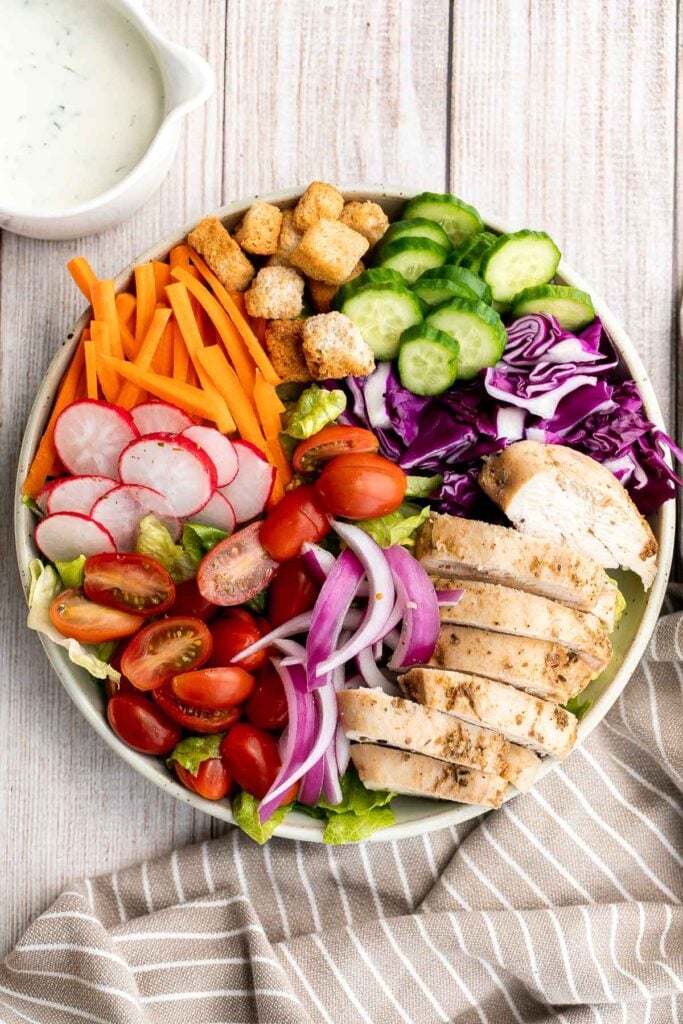 Grilled shrimp salad is a quick and easy, healthy summer meal that is loaded with fresh, flavorful ingredients, all tossed in an easy homemade dressing.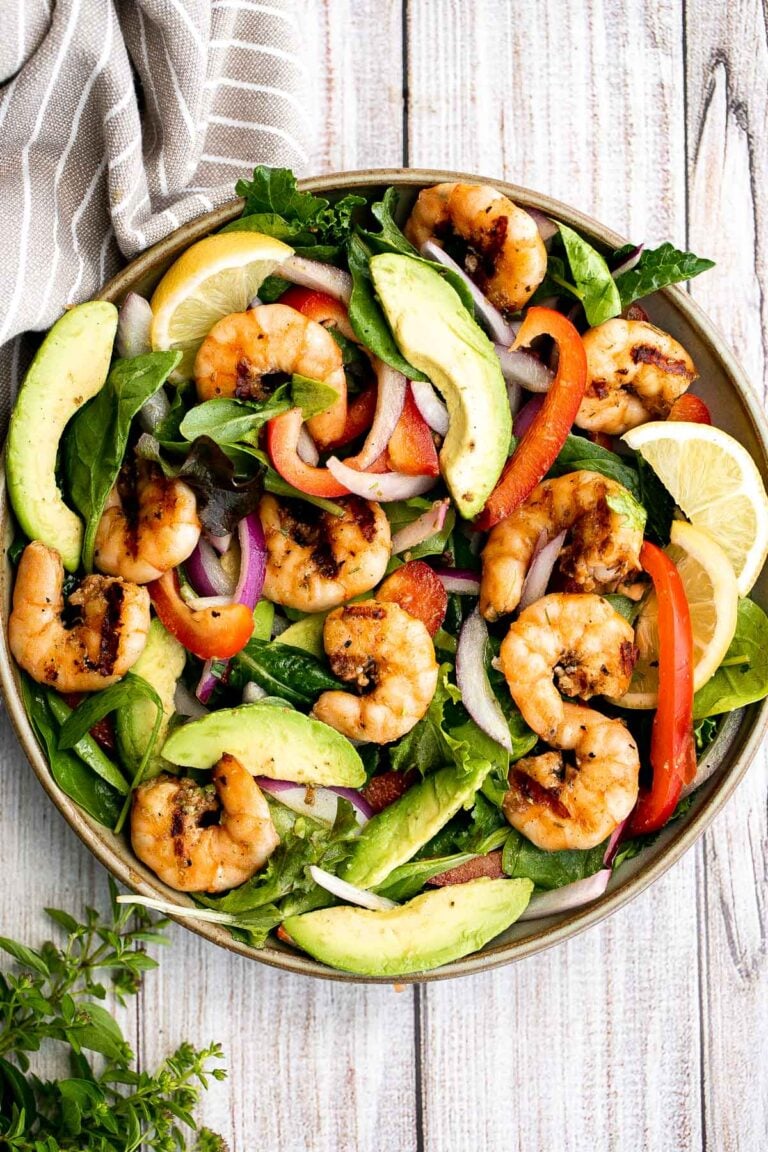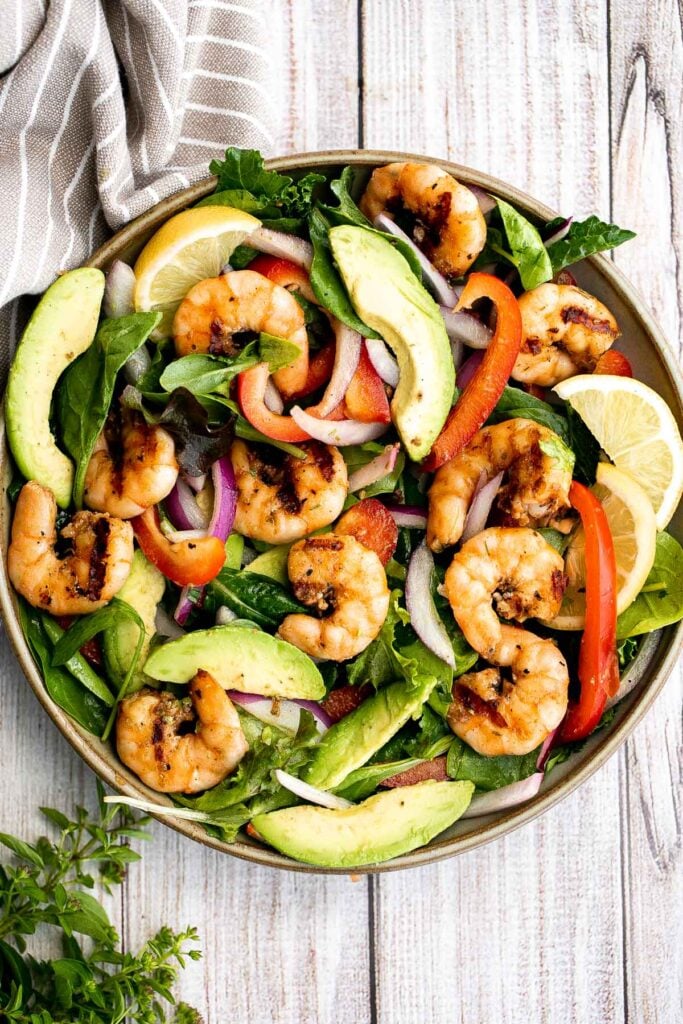 Asian chopped salad is a delicious and colorful salad, loaded with refreshing crisp vegetables, plant-based protein, and a homemade creamy sesame dressing.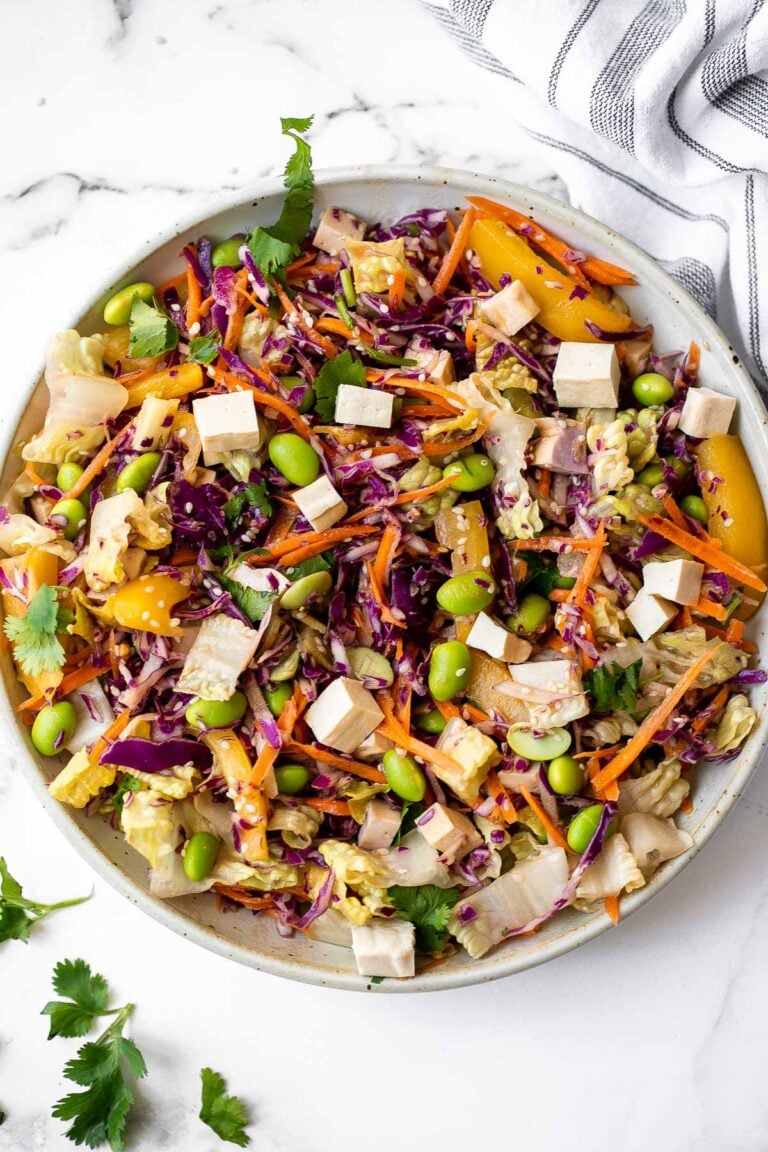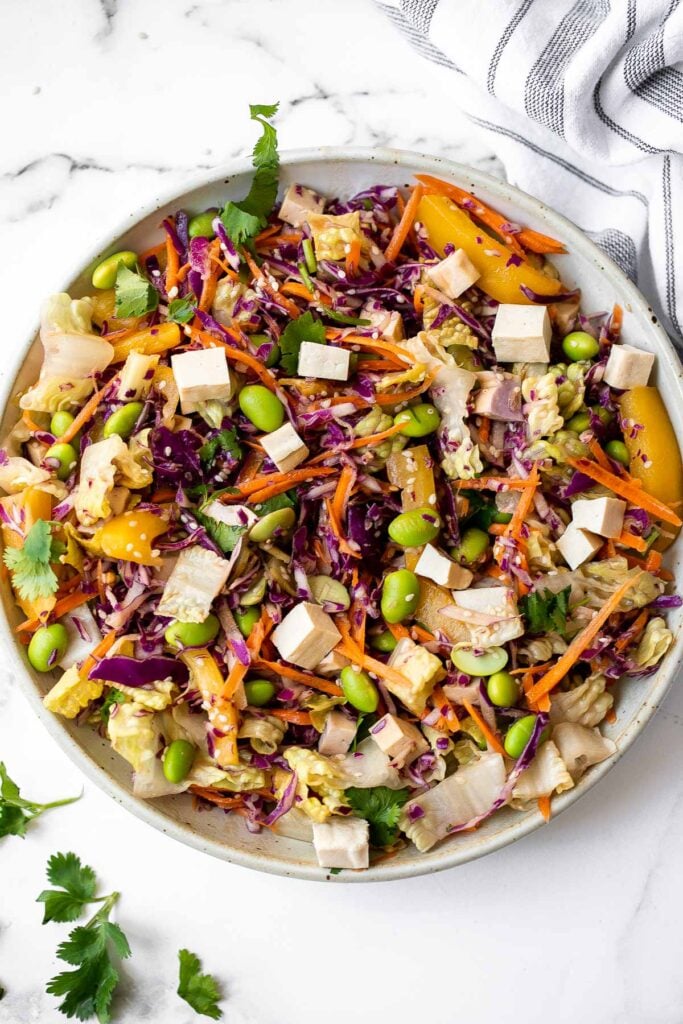 Chickpea Greek salad is a fresh, healthy, vibrant, and colorful salad, packed with traditional Mediterranean ingredients, superfoods, and nutrients.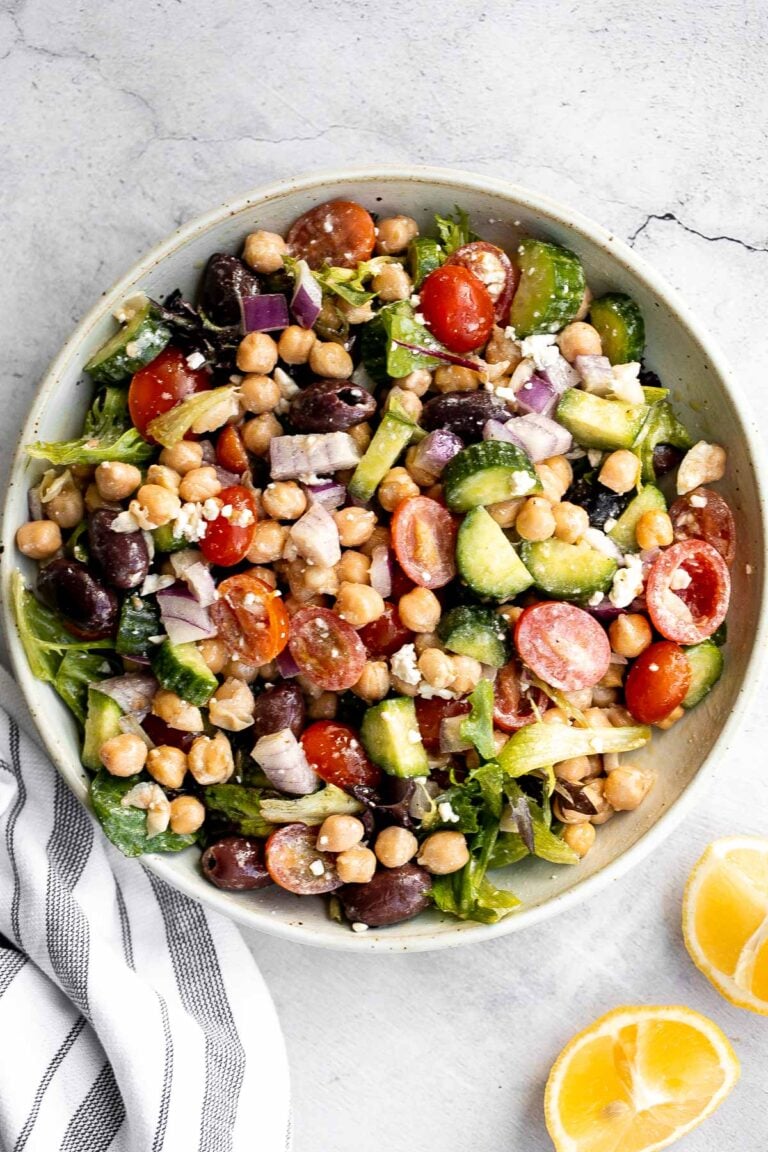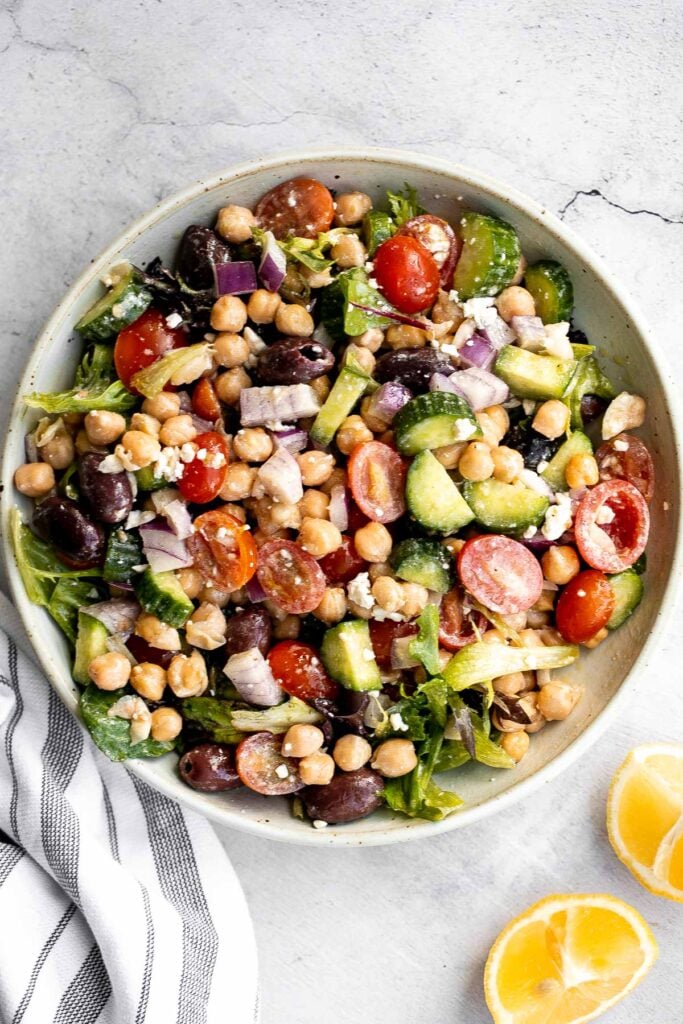 Take a bite into this refreshing, gluten-free quinoa and spinach salad bursting with colourful tomatoes, cucumbers and raisins.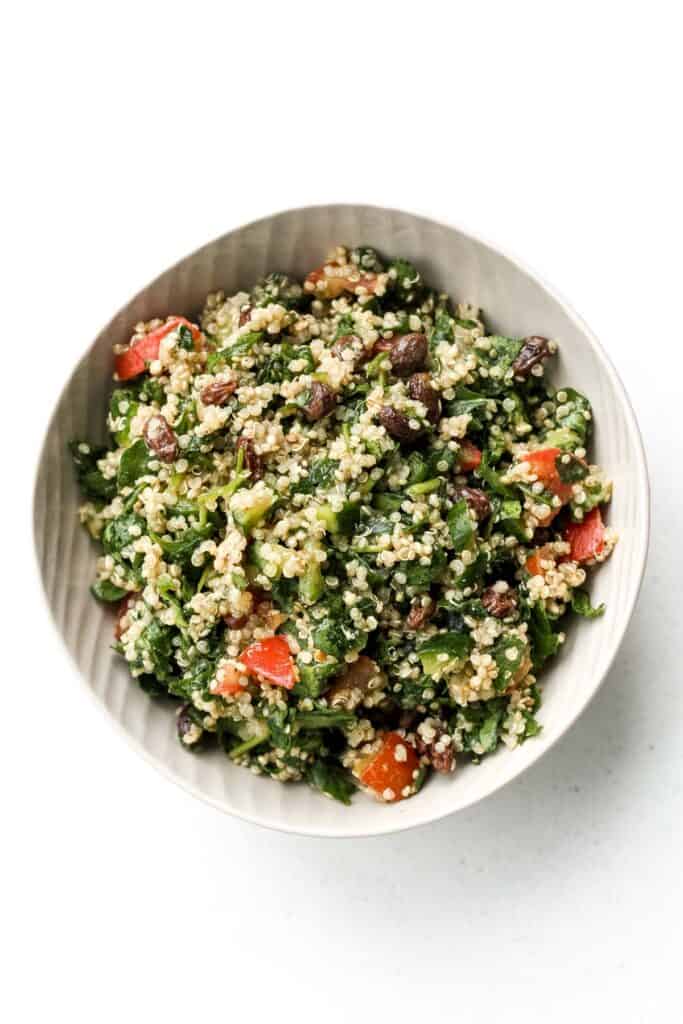 Shrimp taco salad with cilantro lime dressing is flavourful, delicious, and easy to make. It has all the fixings and of shrimp tacos, but without the mess.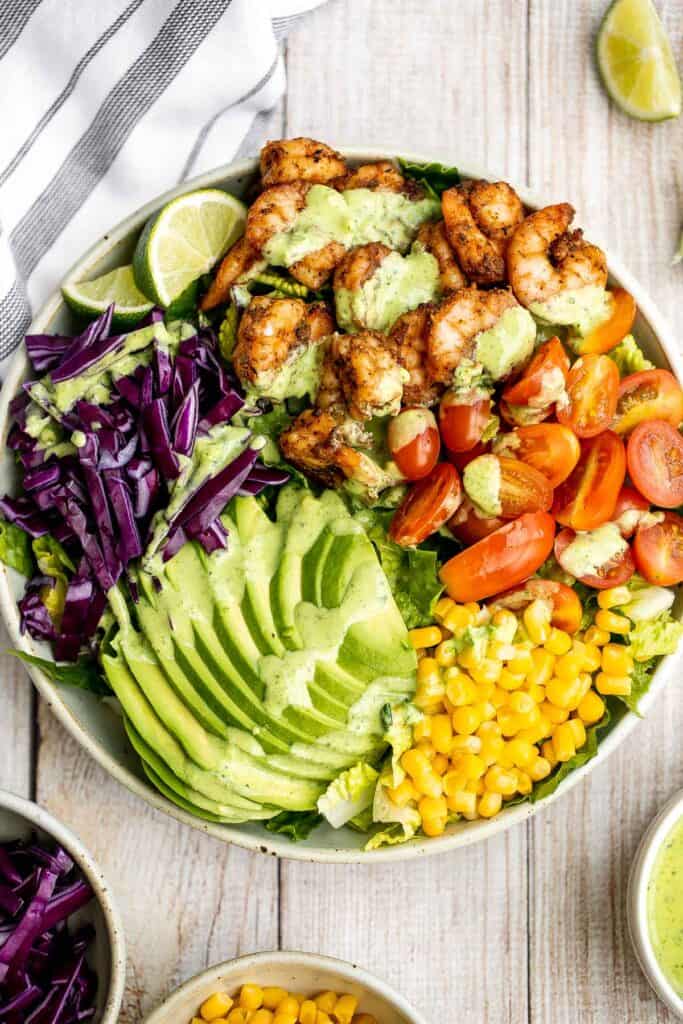 Greek chicken salad is fresh, healthy, and delicious, packed with classic Mediterranean flavors. Perfect as a light lunch or dinner, or for meal prep.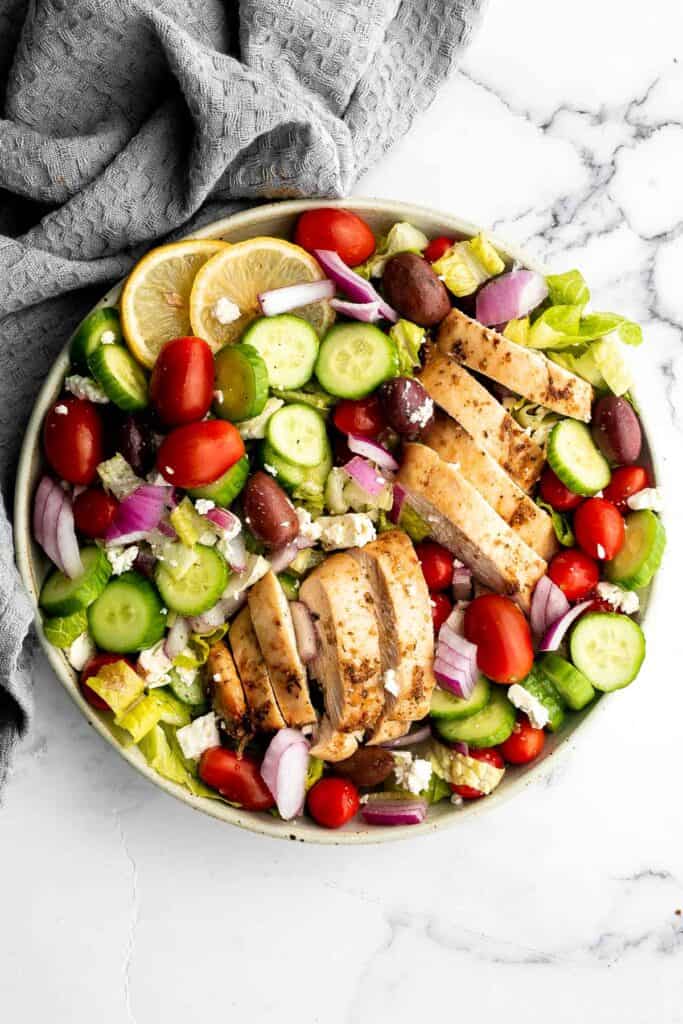 Easy Healthy Dinner Tips
Make ahead and freezer-friendly. You can make some of these easy healthy dinners ahead of time and store in the refrigerator for a few days or in the freezer for up to 3 months.
Prep in advance. You can also make things easier by prepping ingredients in advance and storing in the fridge until ready to use. Check the individual recipes for full make ahead and storing instructions.
How to reheat. Most of the leftovers can be reheated either in a preheated oven or air fryer at 300F for 10-15 minutes until warmed through, on the stovetop over medium to low heat for about 5-10 minutes until warmed through, or in the microwave in 20-second increments until warmed through. If heating from frozen, let it thaw first and then reheat. Refer to each recipe for full reheating instructions
More Popular Dinner Ideas
Did You Make Any of These Healthy Dinner Recipes?
Please leave a comment and rating below, and let me know what you thought of this round up of the best healthy dinner ideas we have to offer. Be sure to snap a picture and tag me on Instagram @aheadofthyme or share it on the Pinterest pin so that I can follow along.
HUNGRY FOR MORE? Don't forget to sign up for my email newsletter so that you don't miss any recipes. You can also follow along on Instagram and Pinterest for more recipe updates.
Print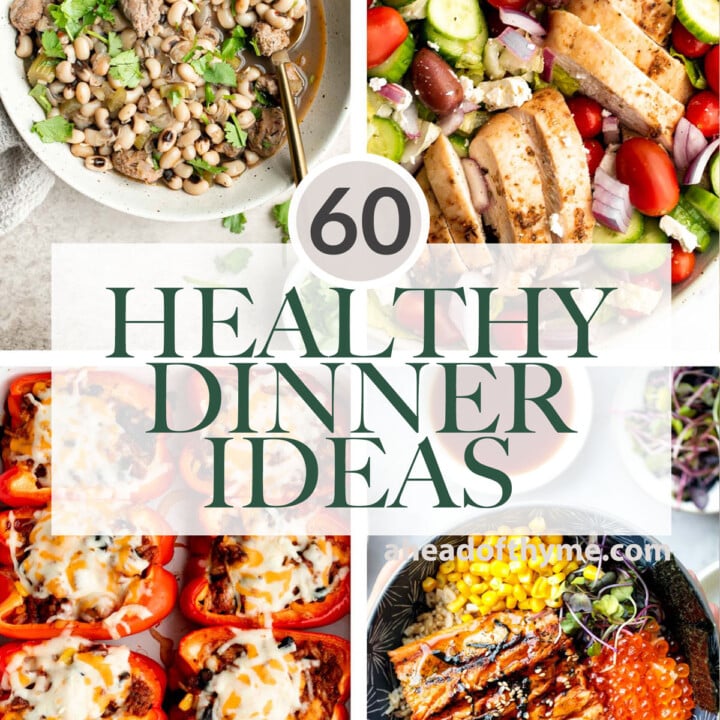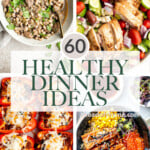 60+ Healthy Dinner Ideas
---
Author:

Total Time:

15 minutes

Yield:

4 servings

Diet:

Vegetarian
Description
Over 60 healthy dinner ideas including low carb dinners, healthy chicken dinners, seafood, one pot or sheet pan recipes, Chinese stir fries, and salads. One of our favorites is this pesto penne pasta. 
---
8 oz

. penne pasta (

3 cups

)

½ cup

basil pesto, homemade or store-bought

¼ teaspoon

salt (or to taste)

¼ teaspoon

ground black pepper (or to taste)

1 cup

cherry tomatoes, halved

¼ cup

Parmesan cheese, freshly grated 
---
Instructions
Bring a large pot of water to a boil over medium-high heat. Add penne pasta and a little bit salt, and cook till al dente (fully cooked but still firm) about 8-10 minutes, or according to package directions. Do not overcook the pasta. Turn off the heat and reserve at least ¼ cup of pasta water, then drain the pasta in a colander and let it cool for 1 minute.
Transfer pasta into a large mixing bowl and add pesto and reserved pasta water (¼ cup or more, if desired). Season with salt and pepper and toss well to coat. Stir in cherry tomatoes and parmesan cheese.
Serve immediately. Sprinkle extra parmesan on top, if desired. 
Notes
Make ahead and freezer-friendly. You can make some of these easy healthy dinners ahead of time and store in the refrigerator for a few days or in the freezer for up to 3 months.
Prep in advance. You can also make things easier by prepping ingredients in advance and storing in the fridge until ready to use. Check the individual recipes for full make ahead and storing instructions.
How to reheat. Most of the leftovers can be reheated either in a preheated oven or air fryer at 300F for 10-15 minutes until warmed through, on the stovetop over medium to low heat for about 5-10 minutes until warmed through, or in the microwave in 20-second increments until warmed through. If heating from frozen, let it thaw first and then reheat. Refer to each recipe for full reheating instructions
Prep Time:

5 minutes

Cook Time:

10 minutes

Category:

Dinner

Method:

Stovetop

Cuisine:

Italian
Keywords: 60+ healthy dinner ideas, healthy dinner ideas, best healthy dinners, healthy dinner recipes, healthy dinners, healthy recipes for dinner