Looking to incorporate more healthy recipes into your diet? Well the Mediterranean Diet is just that — healthy with a focus on fruits, vegetables, legumes, and whole grains, and leans towards predominantly plant-based meals. Whether you are just looking for fresh Mediterranean recipes to try or are looking to switch to a Mediterranean Diet, then you are in the right place. We are sharing over 60 of our best Mediterranean Diet recipes including breakfast, salad and sides, vegetarian recipes, seafood recipes, and lighter meat recipes.
What is the Mediterranean Diet?
The Mediterranean diet is a healthy way to eating based on the traditional ingredients, flavors, cooking methods, and eating habits of the peoples of the countries along the Mediterranean Sea, including Greece, Italy, and many others. The Mediterranean Diet is a one that is predominantly plant-based and based around vegetables, whole grains, and beans.
Some key features of the Mediterranean Diet are:
Eat more plant-based. Including whole grains, vegetables and greens, legumes (like lentils and beans), fruits, seeds, nuts, herbs, and spices.
Eat healthy fats. The main source of added fat in the Mediterranean Diet is olive oil and fish.
Eat seafood, dairy, and poultry in moderation. You can enjoy fish, seafood, dairy, and poultry (chicken and turkey) in moderation.
Eat red meat occasionally.
Eat sweets occasionally. Try fresh fruit instead. For a strict Mediterranean diet, you may want to completely remove sweets from your diet.
Mediterranean Breakfast Recipes
Shakshuka is a quick and easy, one-pan Middle Eastern classic with a savory saucy tomato-vegetable base and perfectly poached eggs on top. One of my favorite Mediterranean Diet recipes for breakfast.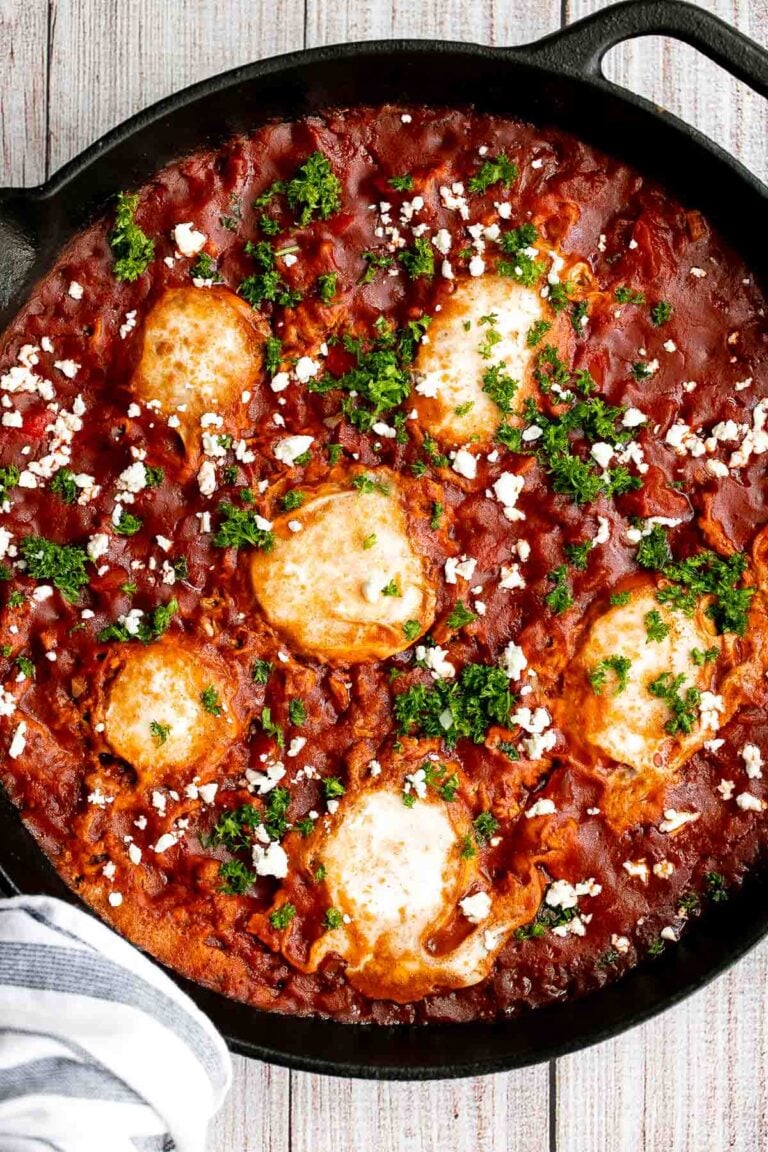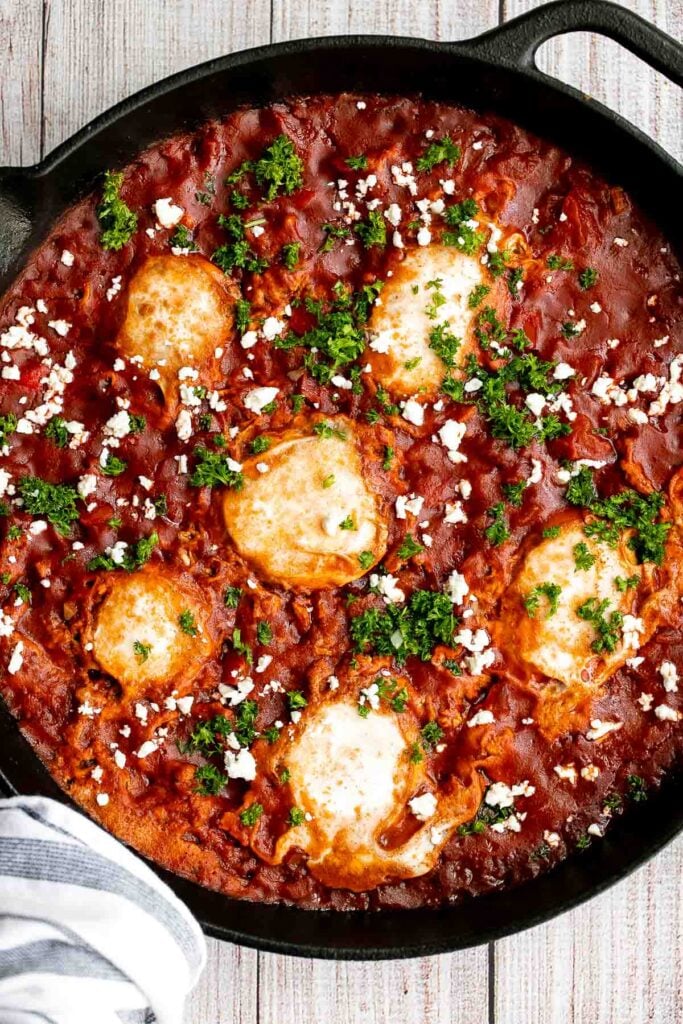 Majoon Banana and Date Smoothie
Majoon banana and date smoothie is a delicious and healthy all-natural energy drink with bananas, dates and nuts. The perfect breakfast or snack.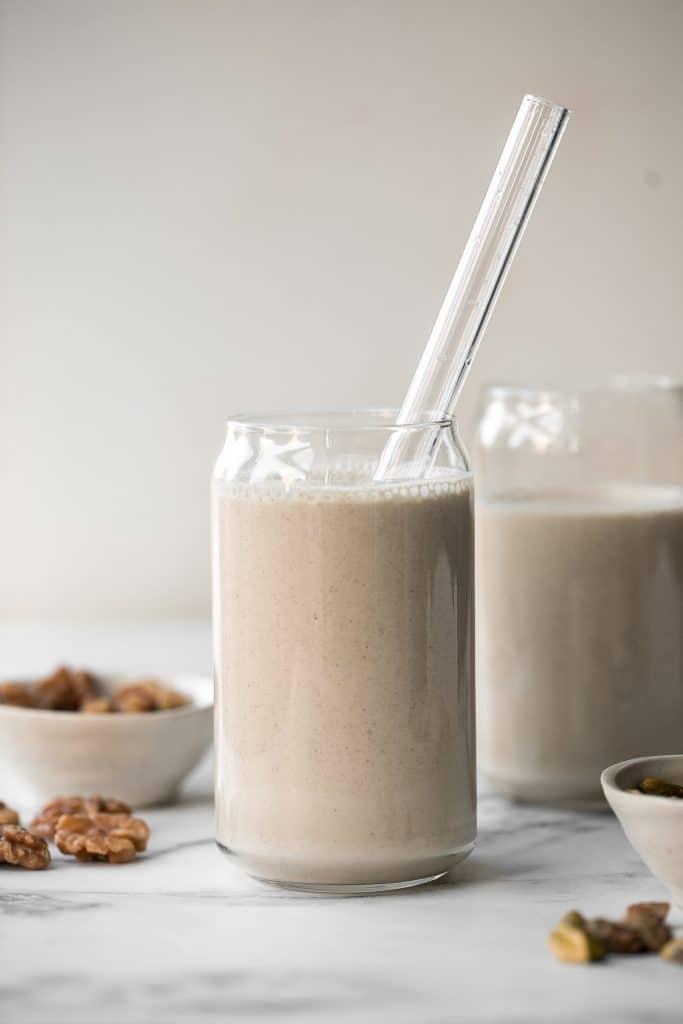 Tex Mex egg muffins are a delicious, filling, and healthy breakfast or snack. They are light and fluffy, perfect for meal prep, and freezer-friendly.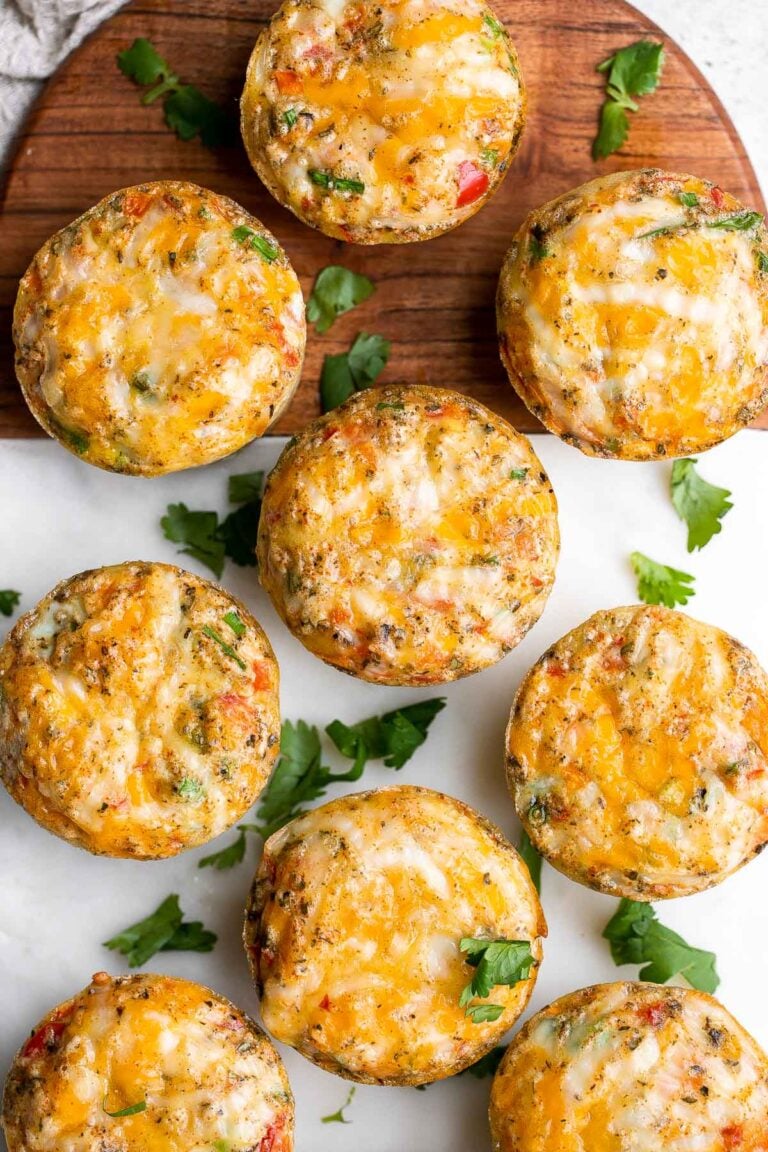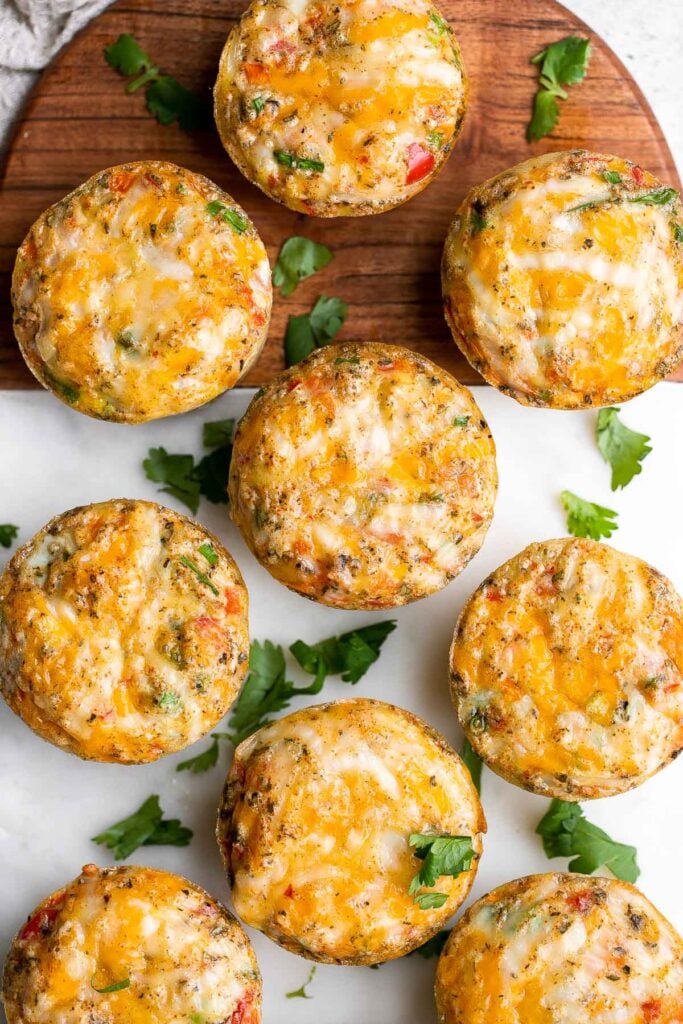 Spring vegetable frittata is a delicious breakfast or served at any time of the day. It's a one-pan meal that starts on the stove and moves to the oven. This is one of my favorite breakfast ideas!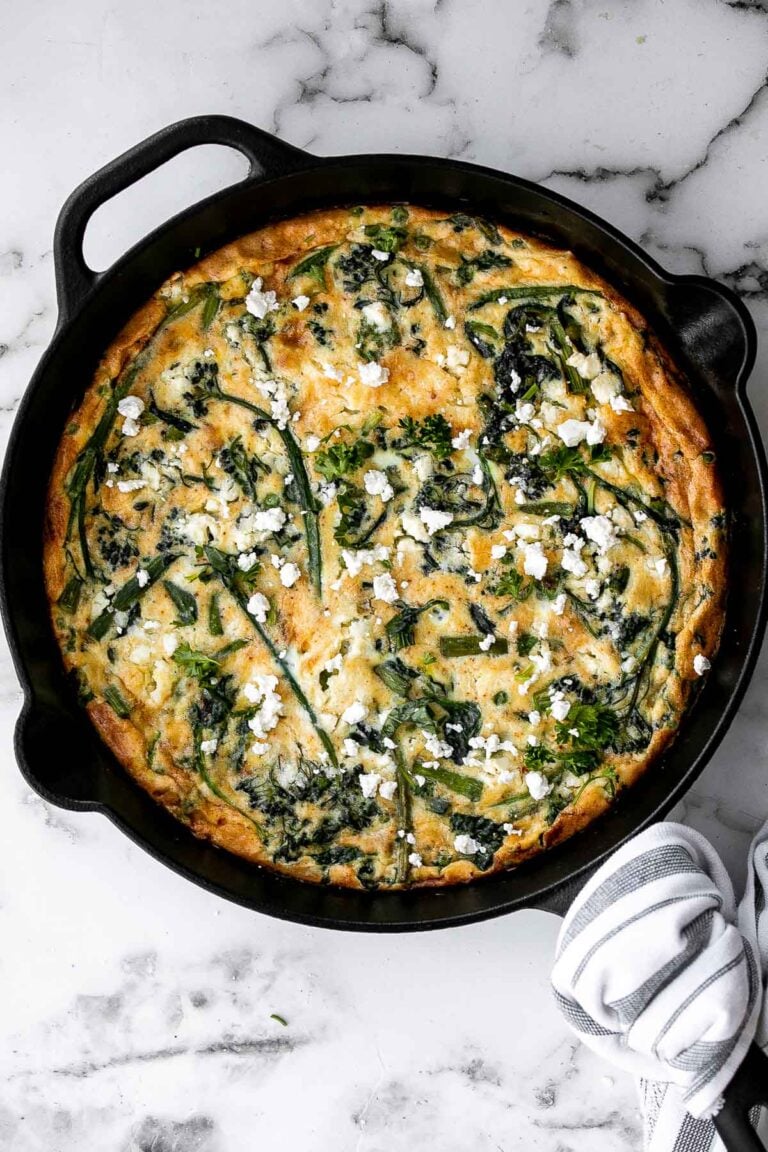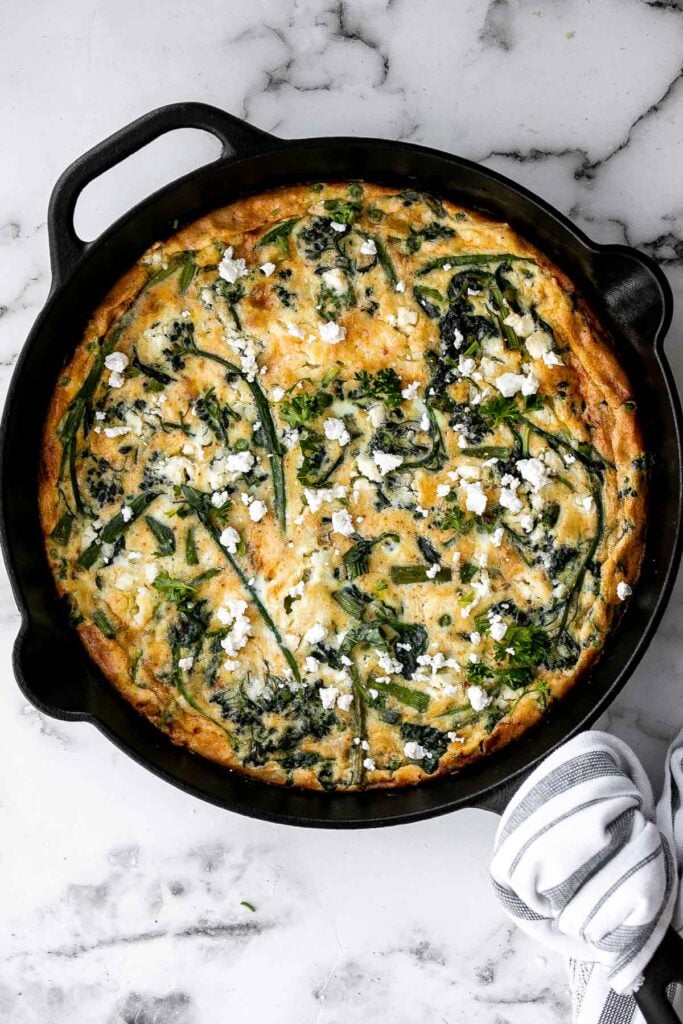 Thick and creamy homemade yogurt is so easy to make at home with just 2 ingredients, a heavy pot, and just a few minutes of actual hands on prep work.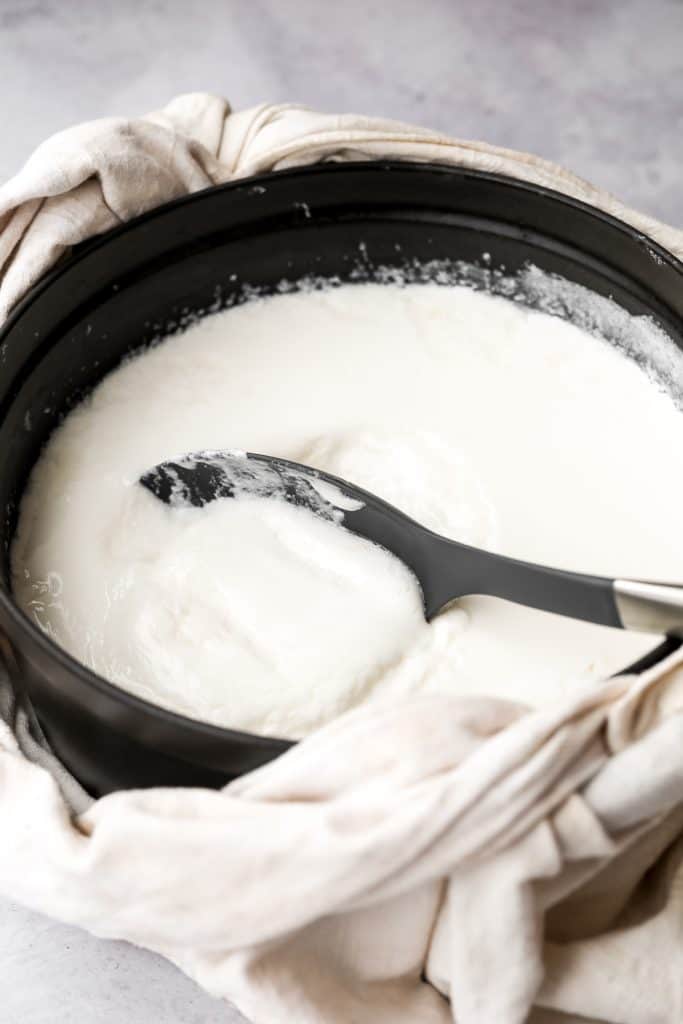 Egg and Potato Breakfast Casserole
Make this easy make-ahead egg and potato breakfast casserole by simply combining all the ingredients into a casserole dish, pop it in the oven and let it do its thing.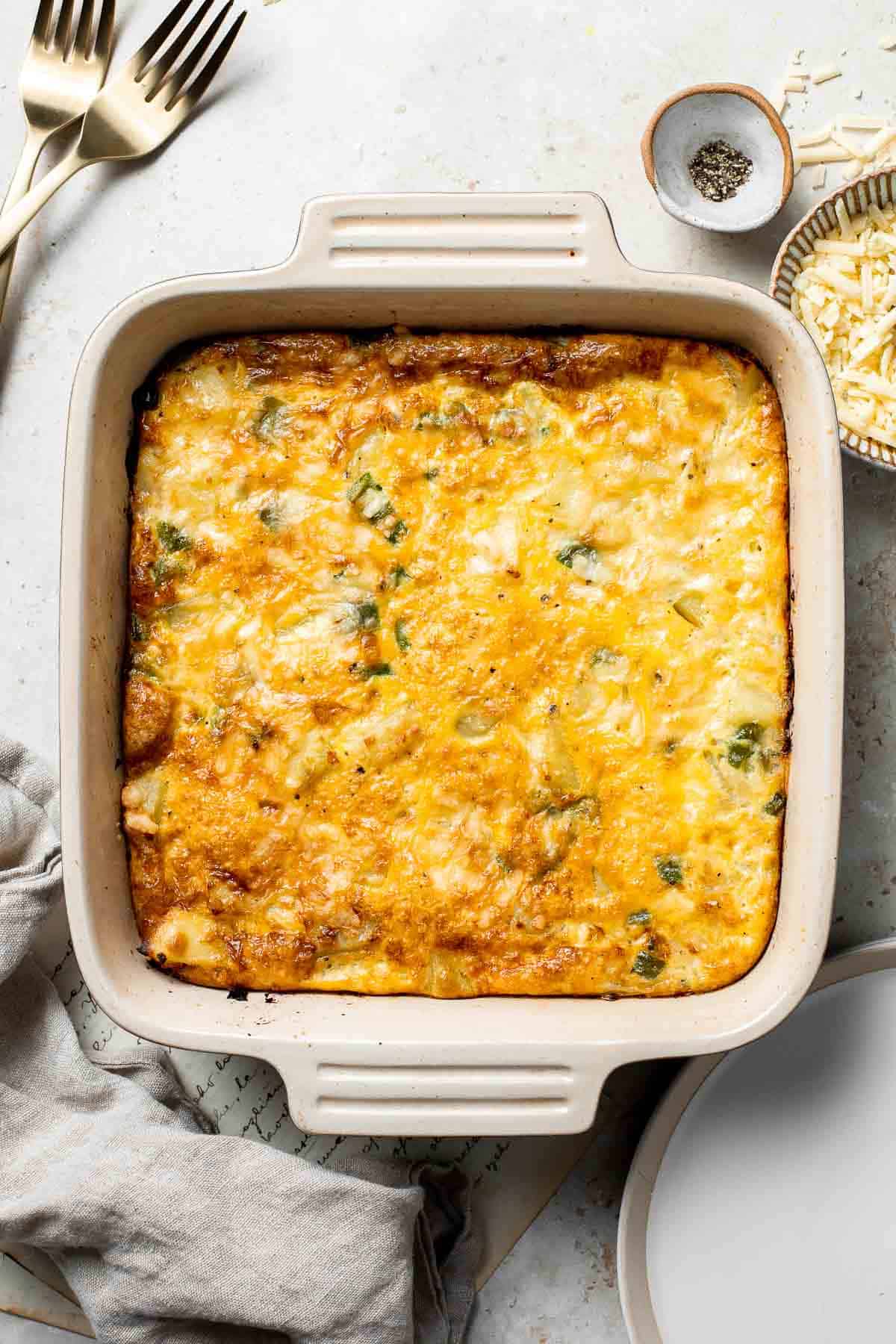 Roasted Asparagus with Poached Eggs
Roasted asparagus with poached eggs is a match made in food heaven. Serve this topped with fresh herbs and lots of black pepper for a classy, elevated brunch dish that will leave you feeling light, but completely satisfied.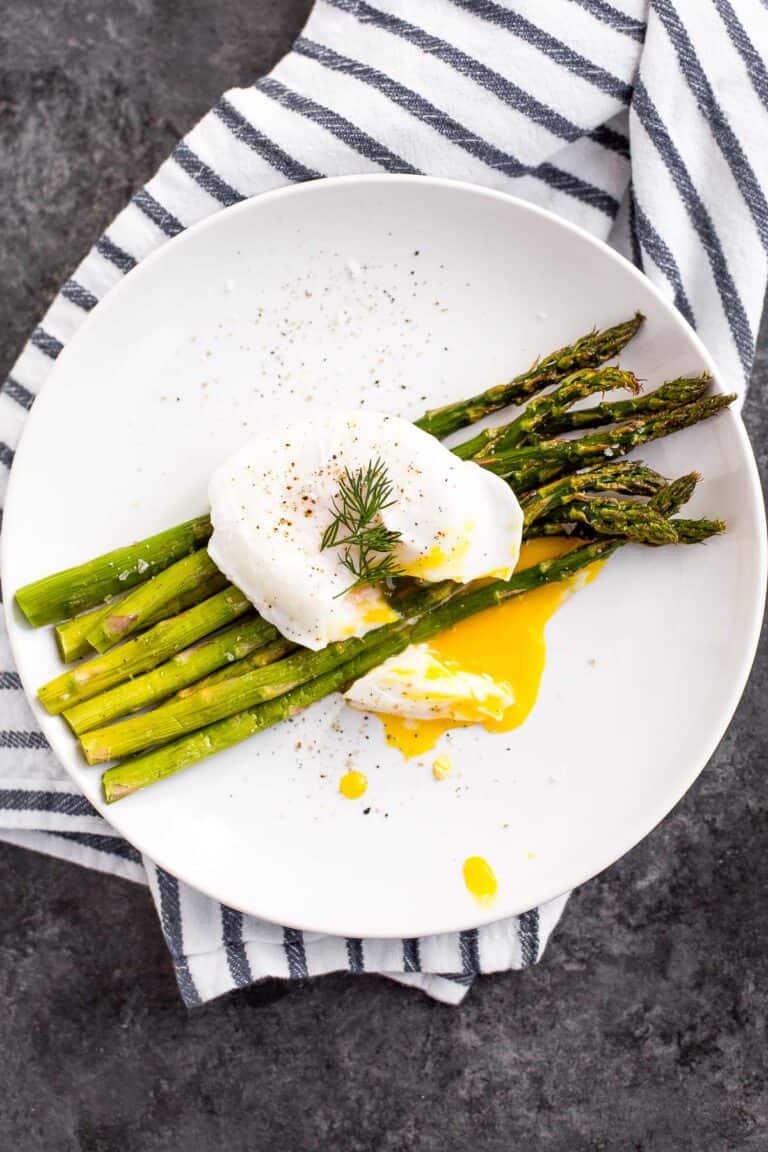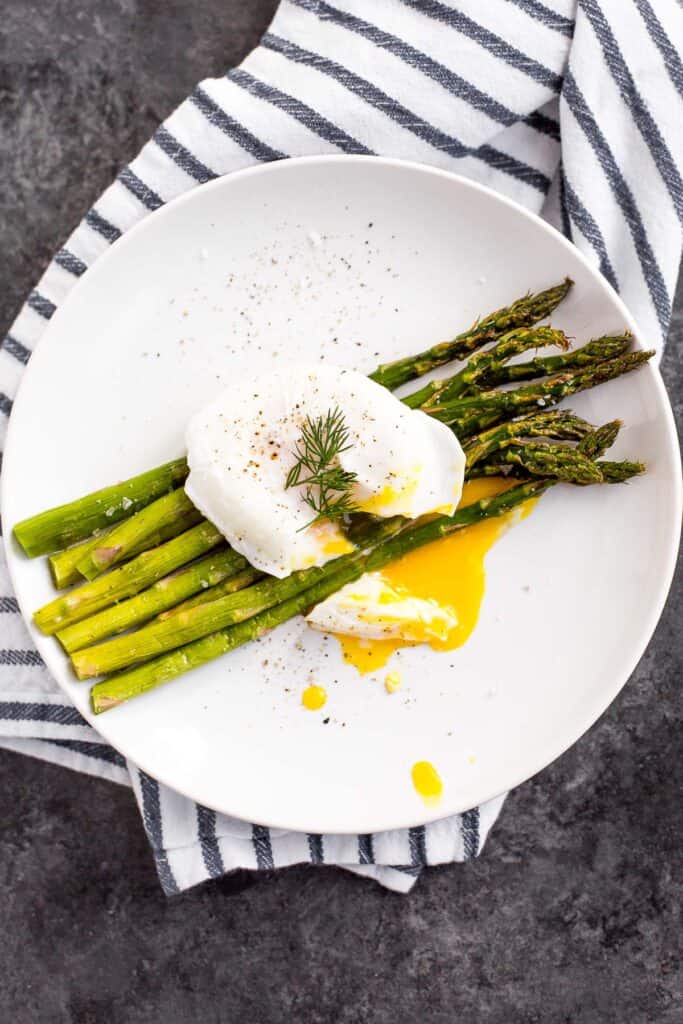 Layer fresh fruits, creamy Greek yogurt and crunchy granola to make this fruit and yogurt parfait for a delicious and healthy breakfast or a simple snack. It's one of the easiest breakfast ideas.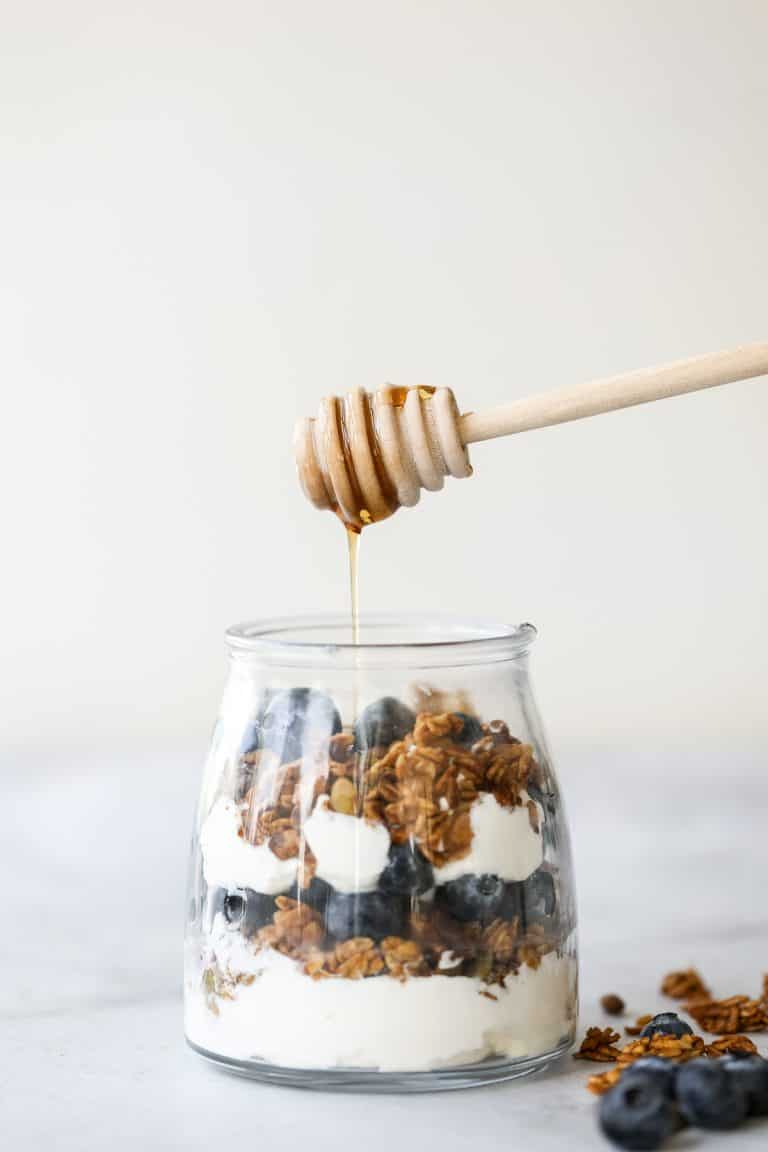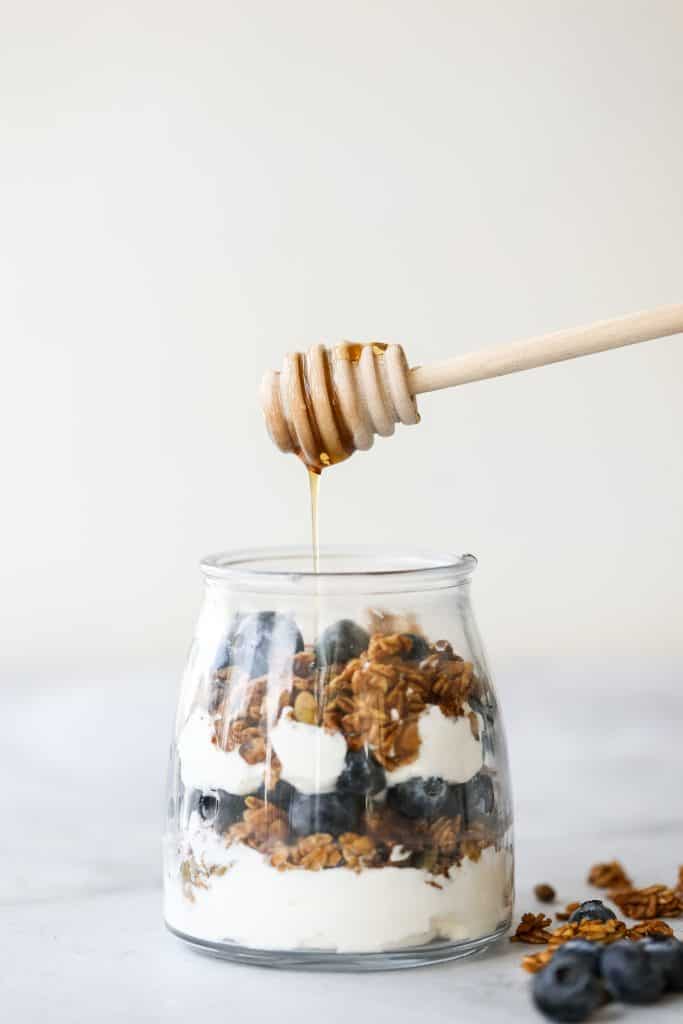 Mediterranean Scrambled Eggs with spinach, tomato, and feta is loaded with flavor and a quick and easy breakfast to make in under 10 minutes (with prep!). One of the easiest breakfast ideas.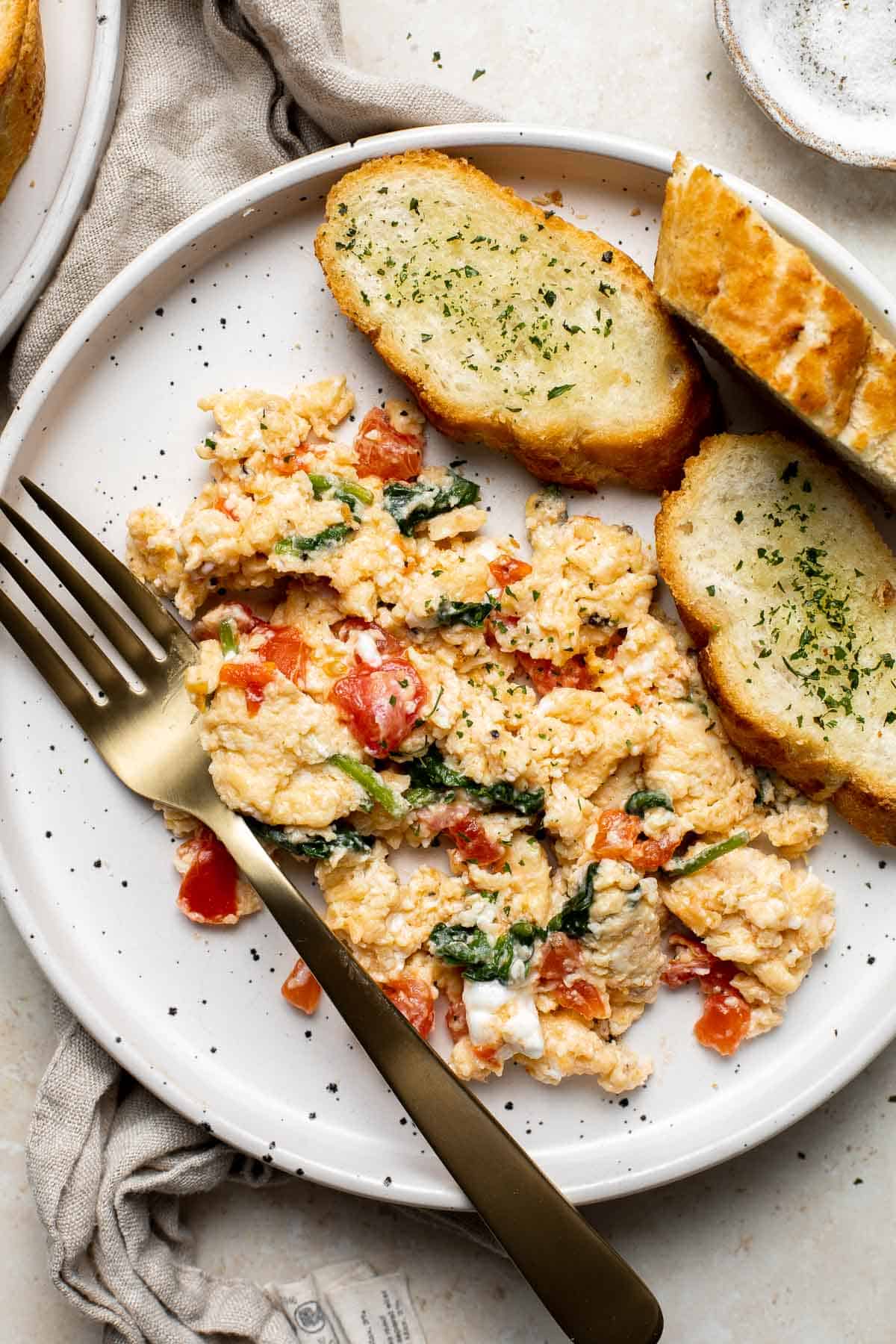 Caprese Frittata is light and fluffy, laced with fresh basil and topped with melted mozzarella cheese and blistered balsamic tomatoes. Ready in 10 minutes!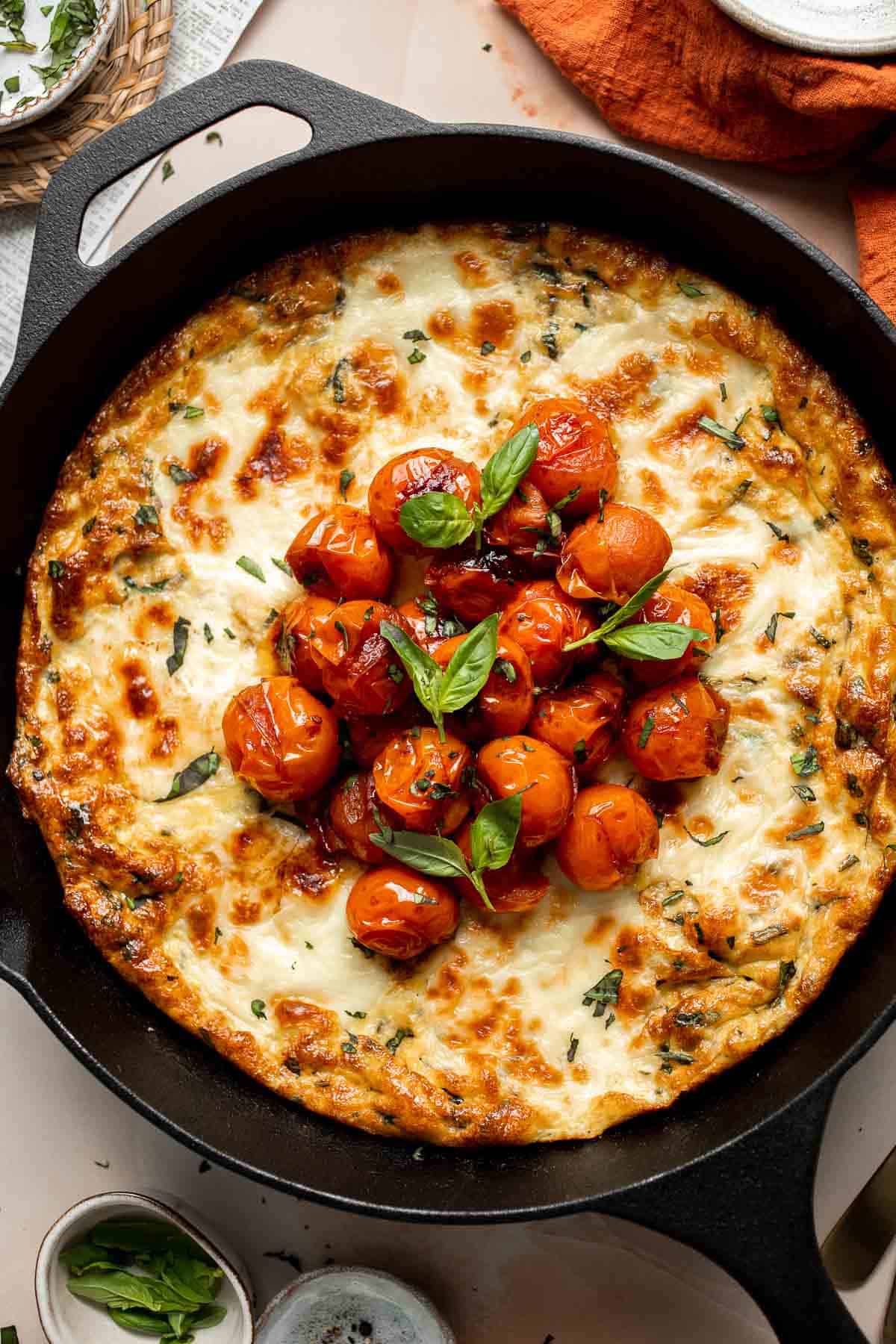 Mediterranean Diet Salads
Mediterranean Orzo Pasta Salad
Quick and easy Mediterranean orzo pasta salad packed with fresh vegetables and herbs is tossed in a Greek lemon vinaigrette. Healthy, light and delicious. A light and fresh Mediterranean Diet recipe.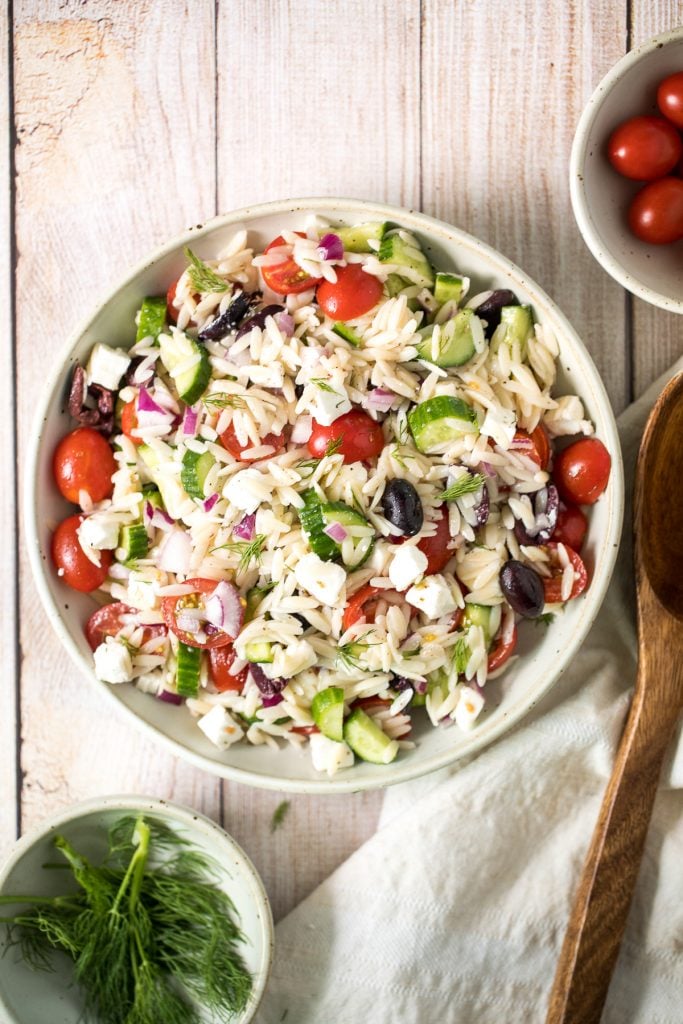 Mediterranean Chickpea Wedge Salad
Mediterranean chickpea wedge salad combines chickpeas, crunchy vegetable toppings, and hummus dressing for a delicious deconstructed falafel flavour.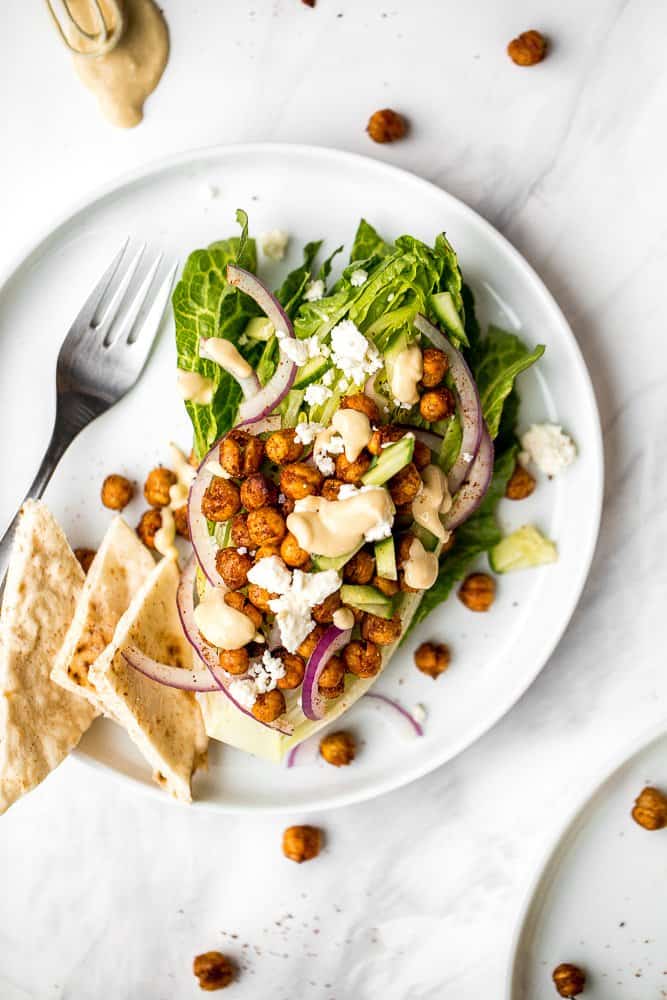 The perfect Greek salad with fresh tomatoes, cucumbers, red onions, green peppers, romaine lettuce, olives and feta cheese tossed in a lemon vinaigrette.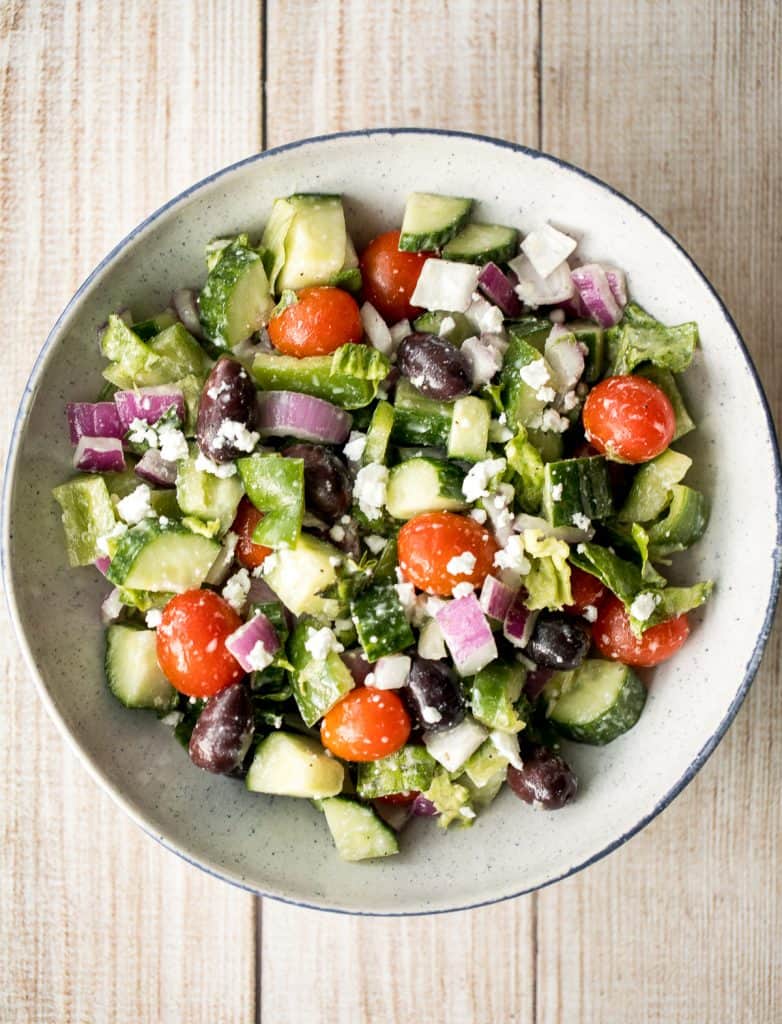 Watermelon feta salad with cucumbers and mint is a simple and delicious refreshing summer salad that you can toss together in 5 minutes.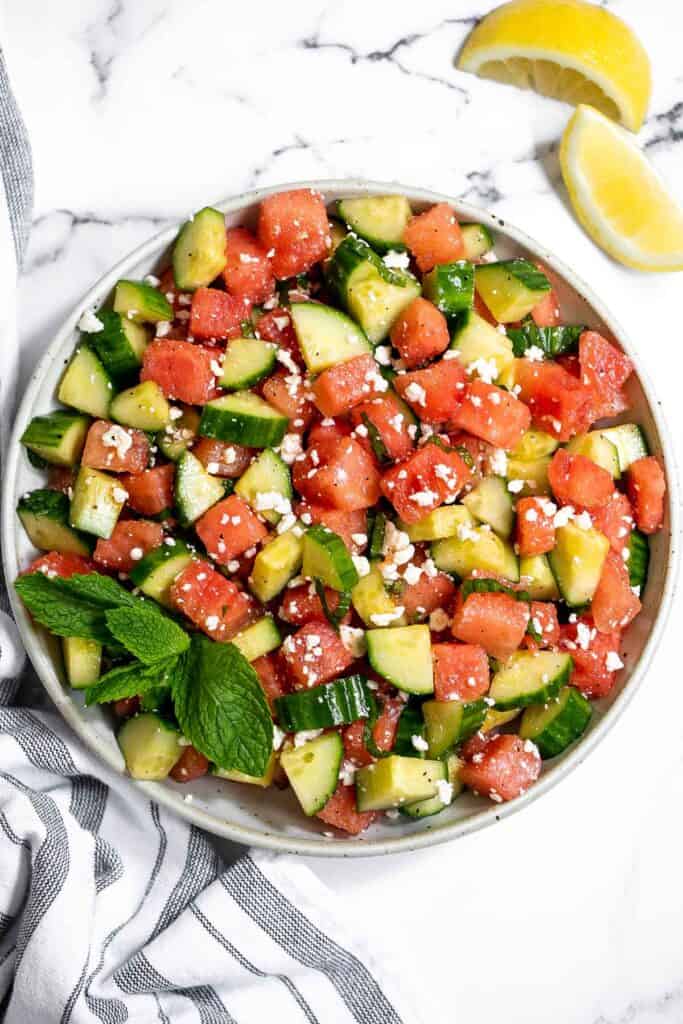 Mediterranean Buckwheat Salad is quick, easy, and delicious. Loaded with superfood buckwheat, this salad is healthy, naturally gluten-free, and vegetarian.
Tomato and Mozzarella Caprese Salad
Quick and easy tomato and mozzarella caprese salad is a fresh, light, and delicious summer salad, made with just a few simple ingredients in 10 minutes.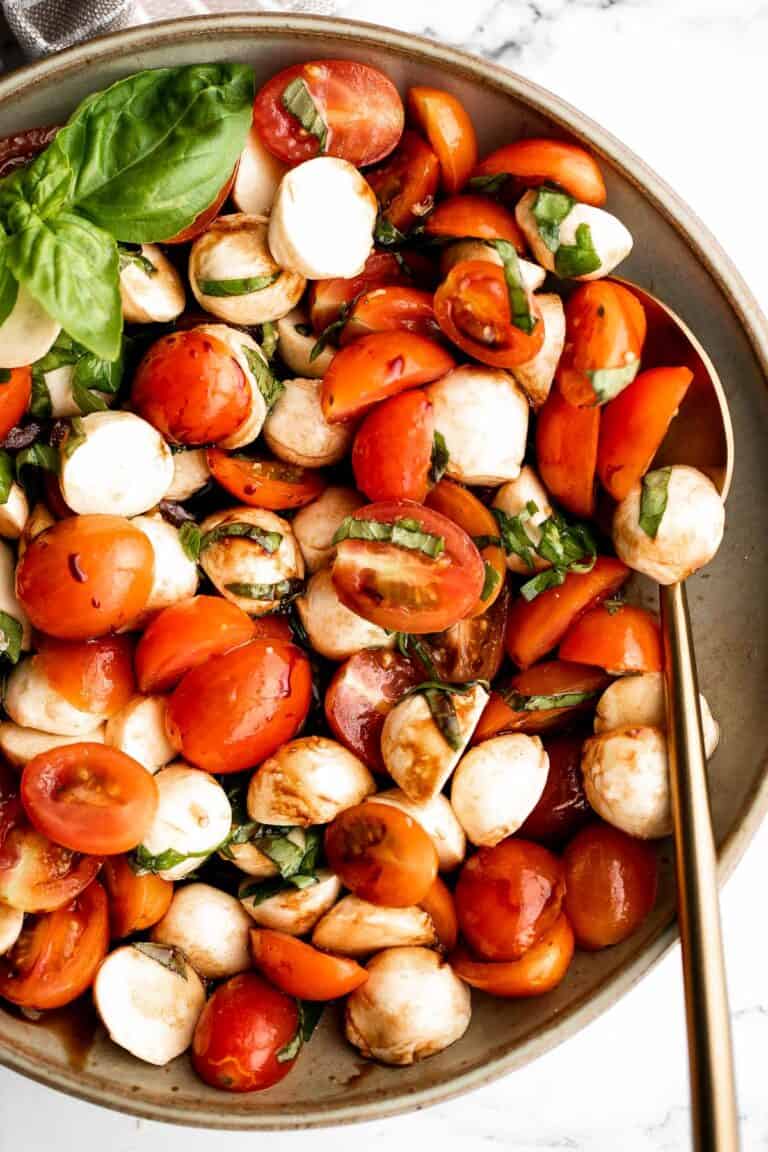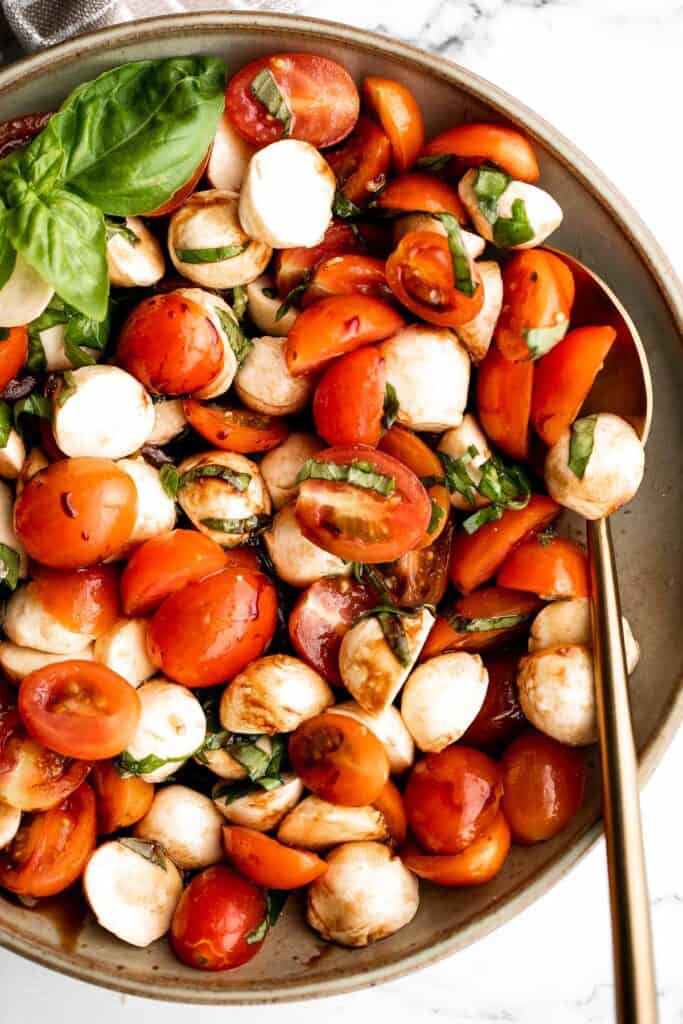 Take a bite into this refreshing, gluten-free quinoa and spinach salad bursting with colourful tomatoes, cucumbers and raisins.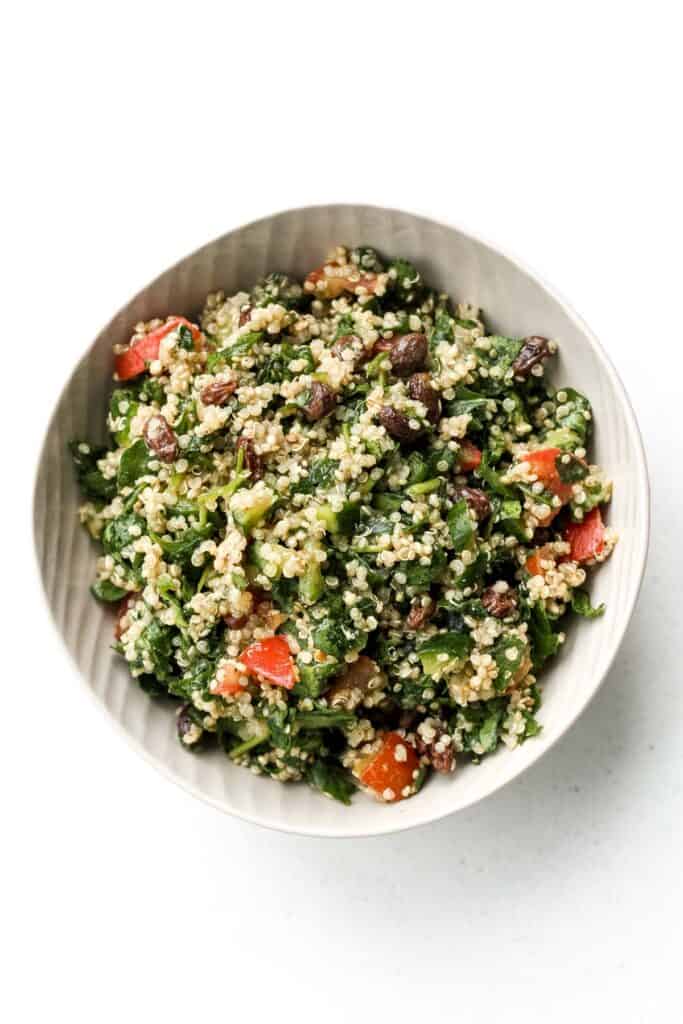 Grilled shrimp salad is a quick and easy, healthy summer meal that is loaded with fresh, flavorful ingredients, all tossed in an easy homemade dressing.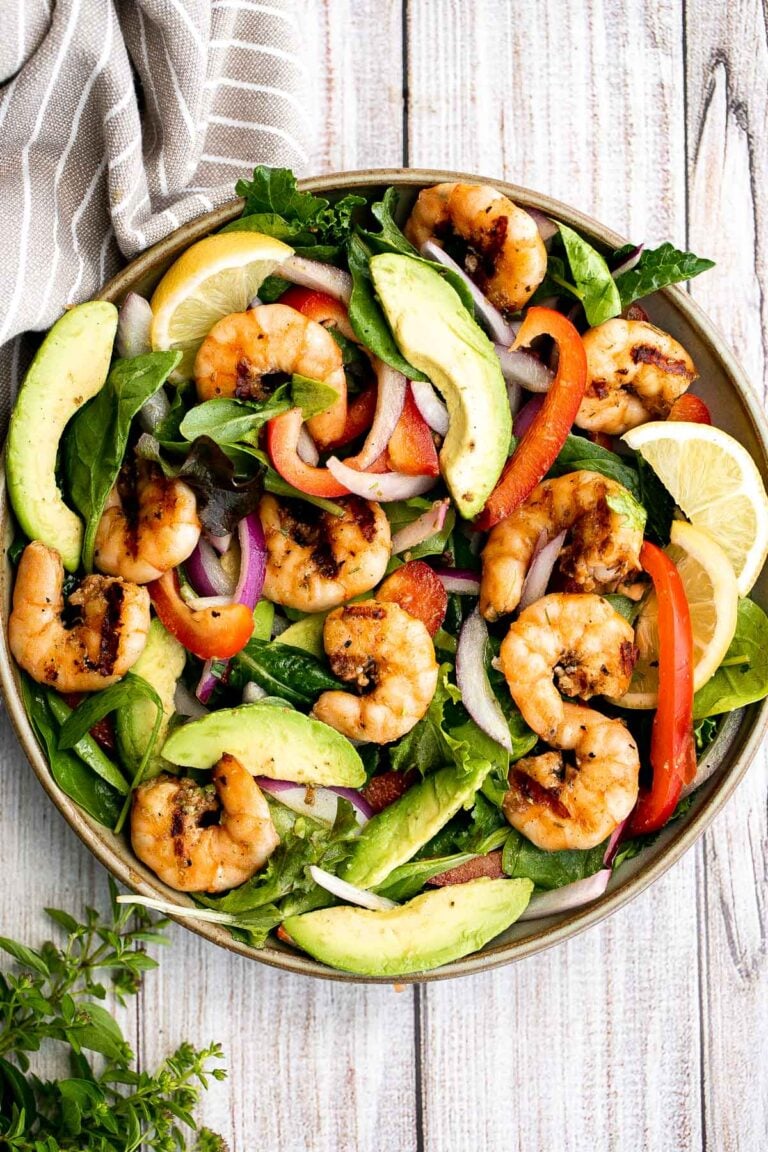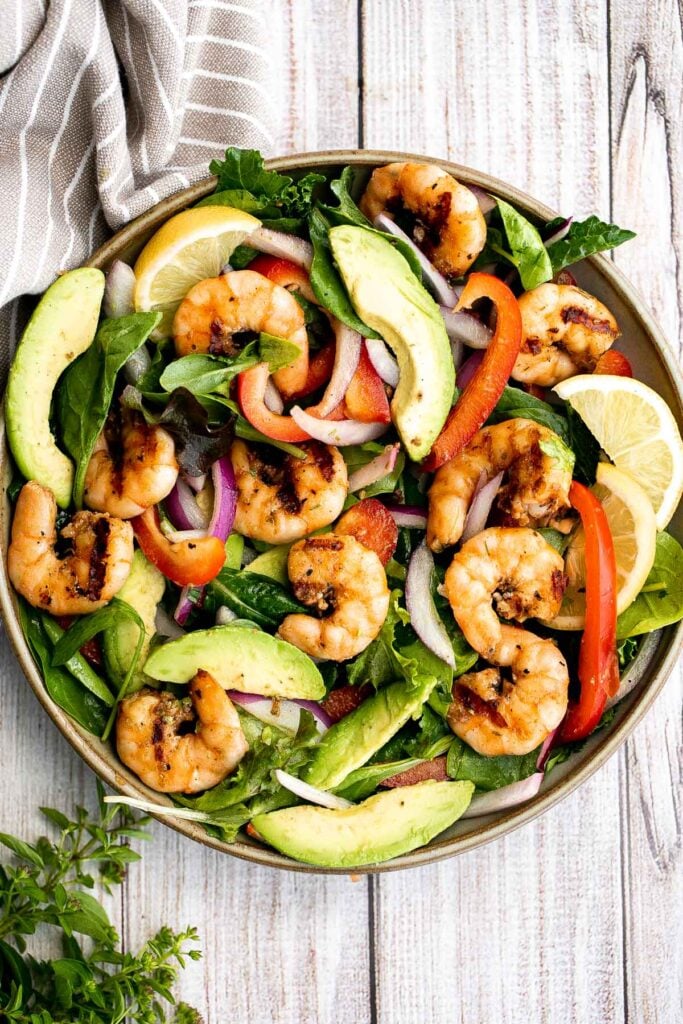 Simple tomato cucumber avocado salad with a delicious lemon vinaigrette is a light and refreshing salad that comes together in literally 5 minutes.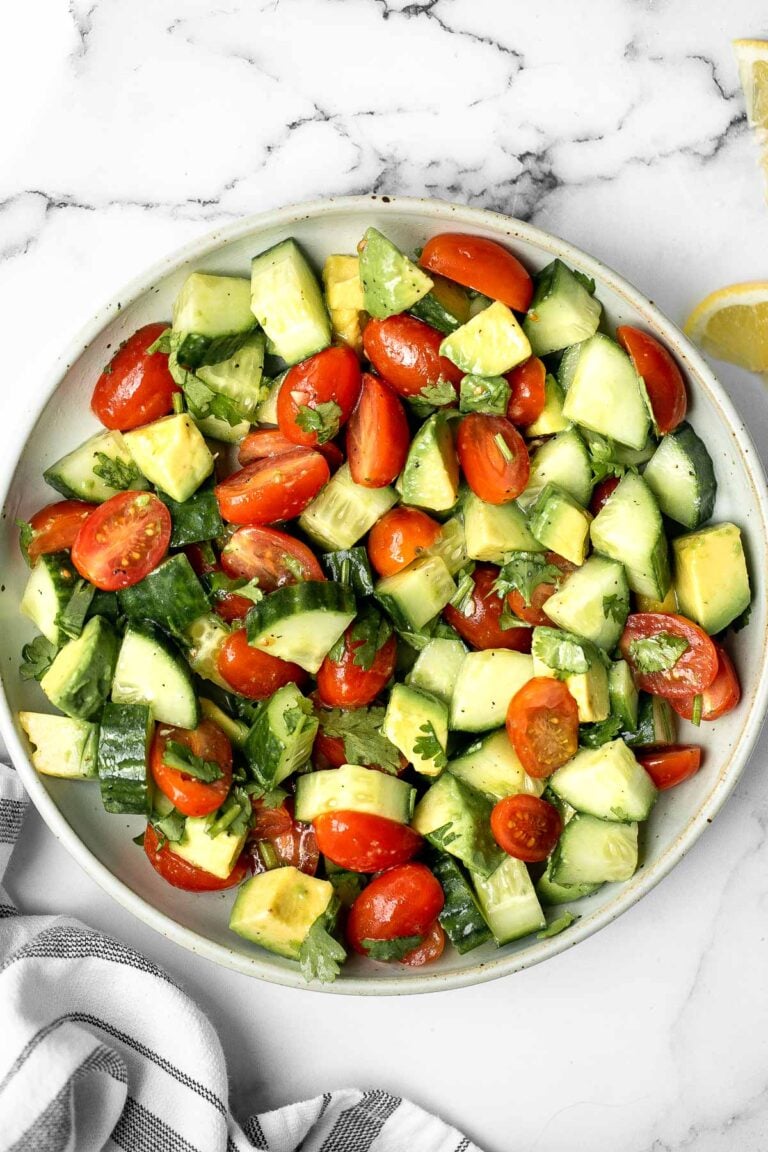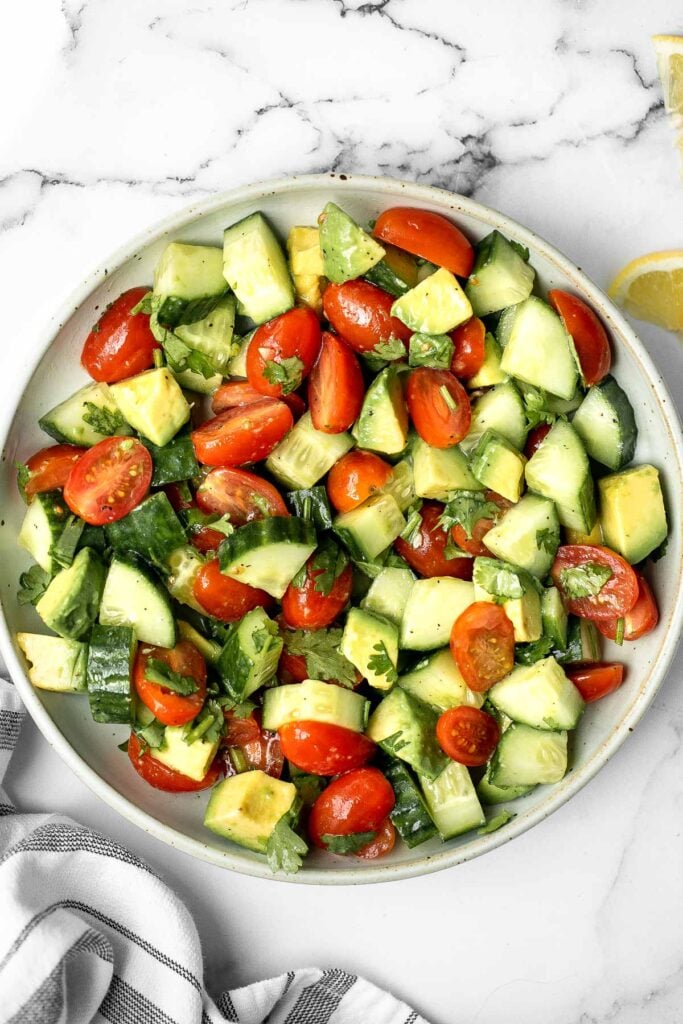 Persian Shirazi Salad with Cucumber and Tomato
Healthy, light and refreshing Persian Shirazi salad with cucumber and tomato is a simple salad packed with herbs and tossed in an olive oil and lime dressing.
Plant-Based Mediterranean Diet Recipes
Homemade falafel are delicious, golden brown and crispy on the outside, fluffy tender and soft inside. Plus, they're vegan, loaded with plant-based protein. A classic Mediterranean Diet recipe.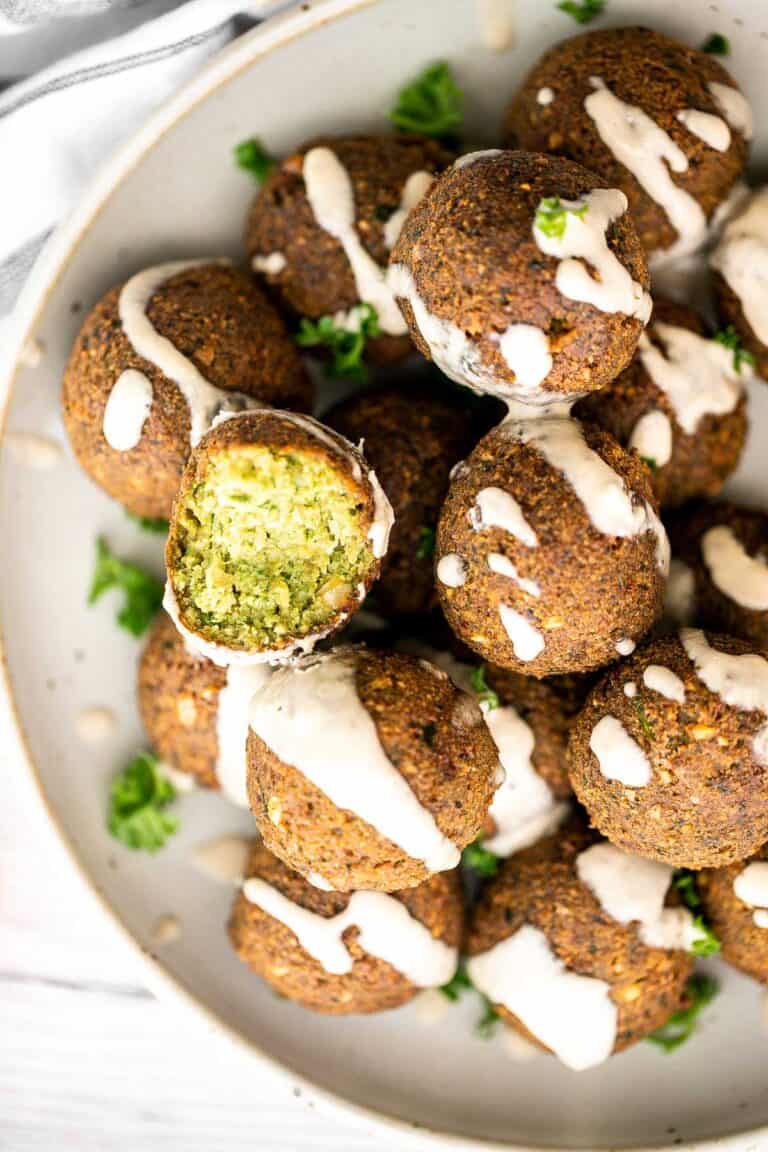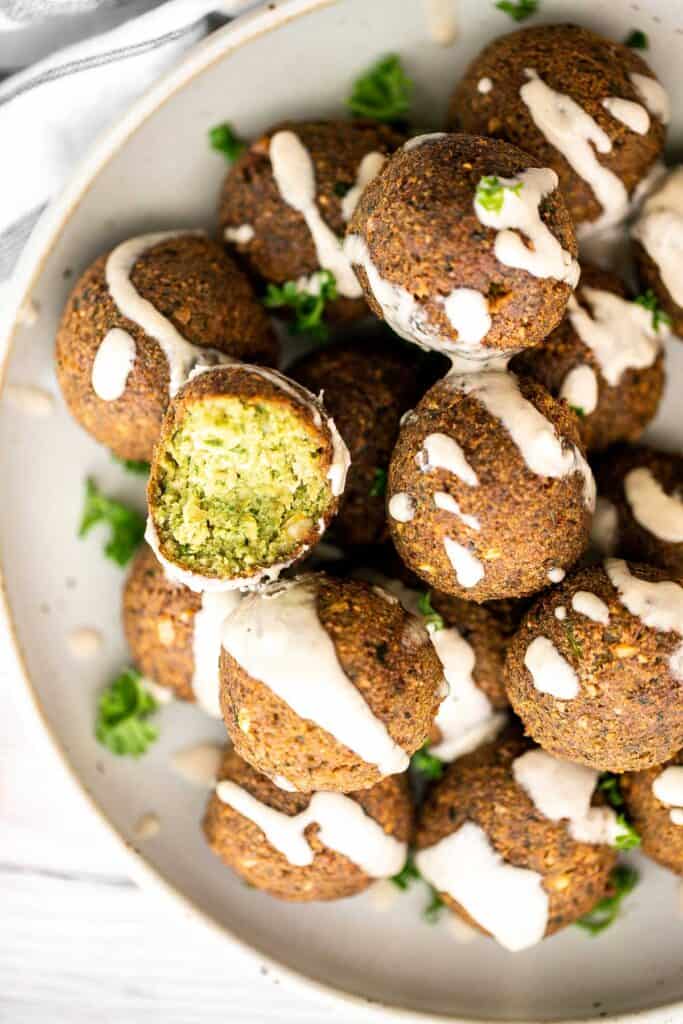 Chickpea Greek salad is a fresh, healthy, vibrant, and colorful salad, packed with traditional Mediterranean ingredients, superfoods, and nutrients.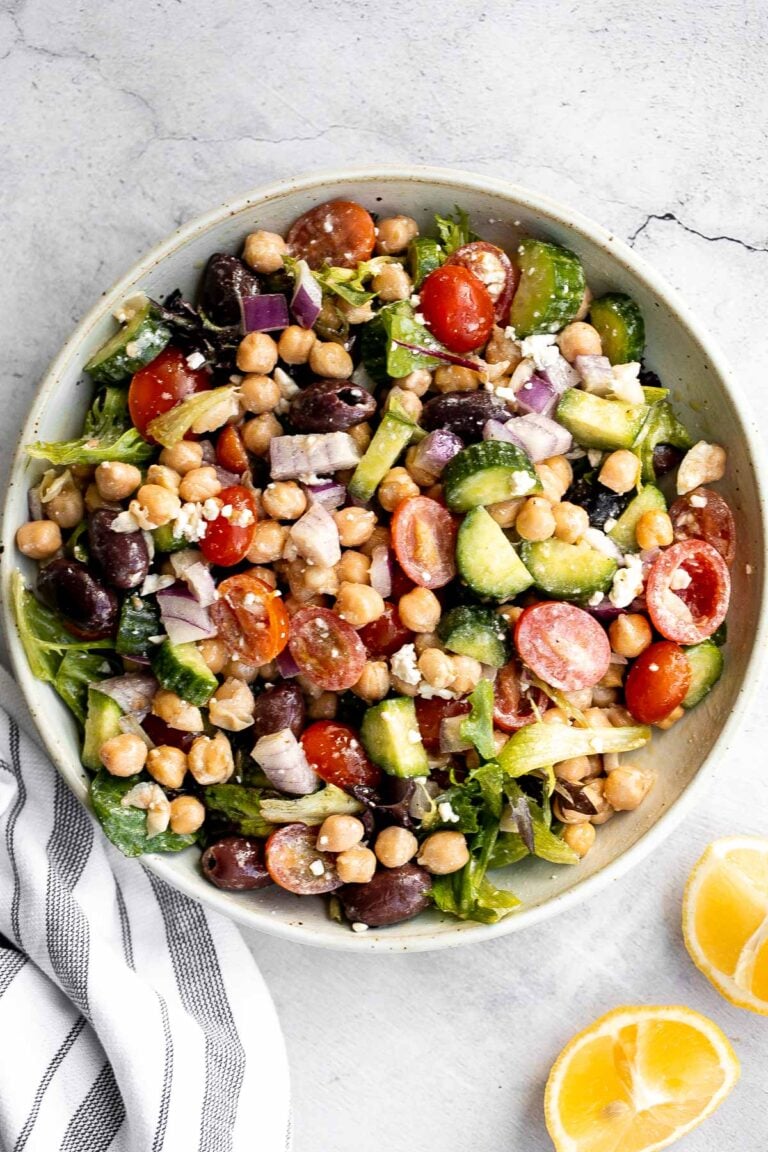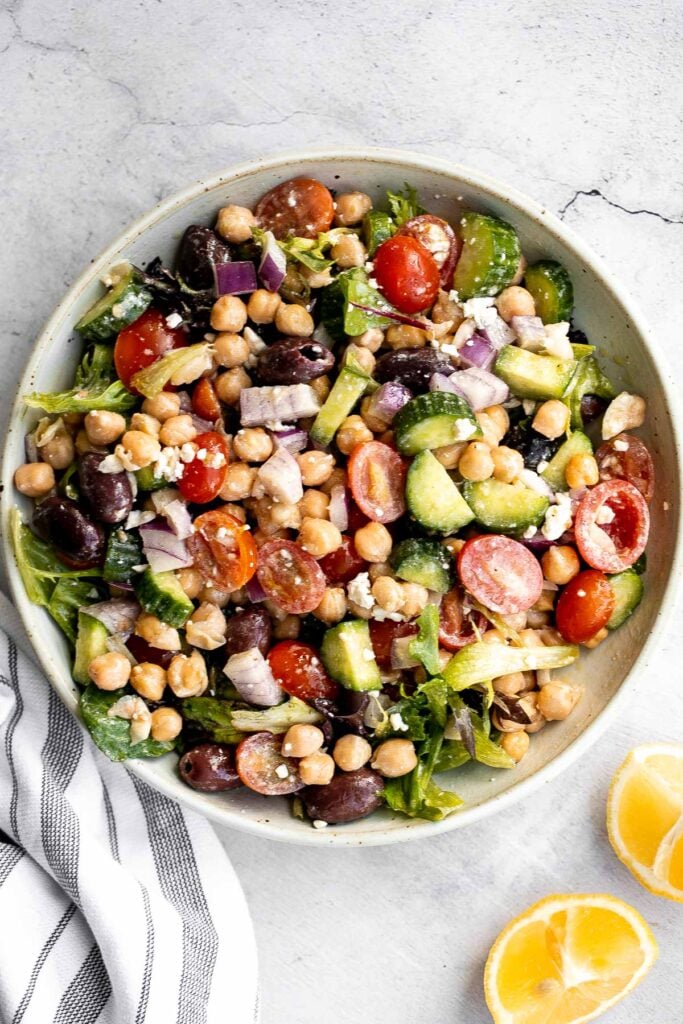 Whip up smooth and creamy classic hummus dip at home in just 5 minutes, by combining chickpeas, tahini, olive oil, lemon juice and garlic in the blender. Serve it with veggies or crackers, or use it in a vegan hummus wrap.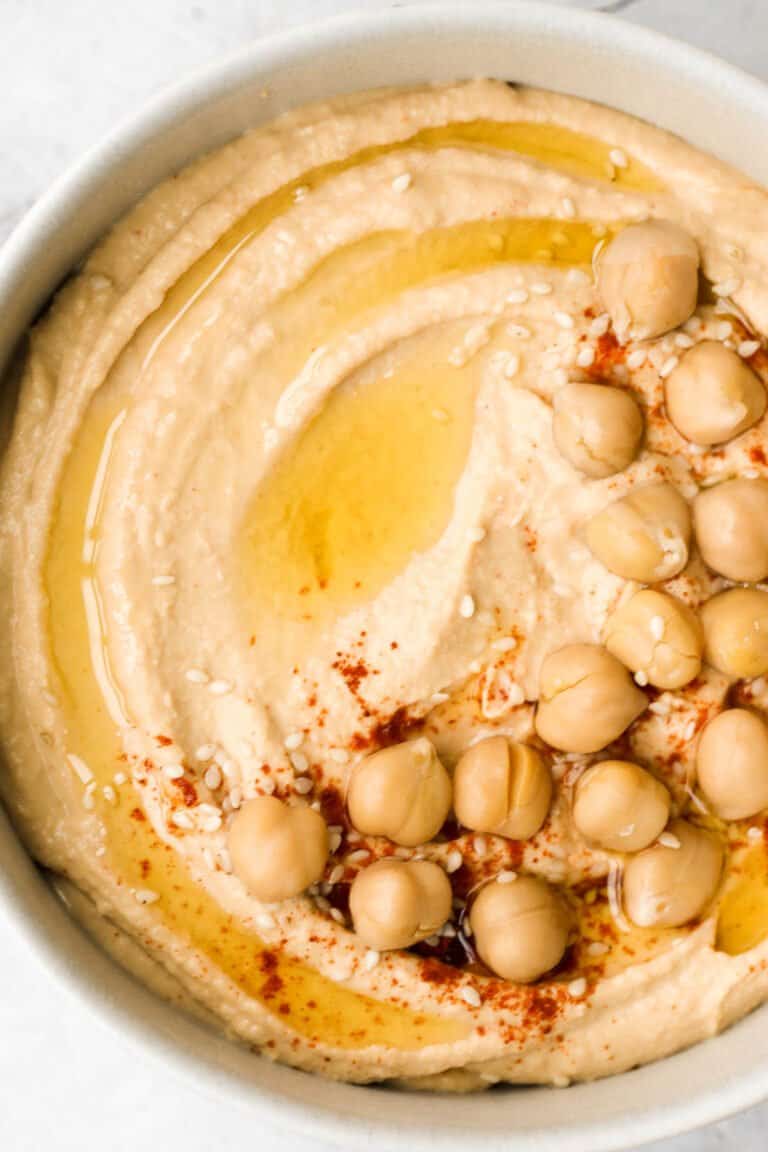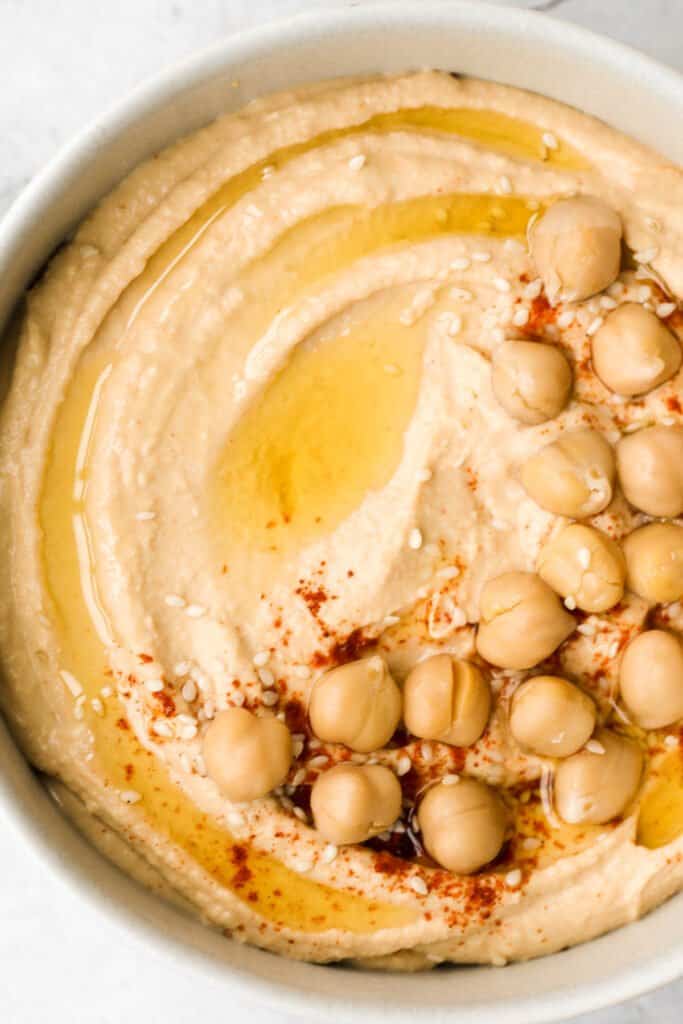 Baked Mediterranean pasta is simple, flavorful, and vibrant, loaded with fresh tomatoes, artichoke hearts, and olives, and topped with mozzarella cheese.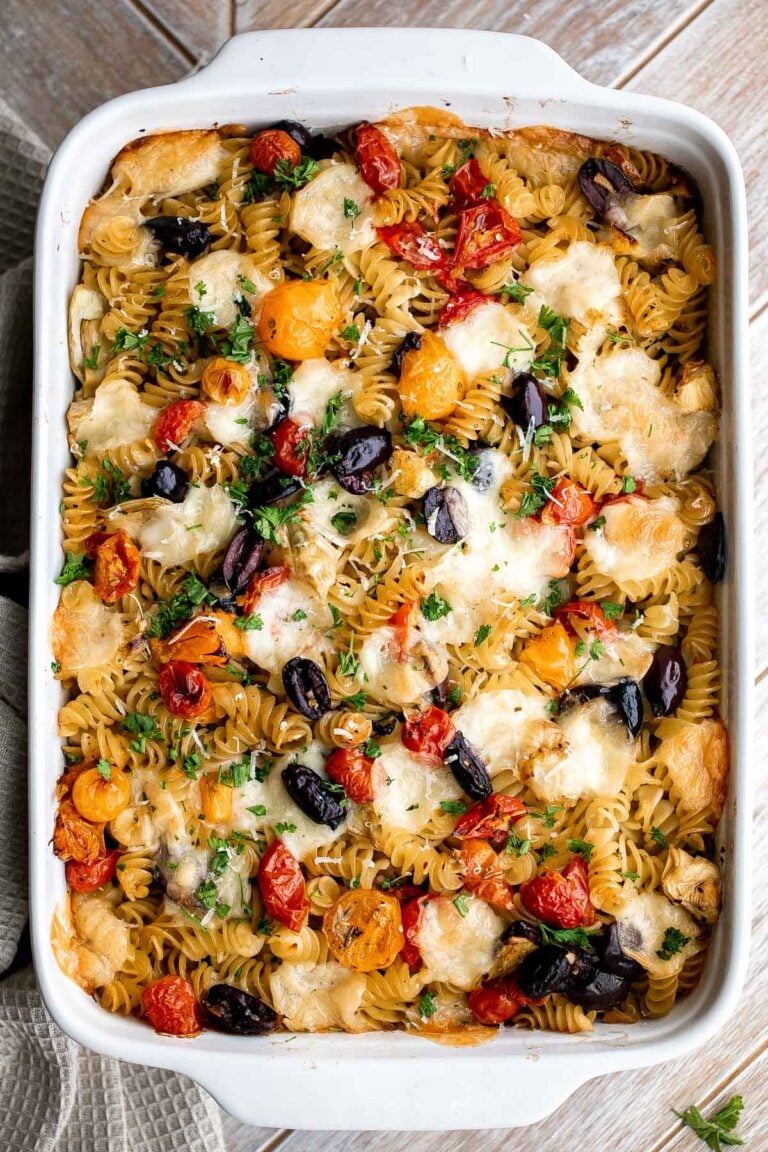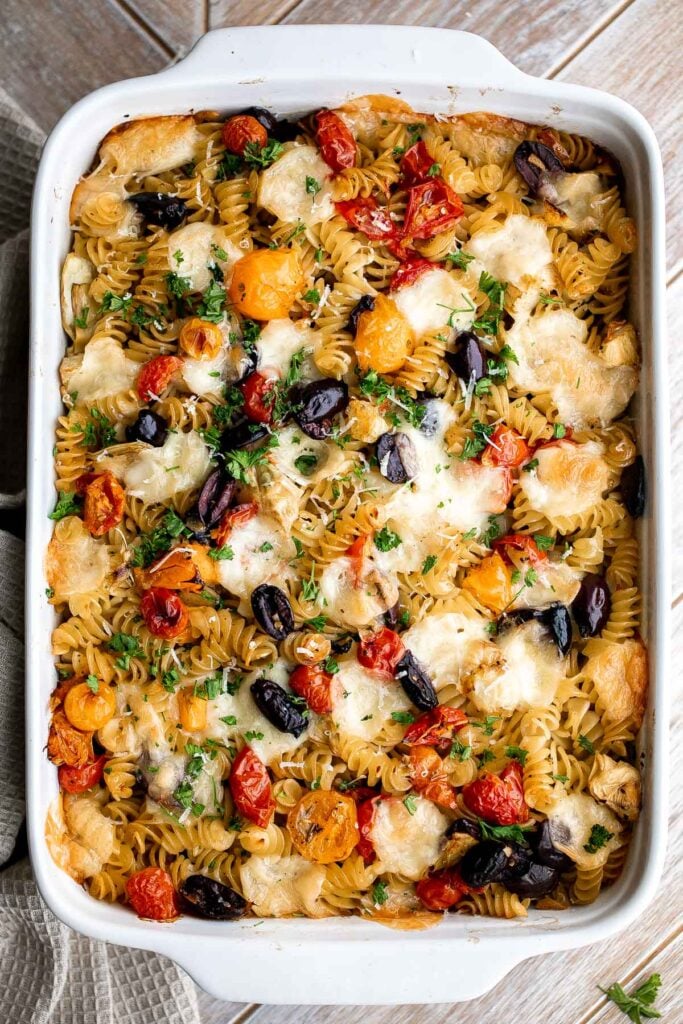 Easy 20-Minute One Pot Lentils are a healthy, nourishing, and delicious vegan meal that is easy to make in a few simple steps. Make a big batch and freeze!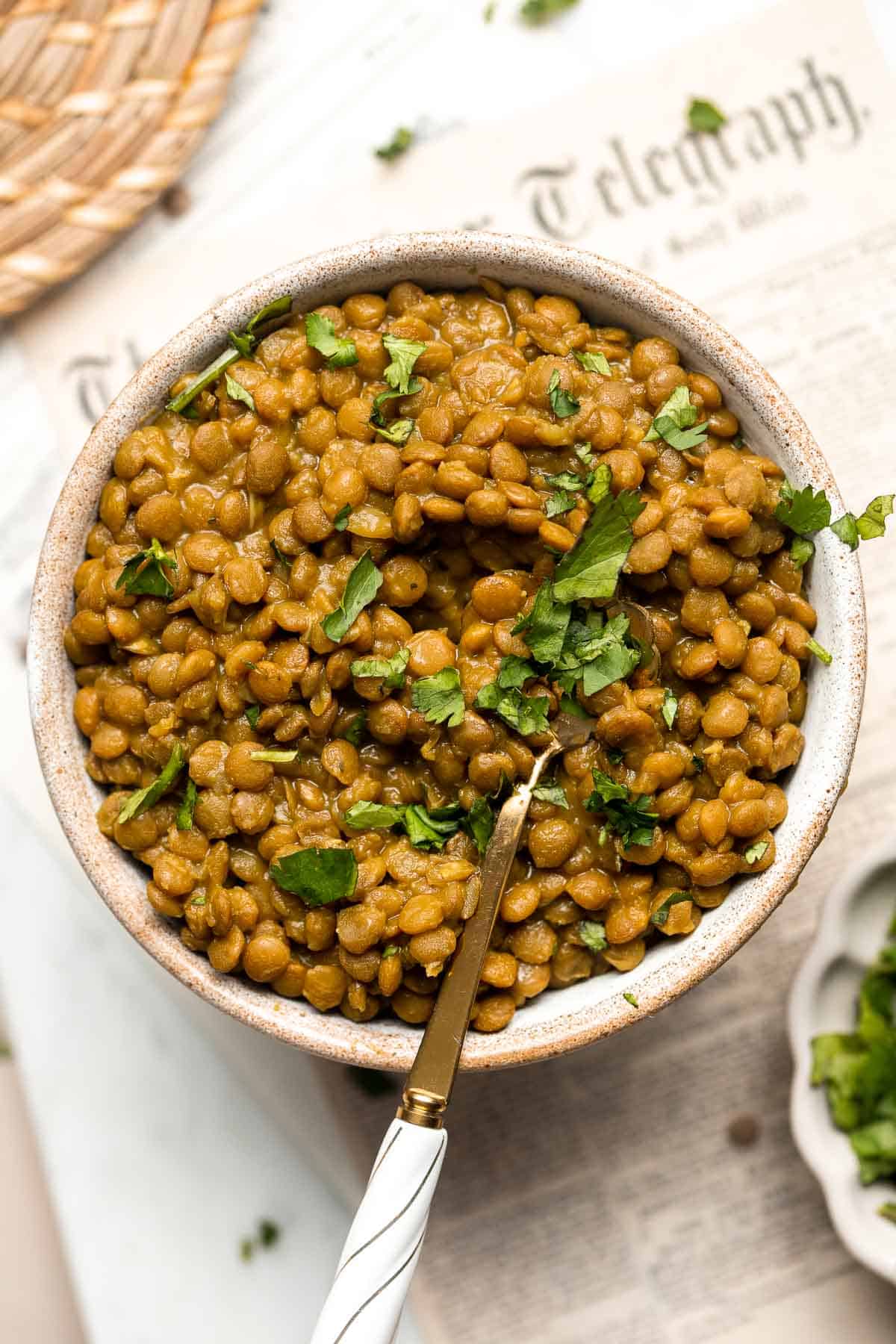 Quick and easy pesto penne pasta is a simple and light Italian pasta dish made with just five ingredients in under 15 minutes. The easiest summer dinner recipe. If you like this recipe, try Mascarpone Pesto Pasta.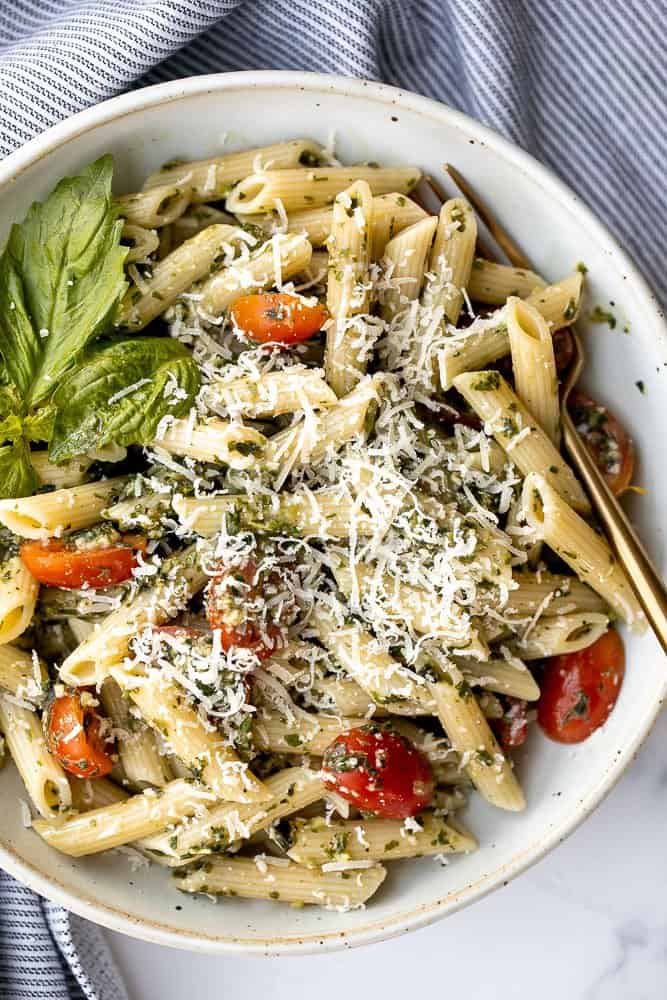 Baba ganoush is a creamy, roasted eggplant dip mixed with garlic and tahini for an explosion of flavour! It is perfect served with pita chips or veggies.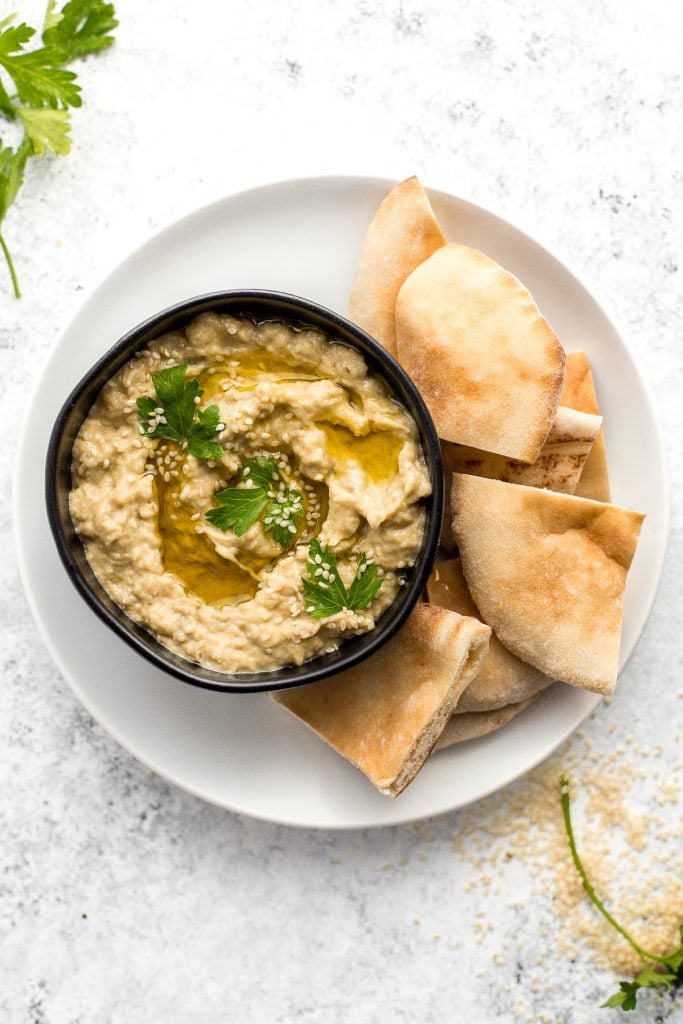 Minestrone soup is a hearty, healthy, nourishing, and delicious classic Italian soup, packed with vegetables and pasta simmered in a rich tomato broth.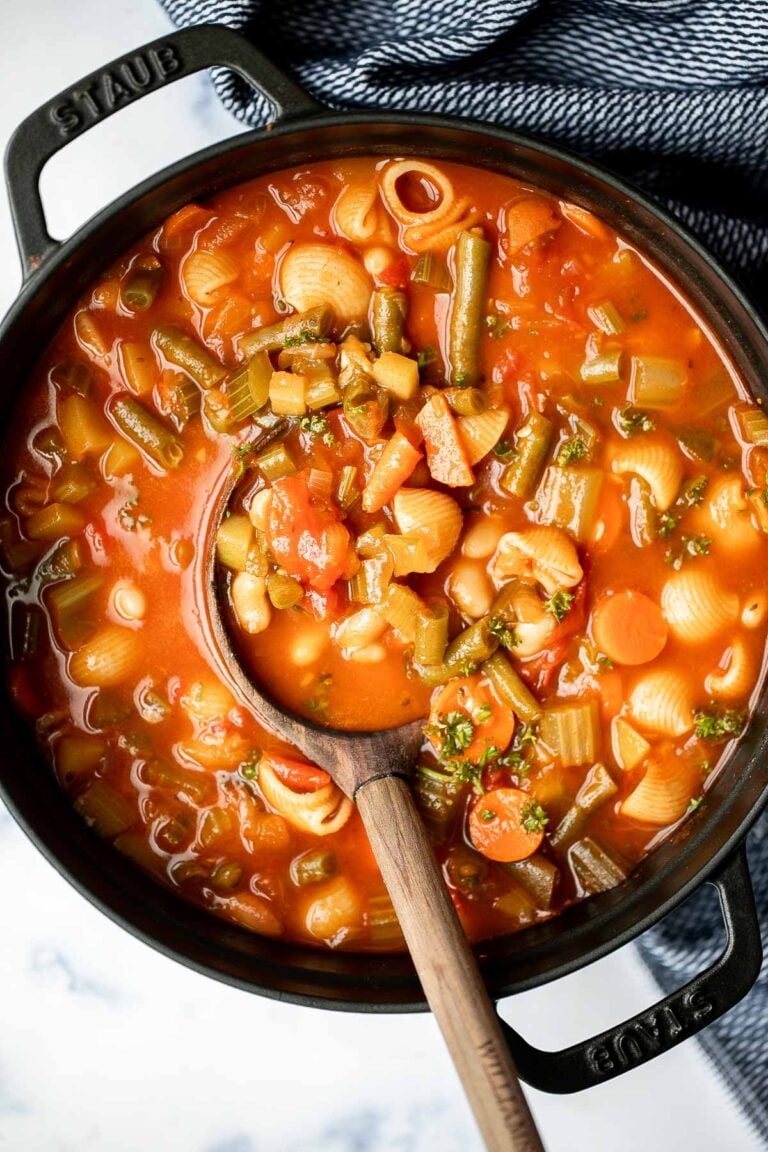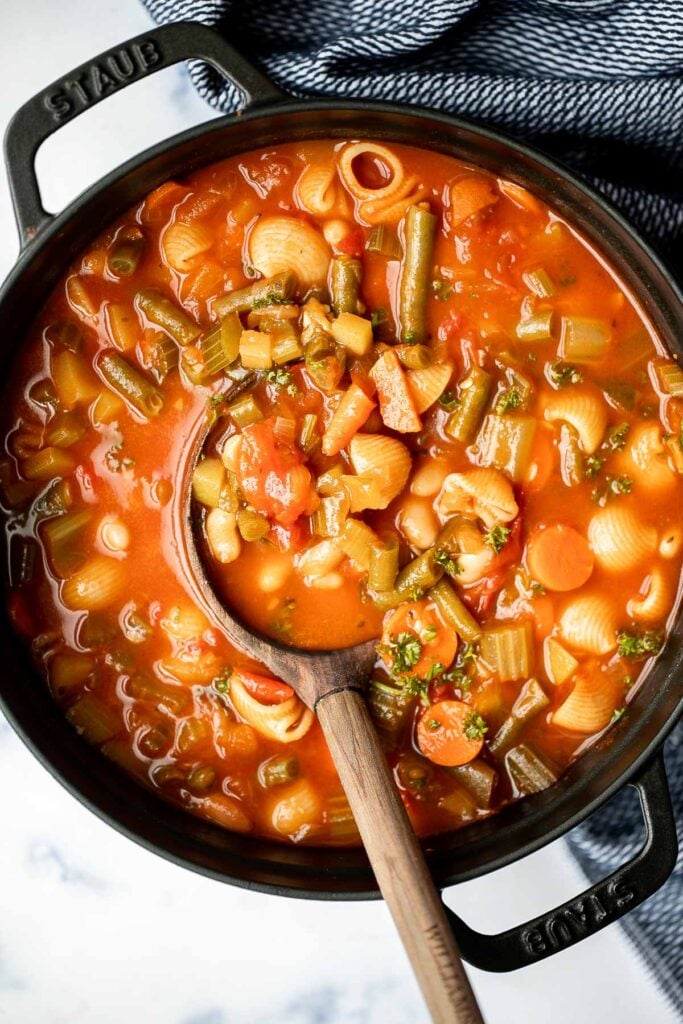 Easy Tomato Bruschetta with Balsamic Glaze
Tomato bruschetta with balsamic glaze is an easy Italian appetizer topped with tomatoes, onions, garlic, basil and olive oil. Delicious, fresh and simple. The perfect light Super Bowl recipe.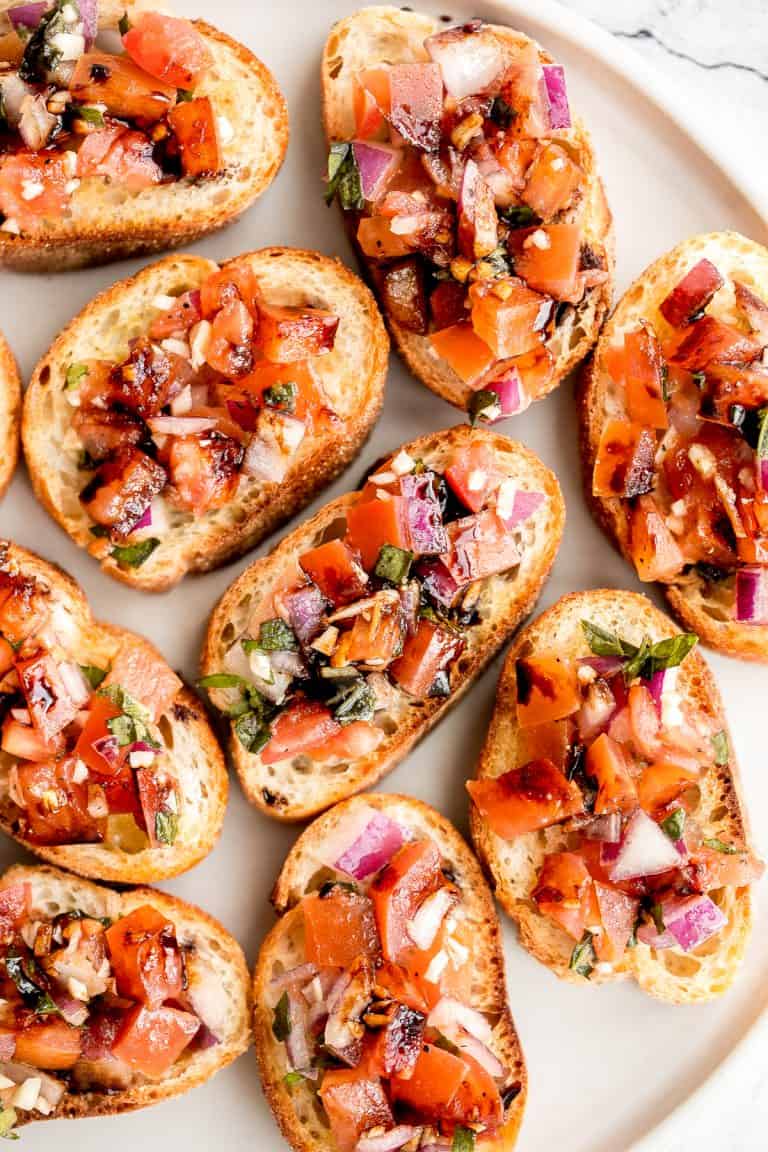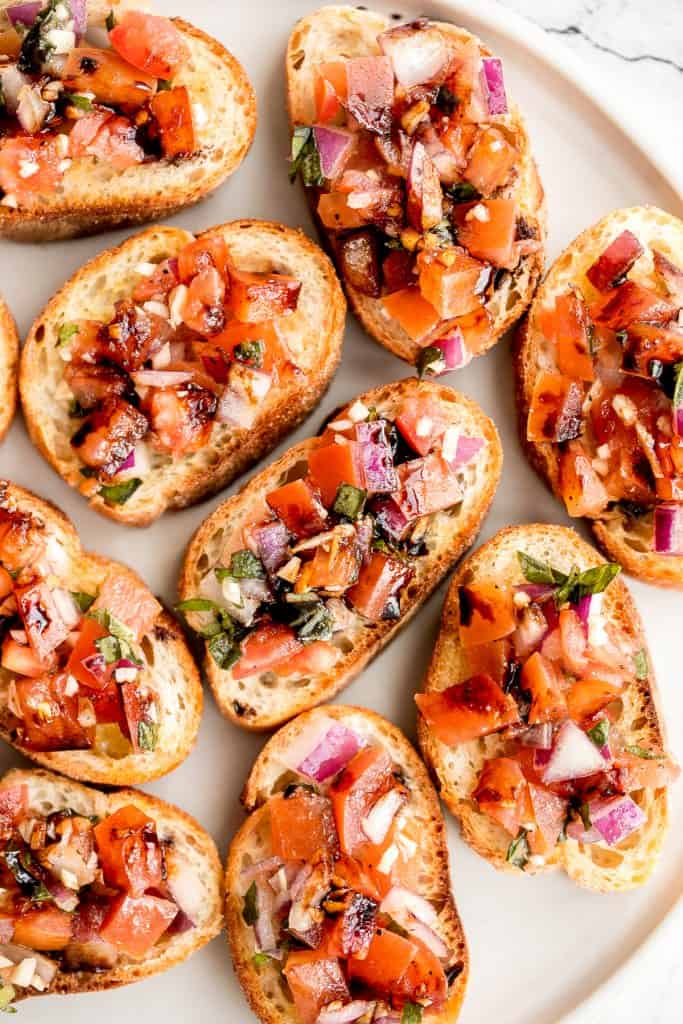 Easy vegan stuffed bell peppers are filled with brown rice, mushrooms, veggies, and seasonings, then baked for 40 minutes. It's a perfect summer weeknight dinner. Serve it with a Classic Coleslaw on the side.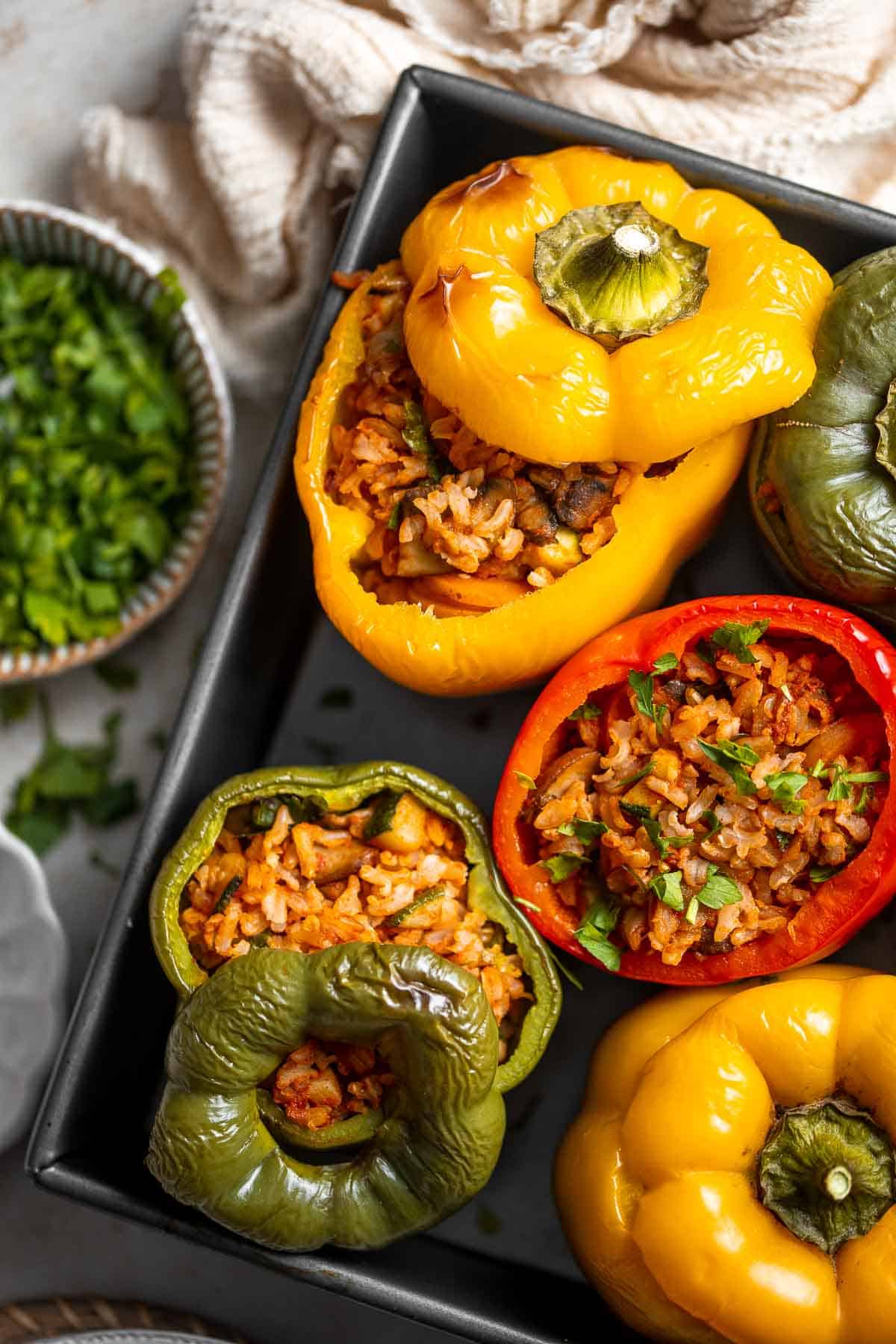 One Pot Red Kidney Beans are vegan, healthy, hearty, nourishing, and packed with plant-based protein. The perfect recipe for your dried kidney bean stash!
Smooth creamy roasted red pepper hummus is a delicious, flavourful, vegan + gluten-free dip. This healthy appetizer is easy to make with a few ingredients.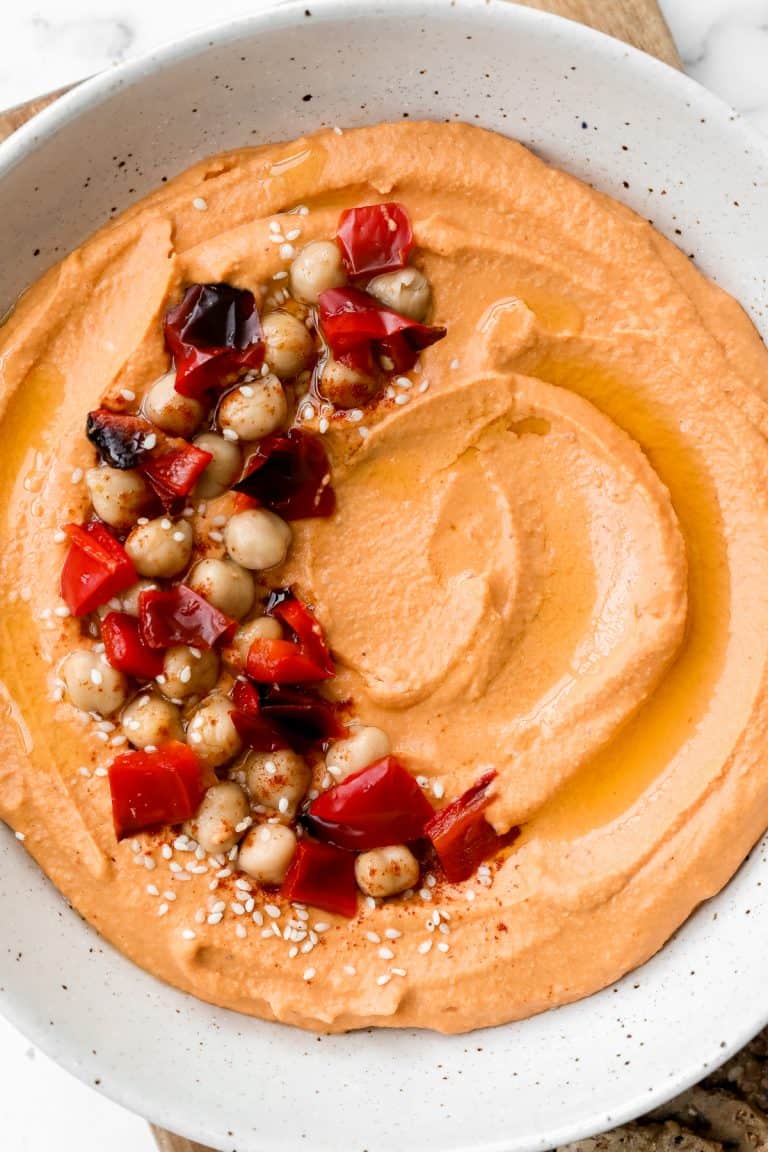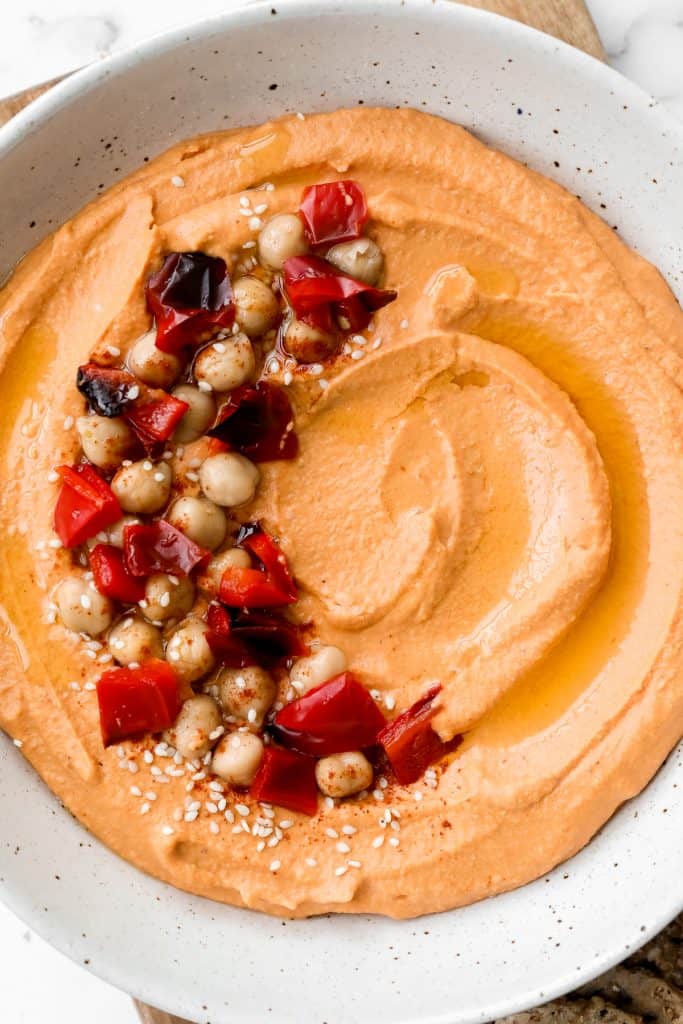 Indian-inspired, vegan, creamy coconut curry lentil soup is an easy and simple 30-minute pantry meal that is packed with spices for maximum flavour. Serve it as a soup or as a curry over some coconut rice.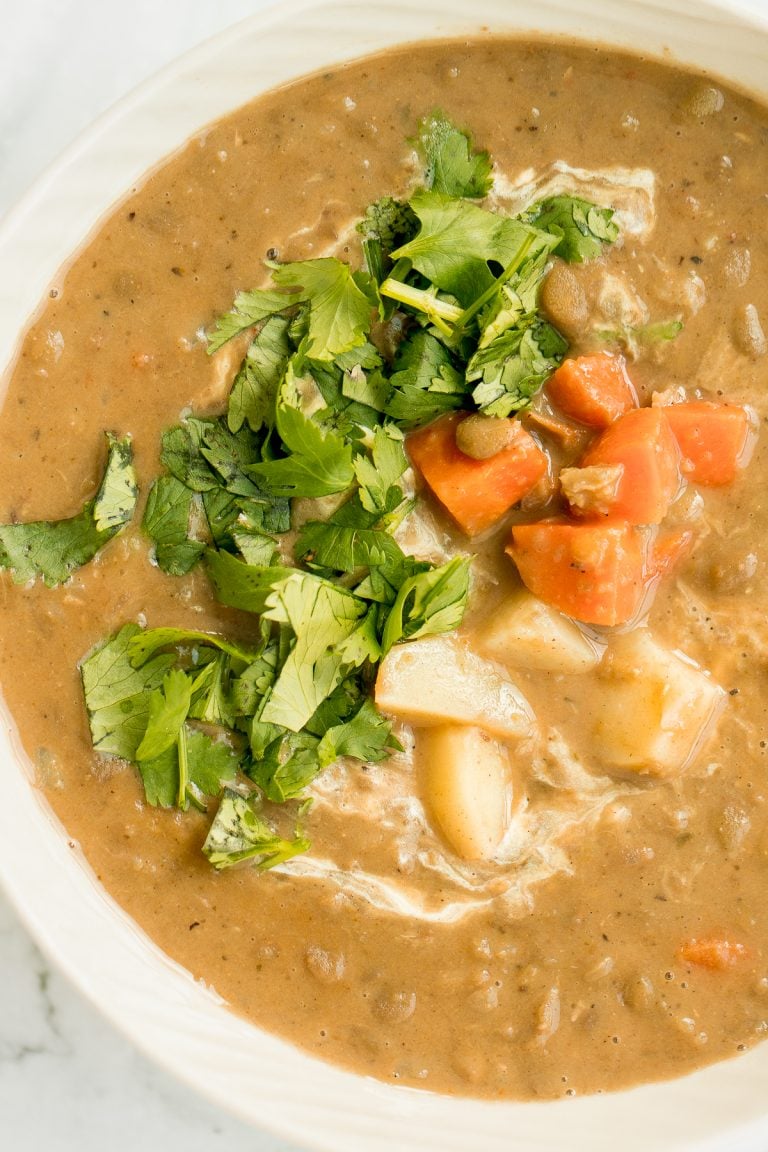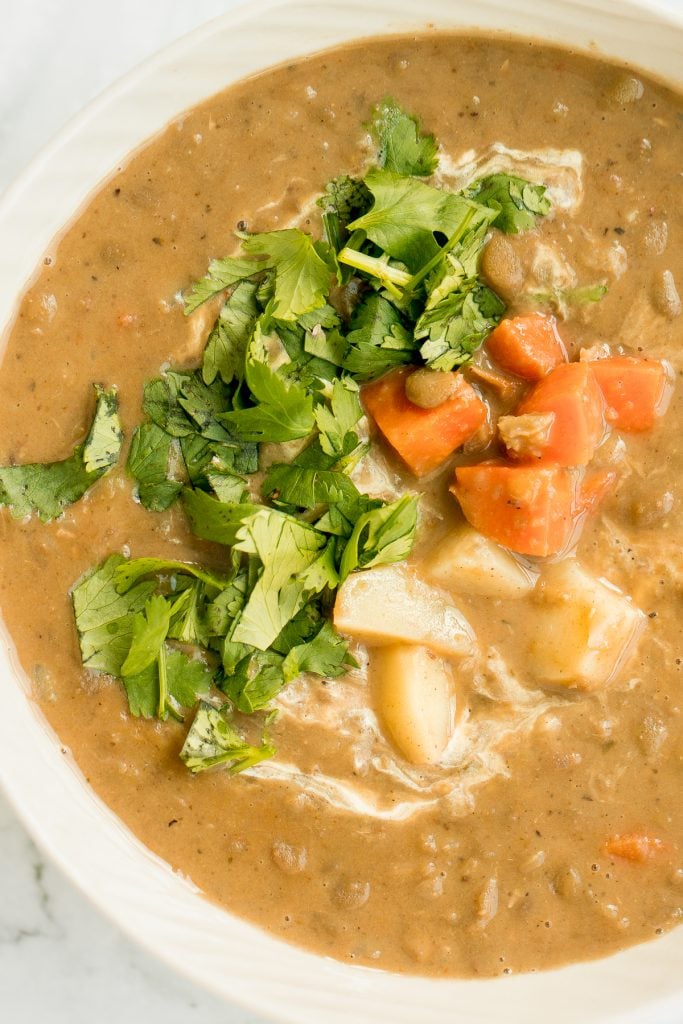 This bright and colourful Greek salad hummus flatbread is perfect as an appetizer or a healthy lunch or snack.
Mediterranean Seafood Recipes
Greek salmon is delicious, flaky, and tender. This healthy oven-baked salmon is packed with Mediterranean flavors and is ready in just 20 minutes.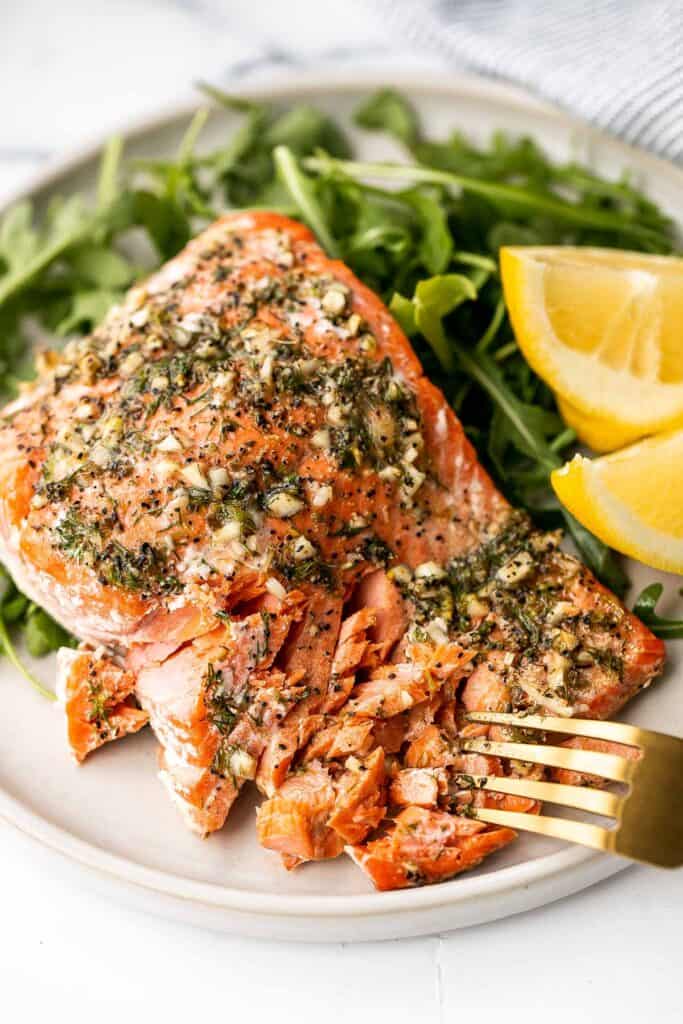 Mediterranean Baked Shrimp Orzo
Mediterranean baked shrimp orzo is a complete wholesome one pot meal with delicious sautéed vegetables, juicy shrimp, and orzo pasta. Make it in 30 minutes.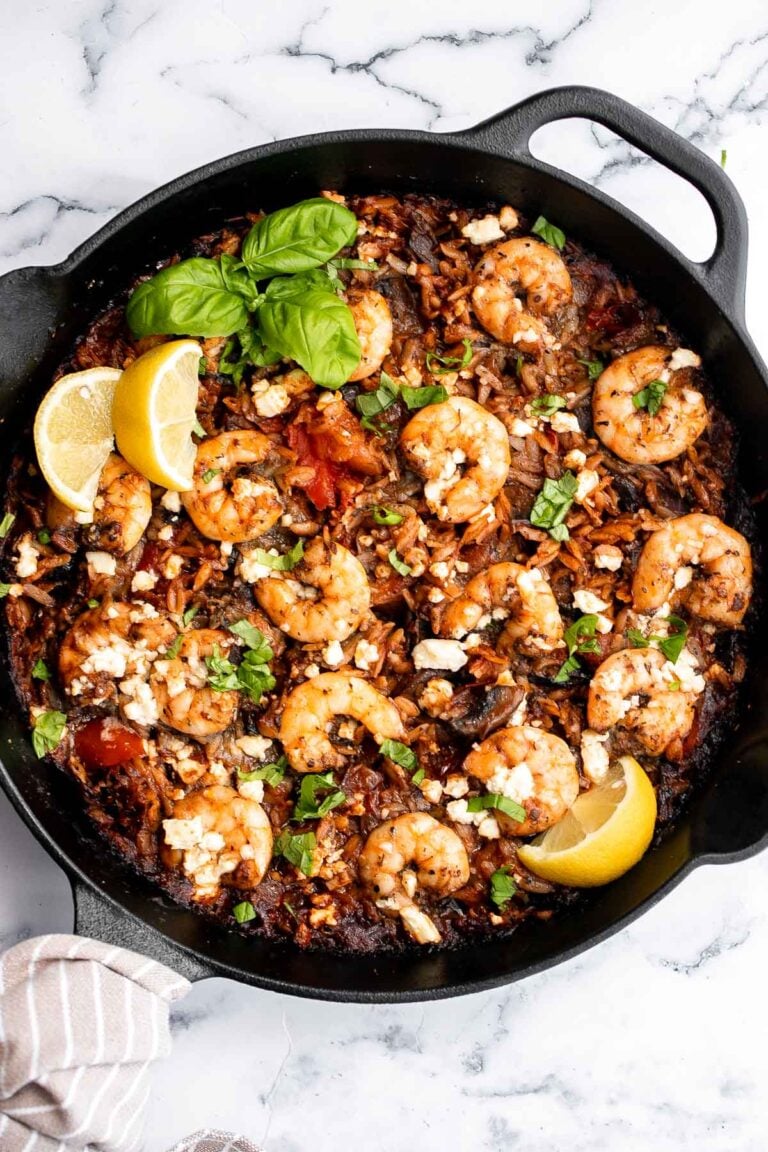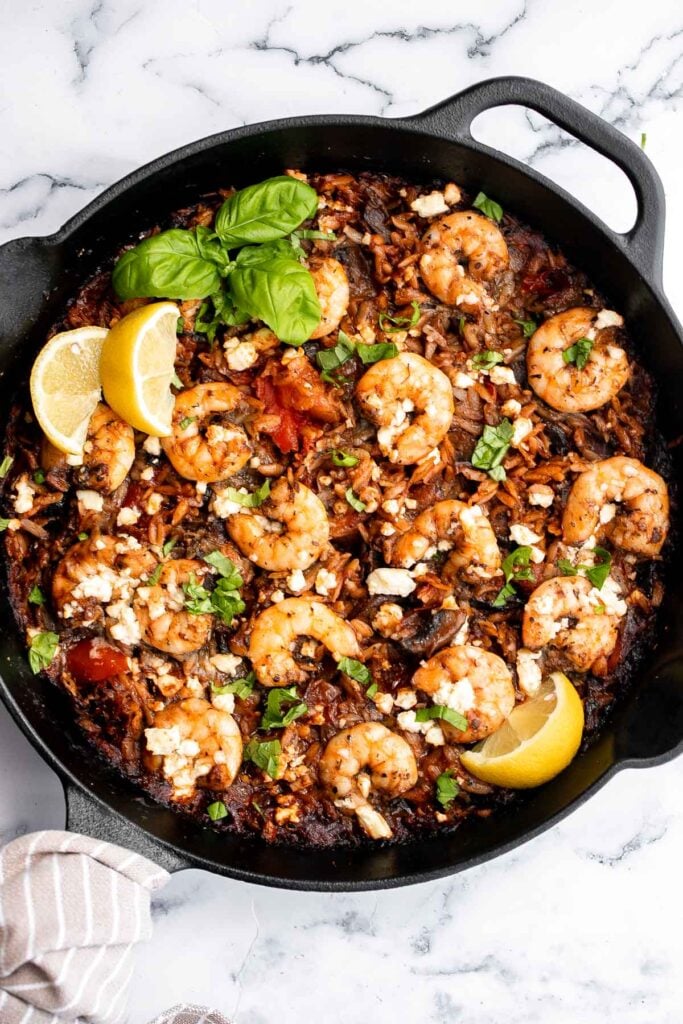 Garlic shrimp skewers are delicious and full of fresh flavor. These quick and easy kabobs can be grilled, baked or air fried for an easy summer dinner.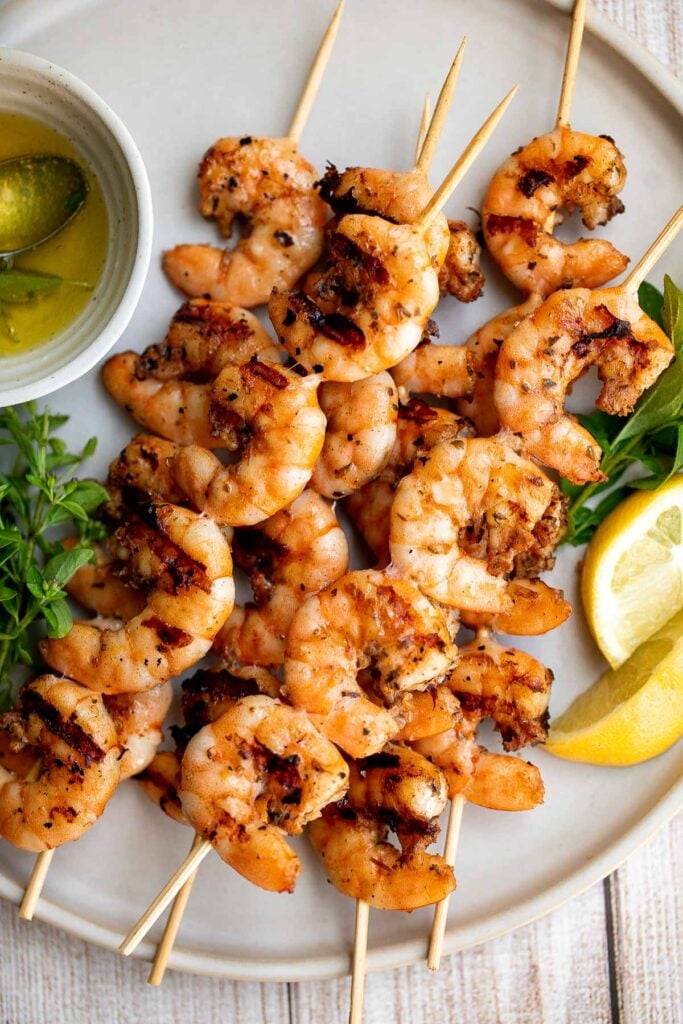 Tender, flaky, flavorful garlic butter salmon is well-seasoned, seared to perfection, and basted until juicy. Quick and easy to make in 20 minutes.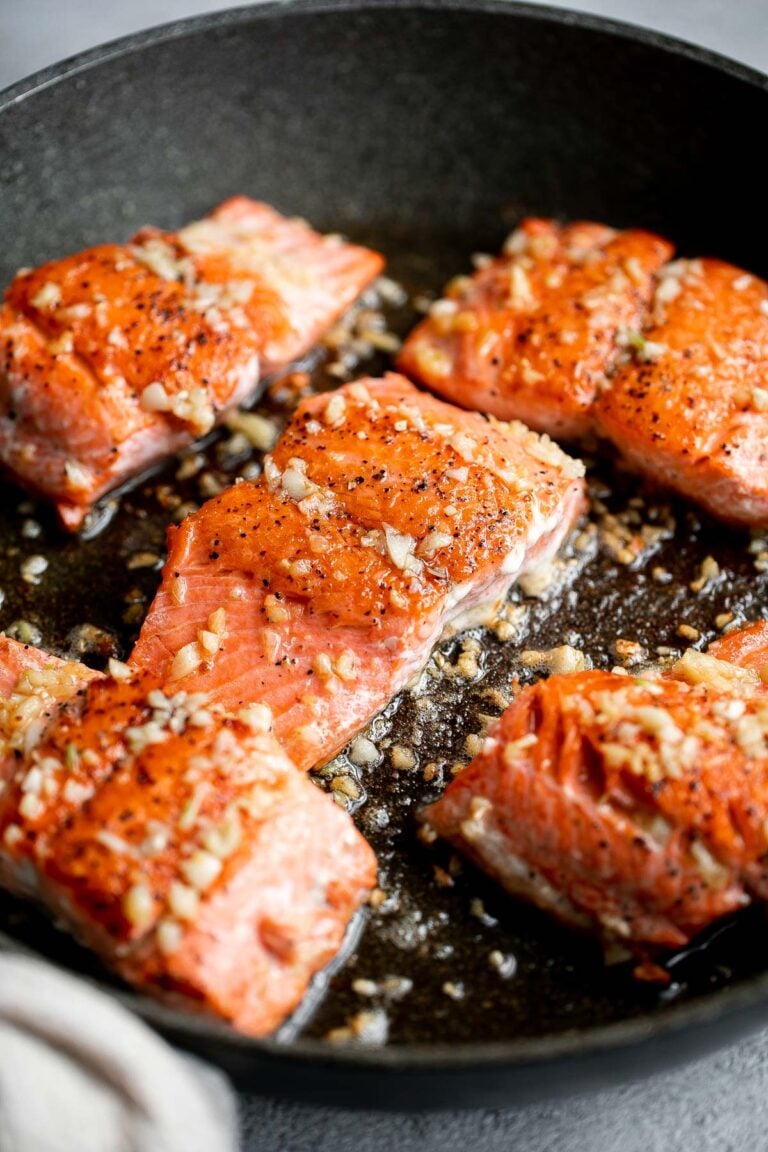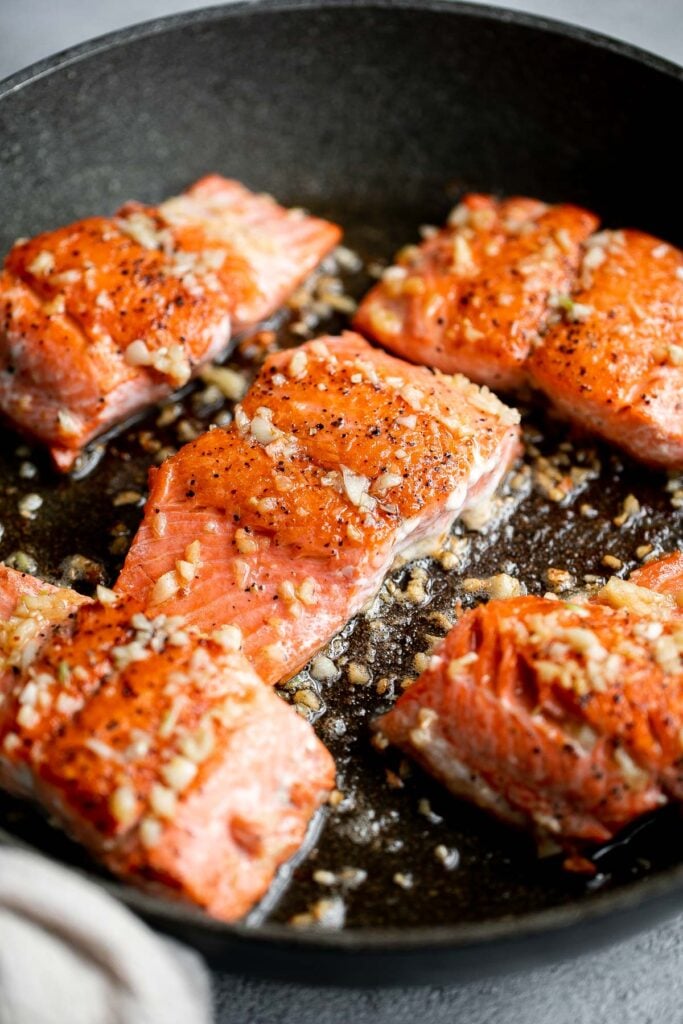 Flaky, oily, and tender, miso black cod (or sablefish) packed with delicious Asian flavours is an indulgent meal that's as healthy as it is delicious.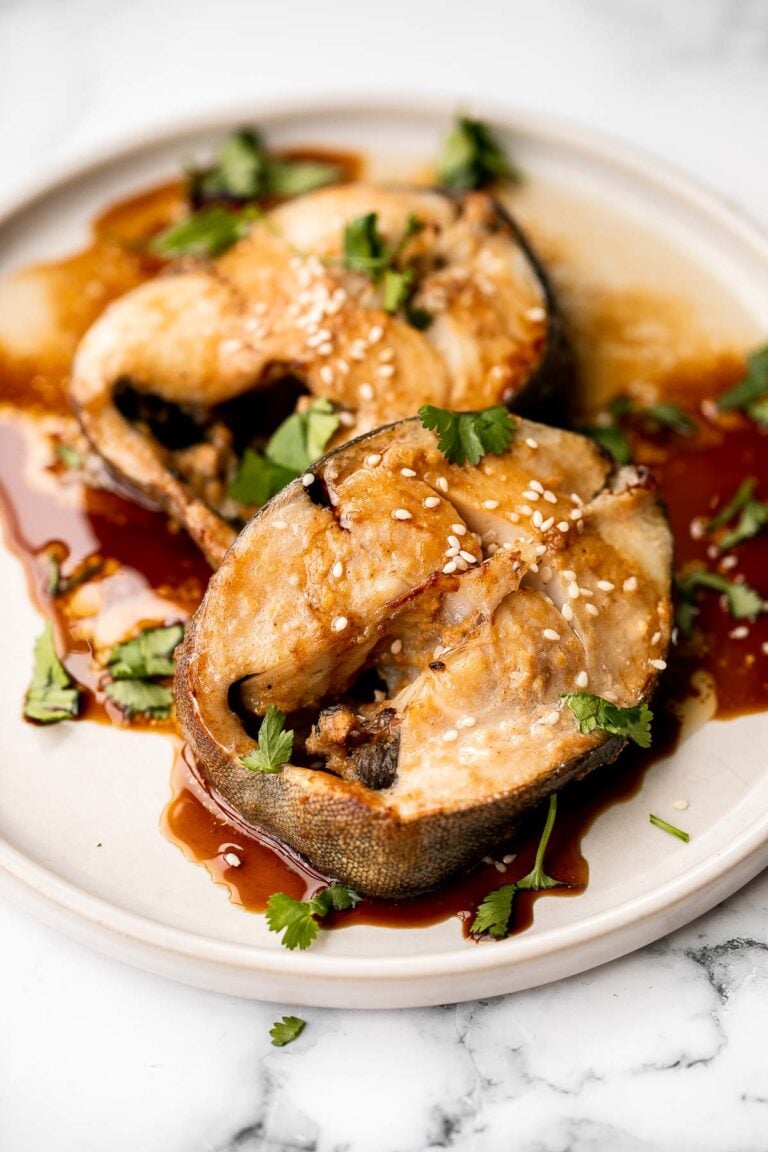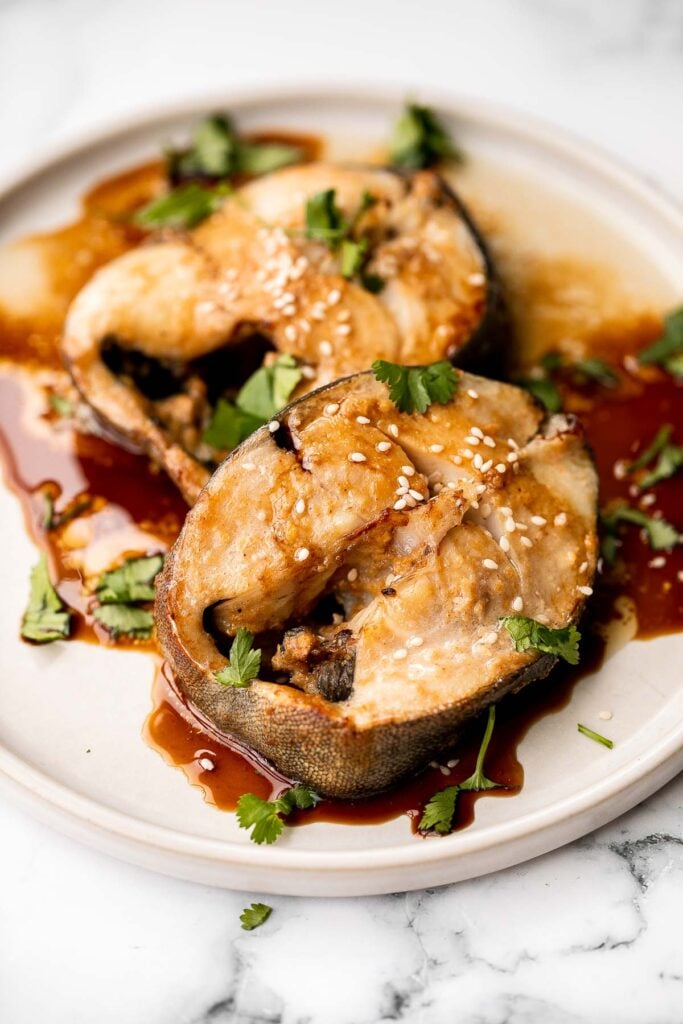 Shrimp Scampi with Zucchini Noodles
Shrimp scampi with zucchini noodles is filling, yet surprisingly light! Since we are using fresh zucchini noodles, you will feel no guilt in sopping up the sauce with an extra crusty piece of bread!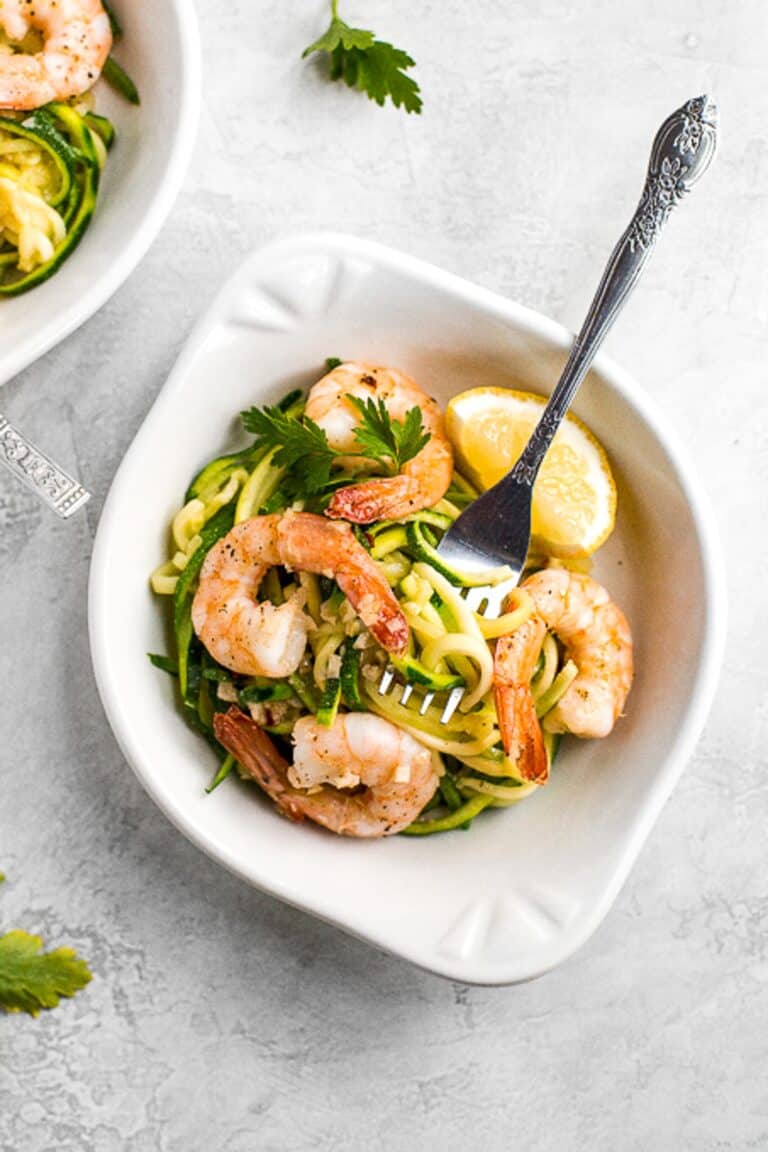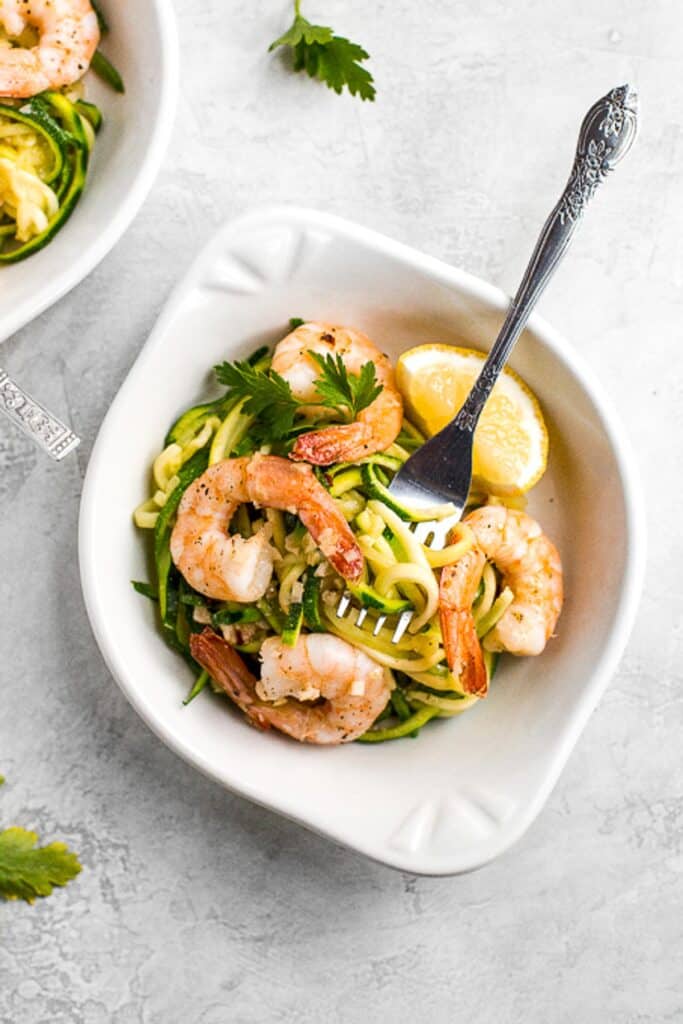 Pistachio-crusted salmon is a gourmet dinner without the gourmet skills! Prepare this with a handful of ingredients in less than 20 minutes!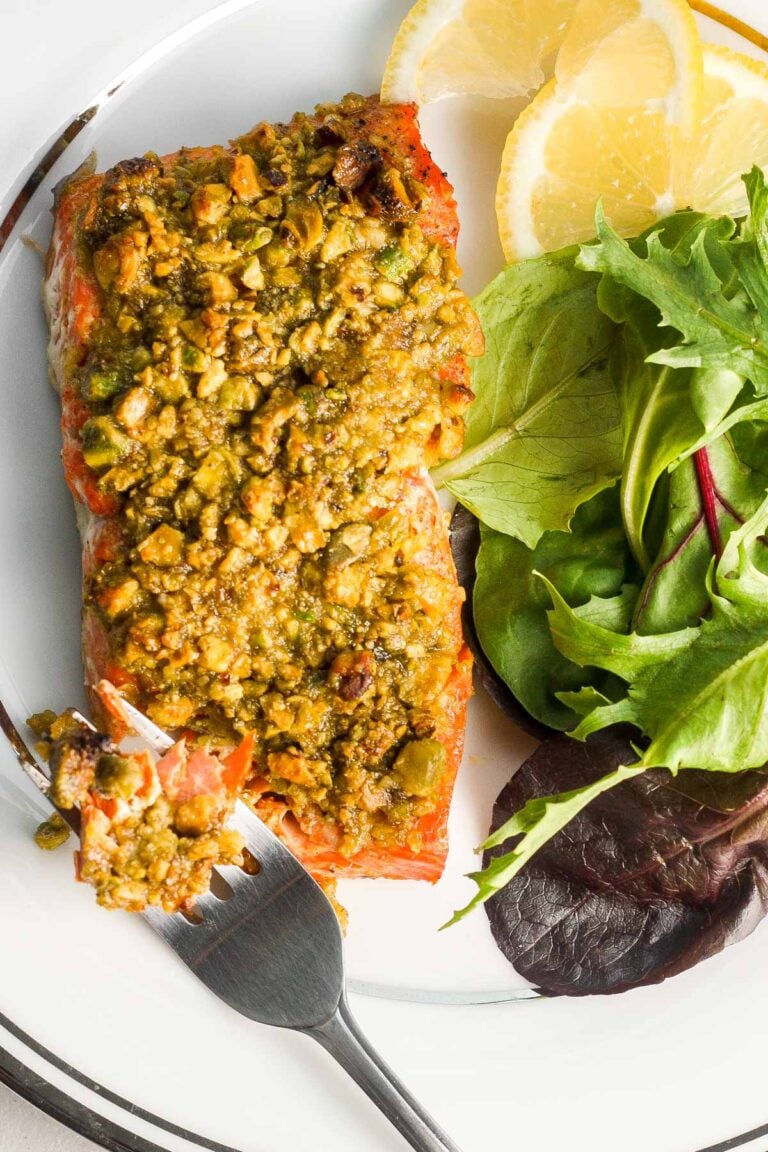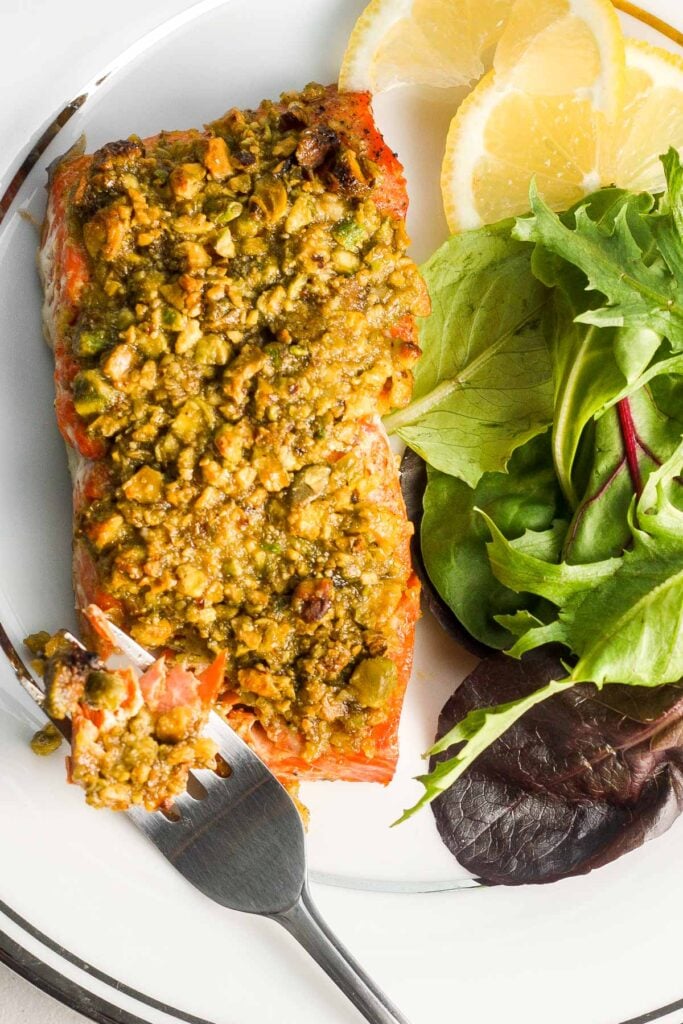 Garlicky, buttery, and perfectly seared scallops take less than 10 minutes to prep and cook. It's the easiest fancy, restaurant-grade meal to make at home.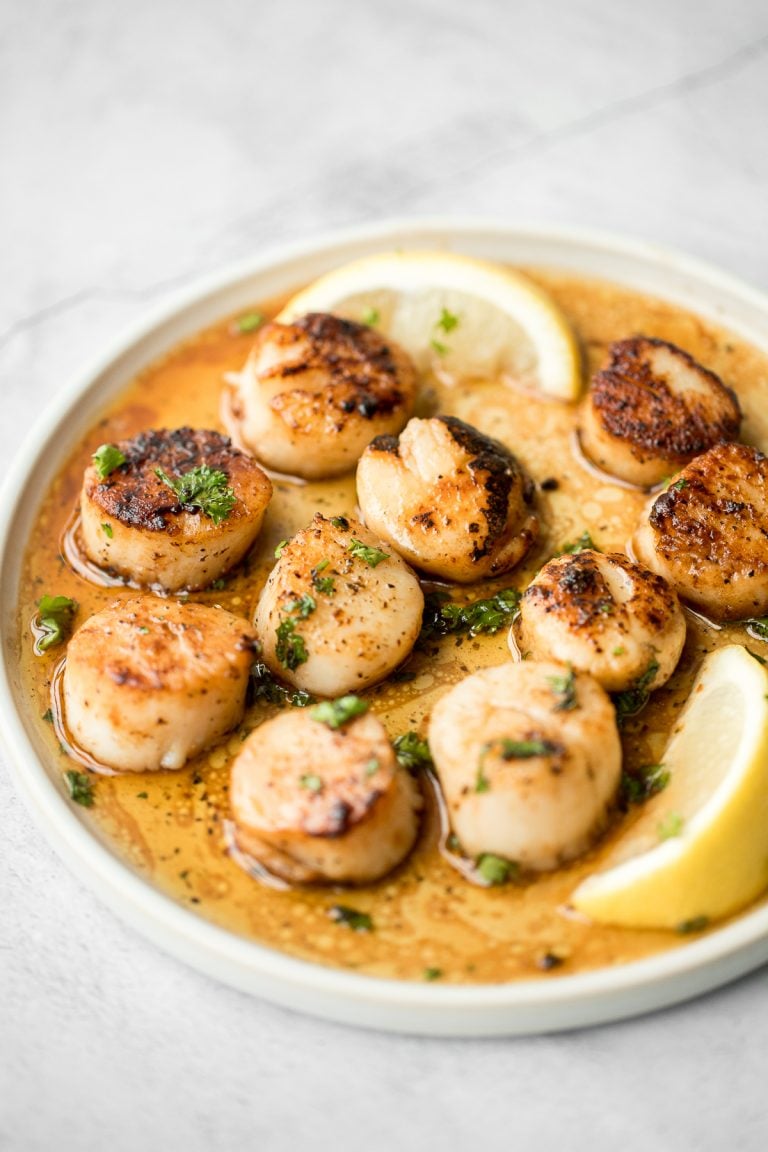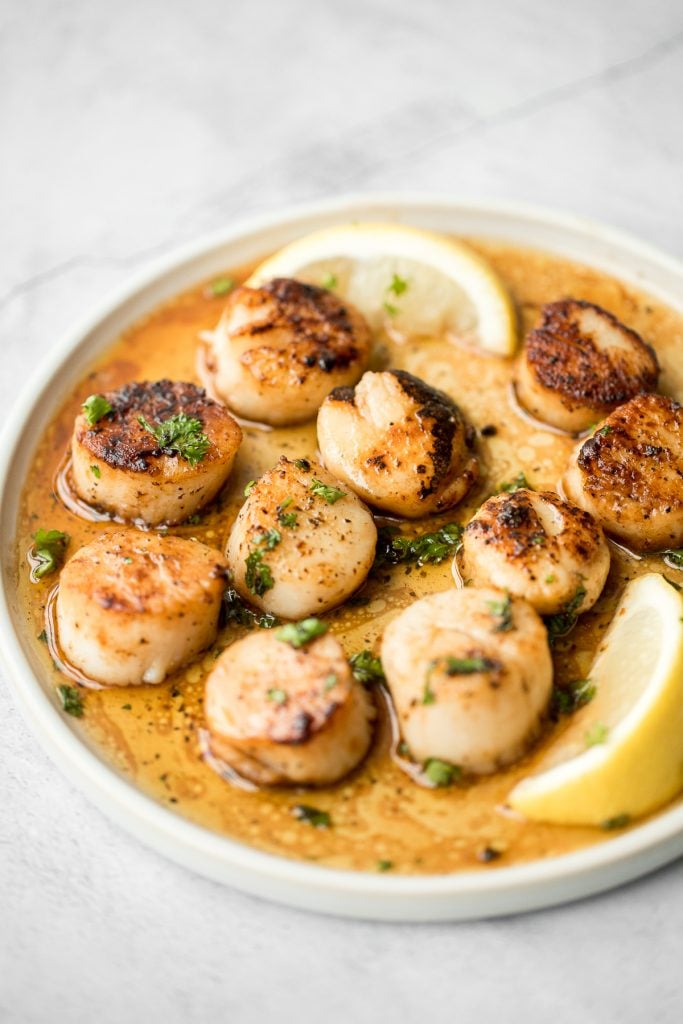 Mediterranean Recipes with Meat
Delicious, moist and juicy Mediterranean chicken patties have everything you want in one bite: protein, veggies, herbs, and they're quick and easy to make. Serve it on it's own, with hamburger buns, or a side of Basmati rice.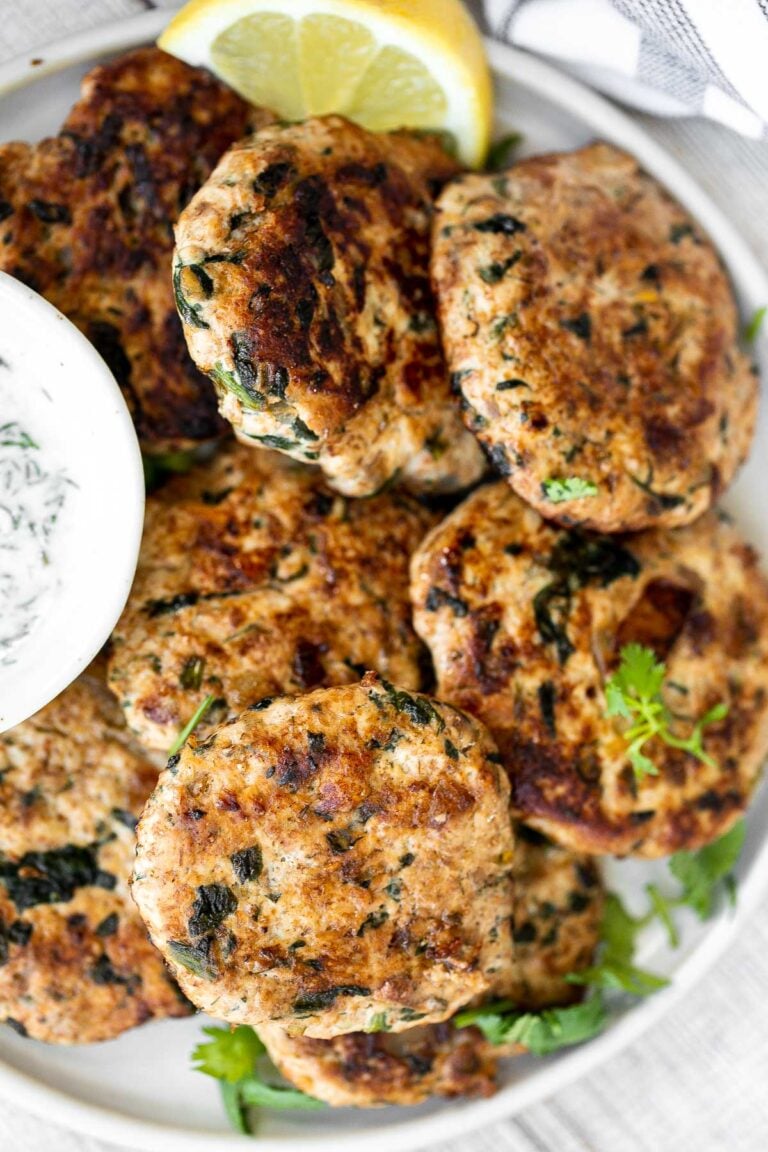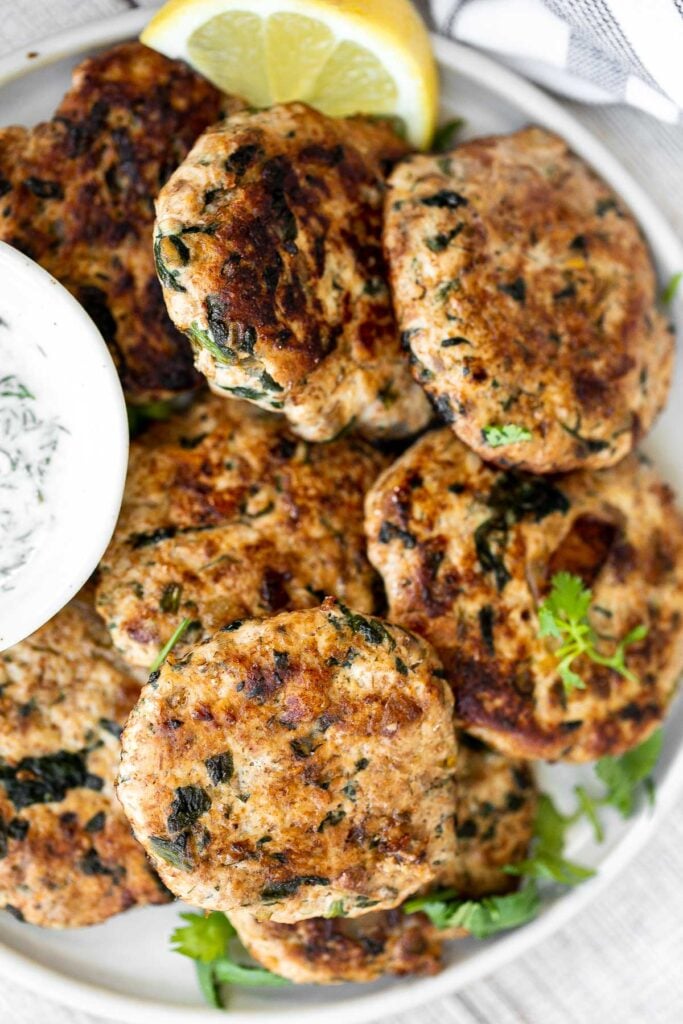 Homemade chicken shawarma (donair) with juicy tender chicken marinated in Middle Eastern spices and wrapped in pita bread is easy to make at home. Serve it with a Persian Shirazi Salad on the side.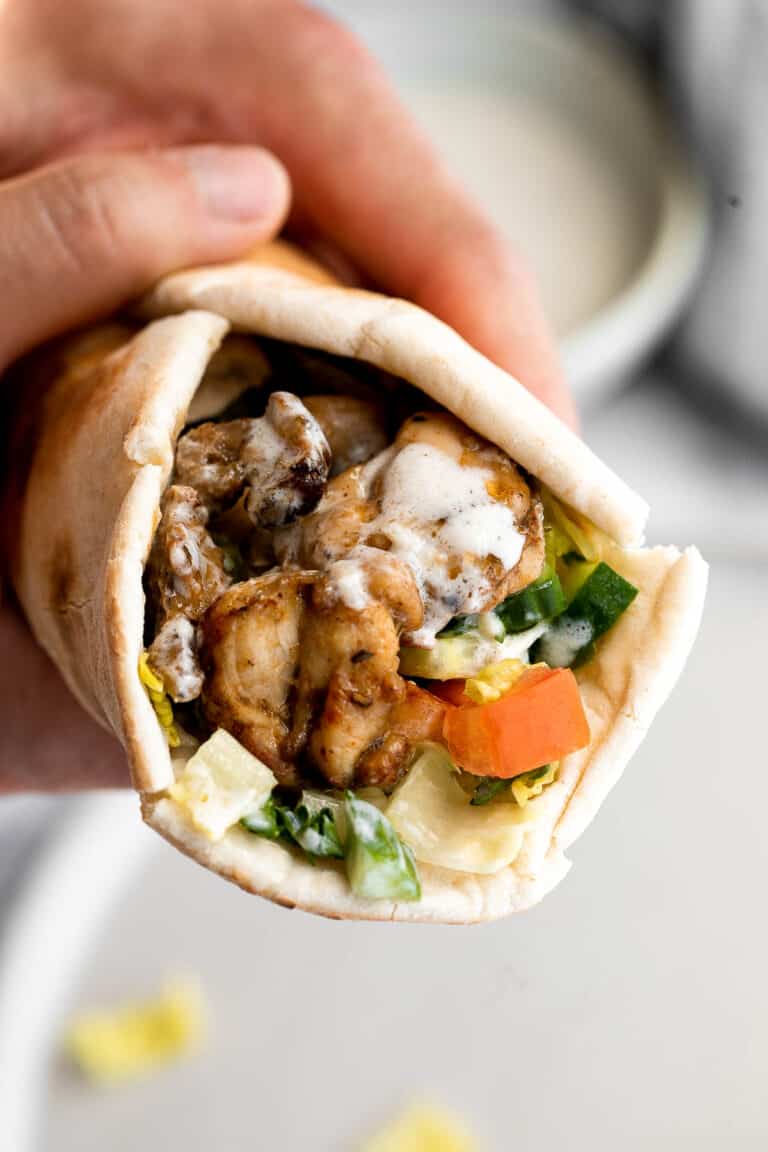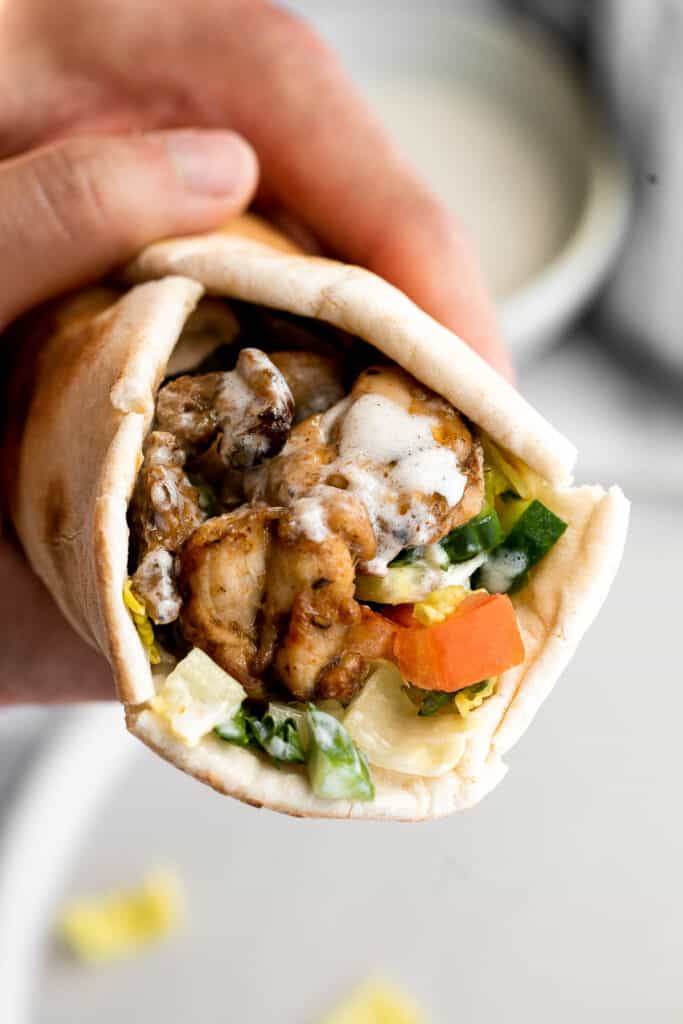 Easy Greek Chicken Souvlaki Skewers
Easy Greek chicken souvlaki skewers marinated in garlic, fresh herbs, lemon and bay leaves for that classic Mediterranean flavour. Grill in under 15 minutes. Serve alongside some easy Homemade Tzatziki Sauce. One of my favorite summer dinner recipes!
Easy Greek Chicken Gyros with Tzatziki
This refreshing and light, easy Greek chicken gyros is packed with tender souvlaki chicken, Greek salad, and homemade tzatziki sauce, all wrapped in a pita.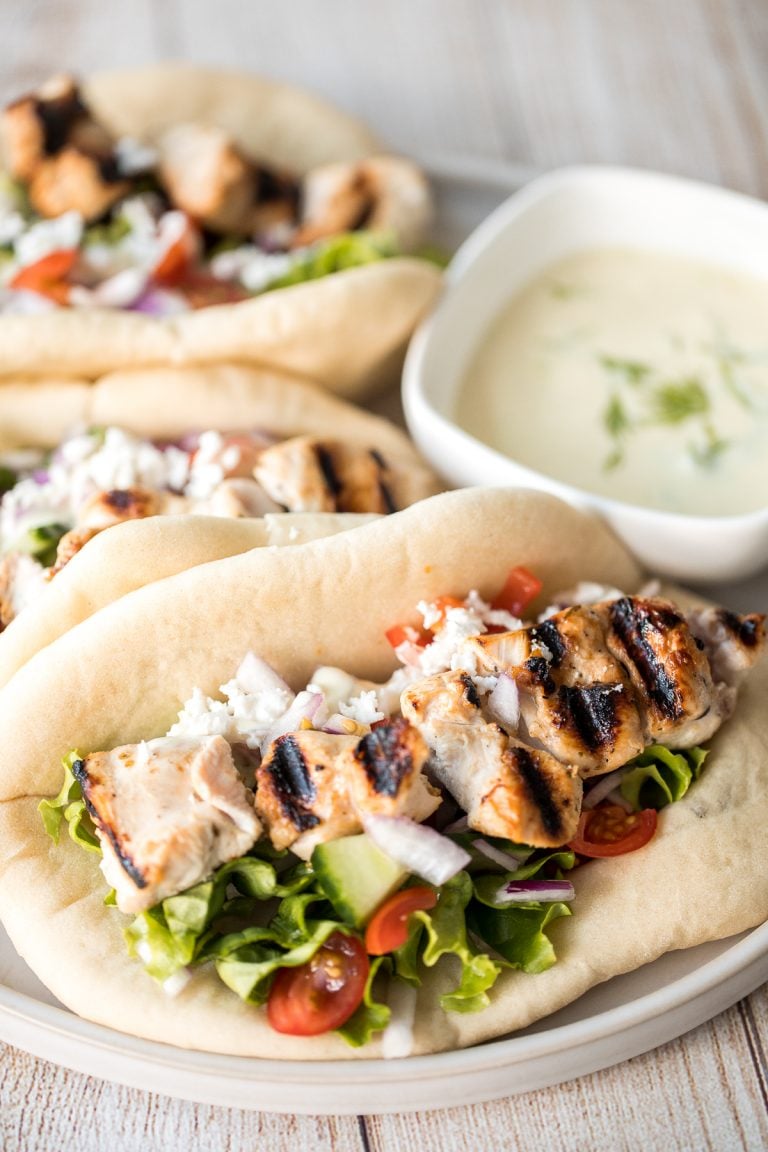 Quick and easy, grilled Greek lamb souvlaki skewers are marinated in a simple Mediterranean marinade for just 30 minutes. Serve with some tzatziki sauce. Serve over top of Rice Pilaf and Greek Salad on the side. So delicious.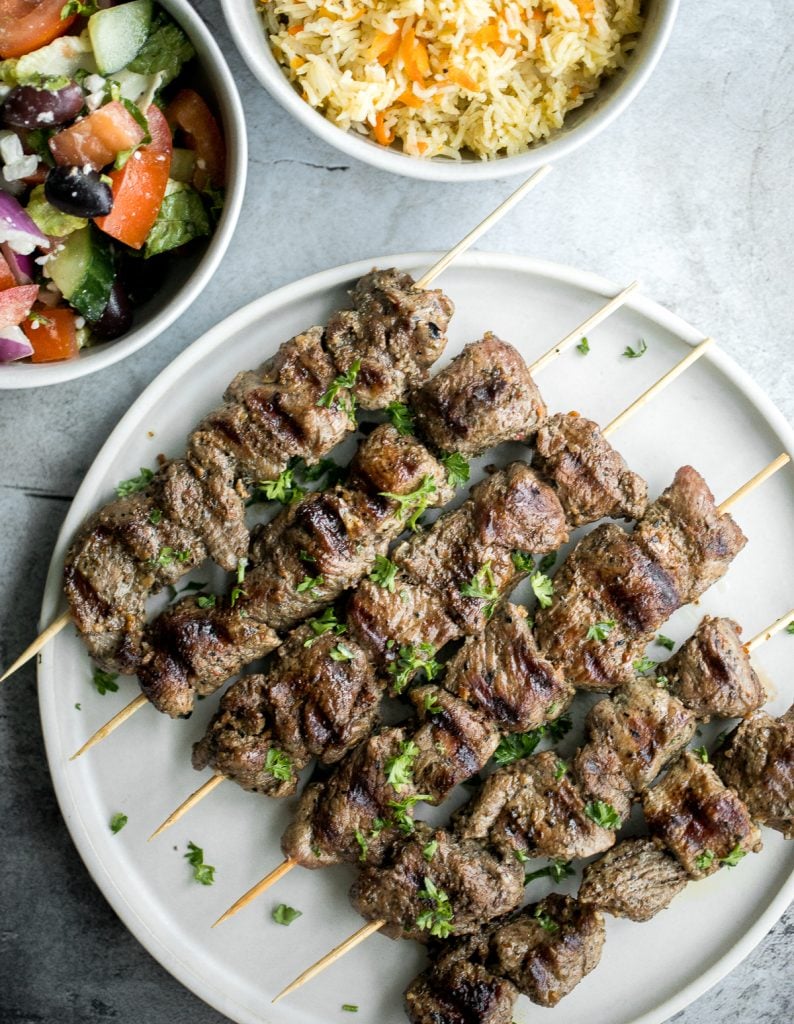 Baked caprese chicken is tender, juicy, and delicious, topped with burst tomatoes, mozzarella cheese, fresh basil, and a drizzle of balsamic glaze.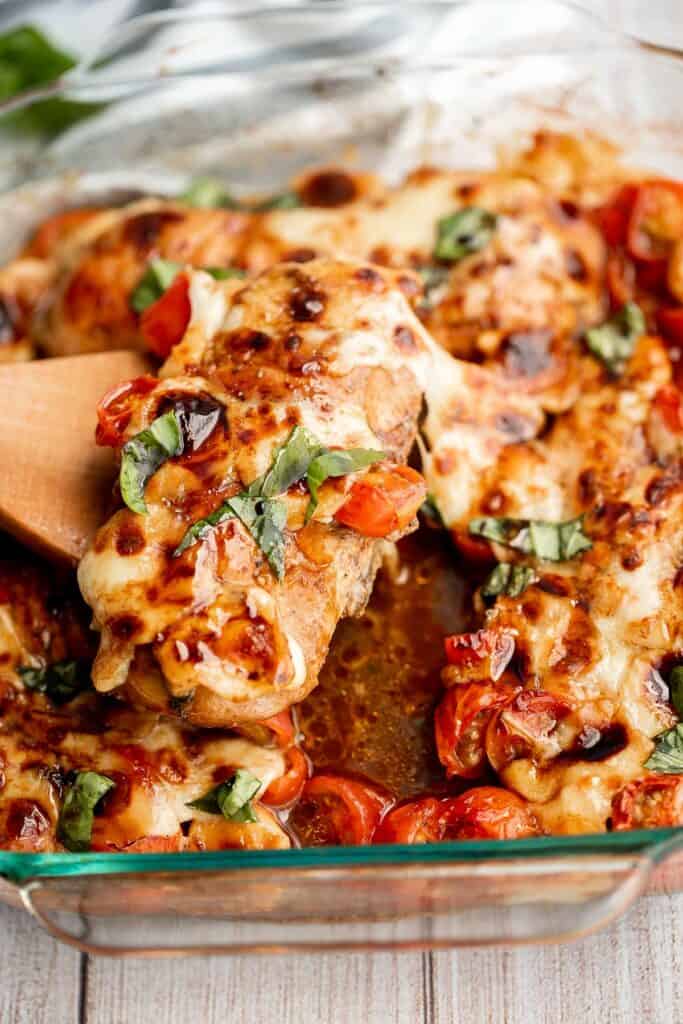 Mediterranean turkey burgers are tender, juicy, and delicious, loaded with garlic, fresh dill, and lemon juice. The perfect summer weeknight meal.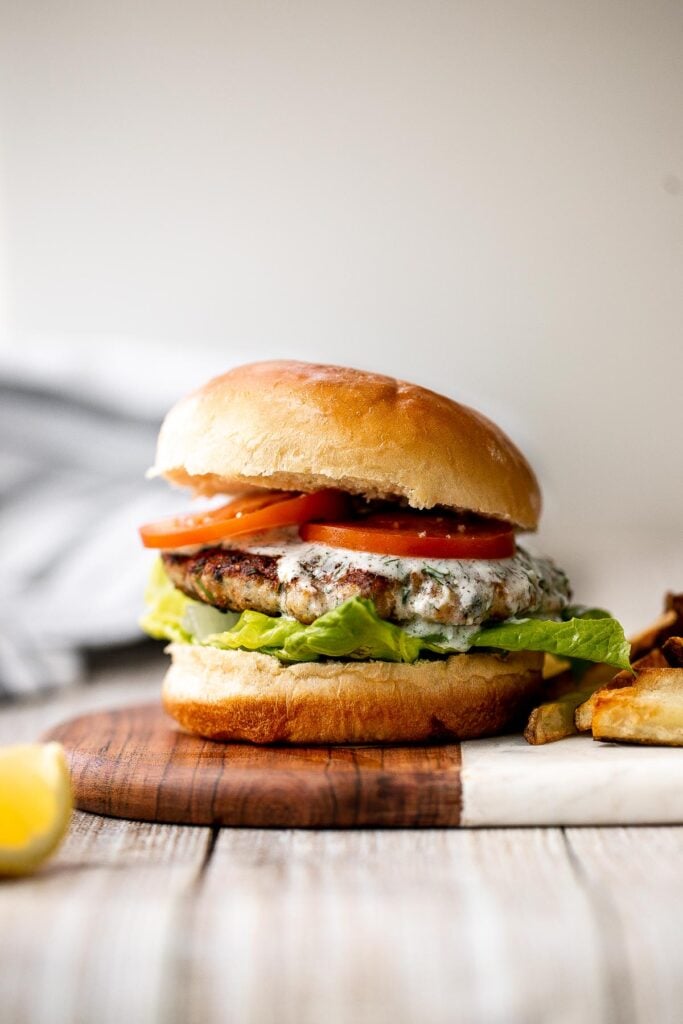 Easy Greek souvlaki beef shish kebabs are marinated in a garlicky lemony olive oil marinade and threaded with fresh vegetables. Cook on the grill or oven. Serve them wrapped inside some Homemade Pita Bread.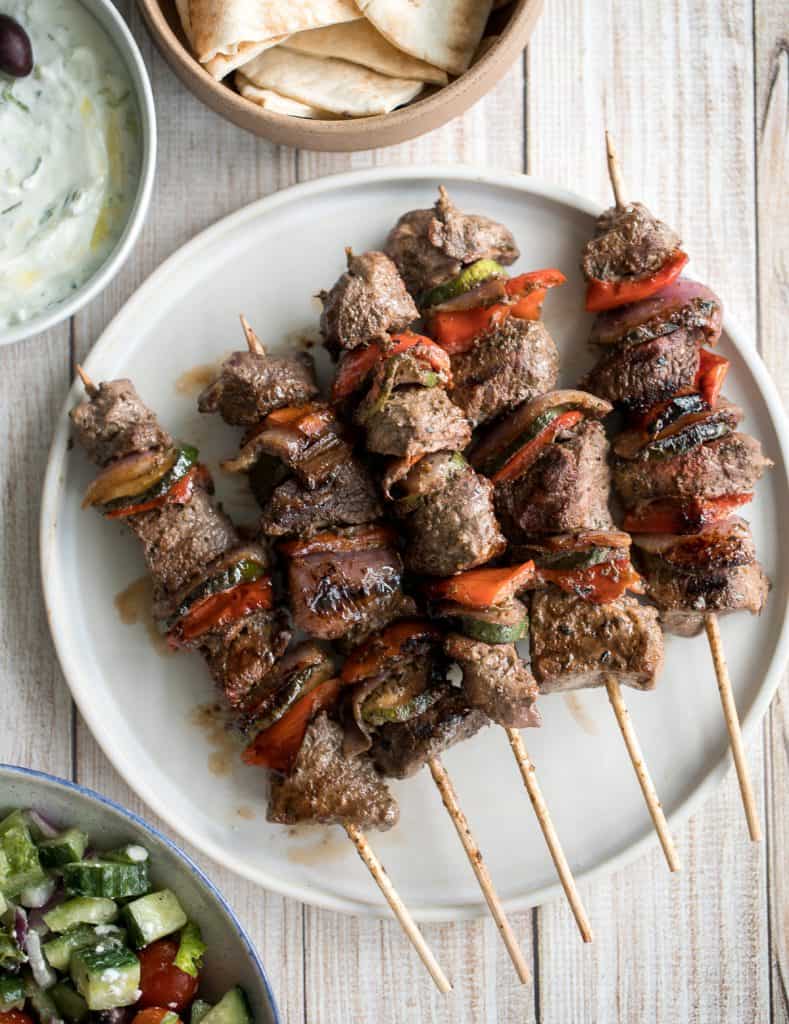 More Healthy Recipes
Did You Make Any of These Mediterranean Diet Recipes?
Please leave a comment and rating below, and let me know what you thought of this round up of the best Mediterranean Diet we have to offer. Be sure to snap a picture and tag me on Instagram @aheadofthyme or share it on the Pinterest pin so that I can follow along.
HUNGRY FOR MORE? Don't forget to sign up for my email newsletter so that you don't miss any recipes. You can also follow along on Instagram and Pinterest for more recipe updates.
Print
Recipe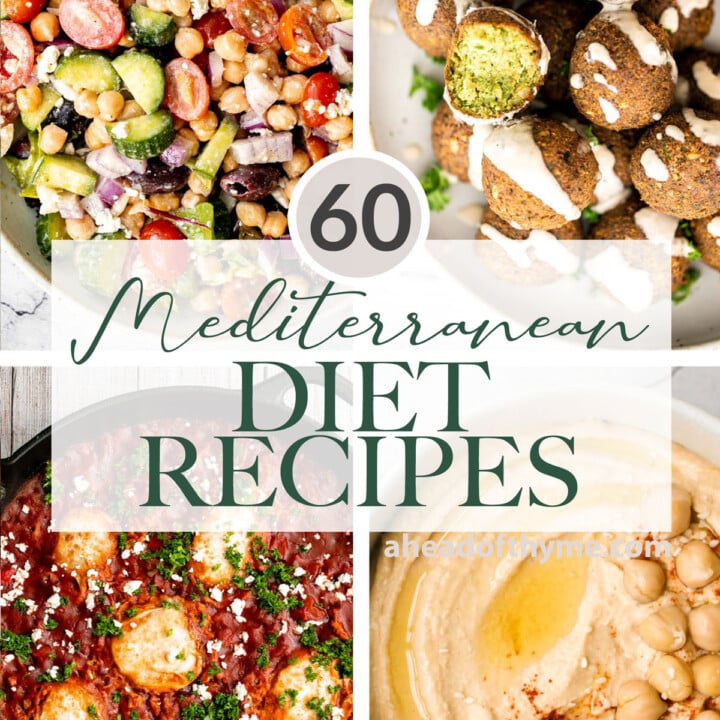 60 Mediterranean Diet Recipes
---
Author:

Total Time:

10 minutes

Yield:

4 servings

Diet:

Vegetarian
Description
 Over 60 best Mediterranean Diet recipes including breakfast, salad and sides, vegetarian recipes, seafood recipes, and lighter meat recipes. One of my favorite Mediterranean recipes is this Chickpea Greek Salad.
---
3 cups

 mixed greens

1

(15 oz.) can chickpeas, rinsed and drained

1 cup

 grape tomatoes, halved

2

 Persian cucumbers, halved and sliced

½ cup

 red onion, diced

½ cup

 kalamata olives, pitted

⅓ cup

 feta cheese, crumbled
For the Dressing:
3 tablespoons

 olive oil
juice from

½

 lemon

¼ teaspoon

 dried oregano

¼ teaspoon

 salt (or to taste)

¼ teaspoon

 ground black pepper (or to taste)
---
Instructions
In a large serving bowl, combine the salad ingredients including mixed greens, chickpeas, tomatoes, cucumbers, red onion, cucumber, olives and feta cheese. 
In a small mixing bowl, make the dressing by whisking together olive oil, lemon juice, oregano, salt and pepper.
Pour Greek salad dressing over the salad and toss to combine. Add more salt and black pepper to taste.
Notes
Make ahead instructions to avoid a soggy salad: To make ahead, store the salad and dressing separately in airtight containers in the refrigerator for up to one week. Add the dressing just before eating. This will prevent the salad from getting soggy. In addition to waiting to dress the salad, you can store paper towels in the container that your greens and veggies are in. This will absorb excess moisture and keep your salad looking alive and fresh.
How to store: If you anticipate leftovers, do not add all the dressing to the salad, rather serve the dressing on the side and add it to your own plate. You can store the salad with the dressing but depending on which greens you use in the salad, it may cause them to go limp when stored. If storing salad that has been mixed with the dressing, you can store in an airtight container in the refrigerator for up to 1-2 days. If storing separately, it will last up to 1 week.
How to make it vegan: This chickpea Greek salad is easy to make vegan and dairy-free. Just leave out the feta cheese.
Prep Time:

10 minutes

Category:

Salad

Method:

Tossed

Cuisine:

Greek
Keywords: 60+ Mediterranean diet recipes, Mediterranean recipes, Mediterranean food, Mediterranean diet