Breakfast is the most important meal of the day, so it's important to do things right. Whether you are looking for a full brunch spread on the weekends, or a quick breakfast on-the-go, I've got you. So if you are wondering "what to make for breakfast", you are in the right place. I am sharing over 50 of our most popular and best breakfast ideas including eggs, pancakes and toast, baked goods, oats and granola, bread, and fruity breakfast smoothies. You are sure to find your next morning meal in this collection of breakfast recipes.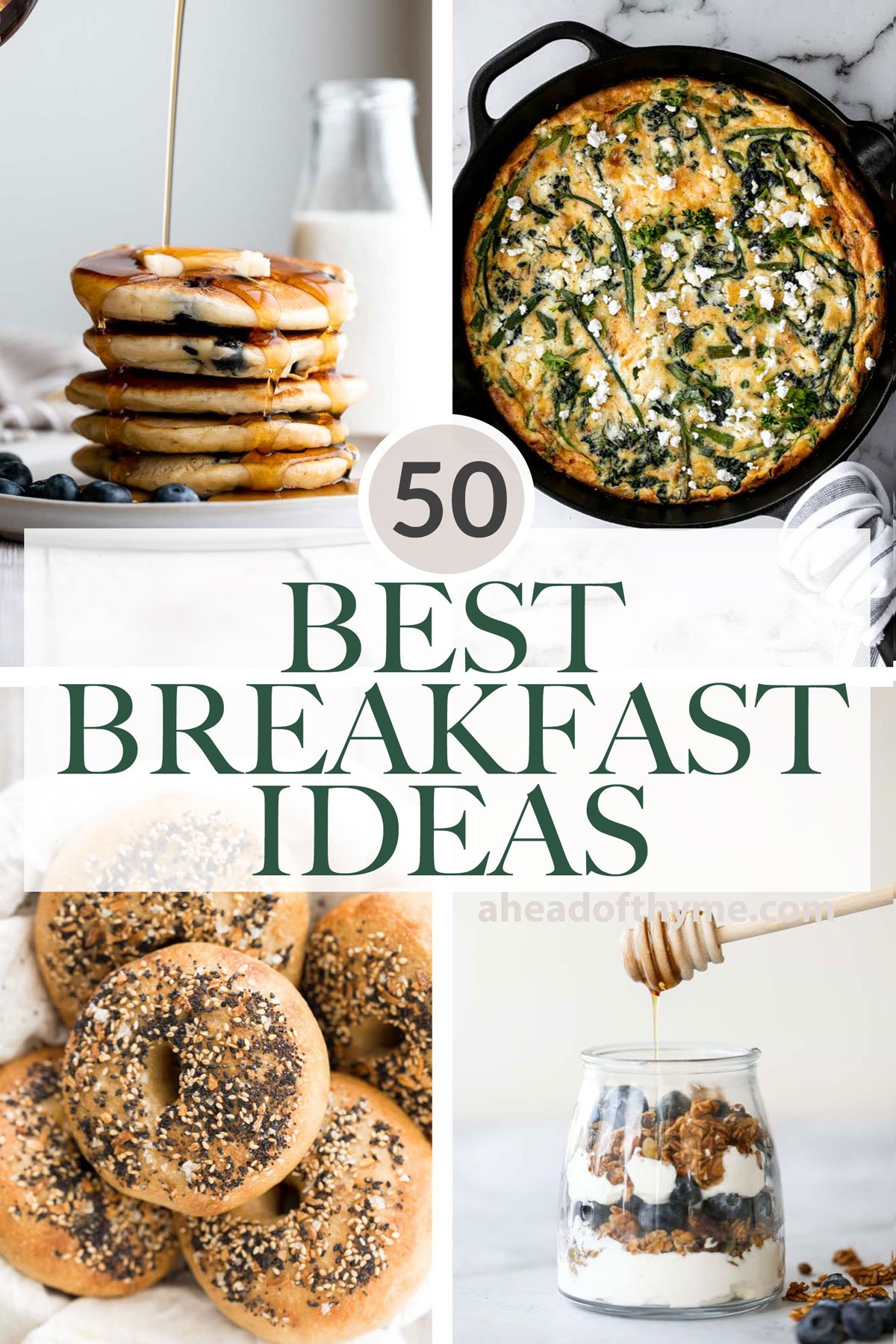 Eggs for Breakfast
Spring vegetable frittata is a delicious breakfast or served at any time of the day. It's a one-pan meal that starts on the stove and moves to the oven. This is one of my favorite breakfast ideas!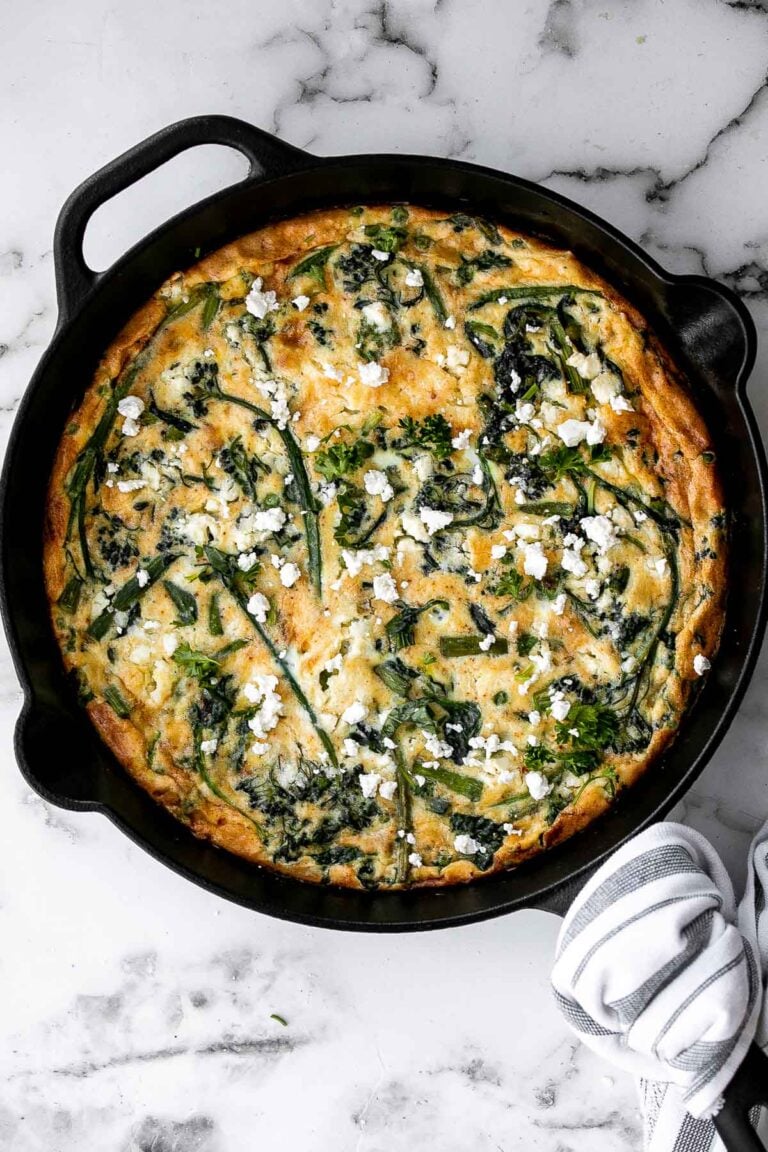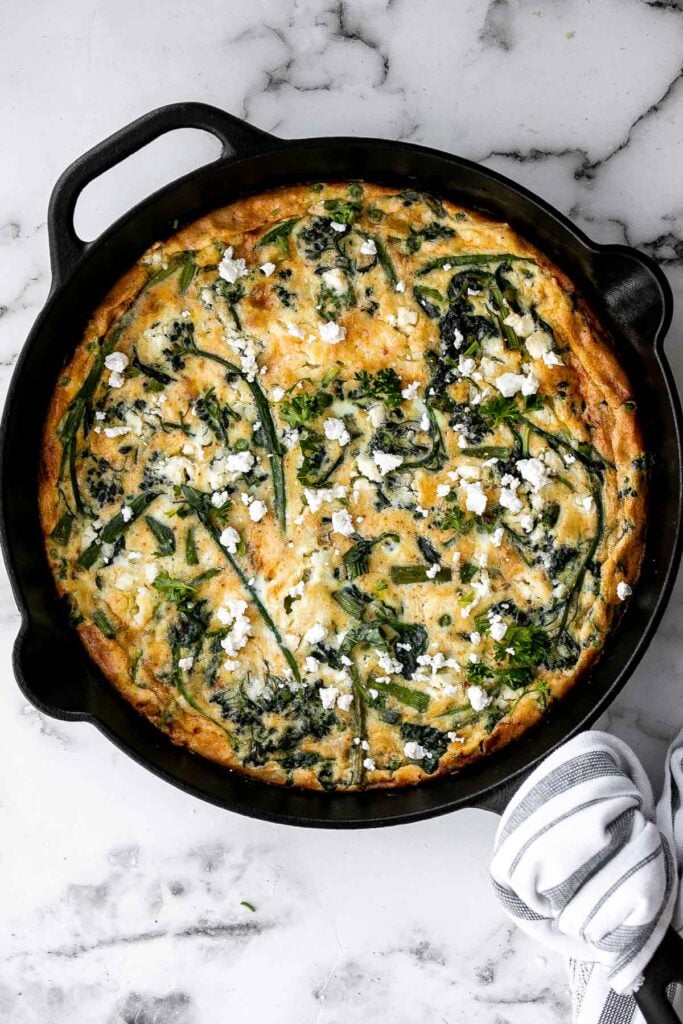 Egg and Potato Breakfast Casserole
Make this easy make-ahead egg and potato breakfast casserole by simply combining all the ingredients into a casserole dish, pop it in the oven and let it do its thing.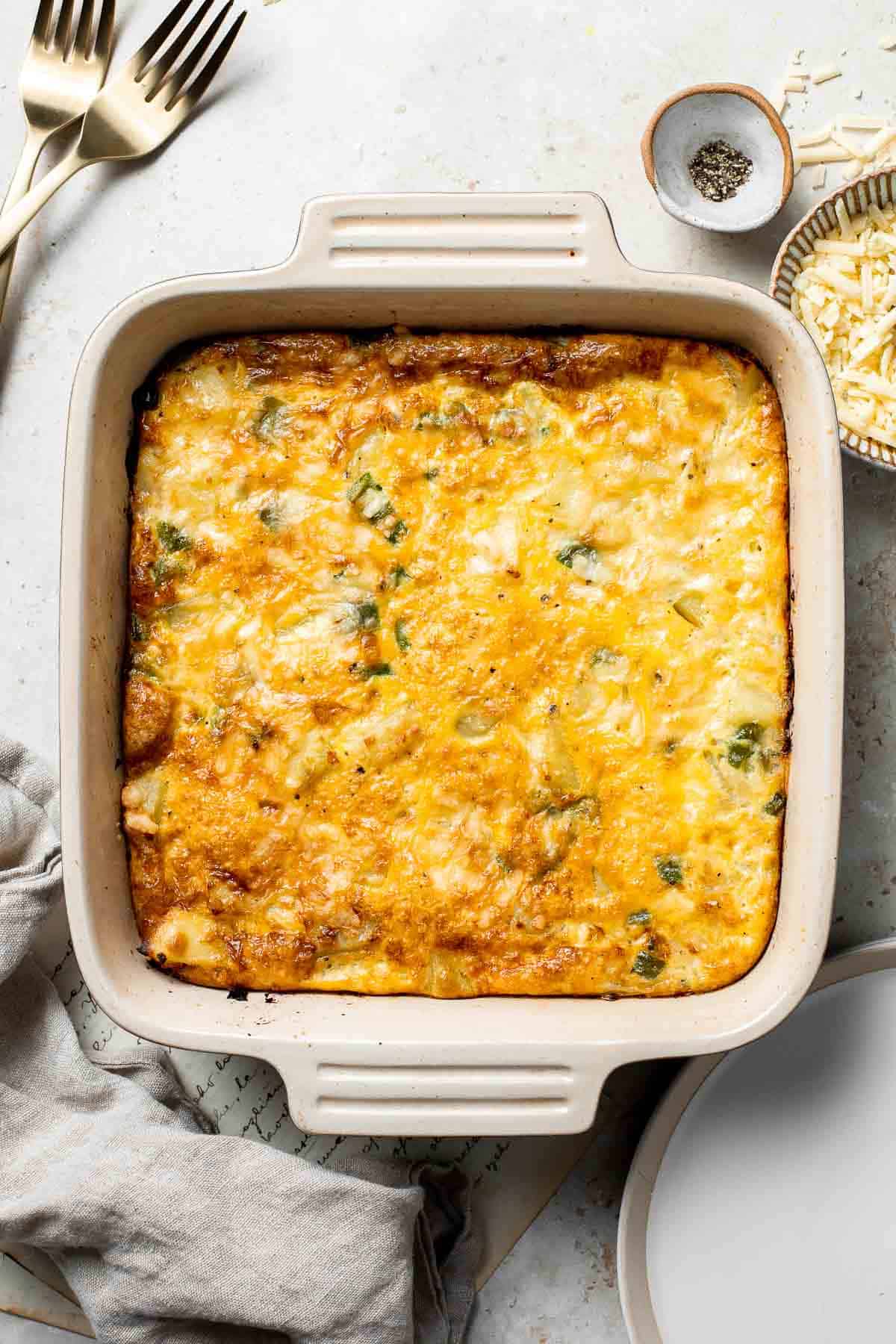 Egg muffins are a quick and easy way to meal prep breakfast on-the-go, loaded with cheddar cheese, bacon or salami, and green onions. Make 12 in 30 minutes.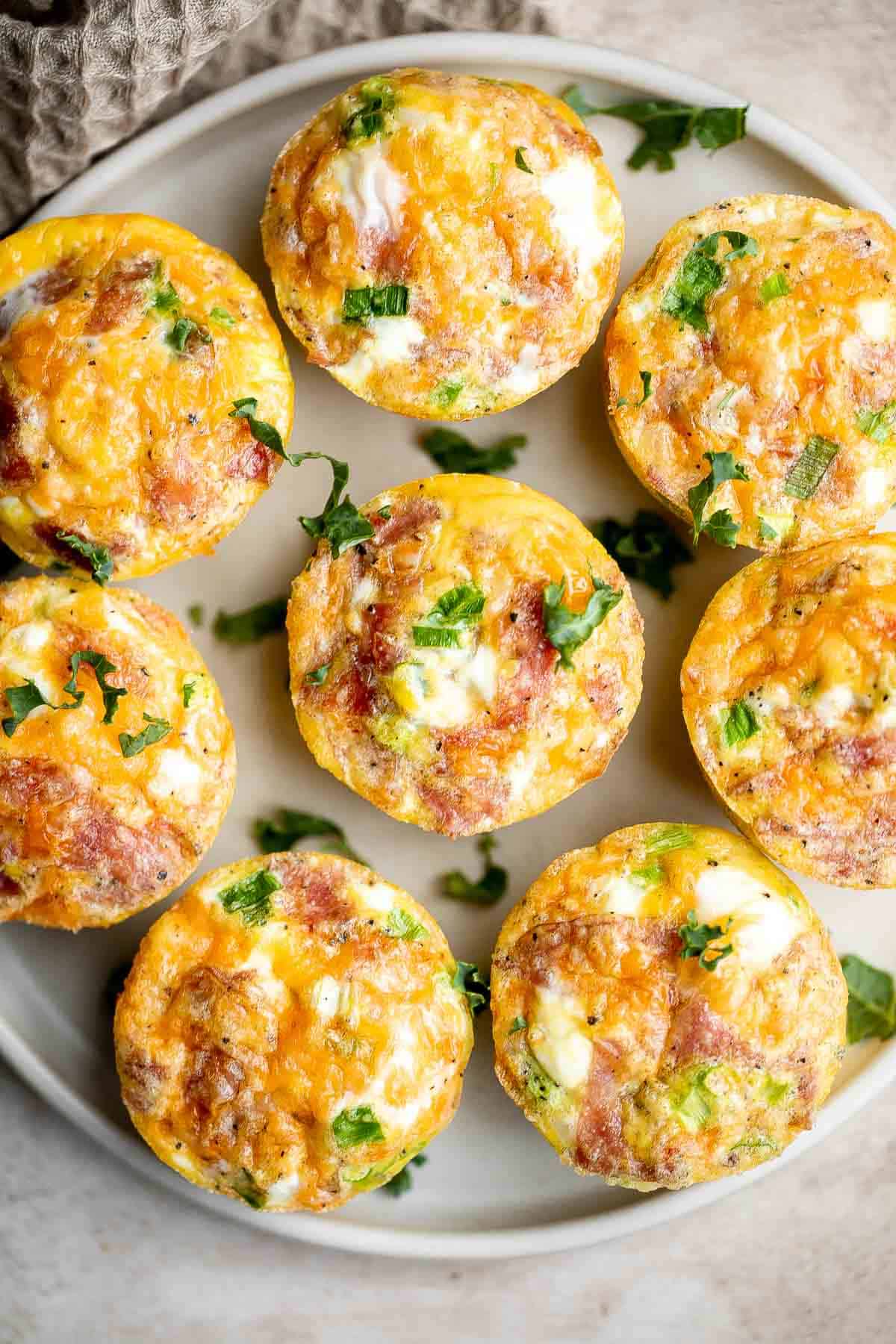 Huevos Rancheros is a classic Mexican breakfast dish that features fried eggs perched atop a bed of warm tortillas and beans and topped with salsa.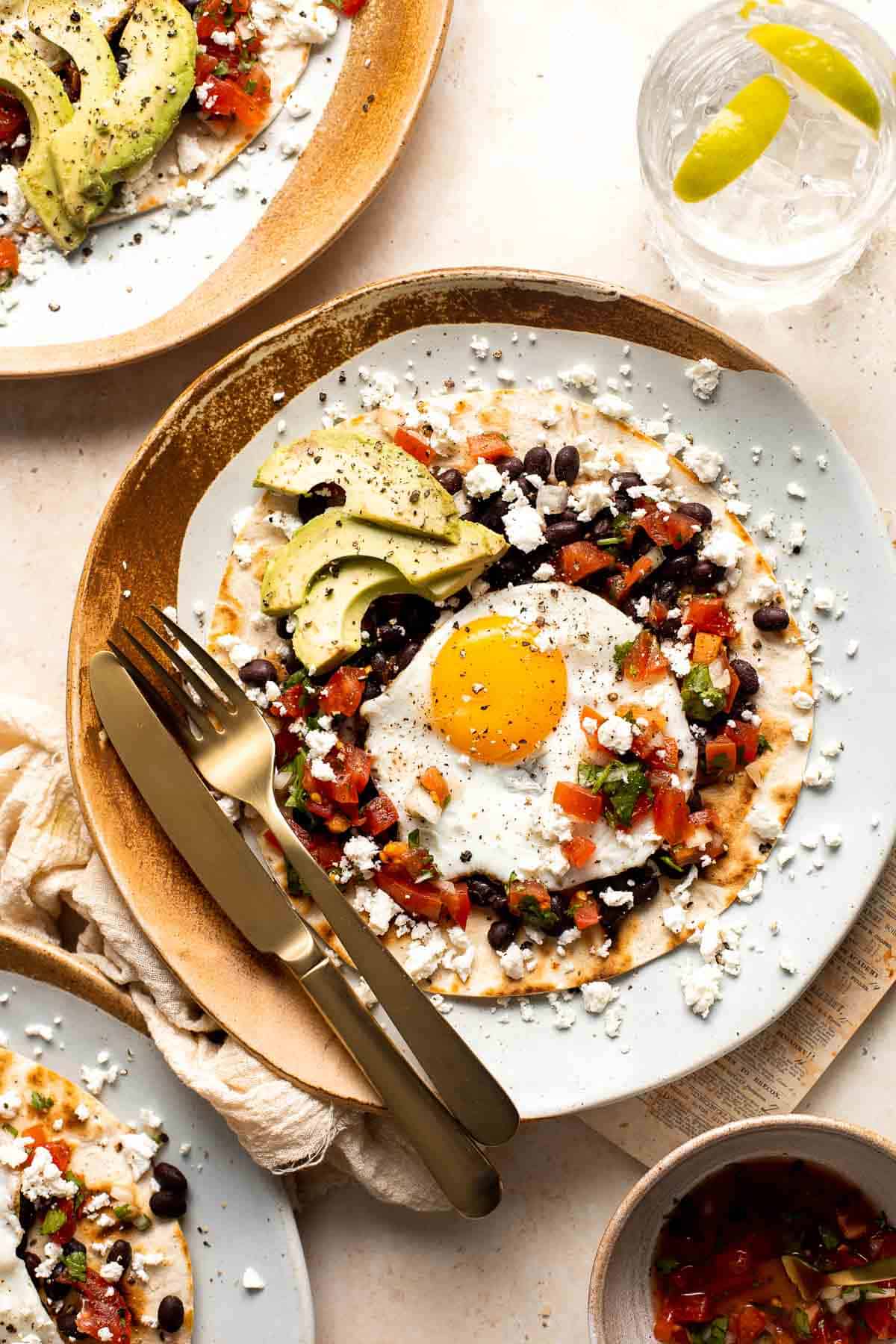 Roasted Asparagus with Poached Eggs
Roasted asparagus with poached eggs is a match made in food heaven. Serve this topped with fresh herbs and lots of black pepper for a classy, elevated brunch dish that will leave you feeling light, but completely satisfied.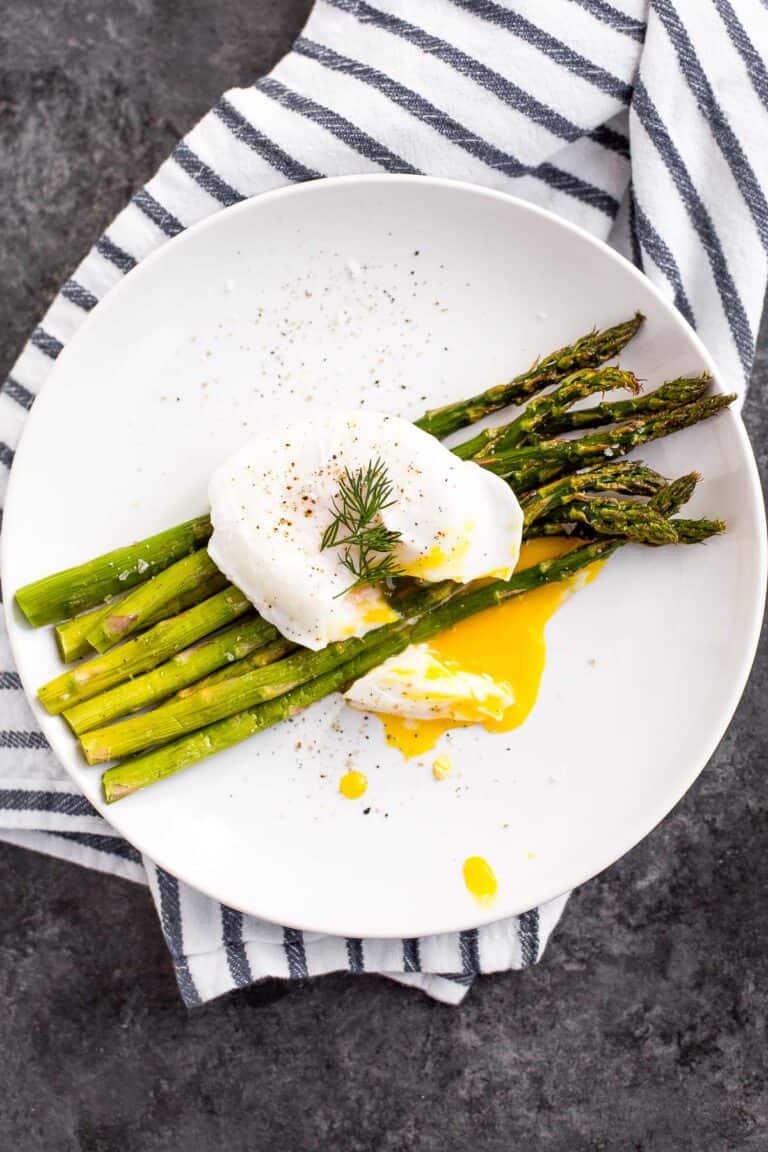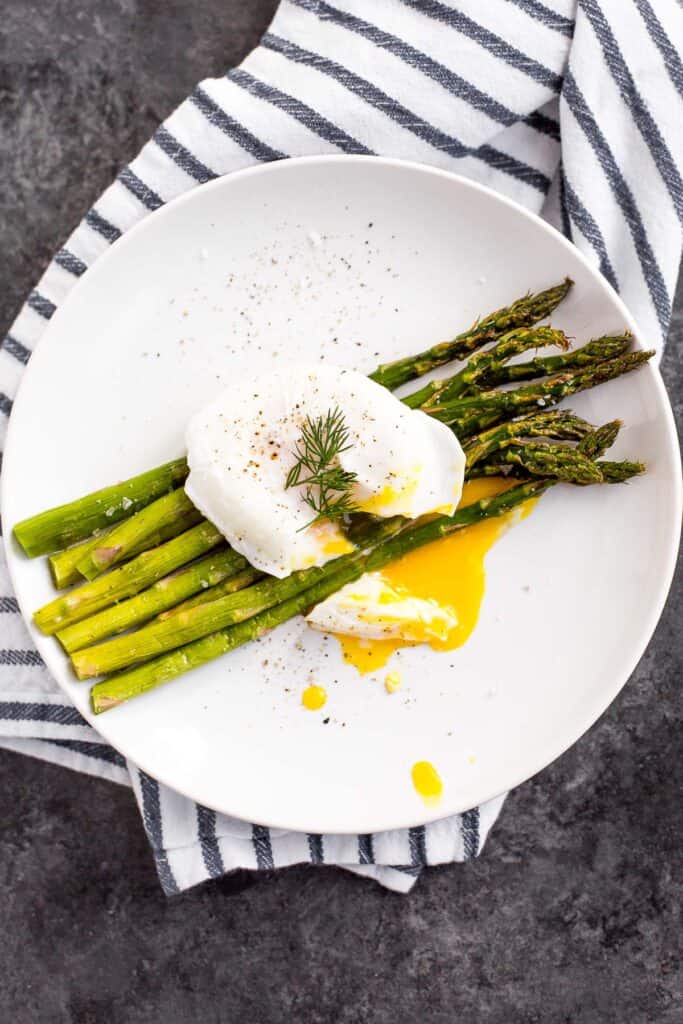 Shakshuka is a quick and easy, one-pan Middle Eastern classic with a savory saucy tomato-vegetable base and perfectly poached eggs on top.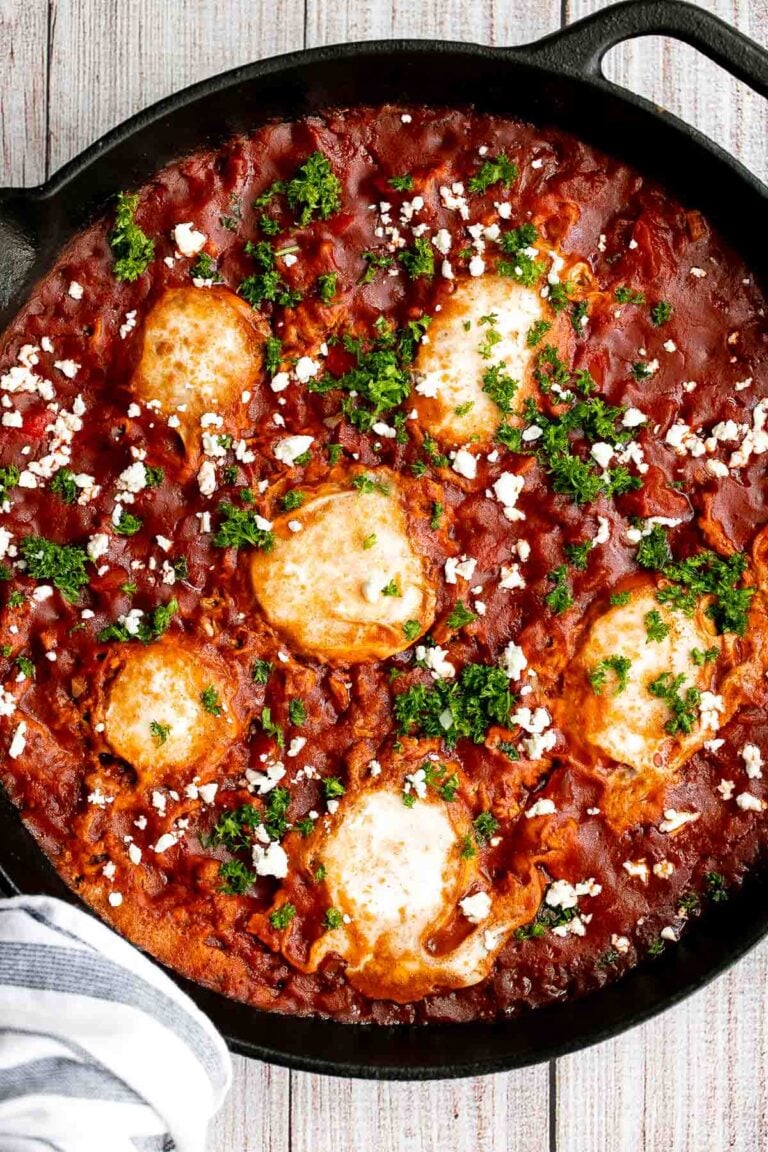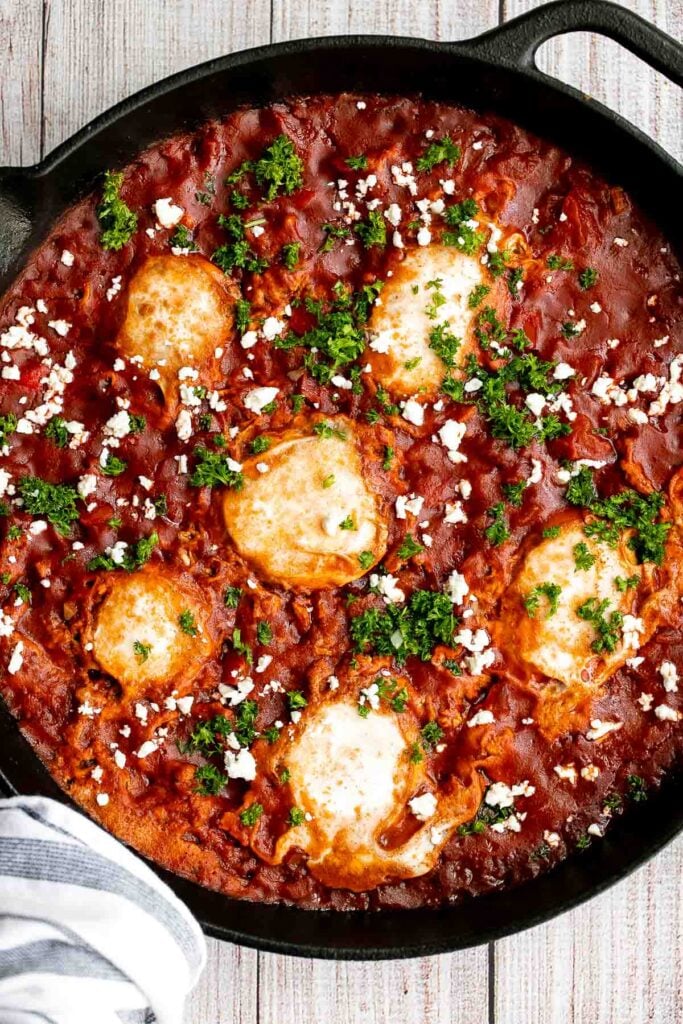 Mediterranean Scrambled Eggs with spinach, tomato, and feta is loaded with flavor and a quick and easy breakfast to make in under 10 minutes (with prep!). One of the easiest breakfast ideas.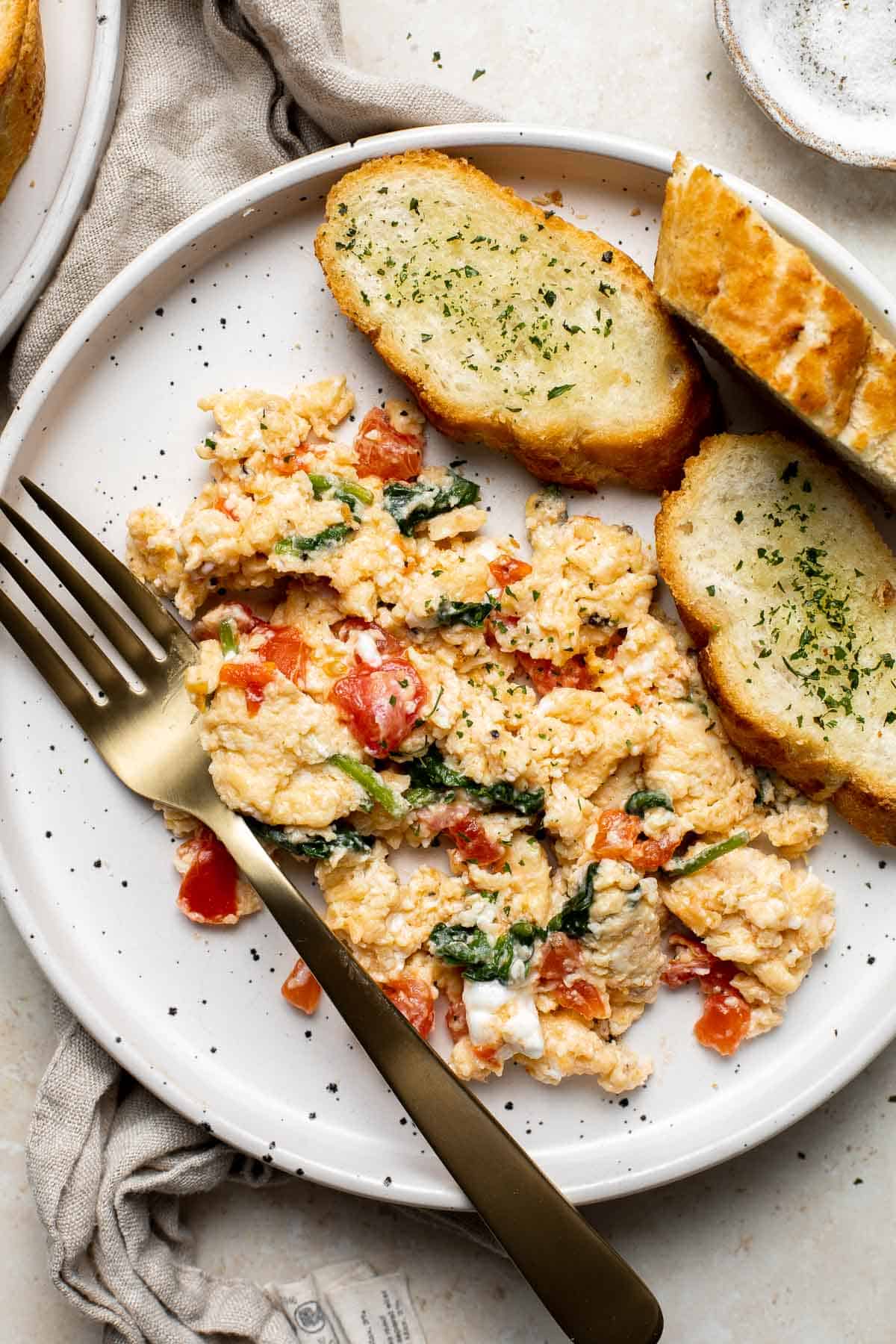 Breakfast Strata is a hearty baked casserole dish loaded with bread, eggs, ham, cheese, and veggies that will keep you full until lunchtime.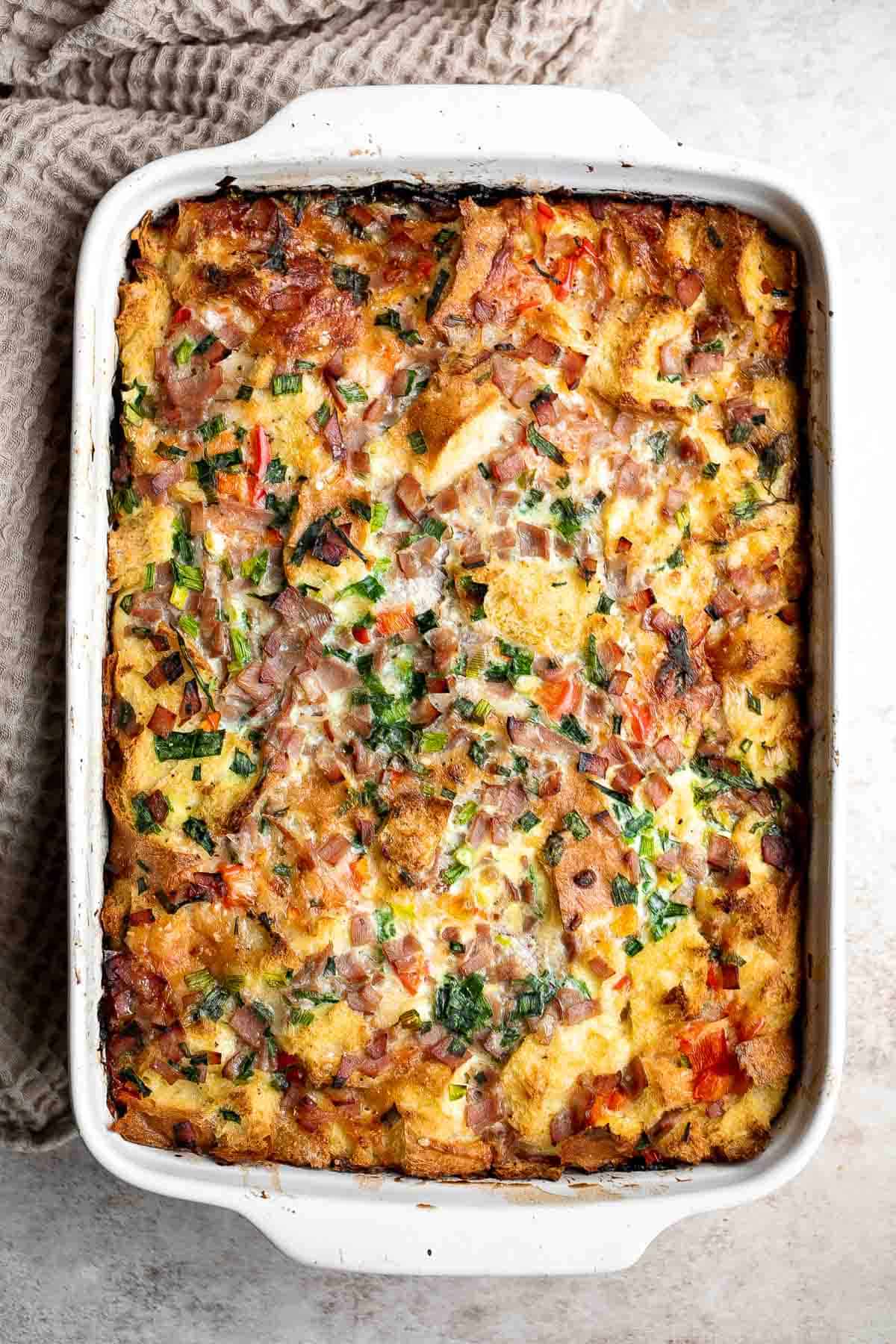 Spinach and Feta Quiche with Cauliflower Crust
Spinach and feta quiche is healthy and gluten-free with a keto cauliflower crust and savoury vegetarian filling. The perfect breakfast to give you the energy to do all the things you want to do on Christmas morning.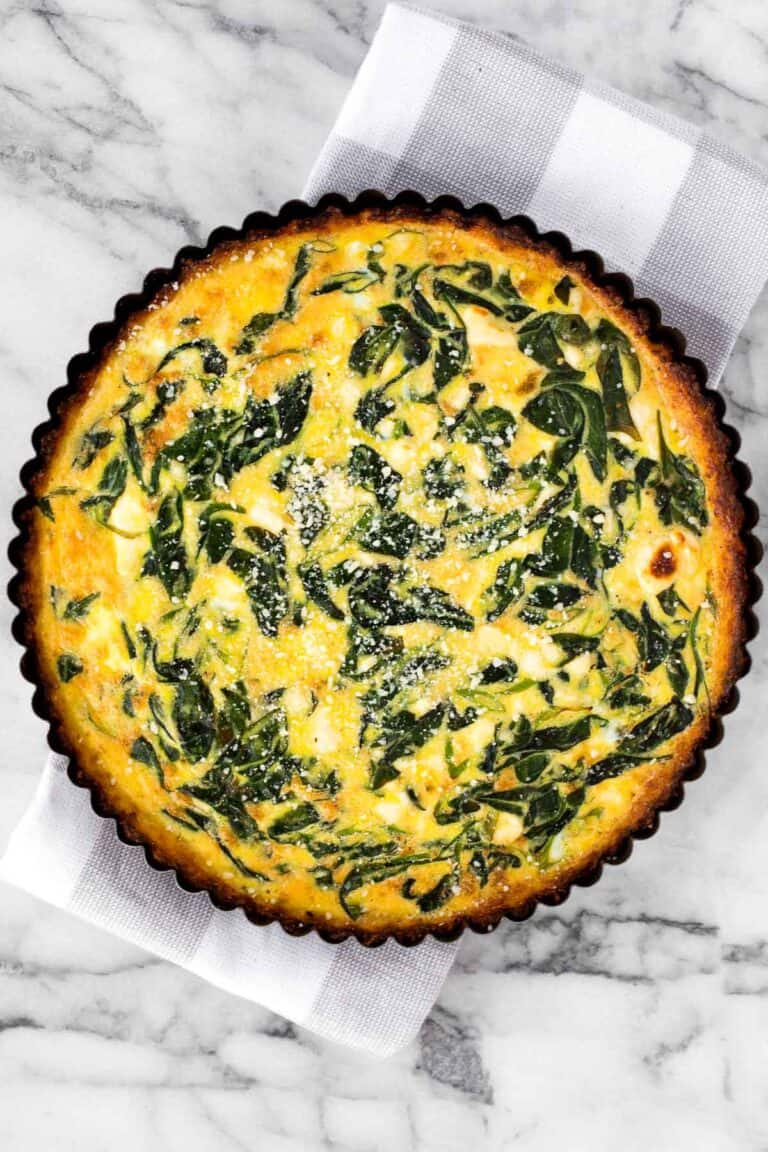 Caprese Frittata is light and fluffy, laced with fresh basil and topped with melted mozzarella cheese and blistered balsamic tomatoes. Ready in 10 minutes!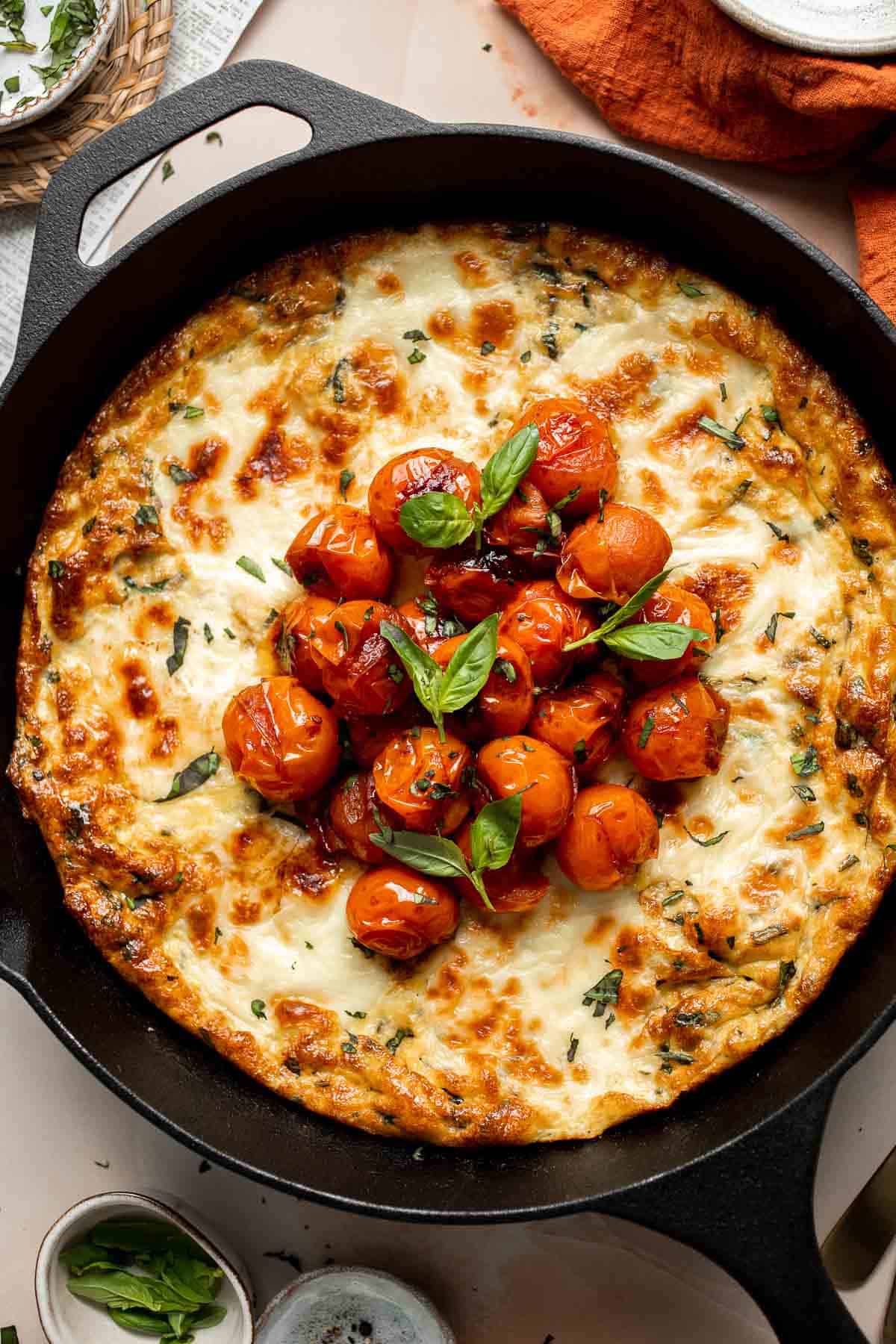 Classic deviled eggs are a simple, easy, and healthy appetizer to make when you need something quick for brunch, picnics, barbecues, potlucks, or Easter.
Vegetarian Breakfast Quesadillas
Make-ahead, freezer-friendly vegetarian breakfast quesadillas stuffed with eggs, onions, green peppers, mushrooms, and sharp white cheddar, are grilled to crispy perfection. Eat them now or freeze for a later day.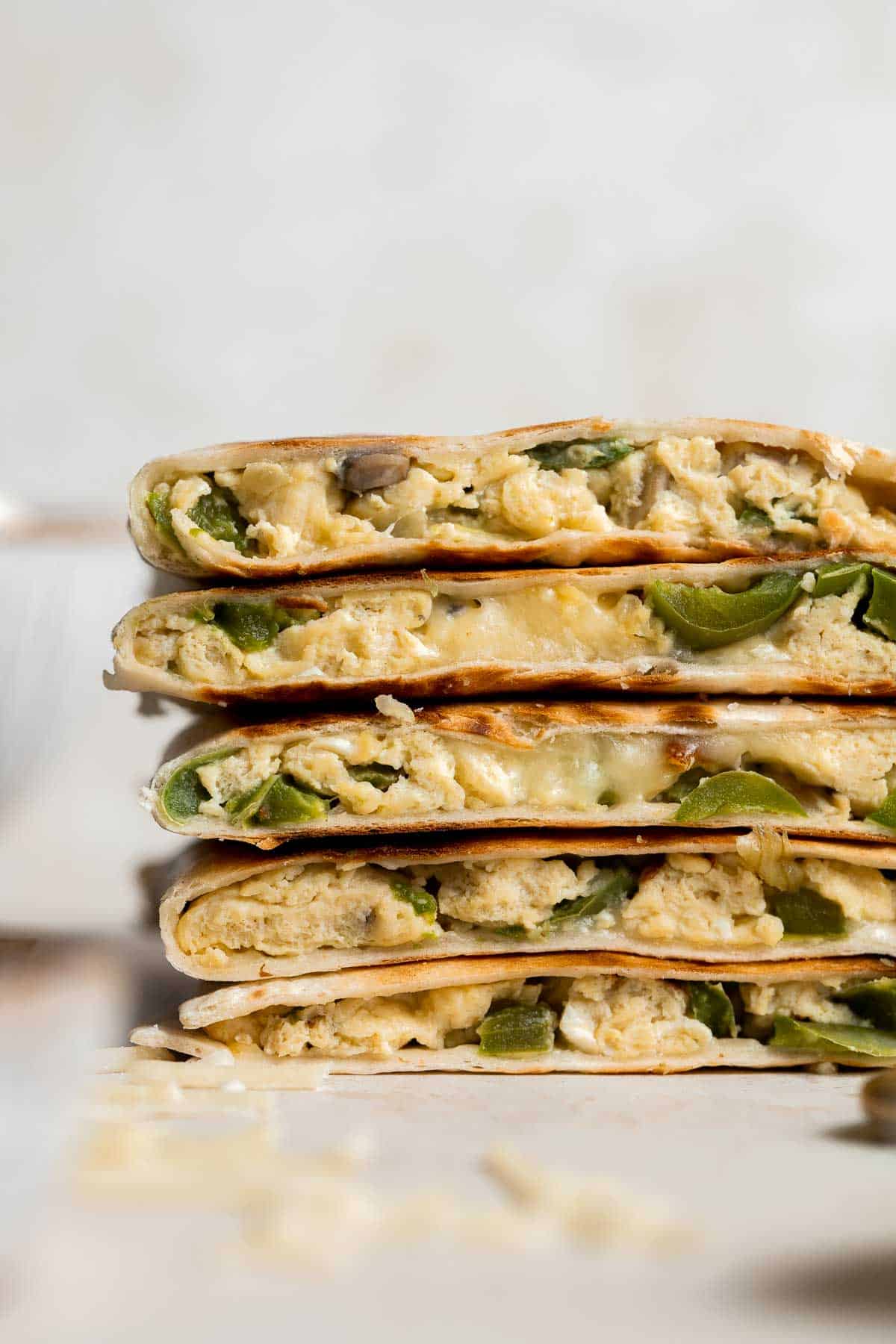 Breakfast Potatoes
Breakfast Potatoes are crispy on the outside while soft and tender inside. These skillet potatoes are delicious, flavorful, and ready in 30 minutes.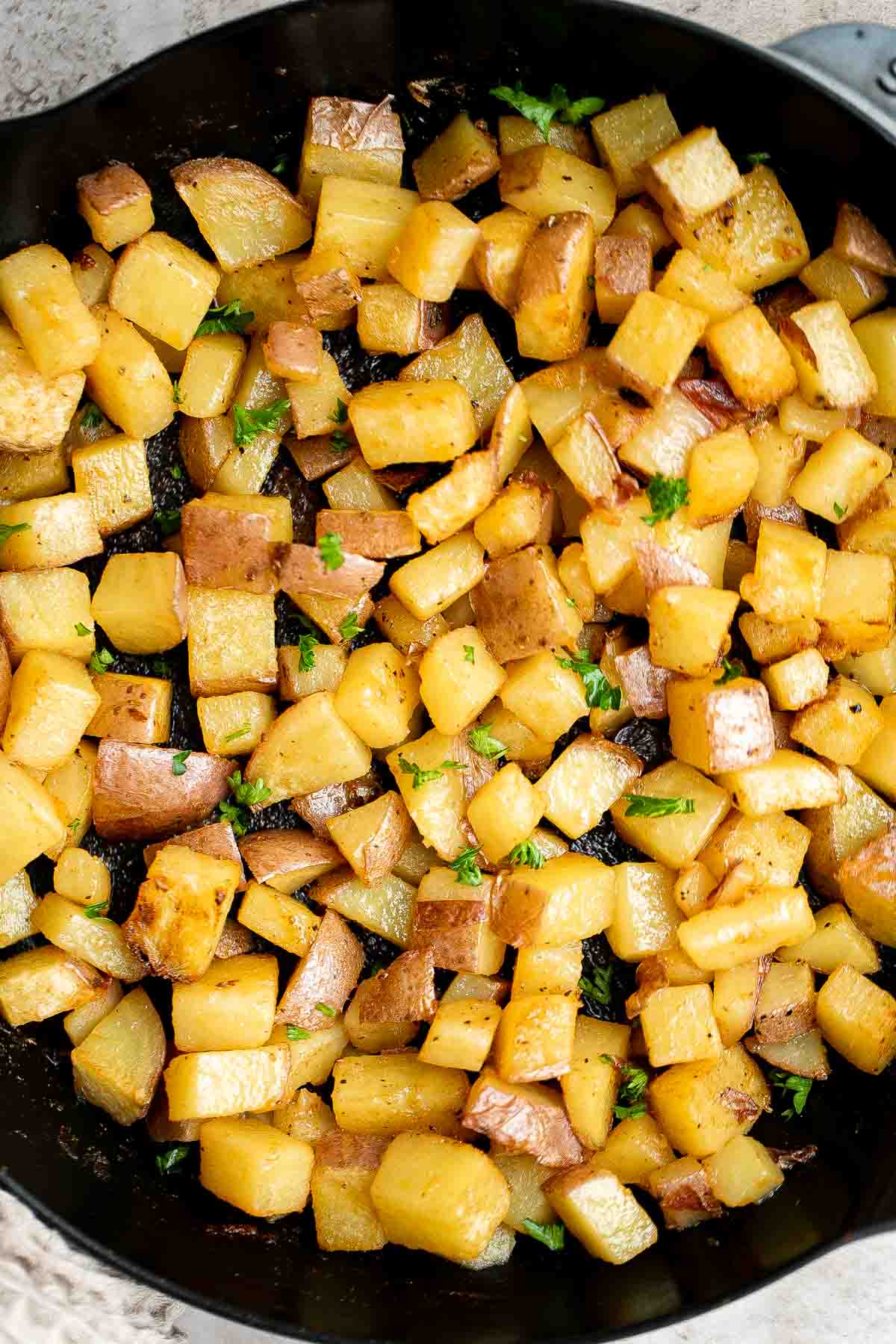 Herb Roasted Sweet Potatoes are a quick easy side dish that's healthy, delicious, and flavorful. A perfect side for your holiday table or weeknight dinner.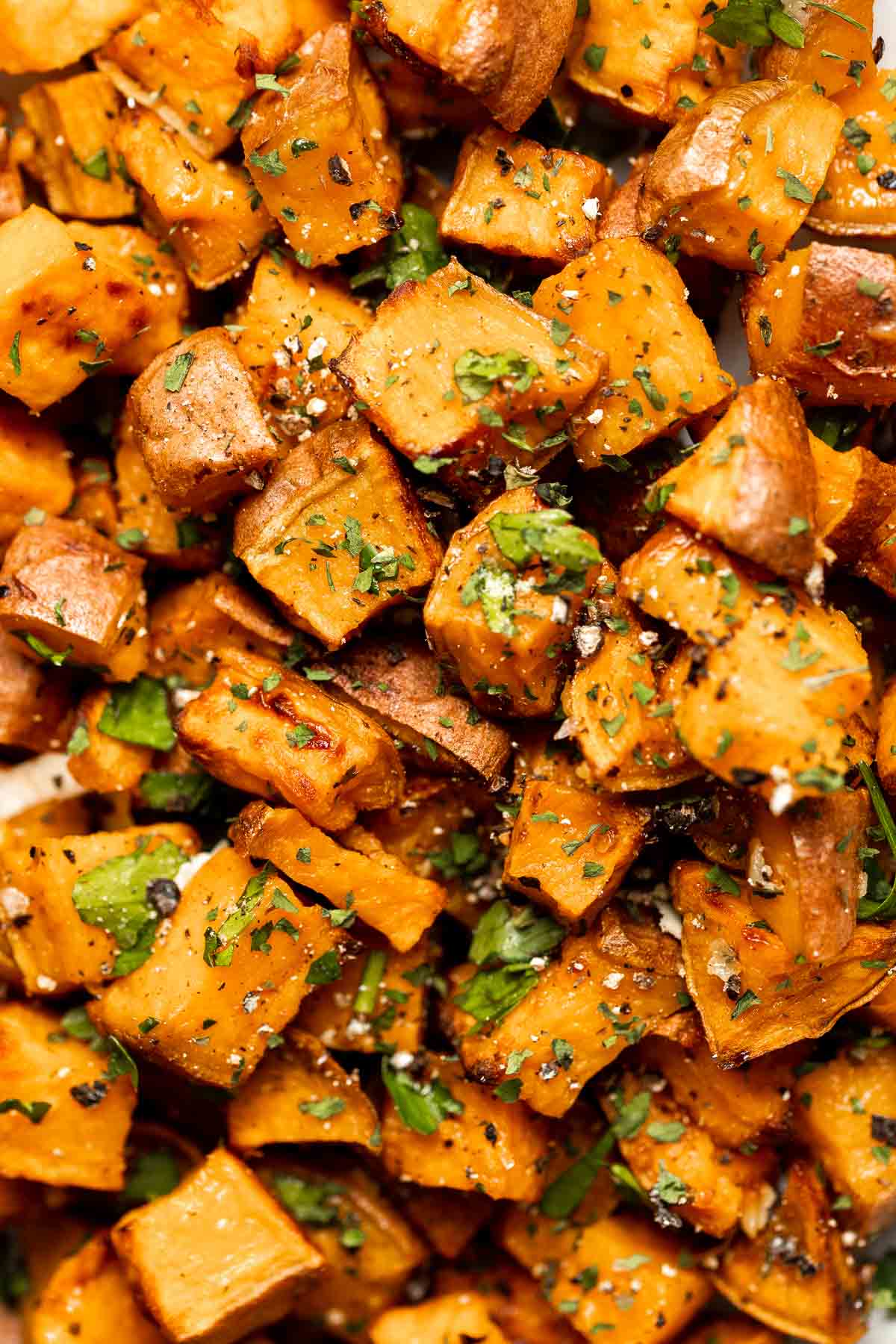 Duchess Potatoes (Pommes Duchesse) are rich, creamy whipped bites of potatoes with crispy edges and a soft fluffy mashed potato centre. A fancy side dish!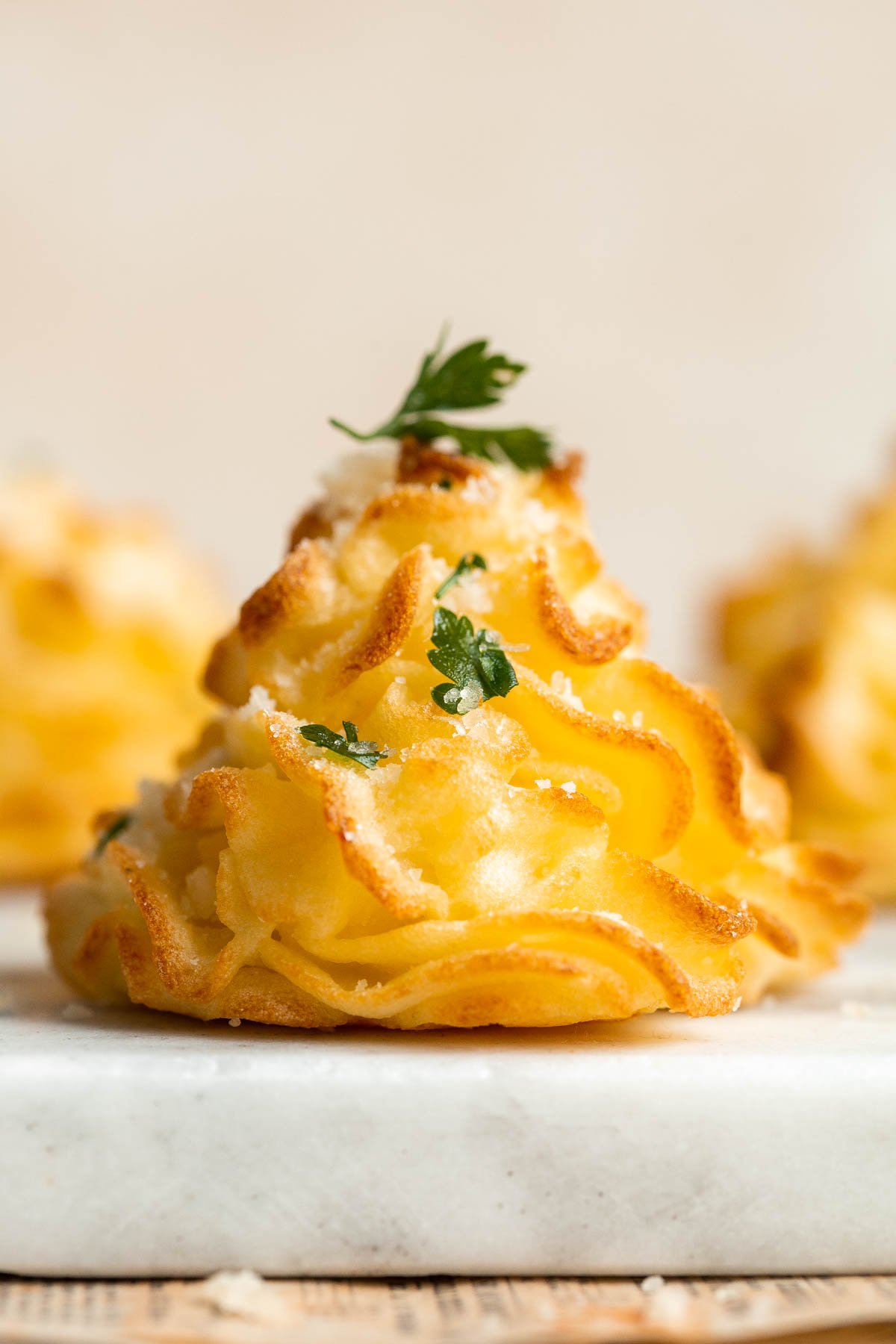 Breakfast Pancakes and Toast
There's nothing better in the morning than thick, soft, fluffy blueberry pancakes, loaded with fresh berries, topped with butter, and soaked in maple syrup.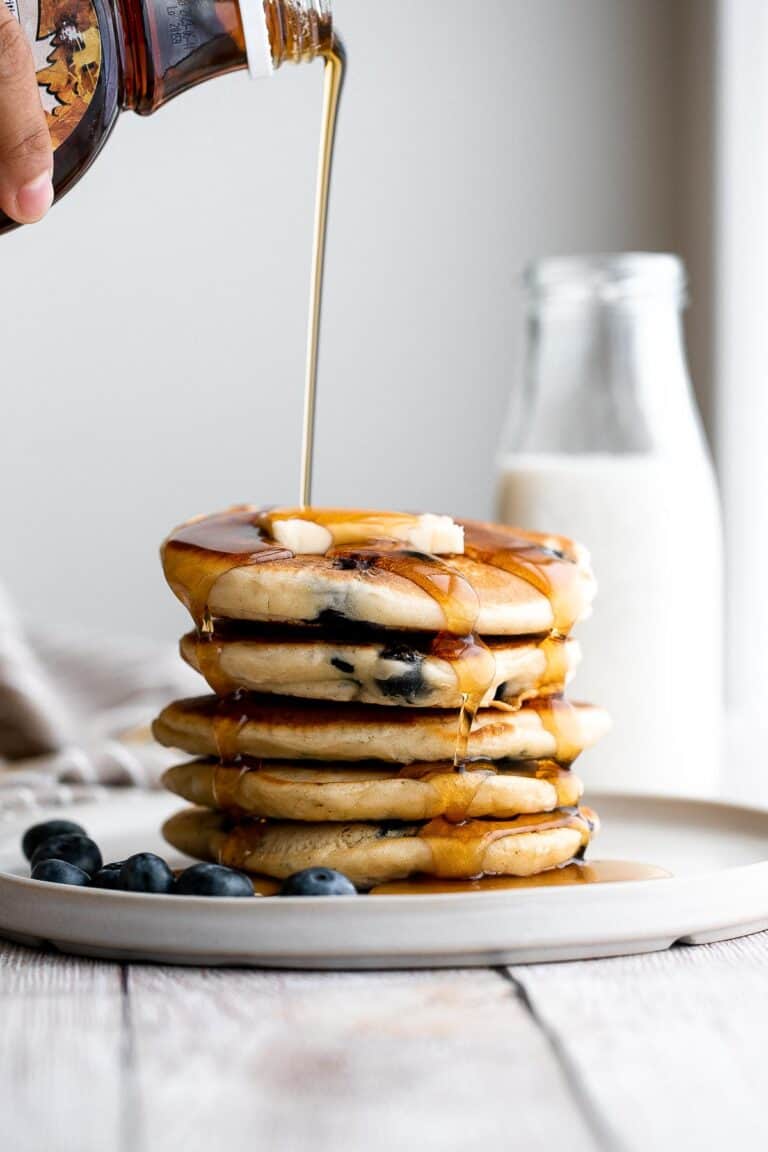 This Classic French Toast is light and fluffy, crisp and browned on the edges, and so delicious. The best part? Breakfast is ready in under 15 minutes.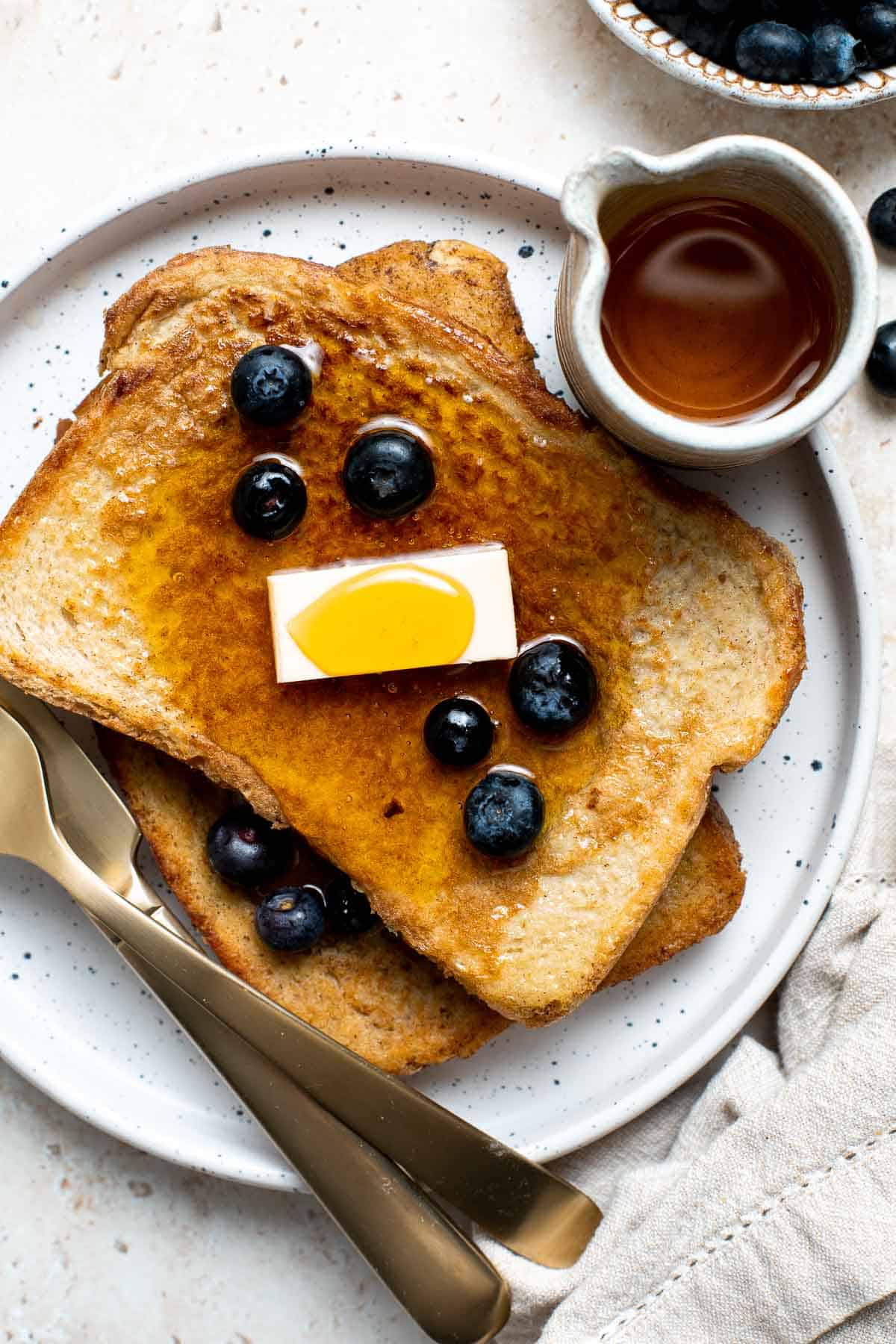 Avocado Toast with Egg is the perfect recipe to make for breakfast when you are short on time but looking for something delicious, healthy, and nutritious.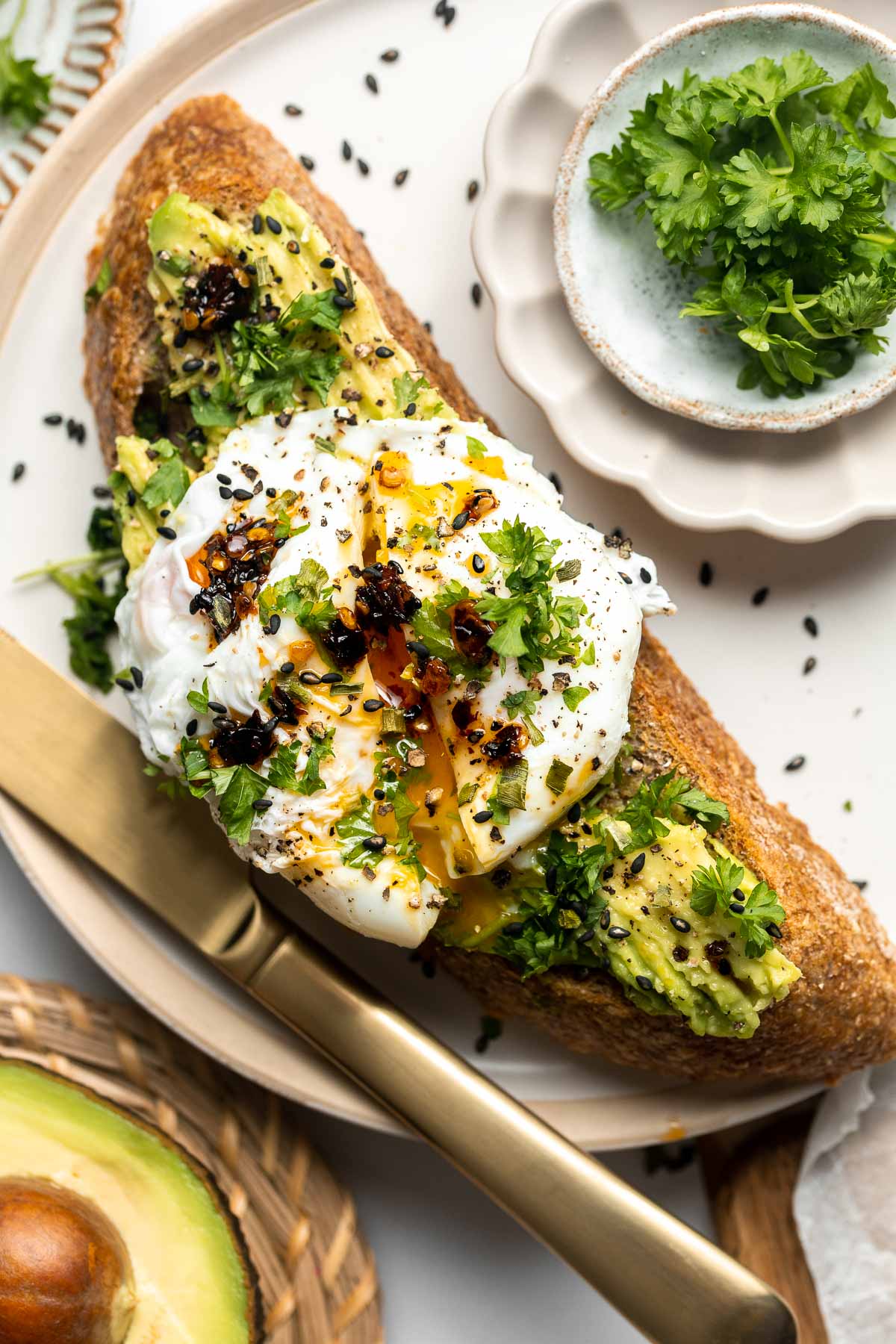 No breakfast spread is complete without a stack of the best, soft and fluffiest old fashioned pancakes. Easy to make in less than 15 minutes!
Triple berry french toast with warm slices of bread, creamy egg mixture, an overload of berries, and drizzled maple syrup on top... should I even continue?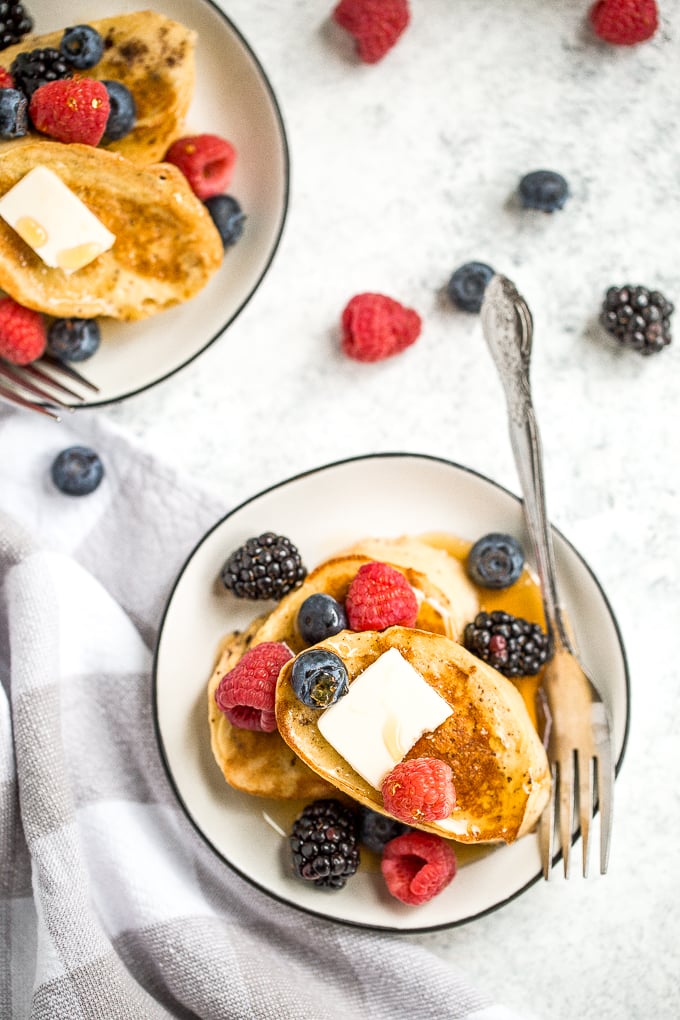 Banana Toast with Granola and Honey
Banana toast with granola and honey is the perfect, protein-packed meal, and it is ready in literally 5 minutes.
Nutella crepes with berries are sweet and indulgent. These French pancakes are an easy to make blender recipe that will have you craving breakfast all day.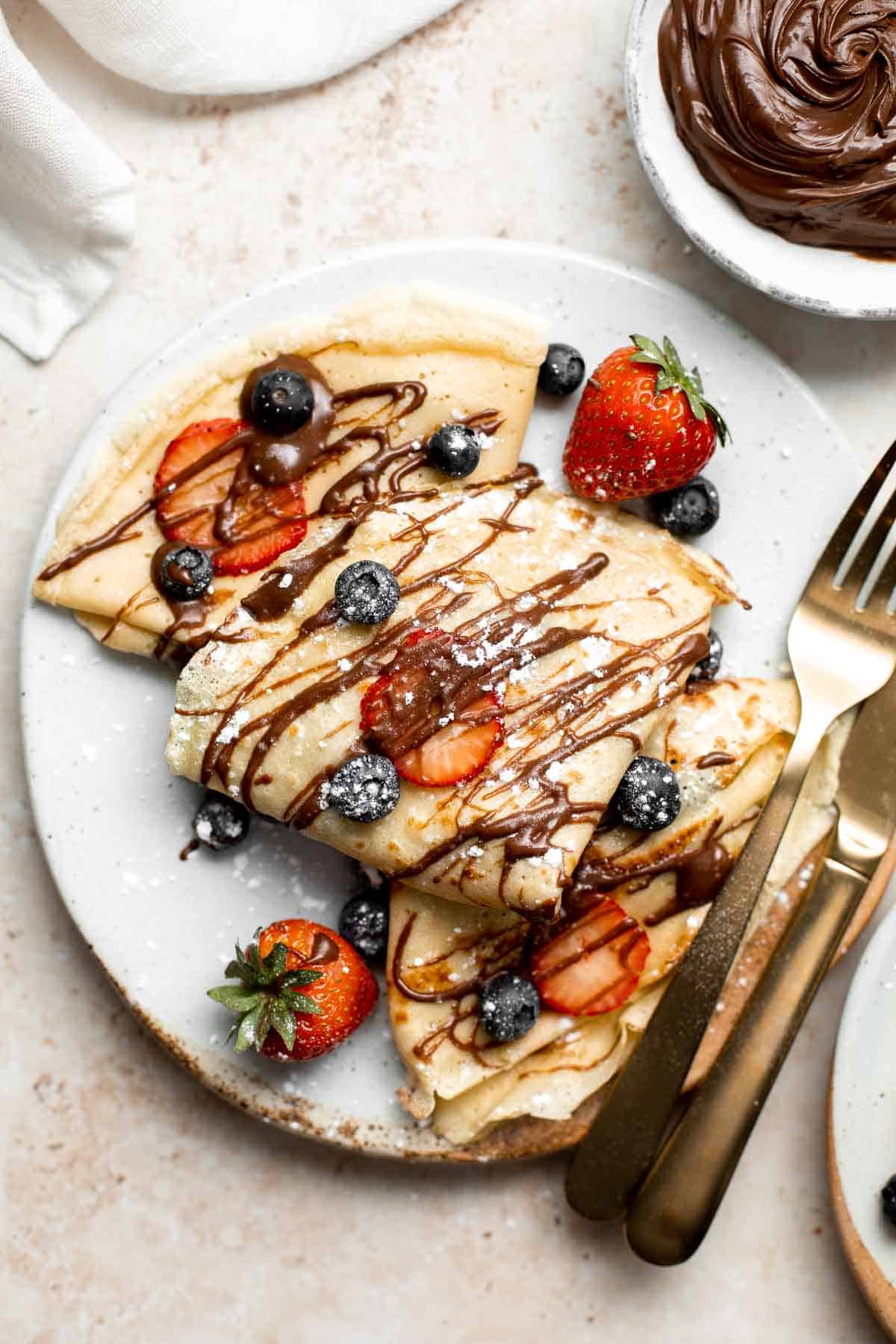 Soft fluffy applesauce pancakes is the best fall breakfast, loaded with leftover applesauce, hint of cinnamon, and a delicious caramel apple topping.
Quick and easy, homemade small batch strawberry jam is so simple to make in one pot with just 3 ingredients and no pectin. It's bright, sweet and addictive.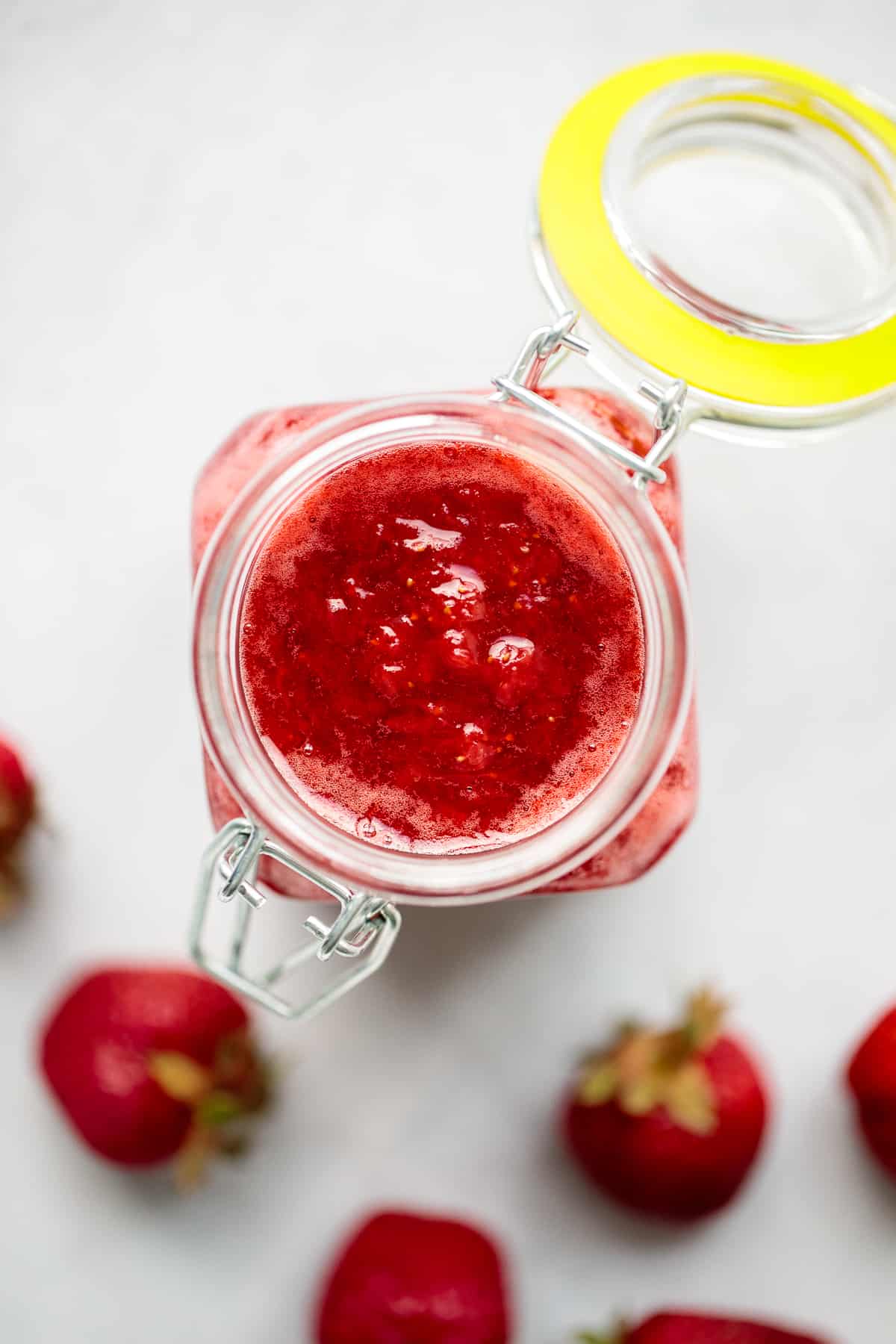 Baked Gingerbread French Toast Casserole
Festive baked gingerbread french toast casserole with cranberries is soft on the inside and crispy outside. The best holiday breakfast on Christmas morning.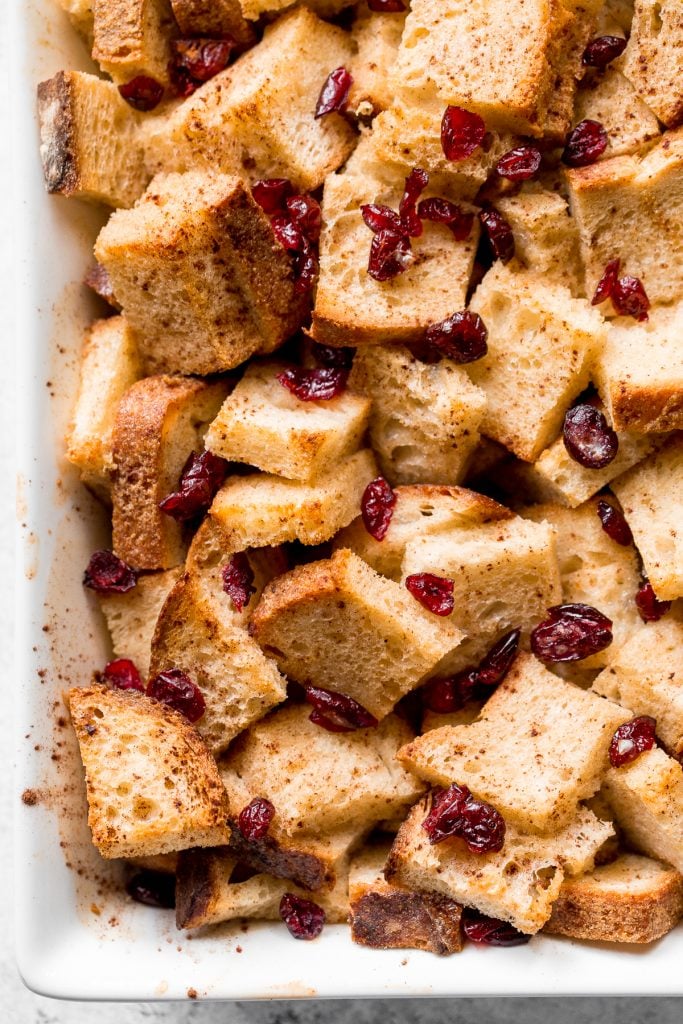 Don't let your sourdough starter go to waste, use your discard to make this easy one bowl recipe for crispy, light and fluffy, savoury chive pancakes.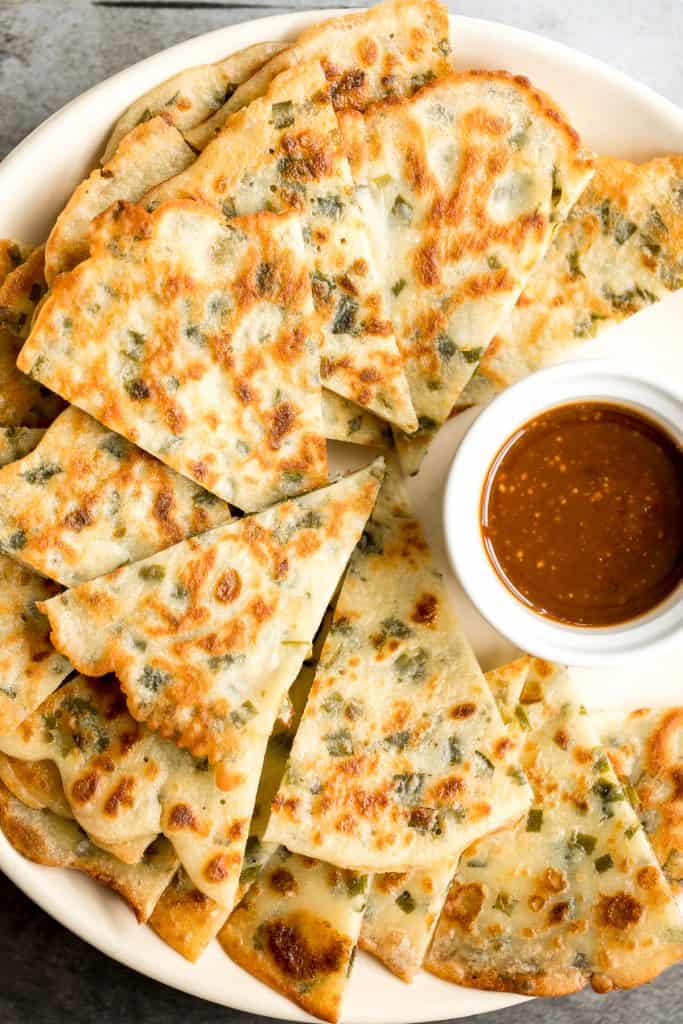 Chilaquiles Verdes feature crispy baked tortilla chips smothered in a homemade sauce loaded with salsa verde and features classic Mexican toppings.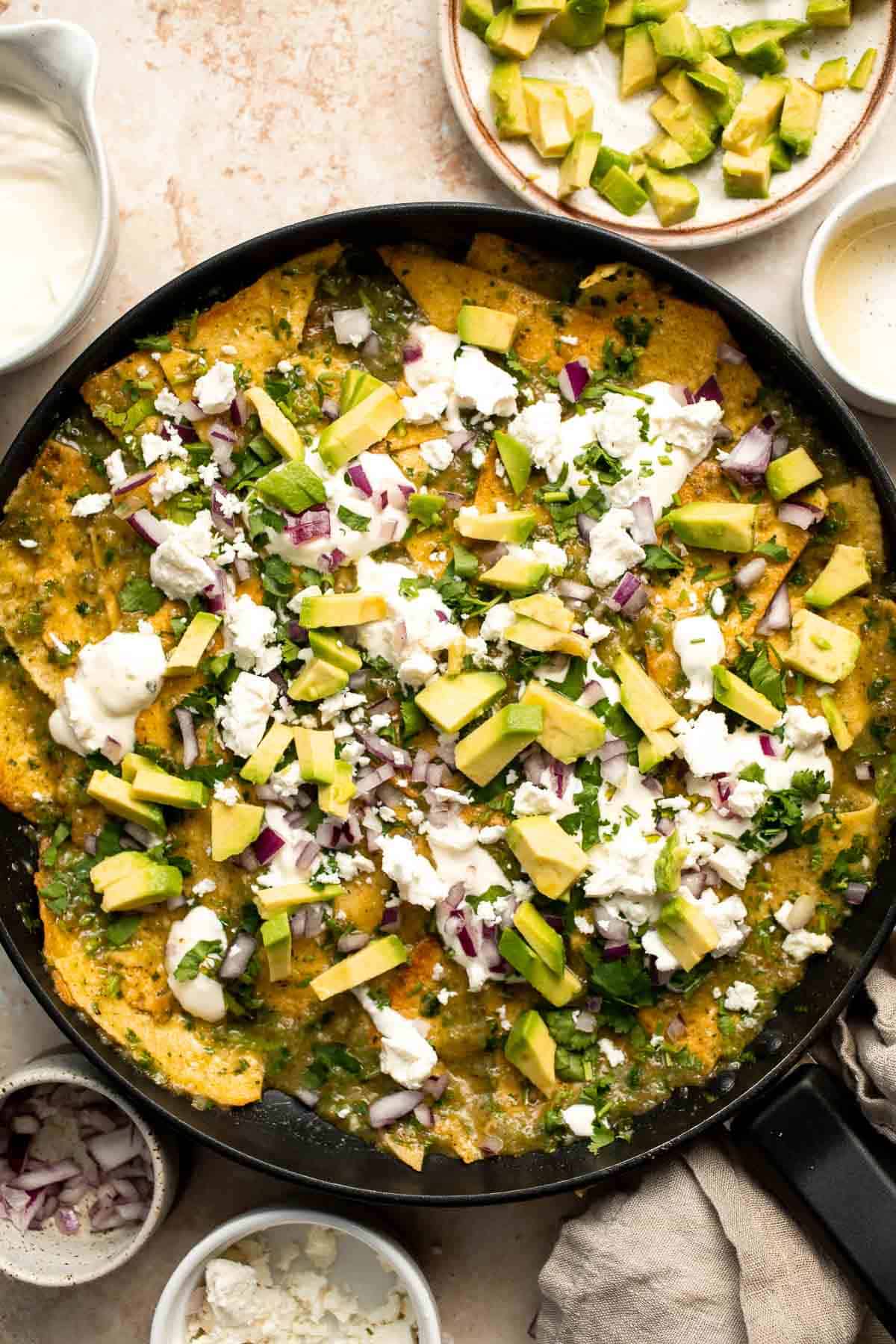 Baked Goods for Breakfast
Cranberry Scones with Orange Glaze
Cranberry Scones with Orange Glaze are a quick and easy holiday brunch recipe that is flavorful and flaky. They're soft and moist inside yet crisp outside. The perfect Christmas morning breakfast.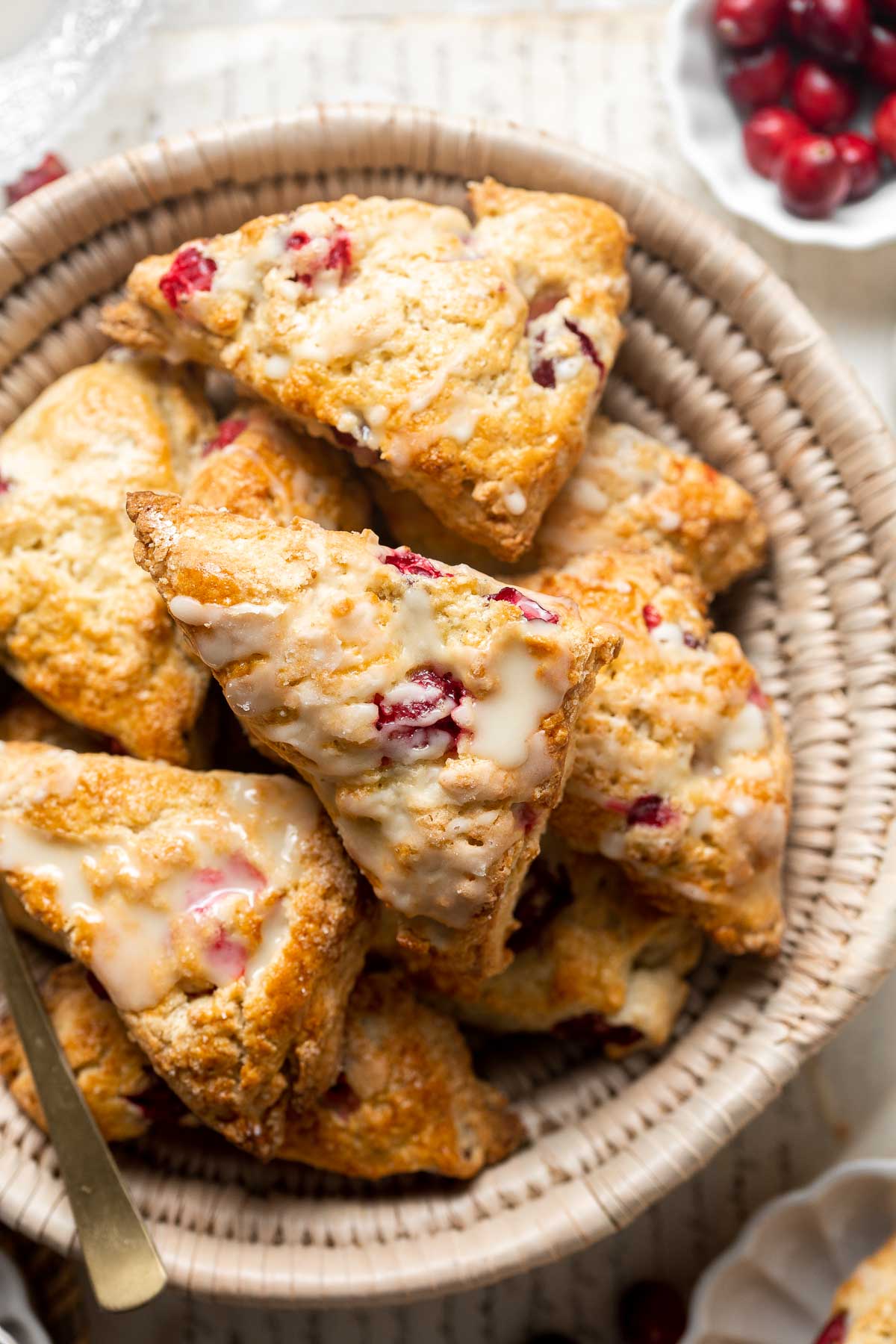 Quick and Easy Butter Croissants
Quick and easy butter croissants are flaky, buttery, airy, and authentic, and are made in the fraction of the time using a special simplified technique. One of my favorite breakfast ideas at home.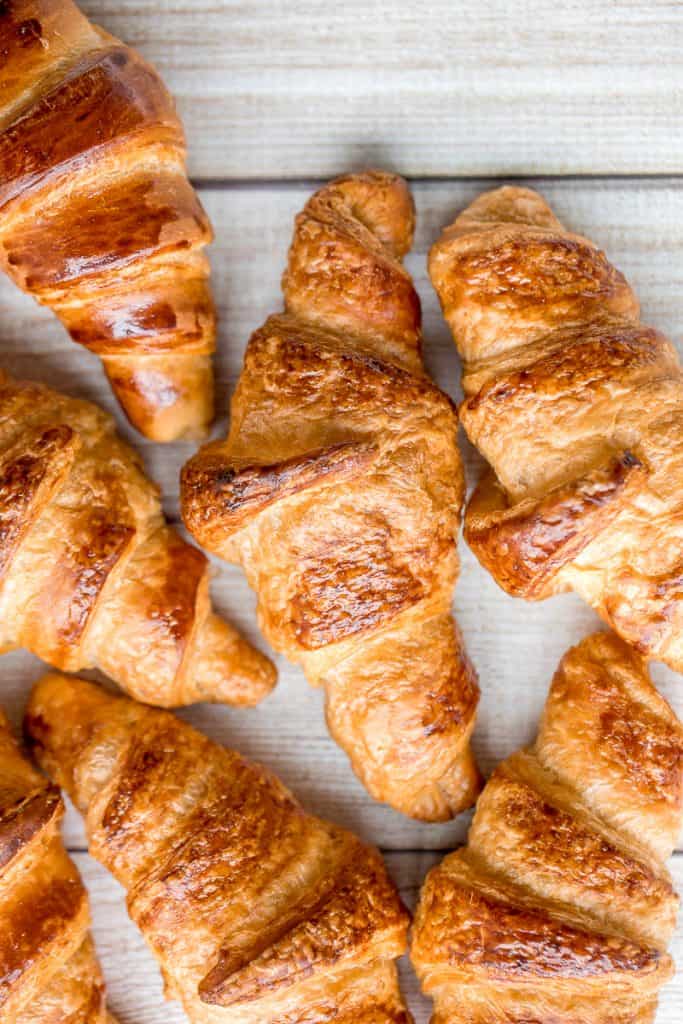 Fluffy soft and moist, these are the best banana chocolate chip muffins ever. Prep this easy one bowl recipe in less than 10 minutes with a few ingredients.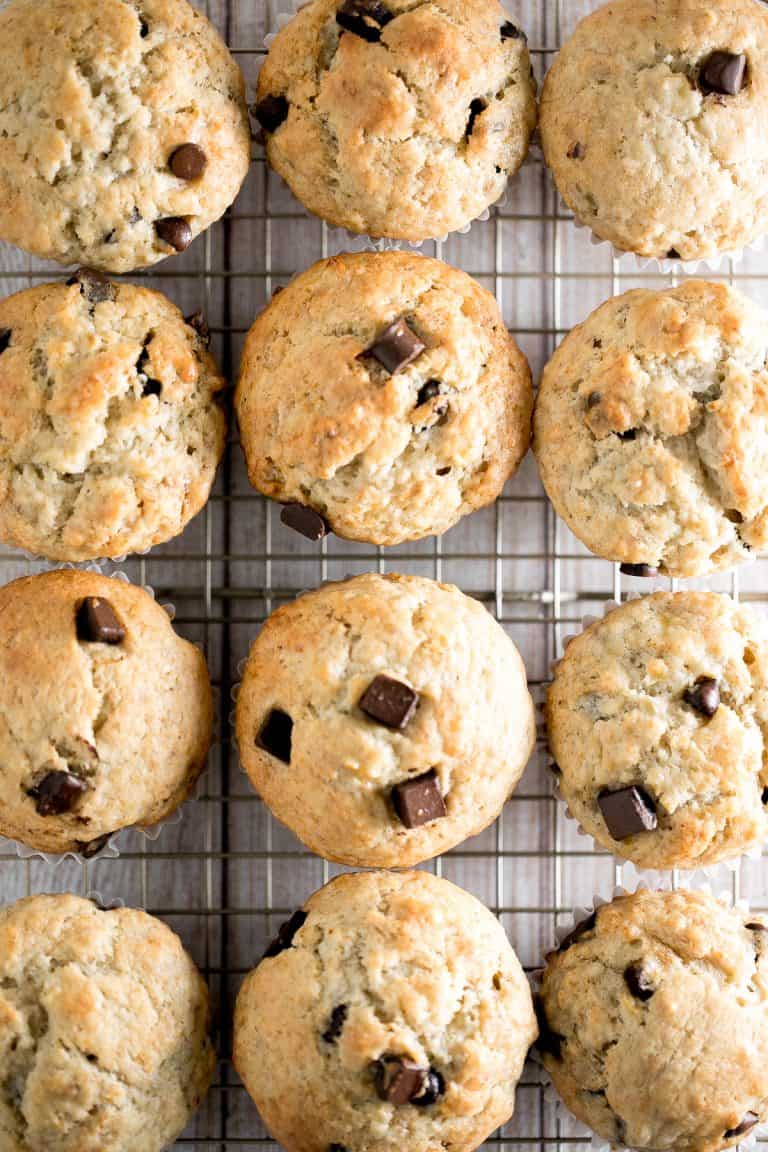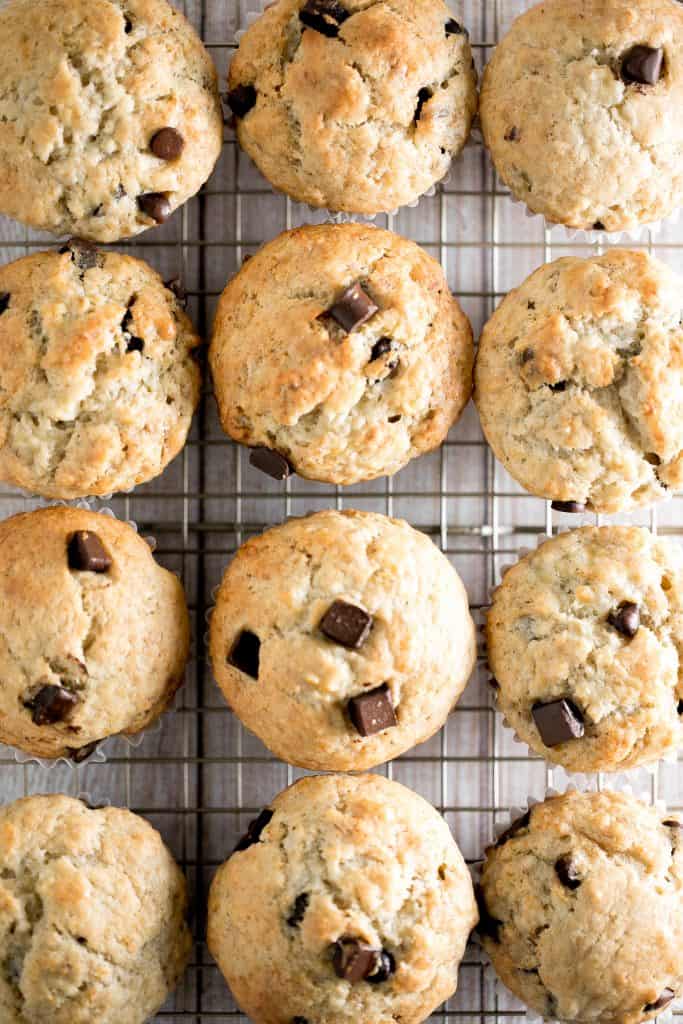 Glazed lemon blueberry scones are total breakfast goals. Blueberries and lemon partner together in a light, tender and flakey scone, drizzled with a sweet lemon glaze that is nothing short of impressive.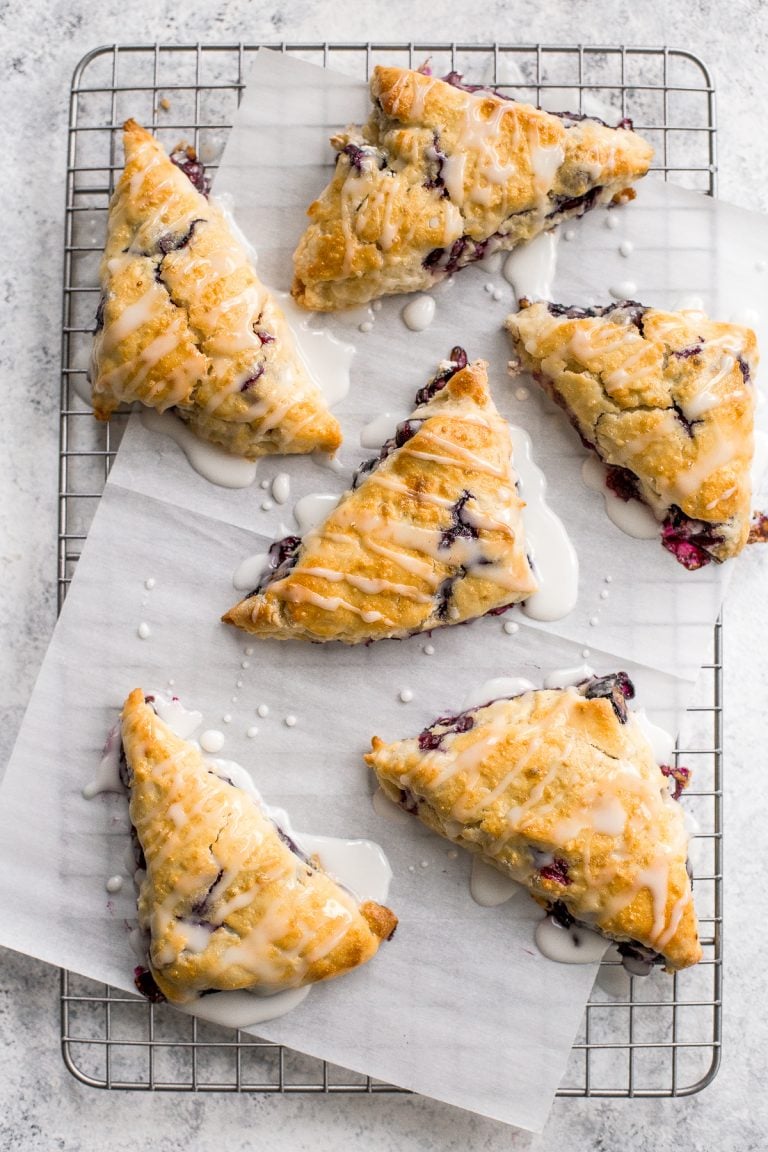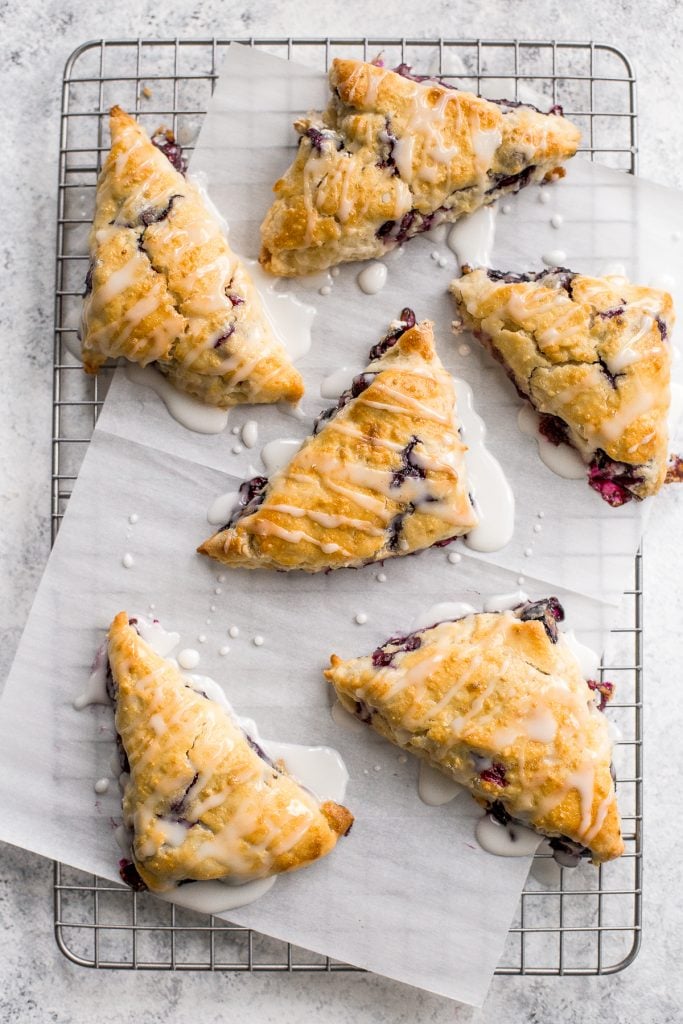 When you combine walnuts, raisins and dried fruit in a nutty banana bread, the result is a tender and moist loaf that is truly irresistible.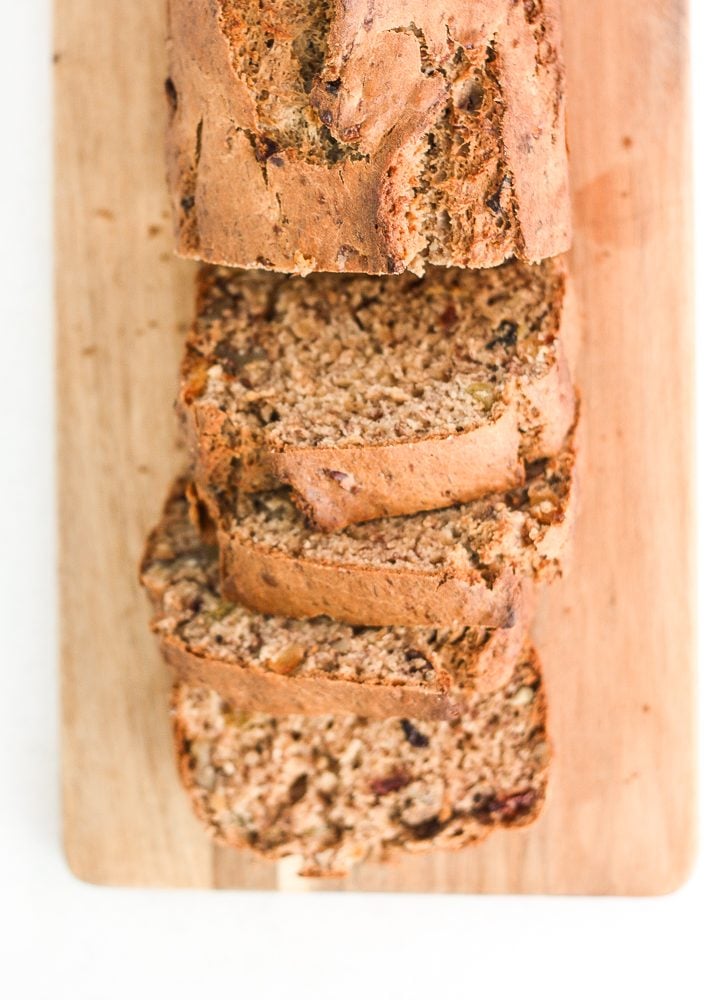 Sourdough Cinnamon Roll Twist Bread
Soft and fluffy sourdough cinnamon roll twist bread is buttery and layered with cinnamon sugar. Prep it the night before and freshly bake it for breakfast.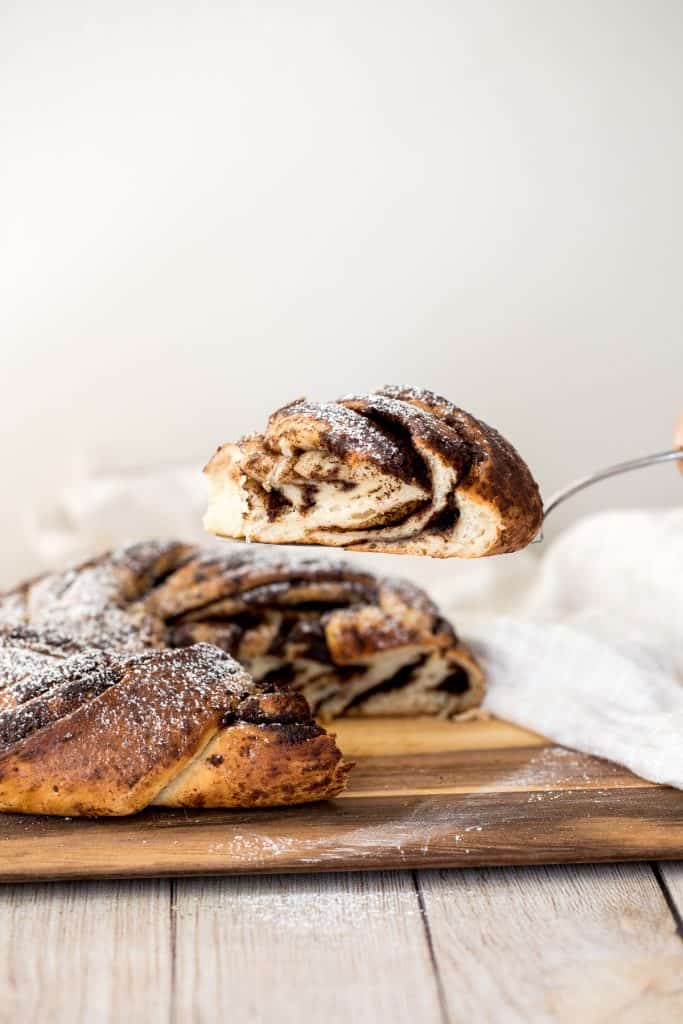 Blueberry yogurt muffins are buttery, moist, soft, and cakey and bursting with blueberries in every single bite. They are super quick and easy to make.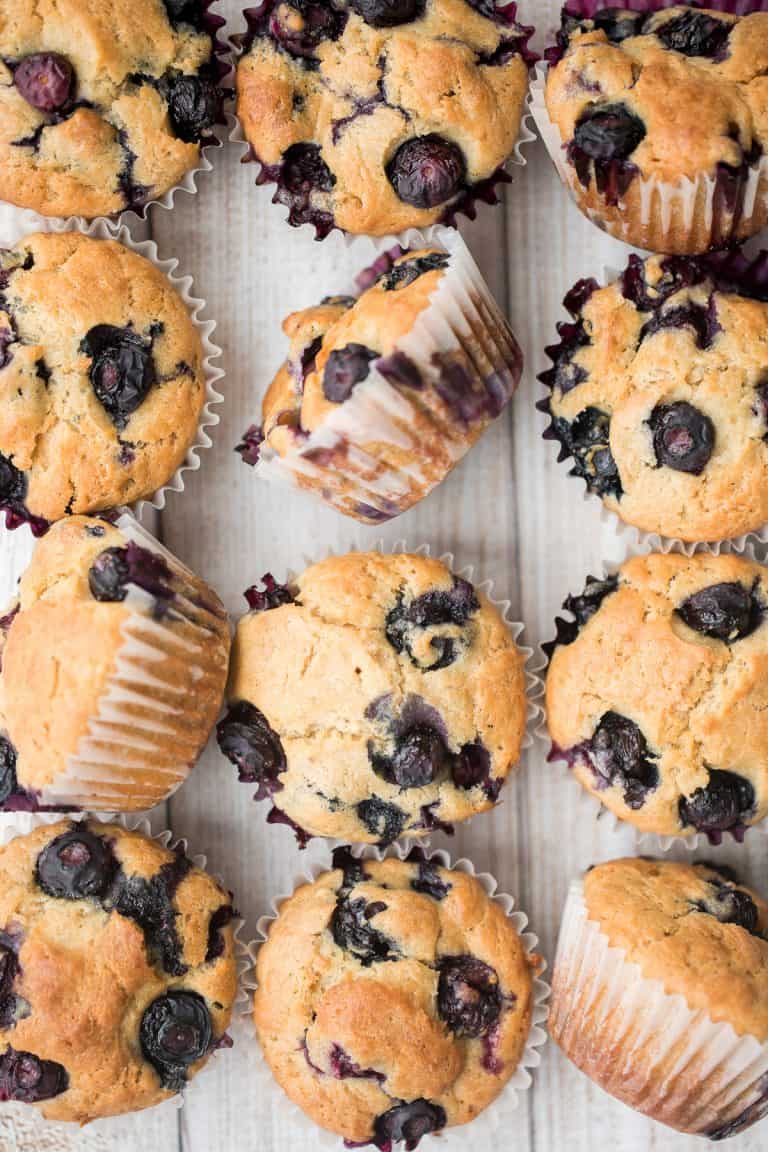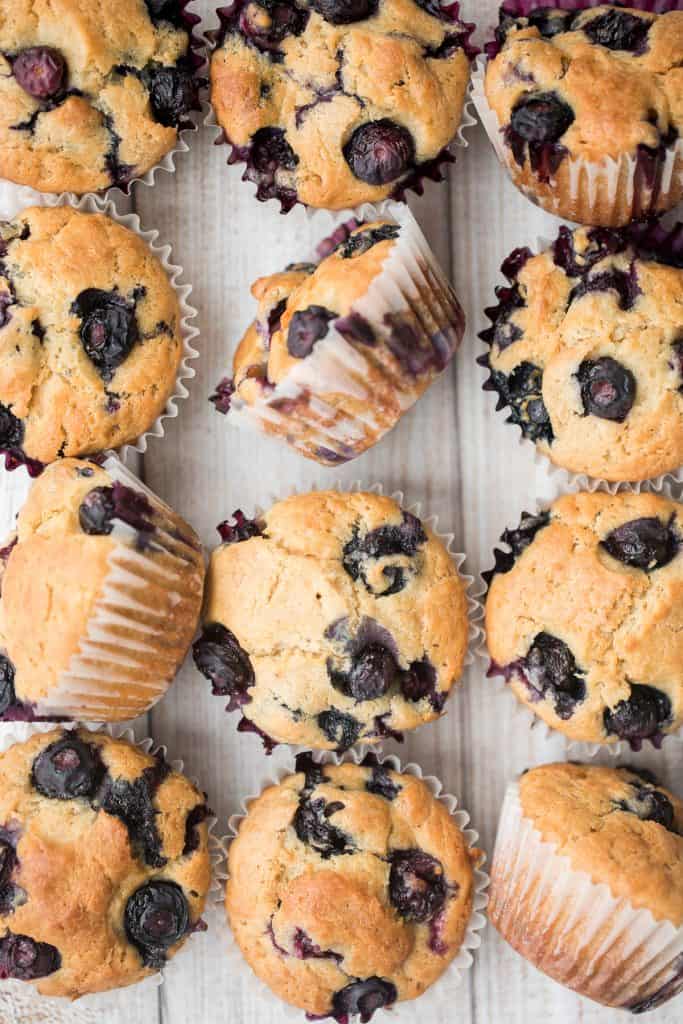 Soft and fluffy, pumpkin cinnamon rolls are packed with pumpkin, layered with pumpkin spice, and topped with cream cheese icing. Best Christmas breakfast and brunch treat ever.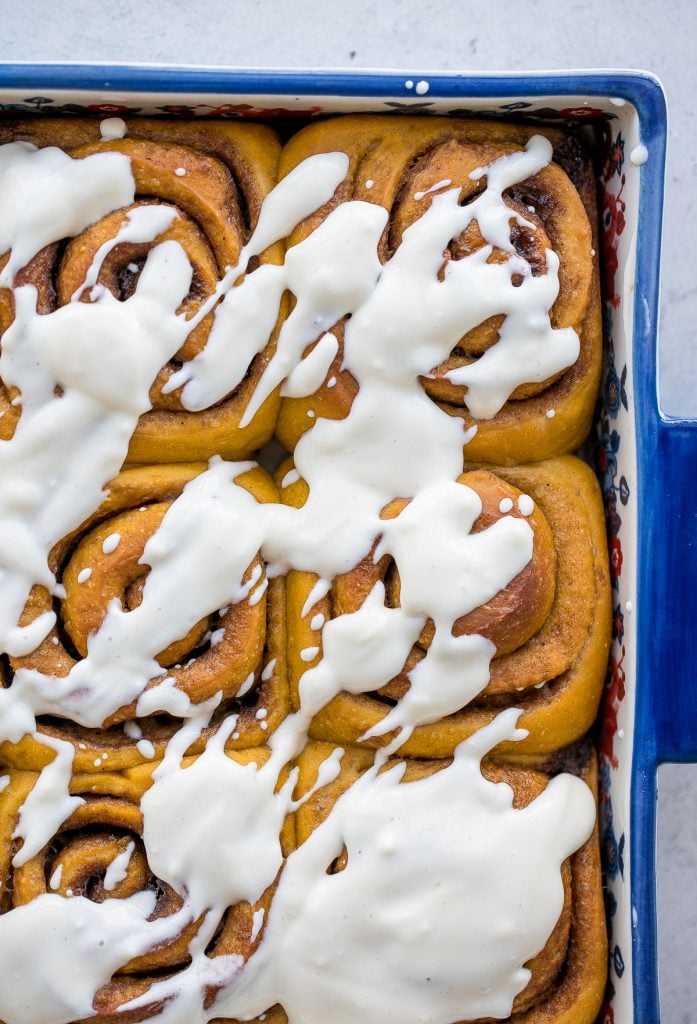 Easy lemon blueberry bread with lemon glaze is soft, moist, and delicious. This quick bread with fresh blueberries and lemon is the perfect summer dessert.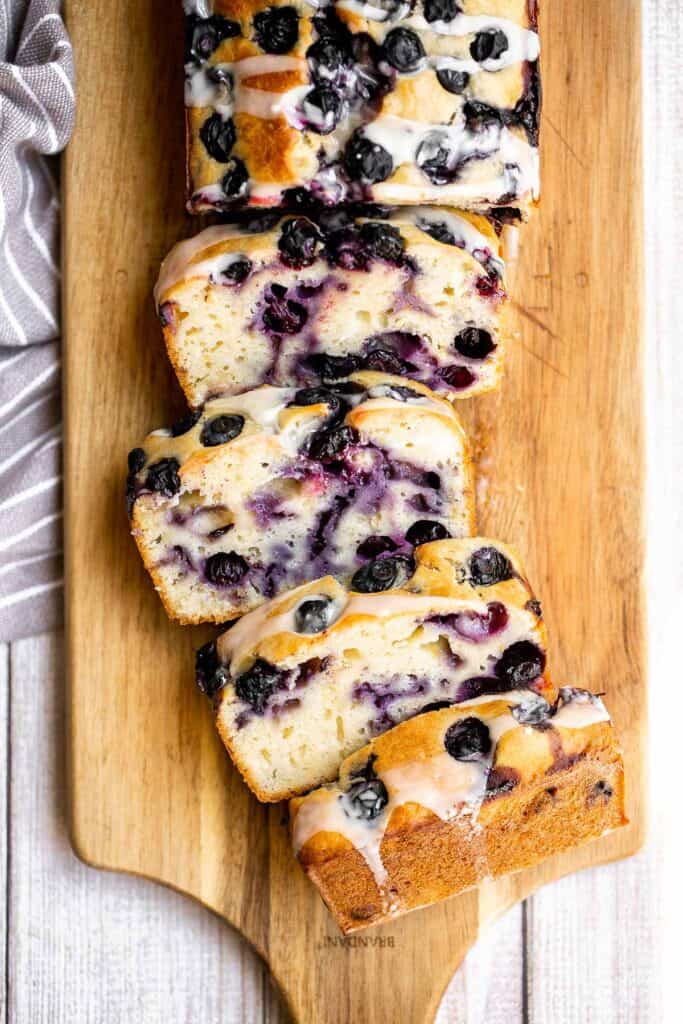 Buttery, soft and moist, cranberry yogurt muffins are packed with tarty and sweet cranberries in every single bite. This breakfast ideas is great for breakfast, snack or dessert.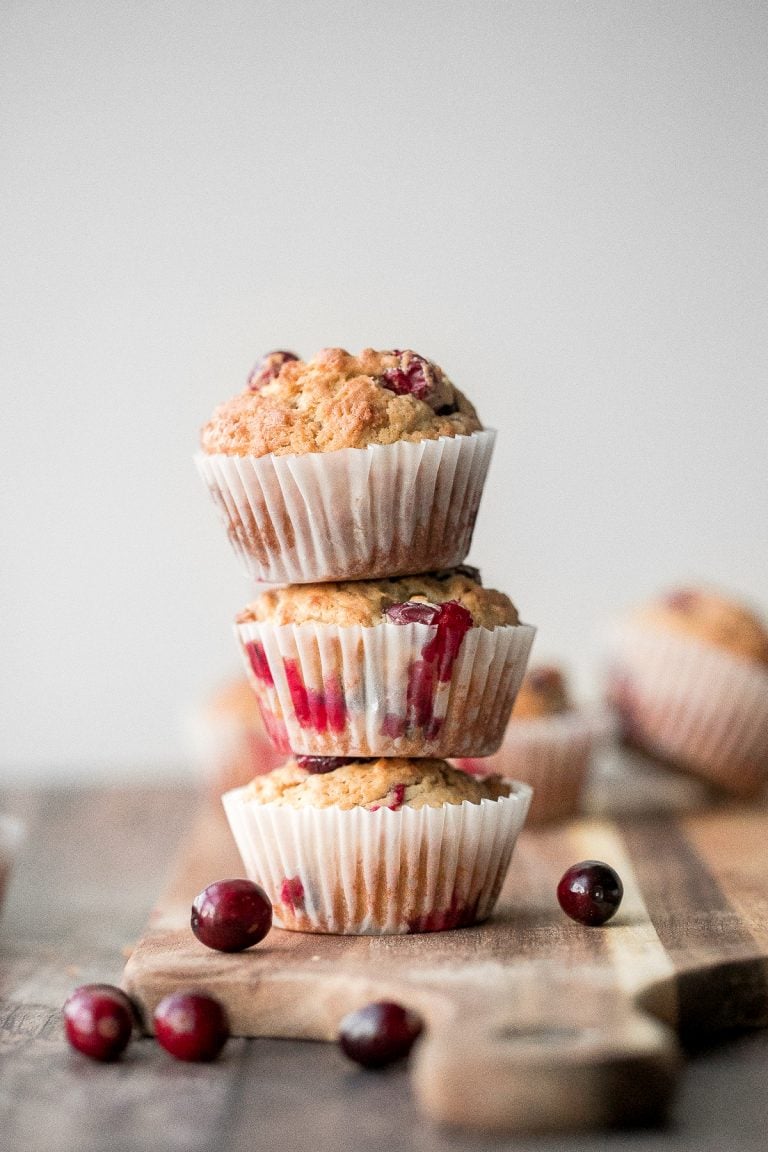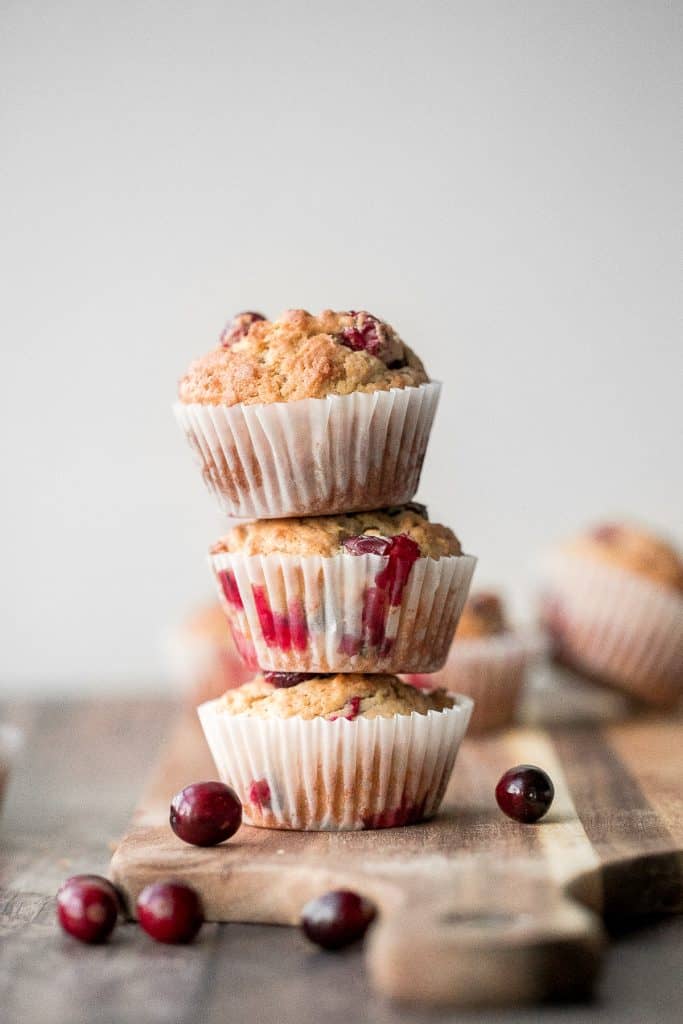 Breakfast Bread
Easy Homemade Everything Bagels
Easy homemade everything bagels with a signature everything bagel seasoning blend on top are just like bakery-style bagels and so easy to make at home.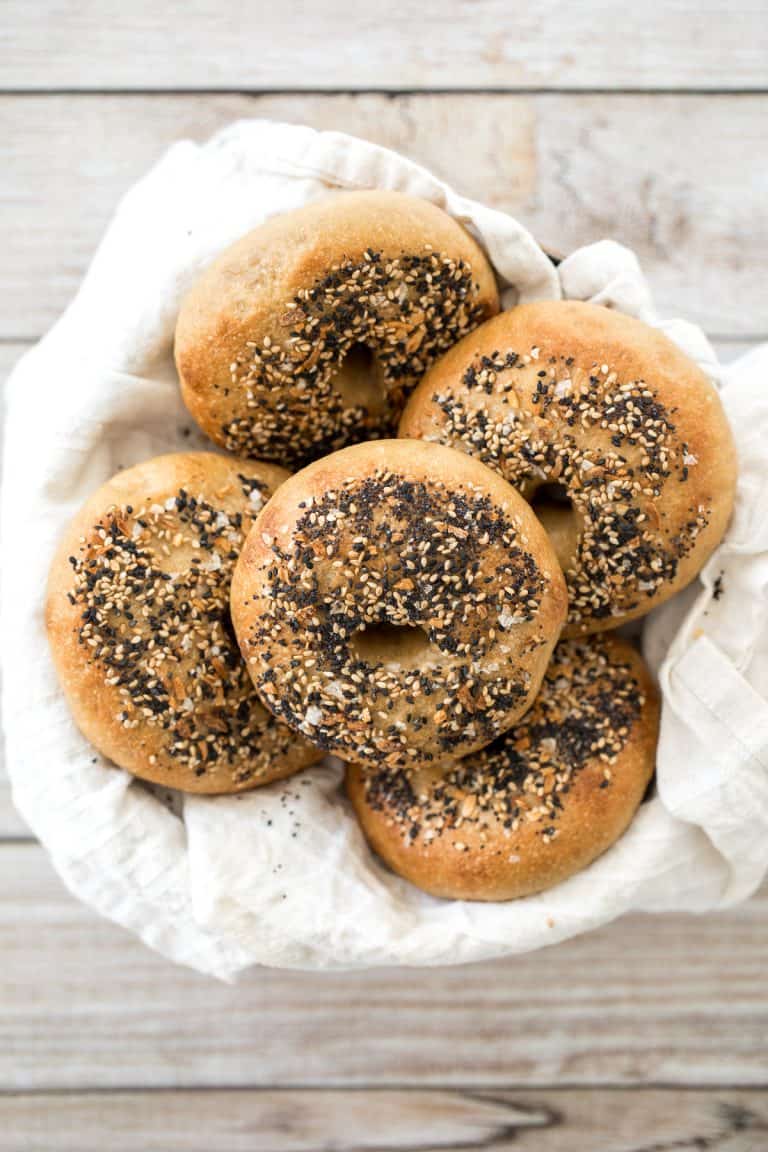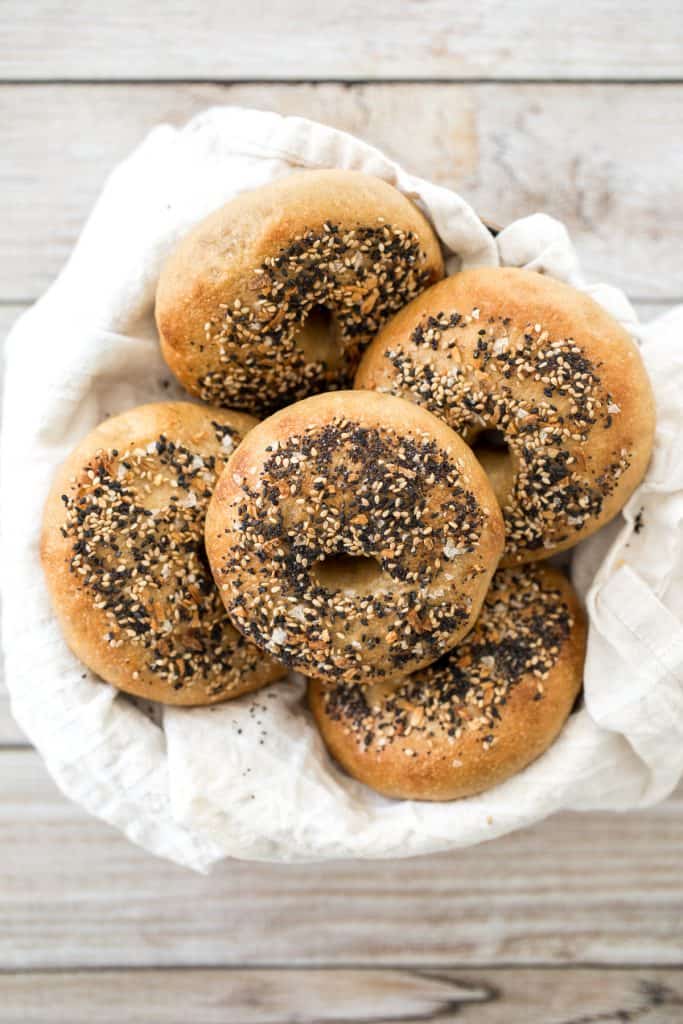 Brioche bread is a buttery, soft and pillowy pastry-like bread rich in flavour with a beautiful golden brown crust. Made with 20 minutes of prep work.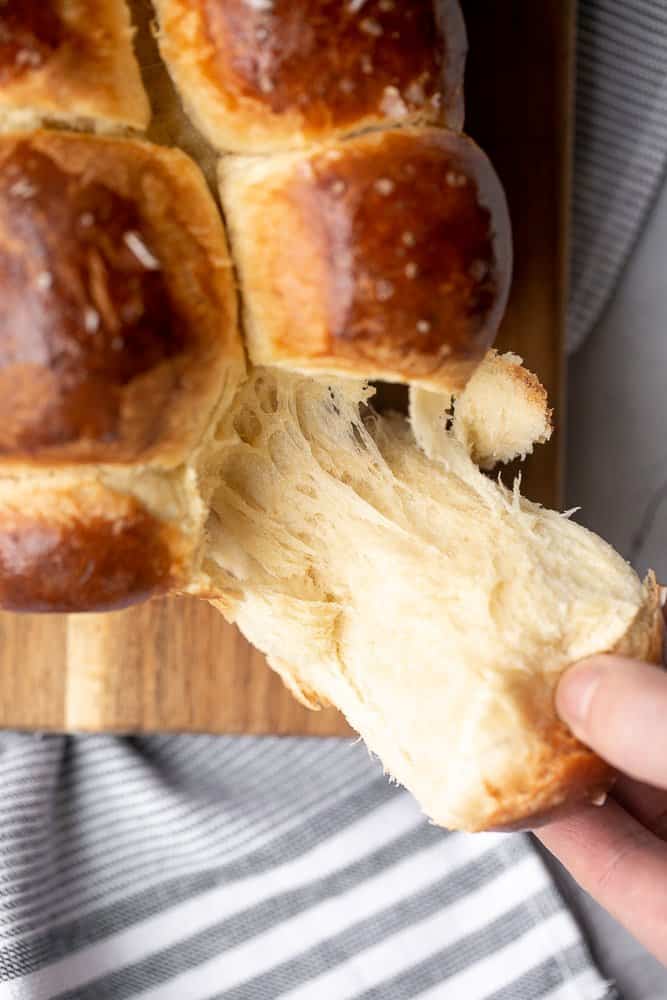 Flaky, fluffy, buttery, and soft, these easy homemade biscuits come together with only a handful of ingredients you already have at home.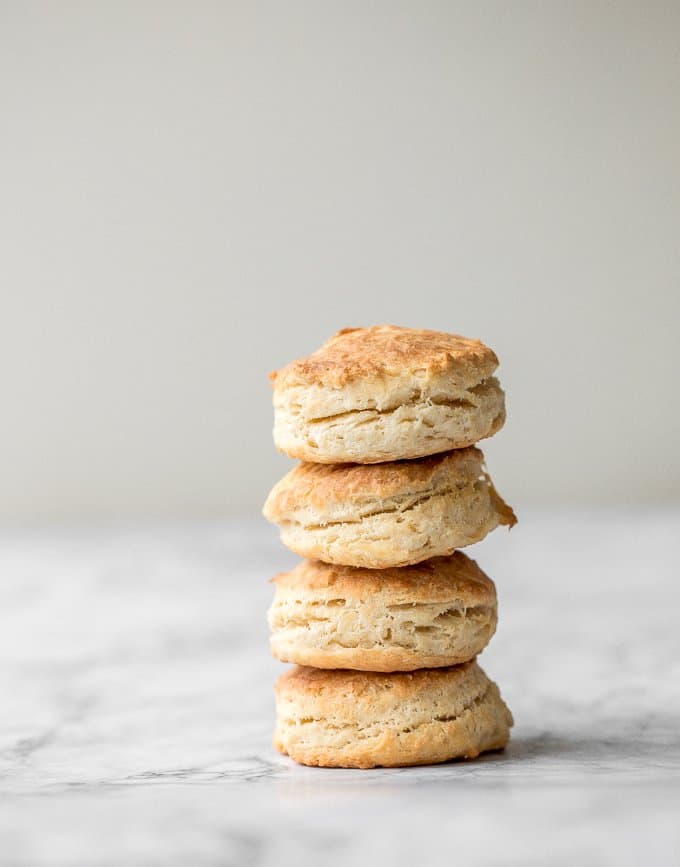 Beautiful three-strand braided loaves of easy challah bread are light, soft and fluffy, with a golden brown crust. Rich in flavour and slightly sweet.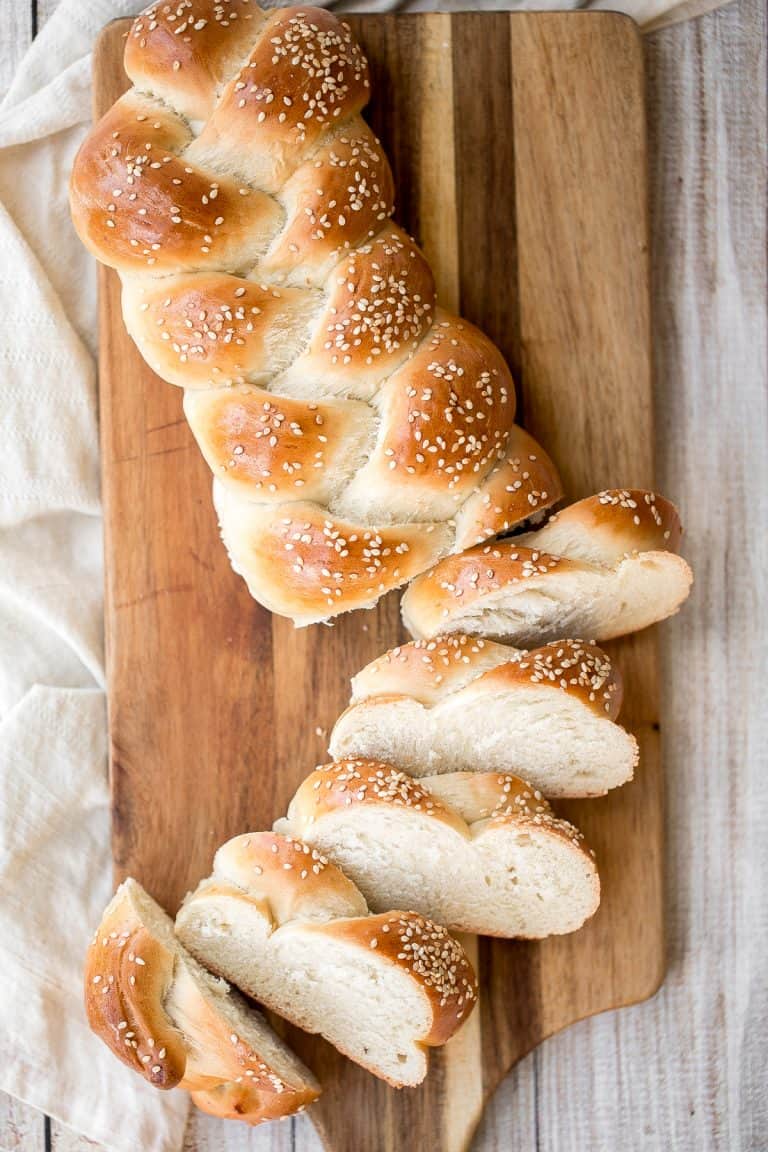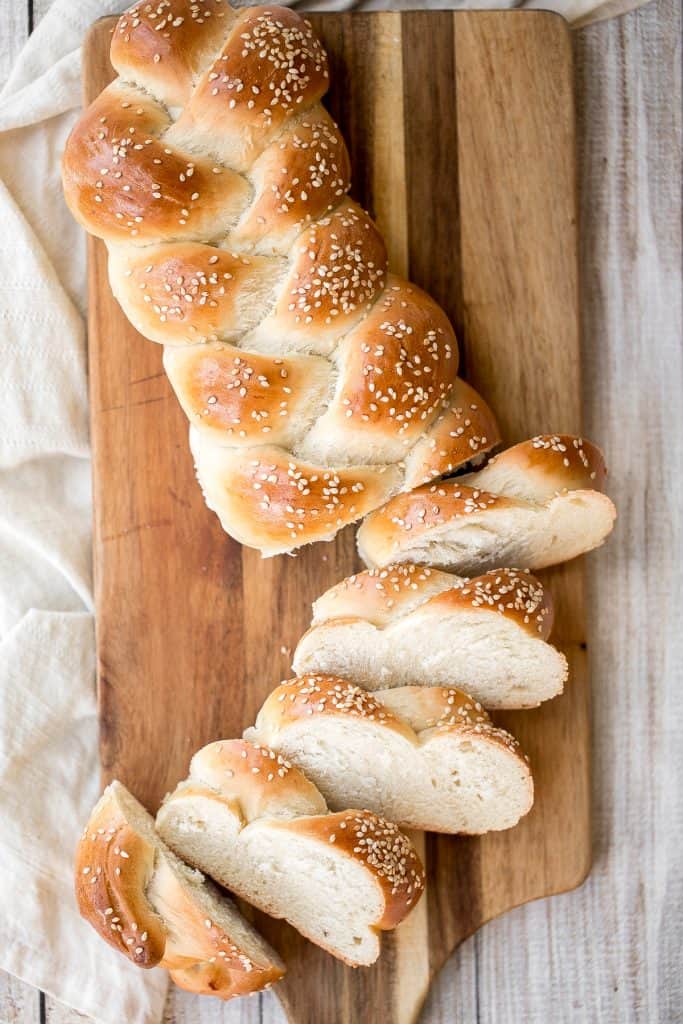 Cinnamon Raisin Challah Bread with Almonds
Sweet cinnamon raisin challah bread is airy, soft and fluffy with a beautiful golden crust coated with almonds. It is braided and baked in a loaf pan.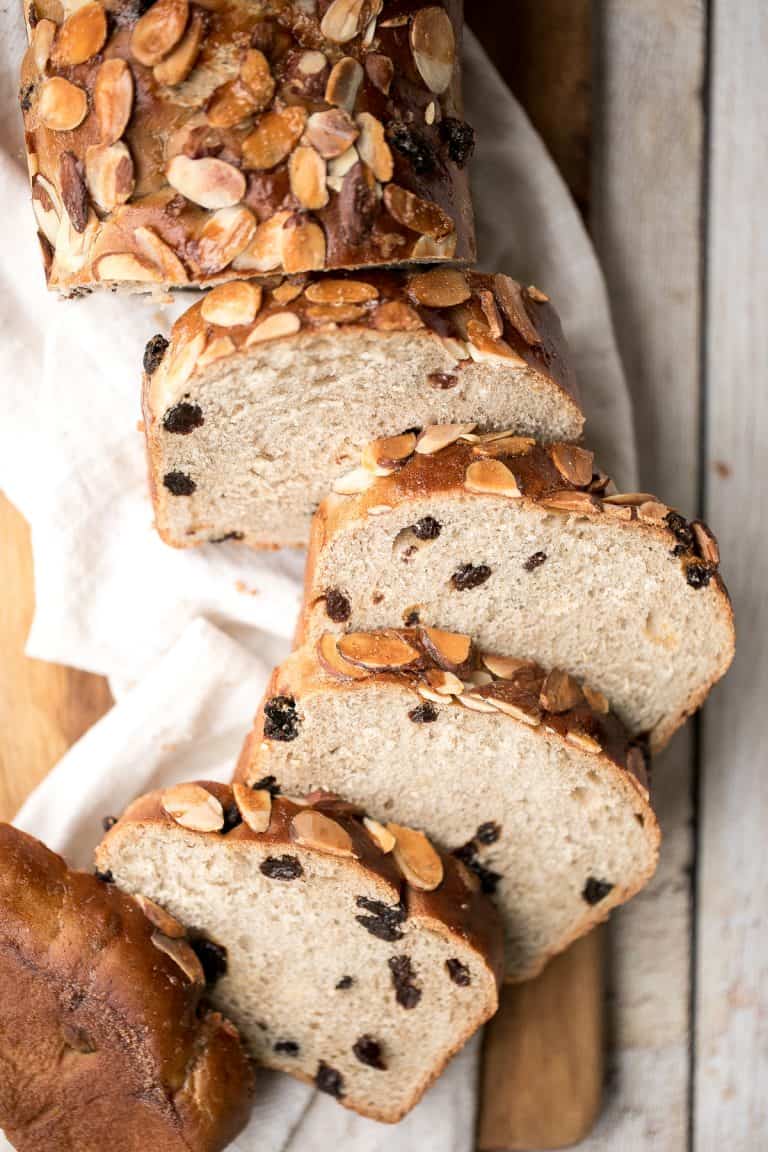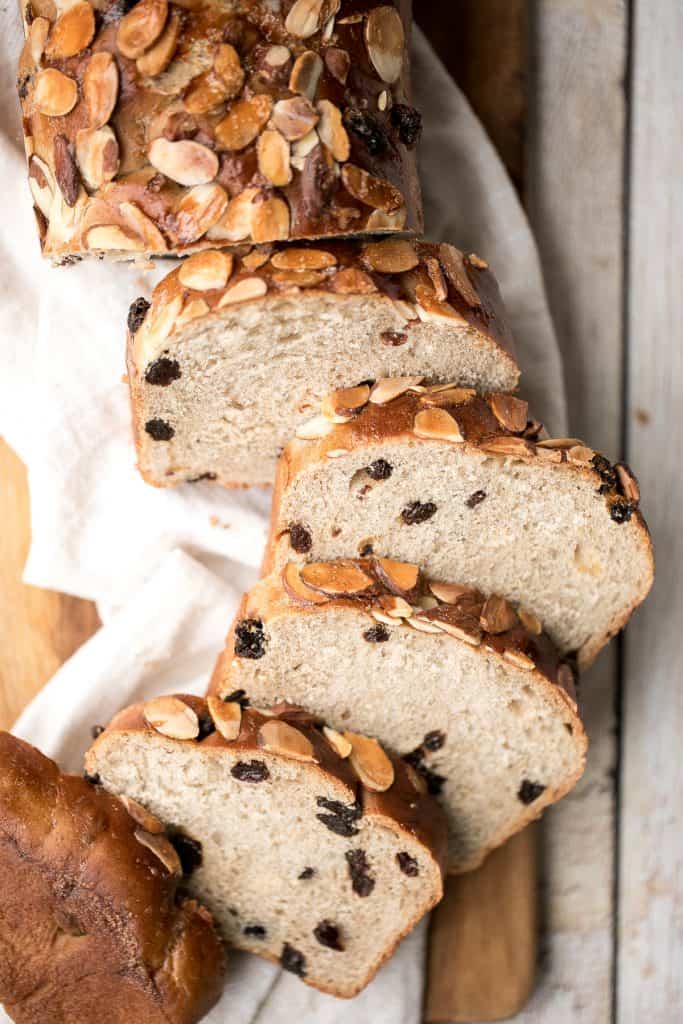 Breakfast Smoothies and Fruit
Majoon Banana and Date Smoothie
Majoon banana and date smoothie is a delicious and healthy all-natural energy drink with bananas, dates and nuts. The perfect breakfast or snack.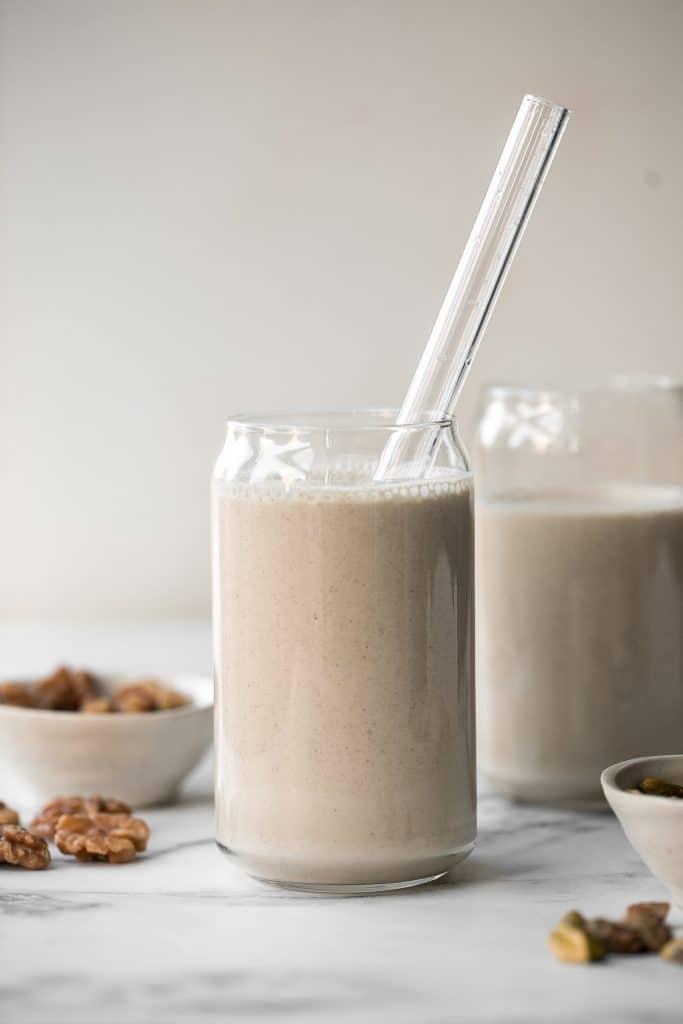 This Berry Smoothie Bowl is the best way to start the day. It's quick and easy to make, healthy, and packed with nutrients. Customize it with toppings!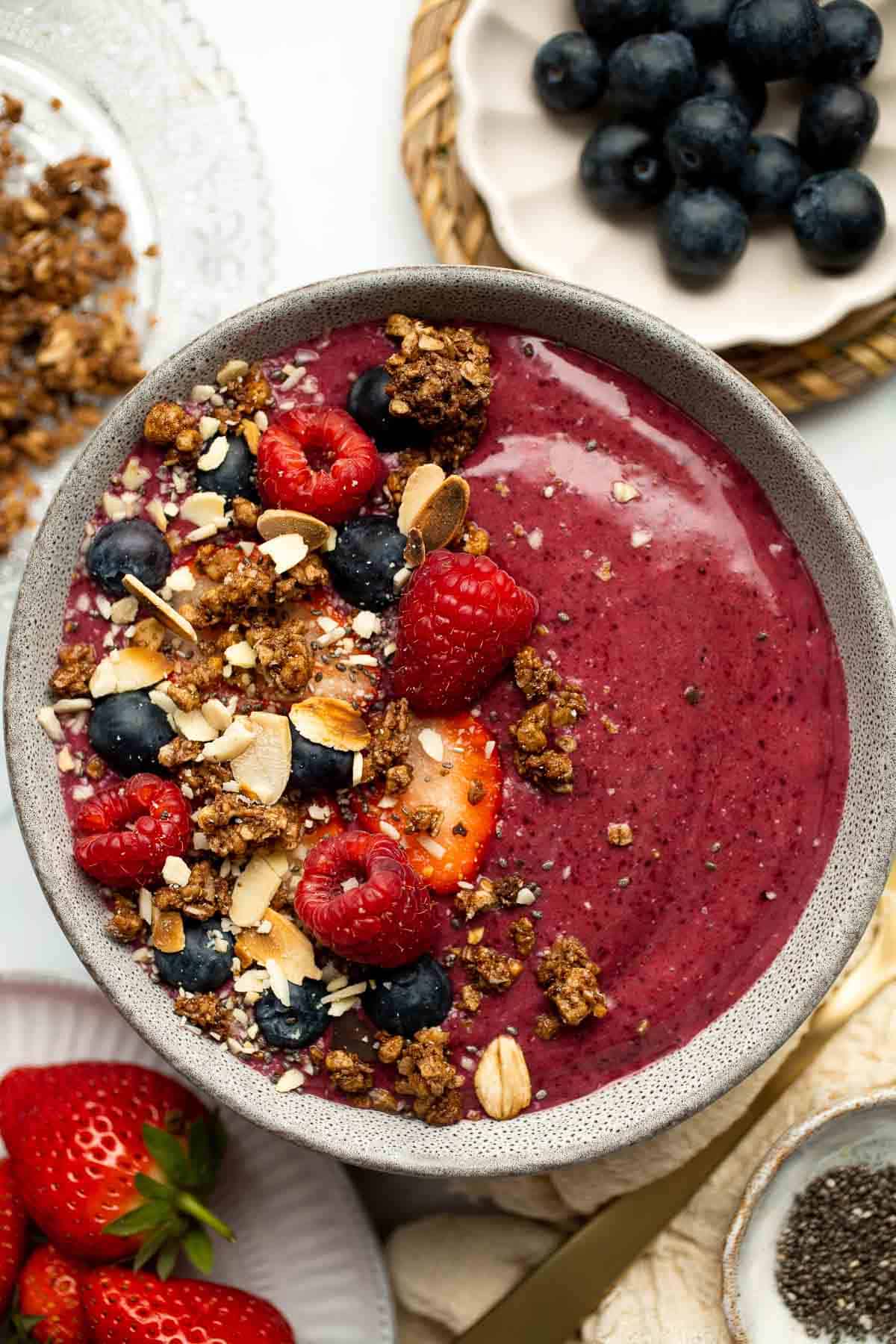 Layer fresh fruits, creamy Greek yogurt and crunchy granola to make this fruit and yogurt parfait for a delicious and healthy breakfast or a simple snack. It's one of the easiest breakfast ideas.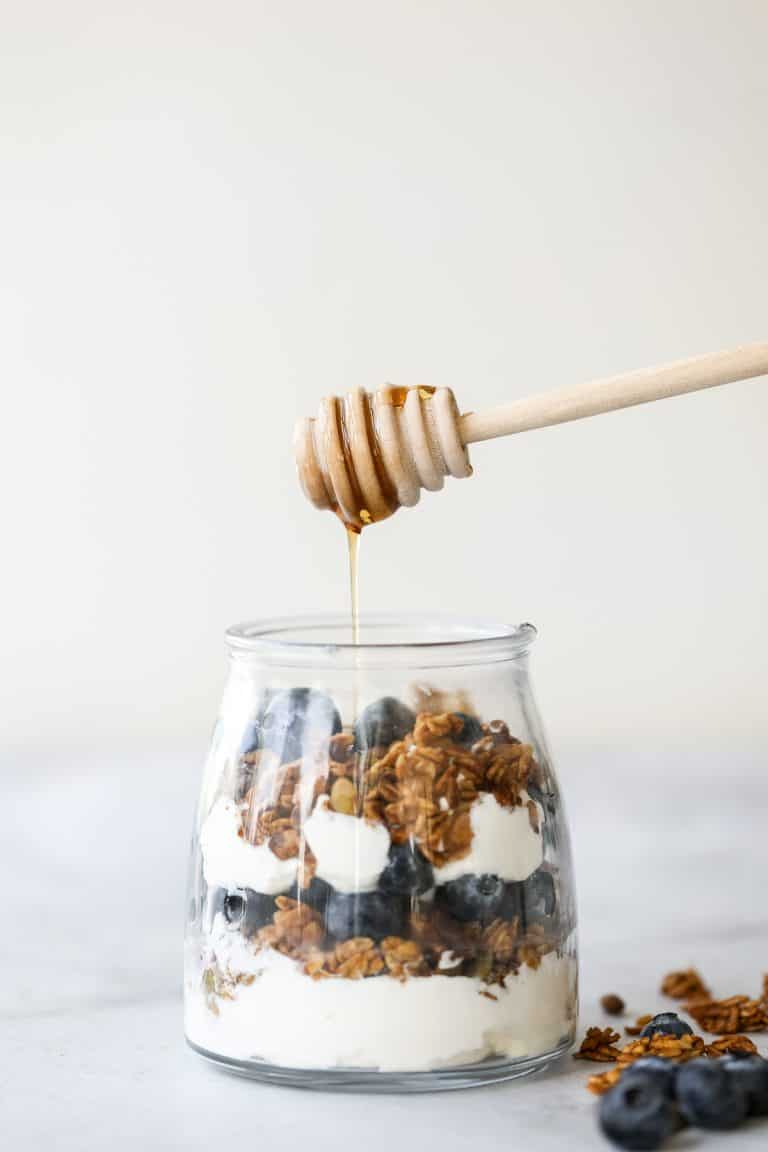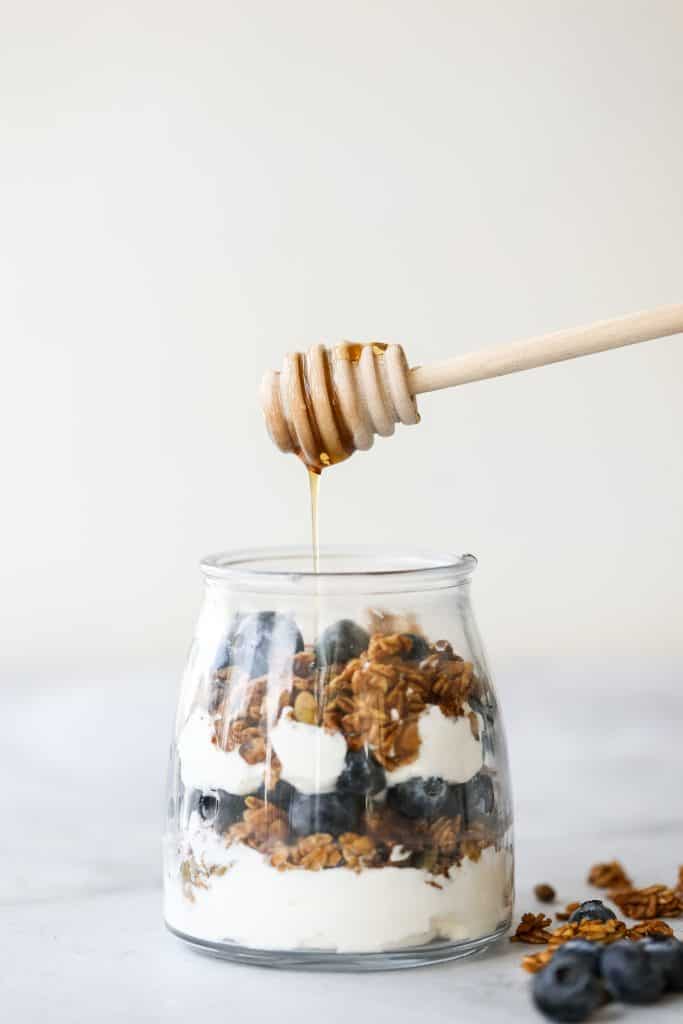 Quick and easy strawberry banana smoothie is the perfect breakfast on the go or refreshing snack. It's fruity, delicious, and packed with nutrients.
Chia Seed Pudding is creamy, delicious, and healthy, loaded with protein, fiber, antioxidants, and healthy fats. Plus, it's easy to make with 3 ingredients.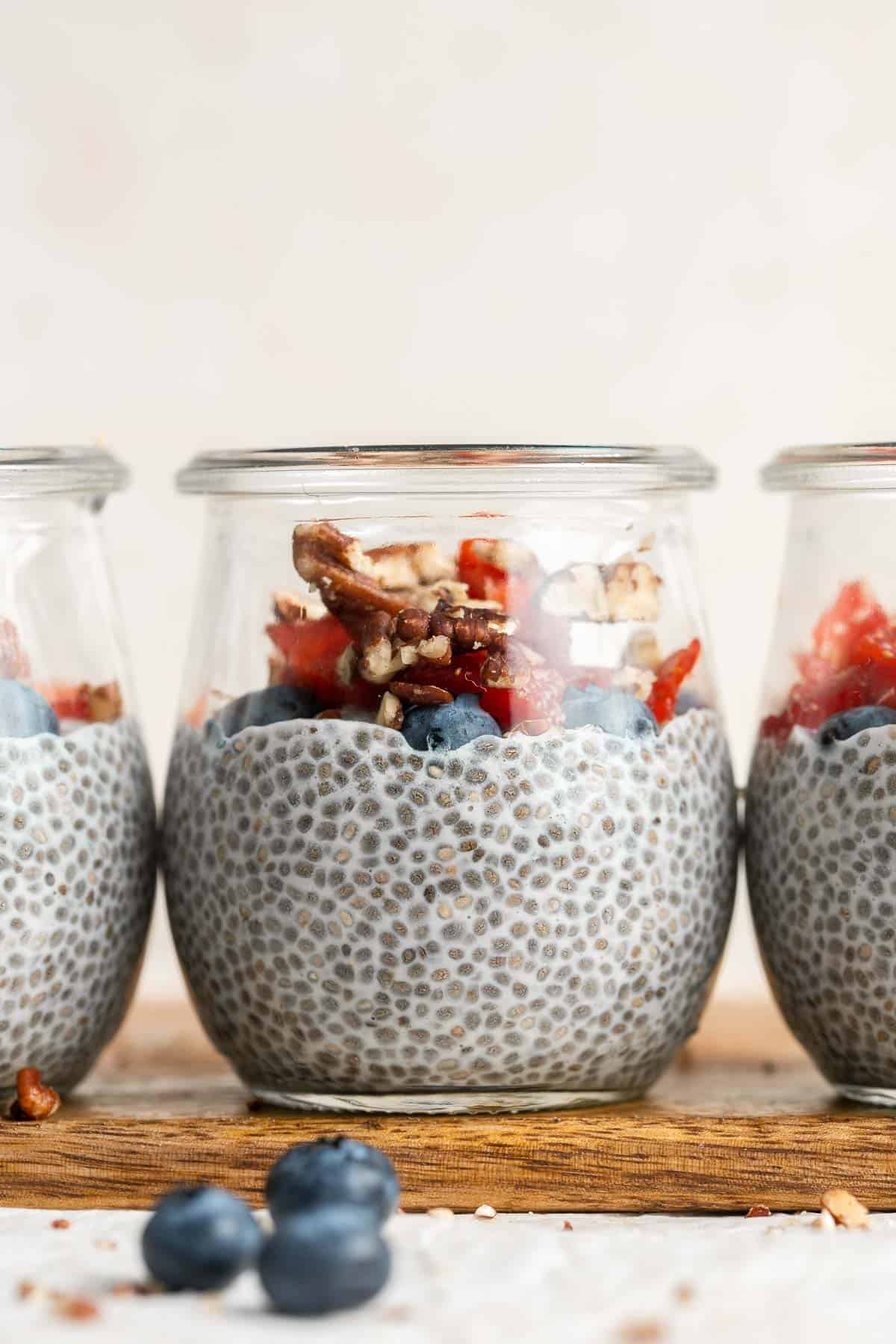 This green smoothie bowl is healthy, delicious, and nutritious. It's quick and easy to make in just minutes, for a quick energy boost to start the day.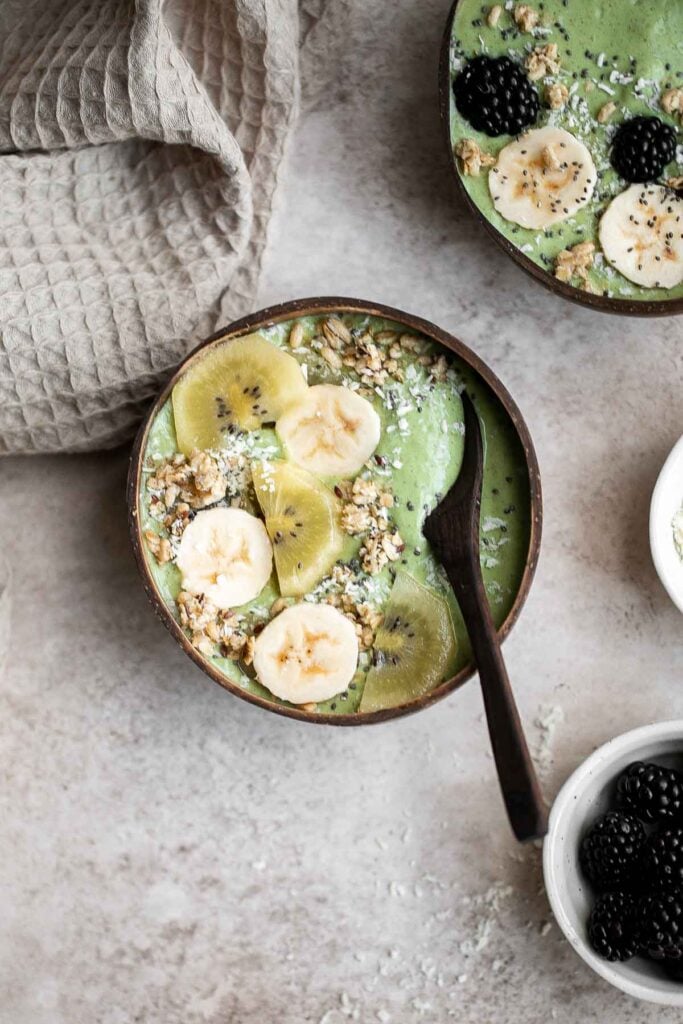 Healthy mango yogurt smoothie is refreshing, delicious, and healthy. Loaded with tropical mangos and low-fat yogurt, it's the perfect breakfast on the go.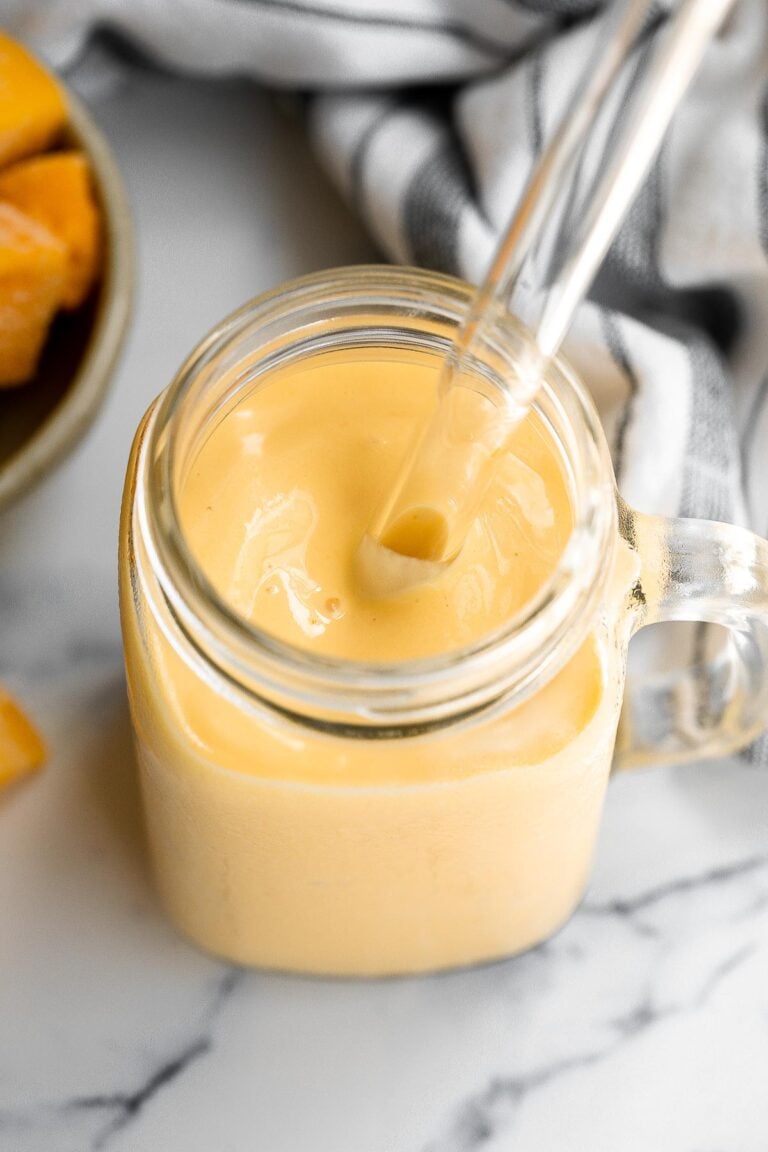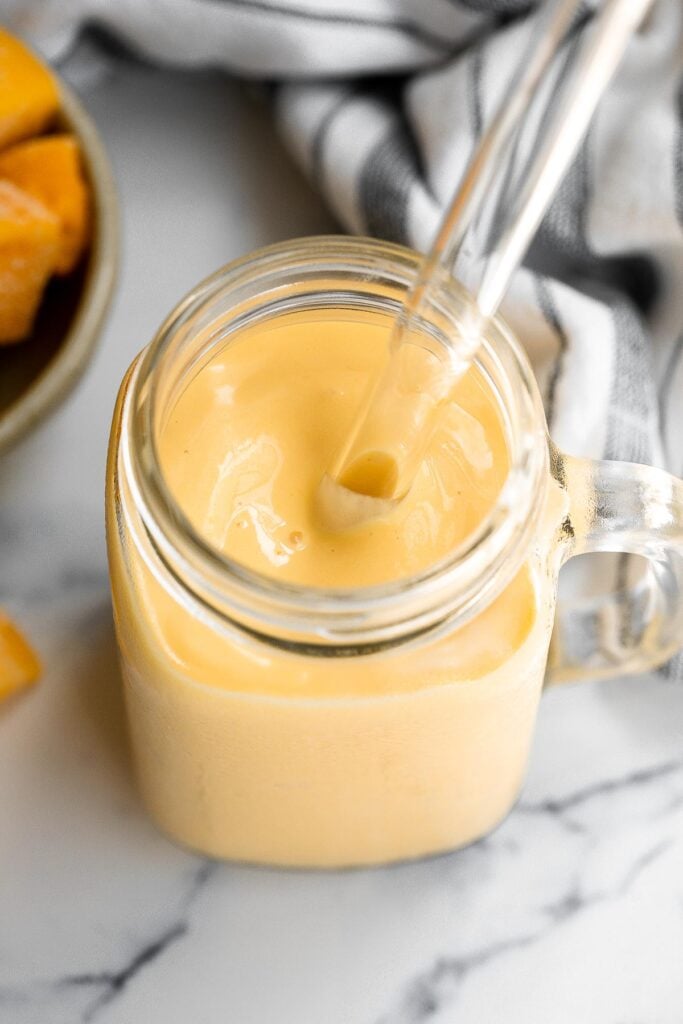 Thick and creamy homemade yogurt is so easy to make at home with just 2 ingredients, a heavy pot, and just a few minutes of actual hands on prep work.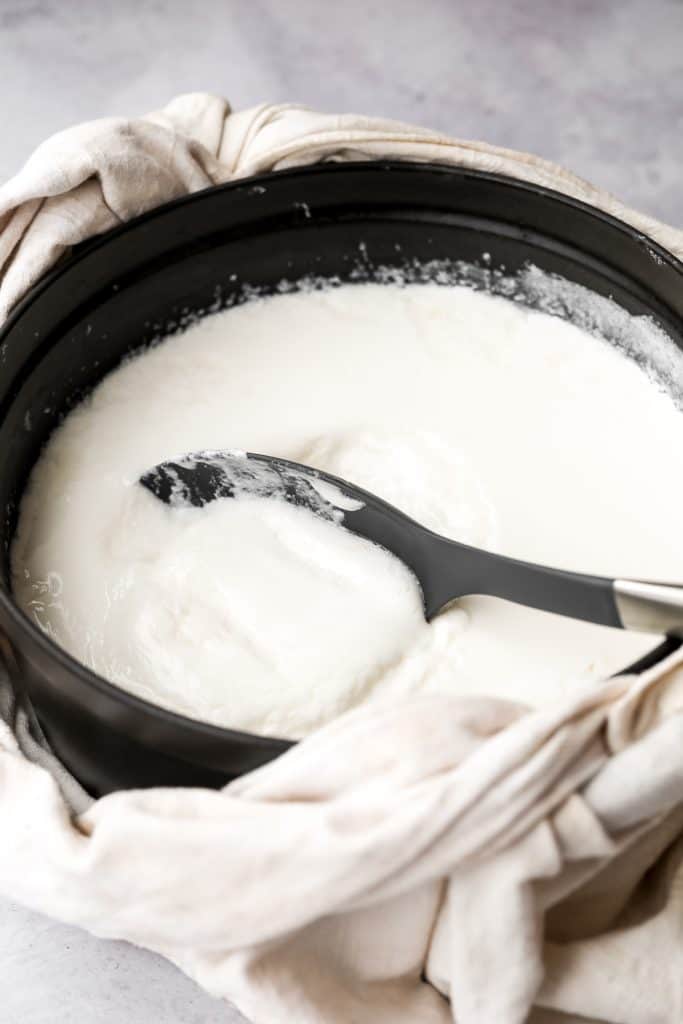 Add something refreshing to brunch with this Fruit Salad. It is colorful, delicious, and naturally sweet (no processed sugar!). It's easy to make with fresh fruit tossed in a homemade dressing.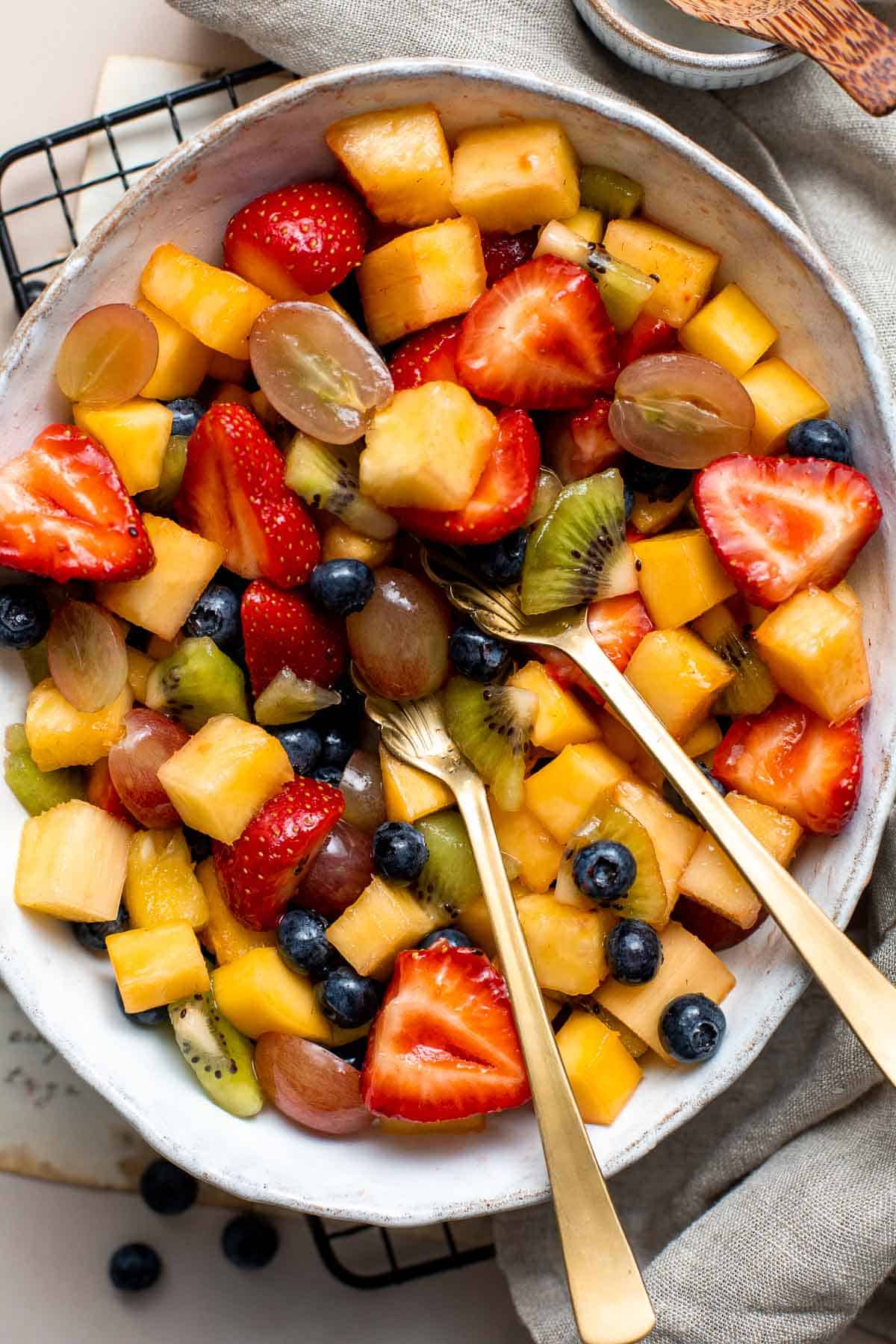 Healthy Apple Pie Fall Smoothie
Healthy Apple Pie Fall Smoothie is quick and easy to make in minutes, delicious and nutritious, and tastes like apple pie — without the calories.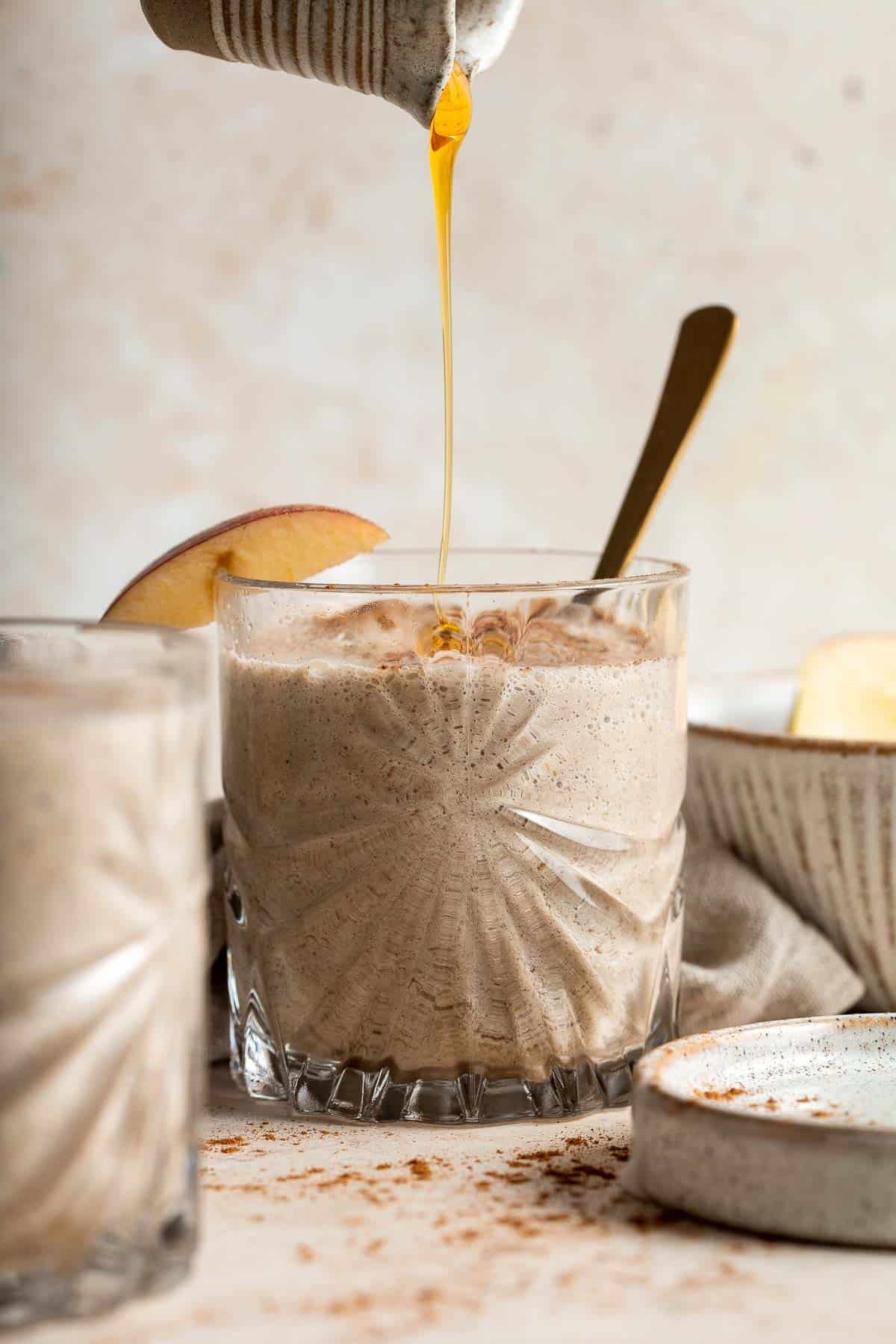 Mango Pineapple Tropical Smoothie Bowl
Mango pineapple tropical smoothie bowl? Yes, please! Who doesn't love pineapples and mangos blended together and topped with more fruit, granola, and coconut?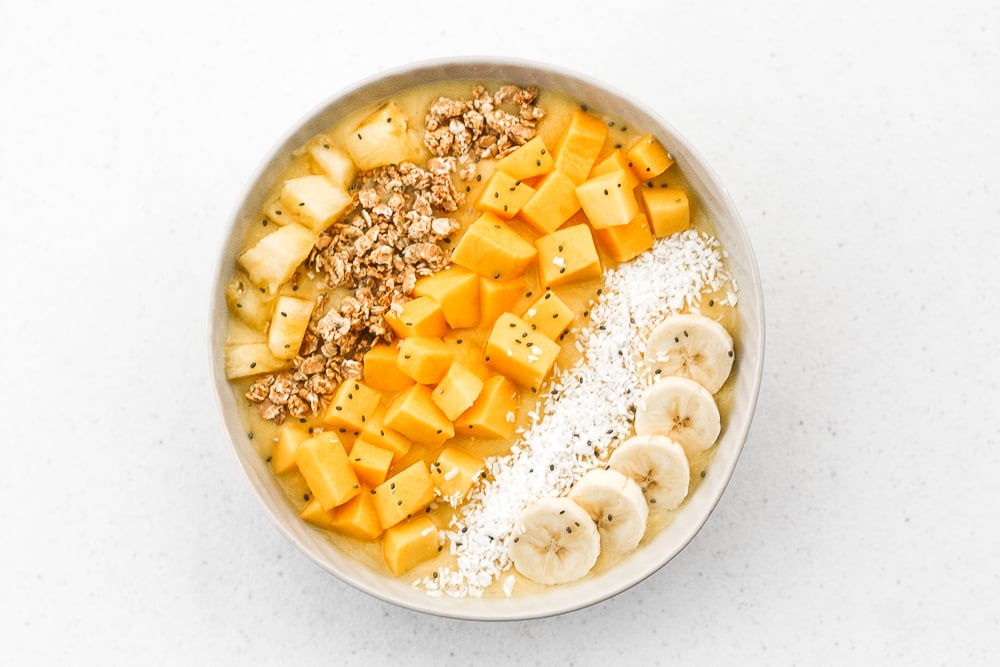 Oats and Granola for Breakfast
Oat Porridge is a healthy, delicious breakfast that's warm, comforting, cozy, and great for all ages. A quick easy recipe to warm you up on cold mornings.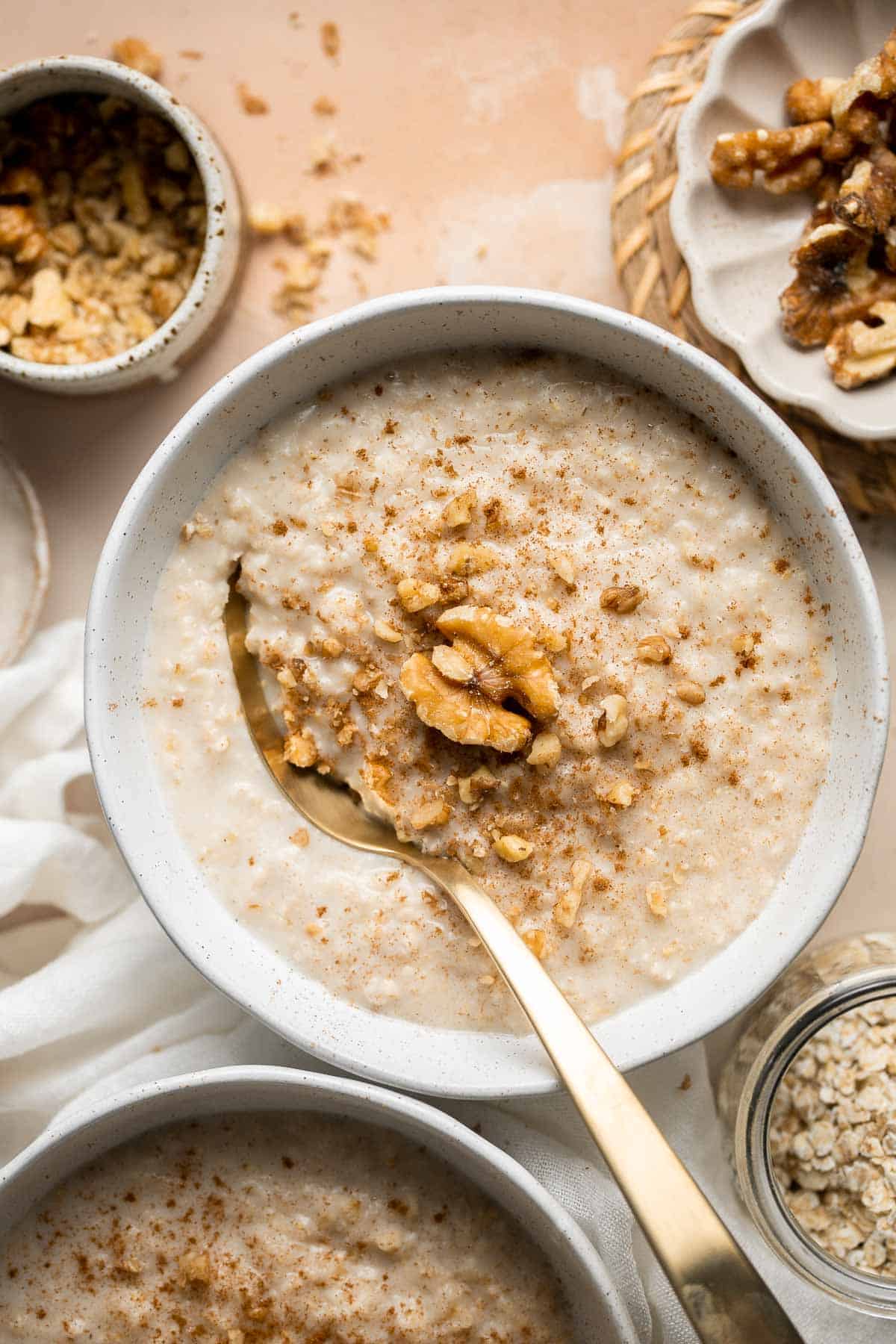 Cinnamon Apple Granola is quick and easy to make, tastes like apple pie, and is much better than store-bought — plus easier to make than you think!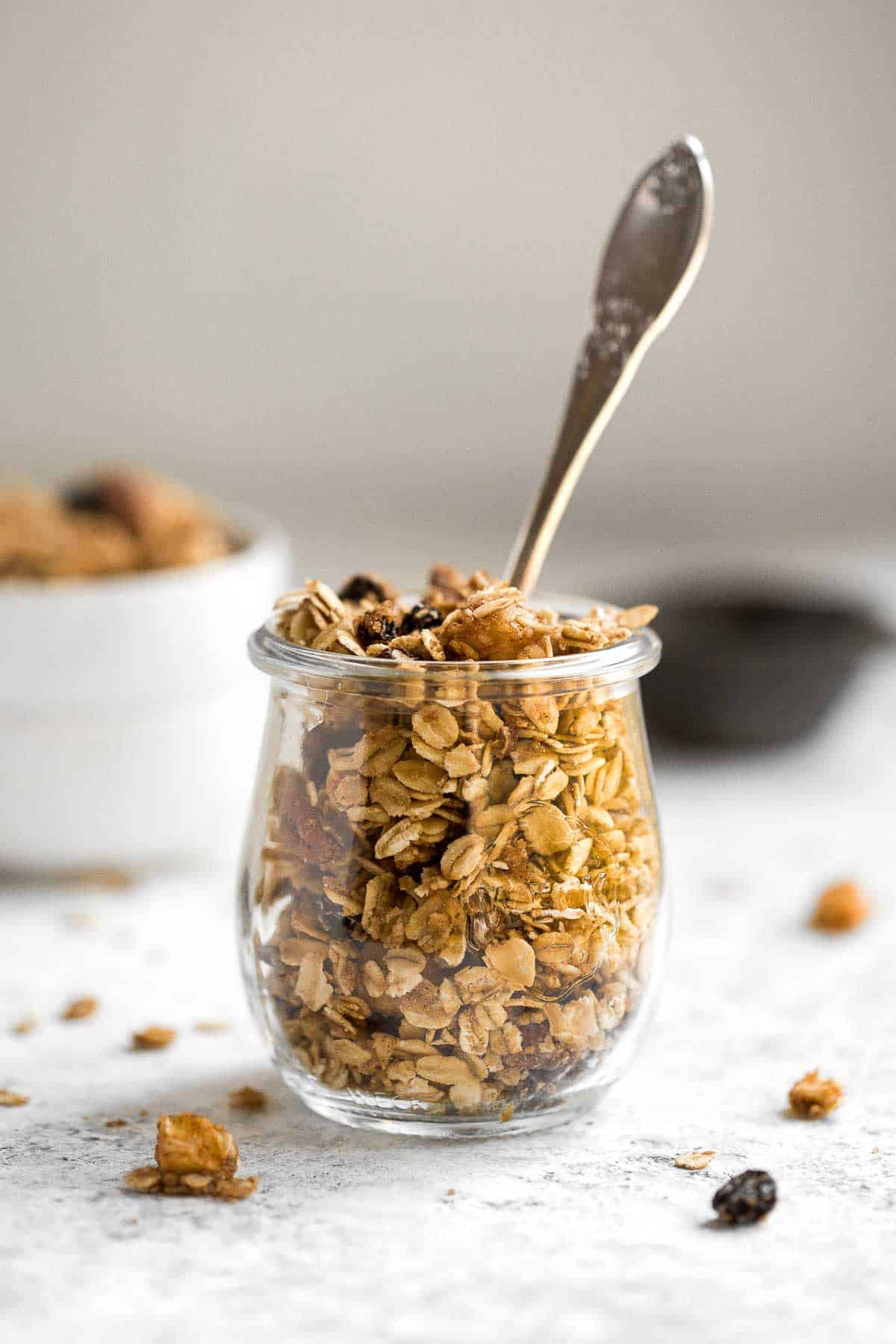 Easy cranberry sauce oat bars with a buttery crust, cranberry sauce filling, and crumbly pecan oat topping is the best way to use leftover cranberry sauce.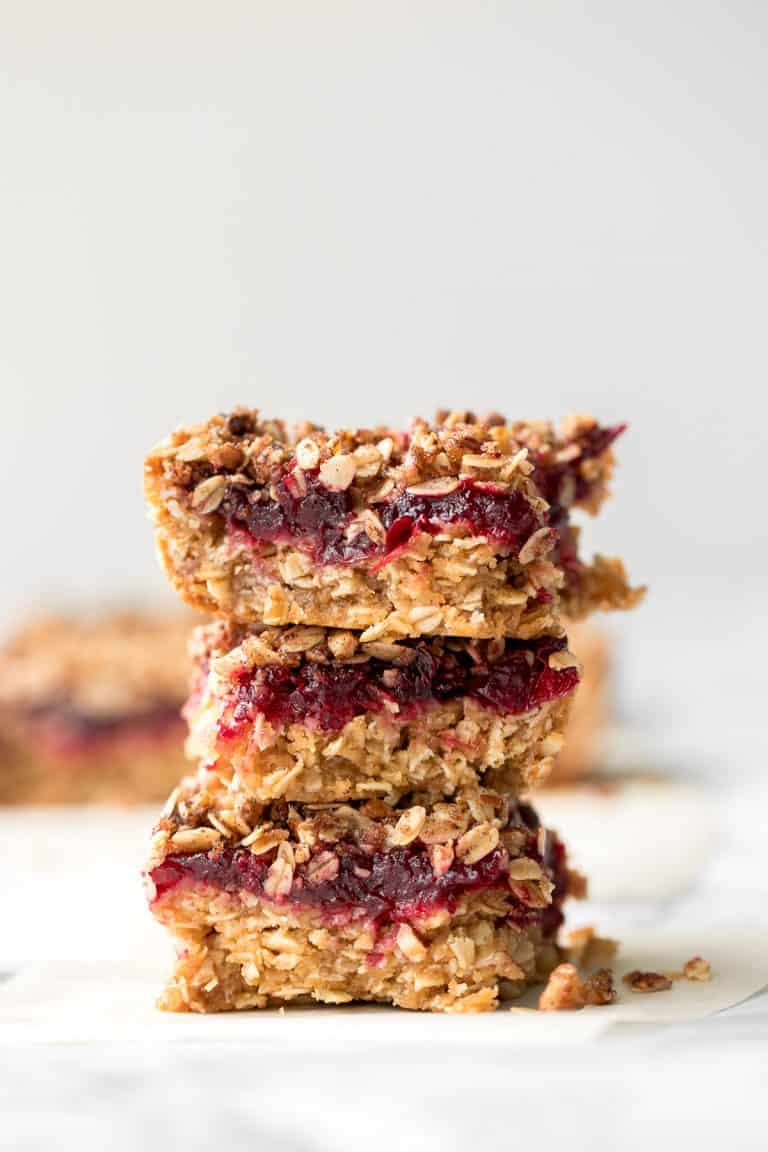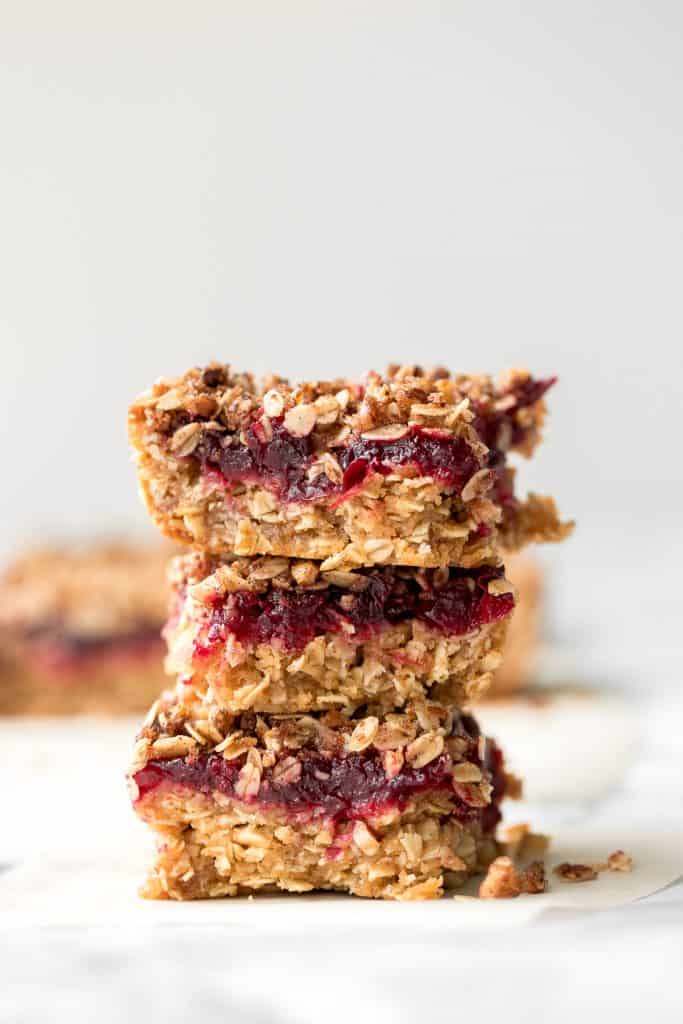 Cinnamon Apple Baked Oatmeal is a delicious, filling make-ahead breakfast for fall — loaded with chewy oats, tender apples, crunchy walnuts, and cinnamon.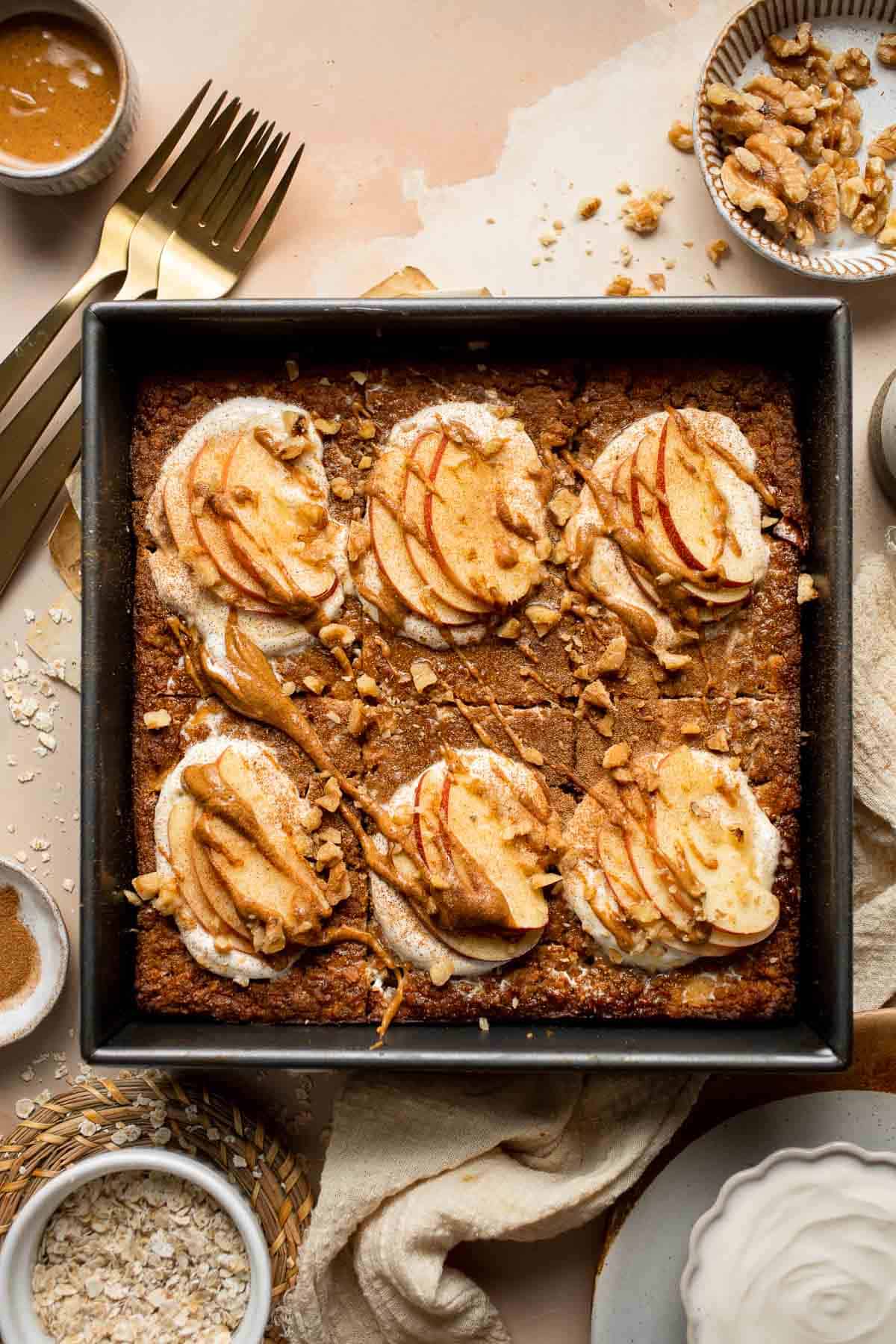 Quick and easy pumpkin pie granola packed with oats, pumpkin, pumpkin spice, and nuts, is vegan, gluten-free, and refined sugar-free. The best fall snack.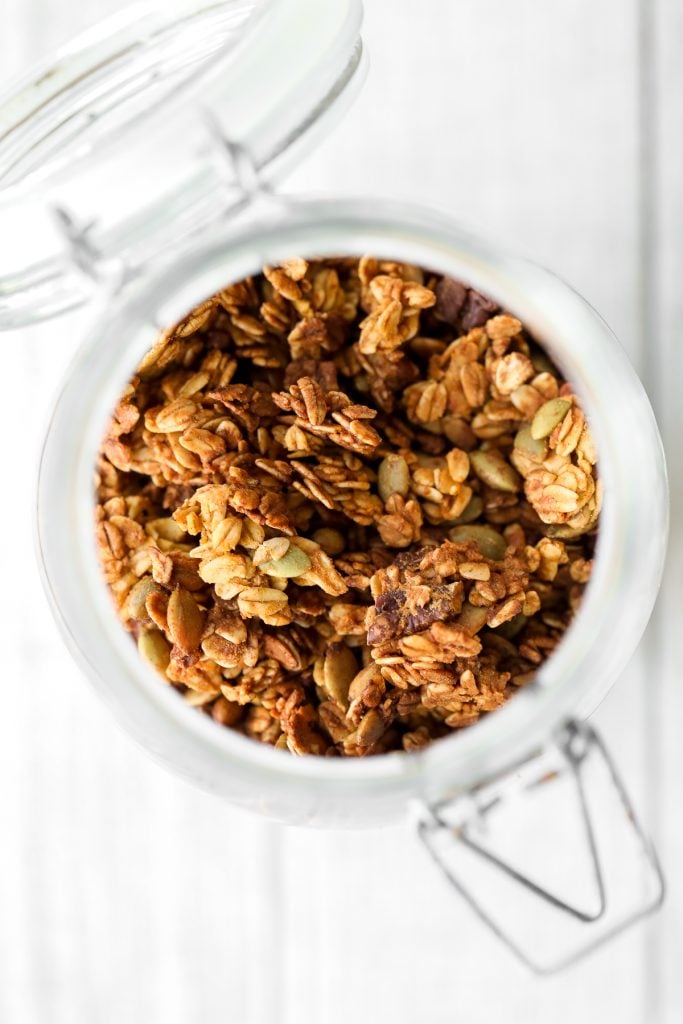 These almond cranberry chocolate chip granola bars are chewy and delicious, contain real dried fruit, and made healthier with less processed sugar. For a different flavour, try almond butter granola bars.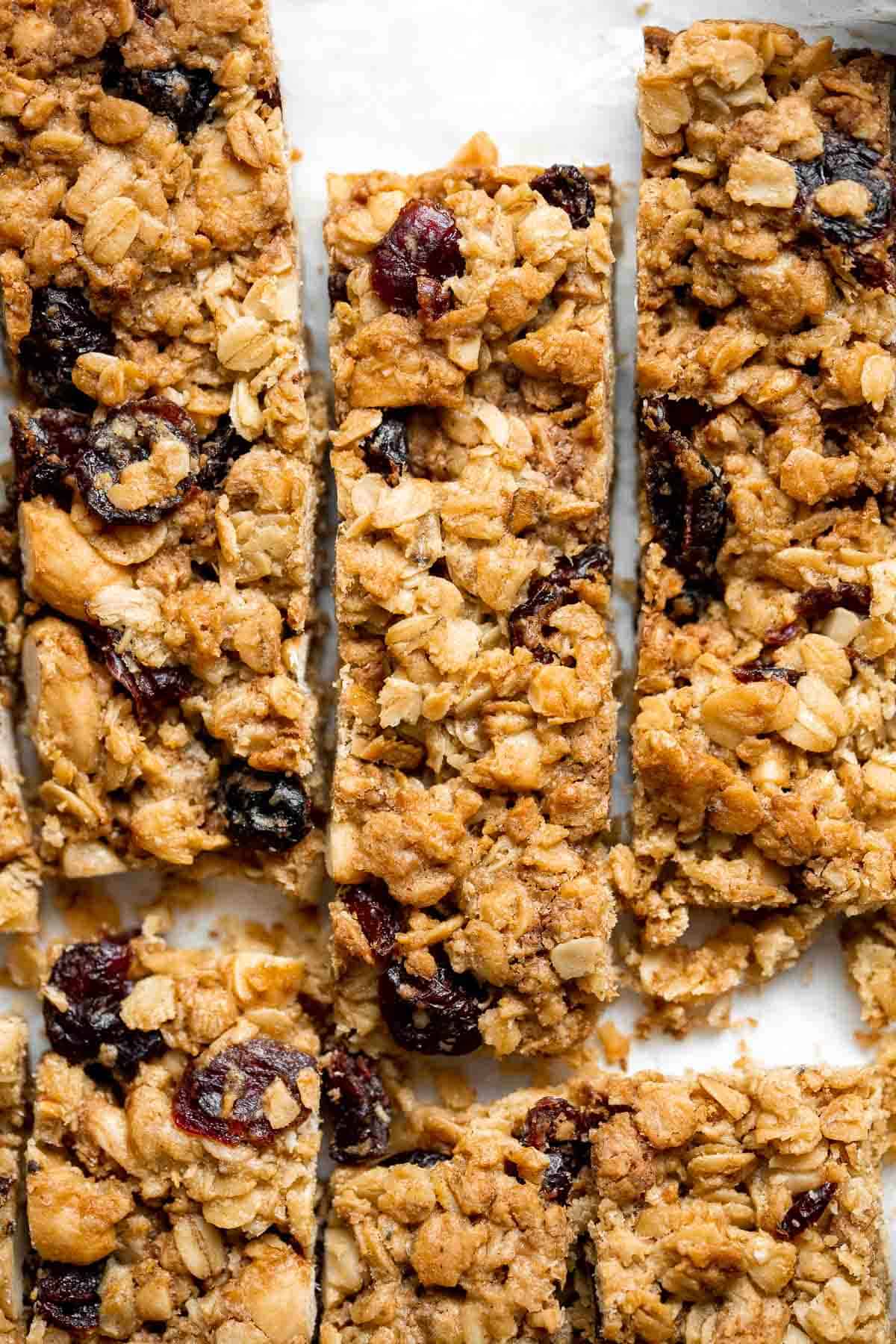 Coconut Maple Walnut Granola is easy to make from scratch with simple ingredients including 3 types of nuts. It's gluten-free, vegan and refined sugar-free!
Chewy Peanut Butter Granola Bars
Chewy chocolate chip peanut butter granola bars are healthy, vegan, gluten-free, and refined sugar-free. Prep them in just 10 minutes to snack on for weeks.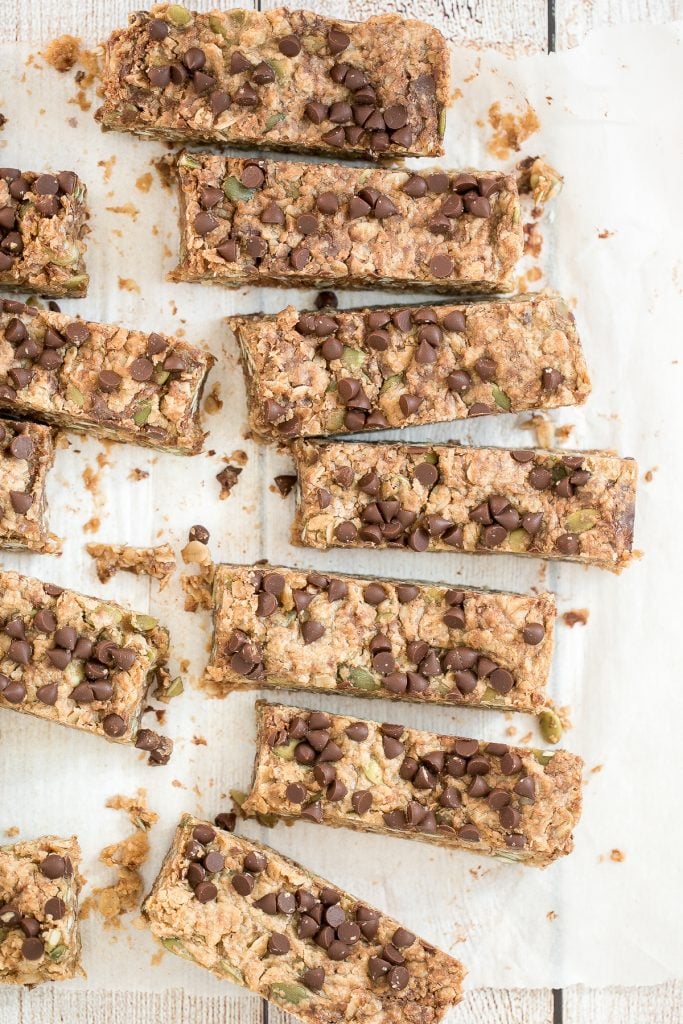 Quick and easy gingerbread granola with nuts, cranberries and warm winter spices is vegan, gluten-free, and refined sugar-free. The best breakfast snack.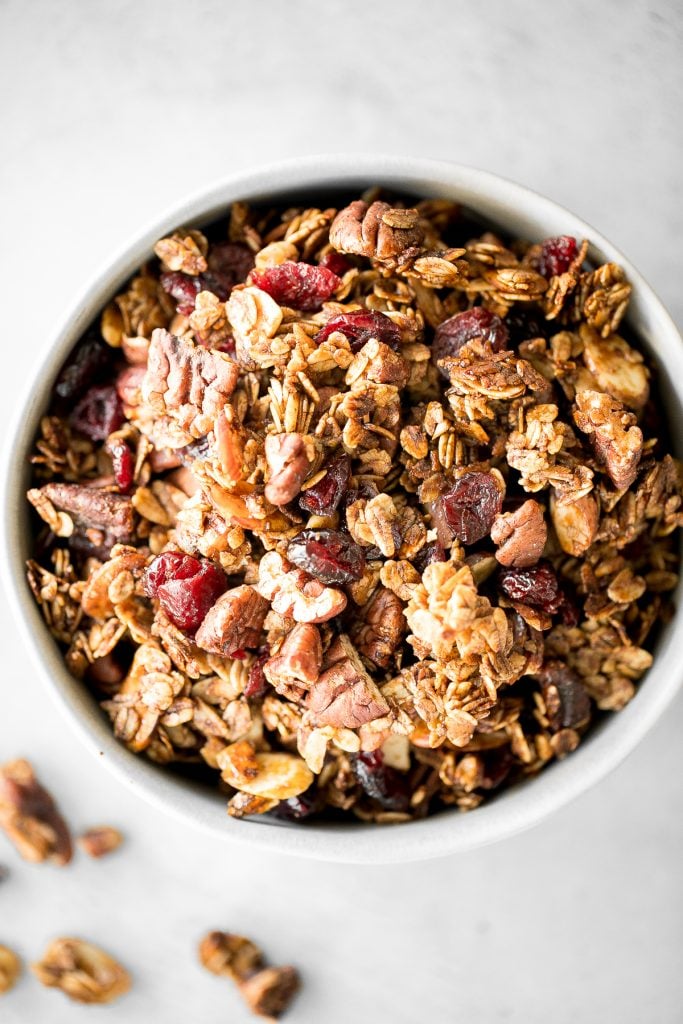 More Recipes
Did You Make Any of These Breakfast Recipes?
Please leave a comment and rating below, and let me know what you thought of this round up of the best breakfast ideas. Be sure to snap a picture and tag me on Instagram @aheadofthyme or share it on the Pinterest pin so that I can follow along.
HUNGRY FOR MORE? Don't forget to sign up for my email newsletter so that you don't miss any recipes. You can also follow along on Instagram and Pinterest for more recipe updates.
Print
Recipe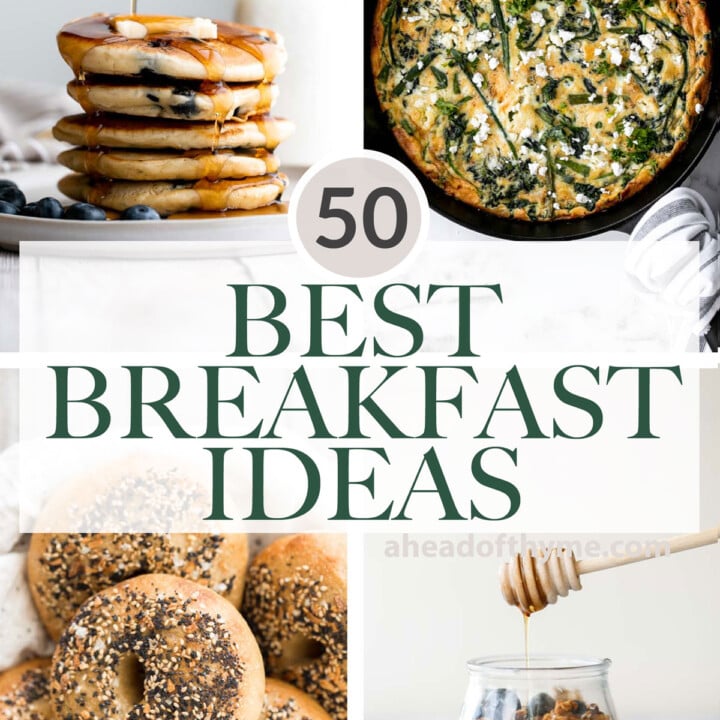 50 Best Breakfast Ideas
---
Author:

Total Time:

35 minutes

Yield:

6 servings

Diet:

Gluten Free
Description
Over 50 popular best breakfast ideas including eggs, pancakes and toast, baked goods, oats and granola, bread, fruity breakfast smoothies, and more. One of my favorite breakfast recipes is this vegetable frittata. 
---
2 tablespoons

 olive oil

2 tablespoons

 scallions (or leek), finely chopped

1 cup

 thin asparagus, trimmed and cut into

1

-inch pieces

1

bunch broccolini

1 cup

 frozen peas

1 cup

 baby spinach

¼ teaspoon

 ground black pepper

1 teaspoon

 paprika

8

large eggs

½ cup

 heavy cream

1 teaspoon

 salt

¼ cup

 feta cheese (or goat cheese), crumbled
fresh basil, chopped (for garnish)
---
Instructions
Preheat oven to 400F.
In a large oven-proof skillet or cast-iron skillet, heat oil for 2 minutes over medium-high heat until the hot oil sizzles. Add scallions and sauté until fragrant, about 1 minute.
Add asparagus and broccolini and stir well to cook until tender, about 2-3 minutes.
Stir in peas and spinach and season with pepper and paprika. Stir well until evenly combined, allowing them to soften.
In a large mixing bowl, whisk together eggs and cream until smooth. Season with salt. Pour the egg mixture into the skillet and gently shake to distribute. Sprinkle feta cheese evenly on top.
Bake for 20 minutes until completely set. Let the frittata rest for 5-10 minutes to stabilize since it will puff up fresh out of the oven.
Garnish with basil and extra feta on top, if desired. Slice and serve.
Prep Time:

5 minutes

Cook Time:

30 minutes

Category:

Breakfast

Method:

Bake

Cuisine:

American
Keywords: 50 breakfast ideas, breakfast ideas, breakfast recipes, brunch recipes, brunch ideas,