Our 2021 holiday gift guide is here. This is a complete guide to the best kitchen gifts for all foodies and anyone who loves to cook. Browse through my favourite items that I use regularly, ranging from gifts under $30, to cookware and bakeware, to small kitchen appliances, and other kitchen gadgets, and find the perfect present that you are looking for.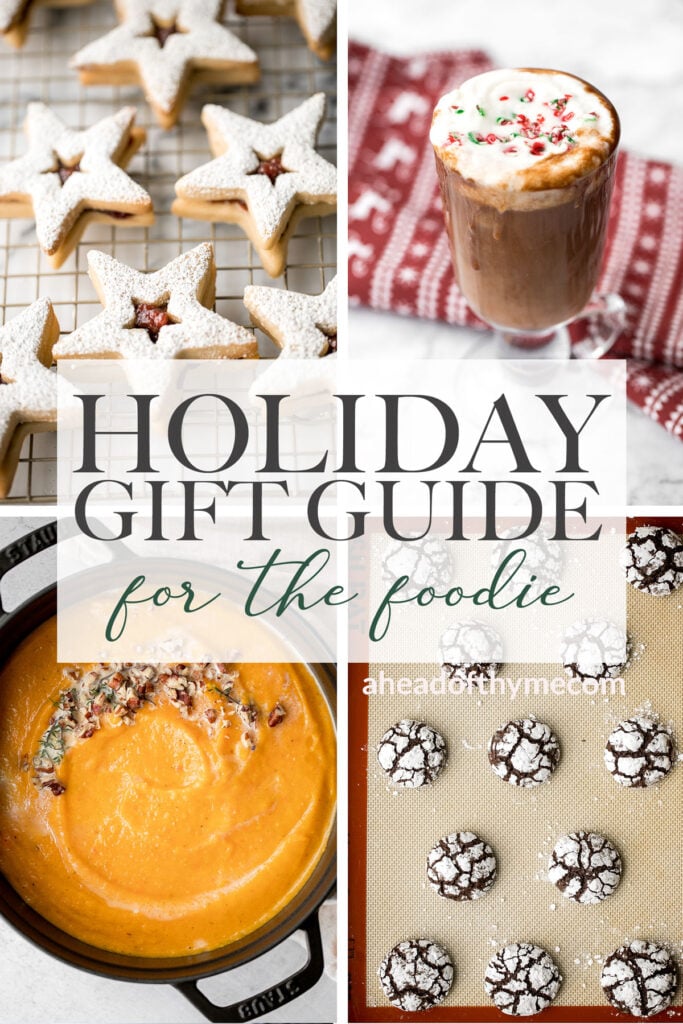 Gifts Under $30
These kitchen gifts under $30 are perfect for a tighter budget or for stocking stuffers.
Monogram Mug ($12). Personalized gifts are so much fun. This stoneware mug is tiled with a bold block letter design. Or try this gold monogram mug.
Oven Mitts ($15). This sturdy oven mitt is quilted with heavyweight striped-cotton twill on the outside and thick protective cotton terry inside. You can even personalize them with a monogrammed name or initials.
Potholder ($13). This potholder matches the oven mitts linked above. They are designed for handling the hottest pots and pans.
Dish Towels ($22). This set of 4 dish towels in a neutral seaside-blue stripe print is a timeless piece that can handle everything from drying delicate dishes to covering bread dough to soaking up spills.
Apron ($30). This cute and stylish apron is functional with a deep pocket, and makes a statement while you're cooking.
Monogram Coasters ($14). These beautiful monogram coasters are a luxe, personalized accent made of marble with an abalone shell inlay.
Stainless Steel Travel Mug ($28). This sleek, vaccum-insulated travel mug keeps drinks hot for up to 5 hours, and cold for up to 12 hours. And it's easy to clean in the dishwasher.
Hot Chocolate Stir Sticks ($17). A pack of hot chocolate that is literally on a stick. Use them to create rich, creamy hot chocolate in an instant by swirling in a cup of hot milk.
Tea-for-One Set ($38). This beautiful teapot and teacup set has with an artful motif and gleaming, gold-finished edge is a little over our $38 price point but too gorgeous to not include. Or go for a simple glass teapot.
Herbal Tea ($21). I am a big tea drinker here and rarely go for a cup of coffee. I love this English mint tea, it's such a warm and comforting classic.
Beeswax Food Wraps ($22). These natural, sustainable, and compostable food wraps are a great alternative to using plastic cling wrap. The patterns are also super cute.
Avocado Food Huggers ($12). Say good-bye to browned avocado. These avocado food huggers are an eco-friendly alternative to disposable plastic wrap, and keep cut avocados fresh for longer.
Cookware
Staub 4-quart Dutch Oven ($200-$320 - on sale!). This is my go-to Dutch oven that I use all the time. I use it to make everything from Whole Roast Chicken, to Sourdough Bread, to hearty Mushroom Barley Soup.
Staub Cast-Iron Skillet ($190-$220 - on sale!). We cannot live without our cast iron skillet. It's perfect for cooking beautiful seared ribeye steak, skillet pizza, and of course, perfect for any stove to oven meals like Skillet Chicken Thighs and Potatoes, Creamy Brussels Sprouts Bake, and Skillet Pizza.
Our Place Always Pan ($99 - on sale!). This pan is the newest cookware in my collection. It is super lightweight and the non-stick is awesome and so easy to clean. It is essentially 8 pieces of cookware in a single piece -- a fry pan, sauté pan, steamer, skillet, saucier, saucepan, non-stick pan, spatula, and spoon rest.
GreenPan Ceramic Cookware Set ($270-$400 - on sale!). A 10-piece set of the most-essential pots and pans including a 2 and 3-quart saucepans with lids, 3-quart sauté pan with lid, a 5-quart casserole with lid, and 8-inch and 10-inch fry pans. These non-stick ceramic pans are oven safe and dishwasher safe.
Staub Cast Iron Grill Pan ($175). This grill pan was our saviour all summer as we cannot have a barbecue on our apartment balcony. We grilled everything on this pan from Greek Souvlaki Chicken Skewers, to Classic Juicy Hamburgers, to Cajun Shrimp Skewers, and Teriyaki Chicken Skewers with Pineapple.
Victoria Cookware Cast-iron Skillet ($25). I also use this cast iron skillet and I am happy with it. It is a much more affordable option.
Le Creuset Stoneware Rectangular Dish ($40-65 - on sale!). This dish is perfect for making casseroles, Lasagna, and Baked Mac and Cheese.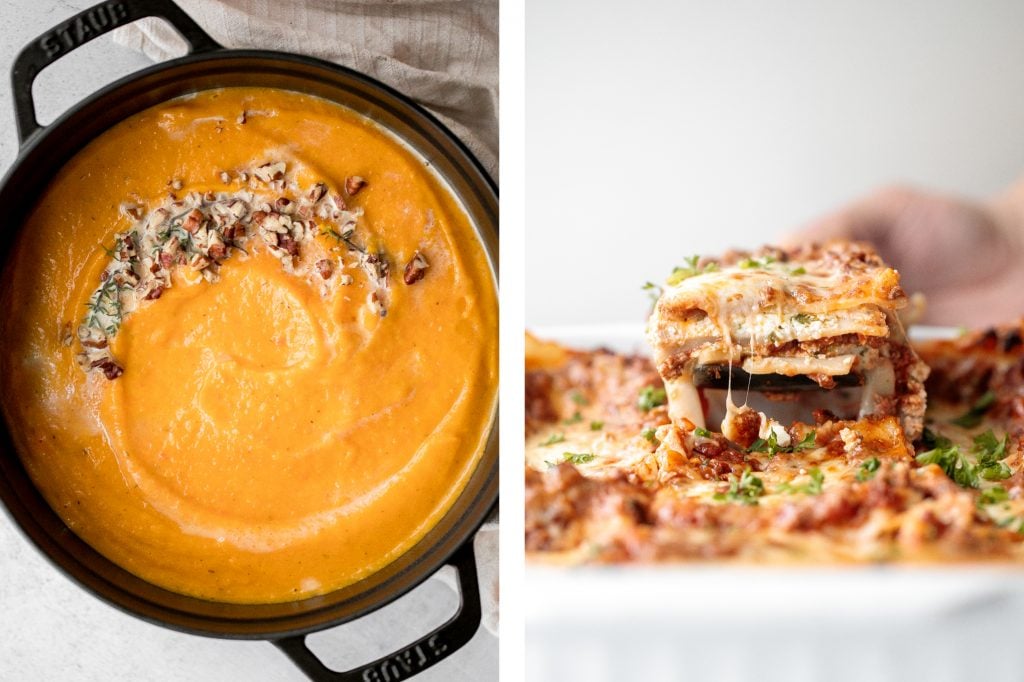 Bakeware
Half Sheet Pan ($33). I use this gold baking sheet all the time for everything from baking a batch of cookies to making complete sheet pan dinners. Complete the set with a large half sheet wire cooling rack that fits inside.
Quarter Sheet Pan ($13). This baking sheet is half the size of the half sheet pan, and I also use this quite regularly. It's great for baking smaller batches of cookies like Almond Biscotti or small sheet pan dinners (like my popular One Pan Garlic Roasted Chicken and Baby Potatoes).
Silicone Baking Mat ($23-$40). This flexible, non stick liner is perfect for baking cookies. It fits snuggly inside a half sheet baking pan. It comes in different sizes including quarter sheet liner to fit quarter sheet baking pans.
12-Tin Muffin Pan ($28). A standard piece for baking muffins such as Leftover Cranberry Sauce Muffins, Gingerbread Muffins with Vanilla Bean Glaze, and Spiced Carrot Muffins.
Nordicware Anniversary Bundt Pan ($40). This classic 10-15 cup bundt pan creates the most beautiful defined lines in a traditional shaped bundt. I used this pan in my Gingerbread Bundt Cake or Pumpkin Bundt Cake.
Nordicware Heritage Bundt Pan ($40 - on sale!). This 10-cup bundt cake is another one in my collection. You can see the unique form of this bundt cake in this Glazed Brown Sugar Bundt Cake.
Bakeware Set ($80 - on sale!). This 6-piece bakeware set contains everything a baker needs, including a half sheet pan, 12-cup muffin pan, round cake pan, square cake pan, rectangular cake pan and a loaf pan.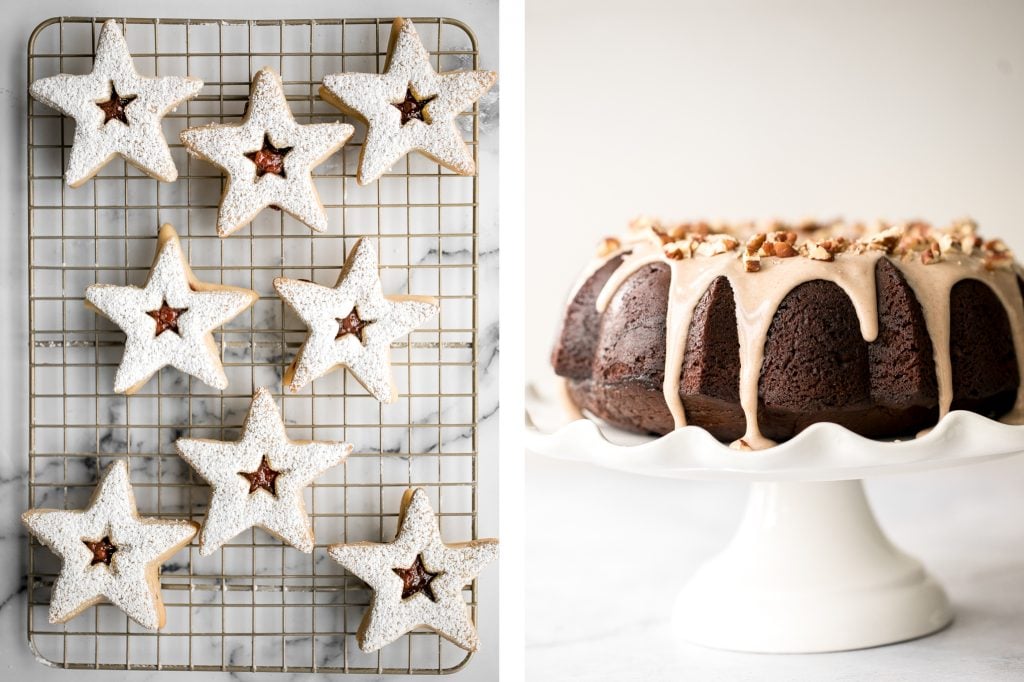 Small Kitchen Appliances
Philips Air Fryer ($269). The air fryer has been a game changer in our house and we could not recommend it enough. You can cook anything that you cook in the oven faster, and more delicious. We make everything from Air Fryer French Fries, Air Fryer Chicken Breast, Air Fryer Broccoli, and Air Fryer Shrimp in there. See our top 25 Easy Air Fryer Recipes.
Instant Pot ($140). This 9-in-1 pressure cooker, rice cooker, slow cooker, yogurt maker, steamer, sauté pan, food warmer, sous vide and sterilizer is the perfect gift for foodies. We use our Instant Pot to make Instant Pot Butternut Squash Soup, Instant Pot Whole Chicken, Instant Pot Mashed Potatoes, and more.
Slow Cooker ($70). We received this 6 qt. slow cooker as a wedding gift 5 years ago and are very happy with it. It's perfect for Slow Cooker Bone Broth, Slow Cooker Turkey Breast, and Slow Cooker Beef Chili.
Kitchenaid Stand Mixer ($380). This is the perfect gift for anyone who likes to bake. This stand mixer is perfect for preparing large batches of cake or cookie dough without compromising kitchen counter space. It includes a flat beater, dough hook, wire whip, and pouring shield.
Kitchenaid Hand Mixer ($130). I tend to use my hand mixer a lot more because I find it is so easy to use, especially when it's needed in easy one bowl desserts.
Kitchenaid Food Processor ($99). We use this food processor frequently in our home for everything from pureeing soup, to finely chopping up the filling for Chicken and Cilantro Wontons, and making Puff Pastry Pie Dough.
Vitamix Blender ($600-$650). This heavy duty blender is the only blender you ever need. I not only use it to make smoothies and smoothie bowls, but I use it for anything that I need to puree (soup and dips like Hummus) or get into super fine pieces. I also use it to make powdered sugar out of granulated sugar, oat flour out of oats, breadcrumbs from bread, and so on.
Breville Immersion Blender ($120). This easy hand-held blender is perfect for pureeing vegetable soups directly in the cooking pot, and can be used for chopping vegetables. It comes with a whisk attachment, 3-cup chopping bowl with blades, 42-oz. storage jug with lid and instruction/recipe book.
Breville Citrus Juicer ($220). This citrus juicer gets every last drop of juice out of all citrus fruits, from limes to grapefruits, with an easy press arm. Unlike other juicers that are made with plastic (especially the strainer and basket), this one is made of stainless steel.
Pizza Oven ($350). Cook pizza in 1 minute in this portable wood-fire pizza oven.
Breville Espresso Machine ($700). Make a coffee shop style cup of espresso – from bean to brew – at home in less than a minute.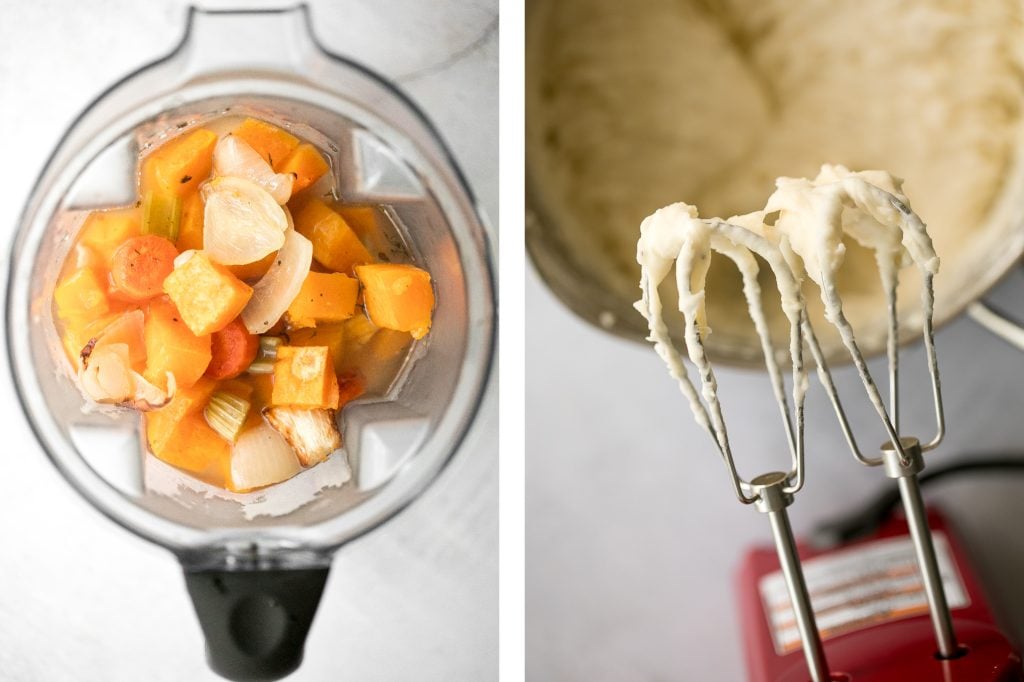 Serveware
Cake Stand ($60). This modern pedestal cake stand features warm wood and cool marble. It provides an elevated surface for cakes, cheese and anything else that needs a lift.
Monogrammed Serving Board ($40). Perfect for making a Charcuterie Board or Veggie Tray with a personal touch. Made of gorgeous mango wood and white marble, with a bold and oversized letter in brass.
Kitchen Utensils ($157). This 15-piece stainless steel set includes essential food prep tools along with specialty pieces for serving pasta, pizza, pie and more. A brushed stainless-steel holder keeps them neatly contained on the counter.
Wooden Spoons ($80). This gorgeous 4-piece set of olivewood wooden spoons includes 12-inch and 14-inch spoons, 12-inch slotted spoon, and 12-inch blunt-end spoon.
Gold Flatware ($28). Gold flatware just adds such elegance to your table. You can also get this set in brass.
Stoneware Pitcher ($15). This half-gallon pitcher works well with hot and cold drinks.
Knife Block Set ($300 - on sale!). This gourmet 12-piece knife block set of high-quality Wüsthof knives. At the time of posting, it is currently 50% off!
Water Hyacinth Tray ($50). This tray is both functional and decorative. Use it to organize linens or condiments for a natural accent on your dining table.
Steak Knife Set ($500). For when you want to splurge on a gorgeous ad high-quality steak knife set that will last.
Other Kitchen Tools and Gadgets
S'mores Maker ($50). Enjoy delicious s'mores all year round with this innovative set, which includes a roasting chimney with a grill top, four roasting sticks, and a ceramic tray for ingredients.
Electric Salt and Pepper Mills ($90). These innovative automatic salt and pepper mills lets you grind salt or pepper with one hand. Plus, you can have them monogrammed for that extra personal touch.
Breville Glass Tea Kettle ($100). This glass kettle boils water quickly with a powerful heating element inside. Easily remove it off its base for easy use.
Molcajete (Mortar and Pestle) ($50). This mortar and pestle is hand carved from a single piece of basalt rock. It's perfect for crushing whole spices, or for making and serving party favourites such as guacamole.
Digital Scale ($50). This is a must in every baker's kitchen. This gorgeous scale has an illuminated LCD screen that is readable from any angle and disappears when the scale is turned off.
Electric Fondue Set ($80). This set is perfect for both savory and sweet fondues from classic cheese and chocolate fondues to oil and broth-based fondues. It has a built-in heating element with an adjustable thermostat for precise control.
Measuring Cups and Spoons Set ($120). These professional-quality tools bring precision to measuring ingredients for baking and cooking. Comes with 7 measuring cups and 7 measuring spoons.
Tea Bag Set ($45). Featuring 60 tea bags with 6 different varieties.
Did You Like this Holiday Gift Guide?
Please leave a comment below and let me know what you thought of these kitchen gifts for the foodie, and if you want to see more holiday gift guides.
HUNGRY FOR MORE? Don't forget to sign up for my email newsletter so that you don't miss any posts or recipes. You can also follow along on Instagram and Pinterest for more blog updates.