Butternut squash is definitely my favourite vegetable to cook with in the fall. There is literally nothing that you cannot make with this veggie. From soups to salads to dessert, this vegetable has got you covered! Today, I am rounding up my 10 favourite ways to cook with butternut squash.
1. Roasted Butternut Squash Soup
This roasted butternut squash soup wins the title of being by far my favourite way to consume butternut squash. It sums up the taste of the holidays in one spoon. Rosemary, sage and thyme, need I say more?
Get the recipe here!
Check out the Recipe Video:
2. Butternut Squash Quesadillas with Kale and Chicken
These fall-inspired butternut squash quesadillas with kale and chicken are the perfect answer when looking for a quick weeknight fall meal. And if you haven't discovered the combination of butternut squash and kale together, then you are in for a delightful treat!
Get the recipe here!
3. Winter Squash Carbonara Pasta
If you're a lover of traditional carbonara, you are going to go crazy over this winter squash carbonara pasta made creamy with roasted butternut squash!
Get the recipe here!
4. Pumpkin Chickpea Coconut Curry
Warm yourself up this fall with a big bowl of comforting pumpkin chickpea coconut curry with cashews. Easily substitute the pumpkin in this vegan and gluten-free recipe for butternut squash!
Get the recipe here!
5. Butternut Squash and Apple Soup with Toasted Croutons
I've got the most killer butternut squash and apple soup with toasted croutons to share. It's got sweetness from apple and carrots, a kick from onions and curry powder, and it's just all around comfort food... without the guilt!
Get the recipe here!
6. Butternut Squash "Pumpkin" Bread
Move over pumpkin, there is a new loaf in town! Butternut squash "pumpkin" bread is moist and flavourful, and brings the pumpkin spice season to your home.
Get the recipe here!
7. Maple Roasted Brussels Sprouts and Butternut Squash
Take the stress out of entertaining with this easy, one-pan maple roasted brussels sprouts and butternut squash side dish, filled with flavour in every bite.
Get the recipe here!
8. Butternut Squash Galette (Free-Form Tart)
This butternut squash galette (free-form tart) is the perfect meal any time of day! Serve it with a fried egg for breakfast or alongside a big salad for lunch or dinner.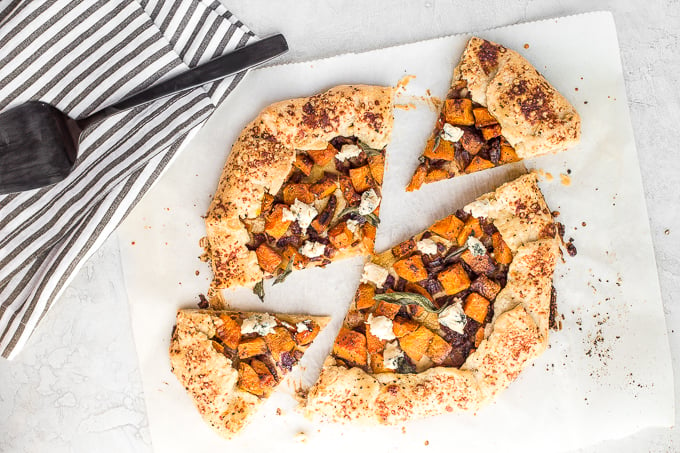 Get the recipe here!
9. Coconut Curry Pumpkin Soup
Coconut curry pumpkin soup is a bowl of comfort with a kick. This soup comes together in less than 30 minutes using a handful of ingredients! AND easily substitute the pumpkin in the recipe for butternut squash, you won't even know the difference!
Get the recipe here!
10. Warm Lentil Squash Salad with Butternut Squash and Shiitake Mushrooms
This warm lentil salad with butternut squash and shiitake mushrooms is the most comforting vegetarian main! Completely satisfying on its own or served with roasted chicken or salmon.
Get the recipe here!