I love everything about this time of year! I love the fashion (the scarfs, gloves and hats), I love the outdoors (the snow-capped trees and mountains), and I love all the seasonal vegetables and fresh herbs. Pumpkins, squash, yams, thyme, rosemary and sage…. Need I say more? If I could give the holidays a "taste", a spoon of this roasted butternut squash soup would define that "taste".
What I love about this soup is that is very healthy. There is no cream, no milk, no butter!! Yet this soup has a very creamy and smooth texture. You can't get any healthier than that!
I hosted Thanksgiving at my house this year and one of our guests was allergic to dairy. I had to come up to with alternative recipes to my usual dishes, including the turkey (doused in butter), mashed potatoes (full of dairy goodness) and butternut squash soup. For the soup, I decided to try and make it without the butter and cream and see what happens. Well, what happened was a miracle! The soup turned out absolutely delicious, if not tastier!
This soup is super easy to make. All you have to do is a little prep work and the oven does the rest. It really doesn't get any better than that!
Step 1: Gather all the ingredients.
Step 2: Chop up the vegetables in large chunks.
Step 3: Season with fresh herbs (you can substitute with dry herbs if you must).
Step 4: Toss in olive oil and roast.
It is that simple.
Once the vegetables are cooked and soft (check the carrots in particular), transfer them into your food processor (or blender!). If you didn't remove the stems from the herbs when you roasted, make sure you remove them before you puree as they do not process very well (particularly the thyme). Then, add half the vegetable stock. I received my KitchenAid 13-Cup Food Processor
 as a wedding gift and cannot live without it!! I tend to do this part in two batches as to not overfill my food processor.
Pour the processed vegetables into a large saucepan and add the remaining stock. Stir. Simmer for 10 minutes and serve with fresh thyme on top!
This recipe yields a large pot of soup. If you can't finish it all, freeze it! 🙂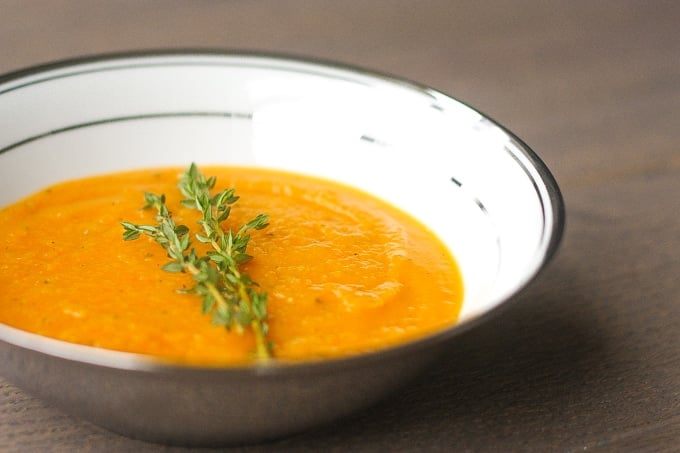 Print
Roasted Butternut Squash Soup
---
Author:

Sam | Ahead of Thyme

Prep Time:

15 mins

Cook Time:

1 hour 10 mins

Total Time:

1 hour 25 minutes

Yield:

10 cups

Category:

Soup
Description
This delicious roasted butternut squash soup sums up the taste of the holidays in one spoon. Rosemary, sage and thyme, need I say more?
---
Ingredients
1 large butternut squash
2 carrots
3 stalks of celery
1 large onion
5 cloves of garlic
6 sage leaves
6 sprigs of thyme
1 sprig of rosemary
1/4 teaspoon cayenne red pepper powder (or less, if you do not want a little kick)
salt and pepper to taste
2 tablespoon olive oil
3 and 1/2 cups vegetable stock
---
Instructions
Preheat the oven to 350 F.
Peel, pit and chop the butternut squash into 1 inch squares. Add to a large roasting pan.
Chop the carrots, celery and onions in big chunks and add to the pan.
Peel the garlic and add cloves whole.
Add the herbs, red pepper powder, salt and pepper. Add olive oil and toss to coat.
Roast for 1 hour (or up to 1 hour and 15 minutes, if the veggies are not yet soft).
Once the vegetables and herbs are roasted, add to food processor with 1 cup of vegetable stock and puree. Remove the stems from the herbs before pureeing.
Pour mixture into a large saucepan. Add the remaining vegetable stock and stir well.
Simmer on low for 10 minutes.
Notes
This soup gets a little kick from the red pepper powder. If you are adverse to a little spice, I would recommend that you add less red pepper powder and once the soup has been pureed, add more as desired to taste.
Check out Some of my Favourite Holiday Dishes: