Thanksgiving is all about celebrating with food, laughter, and family. But, some of us don't live close to home anymore or don't have family nearby to celebrate with. Thankfully, we can still celebrate all the things that we love about Thanksgiving with our loved ones — our friends. If you are hosting Friendsgiving this year (aka Thanksgiving with friends) and are wondering, "what to make for Friendsgiving", we have got you covered with over 50 of our best and most popular Friendsgiving recipes.
We are sharing our top recommendations for classic Thanksgiving main courses, soups, salads, sides, and dessert, with all the nostalgic classics because we need all the holiday feels when it comes to Friendsgiving. Plus, we have lots of ideas on what you can do with those leftovers.
Best Friendsgiving Recipes
First, pick your main course dish.
Whole Turkey
Juicy Roast Turkey. Make Thanksgiving easier with the best and juiciest roast turkey ever! It cooks faster and requires NO brining!
Asian Five-Spice Roast Turkey. Asian five-spice roast turkey is tender and juicy, marinated with a delicious flavourful Asian rub and has a crispy brown skin. The perfect holiday dinner.
Instant Pot Whole Turkey. Instant pot whole turkey is a tender, juicy, and delicious holiday main. Ready in under 2 hours, it's the fastest and easiest way to cook a whole turkey!
Turkey Breast for small gatherings
Oven Roasted Turkey Breast. Easy juicy roasted turkey breast is the PERFECT holiday dinner, minus the headache…tender meat, crispy skin, and a layer of roasted onions.
Instant Pot Turkey Breast. Instant pot turkey breast is the most tender and juicy turkey you'll ever try. It's so easy to make in the pressure cooker and requires little prep.
Sheet Pan Thanksgiving Dinner. This Sheet Pan Thanksgiving Dinner is the easiest way to serve a small turkey dinner with sides. Ready in just an hour and half, this will change your life! One of our favorite friendsgiving recipes.
Turkey Roast for small gatherings
Instant Pot Turkey Roast. Instant pot turkey roast with homemade gravy is easy to prepare in minutes, the fastest way to cook turkey, and delivers flavorful, juicy, tender turkey.
Asian Sesame Soy Turkey Roast. Tender juicy Asian sesame soy turkey roast is a creative take on a holiday classic, packed with sweet, salty, and savoury umami flavours in every bite.
Whole Chicken
Instant Pot Whole Chicken. Instant pot whole chicken with gravy is tender, juicy, and flavorful. It's the fastest way to cook a whole rotisserie chicken for dinner in just 40 minutes.
Pesto Whole Chicken. Pesto whole chicken baked over a bed of vegetables is the juiciest and most flavorful chicken you'll ever taste. Quick and easy to prep and pop in the oven.
Dutch Oven Whole Roast Chicken. Easy Dutch oven whole roast chicken with the crispiest golden skin is juicy, tender and succulent and packed with flavour. Just takes 15 minutes to prep.
Vegetarian Mains
Stuffed Butternut Squash with Wild Rice. Healthy hearty and wholesome stuffed butternut squash with wild rice and mushrooms is an easy cozy vegetarian fall dinner or side. The best comfort food. One of our favorite friendsgiving recipes for vegetarians.
Butternut Squash Lasagna. Butternut squash lasagna is a delicious, warm and cozy vegetarian lasagna to make this fall when the your family is craving major comfort food this fall.
Curried Chickpea Stuffed Acorn Squash. Wholesome, hearty, curried chickpea stuffed acorn squash with curry flavours is the perfect vegan and gluten-free fall comfort food for your holiday dinner.
Next, pick the first course.
Friendsgiving Soup
Roasted Butternut Squash Soup. This easy, delicious, vegan roasted butternut squash soup sums up the taste of the holidays in one spoon. Rosemary, sage and thyme, need I say more?
Acorn Squash Soup. Roasted Acorn Squash Soup is smooth and velvety, packed with veggies, and loaded with fall flavor. Serve for a cozy lunch, dinner, or on Thanksgiving.
Creamy Garlic Cauliflower Soup. Creamy Garlic Cauliflower Soup is creamy and healthy. This vegetarian soup is ready in 45 minutes with a handful of wholesome ingredients and a few steps.
Friendsgiving Salad
Fall Harvest Salad. Fall harvest salad with roasted butternut squash and apple is the only salad recipe you need this fall or winter. It's healthy, wholesome, and nourishing.
Butternut Squash Quinoa Salad. This Butternut Squash Quinoa Salad is easy to make, ready in under an hour, delicious, and loaded with health benefits. It's the perfect fall salad.
Apple Arugula Salad. Arugula salad with apple and pecan is a quick and easy fall salad made with fresh seasonal ingredients in just minutes. Perfect Friendsgiving recipe for a holiday dinner table.
Then, pick the sides.
Pick 2-4 sides for a small Thanksgiving gathering. Pick more depending on the number of people that are attending your Friendsgiving dinner.
Stuffing
Vegetarian Cornbread Stuffing. Easy vegetarian cornbread stuffing is the perfect make-ahead side dish to serve this Thanksgiving. So flavourful, moist and soft, yet crispy golden on top.
Cranberry Walnut Apple Stuffing. Cranberry walnut bread paired with sautéed apples, onions and rosemary is exactly what your holiday table needs! Hello cranberry walnut apple stuffing!
Sauces
Cranberry Sauce. Take the stress out of the holidays and prepare easy make-ahead cranberry sauce days before Thanksgiving dinner in 15 minutes with just 3 ingredients.
Classic Turkey Gravy. Thanksgiving is not the same without thick and delicious, classic homemade turkey gravy made using leftover drippings and homemade turkey stock.
Mushroom Gravy. Vegetarian mushroom gravy is creamy, savory and thick, easy to make, loaded with flavor, and pairs well with everything! Make it vegan and dairy-free too. Perfect for a vegetarian friendsgiving.
Mashed Potatoes
Brussels Sprouts
Sauteed Brussels Sprouts. Sautéed Brussels Sprouts are a quick and easy side dish made with just 5 ingredients and ready to serve in only 15 minutes. They're vegan and keto too.
Brussels Sprouts with Bacon. Brussels Sprouts with Bacon is a quick and easy side dish with the best flavor and texture. The best part? This holiday side is ready in under 15 minutes.
Creamy Brussels Sprouts Bake. Delicious, garlicky, cheesy and creamy brussels sprouts bake is the ultimate comfort food side dish. So flavourful and the best way to eat brussels sprouts.
Squash
Green Beans
Green Bean Casserole. This green bean casserole is a classic holiday side dish packed with fresh green beans in a delicious creamy mushroom sauce, and topped with crispy fried onions. A classic side dish makes for a perfect Friendsgiving recipe.
Green Beans Almondine. Green Beans Almondine is buttery, garlicky, and nutty. This classic French side dish is quick and easy to make, and loaded with flavor and texture. | aheadofthyme.com
Sautéed Garlic Green Beans. Buttery sautéed garlic green beans is a simple side dish that is quick, easy and delicious. Make these vibrant, crispy and tender green beans in 10 minutes.
Corn
Creamed Corn. Homemade Creamed Corn is creamy, delicious, and simple. It's quick and easy to make at home and so much better than store-bought canned creamed corn.
Corn Casserole. Creamy corn casserole is a comforting side dish that is creamy, savory, slightly sweet, and filling — a classic and traditional Thanksgiving holiday side.
Oven-Roasted Corn on the Cob. Oven-roasted corn on the cob with homemade garlic butter is buttery, juicy, crunchy, and perfectly charred on the outside — without a grill.
Other Vegetables
Creamed Spinach. Creamed spinach is a rich, creamy, and delicious side dish to make this fall. Easy to make ahead and reheats well — perfect for Thanksgiving holiday dinner.
Oven Roasted Vegetables. Oven Roasted Vegetables are a delicious flavorful side dish that goes well with almost any dinner main. Customize it with whatever veggies you have on hand.
Mashed Cauliflower. Mashed Cauliflower is a fluffy and buttery side dish and a low carb, keto-friendly alternative to mashed potatoes. Plus, it's easier and quicker too!
Mac and Cheese
White Cheddar Mac and Cheese. Quick and easy, creamy stovetop mac and cheese with white cheddar is a delicious and comforting one pot 20-minute meal packed with three types of cheese.
Butternut Squash Mac and Cheese. Butternut squash mac and cheese is a flavorful and delicious fall twist on a classic, with a rich and creamy sauce that is secretly loaded with veggies.
Baked Mac and Cheese. Classic baked mac and cheese is the ultimate comfort food — creamy, cheesy, and cozy, topped with a crunchy breadcrumb topping. It's quick and easy too.
Bread
Pumpkin Cornbread. Pumpkin Cornbread is a sweet and savory side dish loaded with real pumpkin, and is moist, fluffy, and crumbly with crisp edges.
Potato Dinner Rolls. Potato Dinner Rolls are soft, light, and fluffy. These quick and easy dinner rolls are loaded with leftover mashed potatoes and simple pantry staples.
Garlic Cheddar Biscuits. Flaky Garlic Cheddar Biscuits are a simple but delicious and flavorful no yeast bread that is ready for the oven with less than 15 minutes prep.
Finally, end the meal with dessert.
Pie
Pecan Pie. Old-fashioned pecan pie is a classic fall dessert with a homemade pie crust and sweet custard filling loaded with crunchy pecans — perfect for Thanksgiving.
Pumpkin Pie. Thanksgiving just isn't the same without a slice of classic Thanksgiving pumpkin pie with flaky crust, smooth pumpkin filling, and topped with whipped cream and pecans.
Apple Pie. This braided lattice apple pie is packed with cinnamon apples tossed in a caramel sauce and sealed in a buttery, flaky pie crust with a braided lattice top.
Pumpkin Desserts
Pumpkin Bread. This pumpkin bread is fluffy, moist, and delicious. This classic fall loaf cake is loaded with real pumpkin and seasonal spices like cinnamon and ginger.
Pumpkin Mousse. This rich, creamy pumpkin mousse is a fall dessert favorite. It's beginner-friendly, no bake, and easy to whip up in 15 minutes before ready to chill.
Pumpkin Bundt Cake. Pumpkin bundt cake with cream cheese icing is a perfect fall dessert to serve this year — super moist inside, with a perfect golden brown crumby crust.
Apple Desserts
Baked Apples. Baked Apples are soft, warm, and tender, with a crunchy sweet cinnamon oat filling. This cozy and comforting fall dessert is quick easy to make too.
Apple Crisp. This apple crisp with tender cinnamon-sugar apples and crispy oat topping is sweet, tart, and just as delicious as an apple pie but takes a lot less effort.
Apple Cake. Easy Apple Cake has a dense and moist crumb and is loaded with fresh apples, cinnamon sugar, and nuts. It's quick, easy, and ready to eat in under an hour.
Tips for Planning the Best Thanksgiving Dinner for Friends
Plan your menu ahead of time. You can prepare some of these Thanksgiving dishes in advance. Some can be frozen and reheated from frozen, others can be made and stored in an airtight container for a few days at room temperature or in the refrigerator, according to recipe directions.
You can mix homemade and storebought. There is nothing wrong with getting some help by incorporating storebought items into your menu. If baking a Thanksgiving dessert is stressing you out, then just pick up a pie from the store instead. Does the sound of peeling and cubing a whole butternut squash for a butternut squash soup sound like too much work? No problem, pick up some pre-cubed butternut squash from the local grocery store.
Prep your ingredients as much as possible. Once you have decided on the dishes to serve, prepare as much as you can in advance. Whether that is chopping vegetables, beating eggs, or preparing salad dressings. You can store all your prepared ingredients in airtight containers in the refrigerator.
Set the table the night before. Take out the fancy dinnerware, flatware, glasses, placemats, and napkins and set the table the night before. It's one less thing to worry about on Thanksgiving.
Got leftovers?
Don't reheat the same leftovers all week, repurpose them into something new and delicious. We have shared over 25 Best Thanksgiving Leftover Recipes.
Did You Make Any of These Friendsgiving Recipes?
Please leave a comment and rating below, and let me know what you thought of this round up of Friendsgiving recipes. Be sure to snap a picture and tag me on Instagram @aheadofthyme or share it on the Pinterest pin so that I can follow along.
HUNGRY FOR MORE? Don't forget to sign up for my email newsletter so that you don't miss any recipes. You can also follow along on Instagram and Pinterest for more recipe updates.
Print
Recipe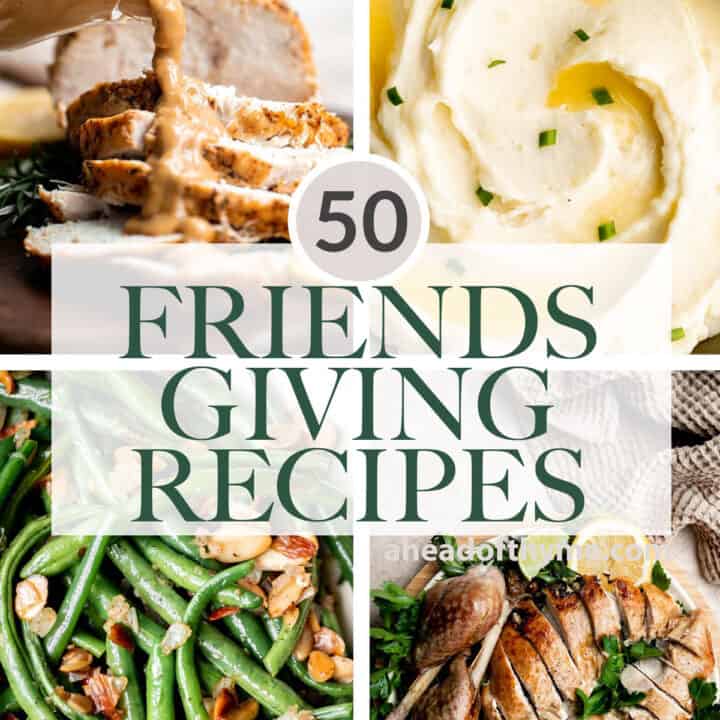 50 Friendsgiving Recipes
---
Author:

Total Time:

1 hour 30 minutes

Yield:

4-5 servings

Diet:

Gluten Free
Description
Over 50 Friendsgiving recipes for hosting Thanksgiving with friends, with all the nostalgic classics including mains, soup, salads, sides, and dessert. One of our favorite Friendsgiving recipes is this Sheet Pan Thanksgiving Dinner. 
---
For the turkey:
1

 turkey breast, boneless, skin on (about

2.5

pounds)

2 tablespoons

 olive oil

1 teaspoon

 salt

½ teaspoon

 ground black pepper

½ teaspoon

 paprika

½ teaspoon

 garlic powder

½ teaspoon

 Italian seasoning
For the butternut squash:
1

pound butternut squash, peeled and cut into

1

-inch cubes

½ tablespoon

 olive oil

¼ teaspoon

 Italian seasoning

¼ teaspoon

 salt

¼ teaspoon

 ground black pepper

1 teaspoon

 balsamic vinegar
For the Brussels sprouts:
1

pound Brussels sprouts, halved

½ tablespoon

 olive oil

¼ teaspoon

 salt

¼ teaspoon

 ground black pepper
For the green beans:
½

pound green beans, ends trimmed

½ tablespoon

 olive oil

¼ teaspoon

 salt

¼ teaspoon

 ground black pepper
---
Instructions
Preheat the oven to 375F.
Use a paper towel to pat the turkey breast completely dry.
In a small mixing bowl, combine oil, salt, pepper paprika, garlic powder, and Italian seasoning, until combined. Rub the mixture all over the turkey breast and set it aside on a plate for 15 minutes at room temperature. It's ideal to bring the seasoned turkey to room temperature to achieve more tender and juicier meat.
Place the turkey breast on the centre of a large half sheet baking pan and bake for 30 minutes.
While the turkey is cooking, prepare the veggies by tossing the ingredients together in separate mixing bowls.

For the butternut squash: In a large mixing bowl, toss together butternut squash, oil, balsamic vinegar, Italian seasoning, salt and pepper.
For the Brussels sprouts: In a medium mixing bowl, toss together sprouts, oil, Italian seasoning, salt and pepper.

For the green beans: In a medium mixing bowl, toss together green beans, oil, salt and pepper.

Once the turkey has been roasted for 30 minutes, remove the baking sheet from the oven and carefully arrange the seasoned vegetables around the turkey breast in a single layer. Be careful as the pan will be very hot.
Return the baking sheet to the oven and continue baking for another 30-35 minutes until the butternut squash is fork tender and the turkey breast is fully through. The internal temperature for the turkey should reach at least 160F as read on a meat thermometer.
Let the turkey breast sit for 10-20 minutes before slicing. Serve with the vegetables. 
Prep Time:

20 minutes

Cook Time:

1 hour 10 minutes

Category:

Turkey

Method:

Oven

Cuisine:

American
Keywords: 50 friendsgiving recipes, friendsgiving recipes, thanksgiving recipes