Are you wondering what to make for dinner tonight using chicken breast? Well then, you have come to the right place. Ideas for cooking chicken breast are one of the top searches that we get on our website every single day. So today we are rounding up over 50 of our best chicken breast recipes that we have shared over the years including our most popular chicken recipes that you guys keep coming back to, our favorite creamy and saucy chicken breast recipes when you are craving major comfort food, easy low-maintenance baked chicken and chicken casseroles, better than takeout Asian chicken recipes, chicken soup recipes for the soul, and more!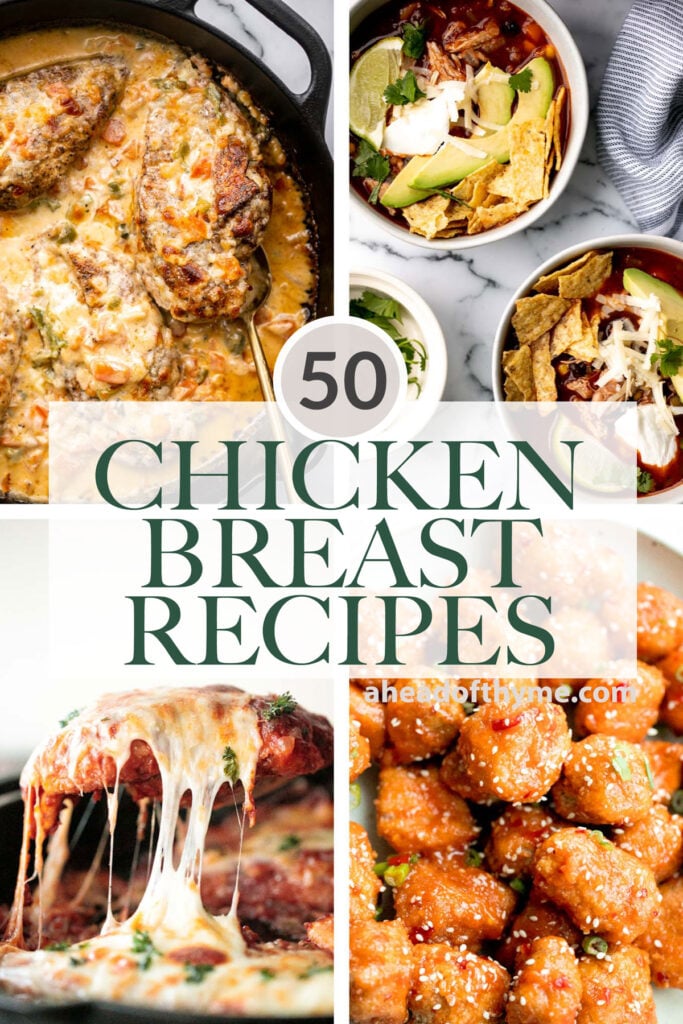 The best part? Chicken cooks fast so most of these delicious recipes are low fuss, quick and easy recipes that are perfect for busy families on busy weeknights. So let's get started.
Our Most Popular Chicken Breast Recipes
Bring on the Comfort Food with Saucy Chicken Breast Recipes
Chicken Marsala. Chicken marsala in creamy mushroom sauce is a quick and easy 30-minute chicken dinner that is pure comfort food goals. A total crowd favourite.
Baked Queso Chicken. Baked queso chicken with tomatoes is an easy, cheesy, delicious chicken dinner that takes just 30 minutes to cook. Make it a Mexican fiesta with our collection of Best Mexican Recipes.
Creamy Lemon Parmesan Chicken. Creamy lemon parmesan chicken is a simple, quick and easy 30-minute meal that is packed with flavour. The most comforting and easiest weeknight dinner.
Baked Chicken When You Need a Low Maintenance Dinner
Chicken and Rice = The Perfect Pairing.
One Pot Spanish Chicken and Rice. Packed with flavour, real ingredients and vibrant colours, one pot Spanish chicken and rice is the perfect no fuss, no clean up weeknight meal.
Chicken and Couscous with Sun-dried Tomatoes. Simple, healthy and flavourful chicken and couscous with sun-dried tomatoes is ready in under 30 minutes. It's the easiest weeknight dinner to make tonight! It may not technically be rice but it's a similar idea -- chicken + grains = dinner goals.
One Pot Coconut Curry Chicken and Rice. Creamy, delicious and flavourful, Thai-inspired one pot coconut curry chicken and rice is a 30-minute weeknight meal made with red curry and coconut milk.
Curry Chicken Fried Rice. Flavourful curry chicken fried rice with chicken, mushrooms, peas, rice, and curry flavours is so easy to make in less than 10 minutes on busy weeknights. Serve with a fresh Chinese Garlic Cucumber Salad on the side.
Instant Pot Chicken Fried Rice. Instant pot chicken fried rice is easy to throw together, packed with flavor, and delicious. It's perfect for a weeknight family dinner or meal prep.
Turkey Fried Rice. Leftover turkey fried rice with turkey, fluffy rice, scrambled eggs, vegetables, and classic Asian seasonings is a one skillet meal made in just 10 minutes. The recipe uses turkey, but you can easily substitute it with leftover chicken breast or a store-bought rotisserie chicken instead.
Baked Chicken Casseroles Are The Easiest Make Ahead Recipes
Chicken Enchiladas. Easy baked chicken enchiladas brings the taste of authentic Mexican food into your kitchen -- saucy, spicy, and savoury. Perfect for a Mexican fiesta on Cinco de Mayo.
Tetrazzini with Spinach. Creamy tetrazzini with spinach is a simple, easy and delicious pasta recipe that is comforting, creamy and cheesy. The recipe used turkey, but you can easily substitute it with leftover chicken or a storebought rotisserie chicken instead.
Creamy Chicken Broccoli and Quinoa Casserole. Nothing says comfort food better than a creamy chicken, broccoli and quinoa casserole made with fresh and healthy ingredients.
Homemade Asian Takeout > Actual Takeout
General Tso's Chicken. Baked General Tso's Chicken is a saucy, savoury, sweet, spicy Chinese-American takeout favourite made healthier with baked chicken, not fried. Serve over Vegetarian Fried Rice.
Shanghai Style Fried Noodles. Better than take-out, flavourful and authentic Shanghai fried noodles with chicken, mushrooms, and bok choy is made in just 10 minutes - the easiest dinner!
Baked Sesame Chicken. Better than takeout, baked sesame chicken with vegetables is delicious, flavourful, sticky and saucy. This healthier Chinese dish is quick and easy to make.
Pan-Fried Lemongrass Chicken. Aromatic Asian pan-fried lemongrass chicken is healthy, gluten-free, and takes less than 25 minutes to prep and cook. Now that's what I call the perfect weeknight meal. Use any leftovers in a Lemongrass Chicken Banh Mi Sandwich.
Kung Pao Chicken. Kung Pao chicken is a Chinese chicken dish that is stir-fried with crisp vegetables and tossed in a delicious Asian sauce packed with flavour.
Char Siu (Chinese BBQ) Chicken. Sweet sticky and savoury Char Siu (Chinese BBQ) chicken is a delicious dinner packed with classic Asian flavours with incredible flavour.
Chicken Soup Recipes for the Soul
More Popular Recipes
Did You Make Any of These Chicken Breast Recipes?
Please leave a comment and rating below, and let me know what you thought of this round up of the best chicken breast recipes we have to offer. Be sure to snap a picture and tag me on Instagram @aheadofthyme or share it on the Pinterest pin so that I can follow along.
HUNGRY FOR MORE? Don't forget to sign up for my email newsletter so that you don't miss any recipes. You can also follow along on Instagram and Pinterest for more recipe updates.
Print