Italian food is one of the most well known cuisines on the planet, and for good reason too. It's comforting, delicious, and so satisfying. Whether you are craving a plate of pasta from Italy, a slice of Neapolitan pizza, a bite of creamy chicken, or a bowl of warm and cozy soup, you will find it in the Italian kitchen. So if you are wondering how to make Italian food at home for dinner, we have got you covered. We are sharing over 50 of our most popular and best Italian recipes including pasta, pizza, soup, salad, chicken, beef, appetizers, bread, and more!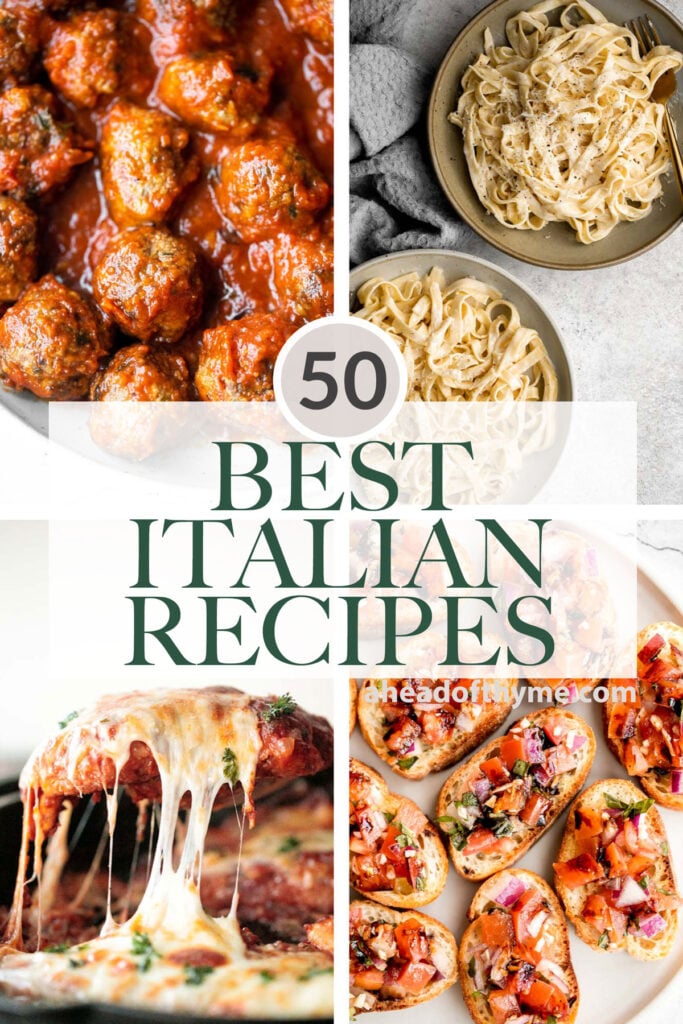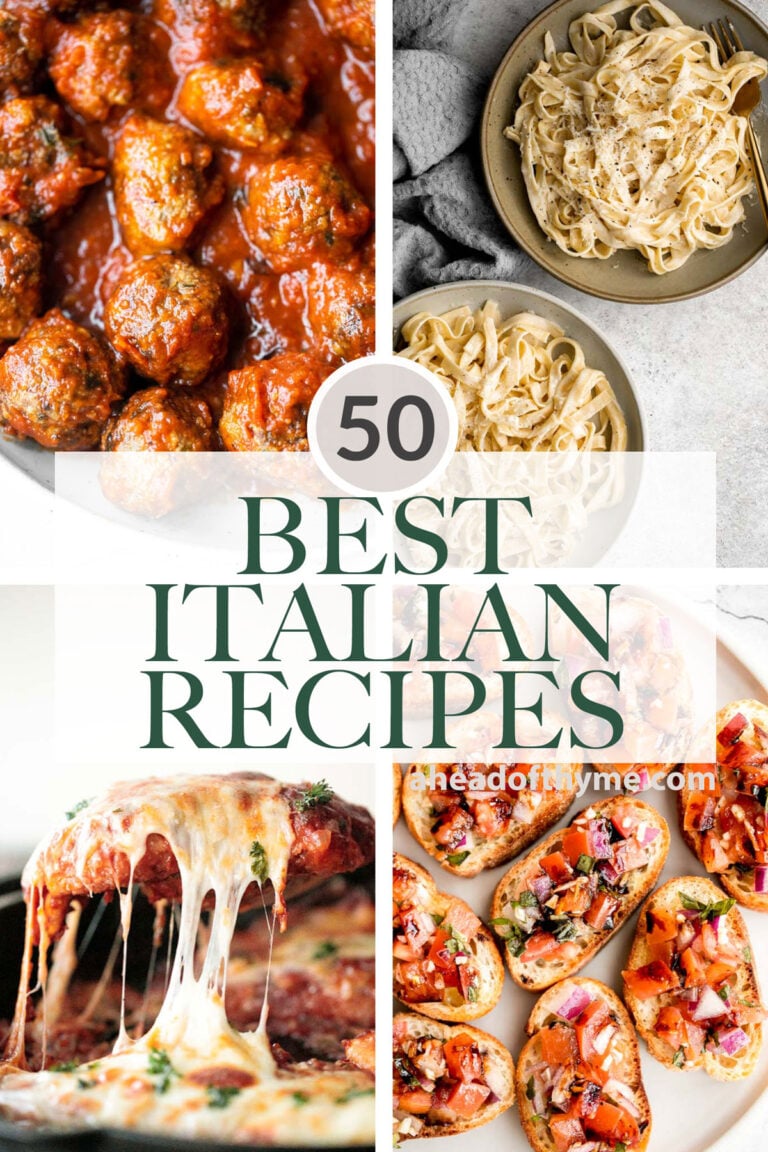 Best Italian Recipes
Easy chicken parmesan (parmigiana) with crispy breaded chicken, tomato sauce, and melted mozzarella and parmesan cheese. The best comfort chicken dinner.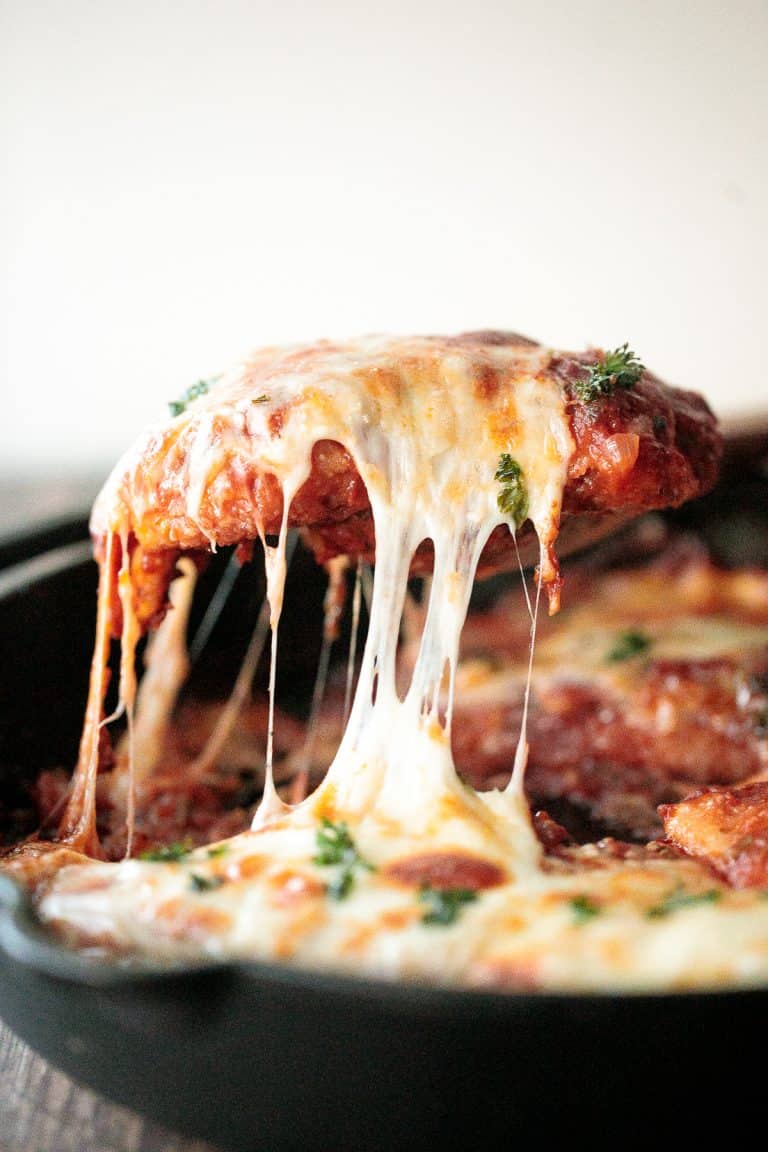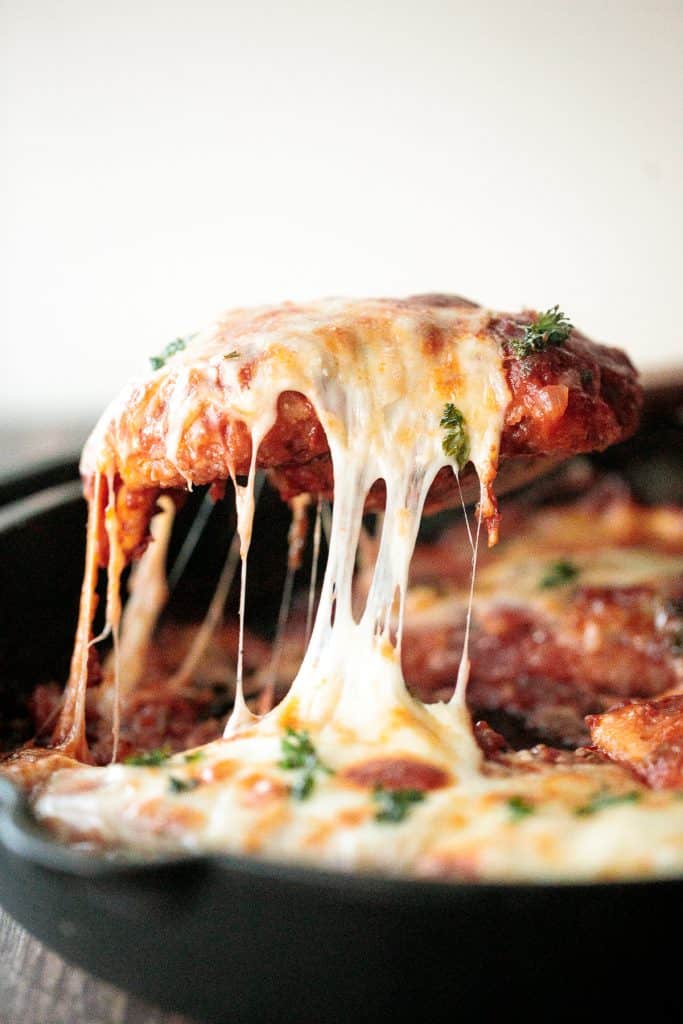 Pasta Bake with Sausage (Baked Ziti)
Pasta bake with sausage (baked ziti) is a lazy day lasagna with layers of pasta tossed in a rich meat sauce, layered with mozzarella, and baked.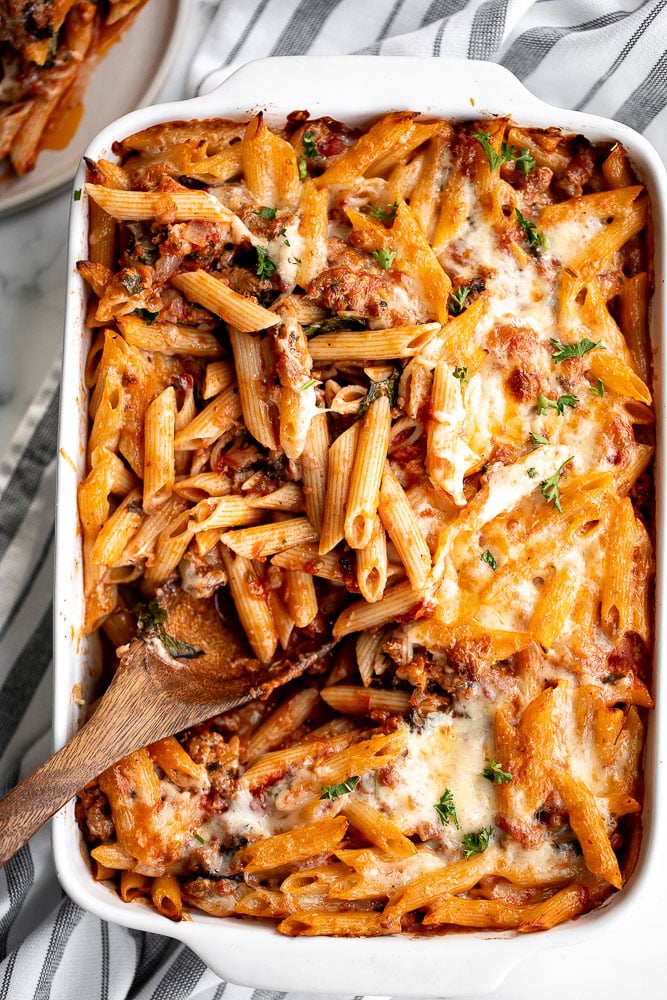 Meatballs are probably my favorite of all ground beef recipes. These quick, easy homemade Italian meatballs are juicy, flavourful, and delicious, simmered in a rich and savoury tomato sauce. Make them in just 30 minutes.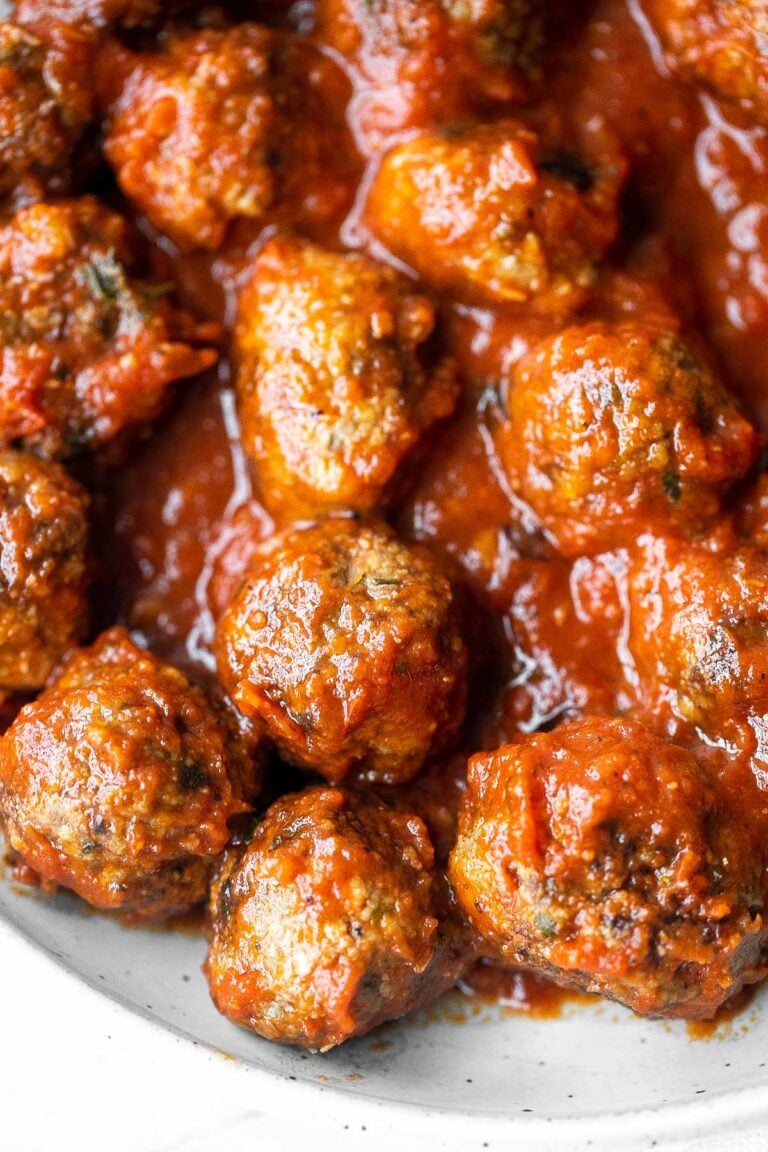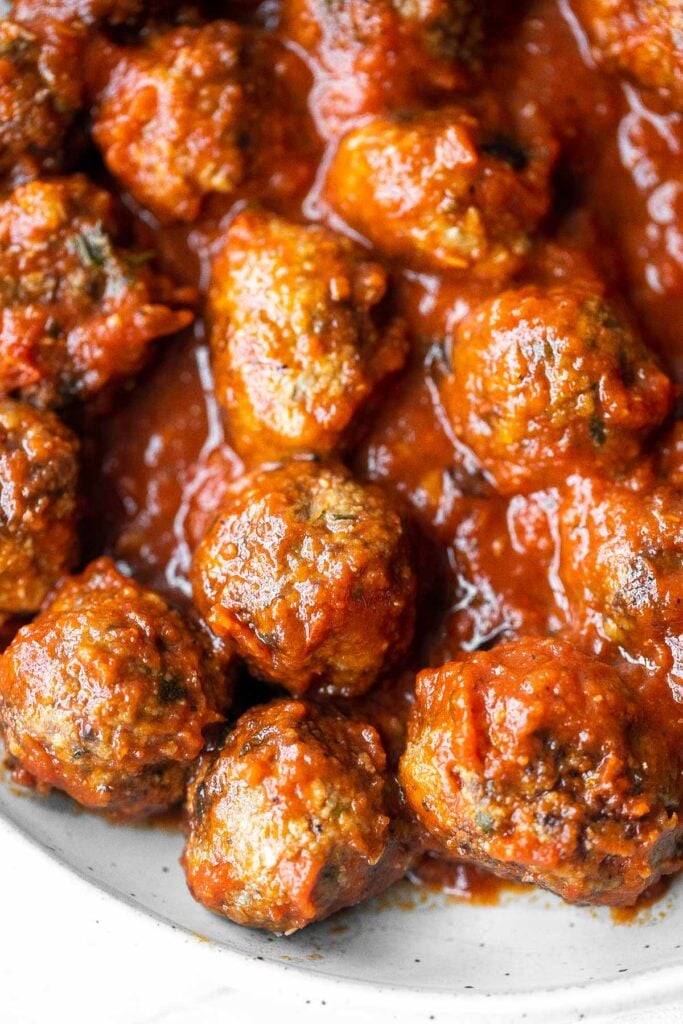 Creamy Tortellini Soup with Sausage
Hearty and creamy tortellini soup with sausage, spinach and kale is total comfort food in a bowl. Make this flavourful one pot meal in under 30 minutes.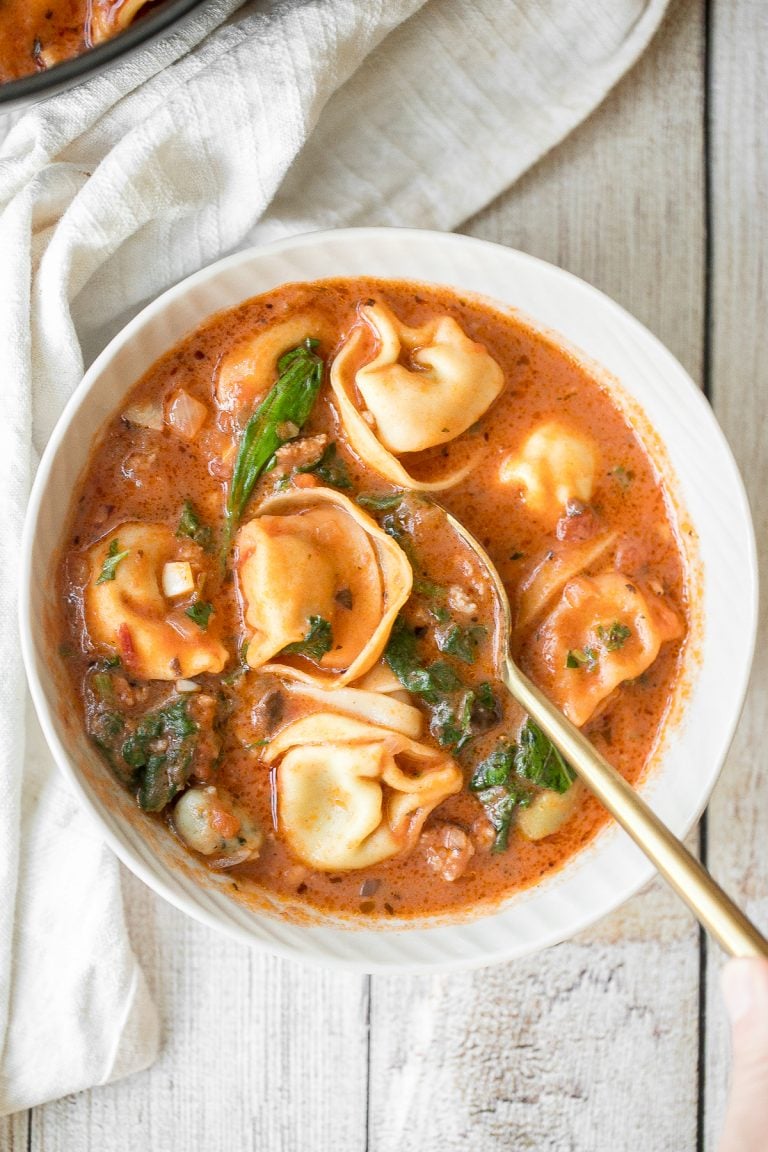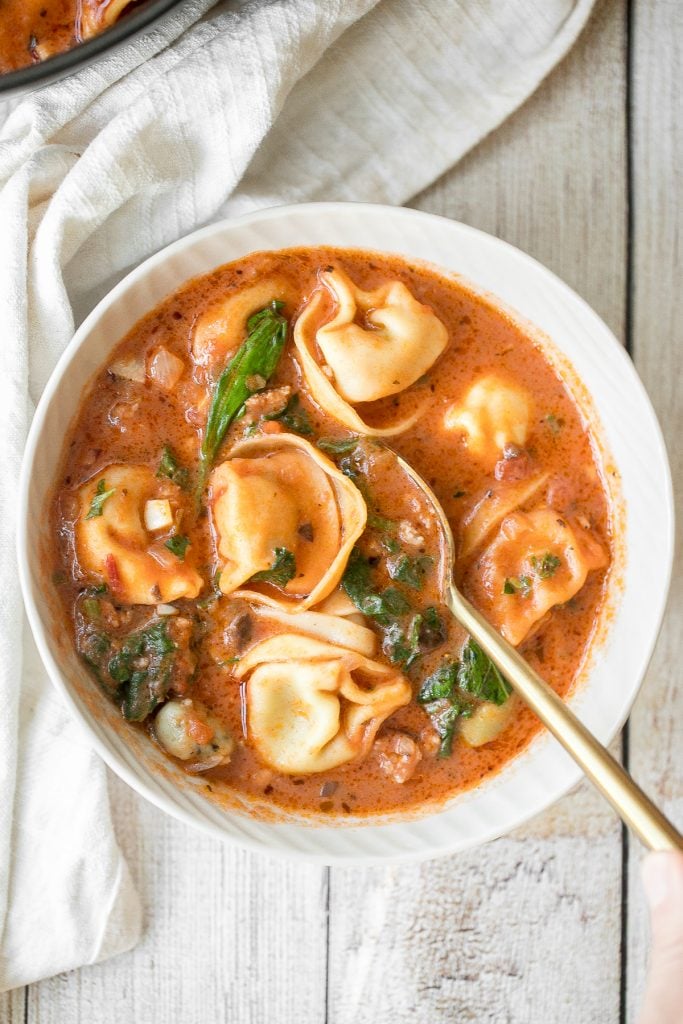 Classic easy meat lasagna is the ultimate Italian comfort food with layers of tender lasagna, meaty tomato sauce, cheese filling and melted cheese on top.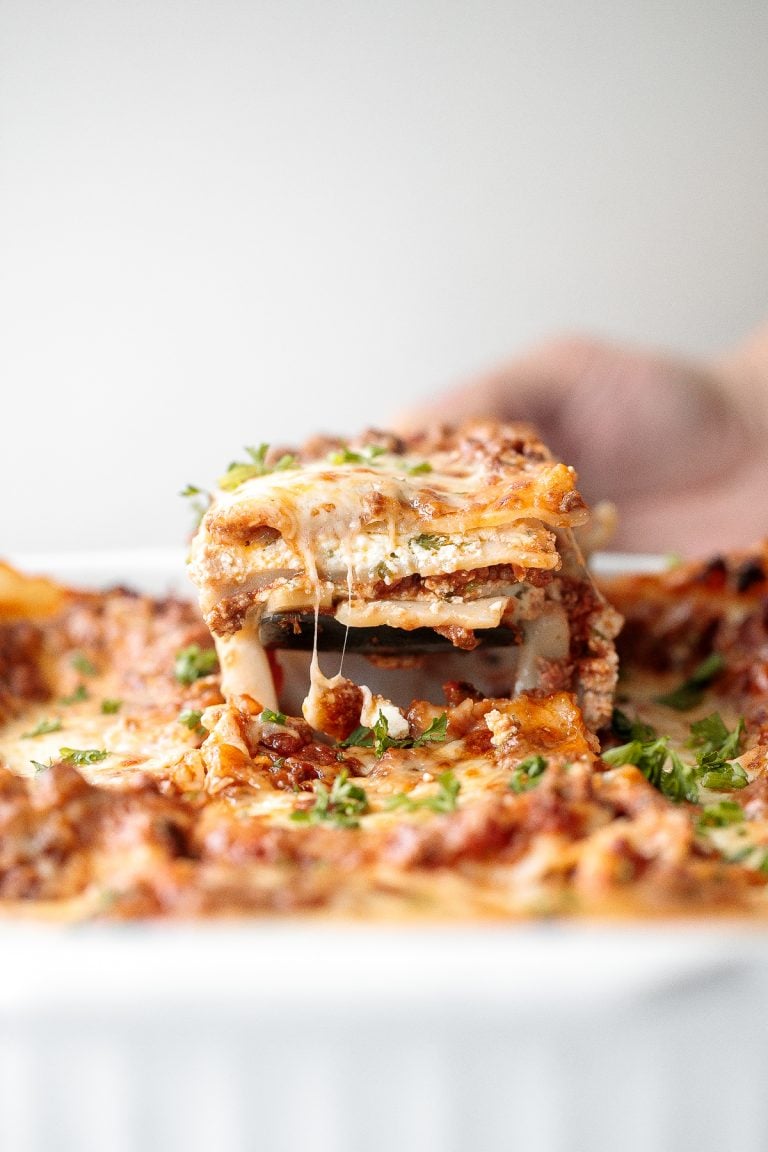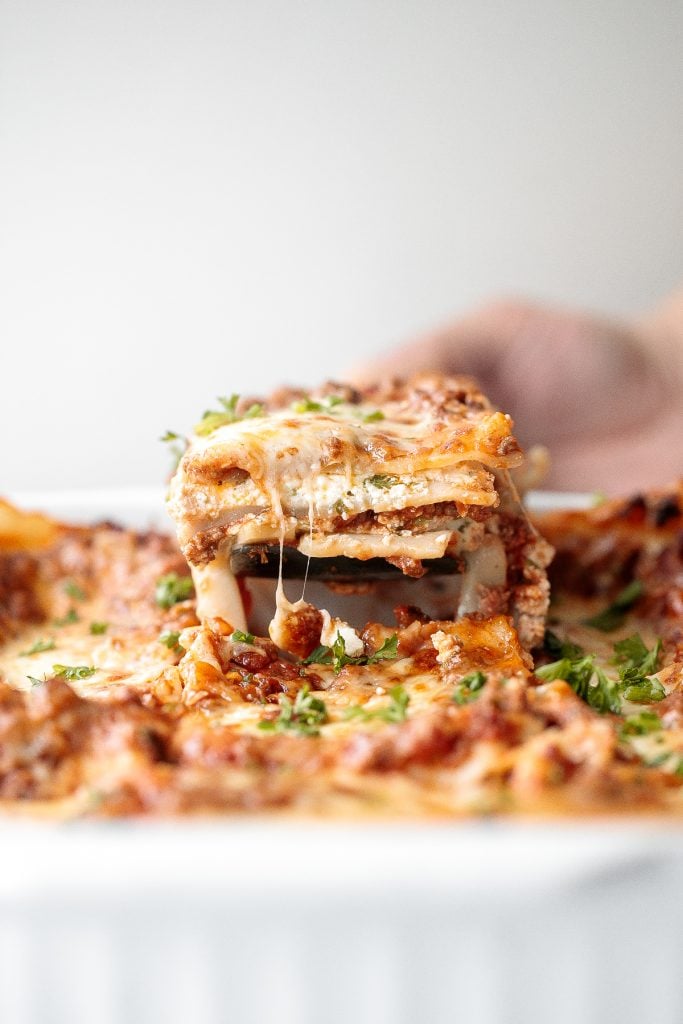 Quick and easy, creamy lemon chicken piccata is a simple and delicious 30-minute meal made with tender chicken breast in a light lemon sauce with capers.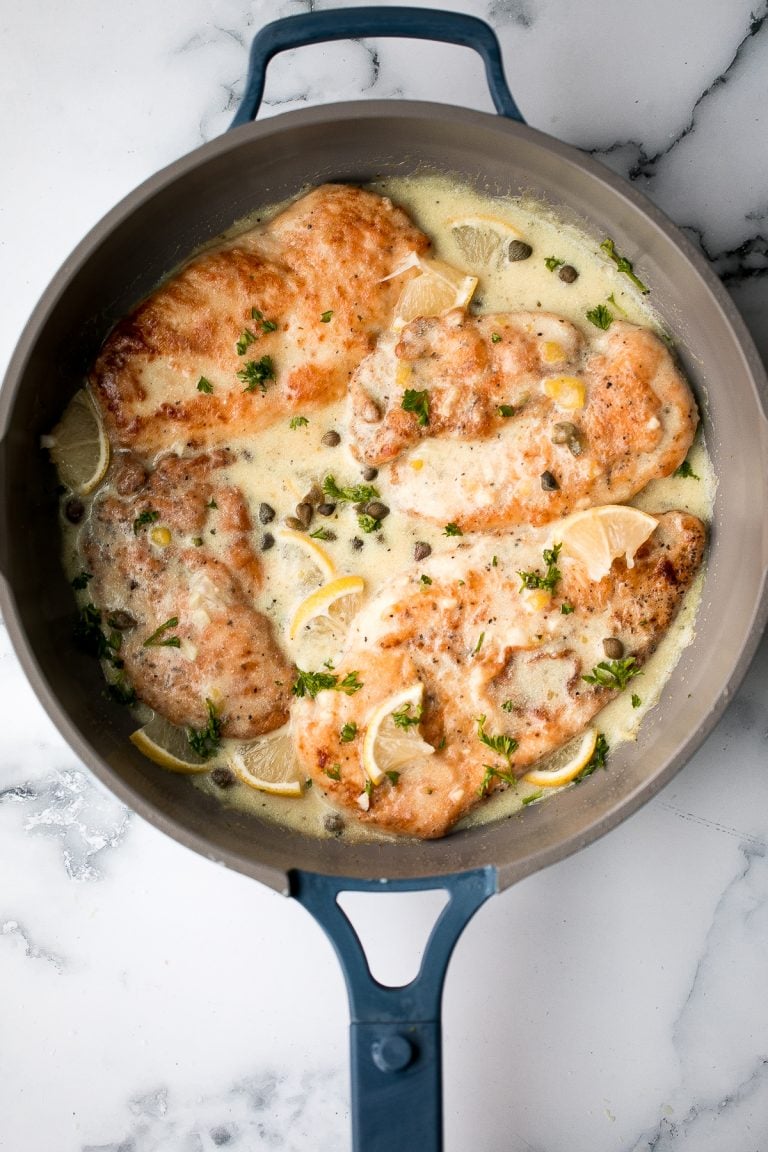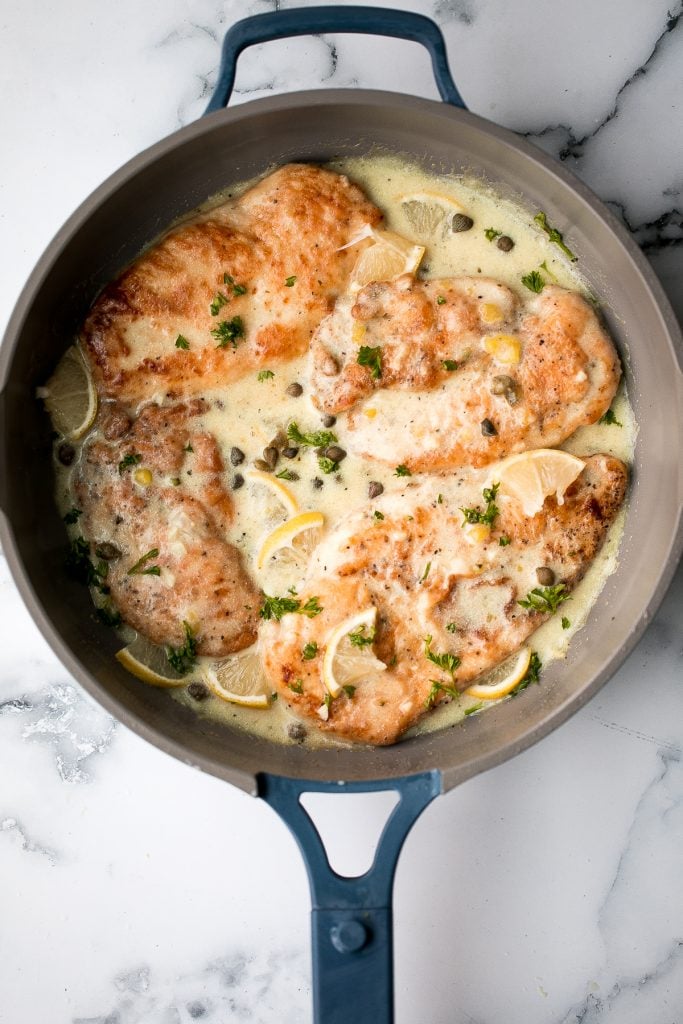 Fettuccine alfredo is a classic Italian pasta dish that is rich, creamy, and delicious. Plus, it comes together in less than 15 minutes!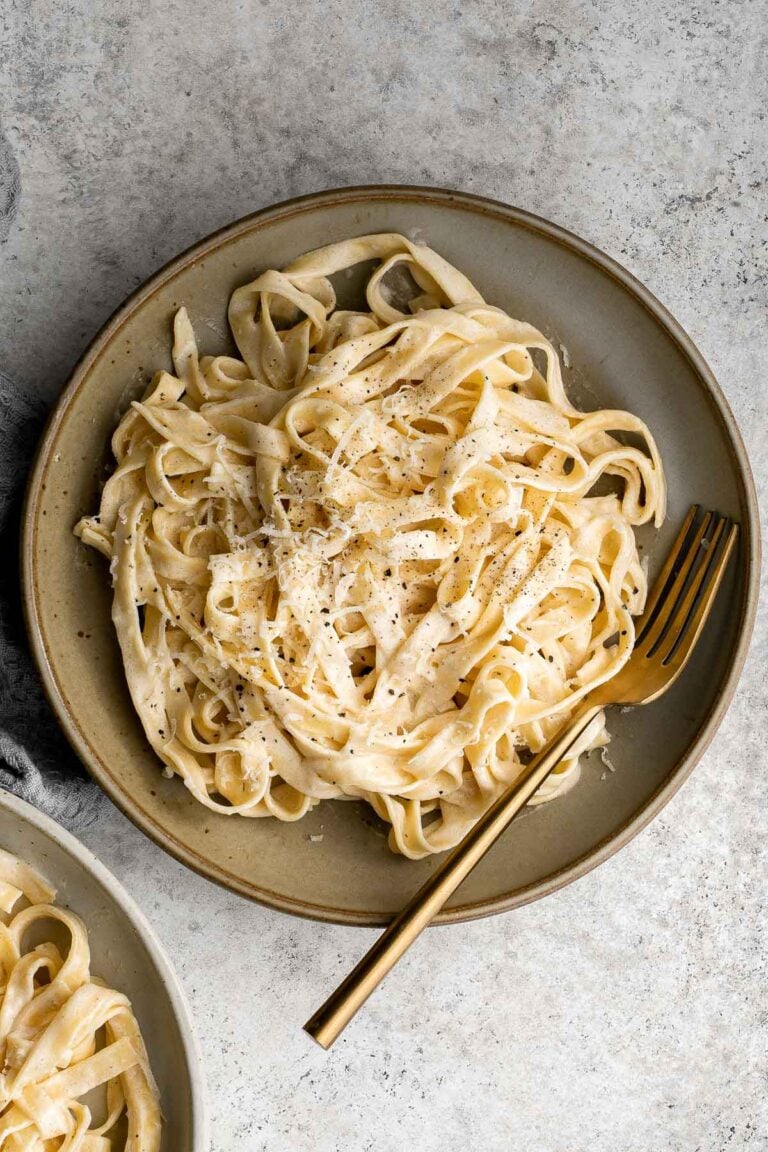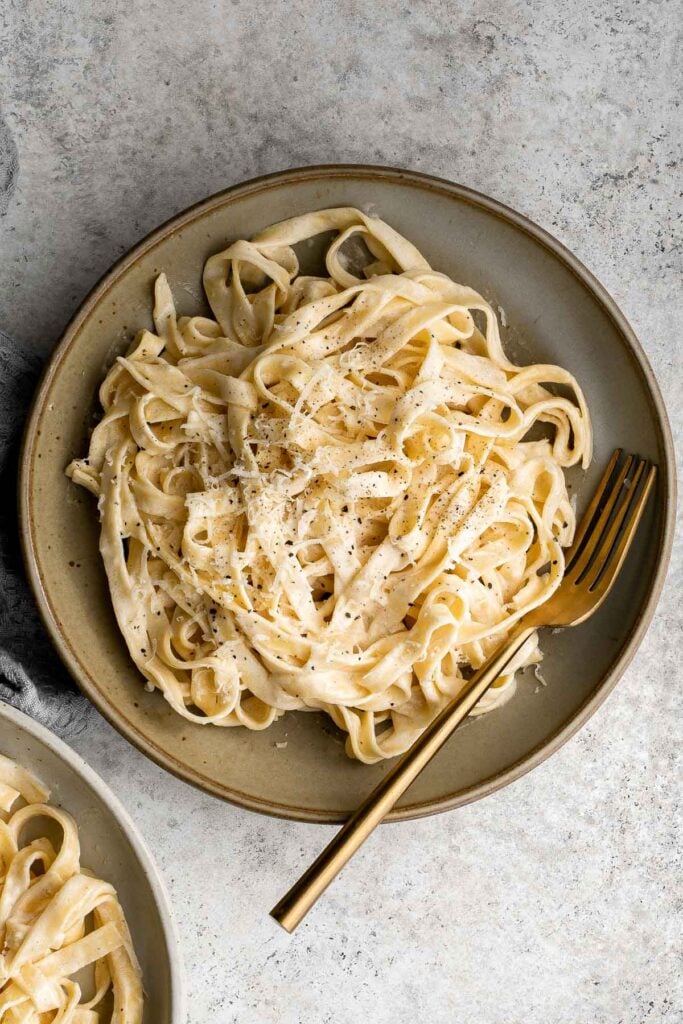 Easy Rosemary Garlic Focaccia Bread
No knead, easy rosemary garlic focaccia bread is thick with a perfect golden and crispy texture on the outside, but soft, fluffy and tender inside.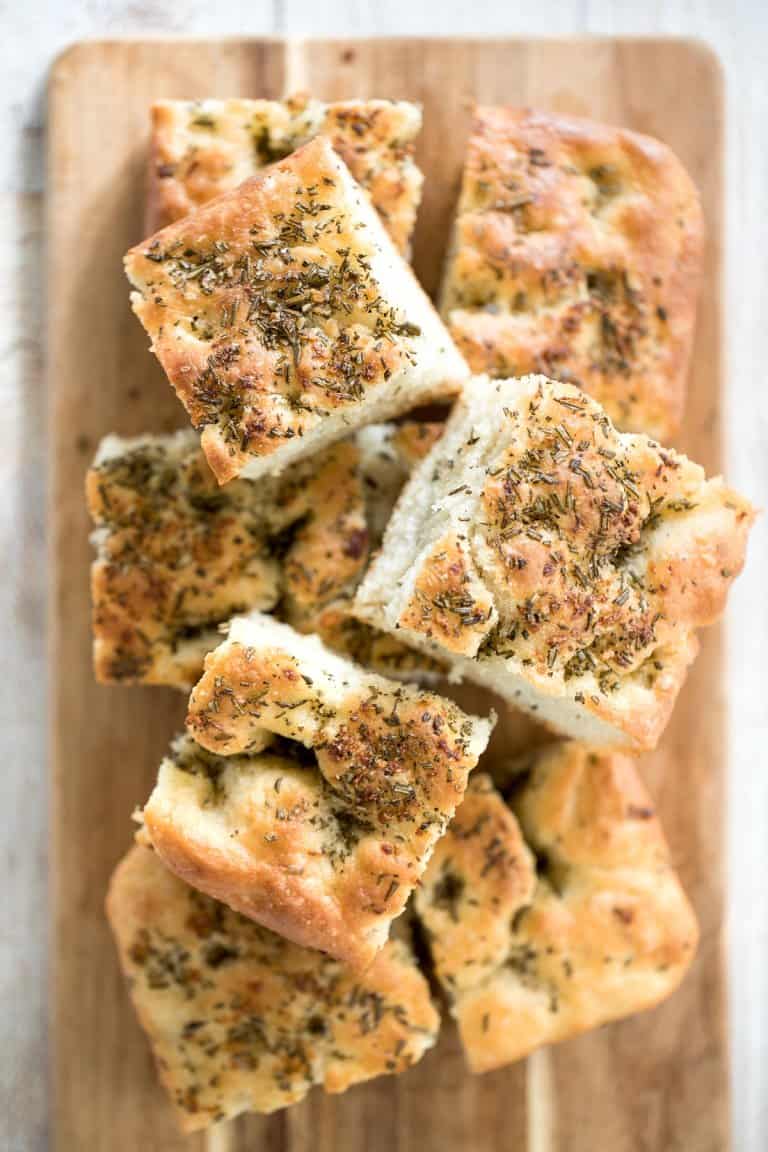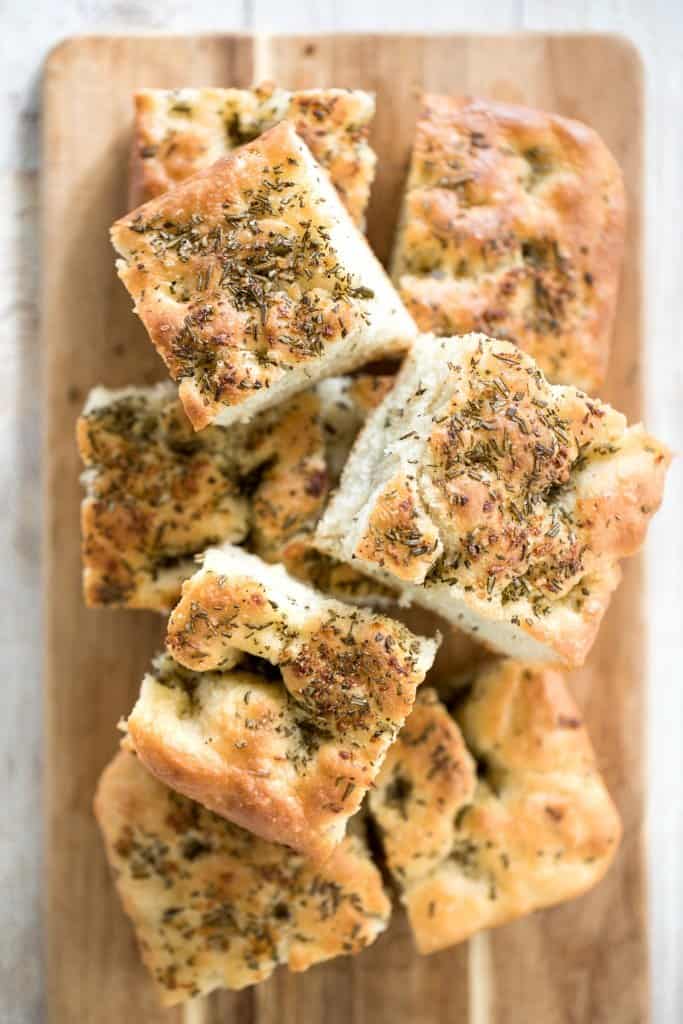 Minestrone soup is a hearty, healthy, nourishing, and delicious classic Italian soup, packed with vegetables and pasta simmered in a rich tomato broth.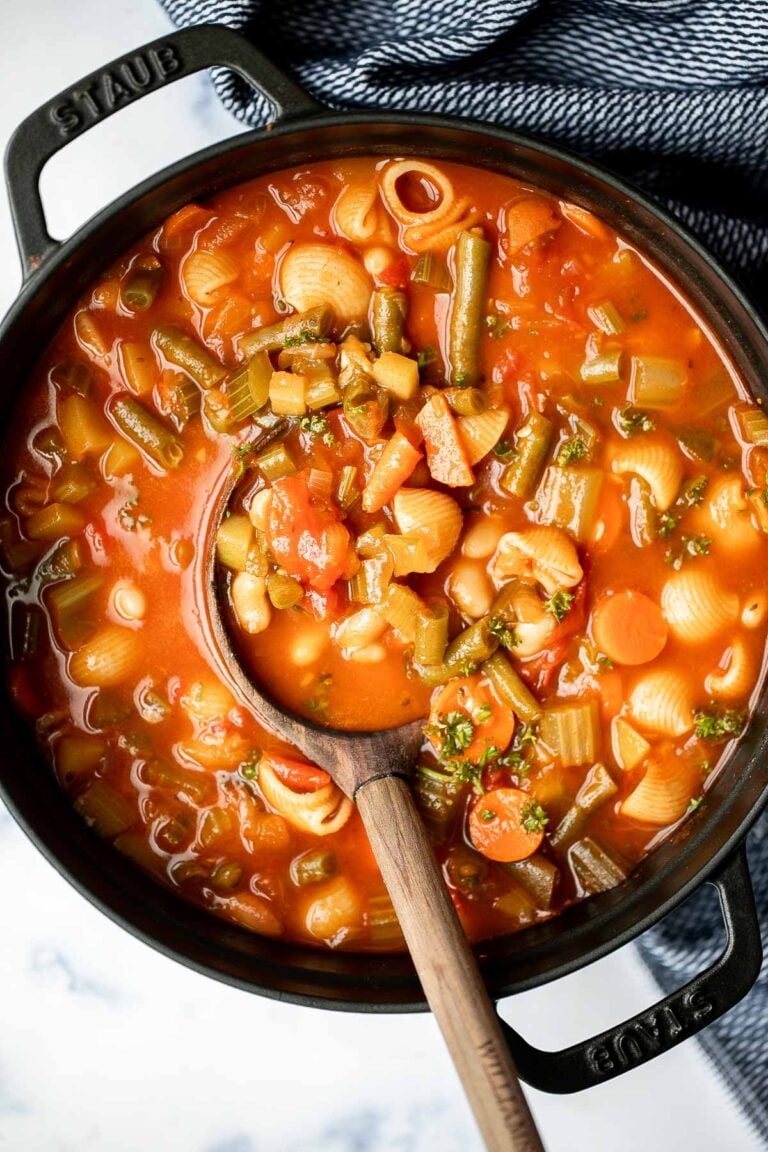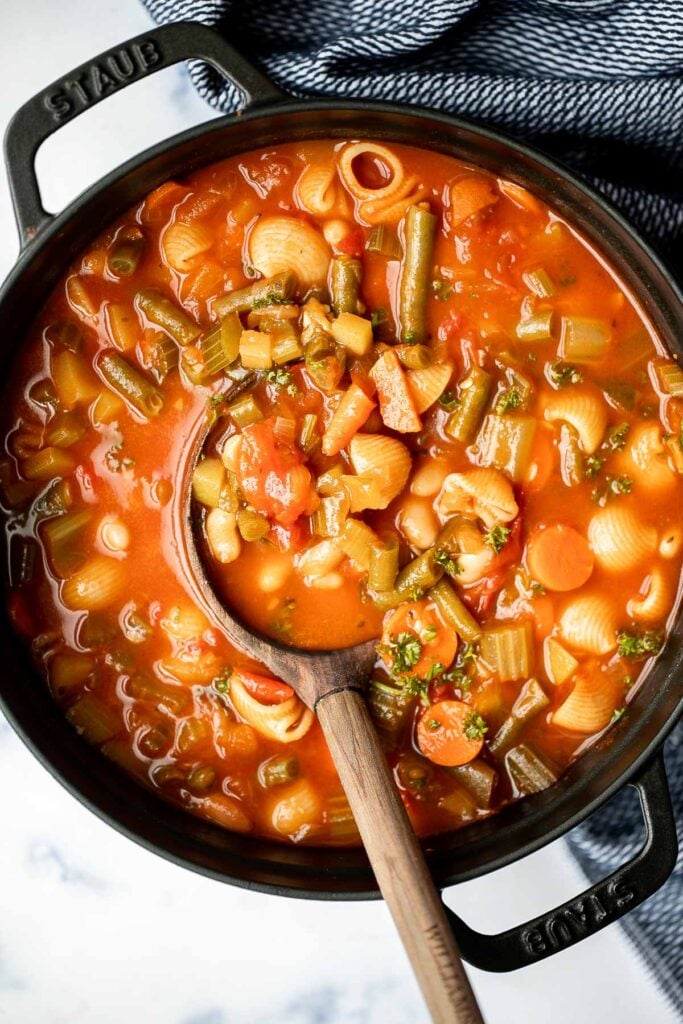 Creamy Parmesan (No Wine) Risotto
Creamy Parmesan (No Wine) Risotto is a rich, creamy, and comforting classic Italian dish that may be intimidating but is actually quick and easy to make.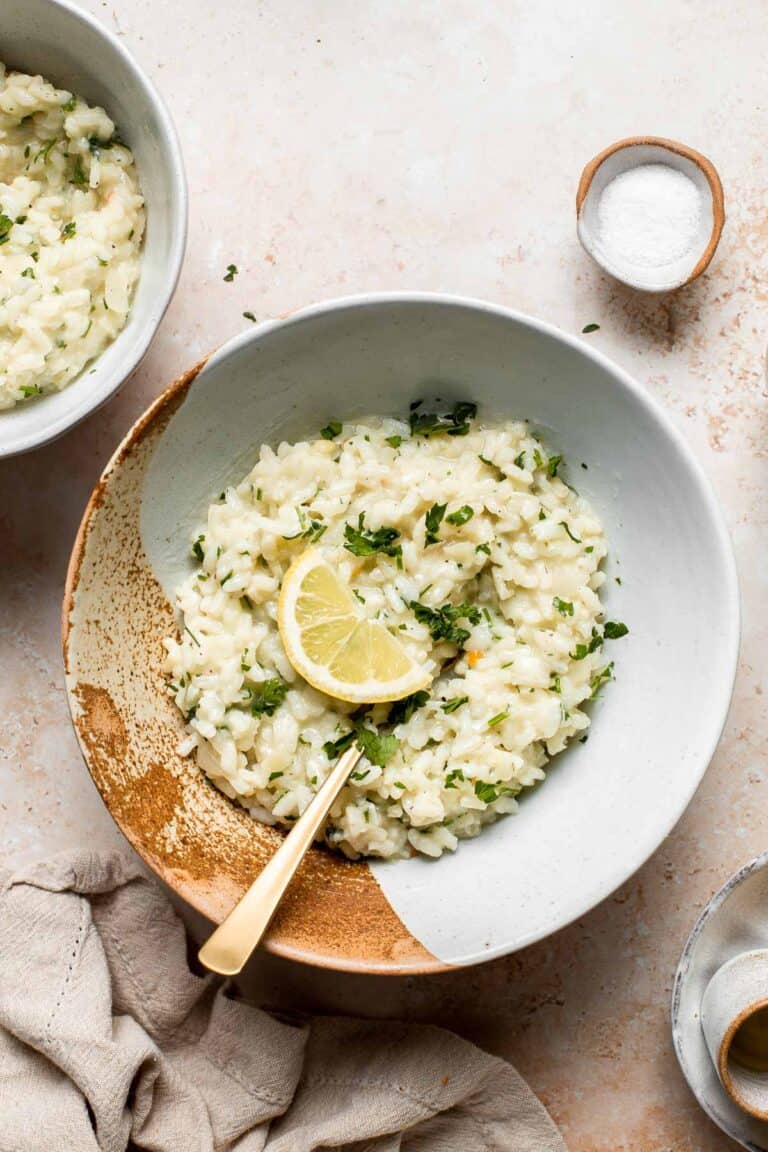 Italian pasta salad is delicious, wholesome, and easy to make. Make it up to three days ahead for your summer picnics and cookouts. You can't get more classic than Italian Salad on Memorial Day!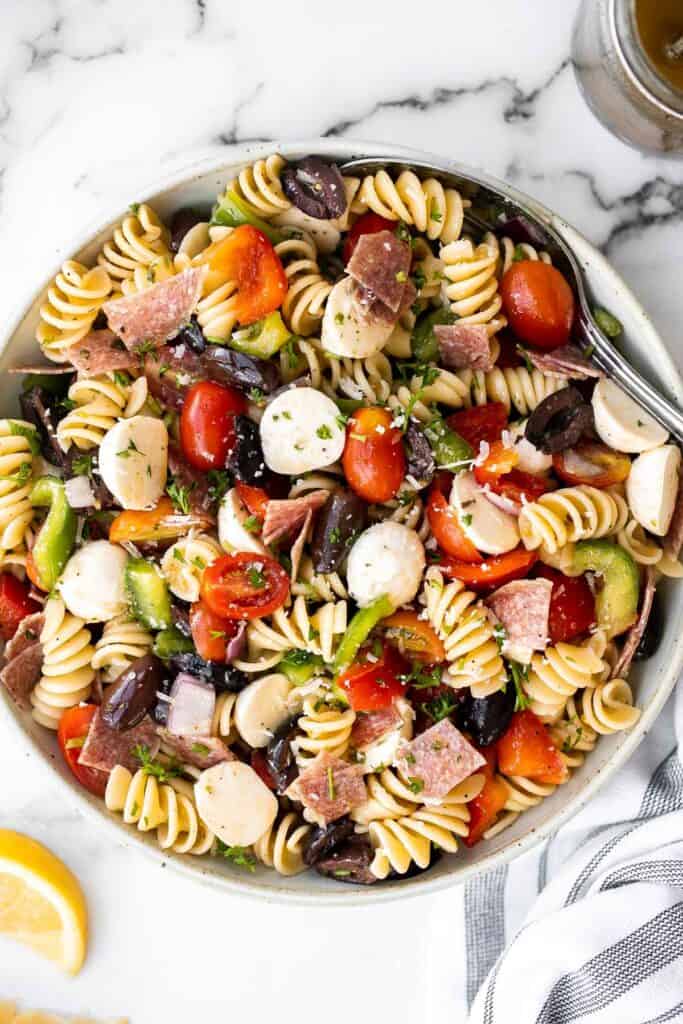 This Creamy Tomato Pasta is a simple and delicious meal made from scratch in 25 minutes with a cream and tomato based sauce that is rich and silky smooth.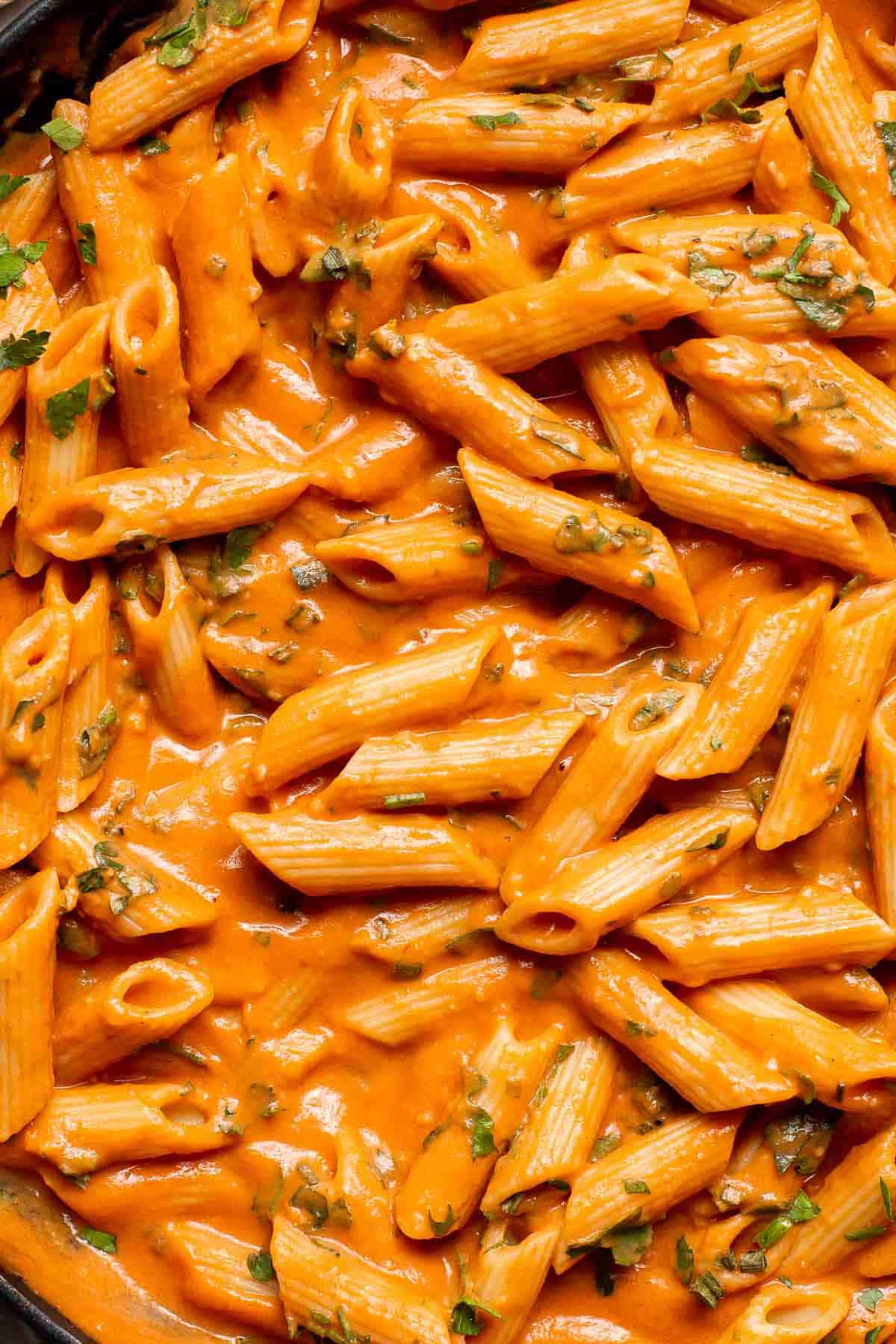 Homemade calzones are delicious little pizza pockets filled with cheese and toppings and baked until golden. This Italian favourite is easy to make at home.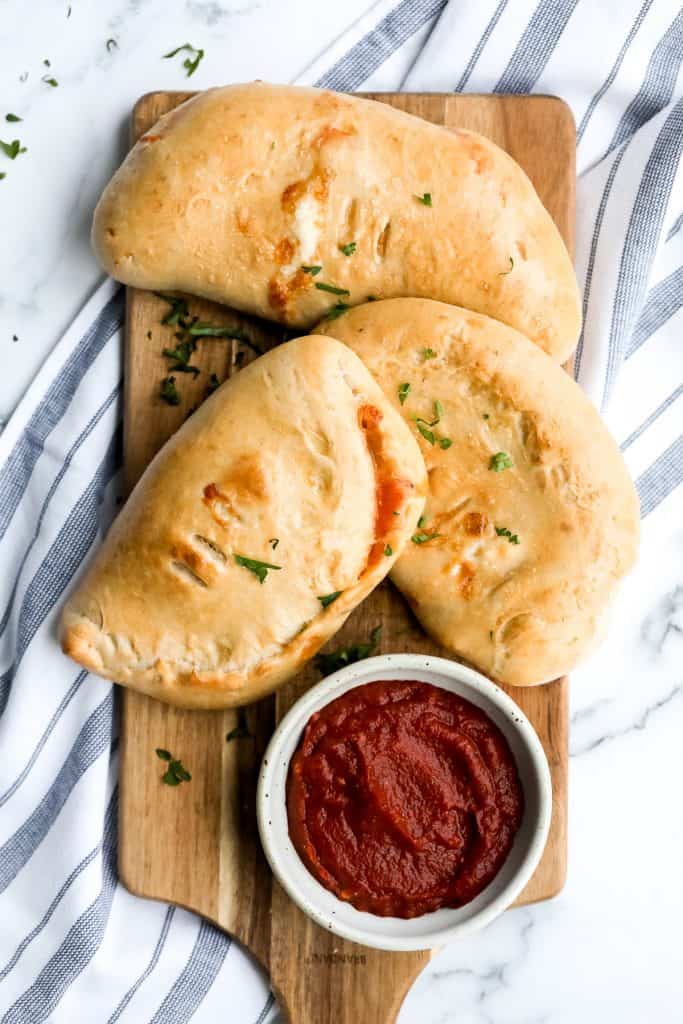 Creamy Tuscan shrimp packed with sun-dried tomatoes, spinach, and garlic, is creamy, rich, and delicious. Make it in just 15 minutes, including prep!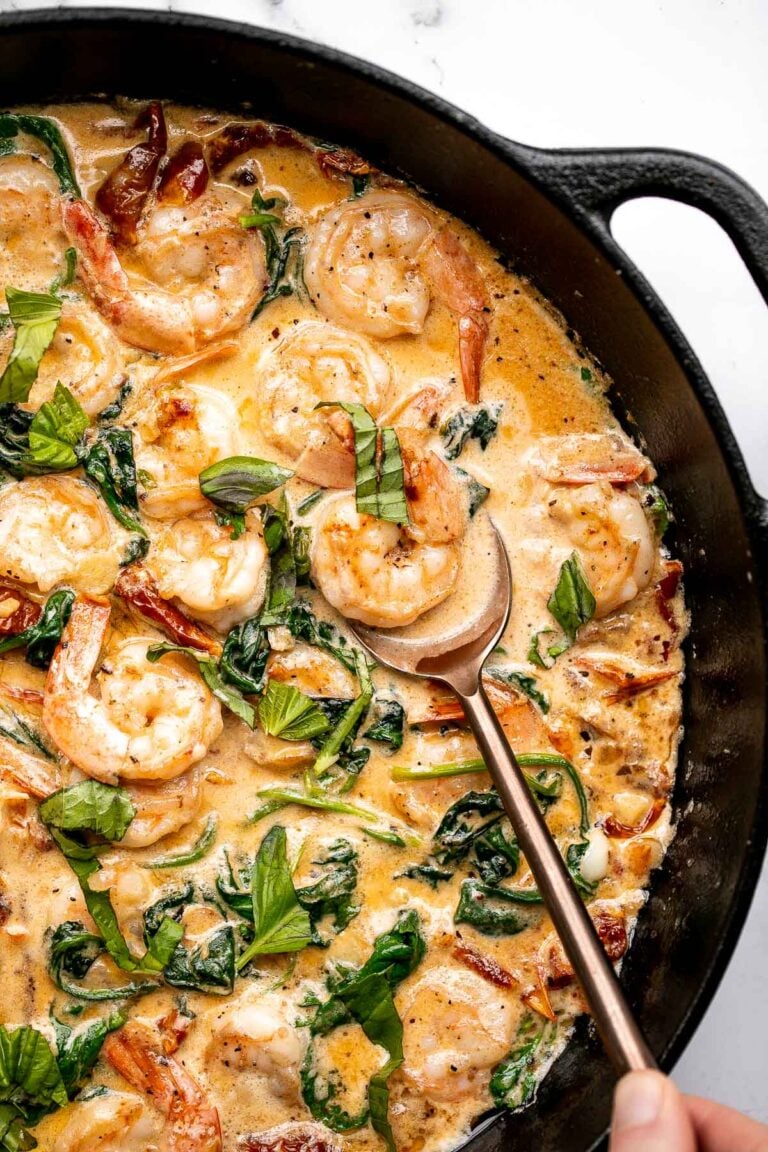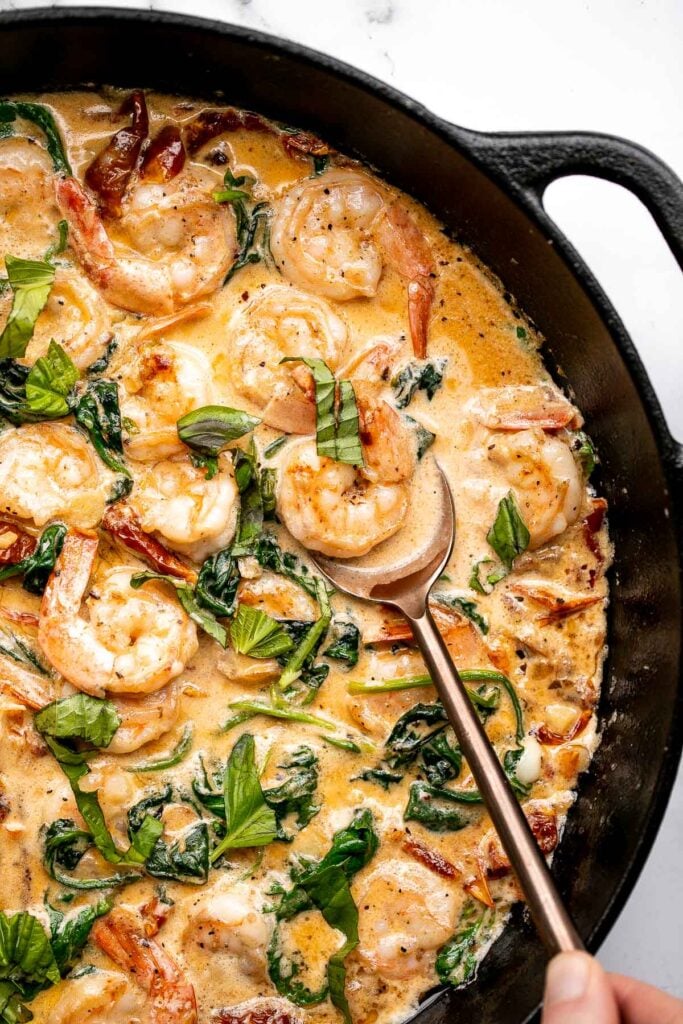 Eggplant Parmesan is a vegetarian Italian dish made featuring tender eggplant slices coated in crispy breadcrumbs, melty cheese, and baked in tomato sauce.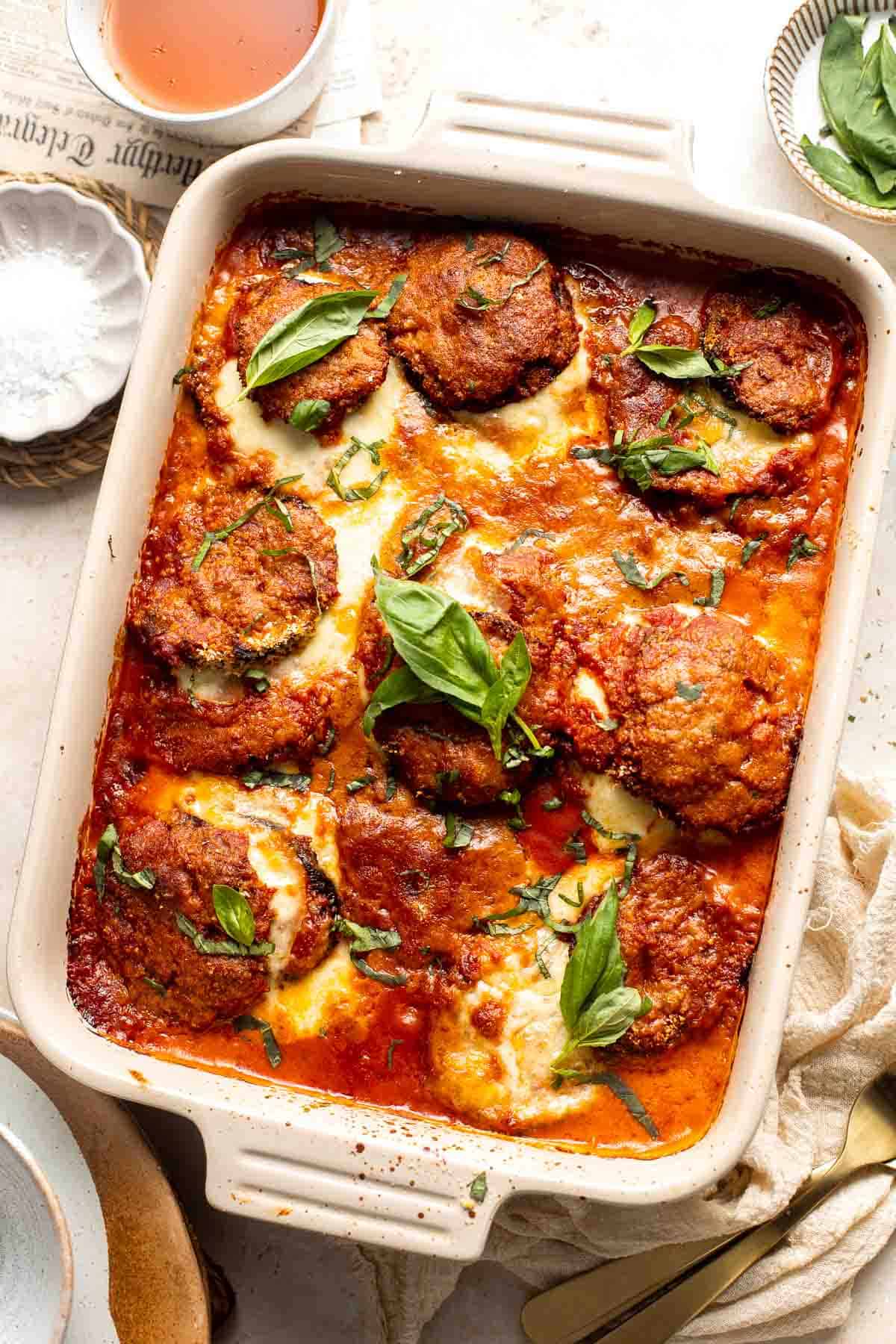 Quick and easy pesto penne pasta is a simple and light Italian pasta dish made with just five ingredients in under 15 minutes. The easiest dinner.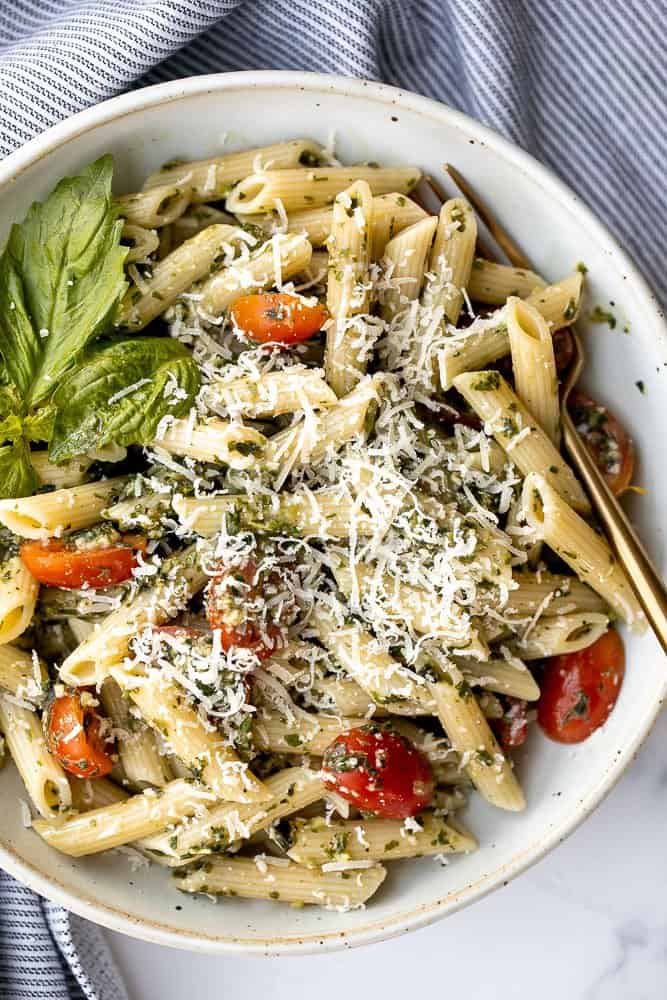 Chicken marsala in creamy mushroom sauce is a quick and easy 30-minute chicken dinner that is pure comfort food goals. A total crowd favourite.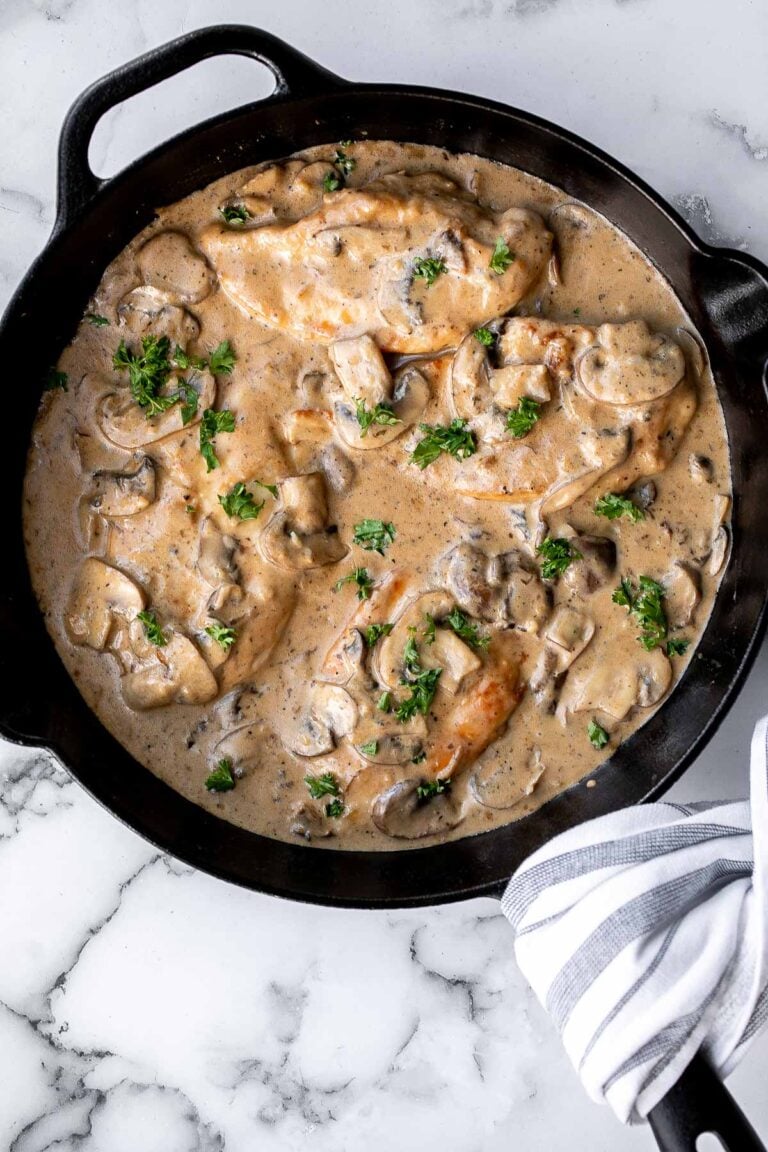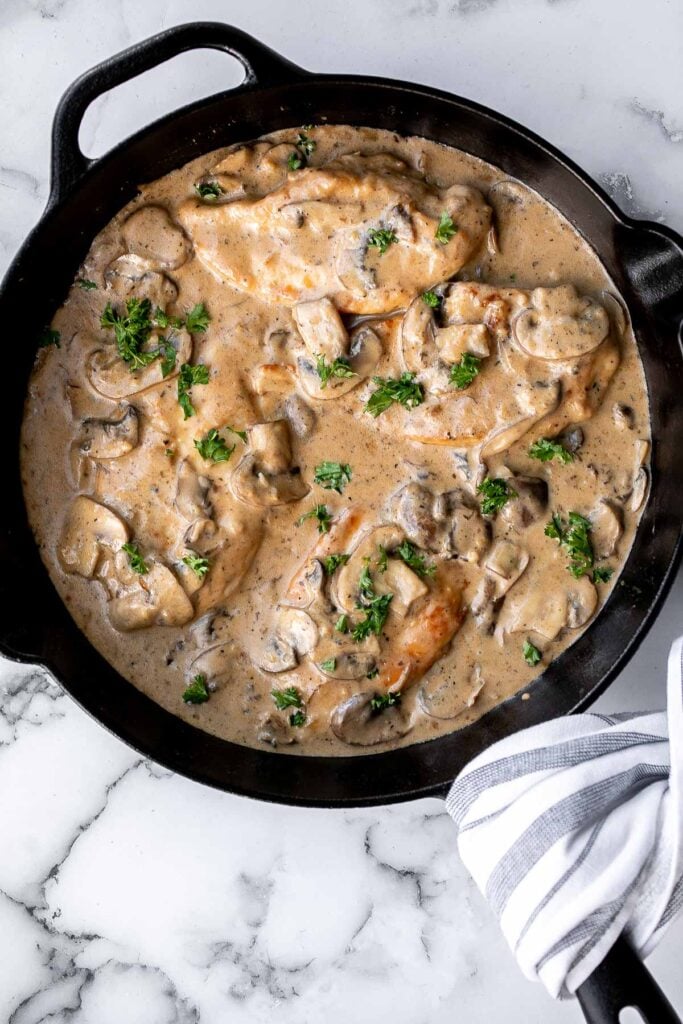 Skillet Neapolitan Margherita Pizza
Quick and easy skillet Neapolitan margherita pizza has an iconic thin and soft crust with a perfectly crisp exterior, and simple and fresh toppings.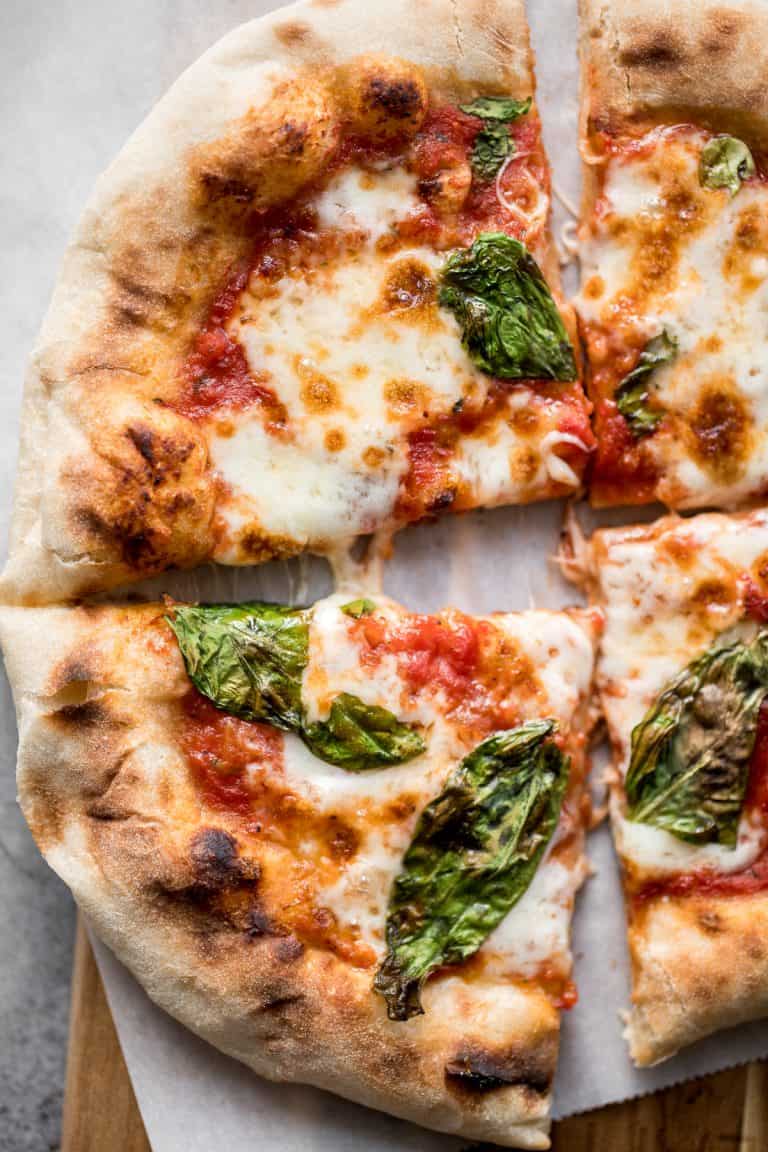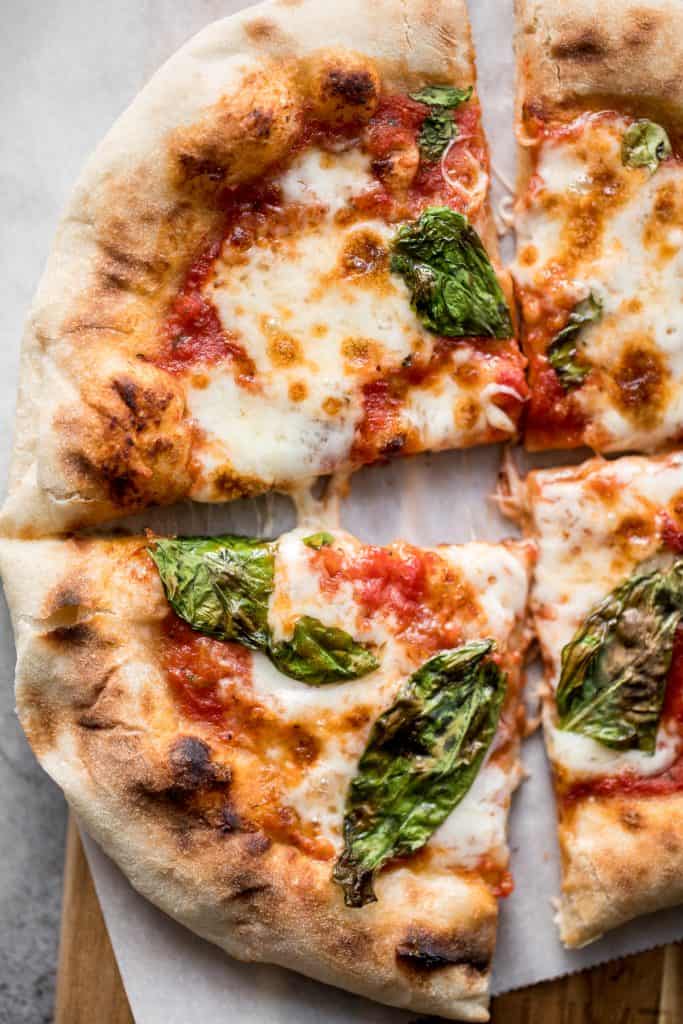 Caprese Skewers are a quick and fresh appetizer made with bite-sized mozzarella, juicy tomatoes, and basil leaves with a drizzle of balsamic glaze.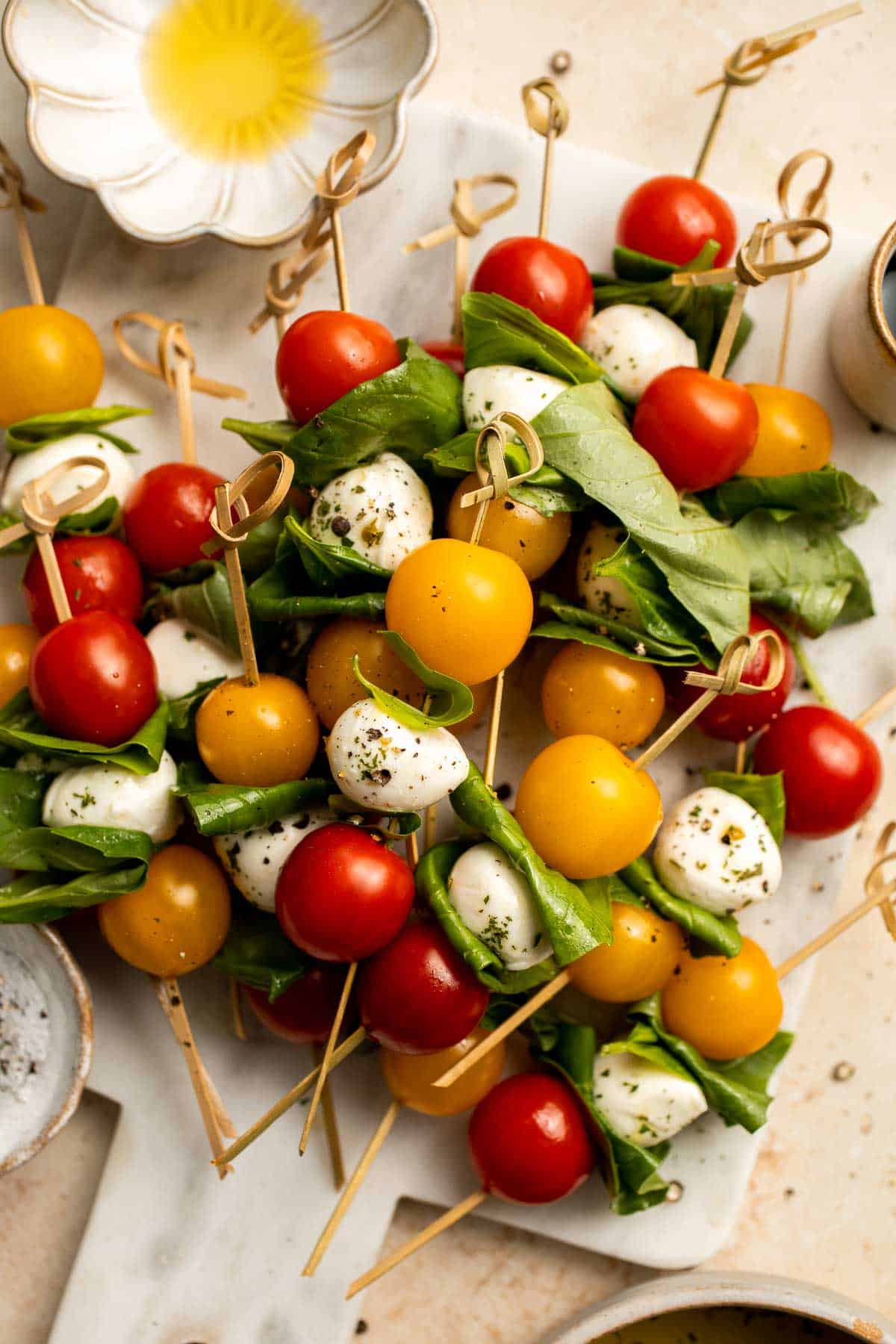 Cheesy Baked Gnocchi is quick and easy comfort food made all in one pot with chewy bites of gnocchi, a simple tomato-based sauce, and gooey melty cheese.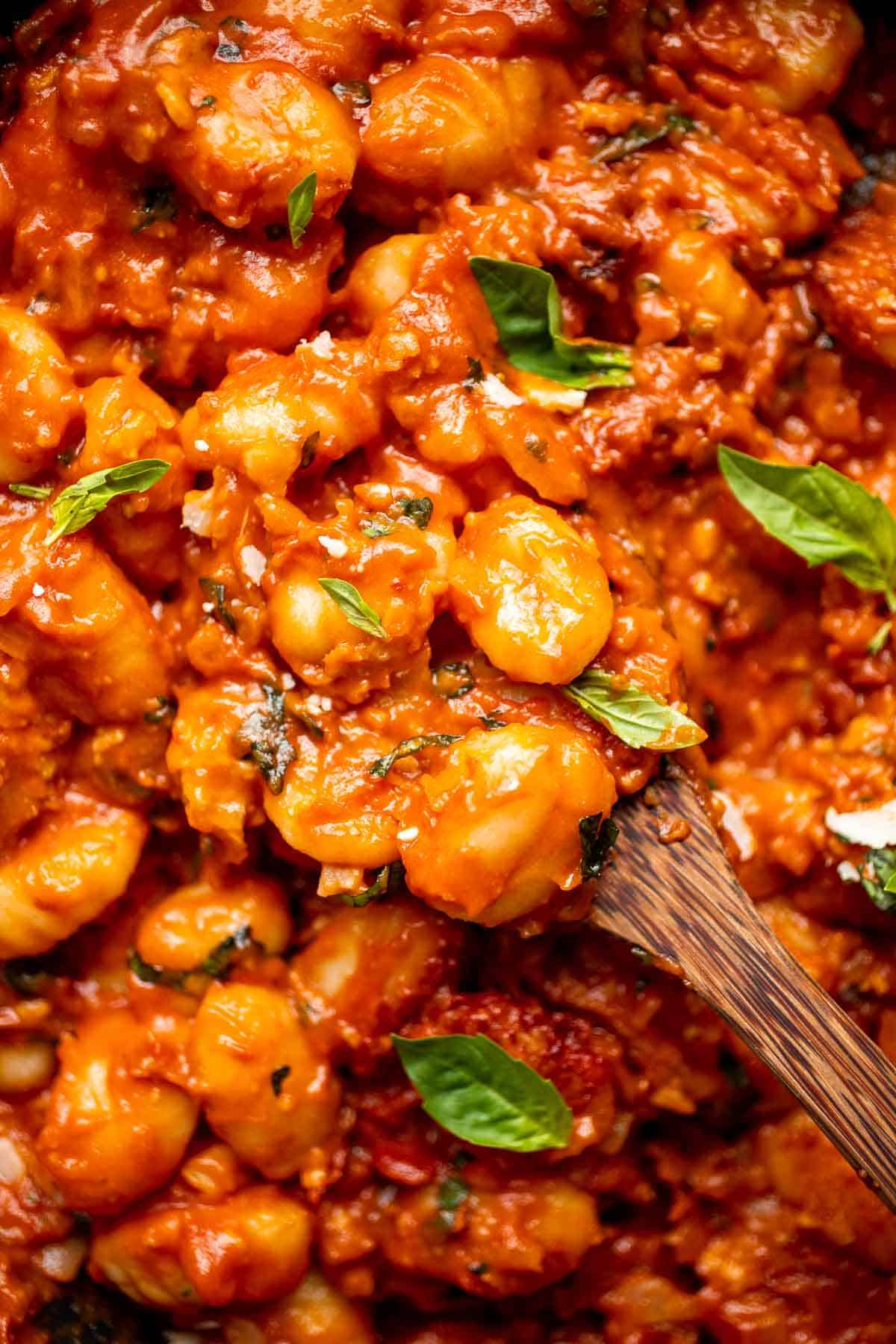 Quick easy spaghetti bolognese with a rich, thick, delicious and flavourful meat sauce is a family favourite ready in 30 minutes. Best weeknight dinner.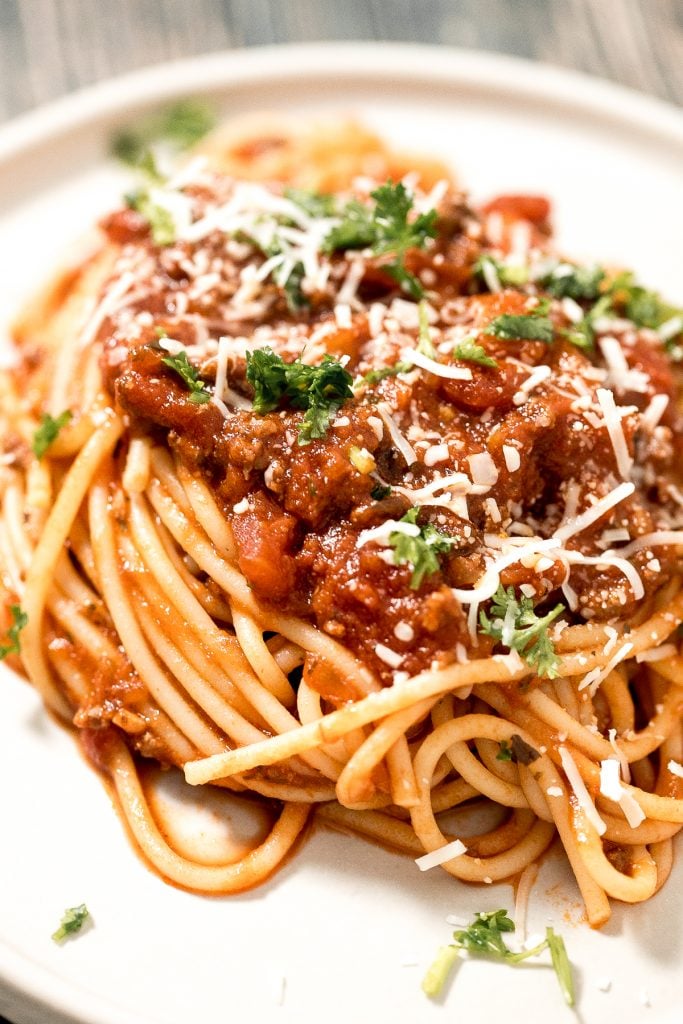 Instant pot osso buco is a delicious, classic Italian recipe with braised veal shanks stewed with vegetables in a thick, savory red wine and tomato sauce.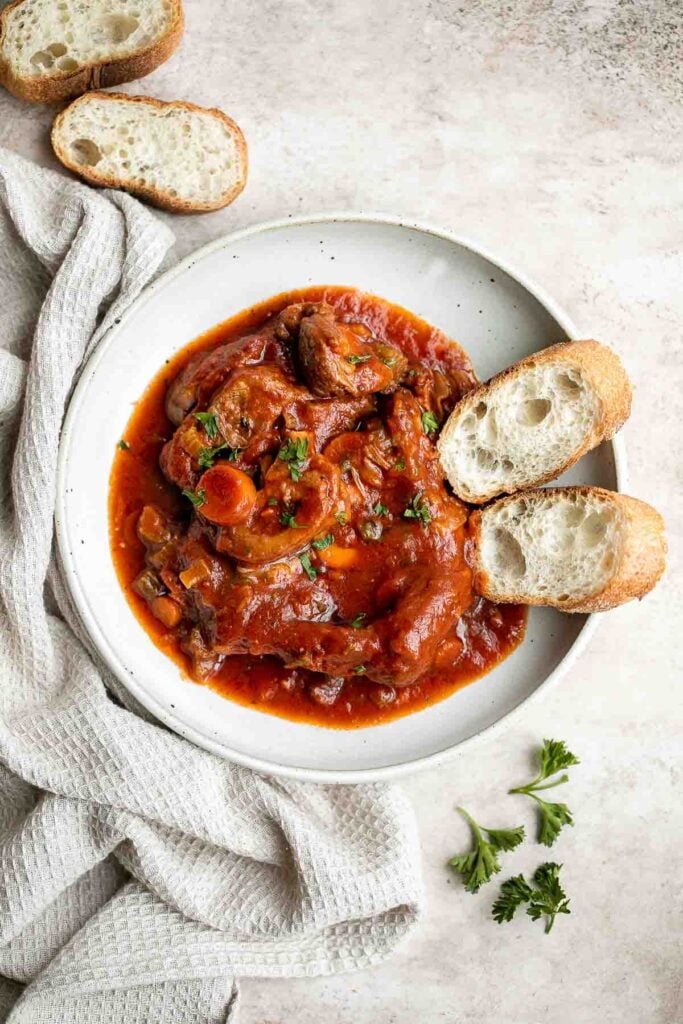 Ricotta stuffed shells are an easy, hearty, and classic Italian comfort food that can feed the whole family. Easy to make ahead and freeze for another day.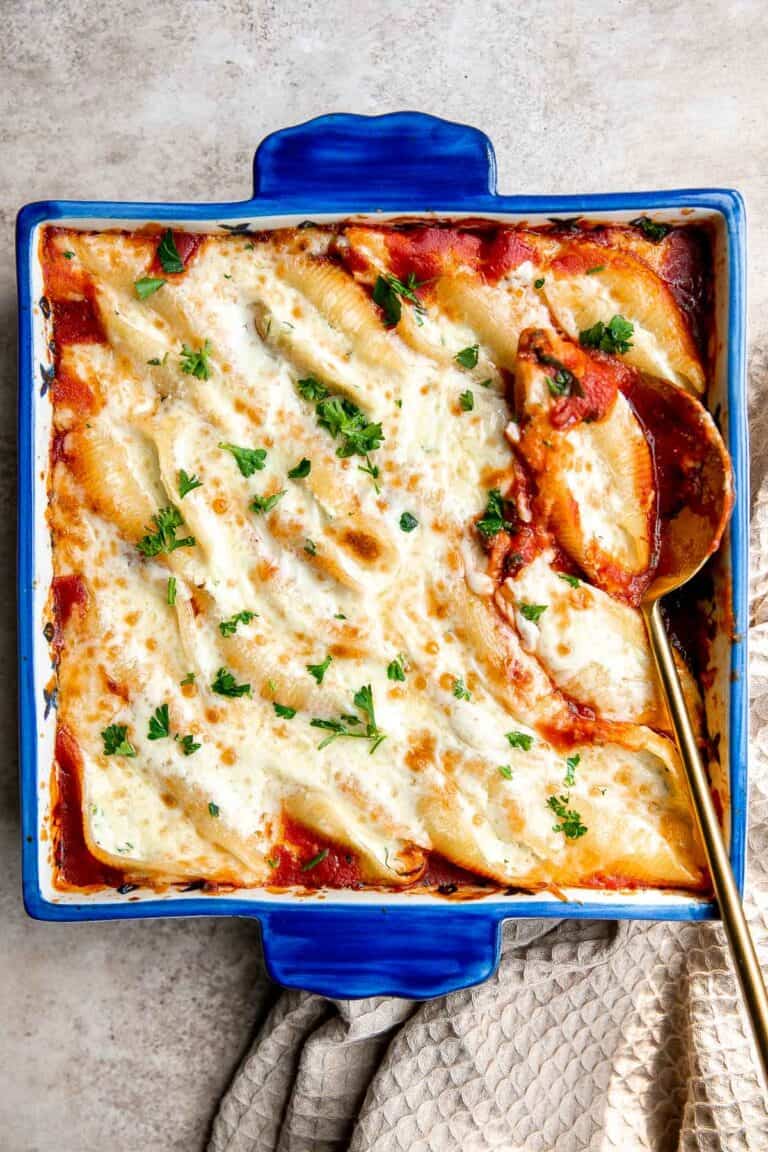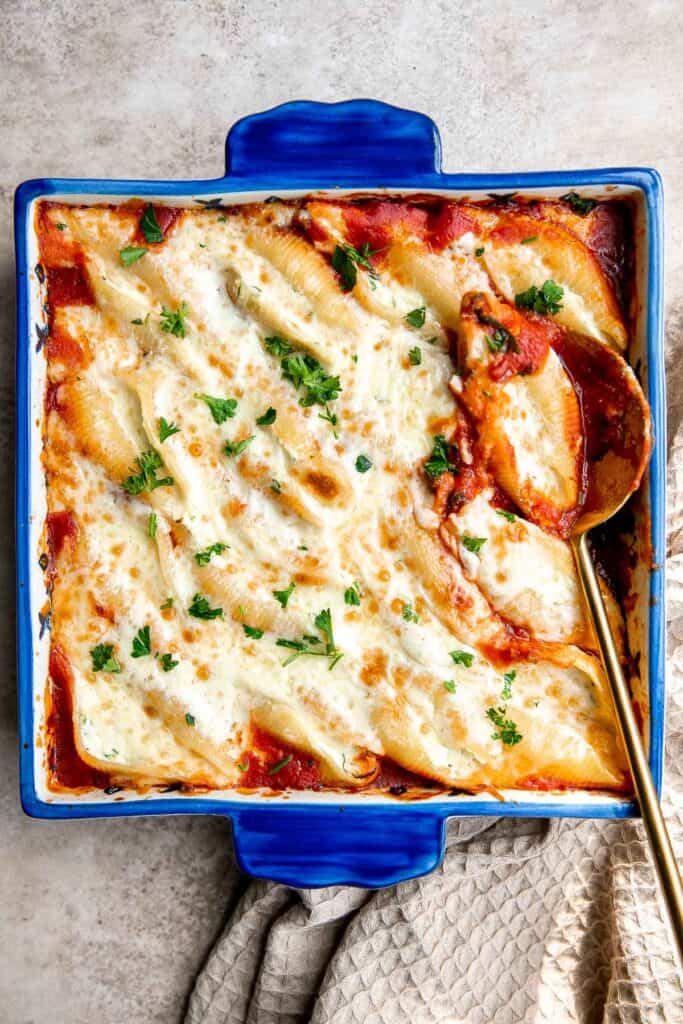 Creamy garlic salmon is a quick easy one-pan meal ready in under 30 minutes, with seared flaky tender salmon tossed in a delicious creamy garlic sauce.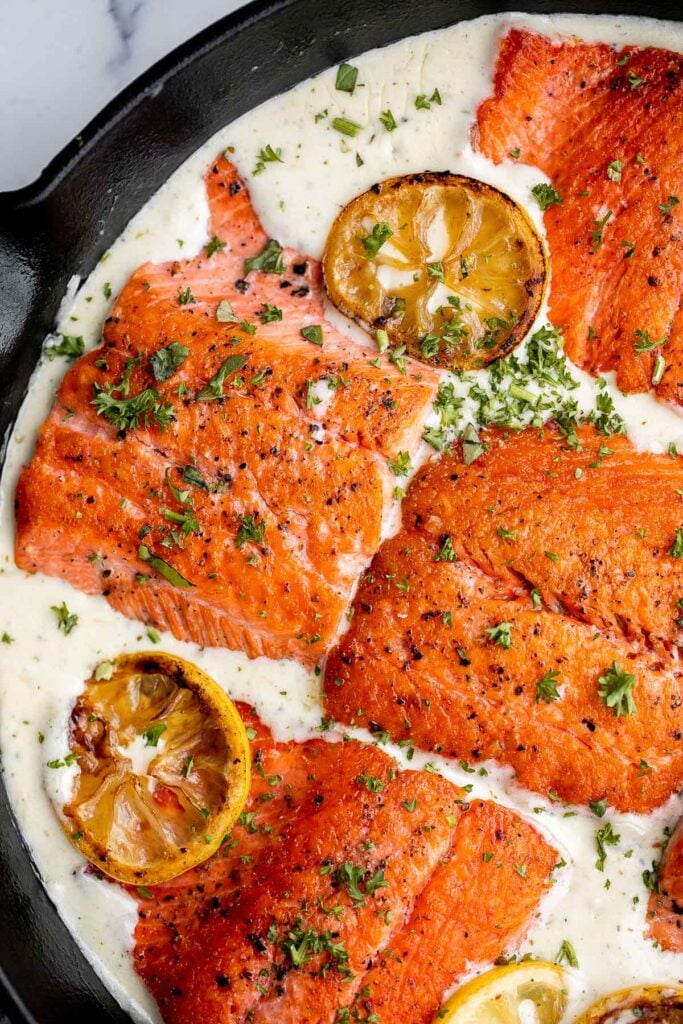 Lasagna soup is a twist on a classic Italian recipe with all the same delicious comforting flavors in the form of a hearty one pot soup.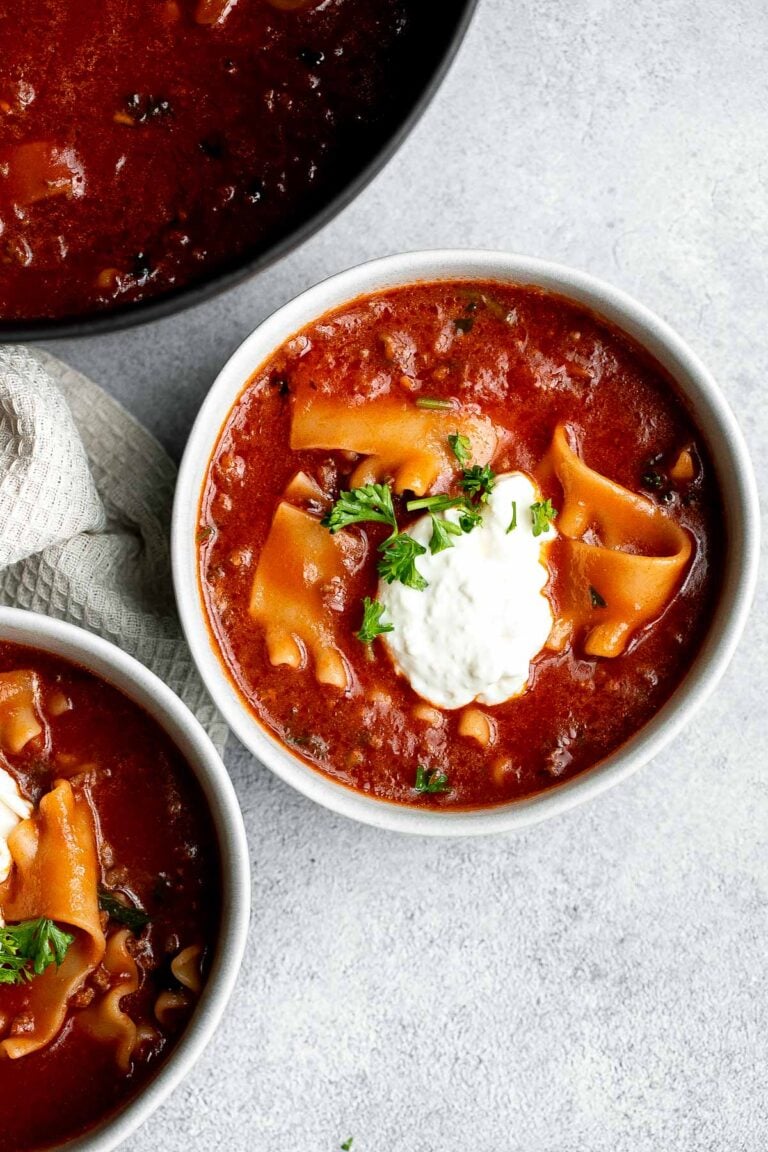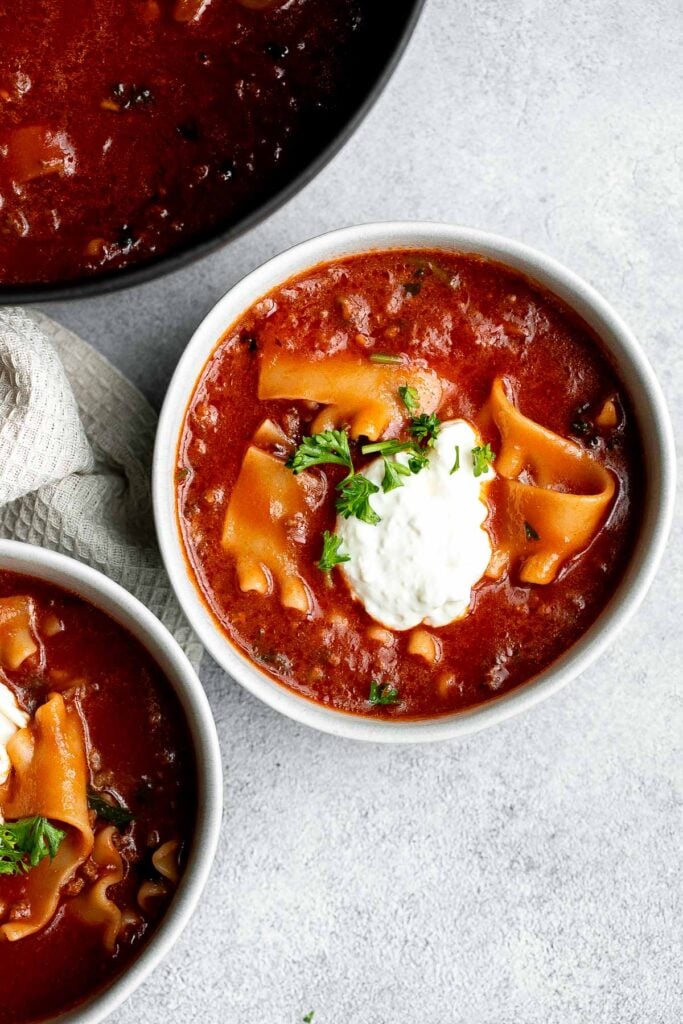 Chicken penne pasta is a quick and easy dinner that is delicious, rich, creamy, and flavorful. It's a family favorite that's ready in under 30 minutes.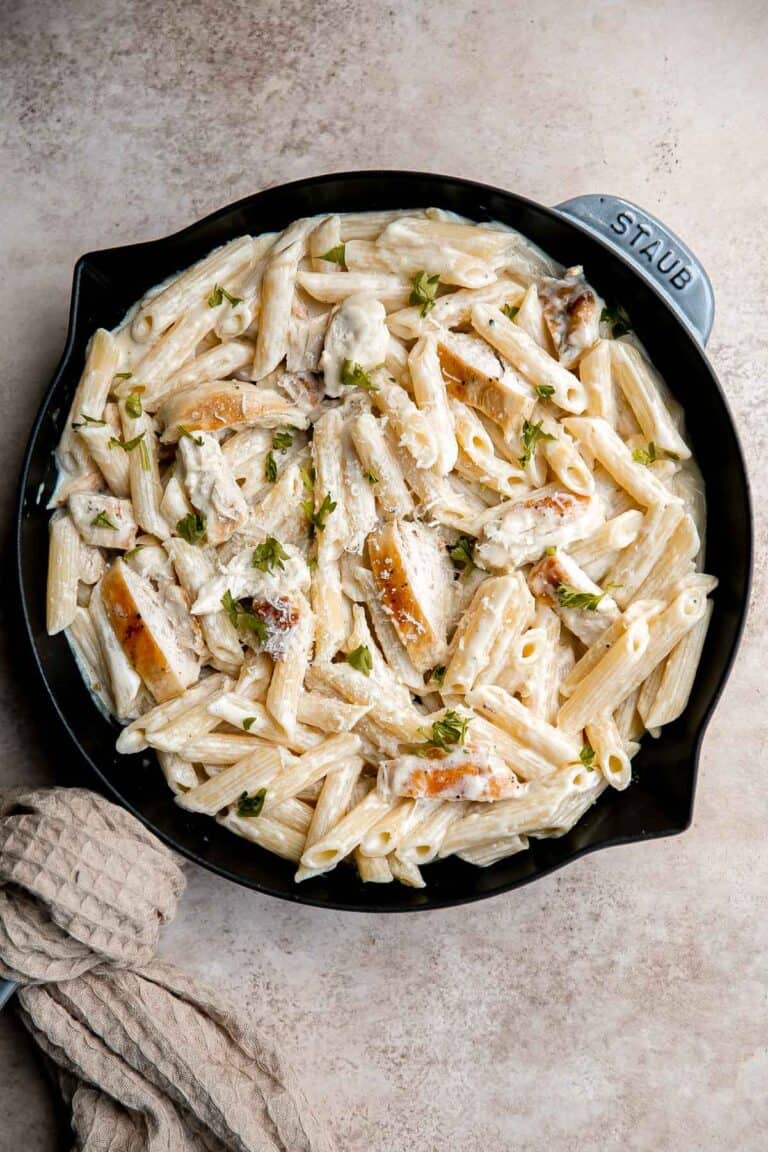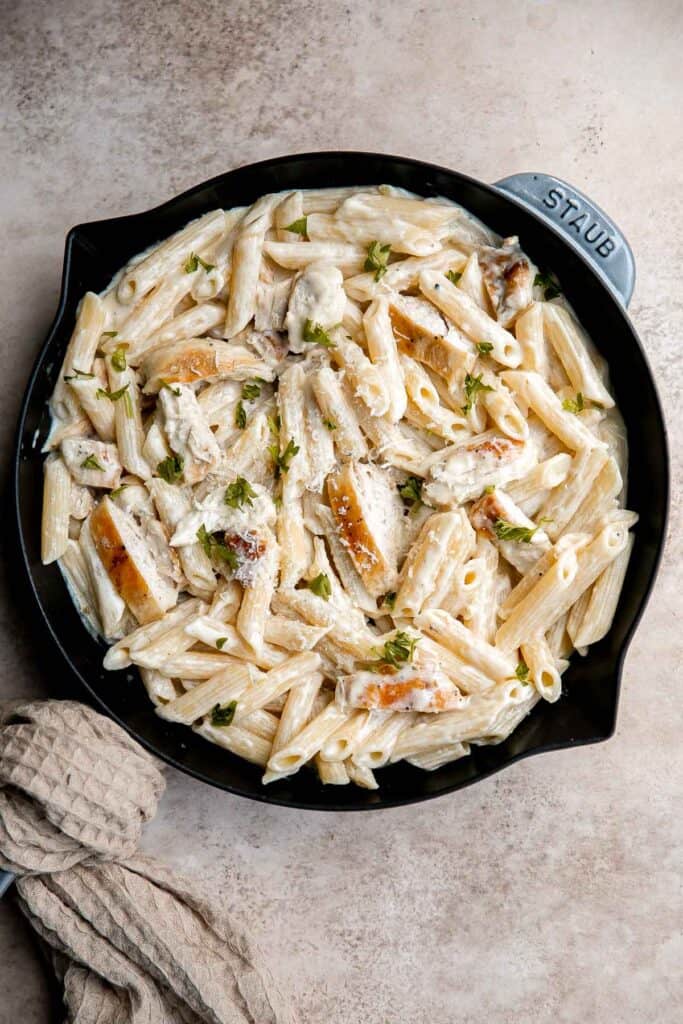 Marinara sauce is rich, vibrant, and loaded with flavor. It's easy to make with a few simple fresh ingredients. Serve as a dip or in pasta and pizza.
Easy Tomato Bruschetta with Balsamic Glaze
Tomato bruschetta with balsamic glaze is an easy Italian appetizer topped with tomatoes, onions, garlic, basil and olive oil. Delicious, fresh and simple. The perfect light Super Bowl recipe.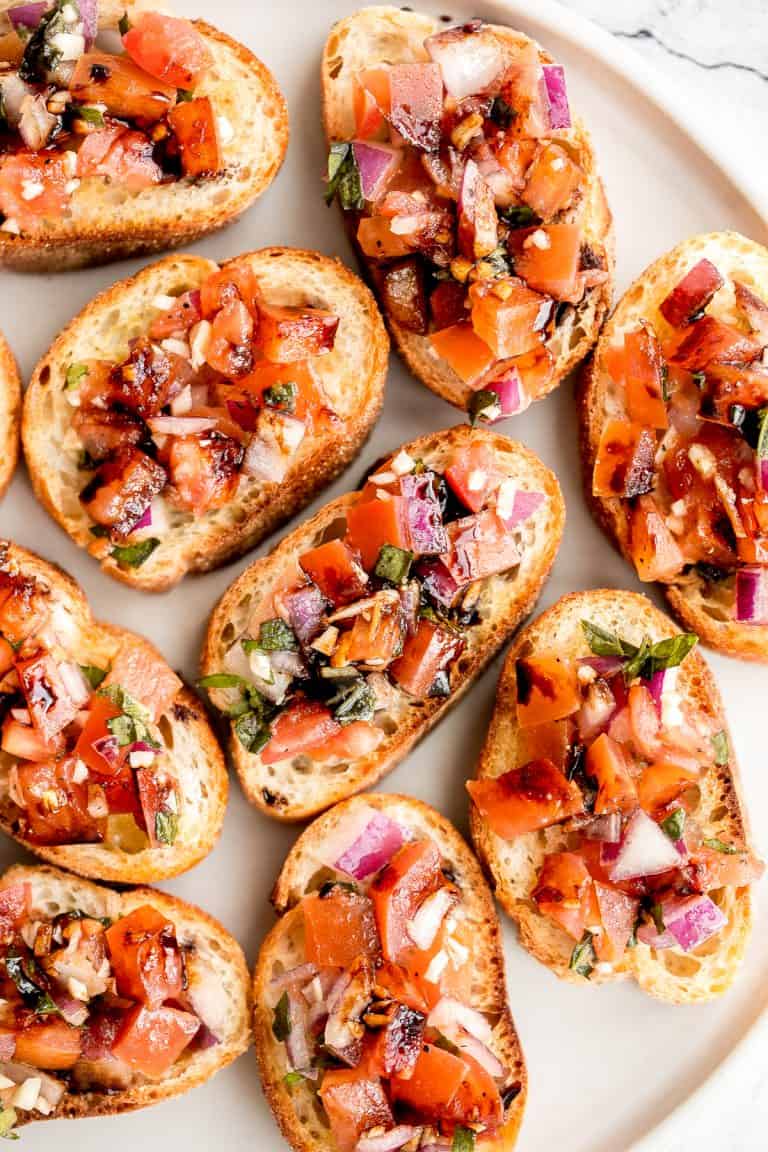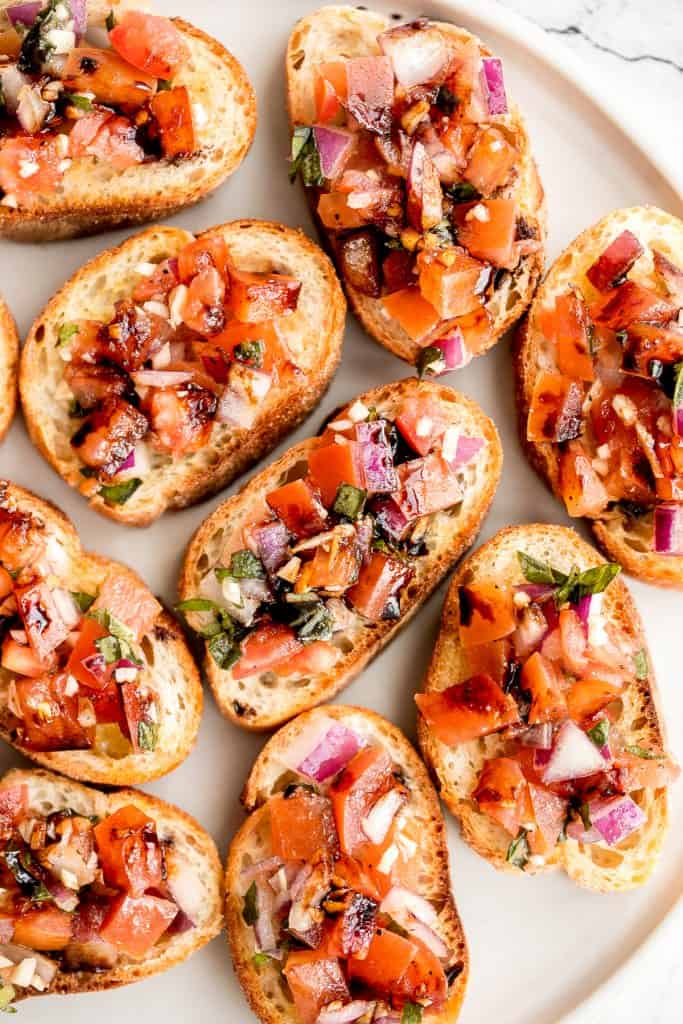 Shrimp Alfredo is creamy, garlicky, and delicious! This quick and easy, under 30-minute recipe is a go-to for busy nights and a year-round family favorite.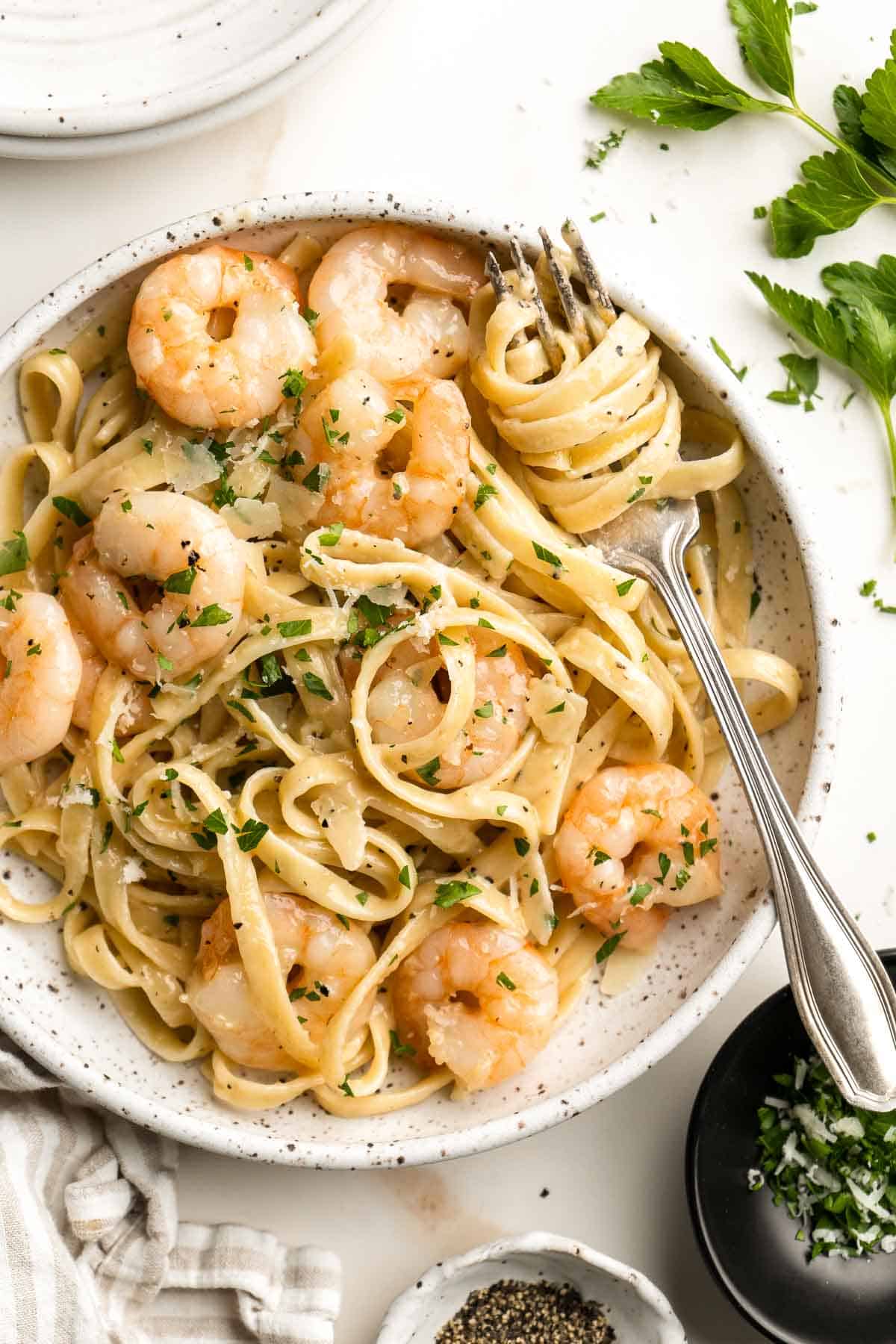 Creamy Tuscan chicken with sun-dried tomatoes and spinach is a quick and easy 30 minute Italian chicken dinner that is delicious, flavorful, and comforting.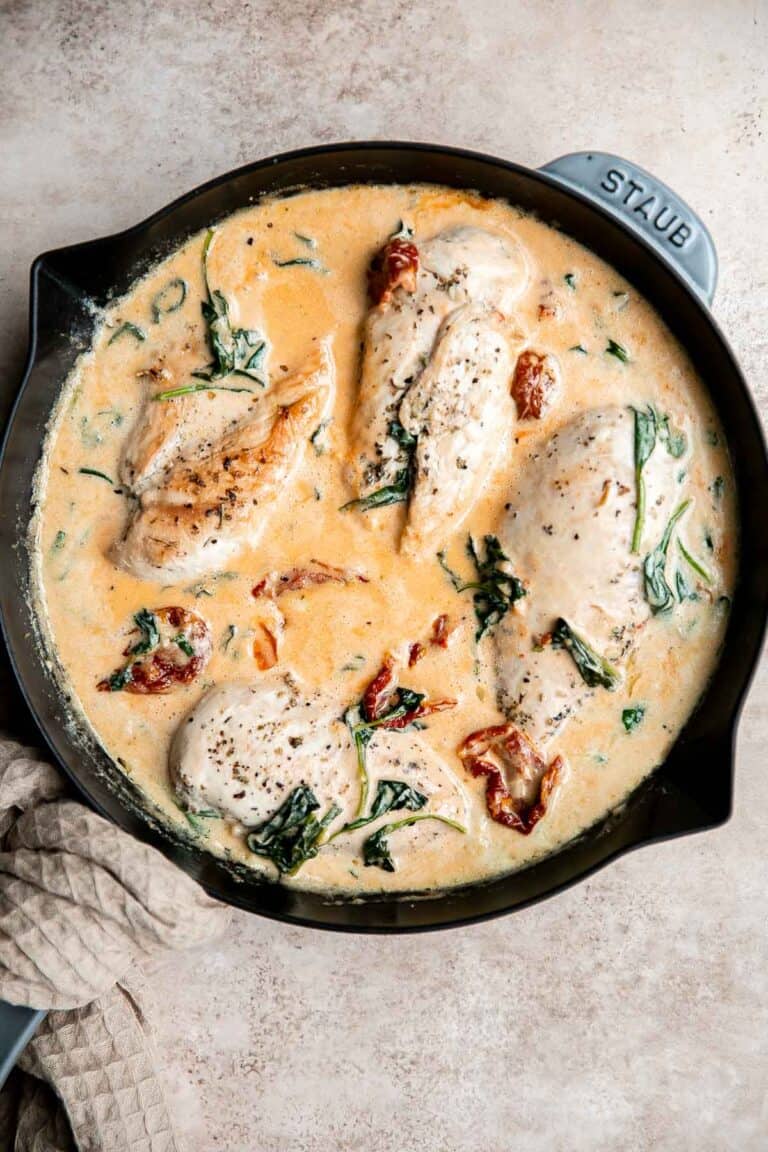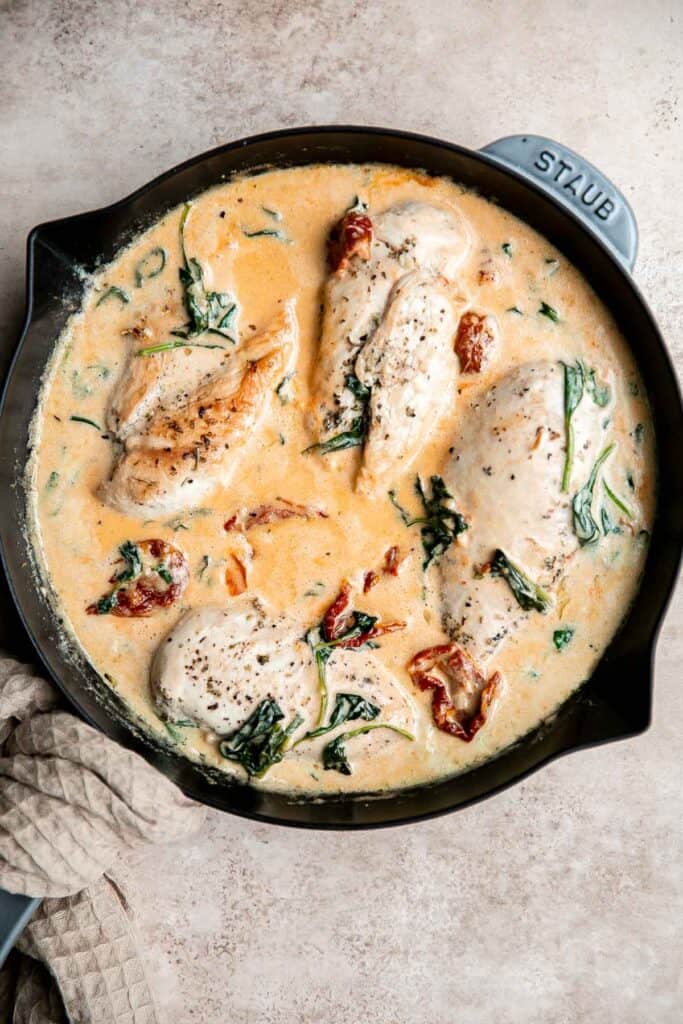 Creamy White Chicken and Spinach Lasagna
Creamy white chicken and spinach lasagna with tender shredded chicken is the most comforting creamiest cheesiest white lasagna. Easy to make ahead & freeze.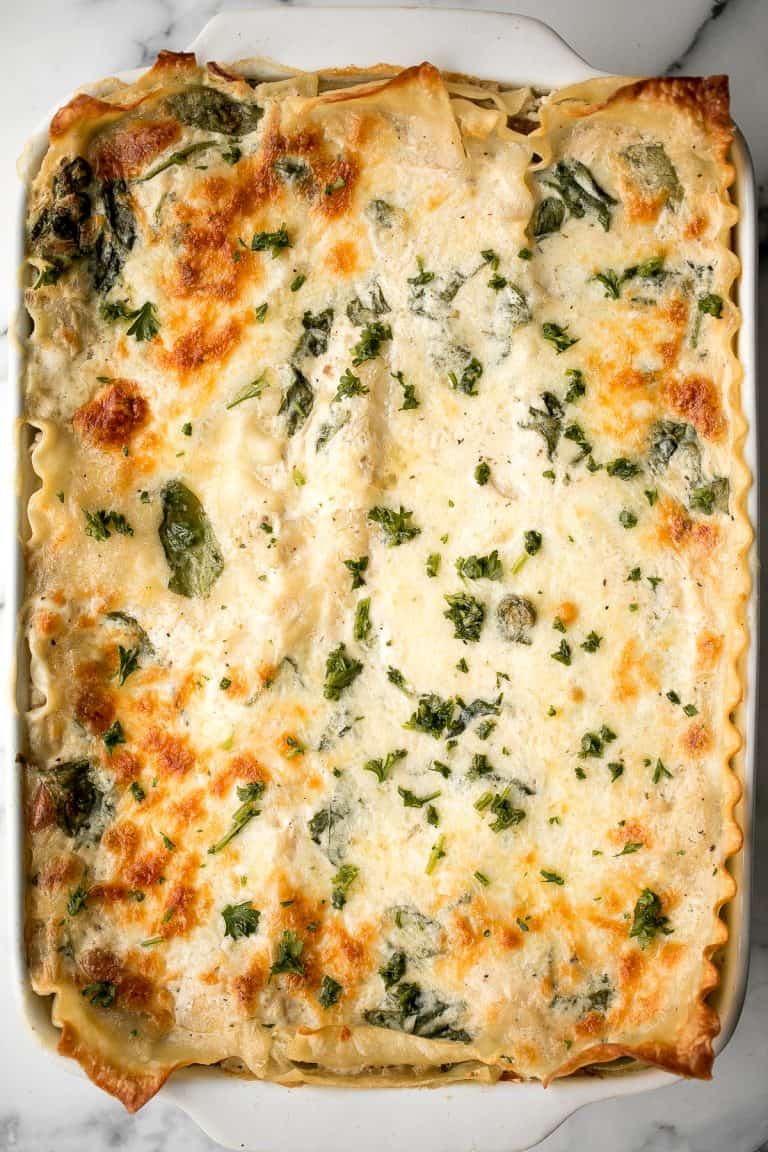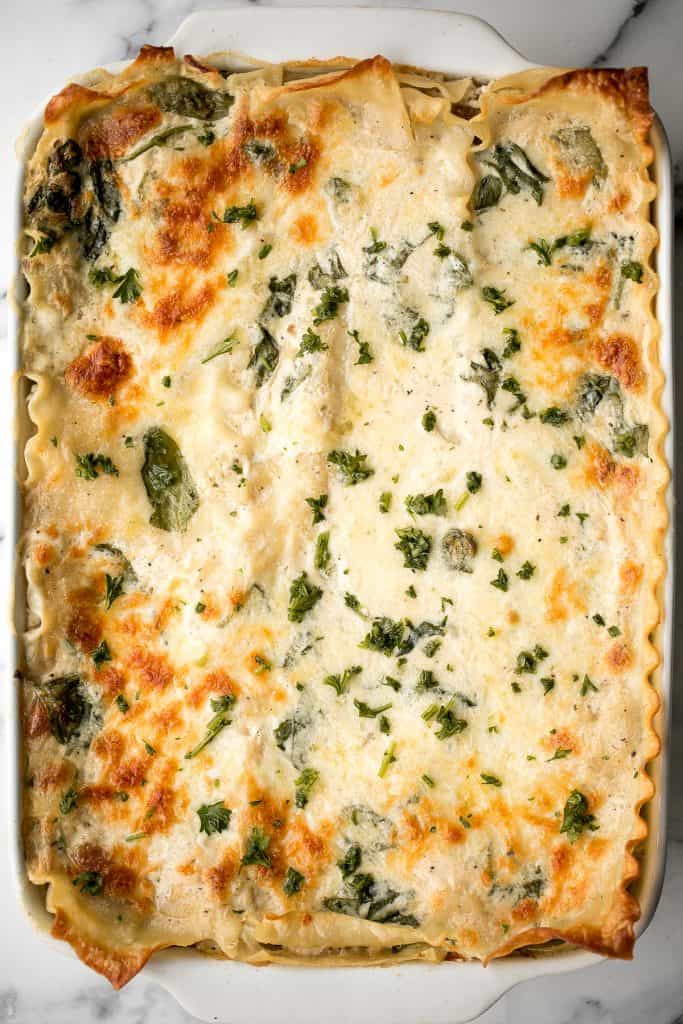 Soft garlic breadsticks are fluffy, airy, buttery, and delicious. They're an easy recipe that is perfect for beginners at baking bread.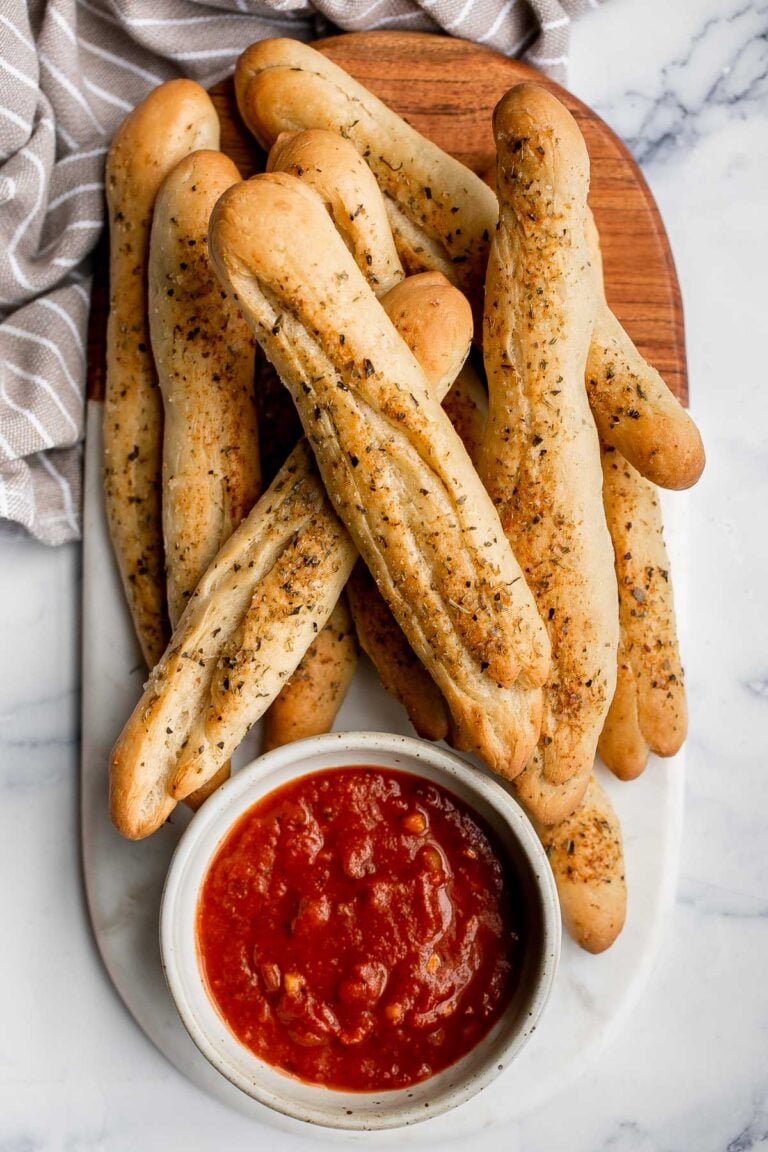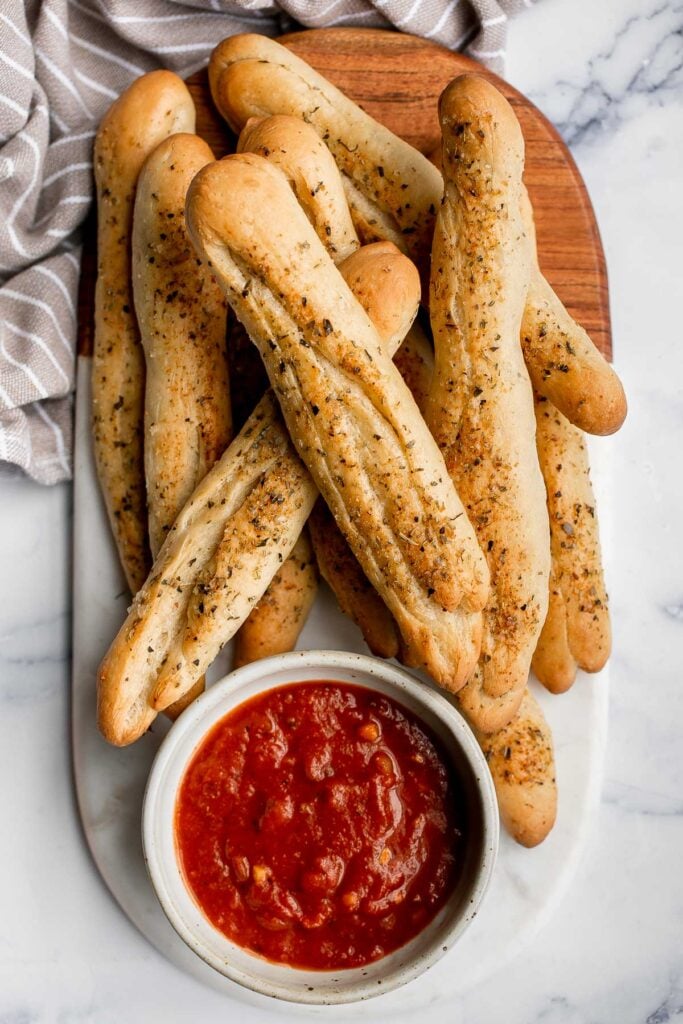 Farfalle Pasta with Mushroom Rose Sauce
Farfalle pasta with mushroom rose sauce is creamy yet light, delicious and flavorful, and quick and easy to make in 20 minutes. Best comfort food dinner!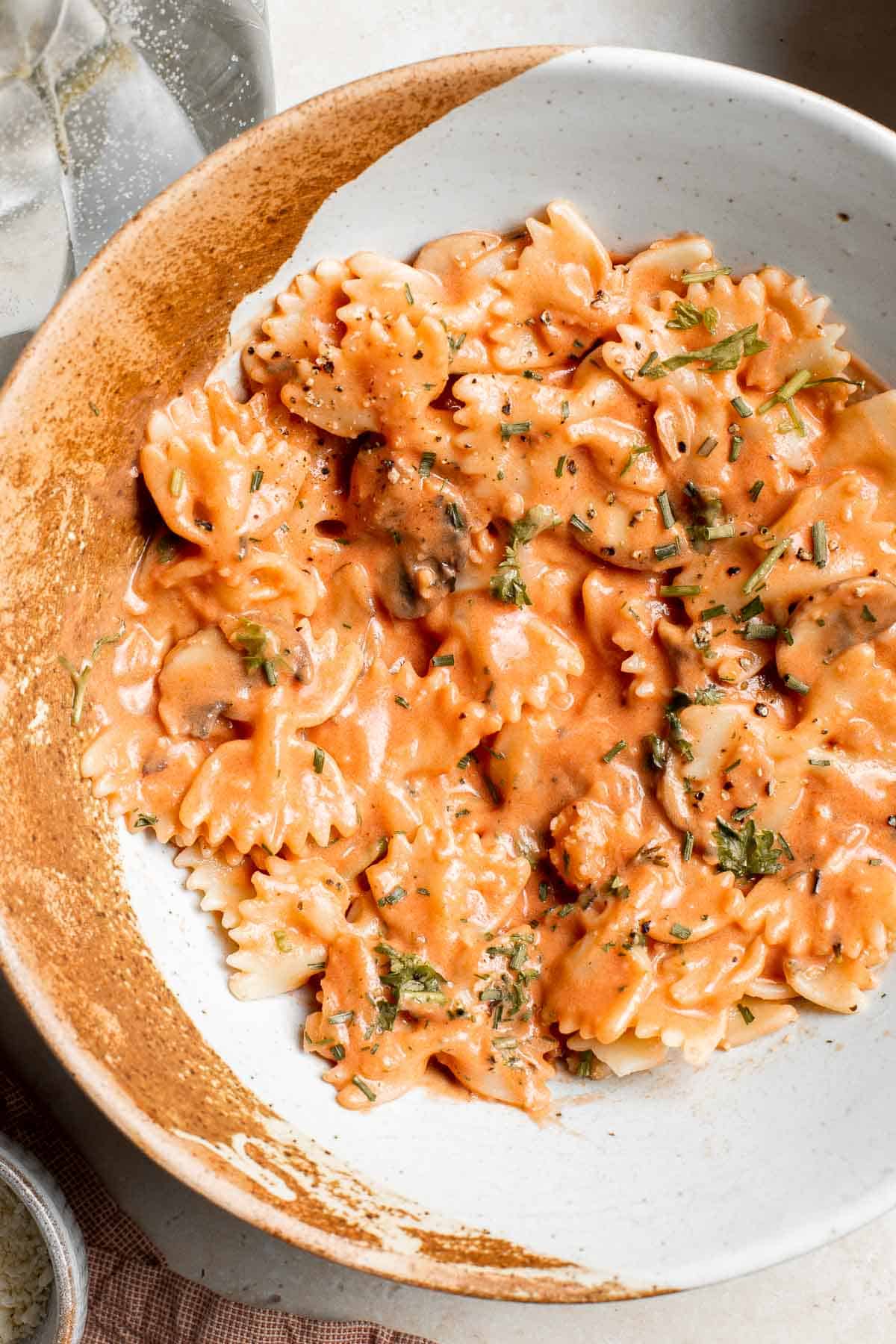 Light and airy, whipped ricotta dip is so easy to make in just 5 minutes with a few fresh ingredients including fresh herbs, olive oil, garlic, and honey.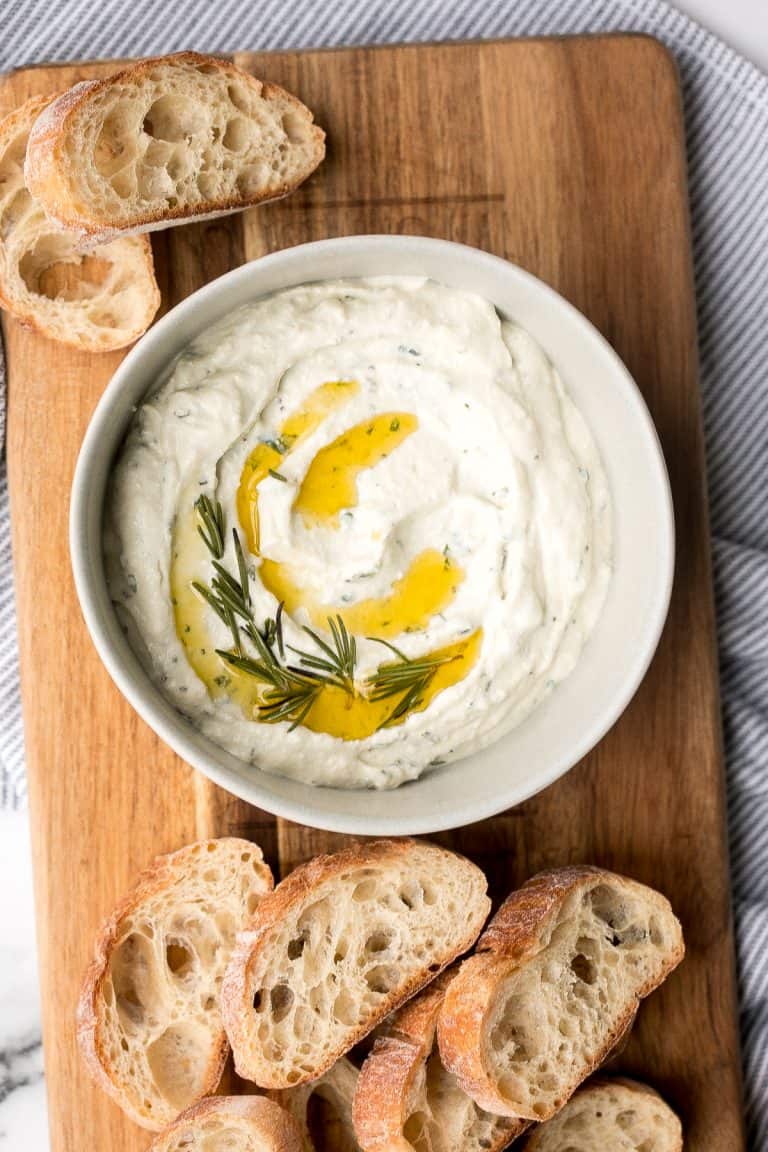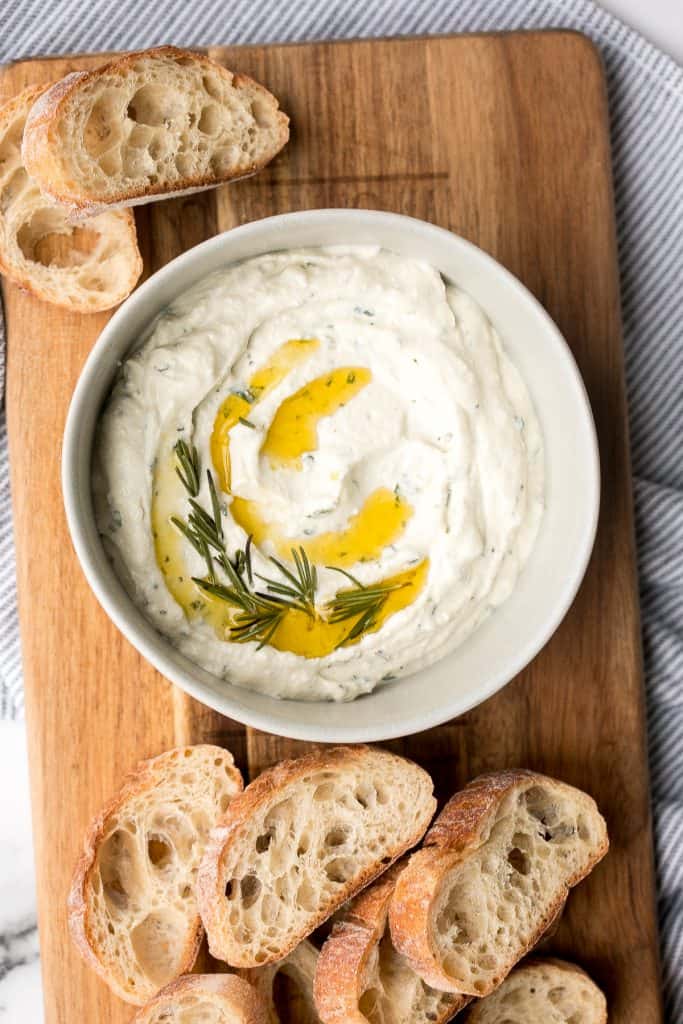 Homemade tomato basil soup is comforting, rich, and smooth. This cozy soup is easy, flavourful, and nourishing, making it so much better than canned.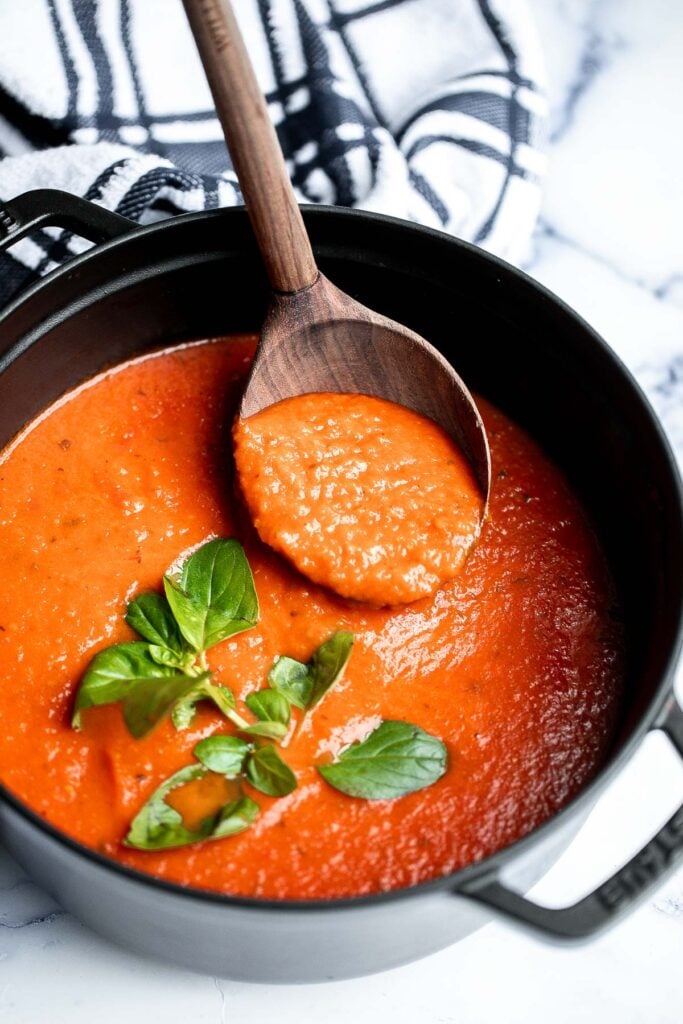 Creamy Chicken Pesto Pasta is a delicious 30 minute recipe that is packed with flavor, quick and easy to make, and will satisfy the whole family.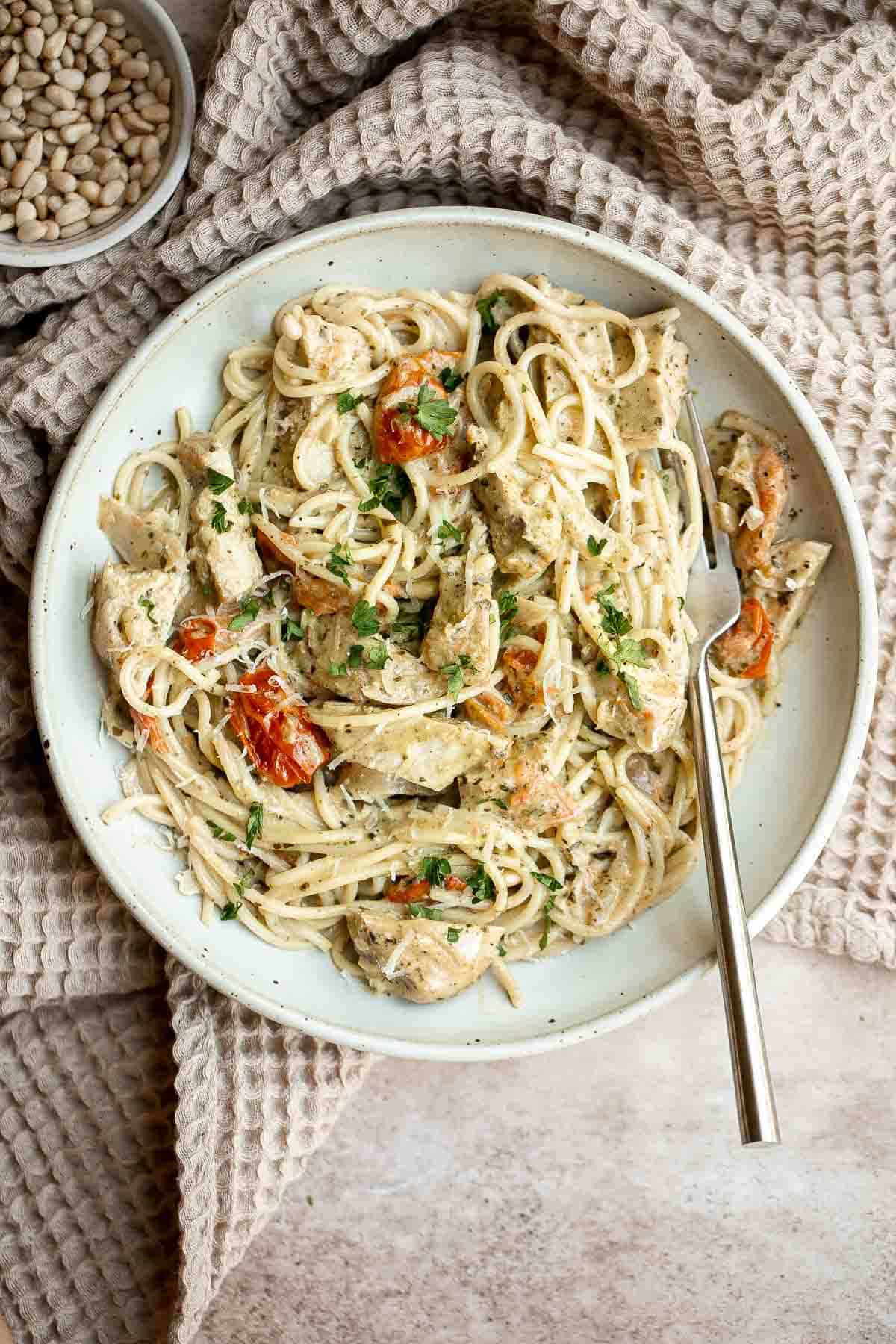 Toasted Ravioli is a classic Italian appetizer that is crispy and golden on the outside, and tender and gooey on the inside. Ready in less than 30 minutes!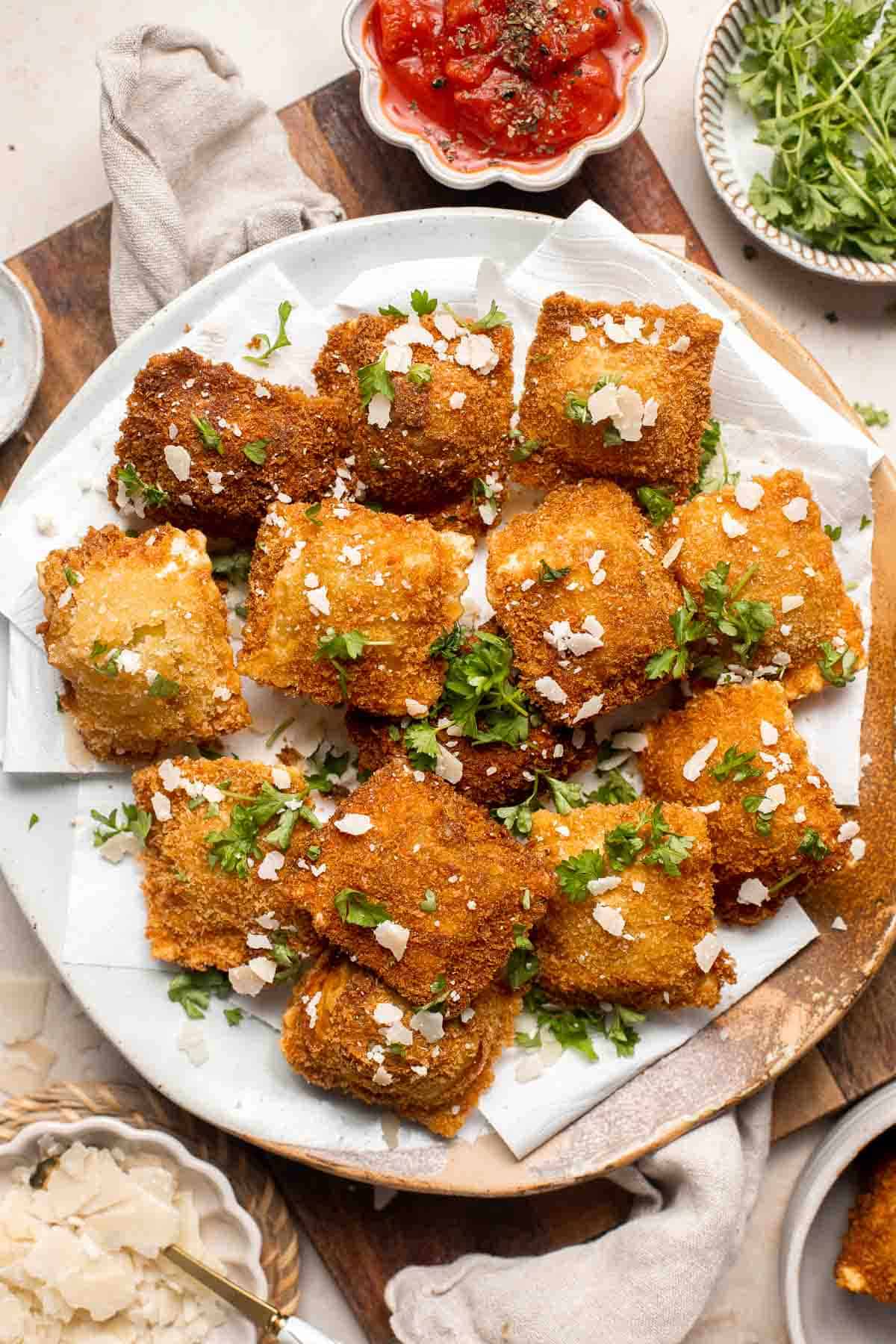 Cacio e pepe is a simple, authentic Italian pasta dish made with just four ingredients in 20 minutes. It's delicious, flavourful and easy to make.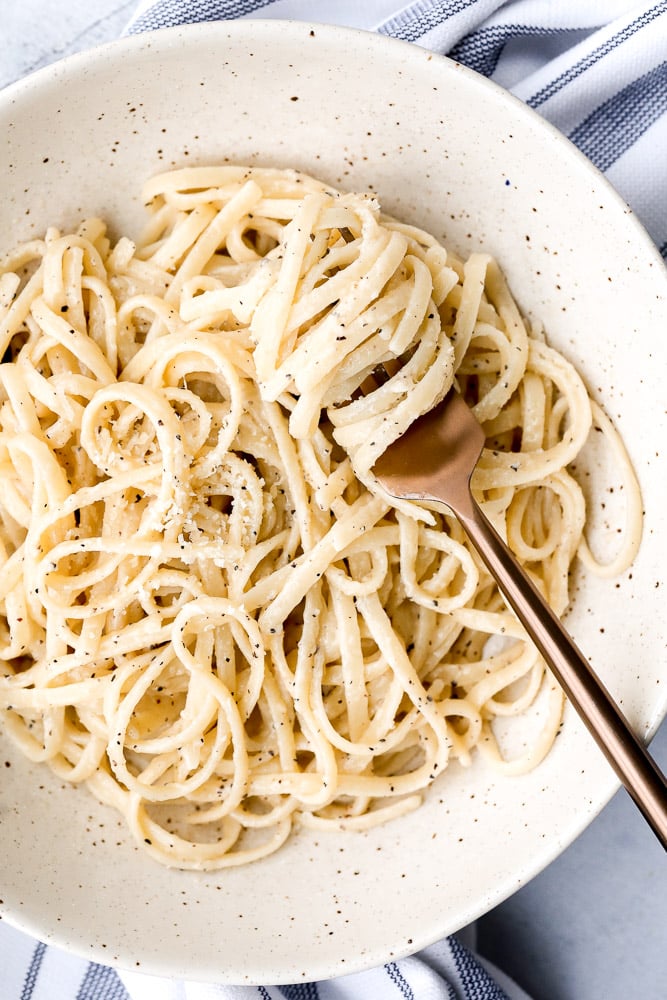 Tomato and Mozzarella Caprese Salad
Quick and easy tomato and mozzarella caprese salad is a fresh, light, and delicious summer salad, made with just a few simple ingredients in 10 minutes.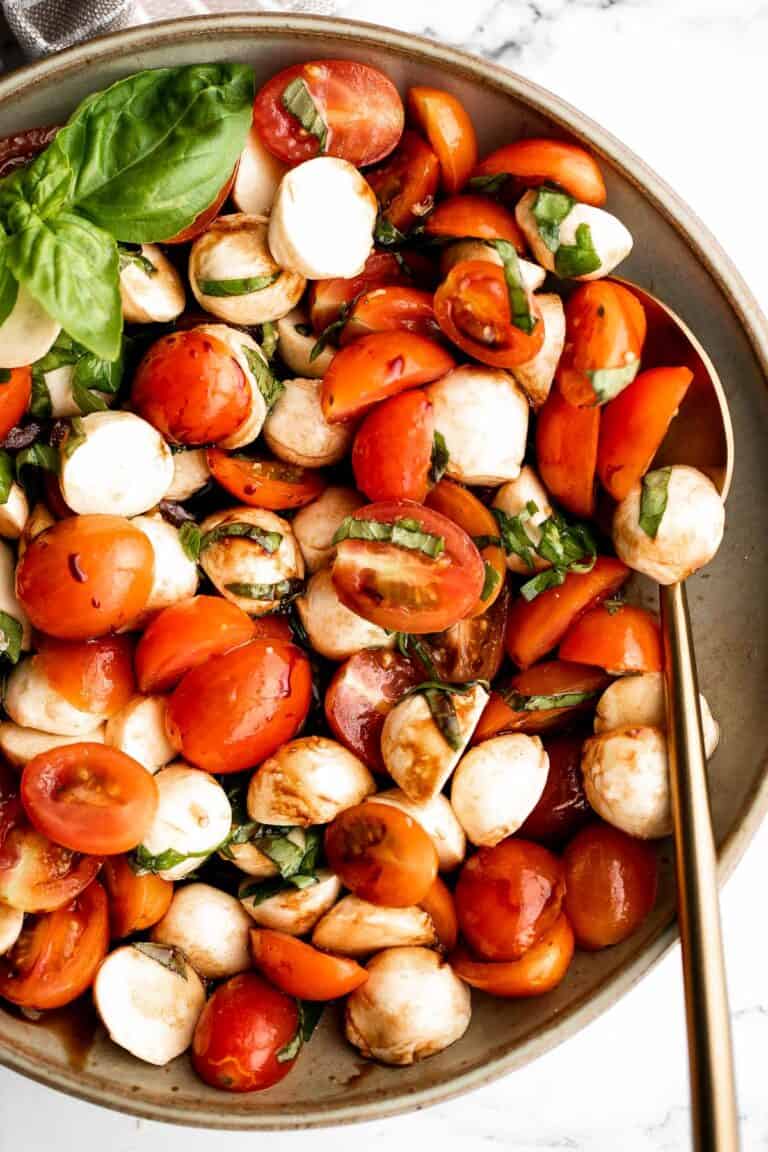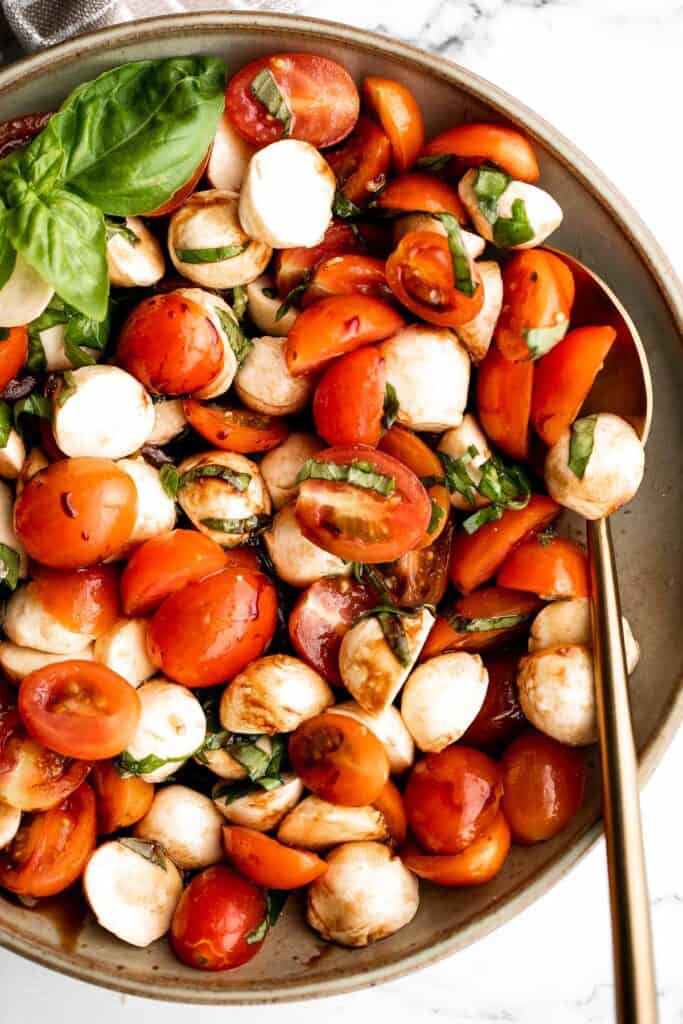 Salami and Mushroom Skillet Pizza
Easy salami and mushroom skillet pizza with a crispy pizza crust, mushrooms, salami, and fresh mozzarella is ready on the skillet in about 10 minutes.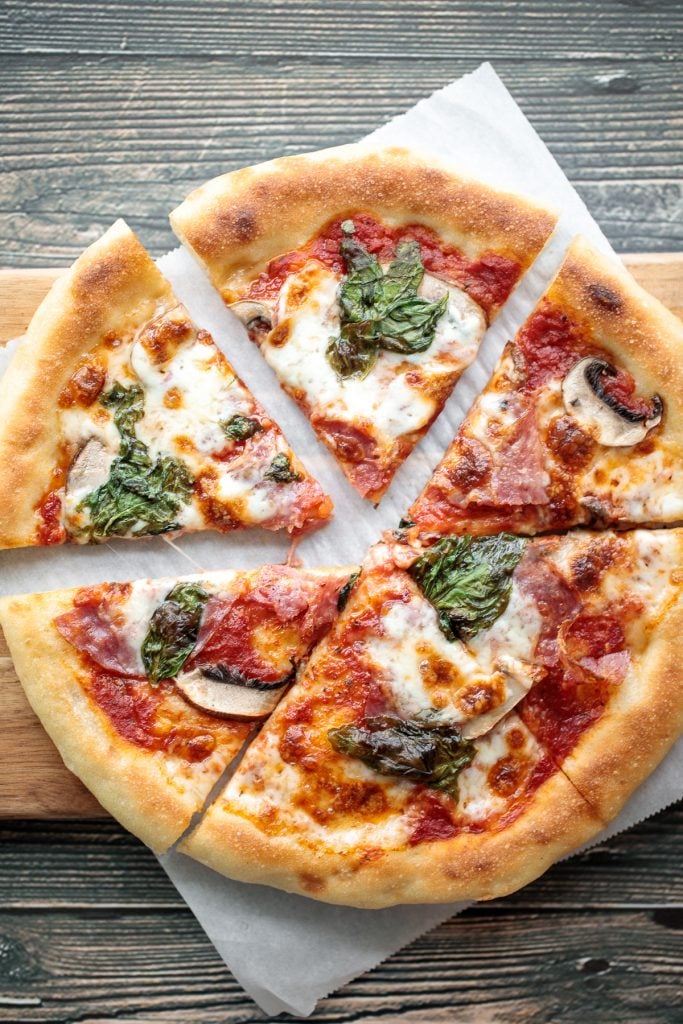 Creamy Chicken Roulade with Spinach and Mushrooms
Give your chicken breasts an upgrade by stuffing them to make fancy, juicy chicken roulade with spinach and mushrooms topped with a creamy alfredo sauce. Serve it over spaghetti alfredo with spinach and mushrooms.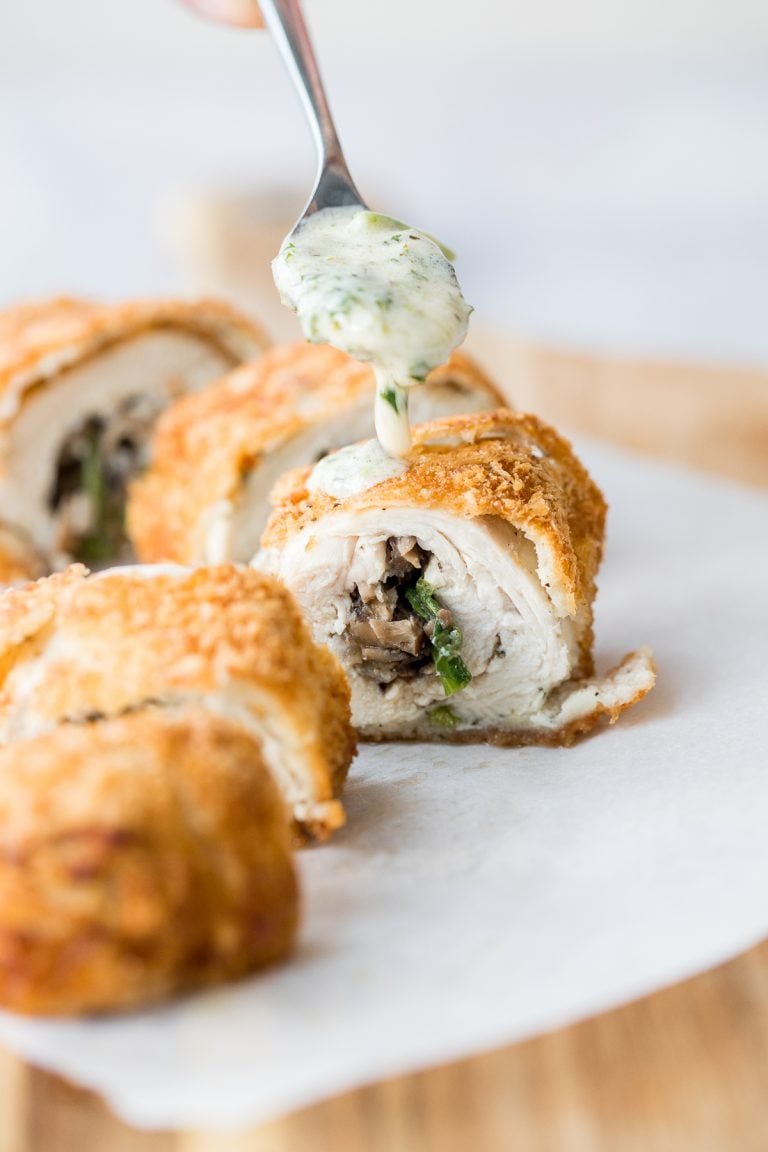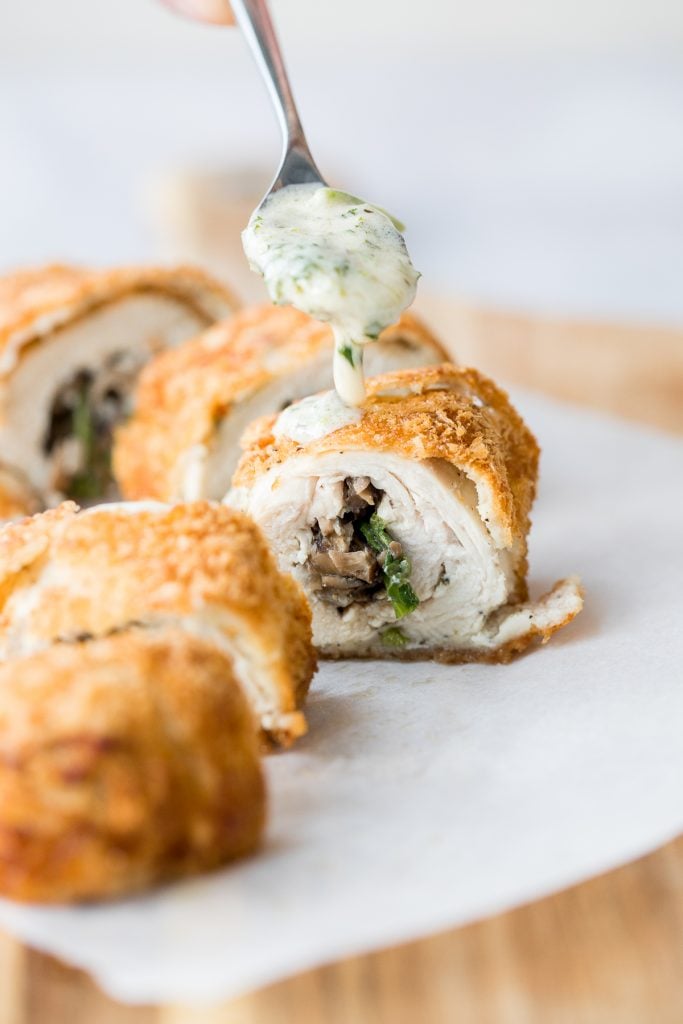 Creamy spaghetti carbonara (Spaghetti a la Carbonara) is a simple classic Italian pasta with pancetta that's quick and easy to make in minutes.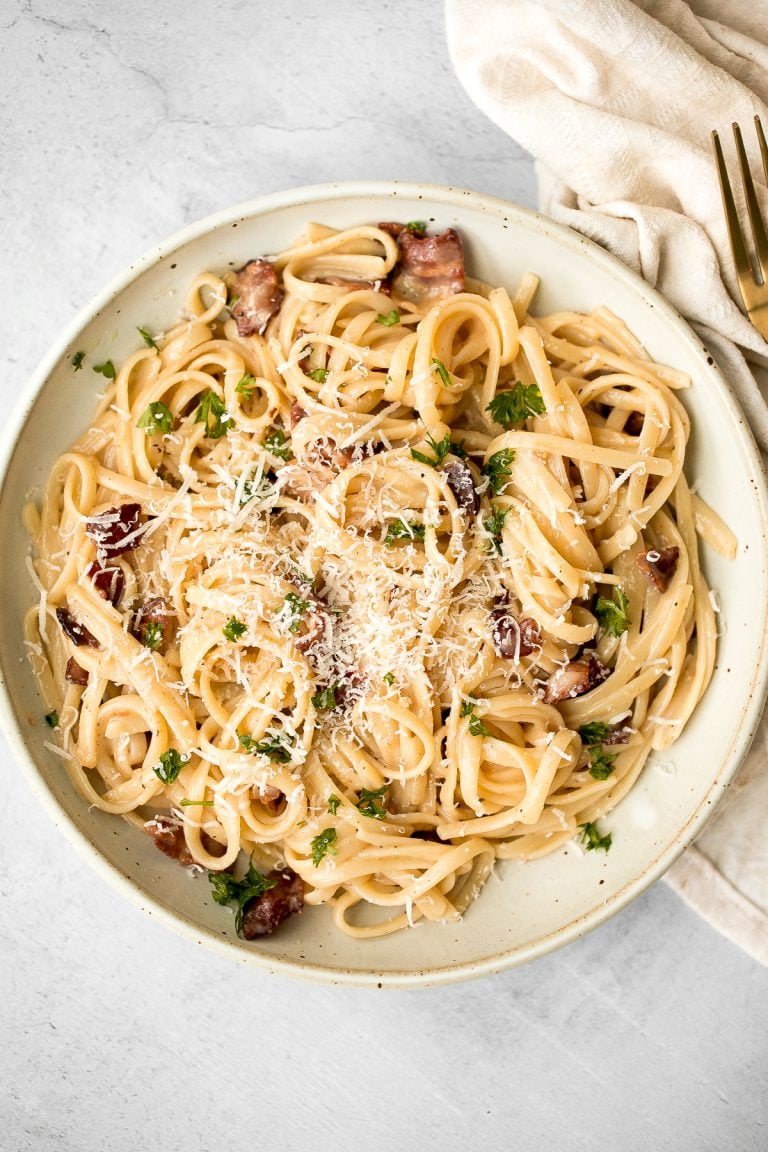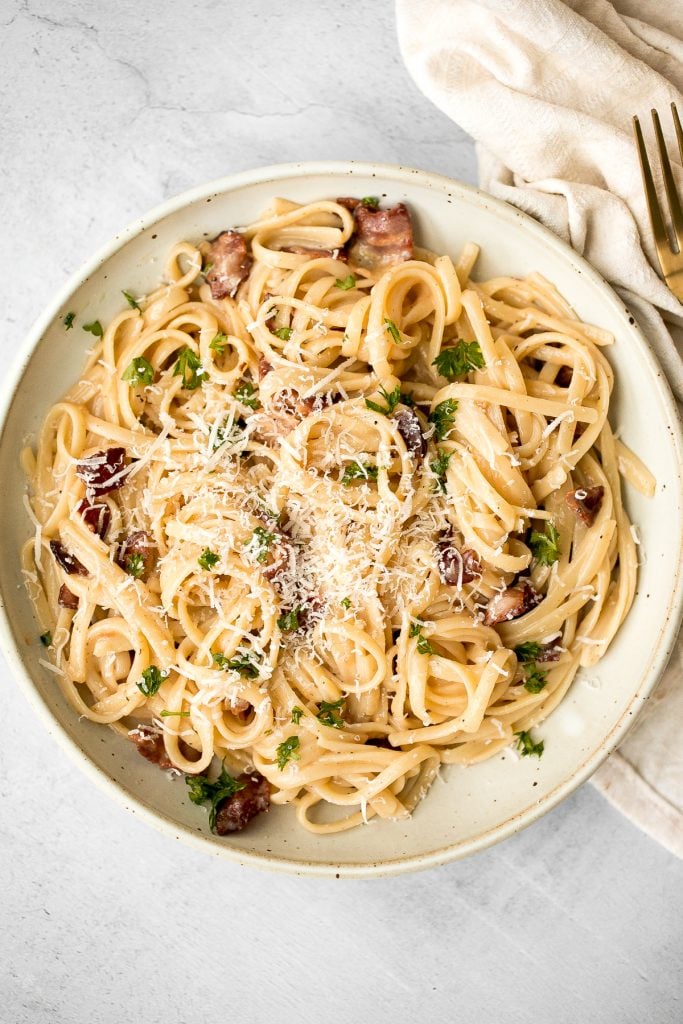 Baked caprese chicken is tender, juicy, and delicious, topped with burst tomatoes, mozzarella cheese, fresh basil, and a drizzle of balsamic glaze.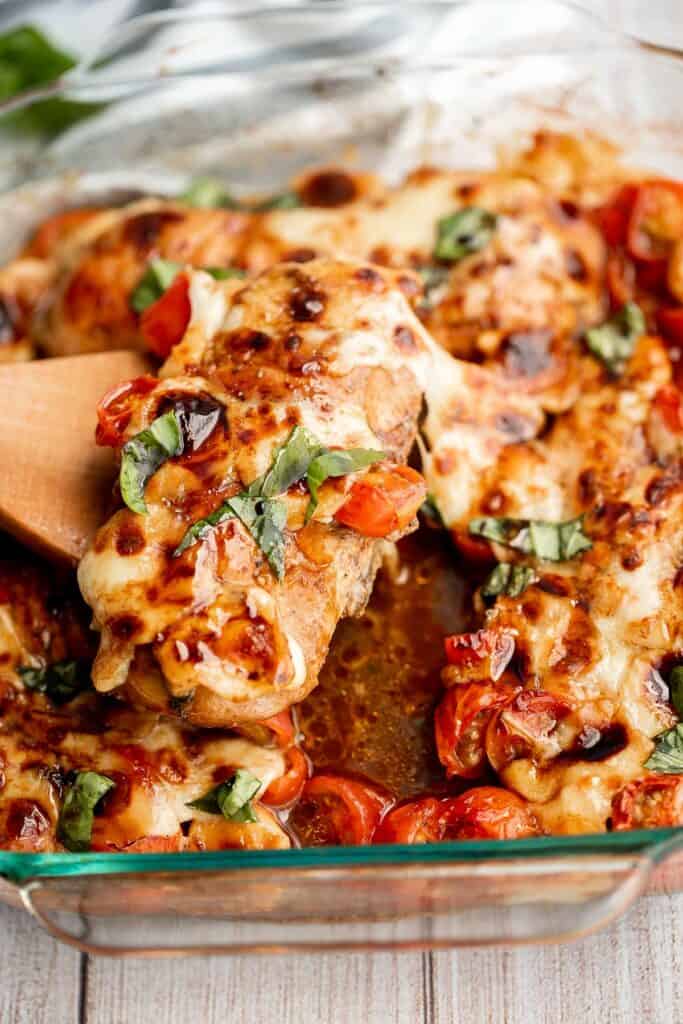 Easy small batch ciabatta rolls are fluffy and airy with a perfect crunchy, crackly crust. They take only 10 minutes to prepare and require no kneading. These are the most popular bread recipe on our entire site!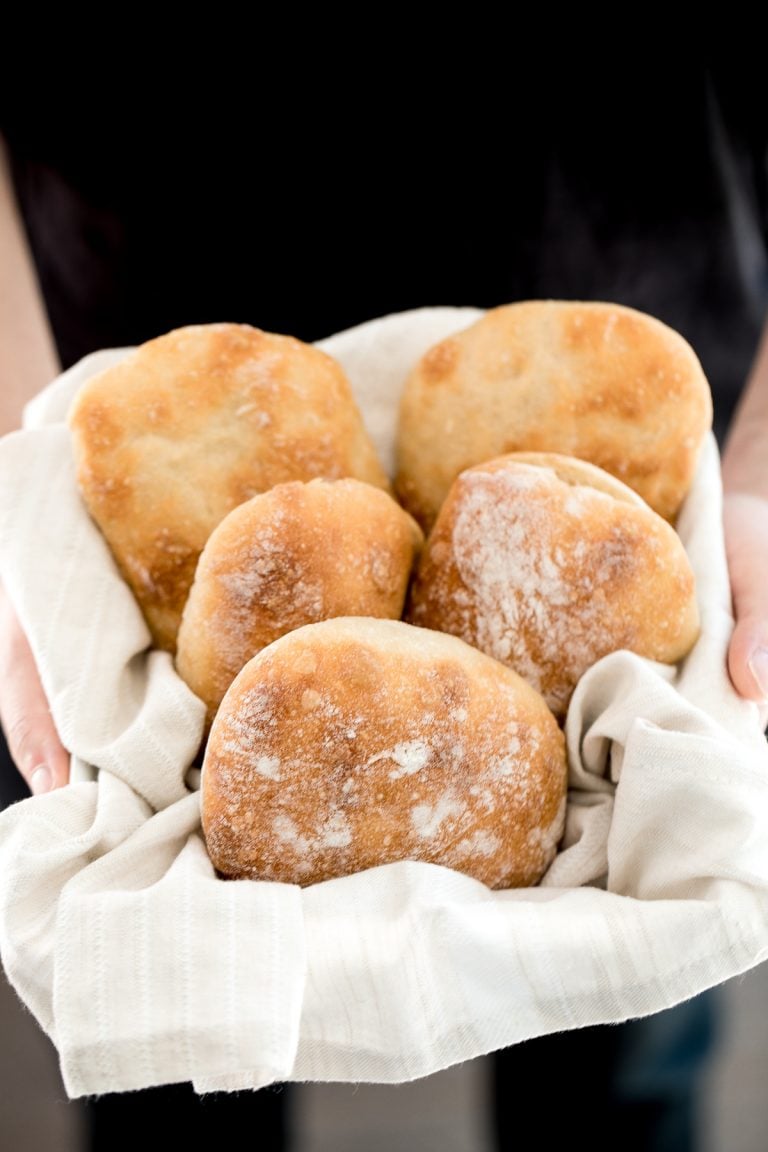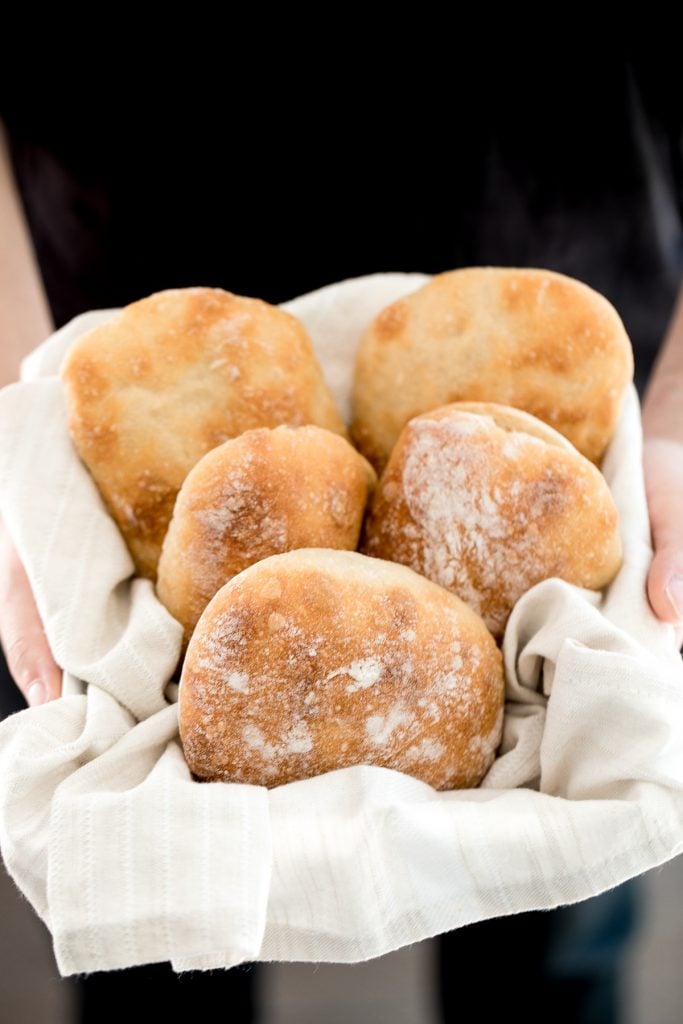 Creamy Pesto Chicken is a quick and easy 30 minute meal that needs to be on your family weeknight dinner rotation. It's rich, creamy, and delicious.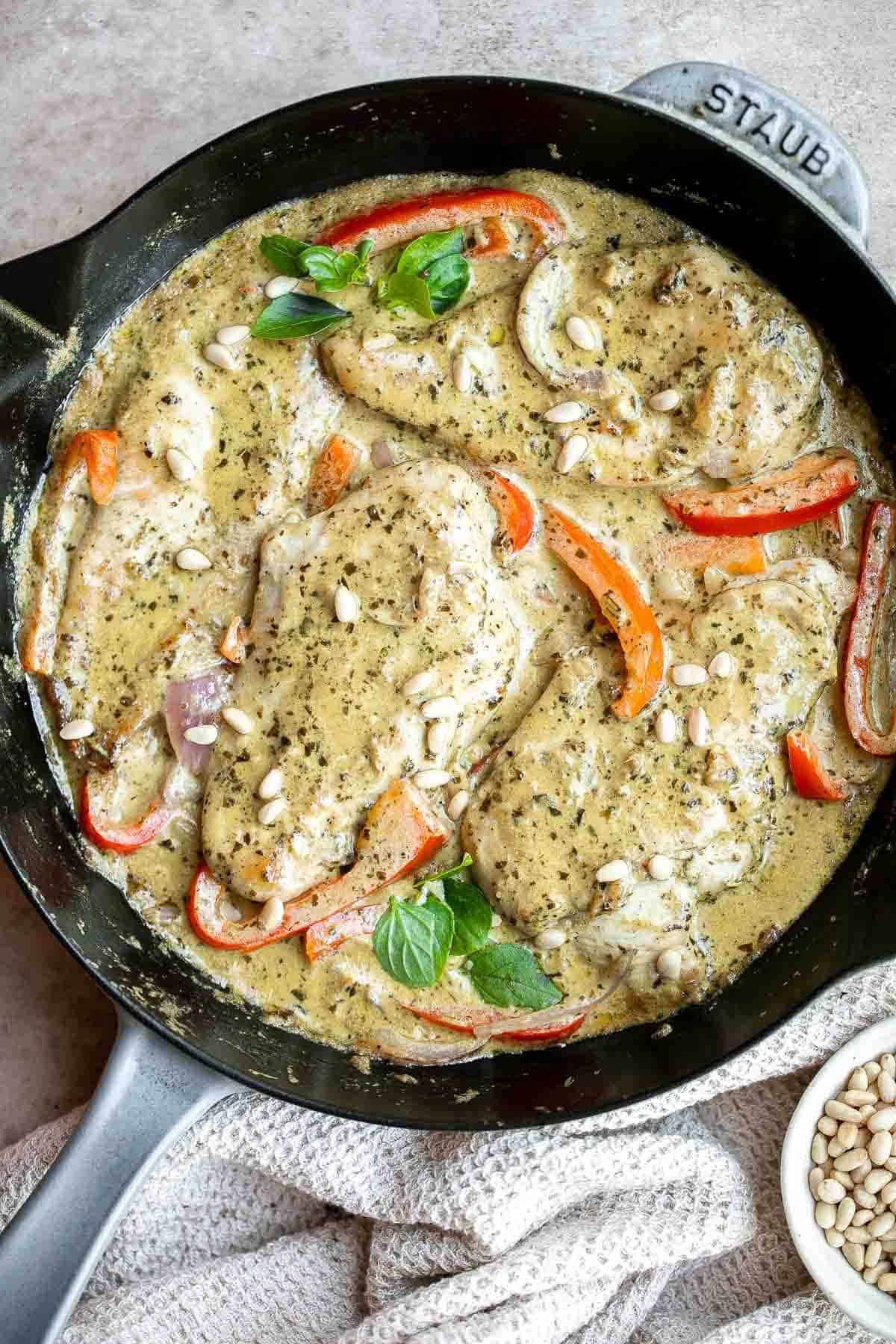 Creamy Mushroom Tagliatelle Pasta is a quick and easy, restaurant-worthy vegetarian dinner that is ready in just 30 minutes! Elevated comfort food at home.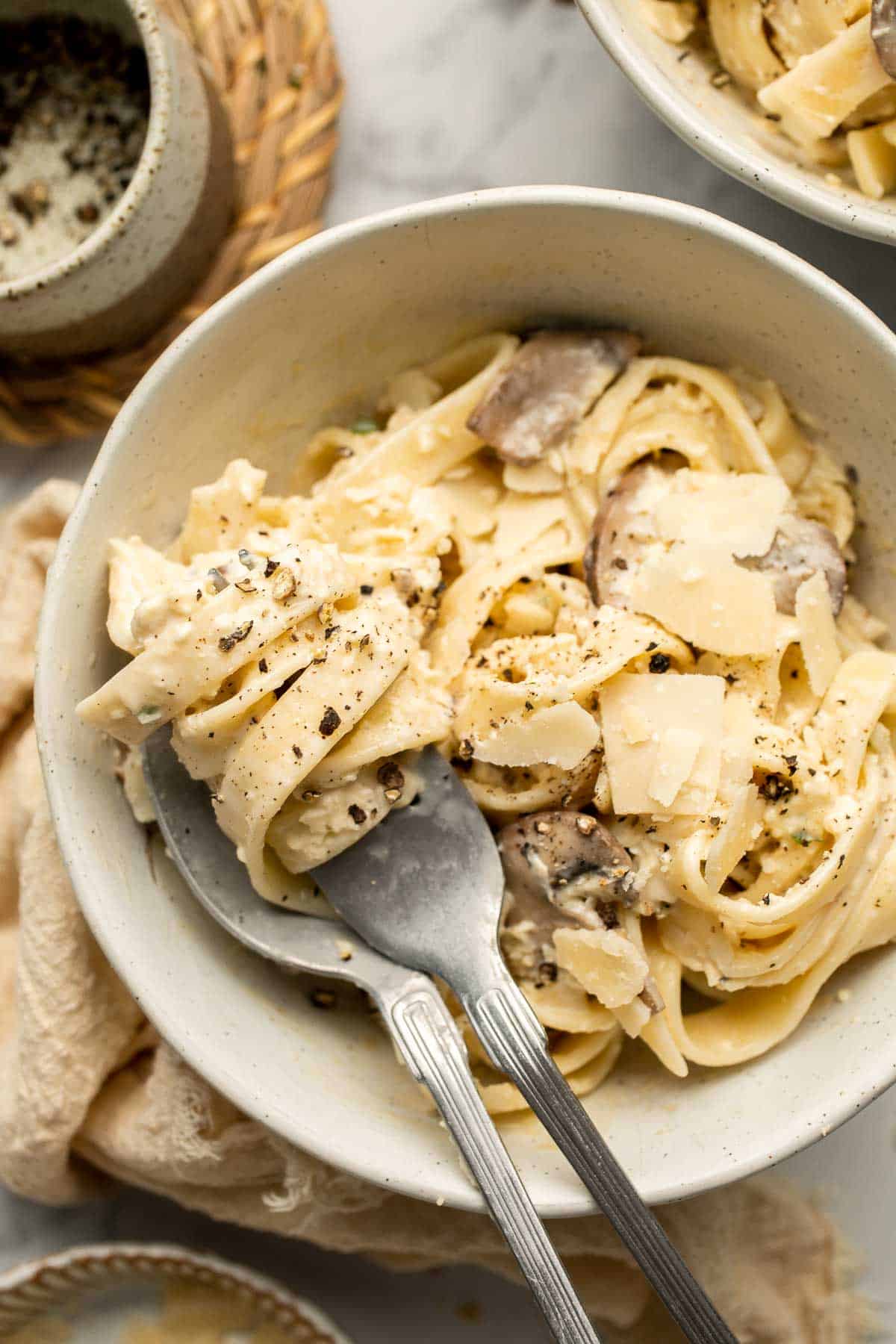 Baked Feta Pasta is a quick and easy weeknight dinner recipe that is creamy, delicious, and flavorful — the whole family will love this Tiktok pasta!
Turkey Tetrazzini with Spinach
Creamy tetrazzini with spinach is a simple, easy and delicious pasta recipe that is comforting, creamy and cheesy. The recipe used turkey, but you can easily substitute it with leftover chicken or a storebought rotisserie chicken instead.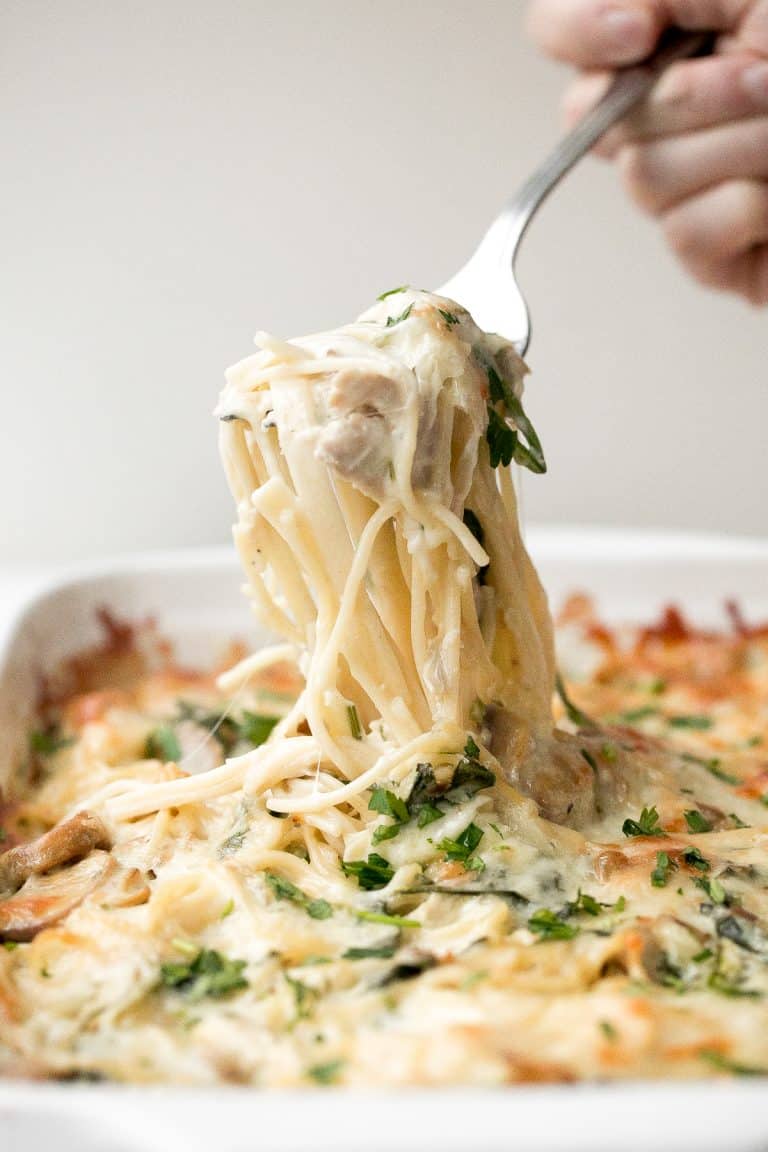 Smooth, hearty and light, one pot lemon chicken orzo soup is pure comfort in a bowl. This family favourite is like chicken noodle soup with a major upgrade.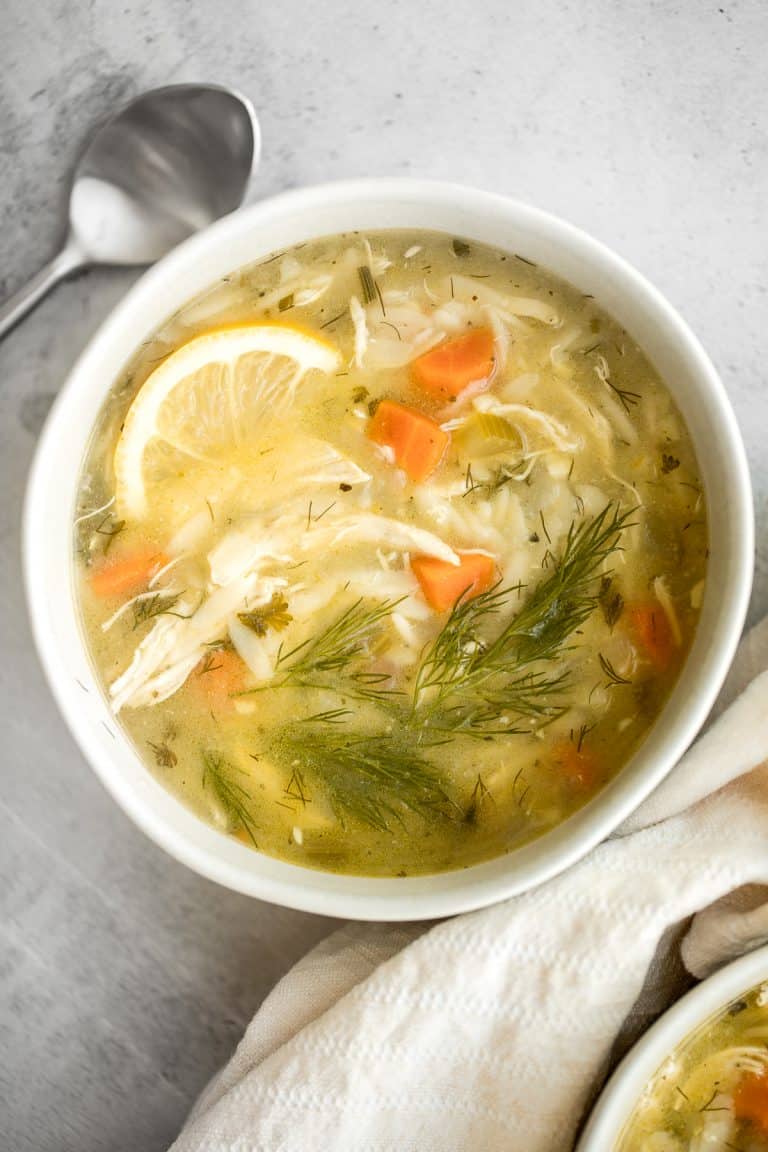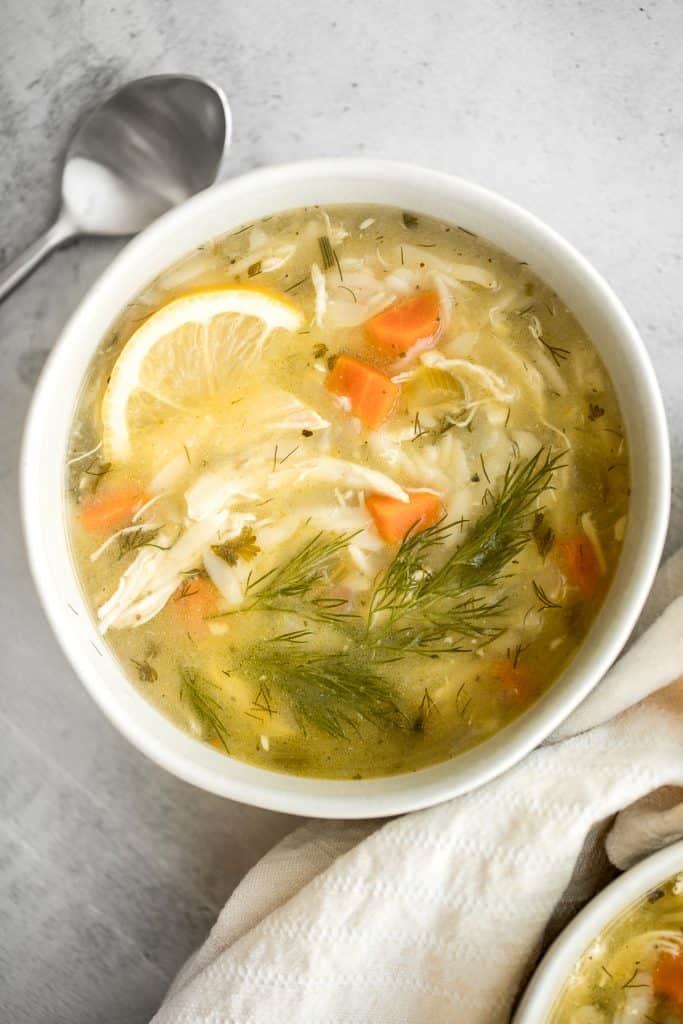 Classic Roman Herbed Potato Pizza
Easy and simple yet flavourful classic Roman herbed potato pizza has a crispy thin crust with layers of tender potato tossed in olive oil and herbs.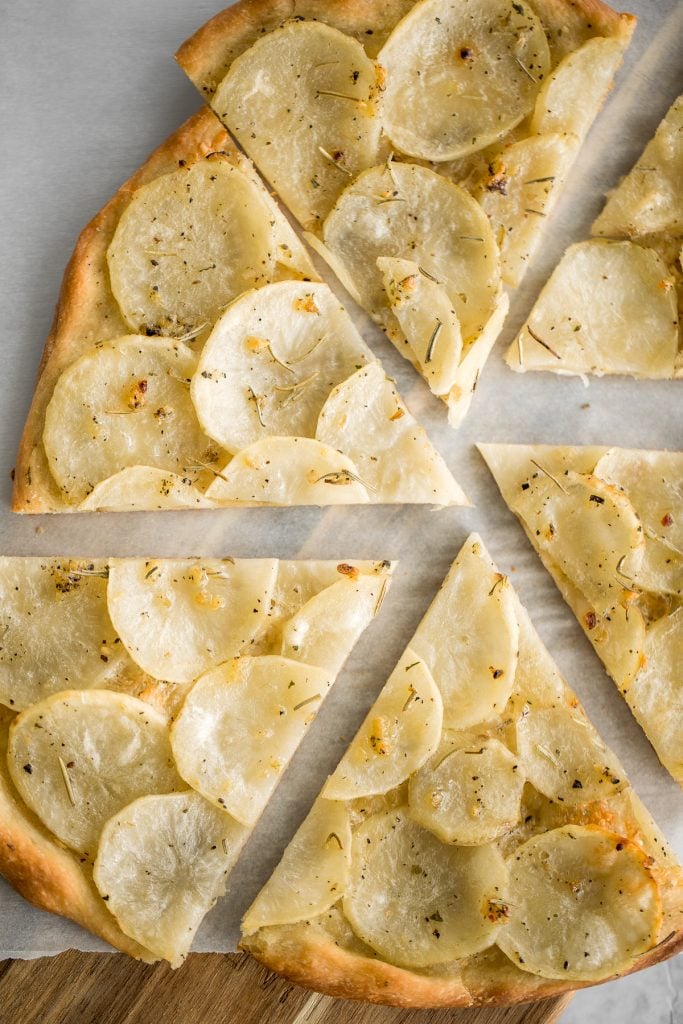 Bright and colorful caprese pasta salad is the ultimate summer side dish. It's fresh, light, and loaded with vibrant summer flavors. Quick and easy too!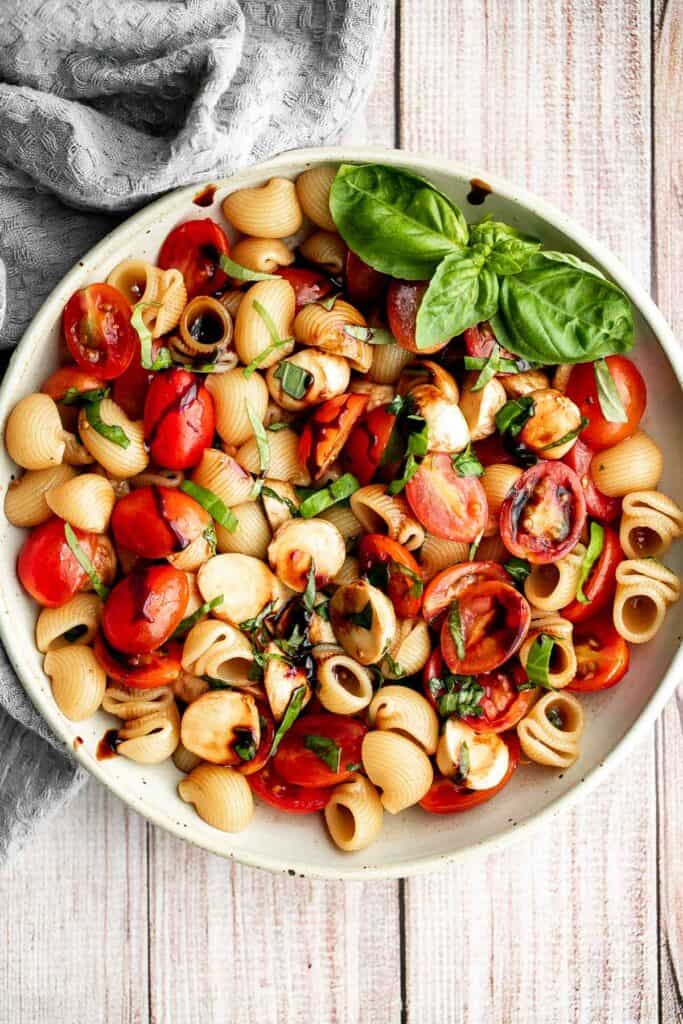 Vegetarian stuffed mushrooms are a delicious, flavorful, healthy, and nutritious appetizer. Plus, quick and easy to make in under 30 minutes including prep!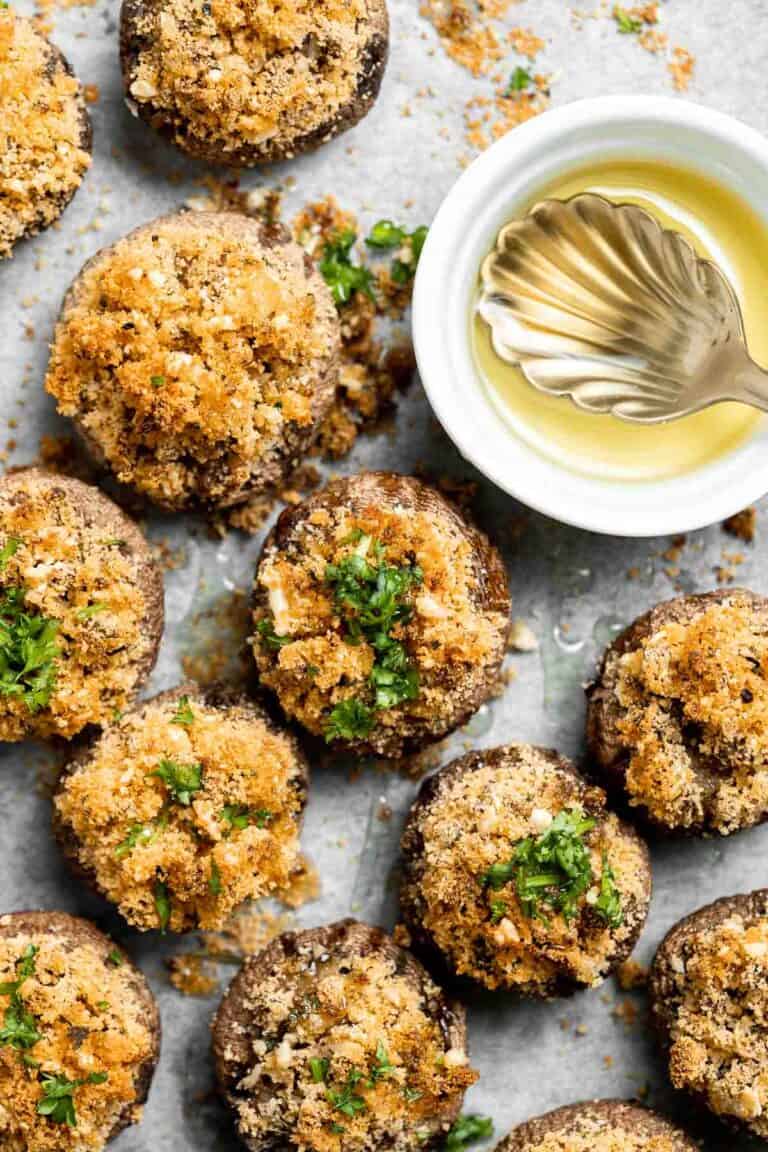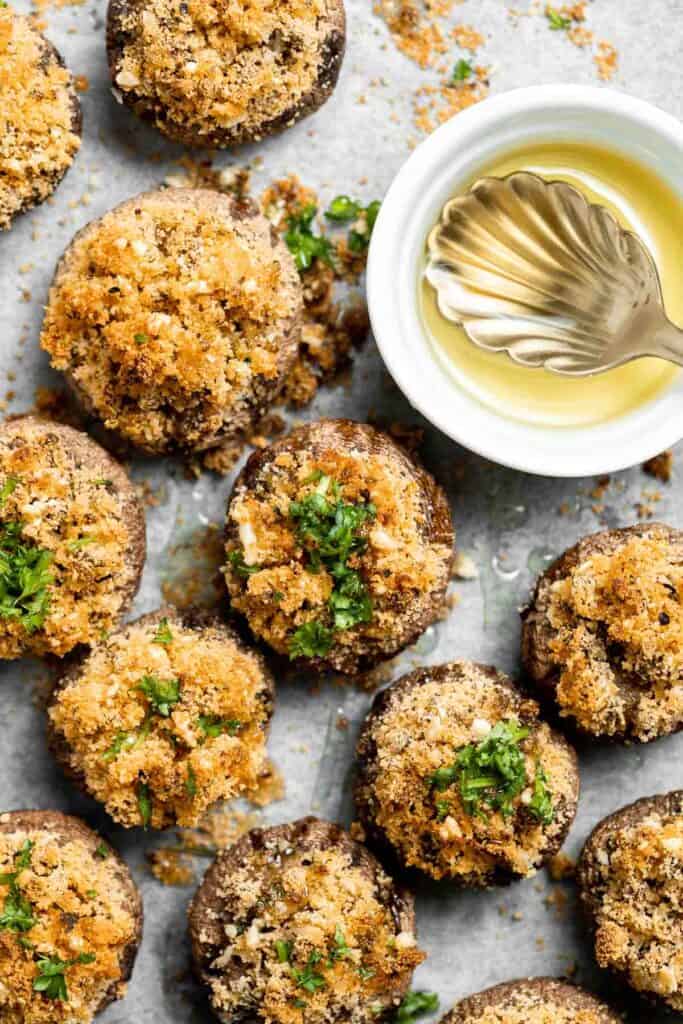 Baked parmesan crusted chicken is breaded in a herby parmesan breadcrumb mixture and baked until crispy perfection. So flavourful and delicious.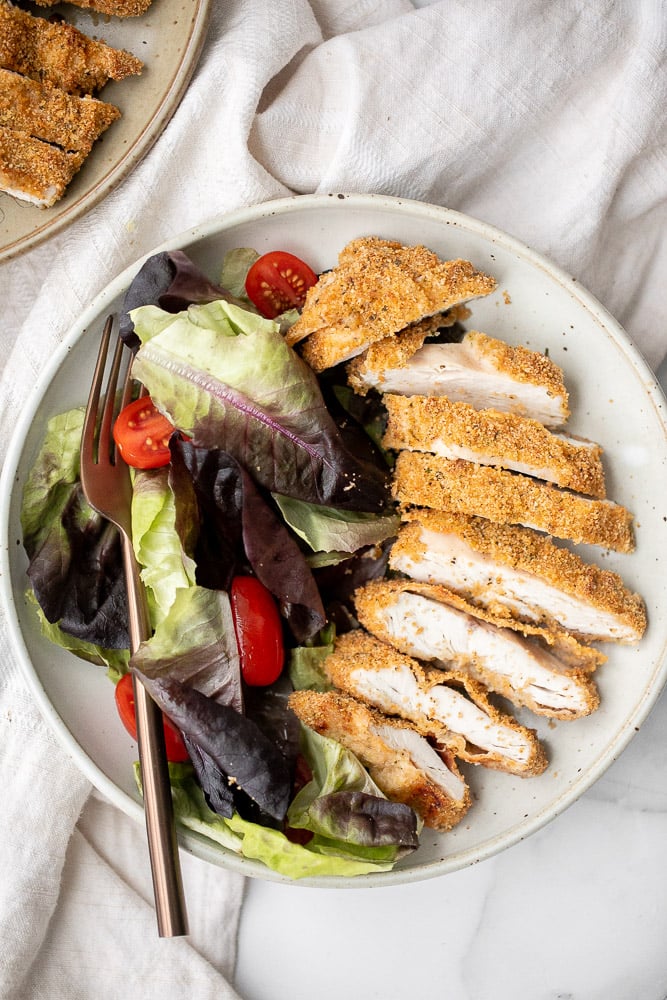 Cheesy Tortellini and Sausage Bake
Quick and easy, cheesy tortellini and sausage bake is a delicious 30-minute dinner packed with flavour. A family-favourite comfort food for busy weeknights.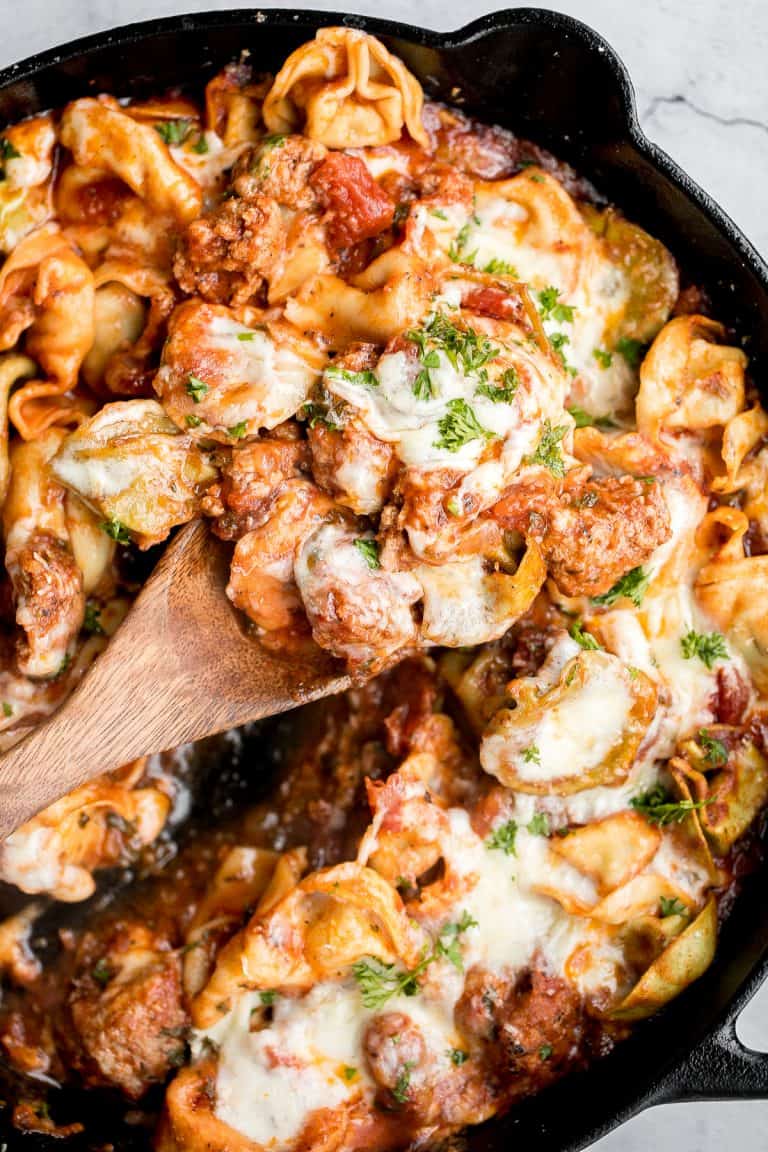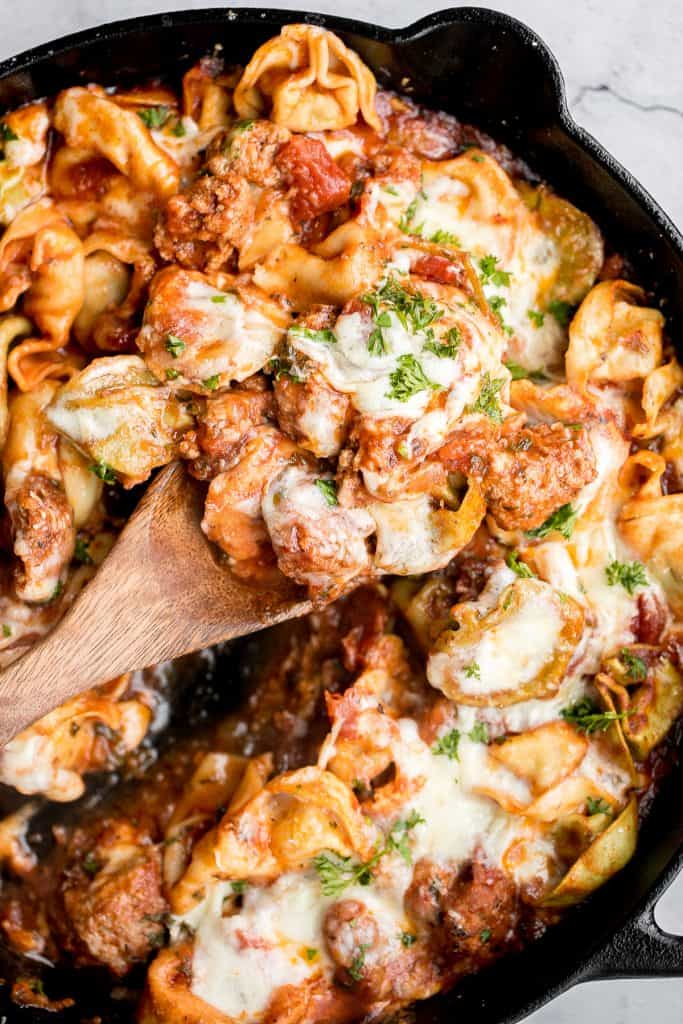 Whipped ricotta crostini is a fancy easy appetizer to make in just minutes or prepare in advance and assemble before serving. A total crowd pleaser.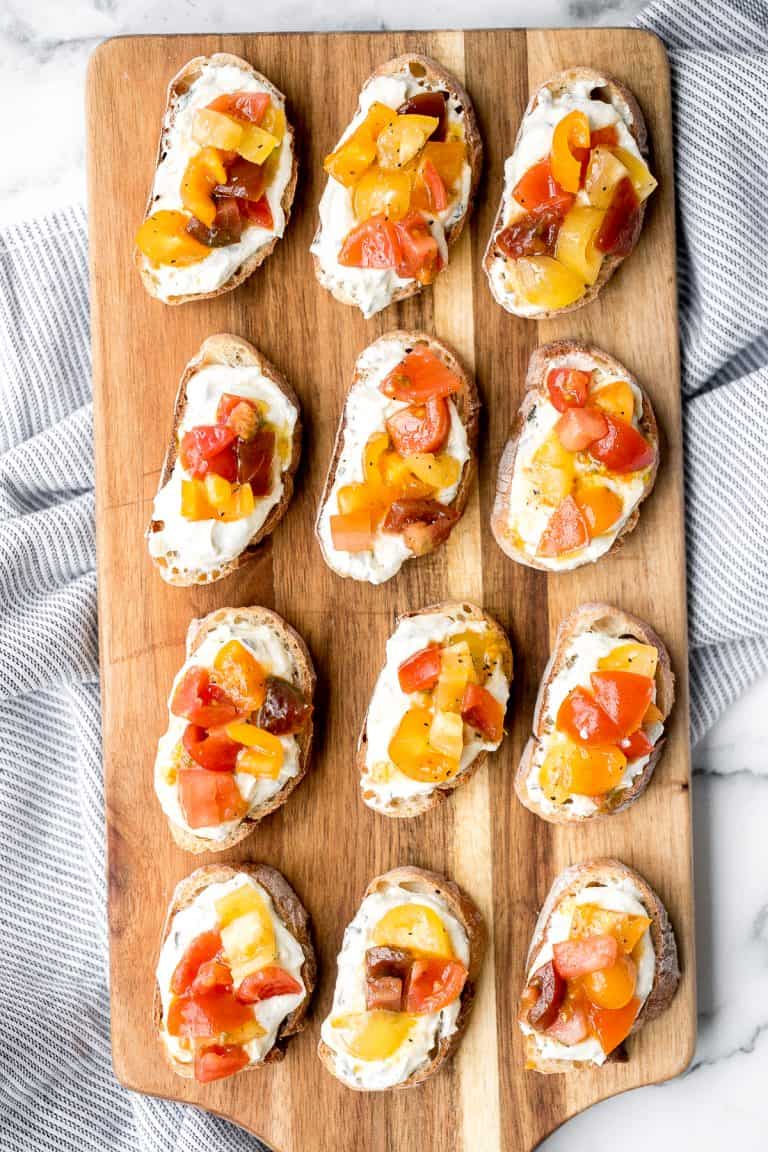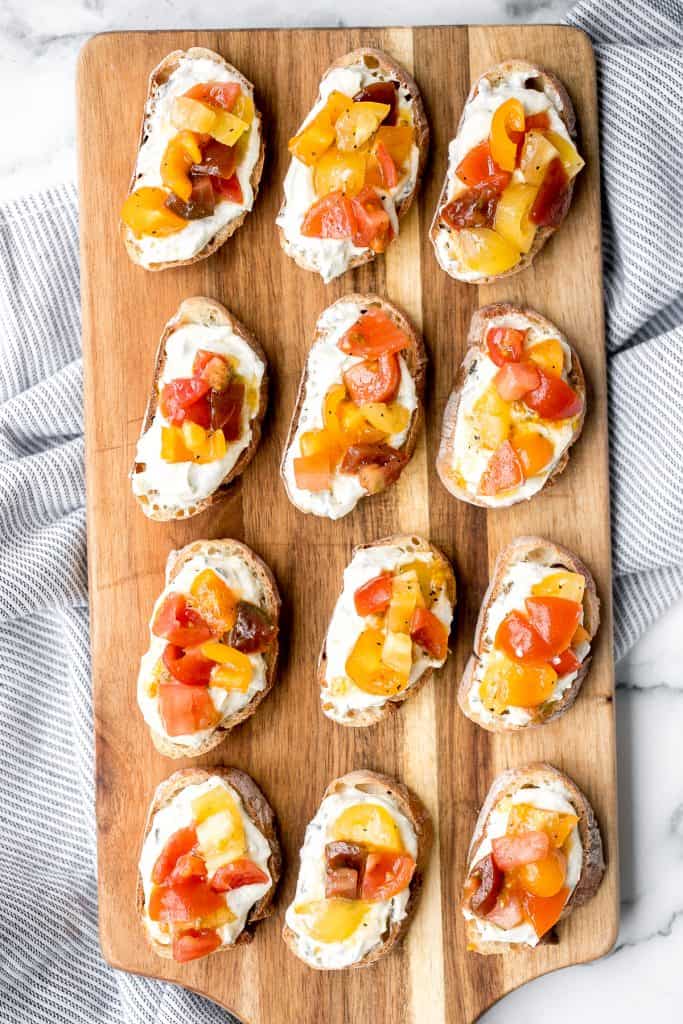 Mediterranean Orzo Pasta Salad
Quick and easy Mediterranean orzo pasta salad packed with fresh vegetables and herbs is tossed in a Greek lemon vinaigrette. Healthy, light and delicious.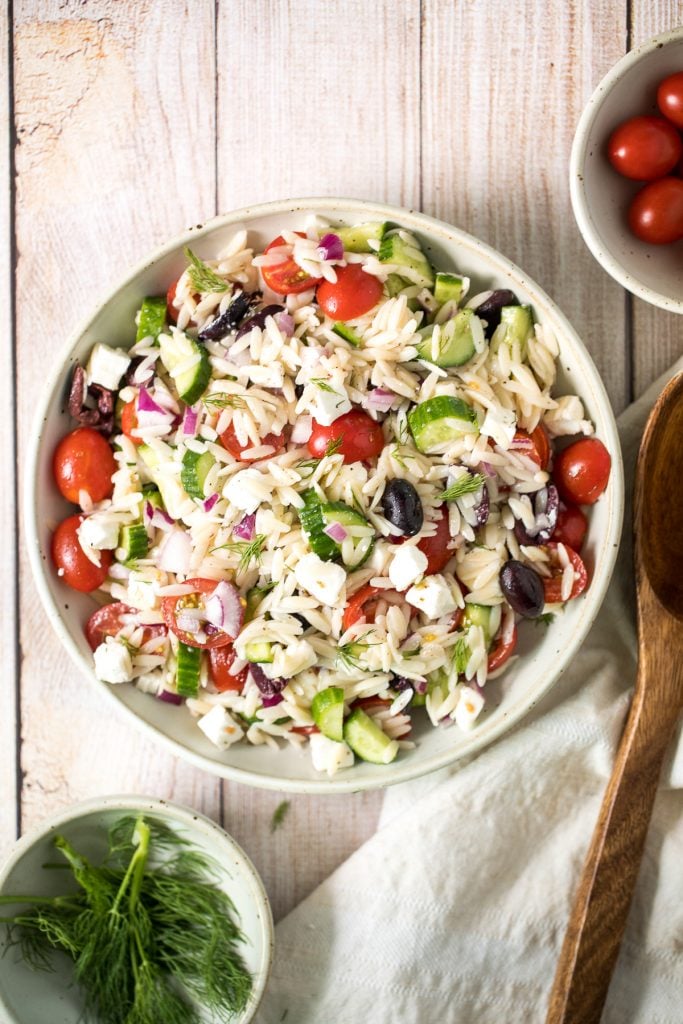 Garlic knots are fluffy on the inside, crispy on the outside, and topped with delicious savory garlic herbed butter that will have you begging for more.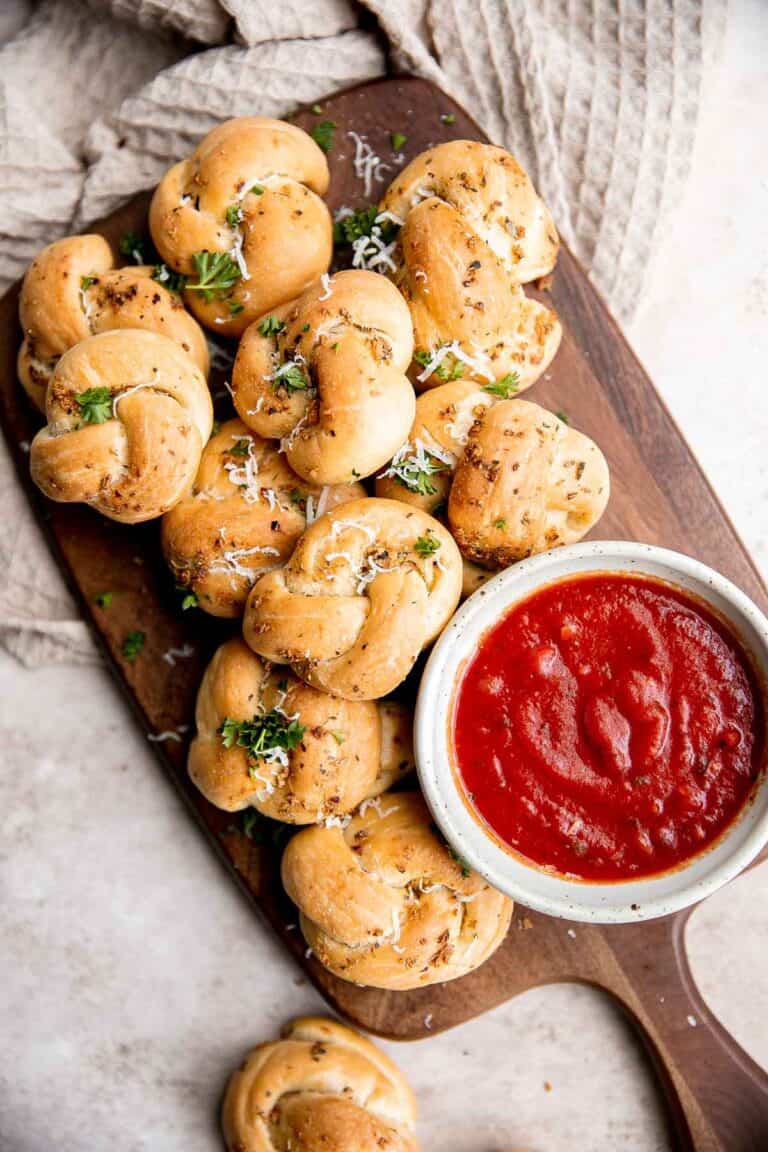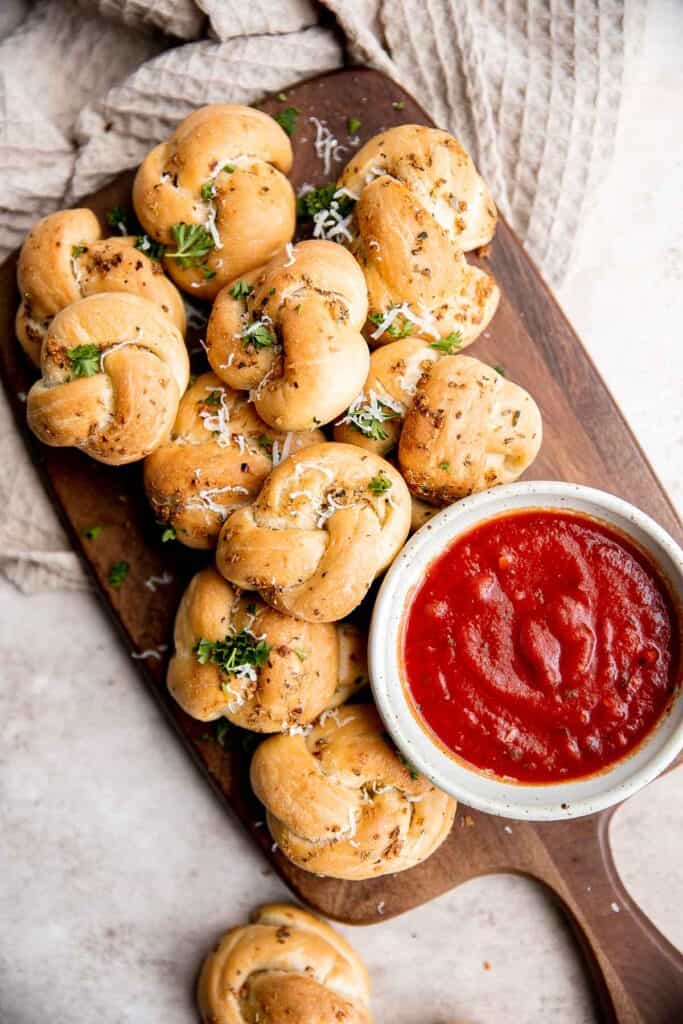 Creamy lemon parmesan chicken is a simple, quick and easy 30-minute meal that is packed with flavour. The most comforting and easiest weeknight dinner.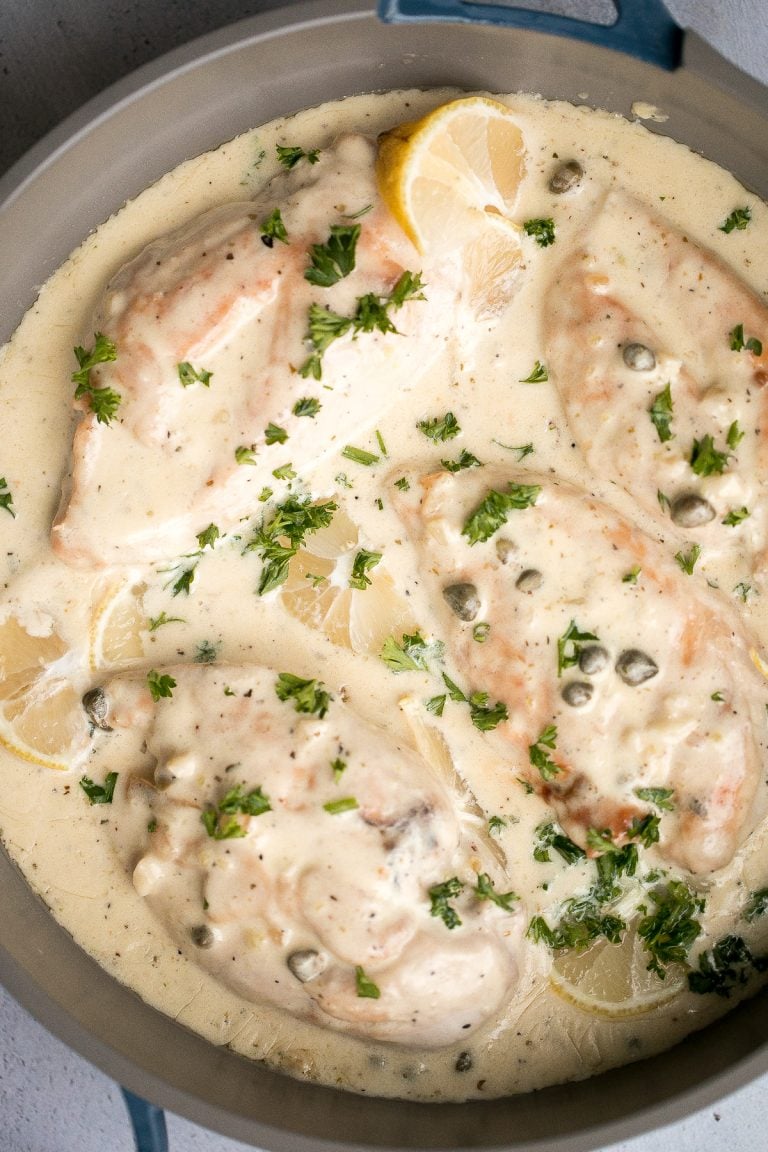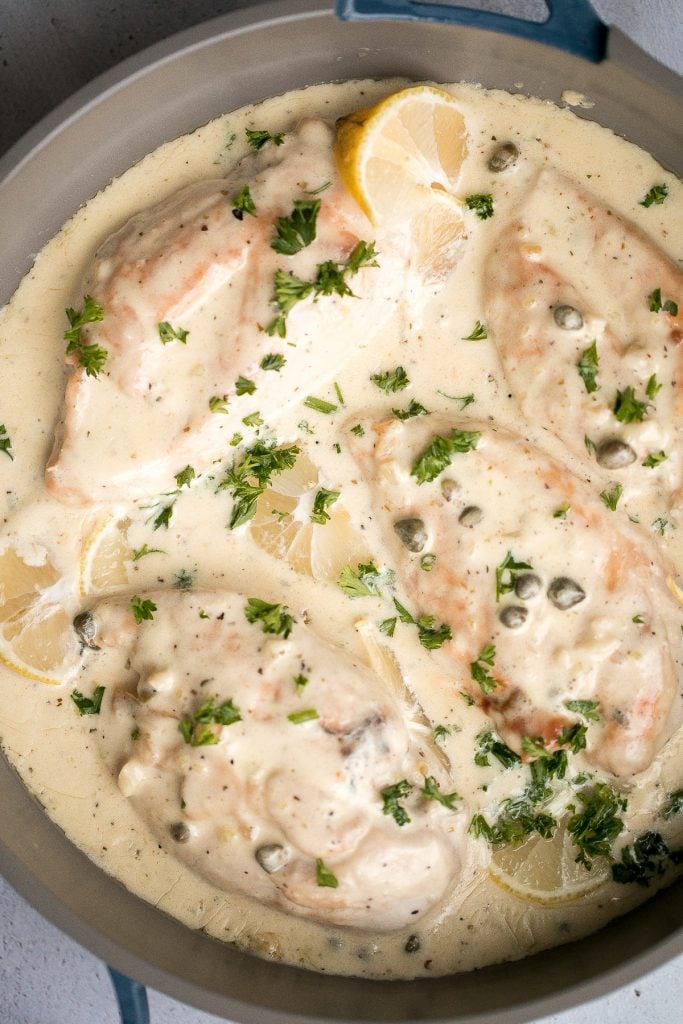 Lasagna roll ups are a twist on traditional lasagna. Lasagna noodles are filled with cheese and meat sauce and rolled up. Make ahead and freezer-friendly!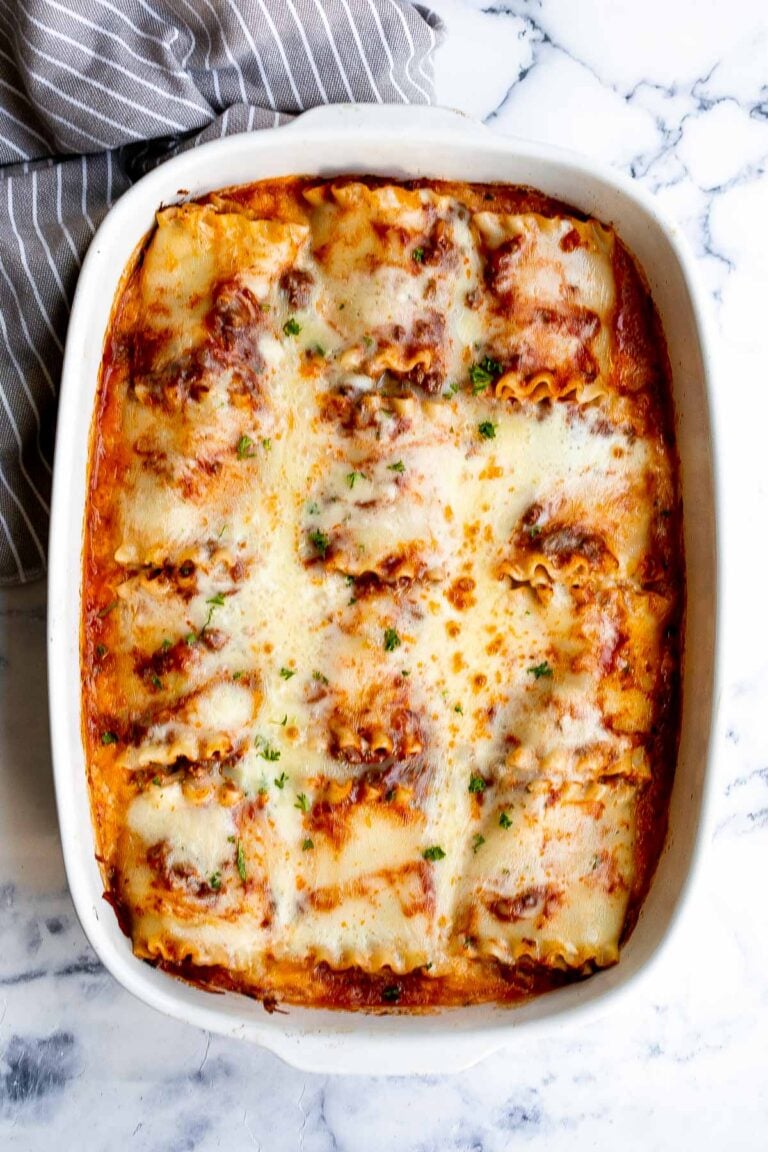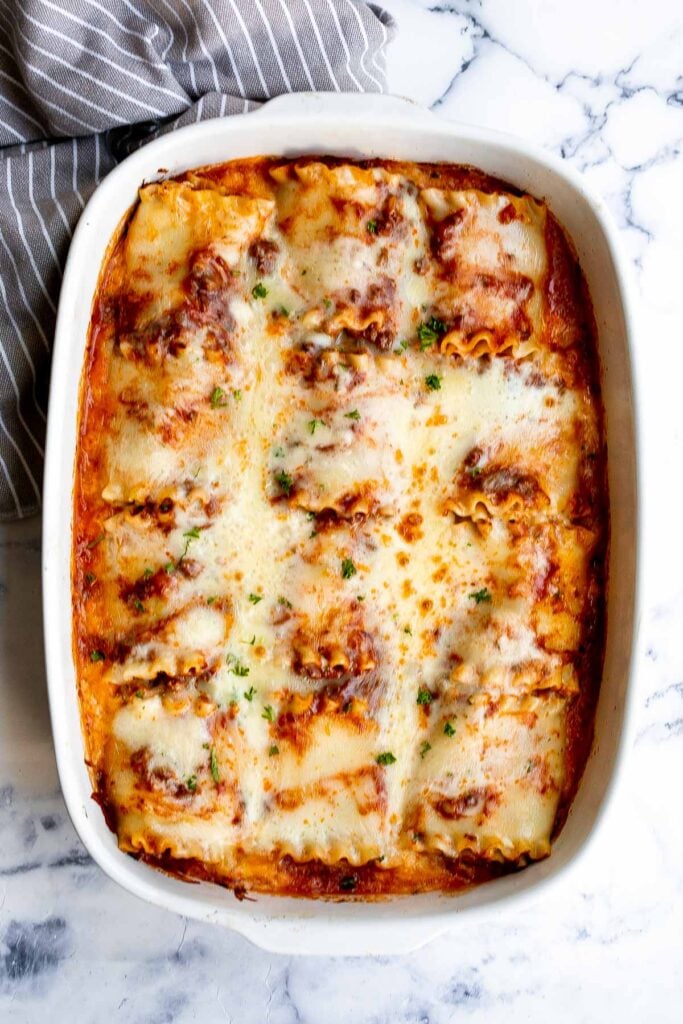 If you're a fan of spinach artichoke dip, you need to try this spinach artichoke pasta. It's quick and easy comfort food is ready in under 30 minutes.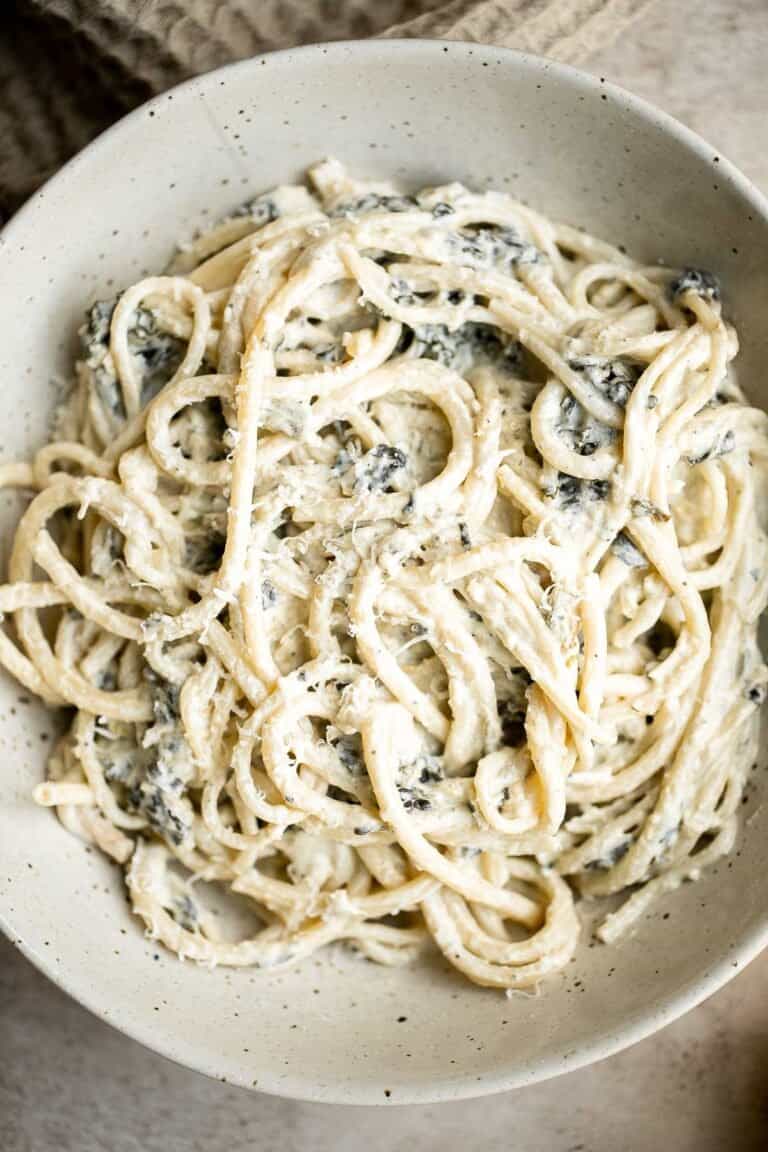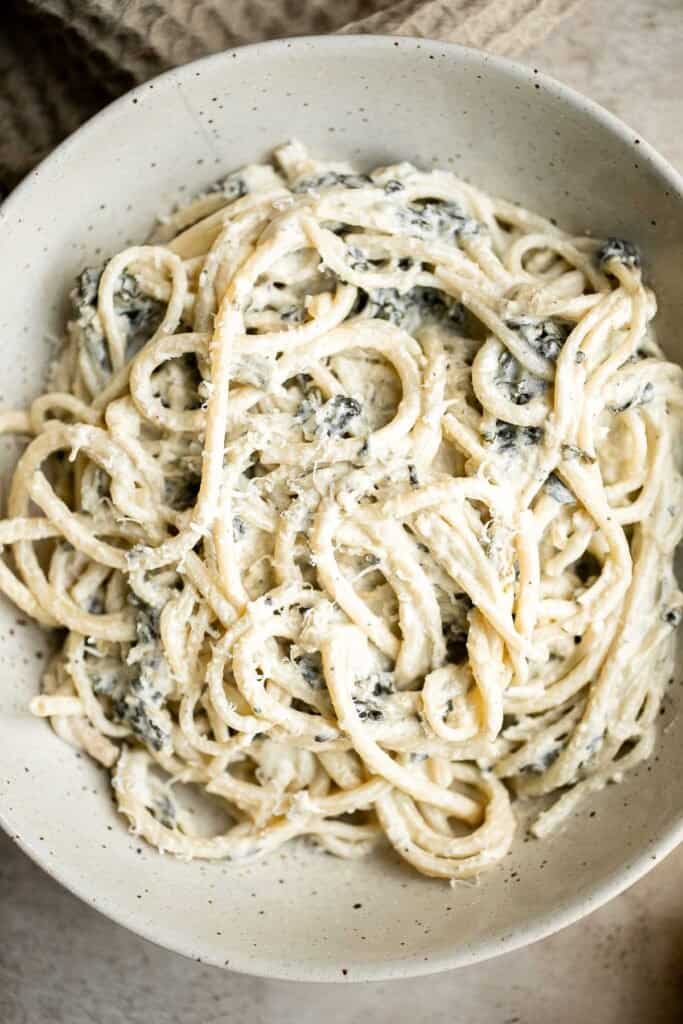 No Knead Tomato Focaccia Bread
Easy no knead tomato focaccia is so flavourful, packed with olive oil, tomatoes and fresh herbs. It's crispy and golden outside, fluffy and pillowy inside.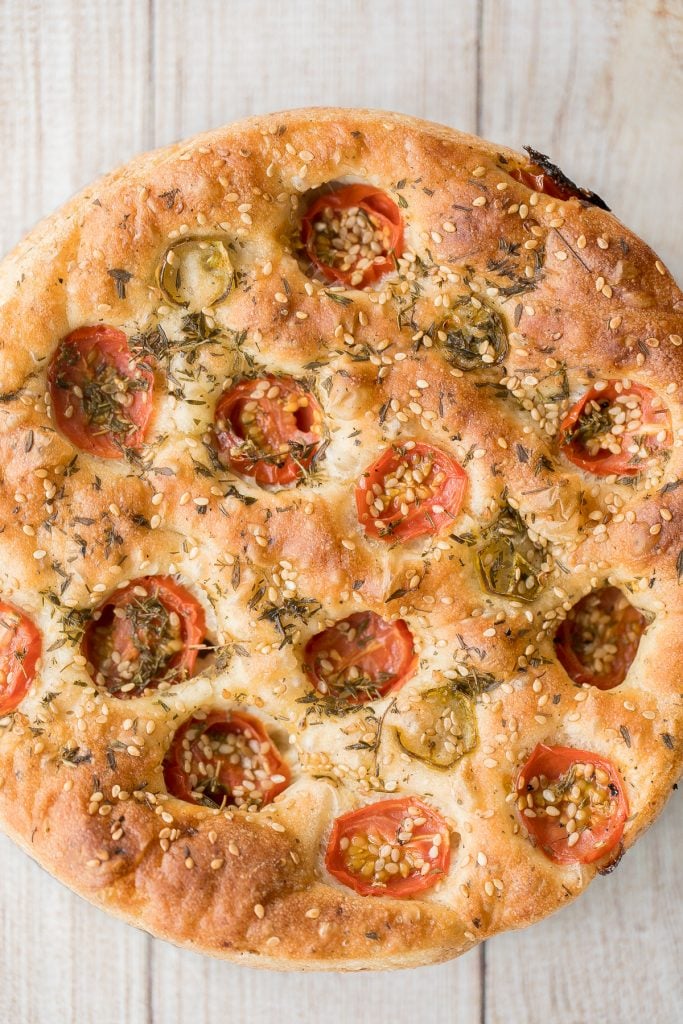 Baked Ravioli is simple delicious comfort food that is perfect for a weeknight family dinner or for entertaining. It's hearty, comforting, and kid-friendly.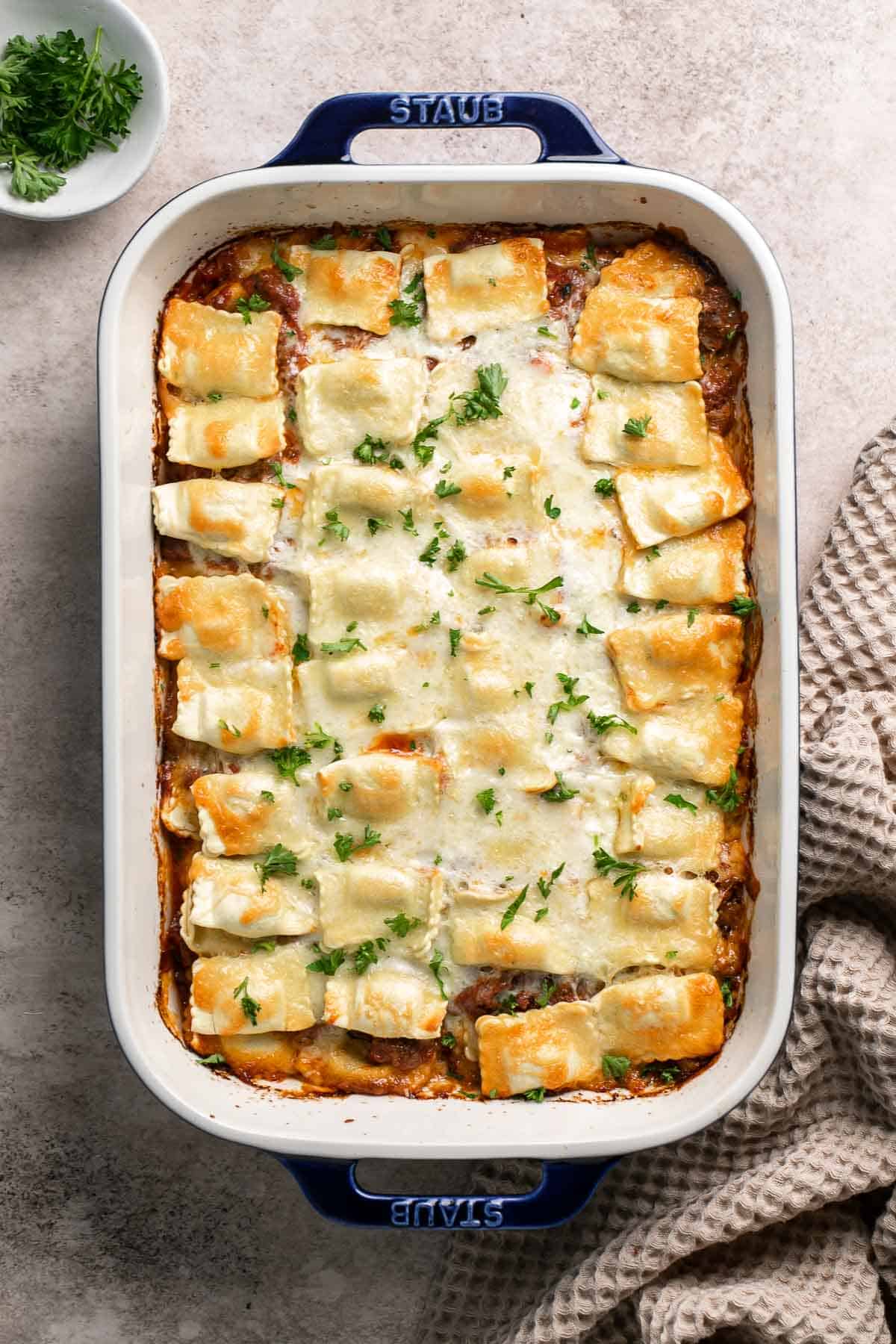 Quick and easy spaghetti and meatballs is delicious, rich, comforting with tender beef meatballs simmered in a savoury tomato sauce. Make it in 30 minutes.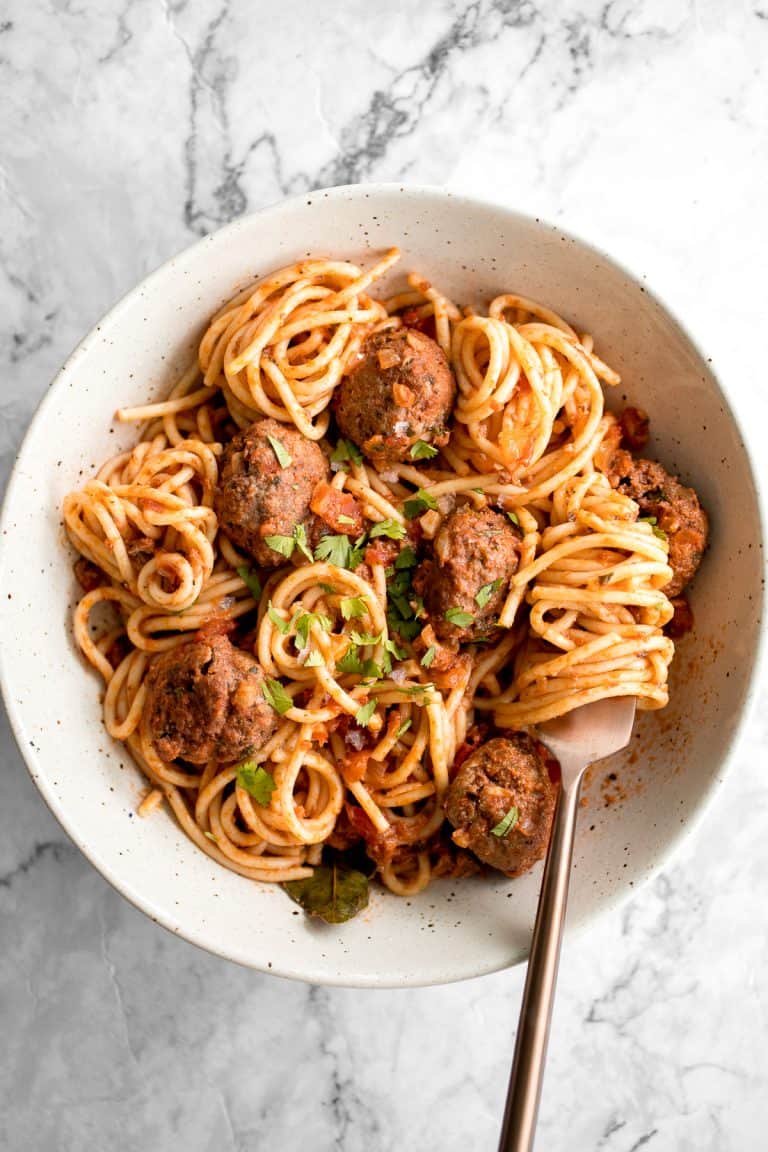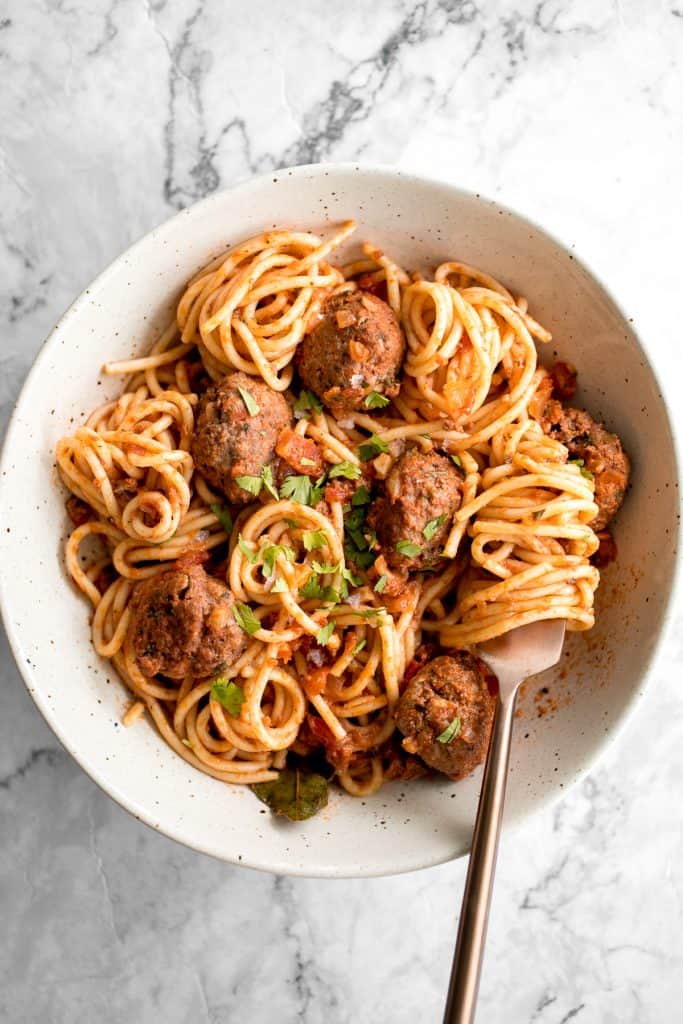 More Popular Recipes
Did You Make Any of These Italian Recipes?
Please leave a comment and rating below, and let me know what you thought of this round up of the best Italian recipes. Be sure to snap a picture and tag me on Instagram @aheadofthyme or share it on the Pinterest pin so that I can follow along.
HUNGRY FOR MORE? Don't forget to sign up for my email newsletter so that you don't miss any recipes. You can also follow along on Instagram and Pinterest for more recipe updates.
Print
Recipe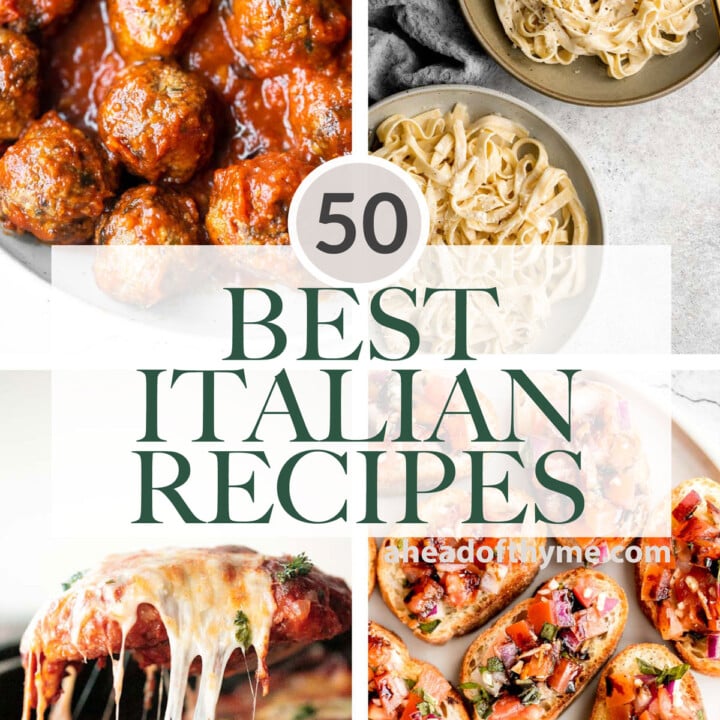 50 Best Italian Recipes
---
Author:

Total Time:

25 minutes

Yield:

4-6 servings
Description
Over 50 popular best Italian recipes including comforting pasta, pizza, soup, salad, chicken, beef, appetizers, bread, and more delicious Italian food!
---
Refer to each individual recipe for full ingredients and recipe instructions.
---
Instructions
Pick a recipe you want to make.
Gather and prep the ingredients.
Make the recipe according to recipe instructions.
Prep Time:

10 minutes

Cook Time:

15 minutes

Category:

Italian

Method:

Various

Cuisine:

Italian
Keywords: 50 best italian recipes, best italian recipes, italian recipes, italian food for dinner, italian food, italian dinner recipes