When it comes to an epic Easter dinner spread, it's all about the main course. Whether you are going for a traditional baked holiday ham to feed a crowd, or looking for delicious Easter recipes for a smaller intimate gathering, we have got you covered. We are sharing over 40 of our most popular and best Easter mains dishes that go beyond ham but of course including ham, turkey, chicken, lamb, beef, pork, and more Easter mains and entrees.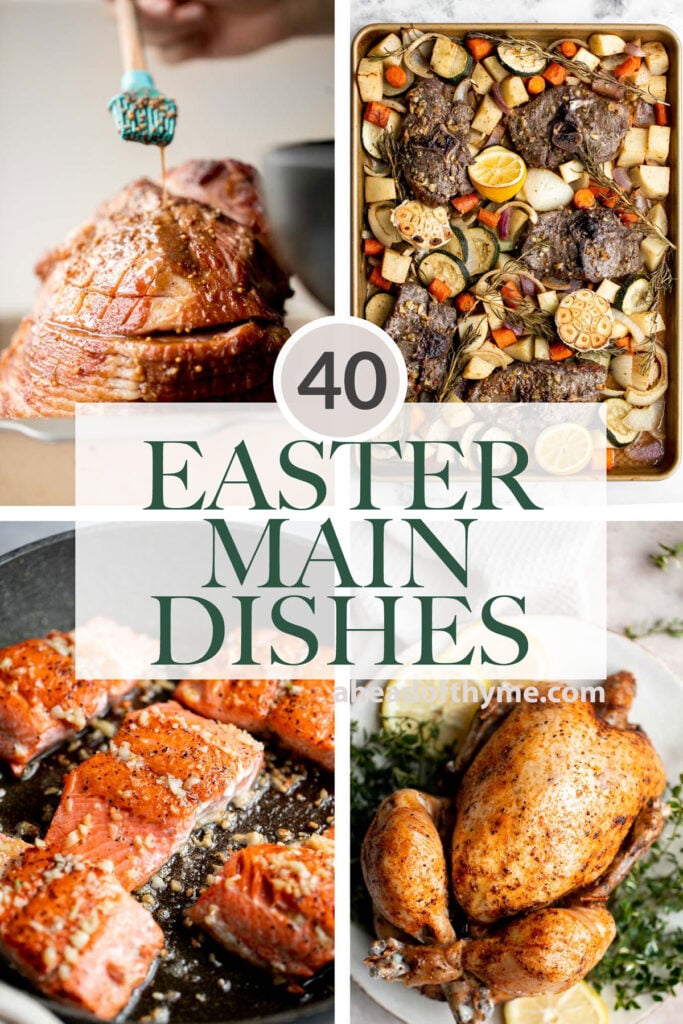 Best Easter Main Dishes
Easy holiday glazed baked ham is juicy, succulent and flavourful, coated in a brown sugar honey glaze with and baked until caramelized and golden brown.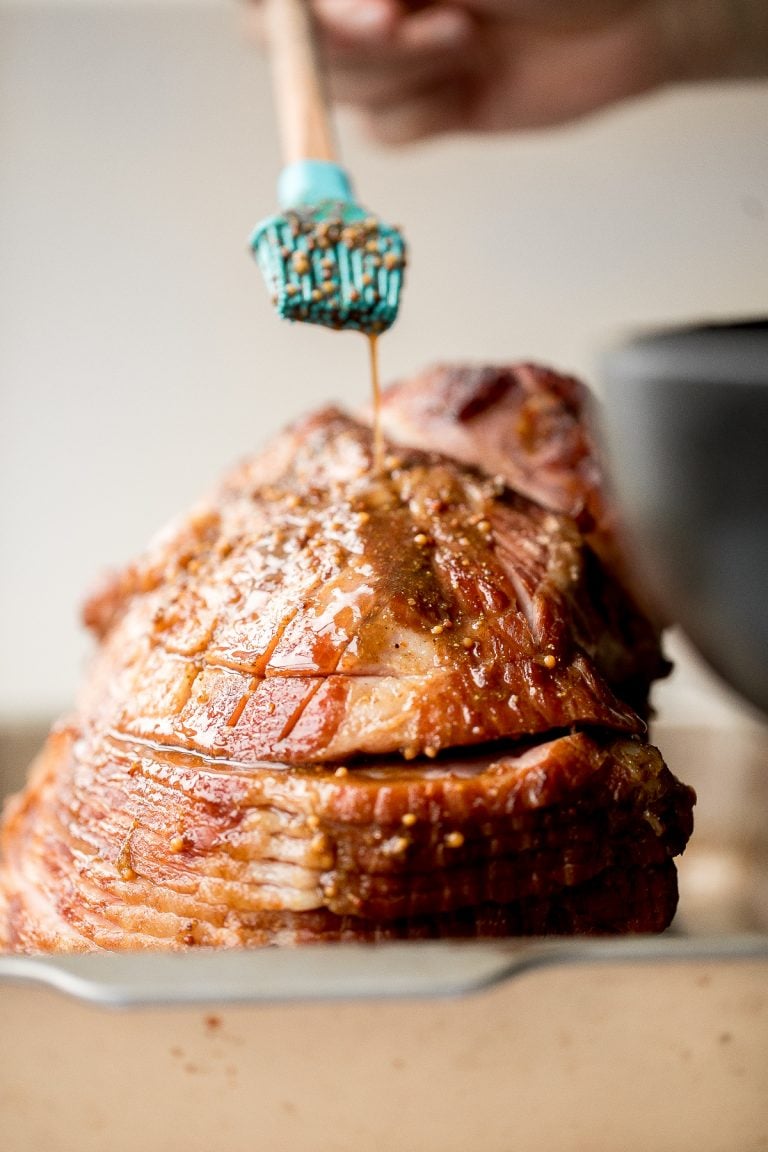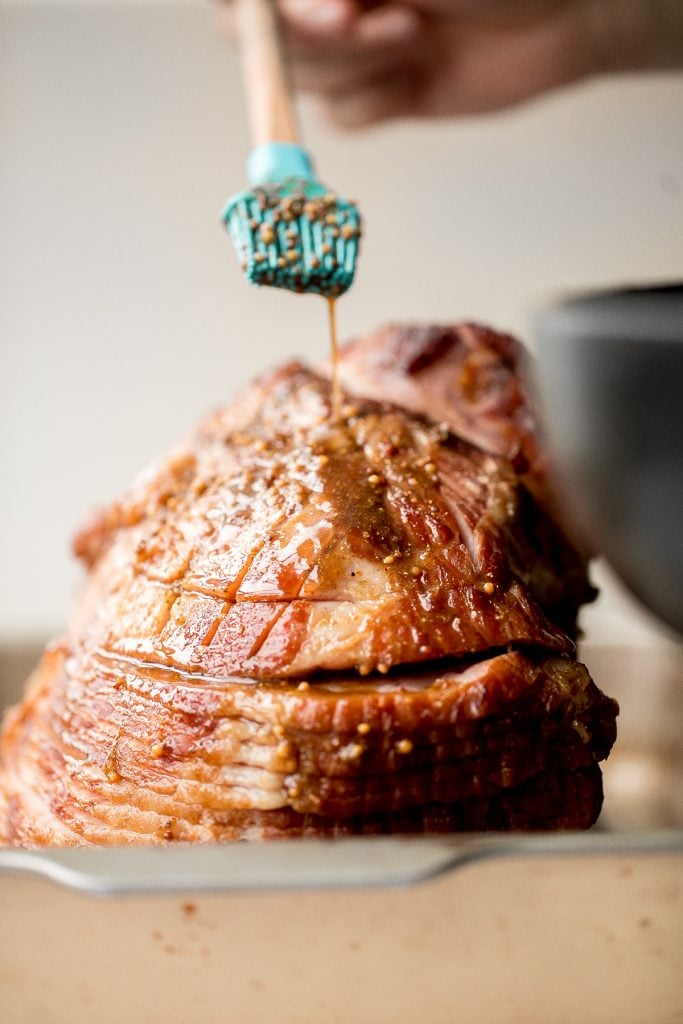 Best and Juiciest Roast Turkey
The best and juiciest roast turkey cooks faster that traditional methods and requires no brining. It's so tender and juicy every time. And use the giblets and drippings to make delicious homemade turkey gravy.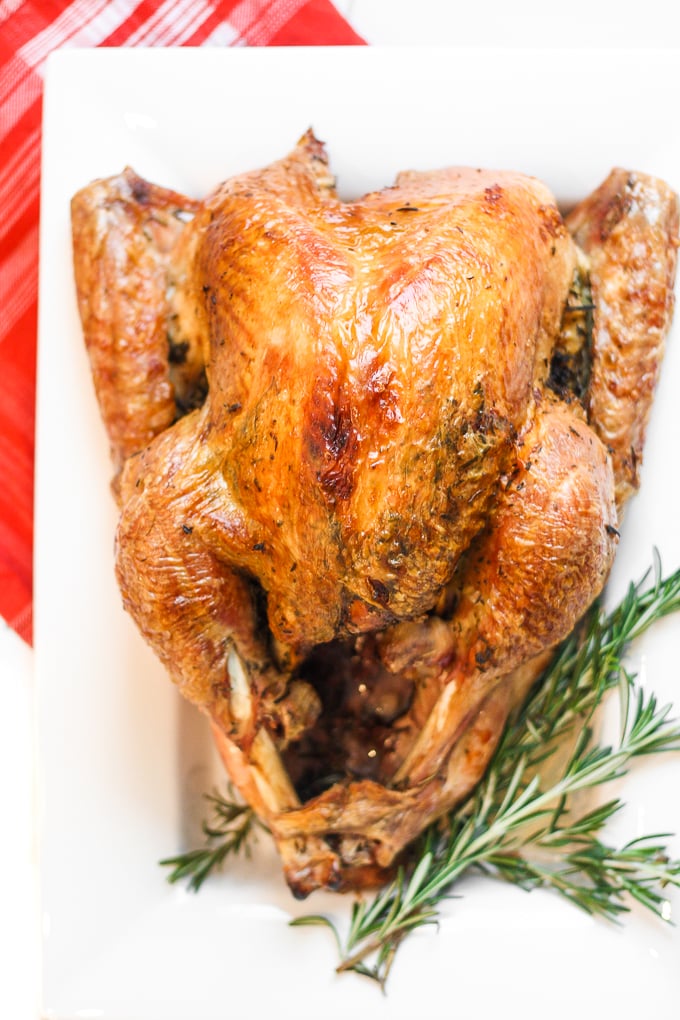 Sheet pan lamb chops with vegetables are healthy and delicious, easy to make, and easier to clean up. Perfect for busy weeknights or a holiday dinner.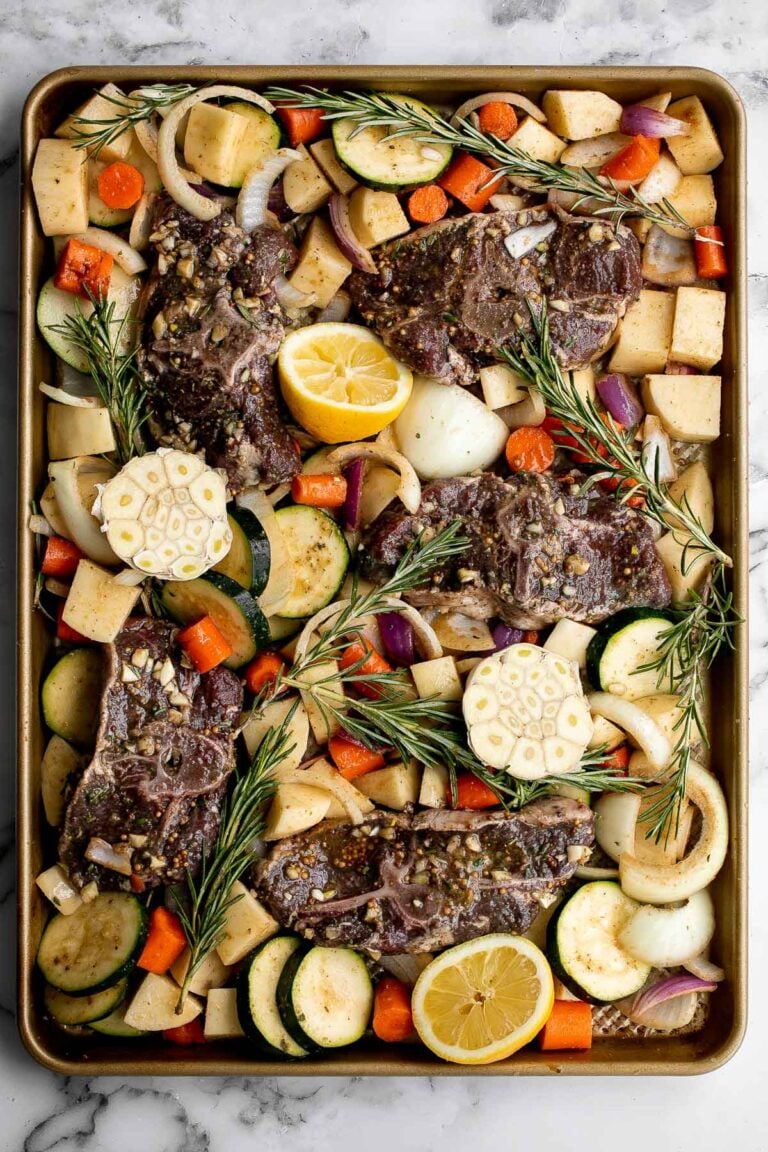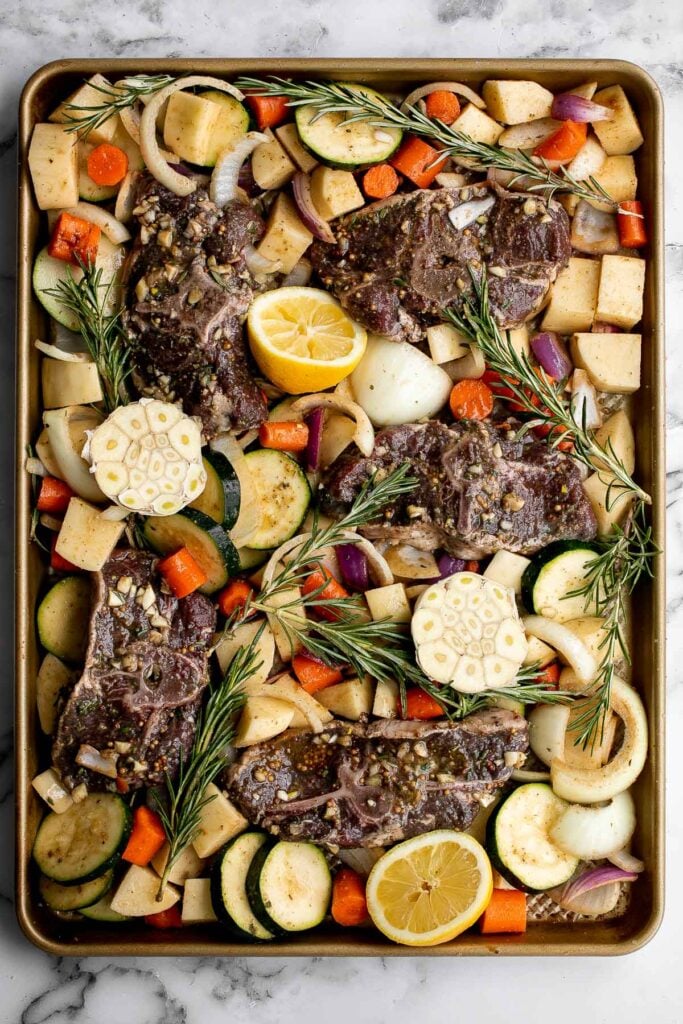 Dutch Oven Whole Roast Chicken
Easy Dutch oven whole roast chicken with the crispiest golden skin is juicy, tender and succulent and packed with flavour. Just takes 15 minutes to prep. Serve with creamy potatoes au gratin on the side.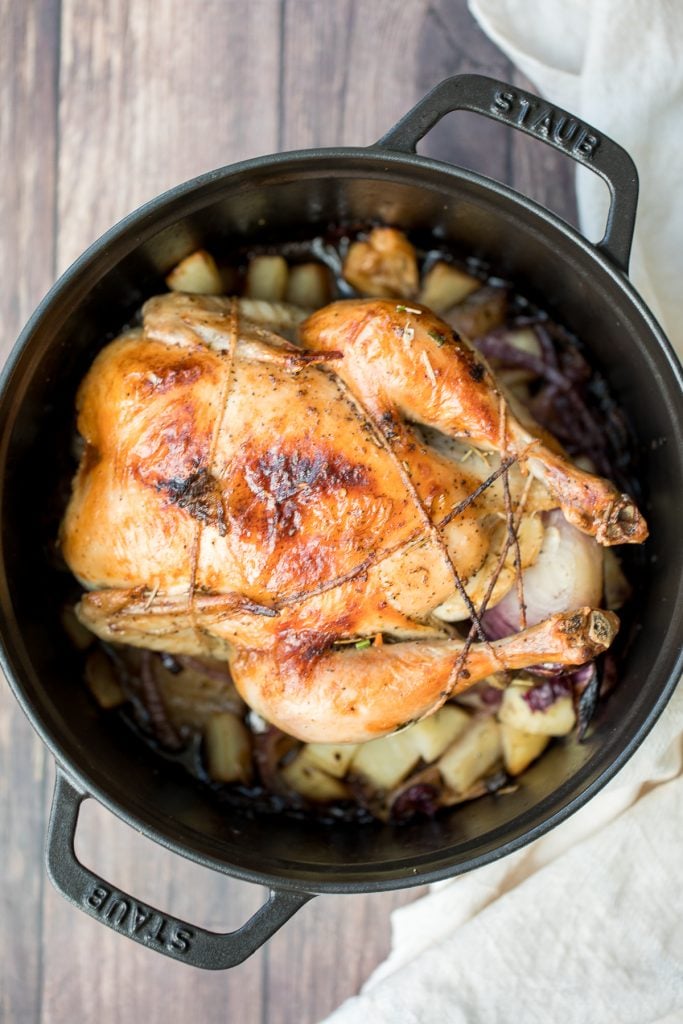 Homemade roast beef is roasted on high heat and slow cooked on low heat for the best texture — browned crust on the outside and tender, moist, juicy inside.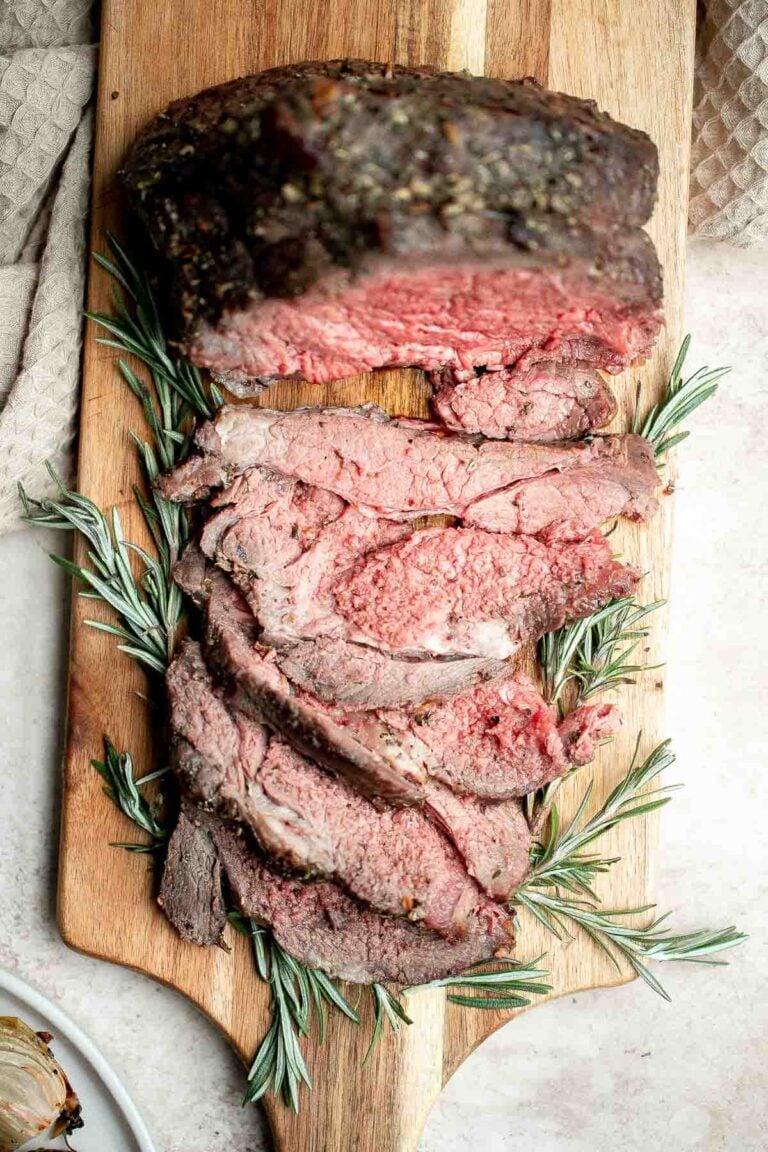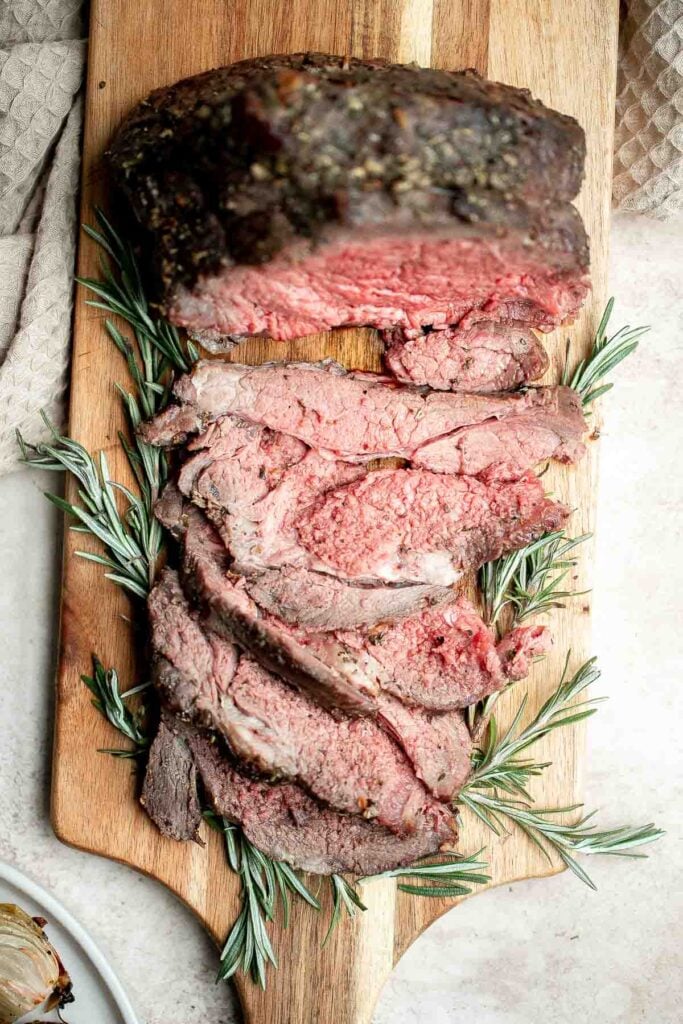 Greek salmon is delicious, flaky, and tender. This healthy oven-baked salmon is packed with Mediterranean flavors and is ready in just 20 minutes.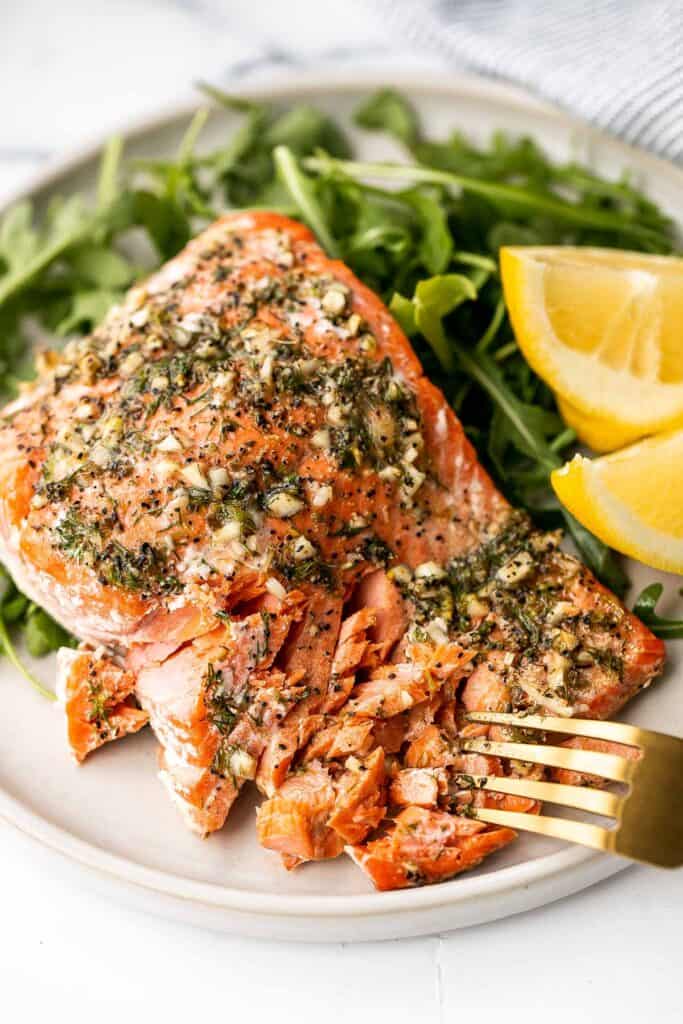 Quick easy roasted pork tenderloin with sauce is juicy, tender, and flavorful. Ready in 30 minutes, it's perfect for busy weeknights or a holiday dinner.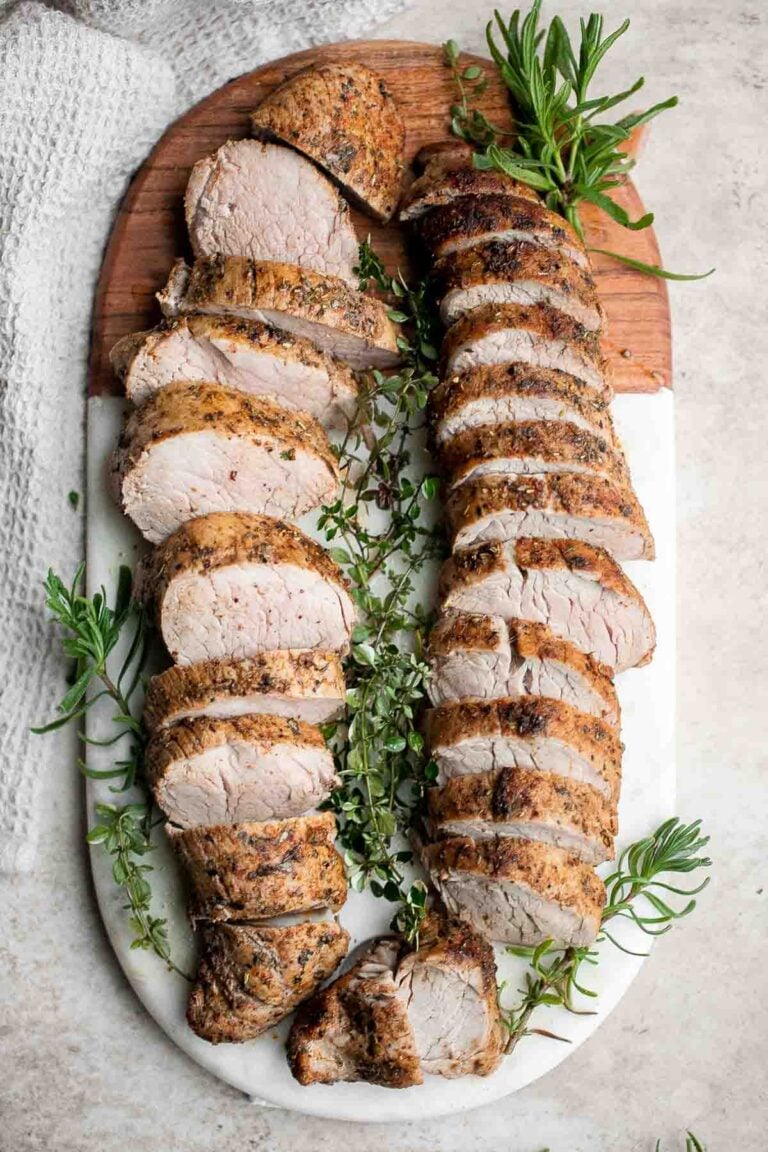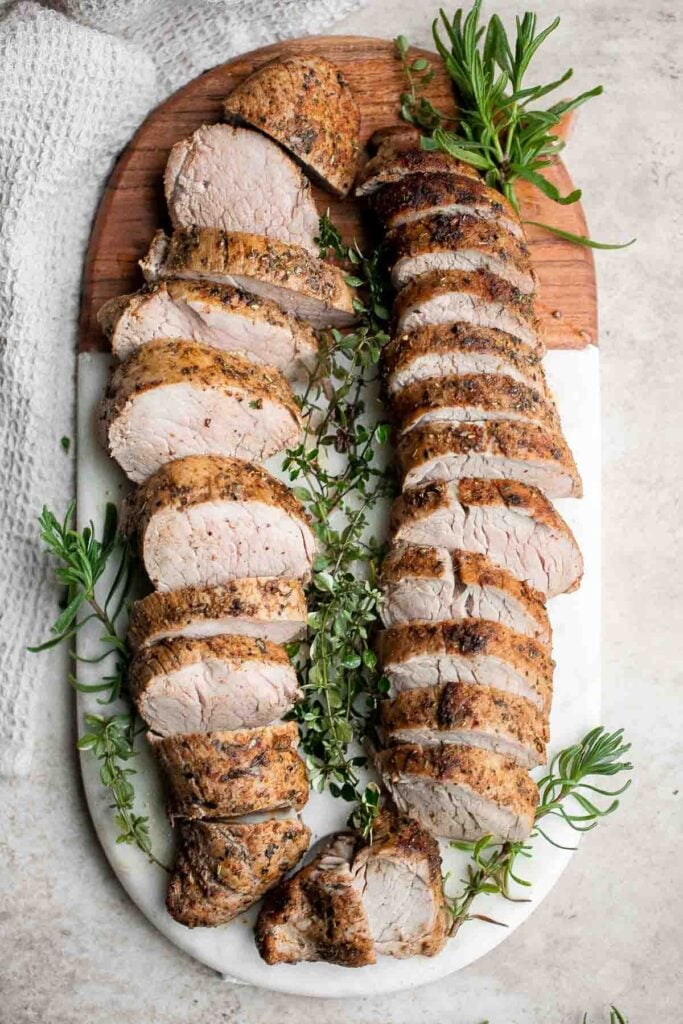 Easy Juicy Roasted Turkey Breast
Easy juicy roasted turkey breast is the perfect holiday dinner, minus the headache…tender meat, crispy skin, and a layer of roasted onions. Serve it with easy 2-ingredient gravy made with the drippings.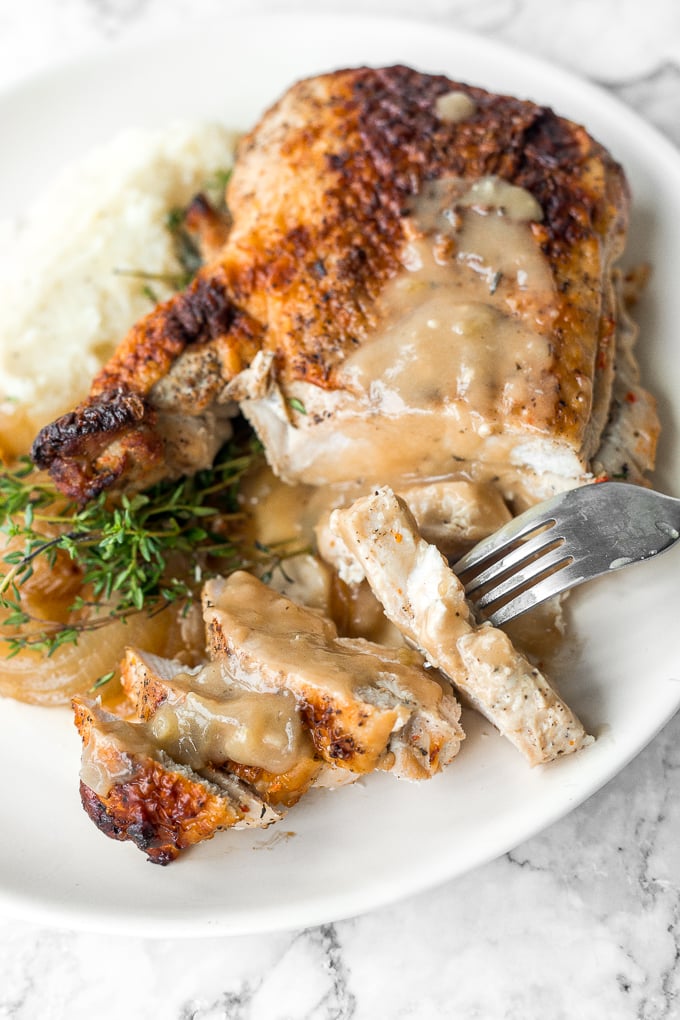 Chicken Madeira with sautéed mushrooms and tender crisp asparagus is topped with melty mozzarella cheese. Cheaper and better than the Cheesecake Factory!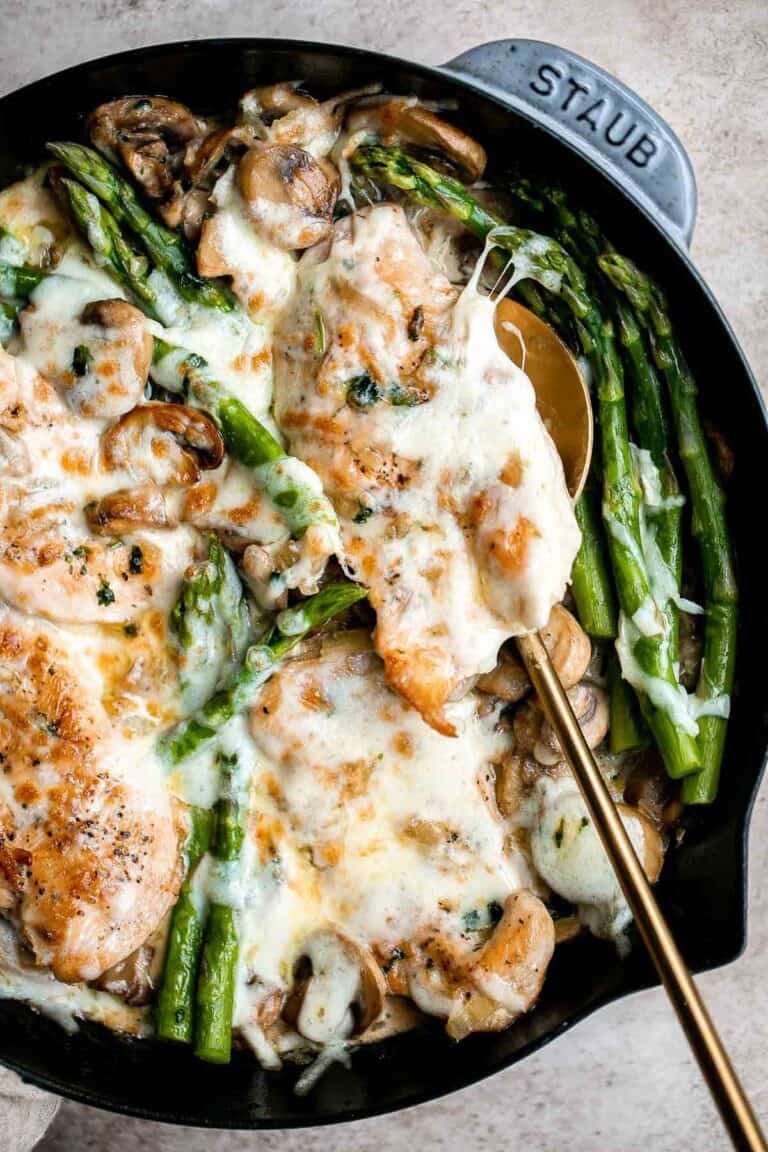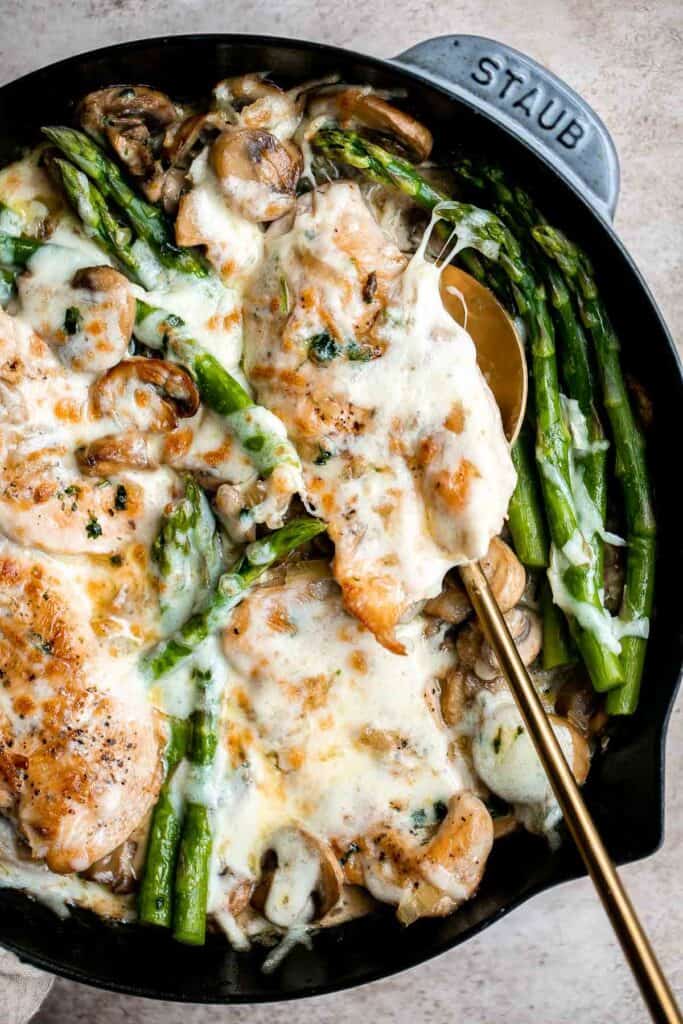 Roasted Spatchcock Chicken (Butterflied Chicken)
Quick and easy roasted spatchcock chicken (butterflied chicken) seasoned with garlic and thyme is juicy, tender, delicious and flavourful with minimal prep. Serve with some creamy mashed potatoes and garlic green beans.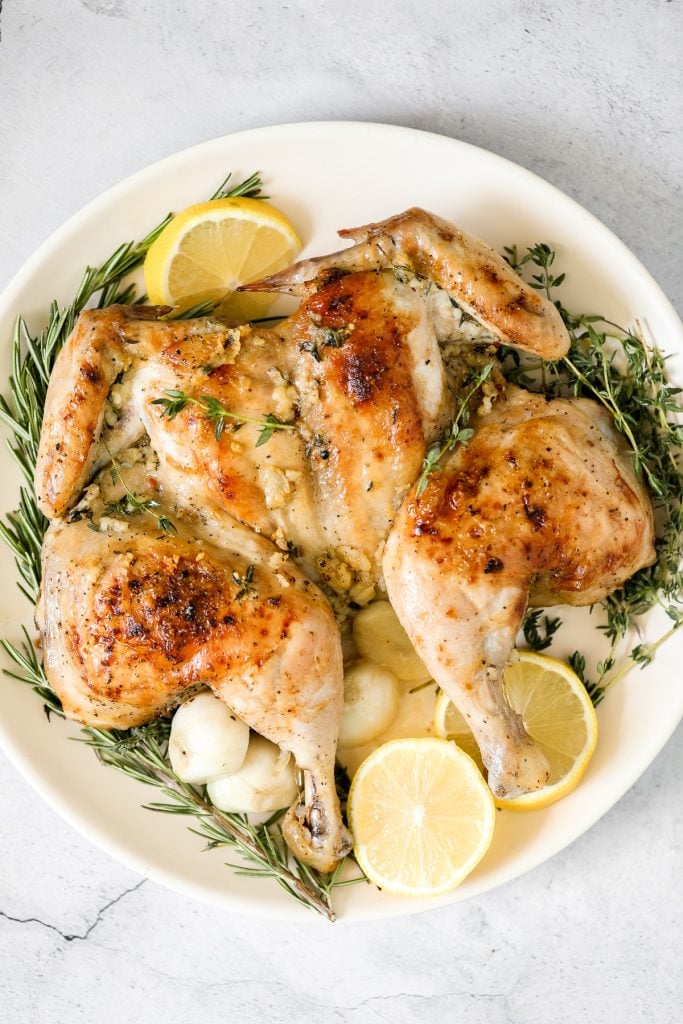 This Prime Rib Roast is a tender and juicy cut of beef marbled with fat. It is incredibly flavorful, delicious, and good — flavored with simple ingredients.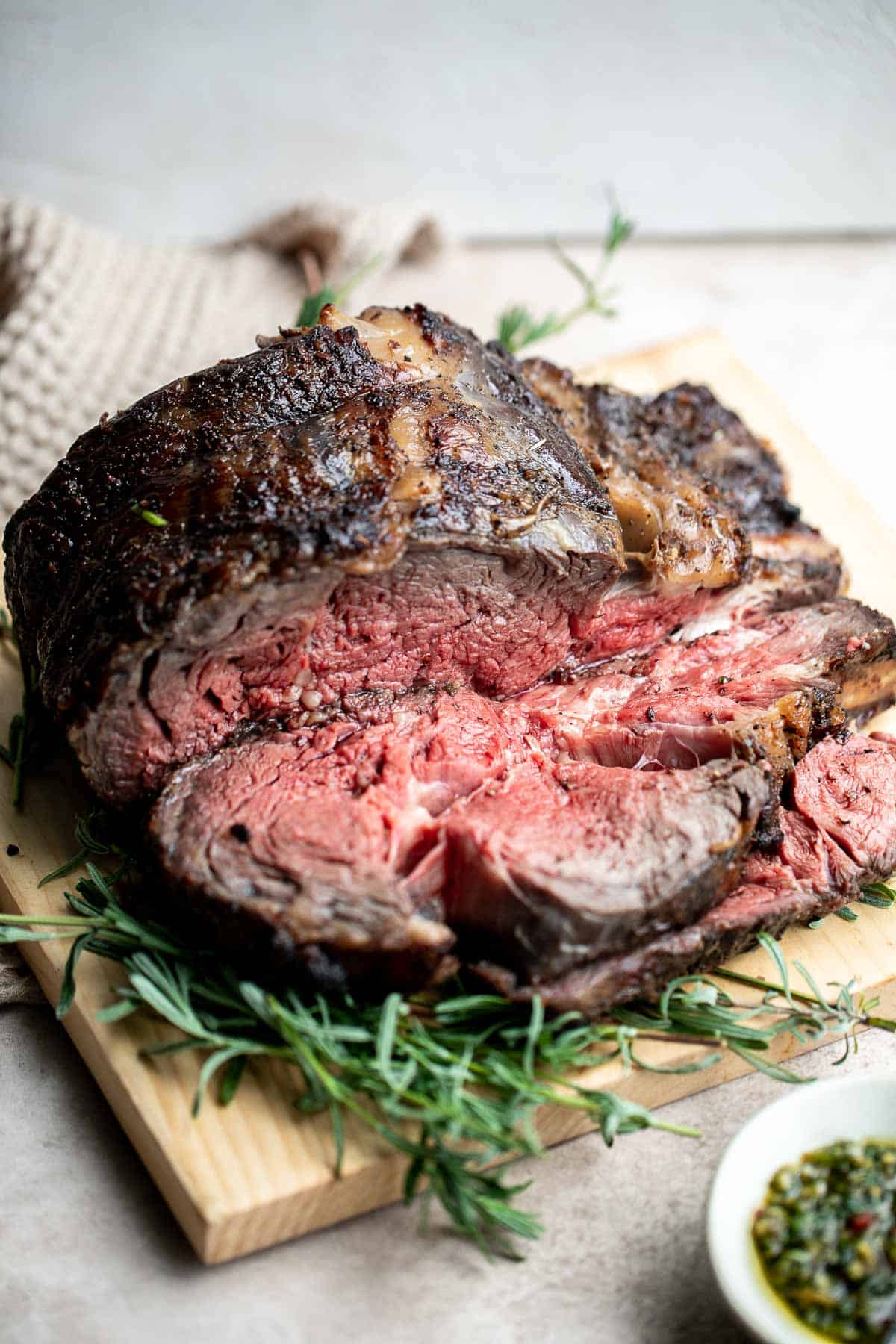 Honey Glazed Roast Pork with Vegetables
Easy one pan honey glazed roast pork is moist, tender, and juicy, coated with an irresistible honey glaze and packed with potatoes, green beans and apples.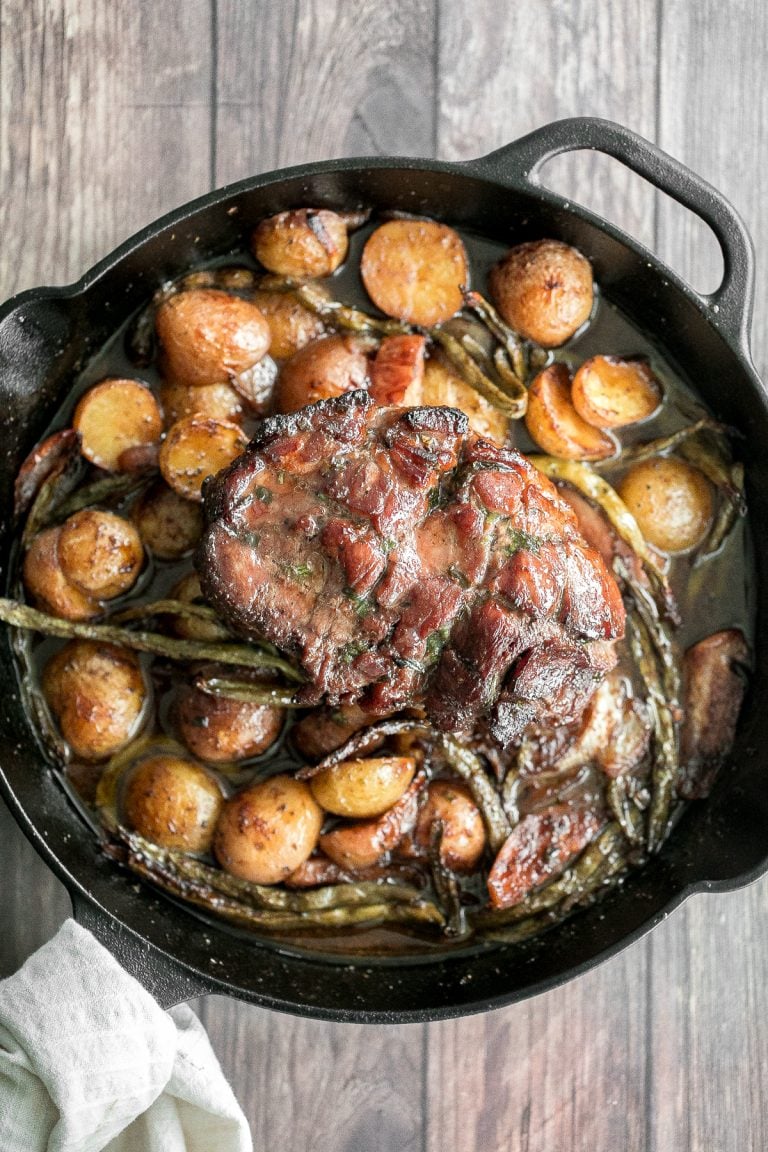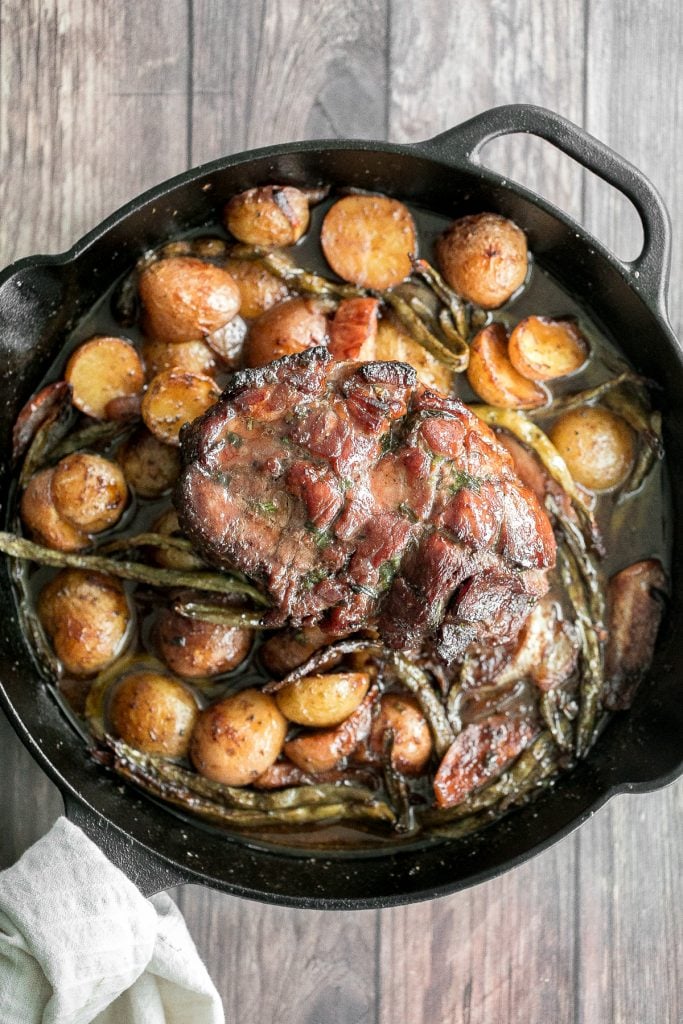 Instant pot whole turkey is a tender, juicy, and delicious holiday main. Ready in under 2 hours, it's the fastest and easiest way to cook a whole turkey!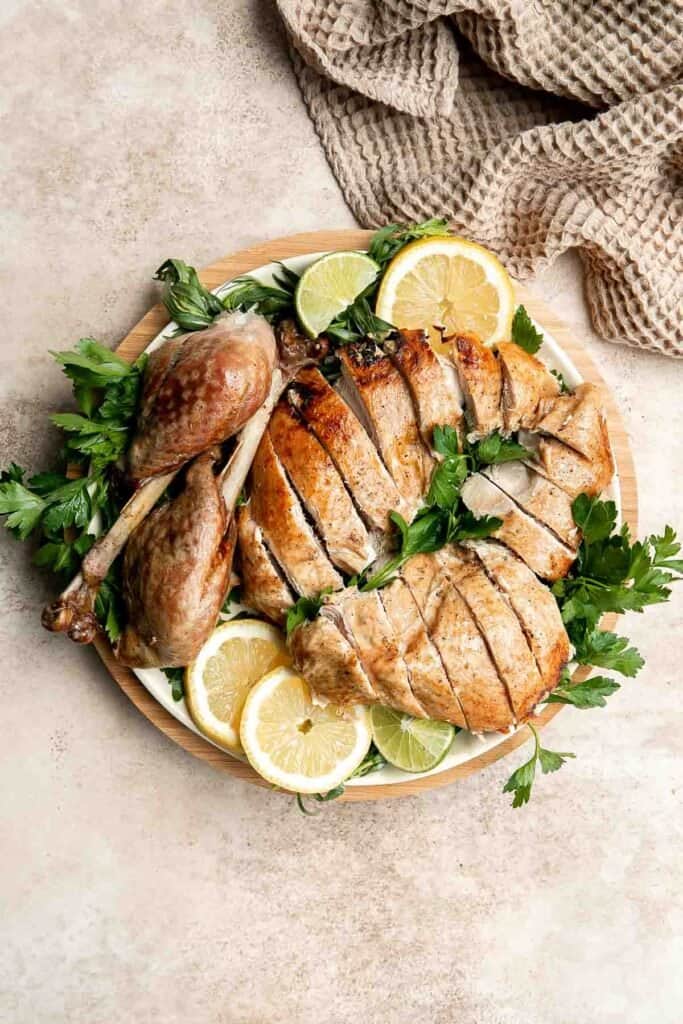 Soft, tender and juicy slow cooker turkey breast with the crispiest skin and fresh fall herbs is the easiest way to cook a turkey this holiday season. Serve it with make ahead cranberry sauce.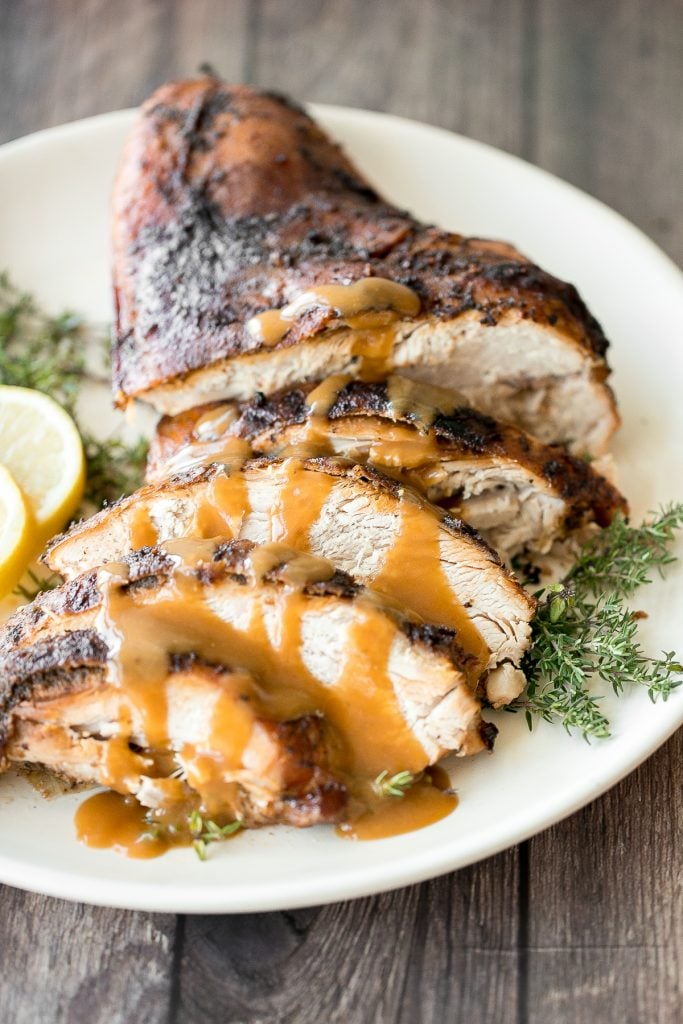 Sweet and savoury pineapple glazed ham slices are perfect for a holiday dinner. With a caramelized glaze, this ham is dressed to impress.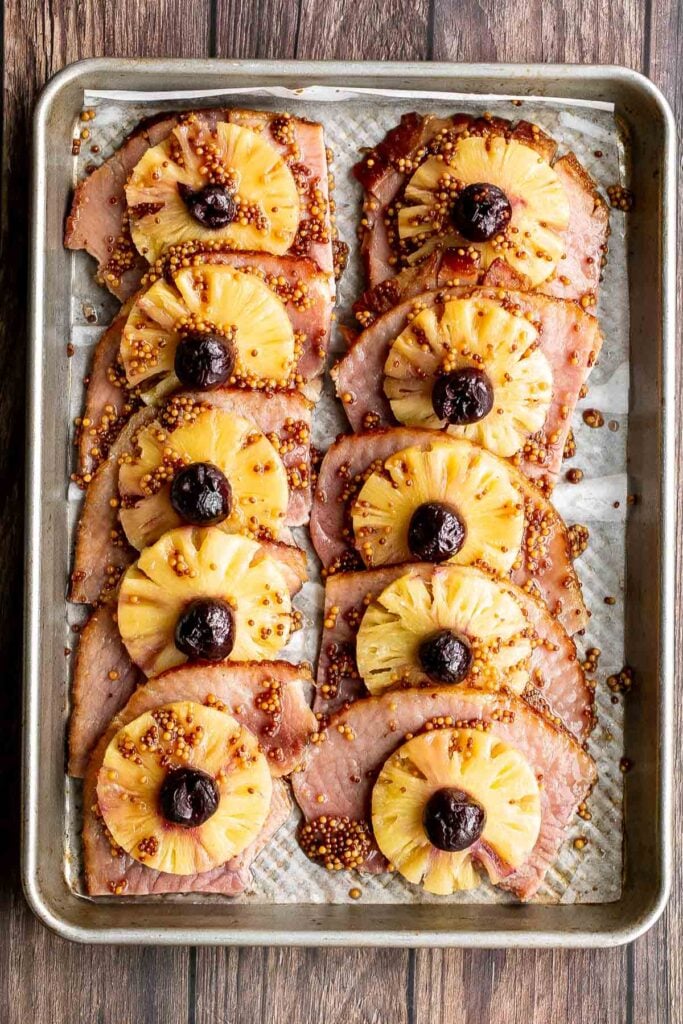 Garlic shrimp skewers are delicious and full of fresh flavor. These quick and easy kabobs can be grilled, baked or air fried for an easy summer dinner.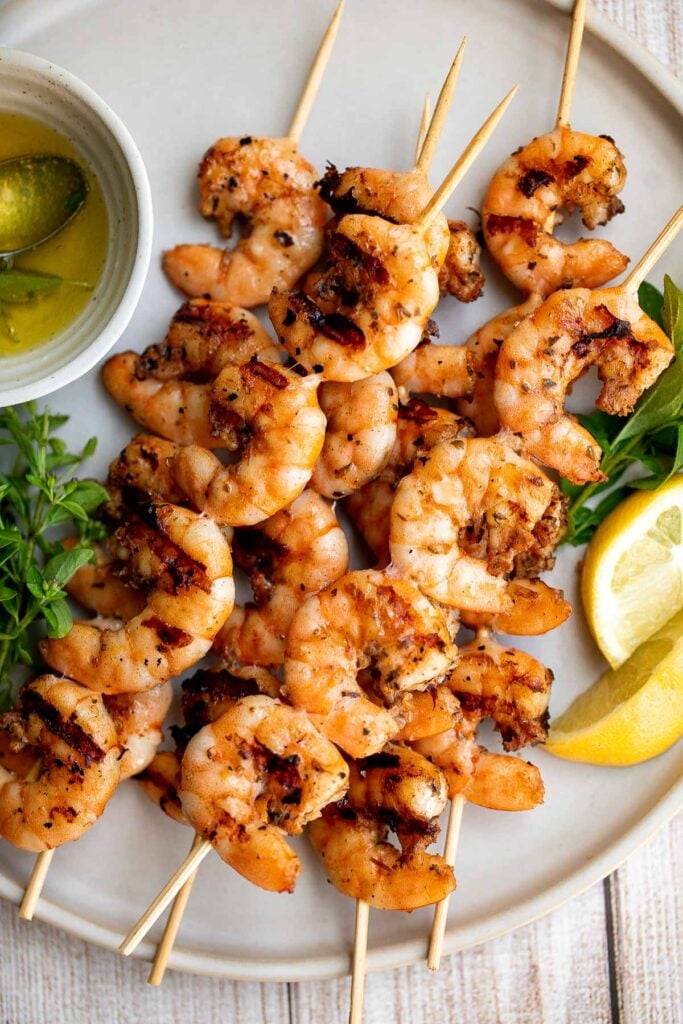 Glazed Honey Balsamic Pork Chops
Quick and easy, glazed honey balsamic pork chops are tender and juicy, seared in thyme and coated with a honey balsamic sauce. Make it in under 30 minutes.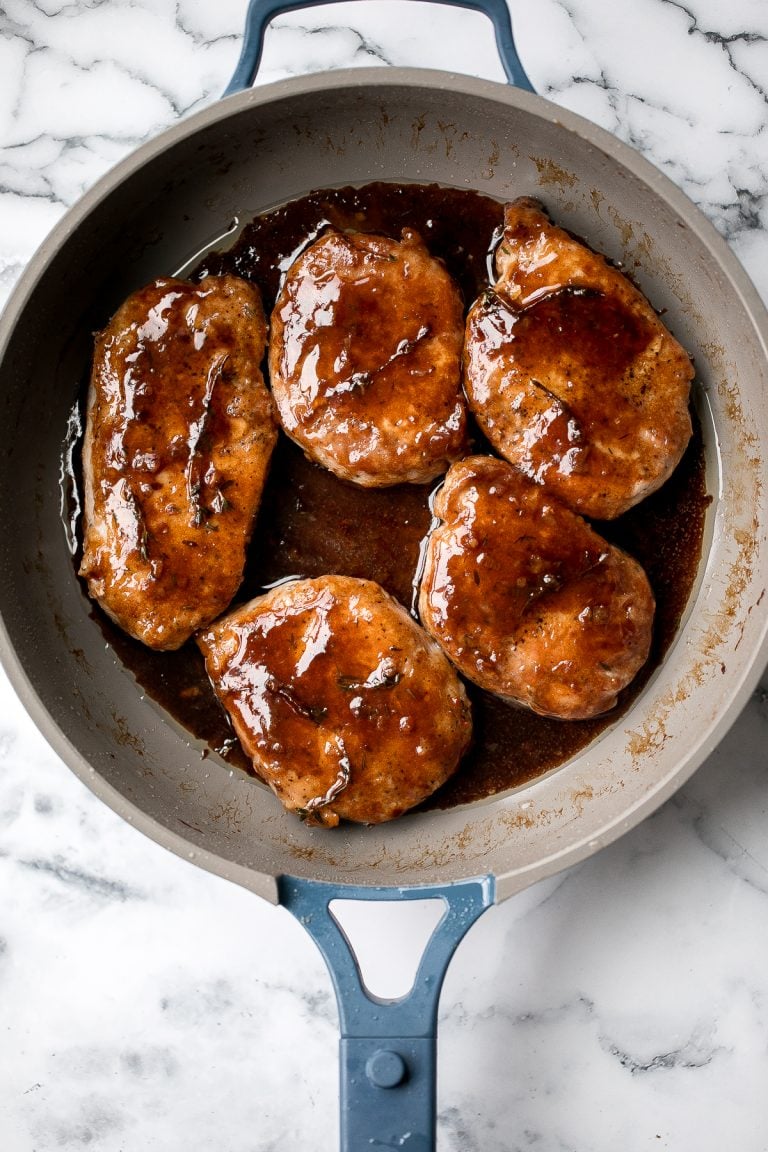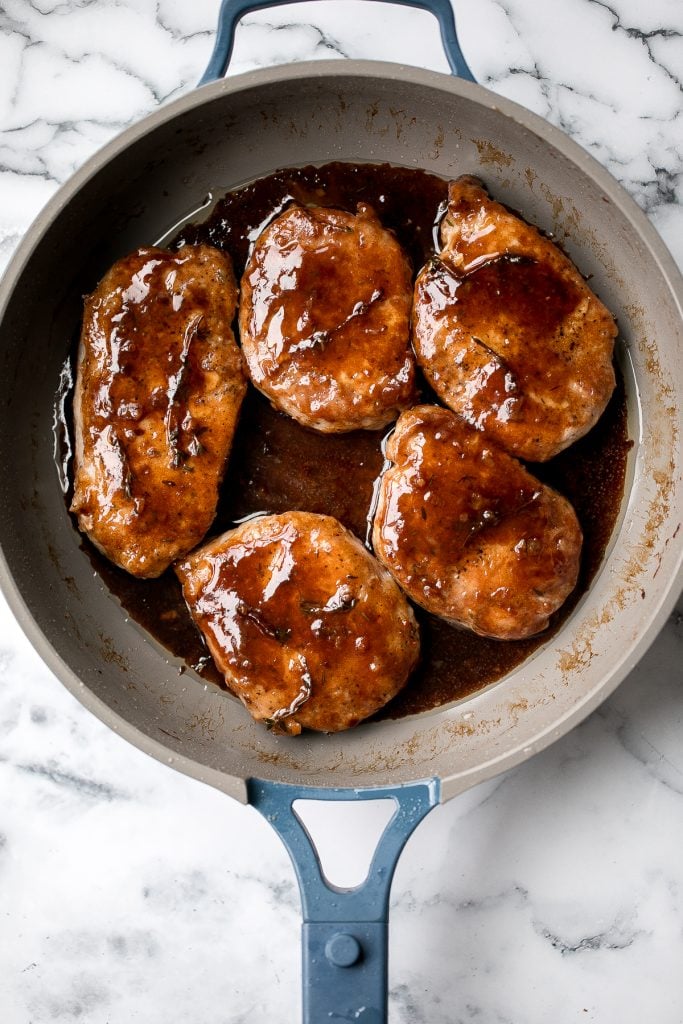 Creamy garlic salmon is a quick easy one-pan meal ready in under 30 minutes, with seared flaky tender salmon tossed in a delicious creamy garlic sauce.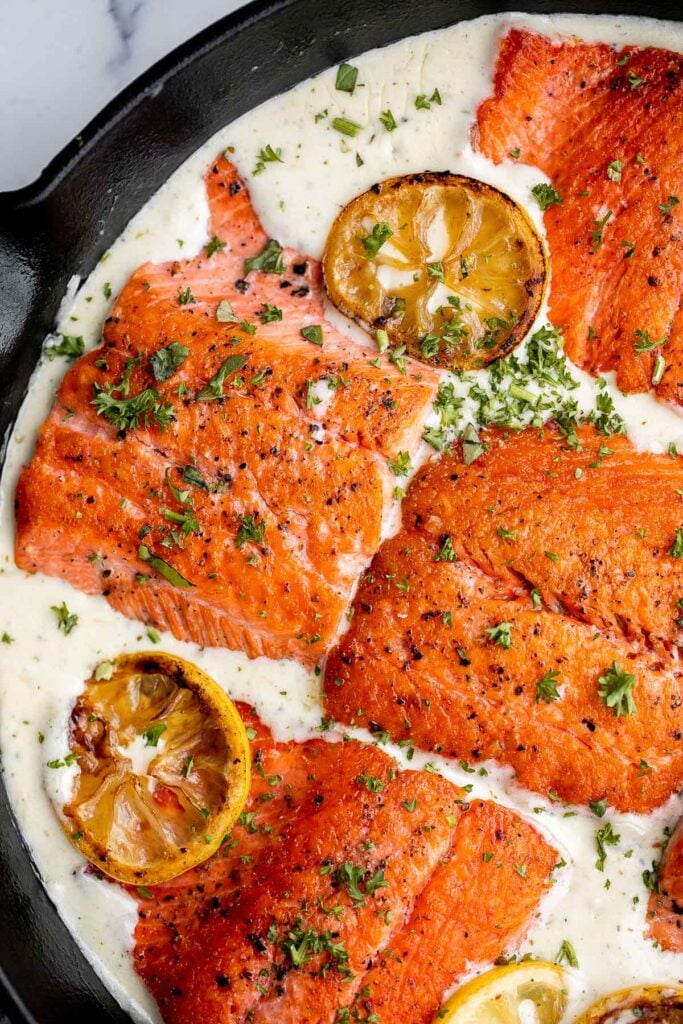 This delicious garlic and herb-crusted rack of lamb is tender, juicy, and flavourful. It is surprisingly quick and easy to make at home in about 30 minutes.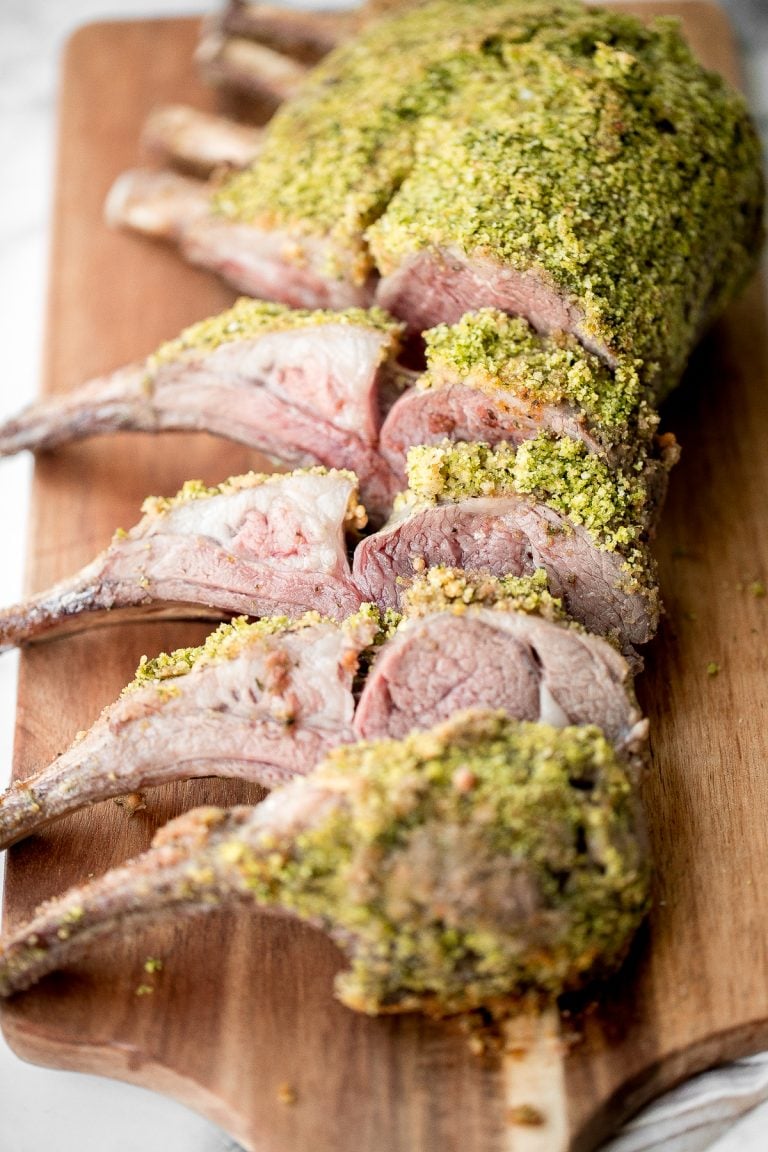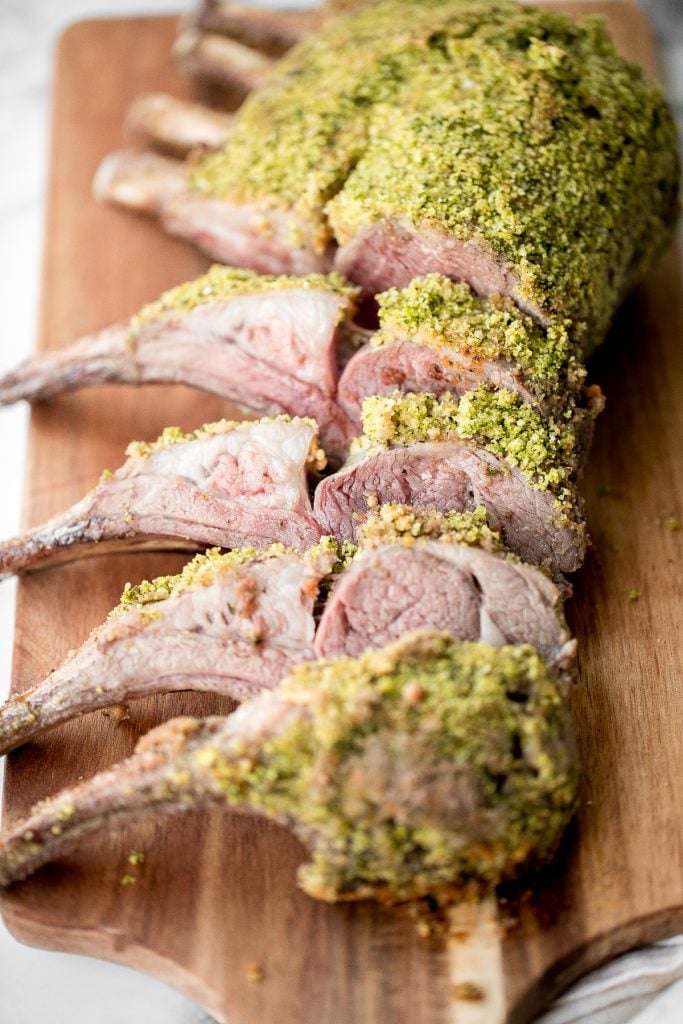 Instant pot whole chicken with gravy is tender, juicy, and flavorful. It's the fastest way to cook a whole rotisserie chicken for dinner in just 40 minutes.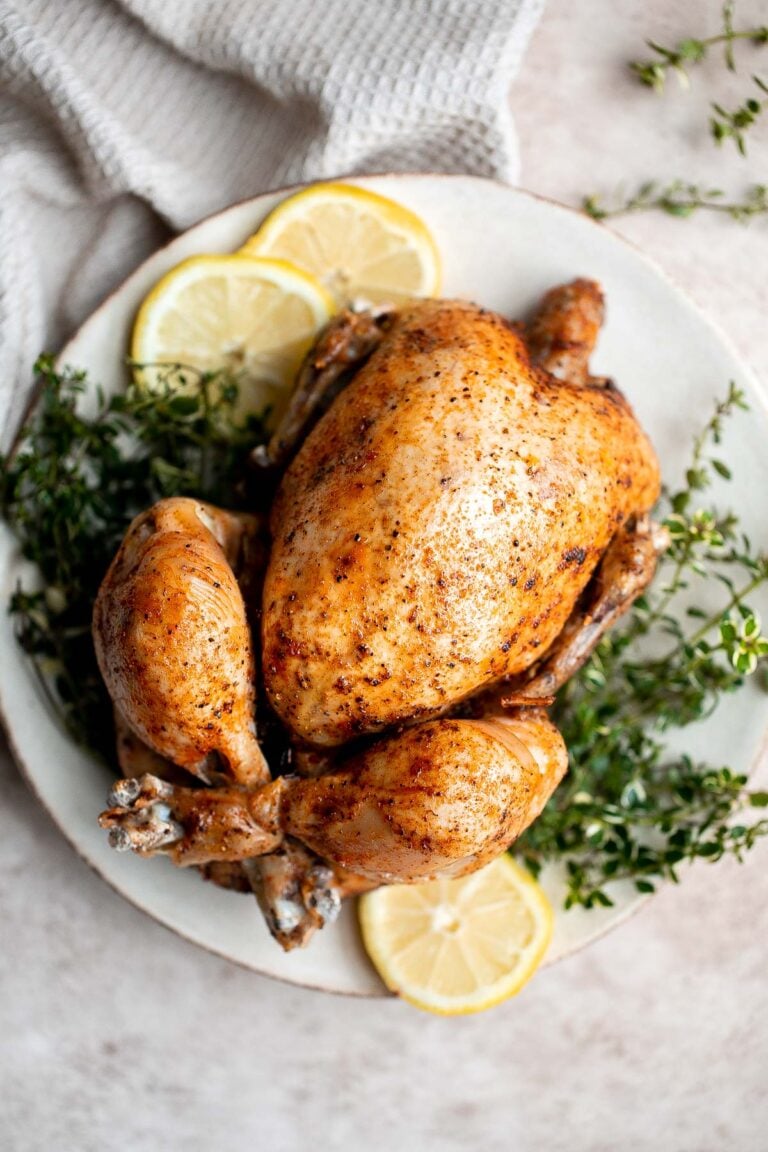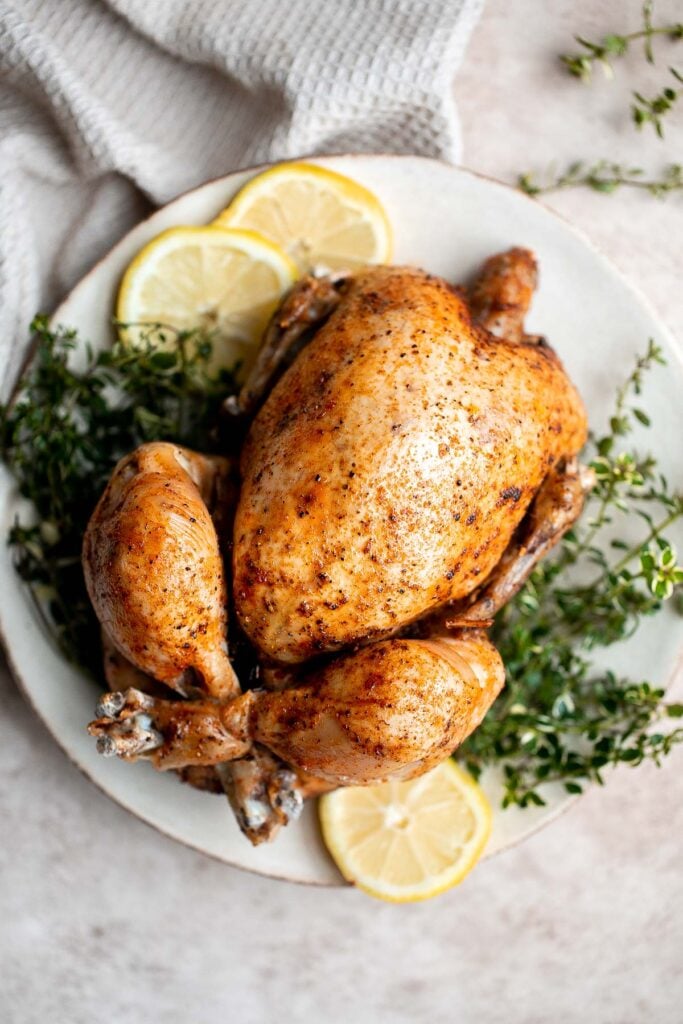 This hearty classic meatloaf with a caramelized glaze will nourish your body and soul. Feed the whole family with a simple yet flavourful classic.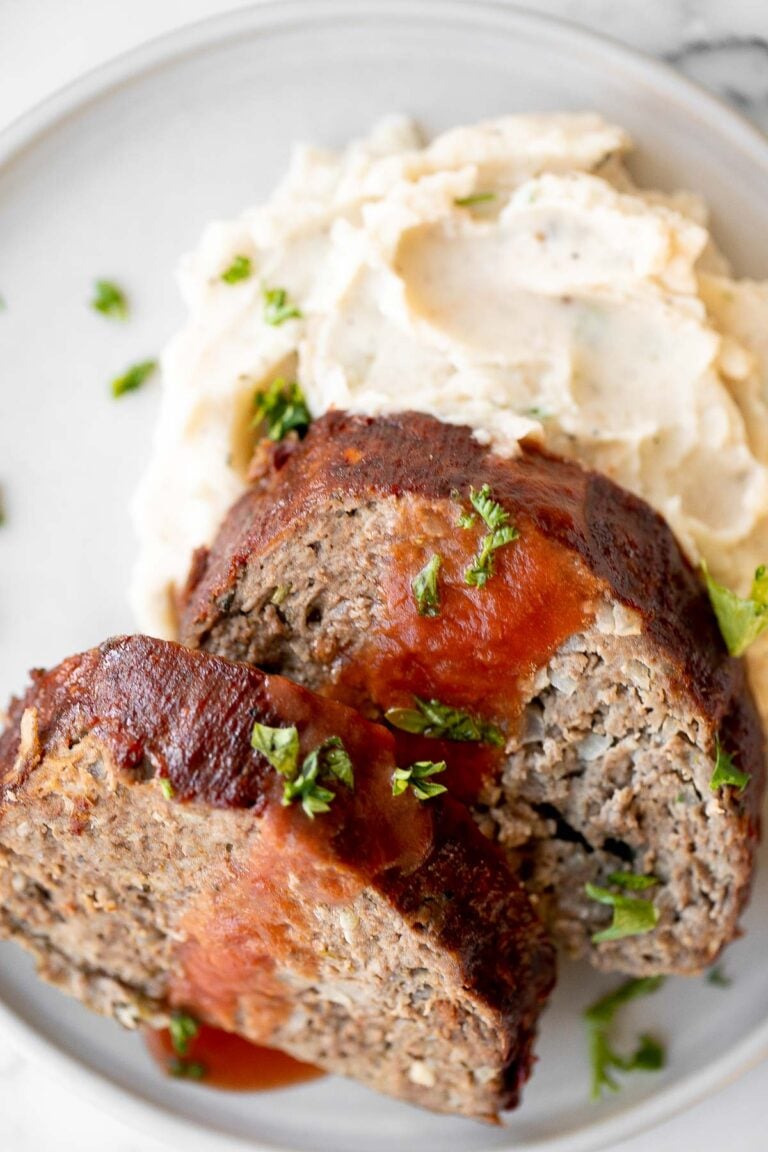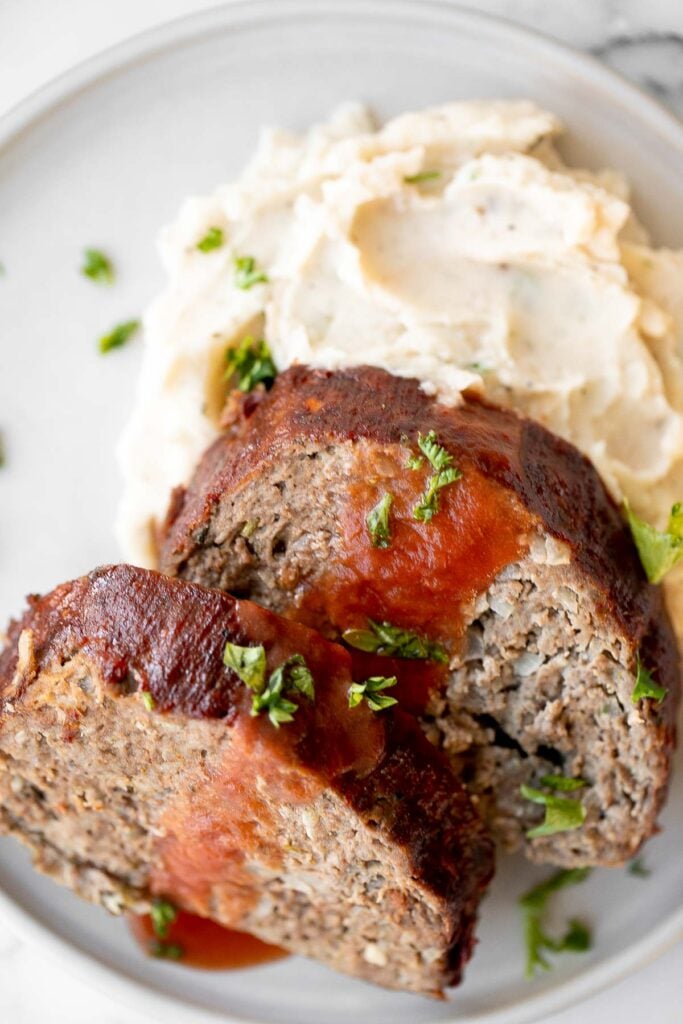 There's nothing better than a classic Pot Roast for Easter Dinner. It's hearty, wholesome, and filling comfort food that can feed the whole family.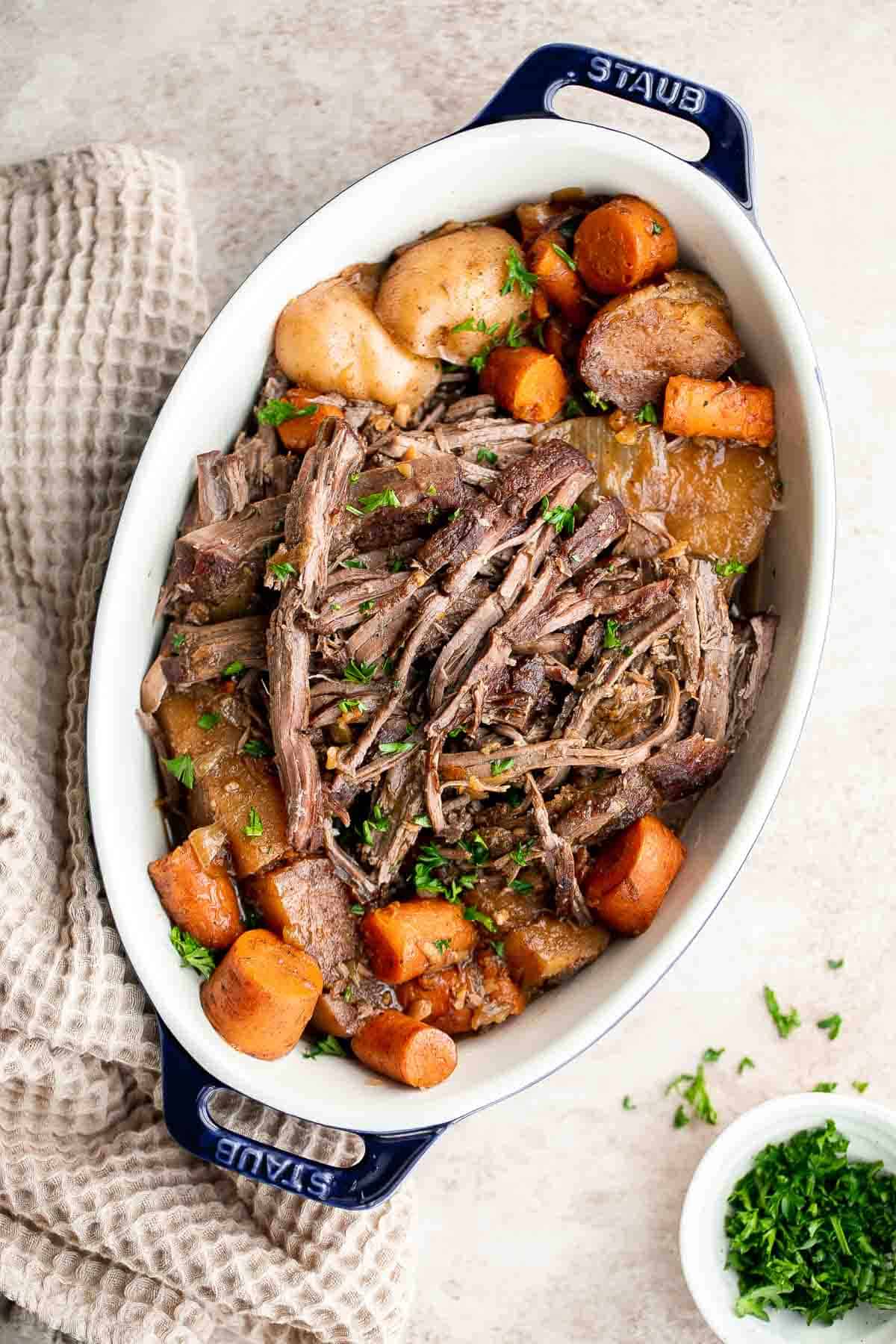 Creamy Tuscan shrimp packed with sun-dried tomatoes, spinach, and garlic, is creamy, rich, and delicious. Make it in just 15 minutes, including prep!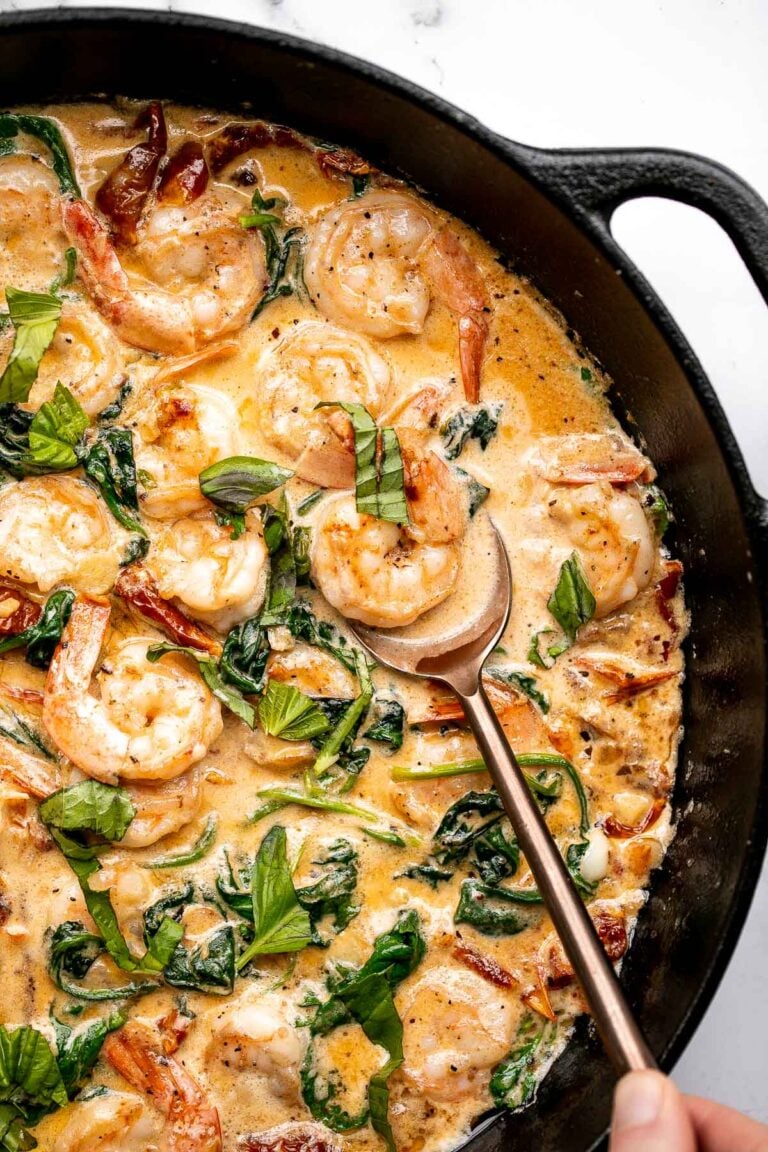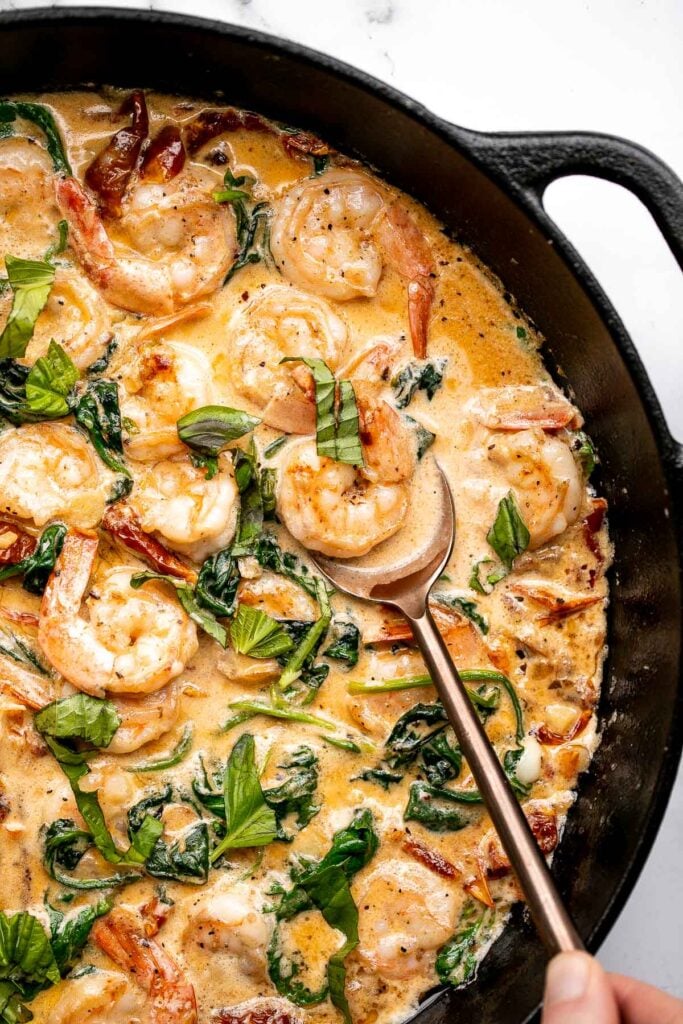 Air Fryer Lamb Chops with Dijon Garlic Marinade
Juicy, tender, and delicious 18-minute air fryer lamb chops is marinated in a dijon sauce and will change the way you cook lamb forever.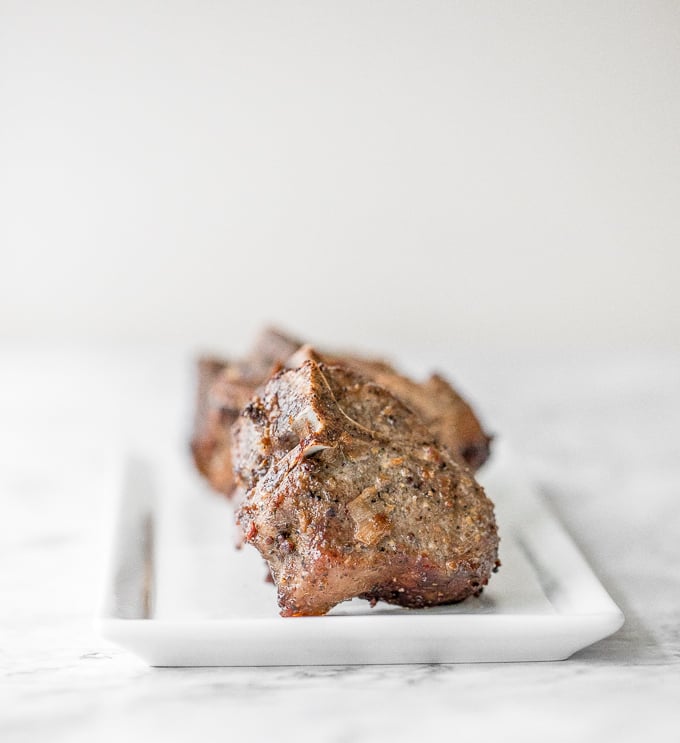 Instant pot turkey breast is the most tender and juicy turkey you'll ever try. It's so easy to make in the pressure cooker and requires little prep.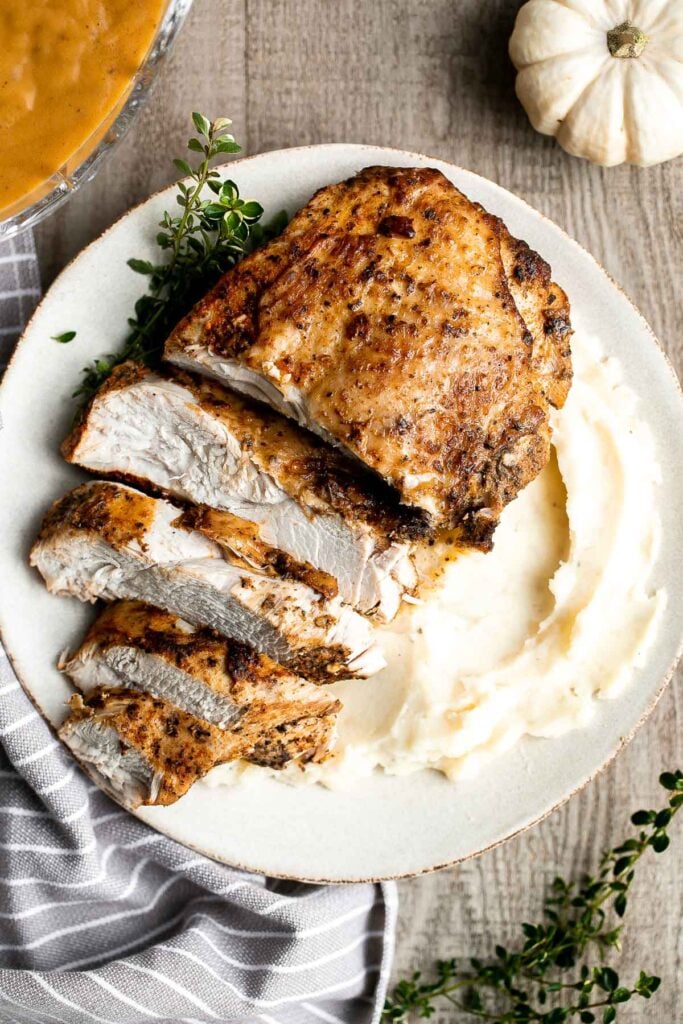 Tender, flaky, flavorful garlic butter salmon is well-seasoned, seared to perfection, and basted until juicy. Quick and easy to make in 20 minutes.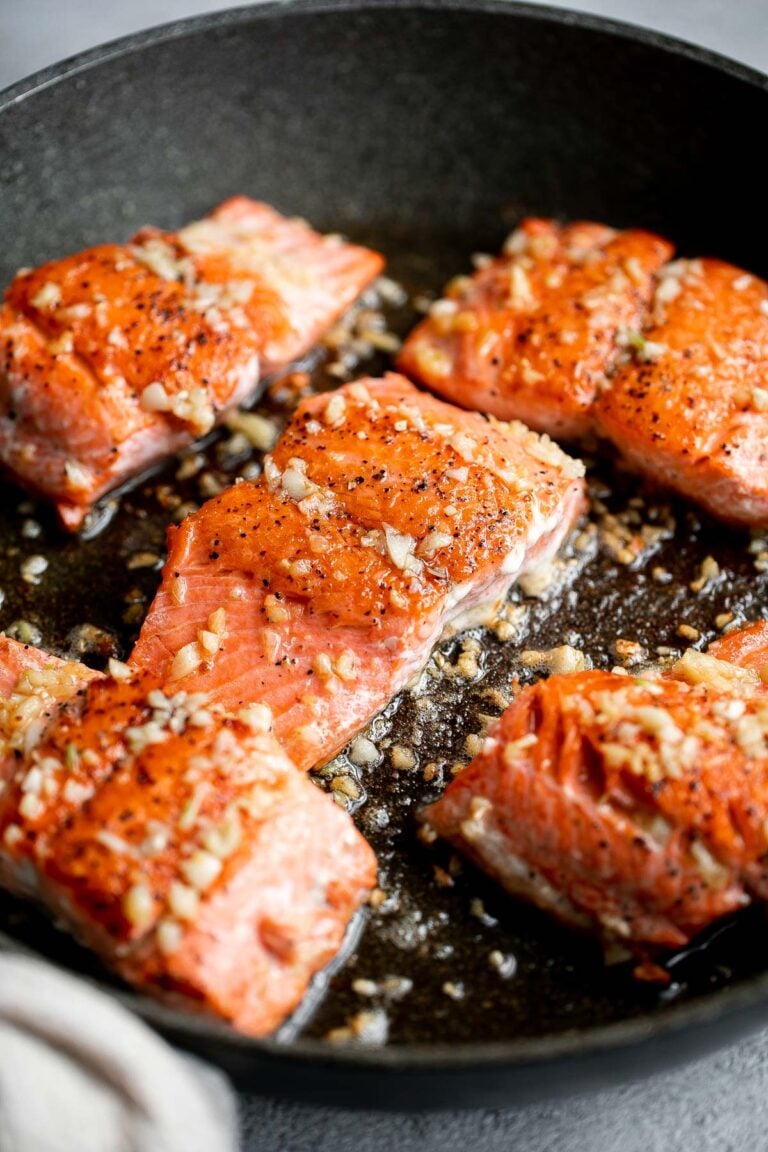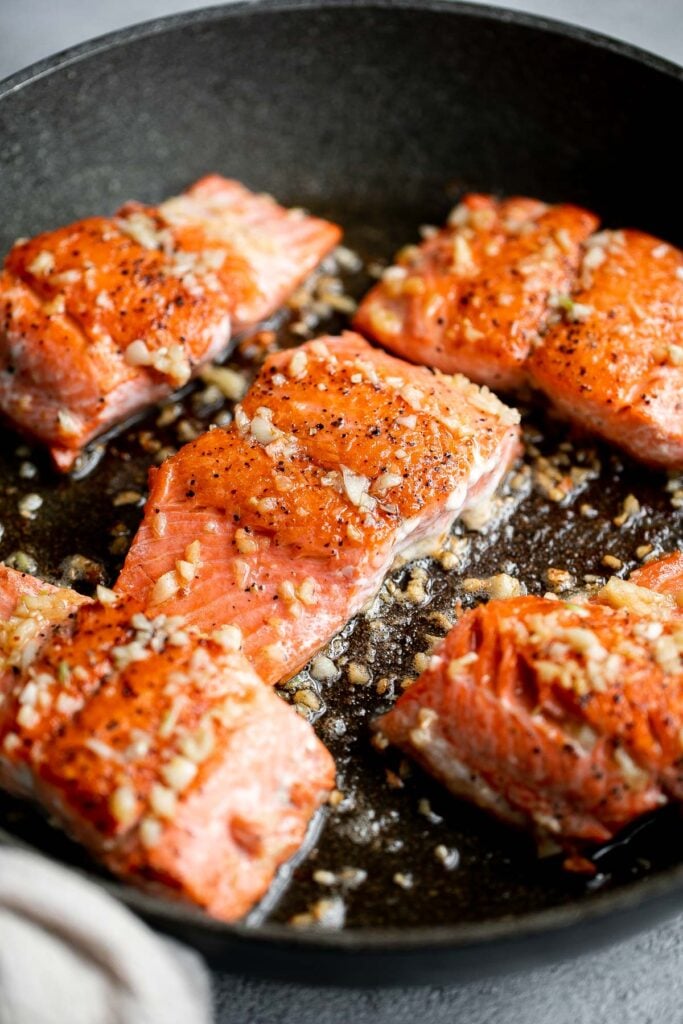 Easy Roast Lamb with Vegetables
Easy roast lamb with vegetables is tender, juicy, and succulent and packed incredible flavour. This fancy holiday dinner is easy to prep in just 15 minutes.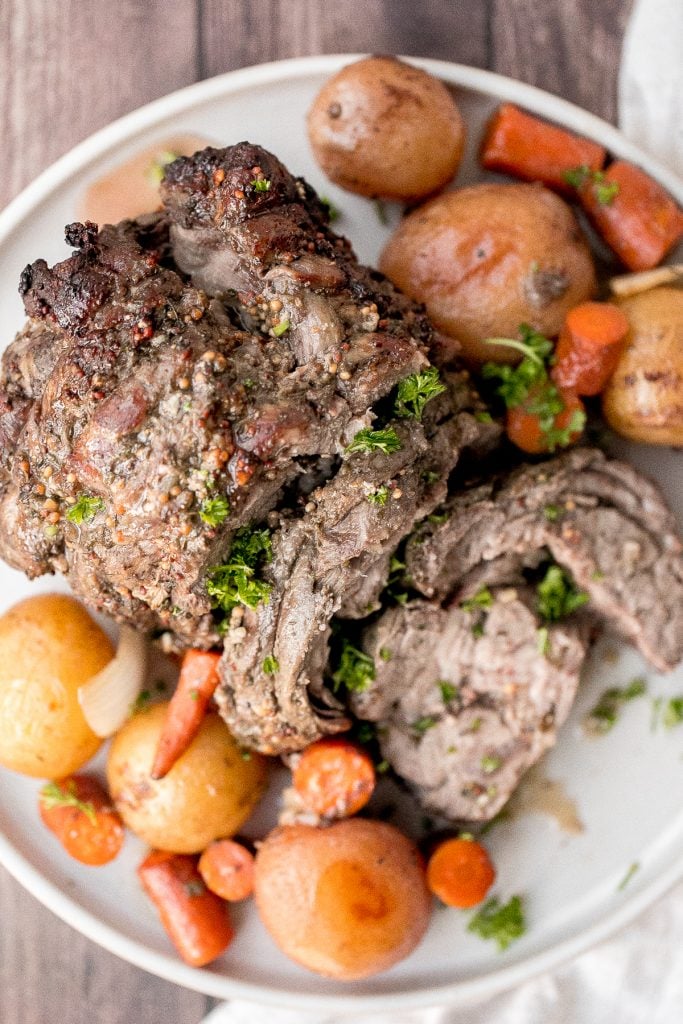 Quick and easy, creamy lemon chicken piccata is a simple and delicious 30-minute meal made with tender chicken breast in a light lemon sauce with capers. One of my favorite easy chicken dinners.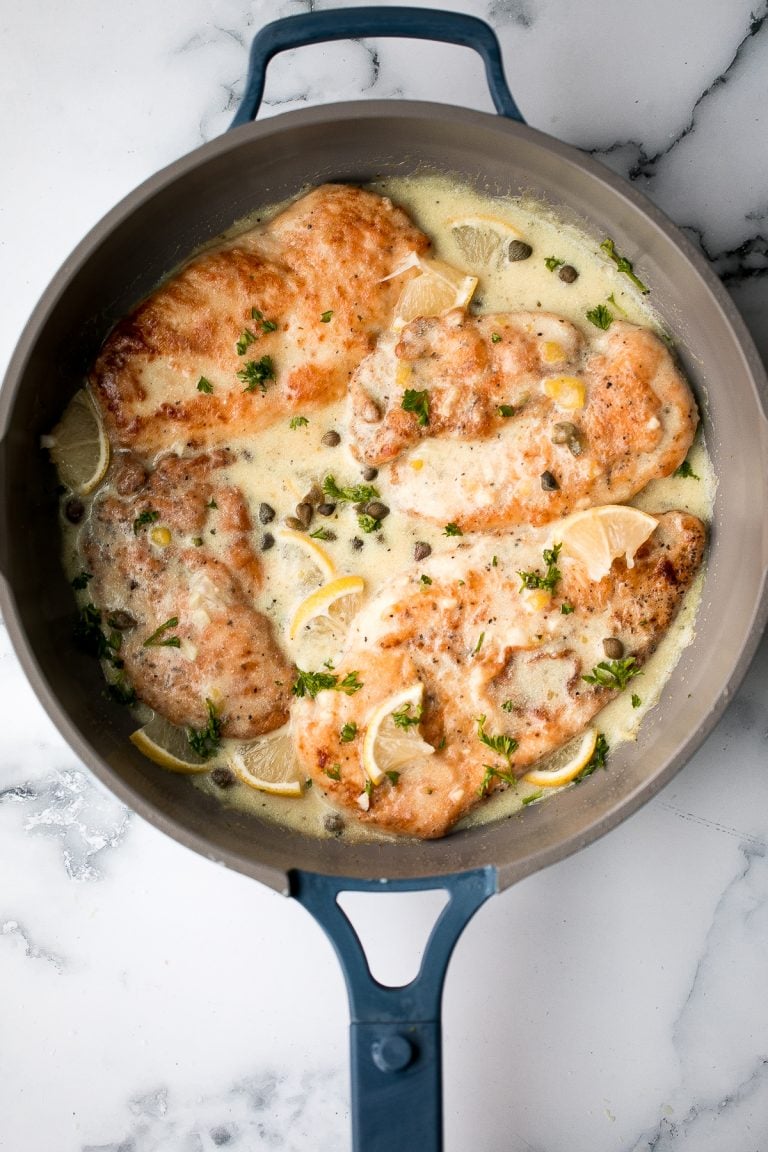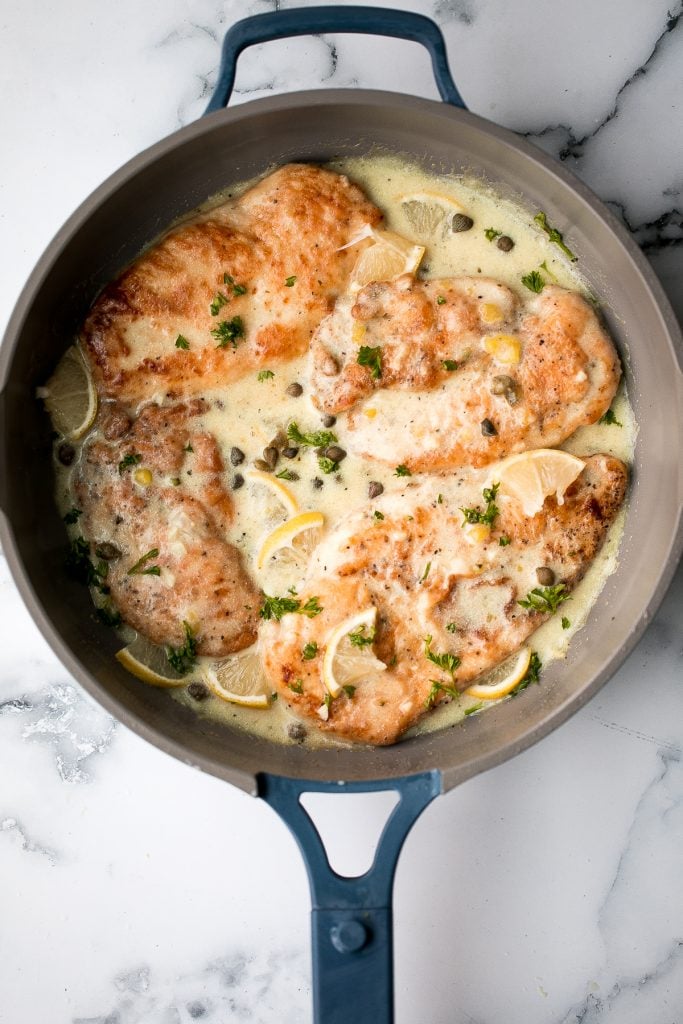 Greek Lemon Garlic Whole Roast Chicken
Easy Greek lemon garlic whole roast chicken is tender, juicy and succulent with the crispiest skin. Prep this flavourful one pan meal in just 15 minutes.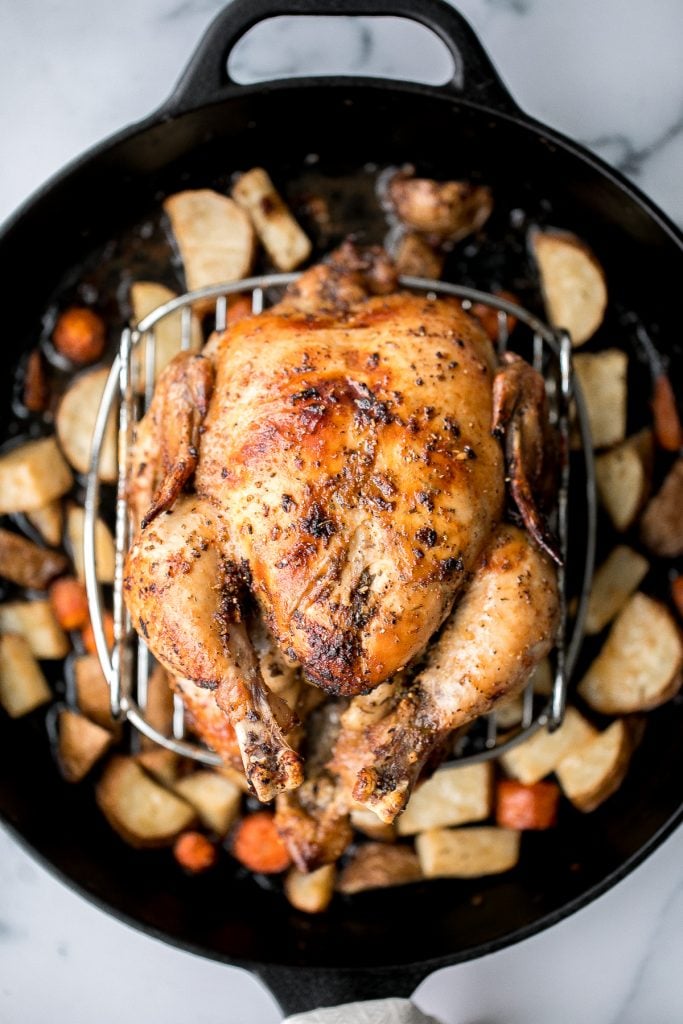 Instant pot turkey roast with homemade gravy is easy to prepare in minutes, the fastest way to cook turkey, and delivers flavorful, juicy, tender turkey.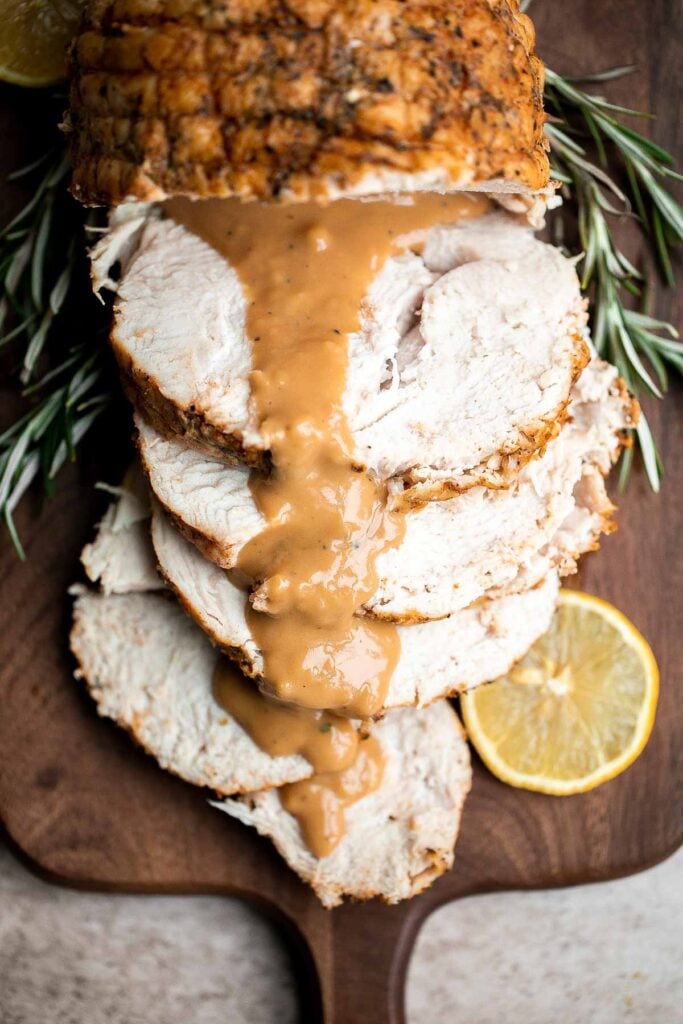 Greek Lamb Shanks - recipe coming soon!
One Pan Garlic Roasted Chicken and Baby Potatoes
One pan garlic roasted chicken and baby potatoes is an easy to make, delicious, and wholesome meal for the entire family. Prep this sheet pan in 10 minutes.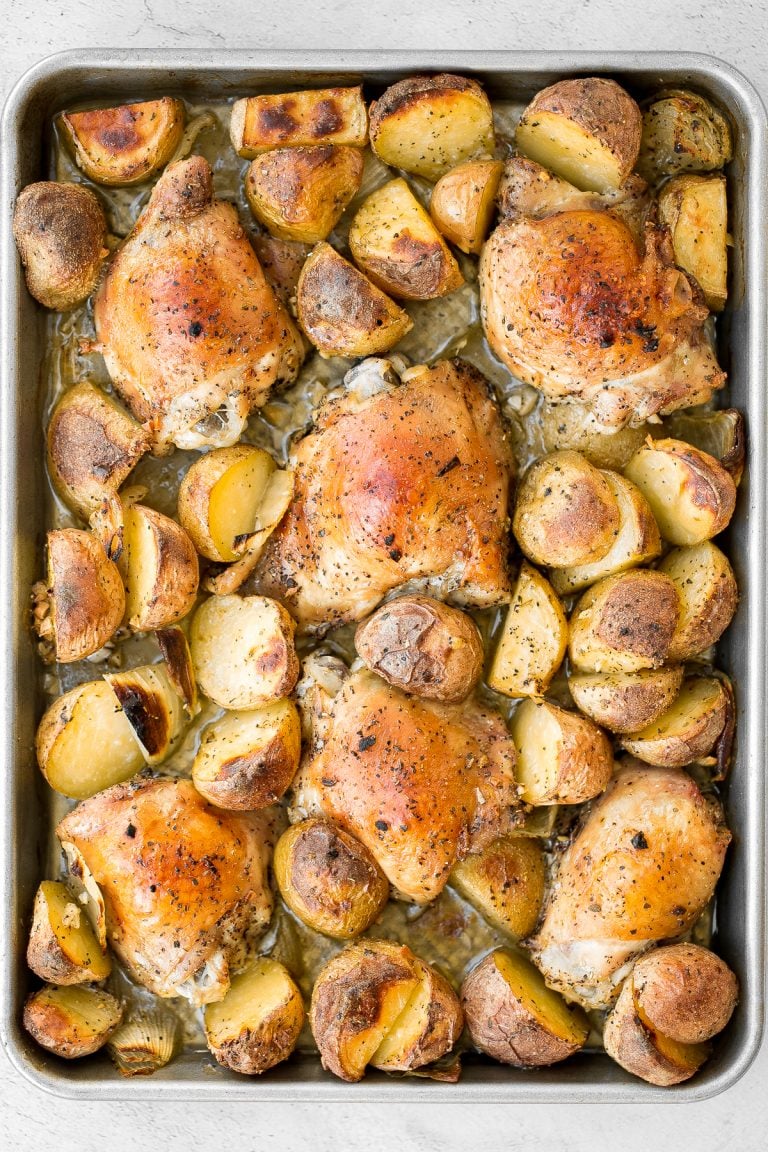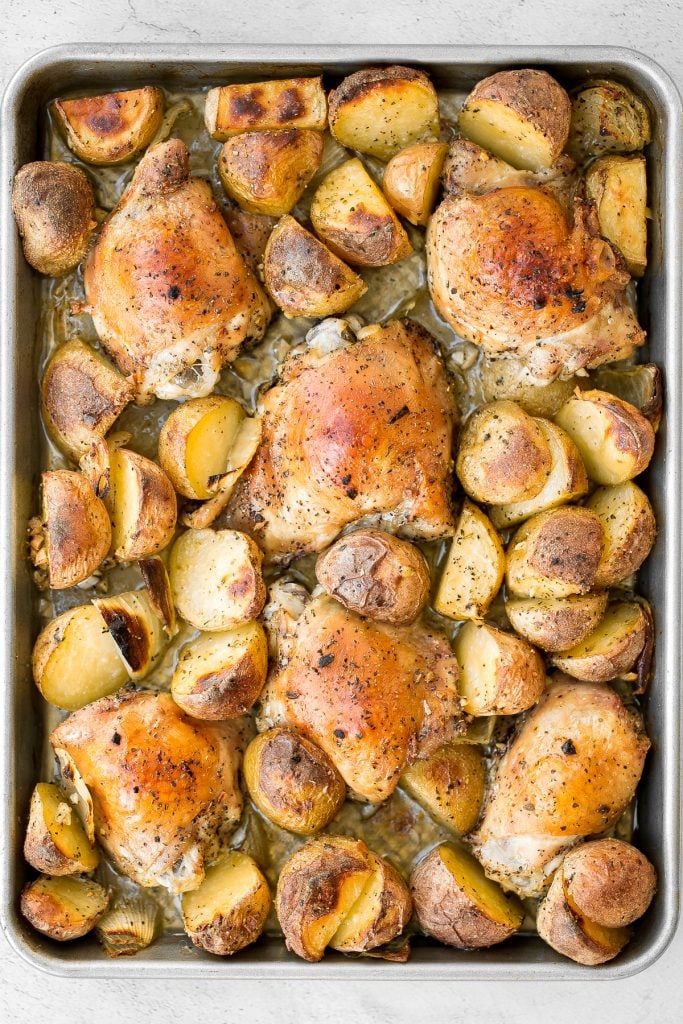 Spring Pesto Pasta with Asparagus
Spring pesto pasta with asparagus and chives is light and made with simple ingredients in under 20 minutes. Serve it hot for dinner or cold as pasta salad. One of my favorite spring dinner ideas.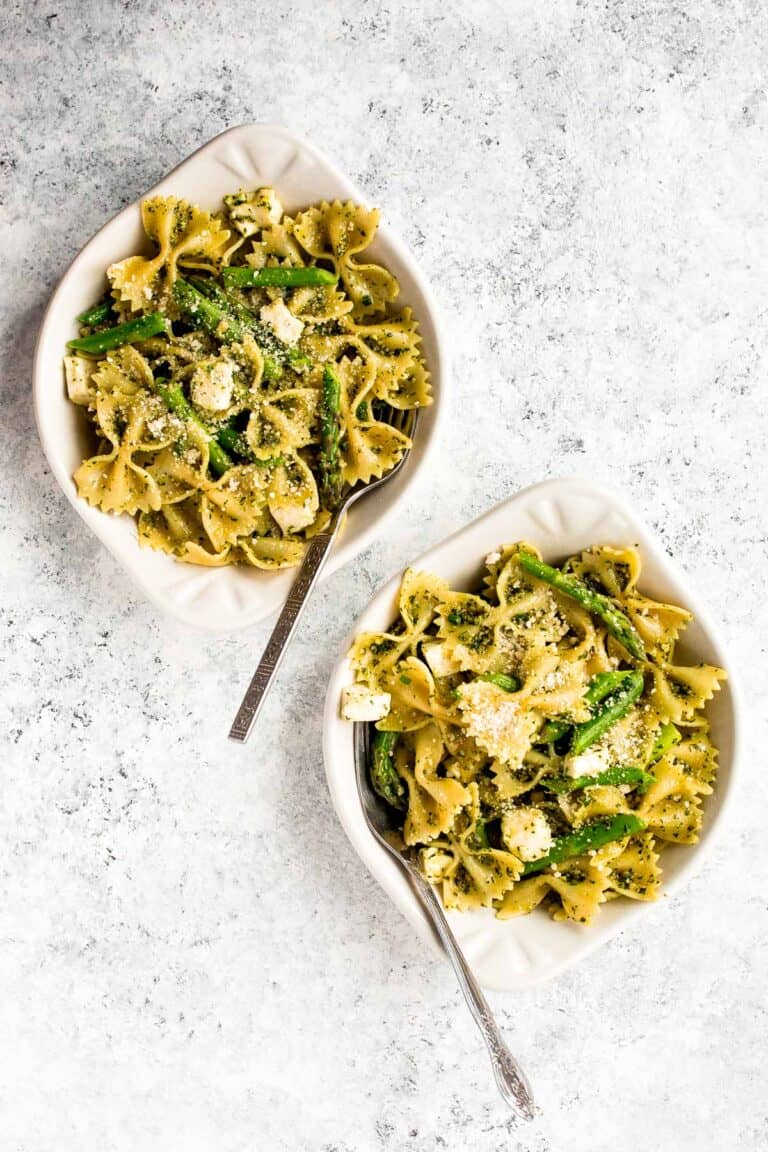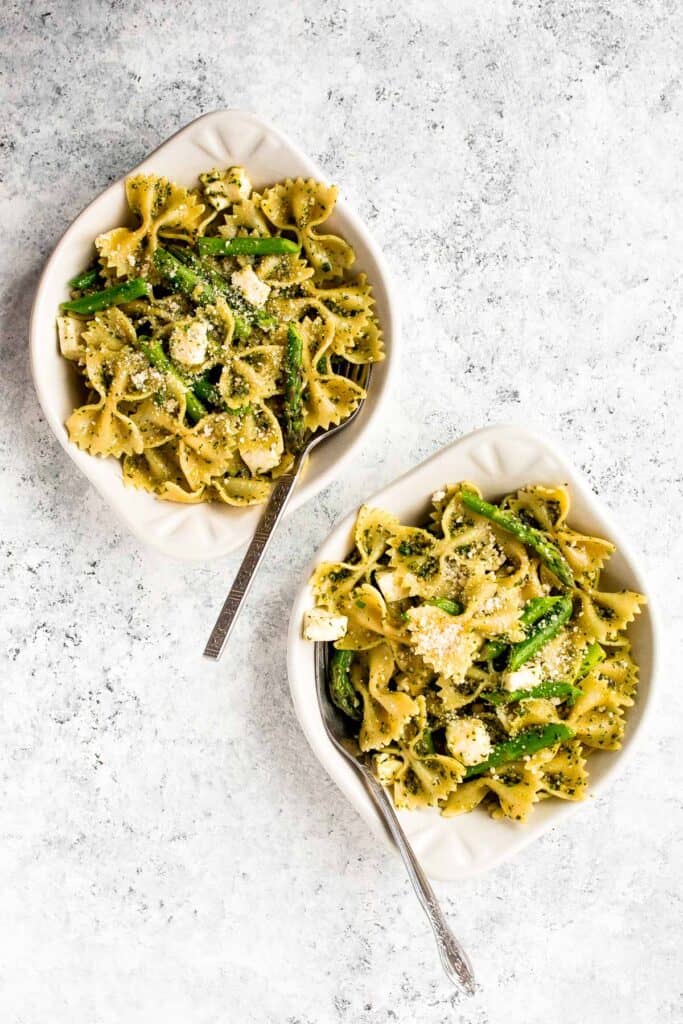 Garlicky, buttery, and perfectly seared scallops take less than 10 minutes to prep and cook. It's the easiest fancy, restaurant-grade meal to make at home.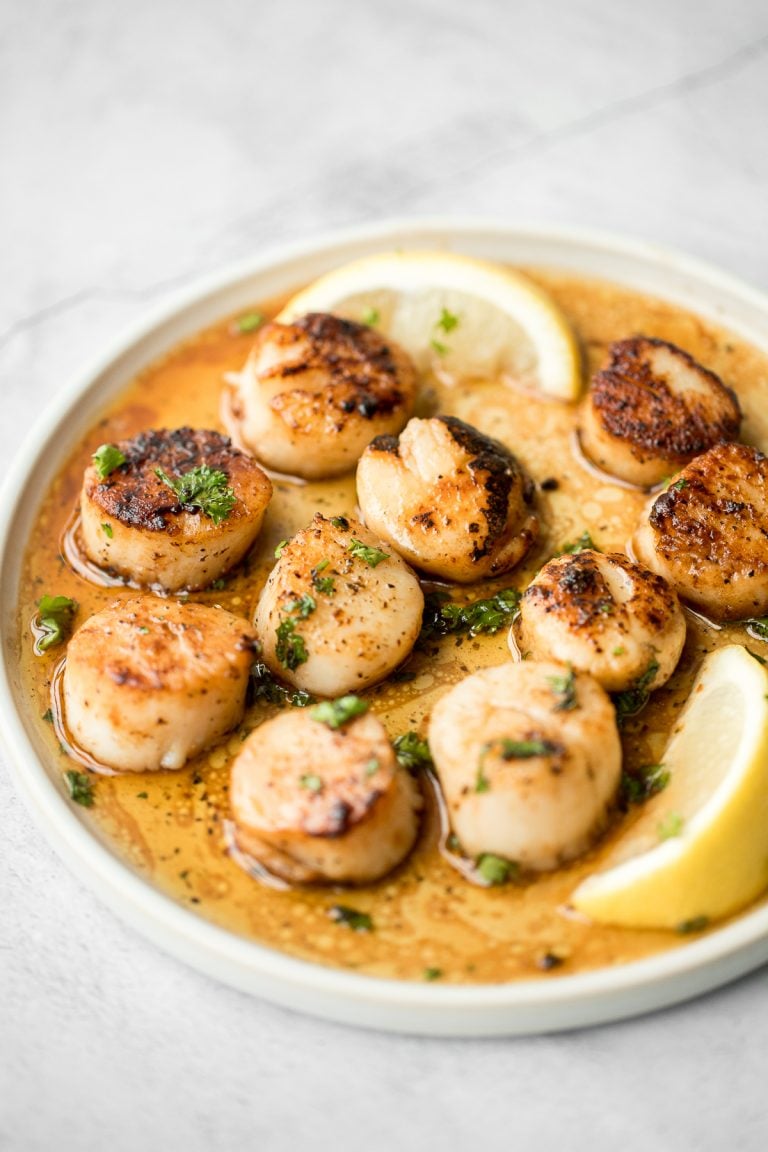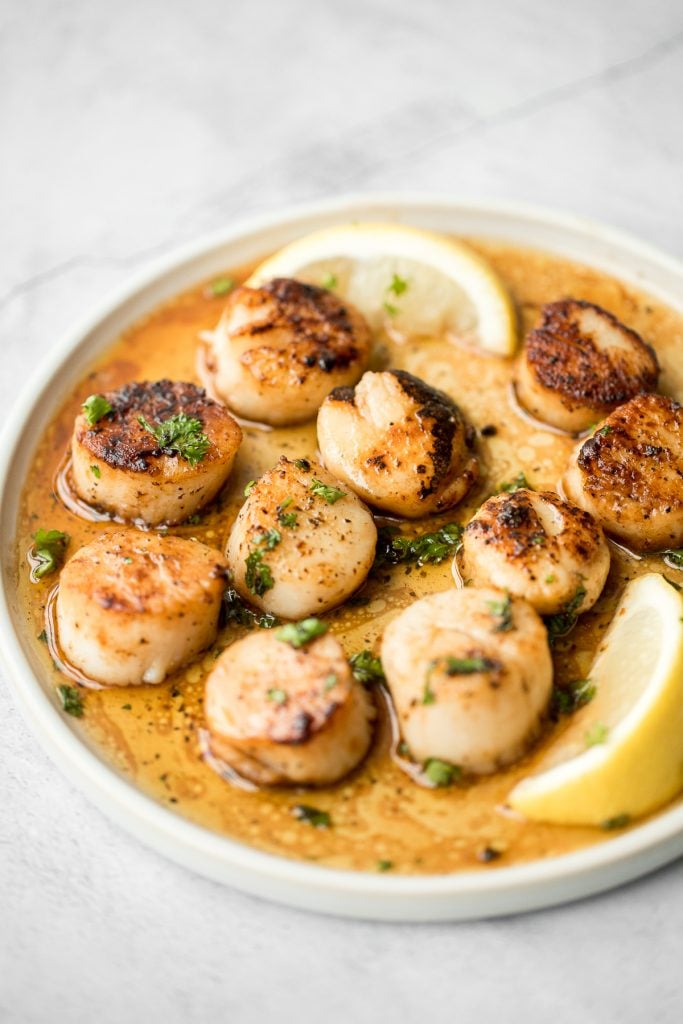 Slow Cooker Leg of Lamb with Vegetables
Easy Mediterranean slow cooker leg of lamb with vegetables is succulent, tender, juicy, and flavourful, seasoned with fresh herbs. Prep the crockpot in just 15 minutes.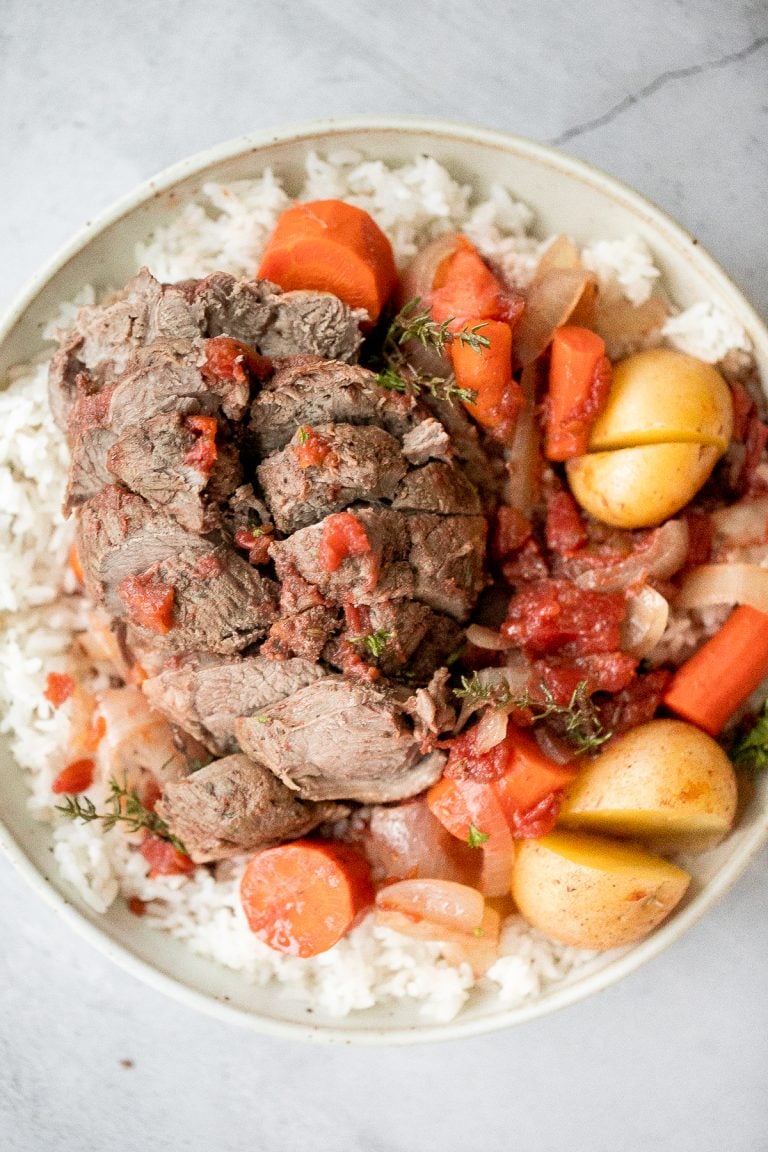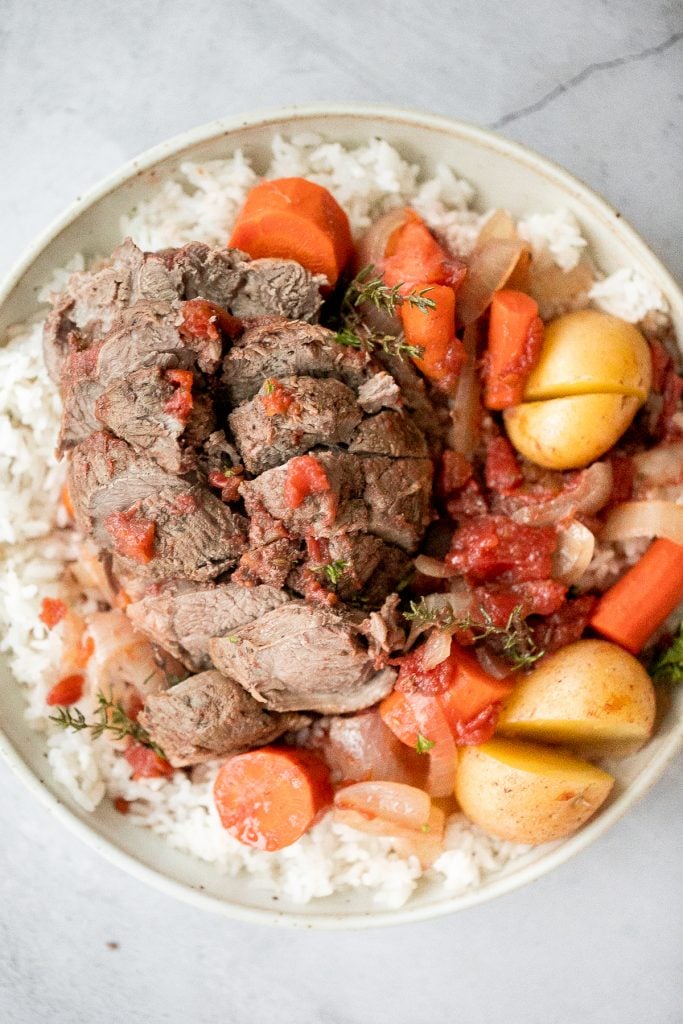 Pistachio-crusted salmon is a gourmet dinner without the gourmet skills! Prepare this with a handful of ingredients in less than 20 minutes!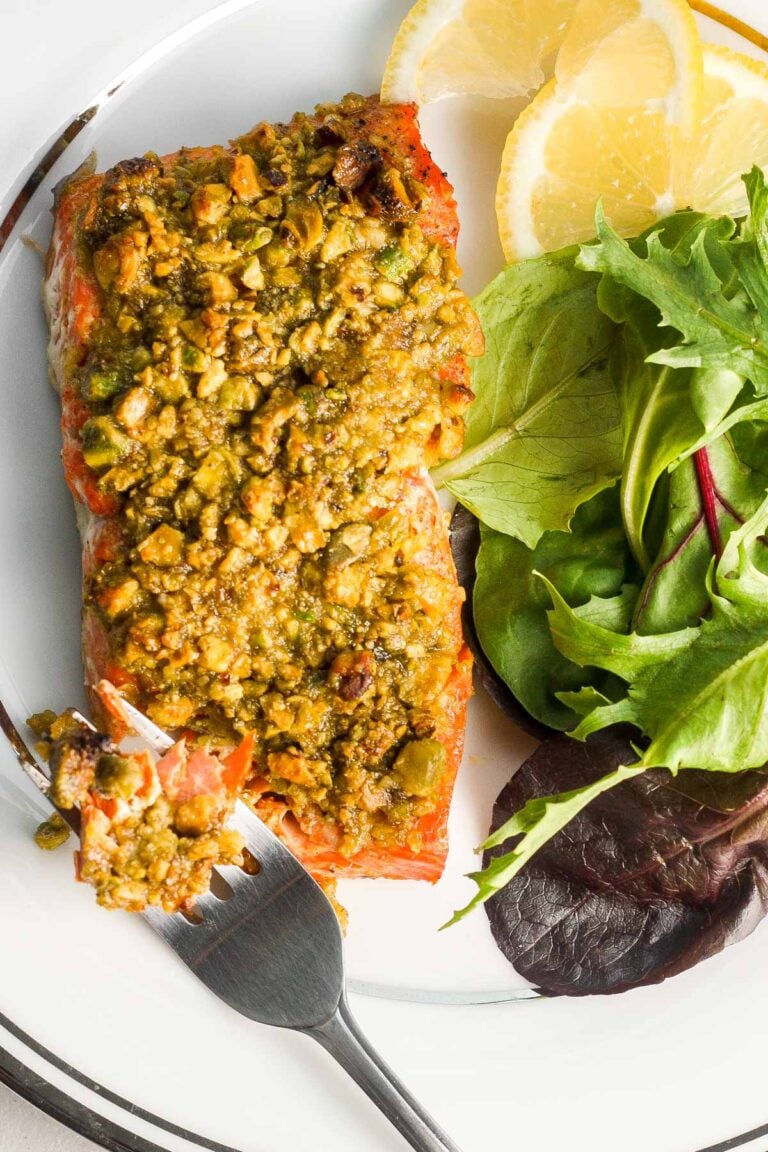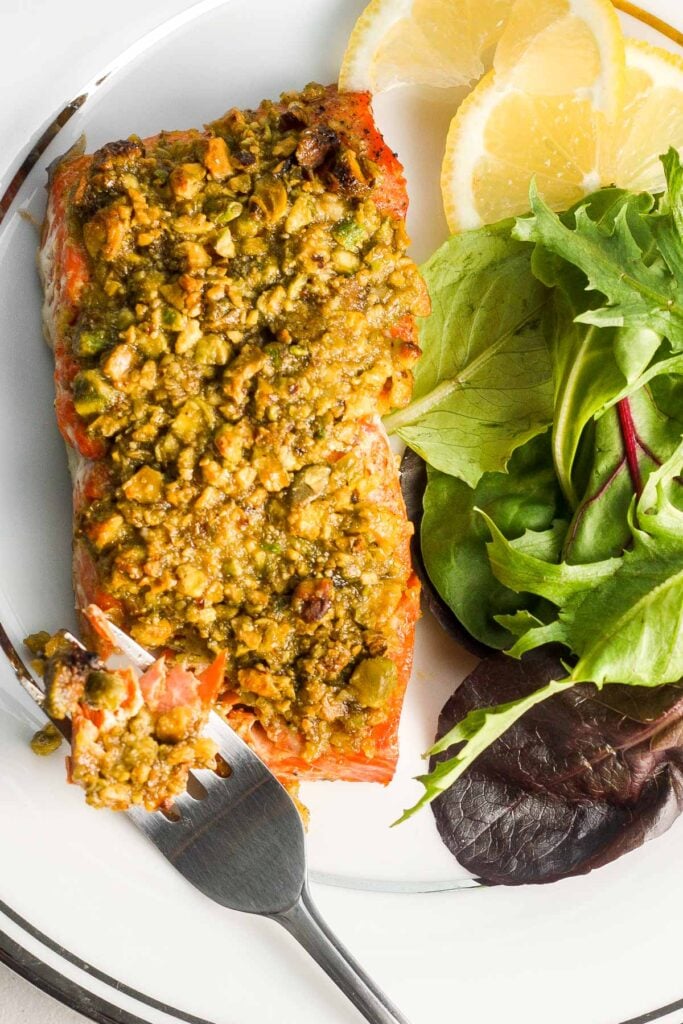 Tips for a Stress-Free Easter Dinner
Plan your menu ahead of time. You can prepare some of these Easter recipes in advance. Some can be frozen and reheated from frozen, others can be made and stored in an airtight container for a few days at room temperature or in the refrigerator. Check individual recipe for full make ahead instructions.
Prep your ingredients as much as possible. Once you have decided the main dish that you will be serving at Easter (and all the other dishes), prepare as much as you can in advance. Whether that is chopping vegetables, marinating meat, or throwing together a salad. You can store all the prepared ingredients in airtight containers in the refrigerator.
Set the table the night before. Take out the fancy Easter holiday dinnerware, flatware, glasses, placemats, and napkins and set the table the night before. It's one less thing to worry about on Easter.
More Easter Recipes
Once you have figured out the main dish that you will be serving for Easter dinner, start planning the appetizers, sides, and dessert. Find everything you need in my most popular Easter recipes:
Did You Make Any of These Easter Main Dishes?
Please leave a comment and rating below, and let me know what you thought of these Easter main dishes. Be sure to snap a picture and tag me on Instagram @aheadofthyme or share it on the Pinterest pin so that I can follow along.
HUNGRY FOR MORE? Don't forget to sign up for my email newsletter so that you don't miss any recipes. You can also follow along on Instagram and Pinterest for more recipe updates.
Print
Recipe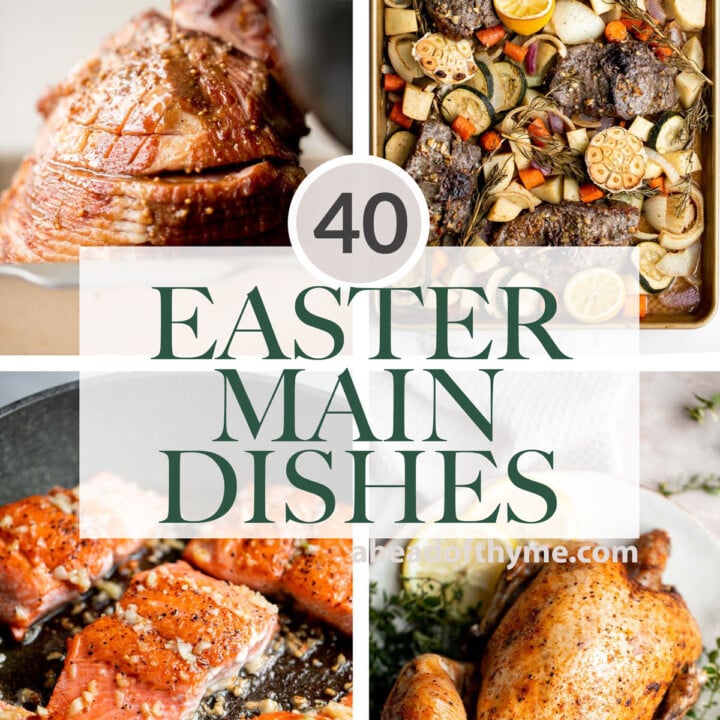 40 Best Easter Mains and Entrees
---
Author:

Total Time:

2 hours 35 minutes

Yield:

10-12 servings

Diet:

Gluten Free
Description
Over 40 best Easter main dishes including ham, turkey, chicken, lamb, beef, pork, and more Easter recipes for your large or small holiday dinner. One of my favorites is this holiday glazed baked ham.
---
7

-

8

lb. bone-in ham, spiral cut

½ cup

 brown sugar

¼ cup

 honey

1 tablespoon

 Dijon mustard

¼ cup

 apple cider

1 tablespoon

 cumin powder

½ tablespoon

 ground cinnamon
---
Instructions
Bake the Ham:
Preheat oven to 275 F. Add ½ cup of water to the bottom of a roasting pan and place the rack on top.
Place ham flat side down on top of the rack. Score the ham with a knife to make shallow cuts, about ¼-inch deep. This helps the ham soak in the sweet glaze. Cover the pan with foil to keep the ham from getting overcooked and dry.
Bake the ham covered for 2 hours until the internal temperature at the thickest part registers at 135F on a meat thermometer.
Add Glaze:
Increase the oven temperature to 425 F.
In a small bowl, combine brown sugar, honey, mustard, apple cider, cumin powder and cinnamon. Whisk until smooth, about 1 minute.
Remove the pan from the oven and generously brush half of the glaze over the ham to coat. Return the pan to the oven and bake uncovered for 15 minutes. Then repeat, applying the remaining glaze and baking for another 15 minutes until the ham caramelizes and turns brown.
Transfer to a serving platter and pour pan drippings on top. Slice and serve with cranberry sauce.
Prep Time:

5 minutes

Cook Time:

2 hours 30 minutes

Category:

Pork

Method:

Oven

Cuisine:

American
Keywords: 40 best easter main dishes, easter mains, easter main dishes, easter main course, easter recipes, easter ham