Healthy mashed potatoes are velvety and smooth, creamy and delicious packed with flavour, but with only a fraction of the calories. What's the secret? Substitute the cream for non-fat Greek yogurt and low-fat milk, and most of the butter with olive oil and chicken stock. These healthy mashed potatoes are the easiest side dish to prepare and can be made ahead of time. Add this quintessential holiday side dish to your Thanksgiving table this year and you won't regret it.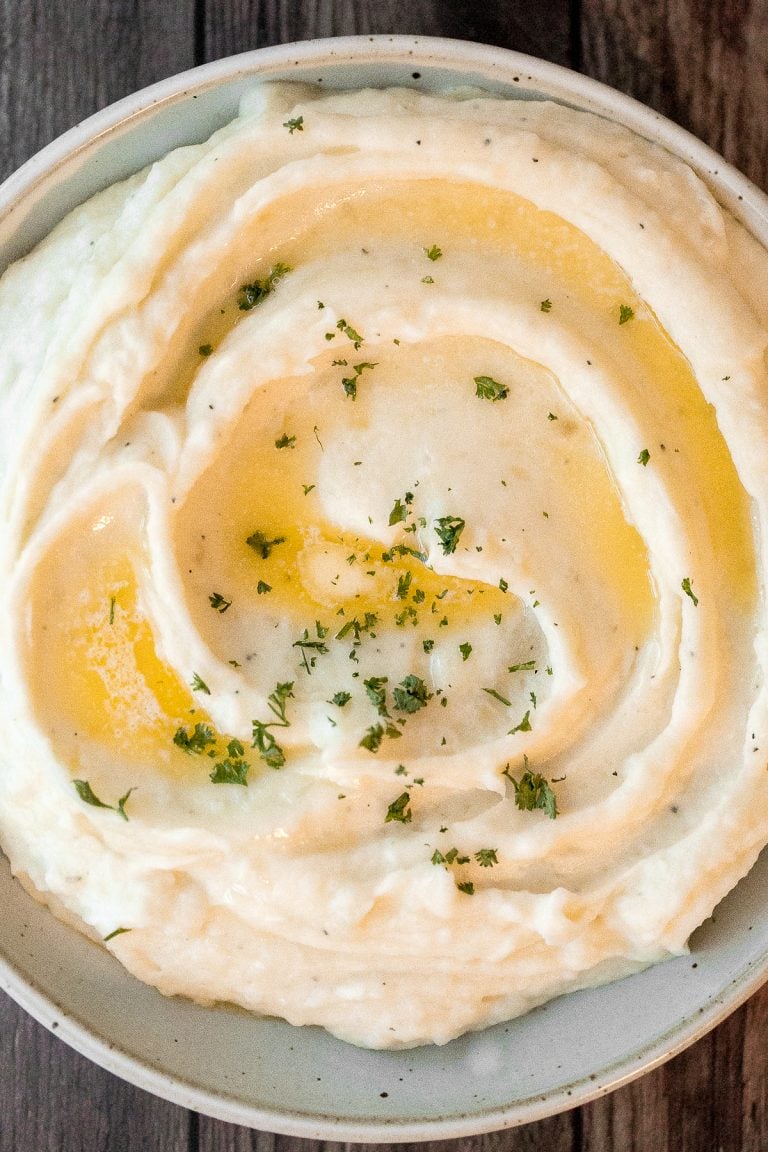 Potatoes are one of those foods that I can eat all day, every day. I like them prepared in any way, shape or form. But mashed potatoes might be my favourite way to enjoy this vegetable. I like them super creamy like in the best and creamiest mashed potatoes, and I like them garlicky like in garlic mashed potatoes with sour cream. I also like them healthy without sacrificing the taste. This recipe cuts out the total calories in this dish by almost 500. Pretty amazing.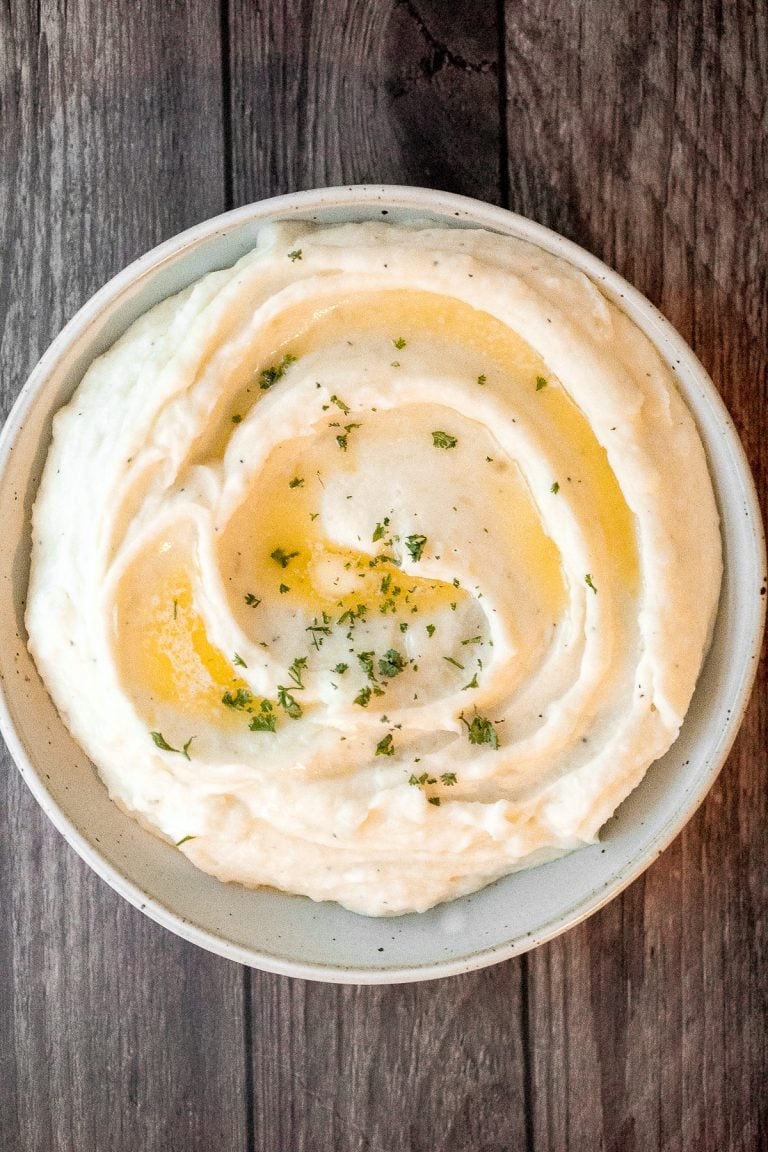 Ingredients
potatoes - I use russet potatoes but Yukon gold potatoes are also perfect for mashed potatoes. They are softer and creamier.
non-fat Greek yogurt - this adds a creamy velvety texture and also to replaces sour cream or heavy cream used in traditional mashed potatoes.
non-fat milk - to create that smooth velvety texture without any cream.
chicken broth - this adds flavour.
butter - just one tablespoon in the whole dish to still give it that classic buttery texture and flavour.
extra virgin olive oil - for texture and to keep the amount of butter that we use low.
salt and pepper
You will also need a large pot and a potato masher.
How to Make the Best Healthy Mashed Potatoes
Boil the potatoes: Place potatoes in a large pot and fill with salted water to cover the potatoes by about one inch. Bring to a boil over high heat, then turn down to low, cover and simmer for 15-20 minutes, until potatoes are tender.
Mash the potatoes: Drain and place the potatoes back in the pot or into a mixing bowl. Mash the potatoes using a potato masher.
Add remaining ingredients: Add chicken broth, milk, butter and olive oil. Whisk until light and fluffy. Add a generous amount of salt and pepper, to taste. Whisk until combined.
Serve. Transfer to a serving dish, garnish with parsley, extra butter and serve warm.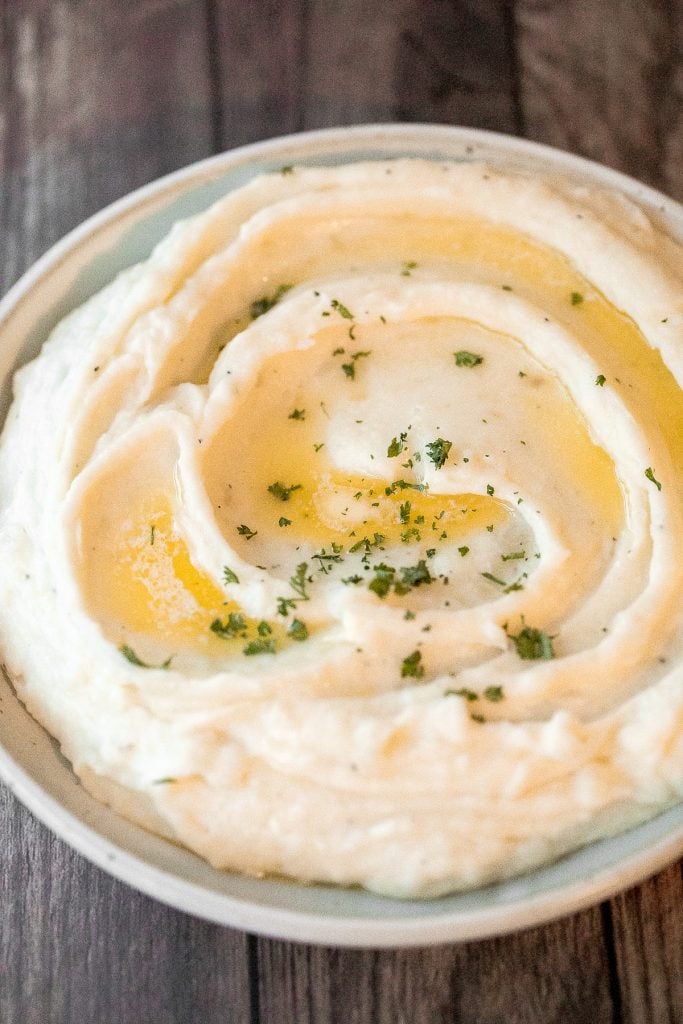 Tips
Use a potato masher. Mash the potatoes using a simple potato masher. For extra creamy potatoes, use an electric hand mixer to mix the ingredients together after you have mashed the potatoes with the masher.
How to store: Mashed potatoes can be stored in an airtight container in the refrigerator for up to 3 days.
How to make ahead: Prepare these mashed potatoes up to 3 days ahead of time. To reheat, transfer to the microwave or oven.