Ok guys, if you didn't already know, I am kind of obsessed with potatoes. I love them baked, mashed, fried, roasted, au gratin, in a poutine, and basically prepared in any other way that potatoes can be prepared. Hasselback potatoes with garlic herb butter are kind of my new favourite.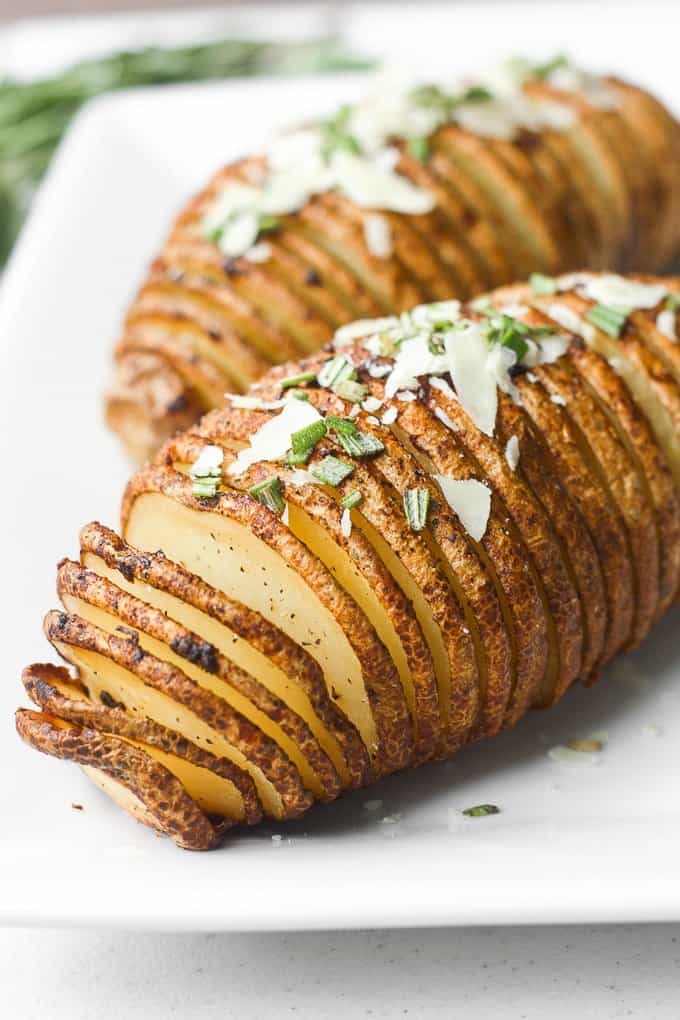 Let me rewind a little bit on how my love story with hasselback potatoes first started. During the summer here in Vancouver, there is a big event called the night market which is open during the evenings on the weekends. It is lined with booths of vendors selling their goods and even more booths with vendors selling amazing street food. The booth with the longest wait is the one with the "potatoes on a stick", which is basically a potato sliced into a sprial and then srpead out on a stick and deep fried to perfection. It is then topped up with one of a large selection of flavours. My favourite is by far the parmesan and garlic. Which leads us to these hasselback potatoes with garlic herb butter. They are the closest thing to potatoes on a stick, yet they are so so much better!!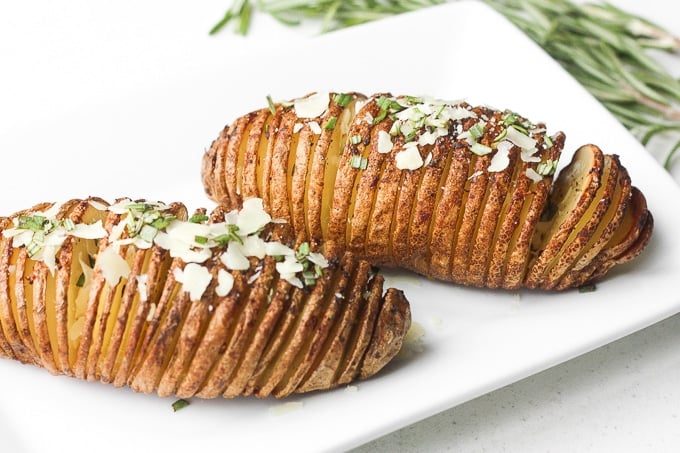 What makes these hasselback potatoes so great?
The garlic herb butter. Does this need an explanation? It is the most amazing fragrant butter infused with the flavours of garlic and rosemary. The key to getting the most out of the herb garlic butter is to brush the butter on the potatoes in the beginning and then brush them on again halfway.
The texture. They are perfectly crispy on the outside and tender, buttery amazingness on the inside.
Move over mashed potatoes, there is a new spud in town and it is taking over the holiday dinner table!!
Print
Hasselback Potatoes with Garlic Herb Butter
---
Description
Hasselback potatoes with garlic herb butter are perfectly crispy on the outside and tender and buttery on the inside, infused with garlic and rosemary.
---
Garlic Herb Butter:
¼ cup unsalted butter

3

cloves garlic, pressed

1

sprig rosemary
Hasselback Potatoes:
4

russet or Yukon Gold potatoes, scrubbed clean and patted dry

salt and pepper, to taste

fresh herbs (optional topping)

Parmesan cheese (optional topping)
---
Instructions
Garlic Herb Butter:
In a small saucepan, add butter over medium heat.
Once the butter starts to melt, add garlic and rosemary and heat until the butter has melted and the garlic is fragrant.
Remove from heat and set aside to allow the flavours to infuse into the butter.
Hasselback Potatoes:
Preheat oven to 425 F.
Lay each potato down flat. If your potatoes are rolling around, slice a small layer off the bottom so that it can sit flat (optional).
Using a sharp knife, cut crosswire slices into the potato, spaced about ⅛-inch to ¼-inch apart. Do not slice all the way through. Make sure to leave about ¼-inch of the potato in tact from the bottom. Repeat with all potatoes.
Brush the potatoes with half of the garlic herb butter. Place potatoes on a lined baking sheet and bake for 25 minutes.
Take potatoes out of the oven and separate the slices slightly using a butter knife. Brush on more garlic herb butter (you may need to reheat if it has hardened), making sure you get it in between each slice. Season with salt and pepper.
Place potatoes back into the oven and bake for an additional 35-40 minutes, or until the outsides are golden brown and crispy.
Serve immediately, top with fresh herbs and parmesan cheese (optional). You can also pop the potatoes back in the oven for a few minutes to lightly melt the cheese.
Notes
To prevent you from slicing the potatoes all the way through, place chopsticks or wooden spoons on each side of the potato to help block your knife from going through.