It is officially fall! My favourite thing about fall is the resurfacing of of comfort food into my diet. And let me tell you, I don't waste any time. How can I? All I have been thinking about for the last two week is reuniting with the best creamy spinach and tomato vegetarian lasagna.
This post was sponsored by Muir Glen. The recipe and opinions are my own.
Every ingredient in this dish comes together to create an explosion of taste in your mouth. The spinach, the cheese, the lasagna noodles, and last but not least, the Muir Glen fire-roasted crushed tomatoes. Yes, that is right, fire-roasted. Bet you have never heard of any other canned tomato that is fire-roasted. Well, you haven't. There is none other. Only Muir Glen offers fire-roasted canned tomatoes. They are grilled over an open flame to maximize natural sweetness and subtle smokiness. All I can say is amazing.
I thought I would have some leftovers for the week, especially since I made this entire 9-serving dish for just my husband and I. Well, no. We kind of finished the entire thing in 2 days. How could I help it when it is literally one of the best and creamiest vegetarian lasagnas? And it is no coincidence that it is made with the best tomatoes. Muir Glen settles for nothing less than the best. Their tomatoes are field grown and vine ripened under certified organic practices. Plus, they are harvested at their peak of ripeness in late summer and canned in 8 hours or less. You can taste the quality and freshness in every bite.
You can find Muir Glen products in the natural foods section at all Sobeys and Whole Foods and most Loblaws stores 🙂
So gather your ingredients, make some lasagna and dig in!
Print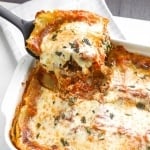 Creamy Spinach and Tomato Vegetarian Lasagna
---
Author:

Sam | Ahead of Thyme

Prep Time:

35 min

Cook Time:

60 min

Total Time:

1 hour 35 minutes

Yield:

9

Category:

Entree

Cuisine:

Italian
Description
Take comfort food to another level with the best creamy spinach and tomato vegetarian lasagna. You won't even miss the meat!
---
Ingredients
Tomato Sauce:
1 and 1/2 tablespoons olive oil
1/2 onion, grated
2 cloves garlic, pressed or minced
1/4 teaspoon dried oregano
1 (28-ounce) can of Muir Glen fire-roasted crushed tomatoes
1/4 teaspoon sugar
2 tablespoons fresh basil, chopped
salt and freshly ground black pepper (to taste)
Spinach Mixture:
1 and 1/2 tablespoons butter
2 cloves garlic, minced
5 cups fresh spinach, chopped
2 cups ricotta cheese
1/2 cup Parmesan cheese
1 large egg, beaten
1 teaspoon Italian seasoning
1/2 teaspoon dried oregano
pinch of ground nutmeg
1/2 teaspoon salt
1/4 teaspoon ground black pepper (to taste)
Lasagna:
9 lasagna noodles
2 and 1/4 cups mozzarella cheese, shredded
freshly chopped basil (optional, for garnish)
Parmesan cheese (optional, for garnish)
---
Instructions
Preheat the oven to 375 degrees F.
Tomato Sauce:
Heat olive oil in a large saucepan over medium heat.
Add onion and sauté for 2 minutes. Add garlic and oregano and continue to sauté for 2-3 minutes until onions are soft and translucent.
Add crushed tomatoes and sugar. Stir to combine.
Bring sauce to a boil and turn down heat to low. Simmer for 15 minutes.
Remove from heat and stir in basil. Season with salt and pepper, to taste. Set aside.
Spinach Mixture:
While the tomato sauce is simmering, prepare the spinach mixture.
Squeeze the spinach in your hands to get out excess water.
Melt the butter in a skillet over medium high heat. Add garlic and sauté for 2 minutes.
Add spinach and continue sauté for 2 minutes until the spinach is wilted, about 3-4 minutes. Remove from heat.
In a large bowl, combine spinach, ricotta cheese, Parmesan cheese, egg, Italian seasoning, oregano, nutmeg, salt and pepper. Stir until combined. Set aside.
Lasagna:
Cook lasagna noodles according to package instructions.
In a greased a 9″ x 12″ casserole dish, spread a very thin layer of the tomato sauce on the bottom.
Layer 3 lasagna noodles, half the the spinach mixture, 1/2 cup of mozzarella cheese and 1 cup of tomato sauce. Repeat with second layer.
End with remaining 3 lasagna noodles, remaining tomato sauce and 1 and 1/4 cups of mozzarella cheese.
Cover with aluminum foil and bake for 45 minutes. Uncover and continue to bake for 15-20 more minutes until cheese is golden brown.
Remove from oven and let stand for 15 minutes before serving.
Garnish with freshly chopped basil and Parmesan cheese (optional).
Notes
The spinach mixture may be hard to spread on the lasagna noodles. You can drop them them in spoonfuls and then spread around using the back of the spoon.
If crunched for time, you can use no-boil lasagna noodles which can be layered in dry.
You can also prepare this ahead of the time and store it in the fridge for up to 2 days before you are ready to bake.