Thanksgiving dinner is just not the same without thick and creamy, classic homemade turkey gravy made from leftover drippings and homemade turkey stock. There is seriously no need for powdered gravy if you are already making a roast turkey dinner!!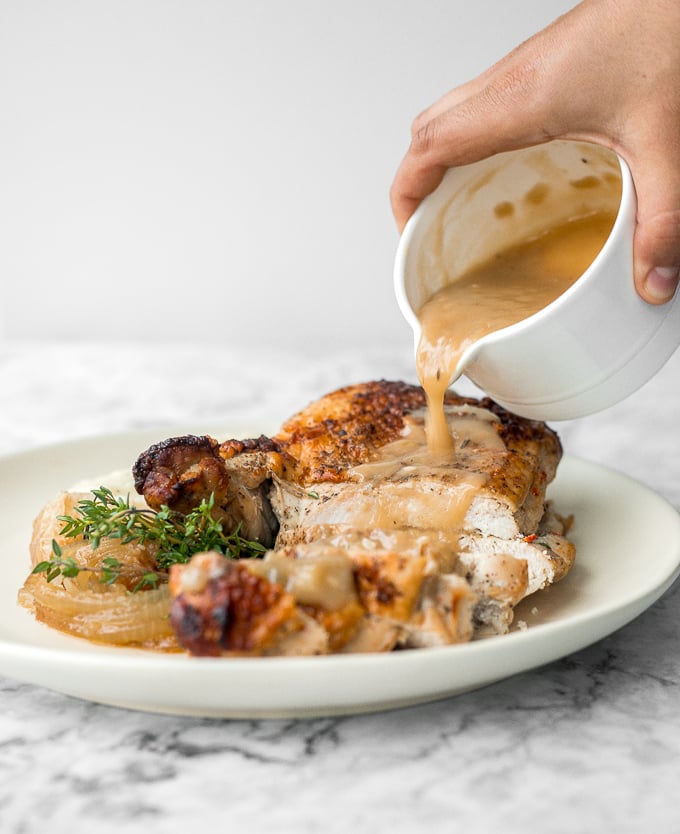 To save time (and free up prime stovetop real estate), you can prepare the turkey stock in advance. You can then store the stock in the refrigerator until you are ready to use it the next day. Unfortunately, we cannot make the whole gravy in advance because putting the gravy together requires those turkey drippings which will only be ready once the turkey is ready. The thought of that kind of sends me into panic mode so thank goodness the gravy only takes about 10-15 minutes to come together!! Breathes sigh of relief.
After roasting that bird for a few hours you will end up with about a cup of drippings, or as I like to call it, a cup of Thanksgiving heaven. Don't be alarmed if you think a cup not enough. It is more than enough. That cup of all-encompassing mixture of holiday seasonings and flavour goes a long way. Way longer than any package of powdered gravy ever can. We will use those juicy drippings to create a roux and we will be adding our turkey stock to bulk it up.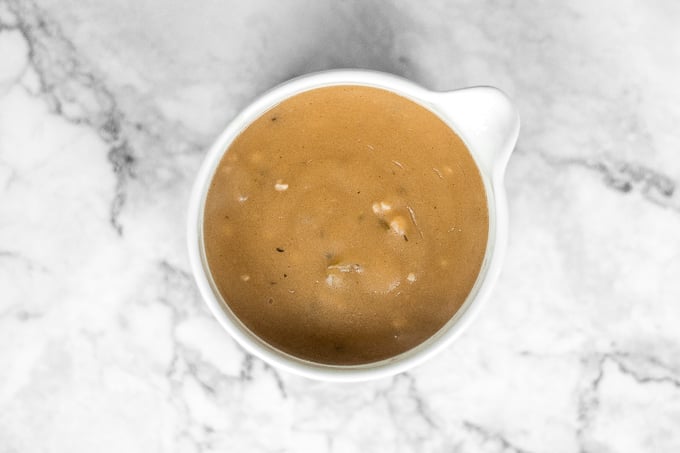 What is a roux?
A roux is a fancy word for a cooked mixture used to thicken sauces and gravies. It is a mixture of one part fat (oil from turkey drippings) and one part flour which thickens the sauce without making it clumpy. If you recall, I used a roux in my classic baked macaroni and cheese recipe.
In other words, our perfect gravy wouldn't exist without it. Thank you fancy french cooking techniques!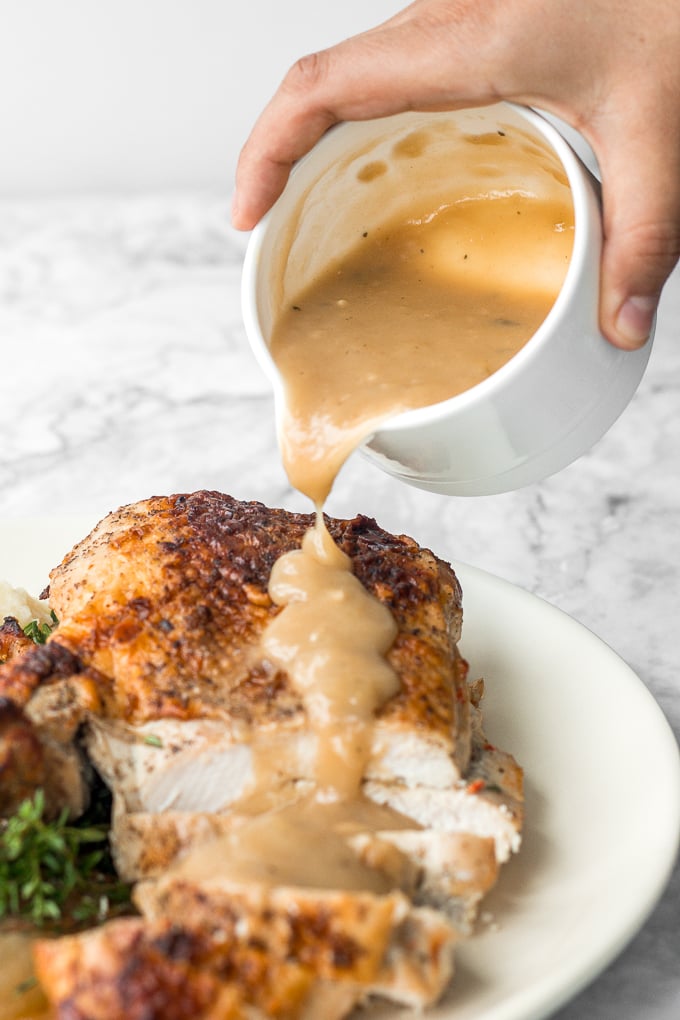 Print
Recipe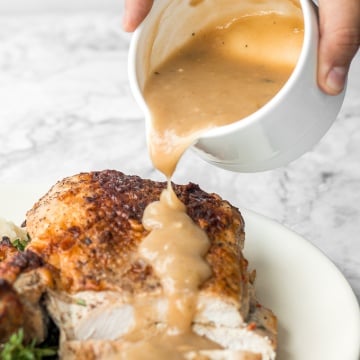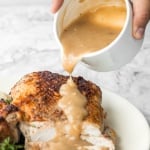 Classic Homemade Turkey Gravy
---
Author:

Total Time:

2 hours 15 minutes

Yield:

4 cups
Description
Thanksgiving is not the same without thick and delicious, classic homemade turkey gravy made using leftover drippings and homemade turkey stock.
---
Turkey Stock:
turkey neck and giblets (or turkey neck only)

2

carrots, coarsely chopped

2

ribs of celery, coarsely chopped

1

onion, quartered

2

cloves garlic, whole

2

sprigs of fresh rosemary

2

sprigs of fresh thyme

2

-

3

fresh sage leaves

6 cups

water
Gravy:
4 tablespoons

fat from turkey drippings

6 tablespoons

all-purpose flour
juice from turkey drippings
homemade turkey stock (instructions below)
salt and pepper to taste
---
Instructions
Make the Turkey Stock:
In a large pot, add turkey neck, giblets (optional), carrots, celery, onion, garlic, rosemary, thyme, sage and water. Bring to a boil over medium high heat. Reduce heat and maintain a simmer. Cover and simmer for 2 hours . Strain the turkey stock in a mesh sieve and discard solids. Set aside.
Make the Gravy:
Remove your cooked turkey from the roasting pan and pour the drippings and brown bits into a clear measuring cup. Let it sit for a few minutes to allow the fat and juices to separate.
Remove the fat by tilting the measuring cup gently and use a spoon to skim out the fat. Place the fat in a small bowl and set aside.
Add turkey stock to the juices until you have 4 cups of liquid in total.
In a medium saucepan, add 4 tablespoons of fat and heat over medium high heat. Add flour and whisk together. Cook for a few minutes.
Add the liquid mixture slowly and whisk continuously to prevent clumping. As the sauce thickens, add more liquid.
Allow mixture to come to a simmer and simmer for 5 minutes uncovered. If you prefer a thicker gravy, continue to simmer until it reaches a consistency that you like.
Strain the gravy through a mesh sieve. Add salt and pepper to taste.
Prep Time:

2 hours

Cook Time:

15 mins

Category:

Sauce

Cuisine:

American
The Easiest, Best and Juiciest Roast Turkey
Get the recipe HERE!! This turkey cooks faster than traditional methods and requires NO brining!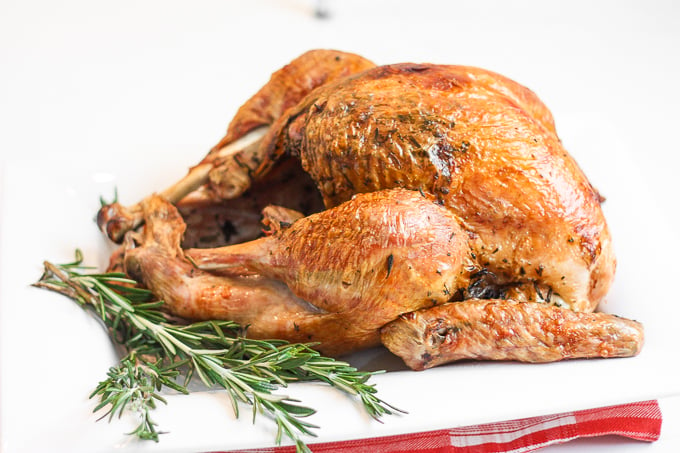 Check out Some of my Favourite Holiday Dishes:
Reader Interactions