Two 6-inch layers of banana cake held together with whipped coconut cream and topped with more cream, mixed berries and a drizzle of maple syrup. This little healthy banana smash cake with coconut cream frosting is the kind of cake I would want to serve on a coffee break or for brunch. I seriously can't believe we are giving this to our one year old... to smash (and hoping that he will at least eat some, considering the effort that went into it!). How come we didn't do things like this when I was a kid?
Side note -- how is my baby already one year old? *cue the waterworks*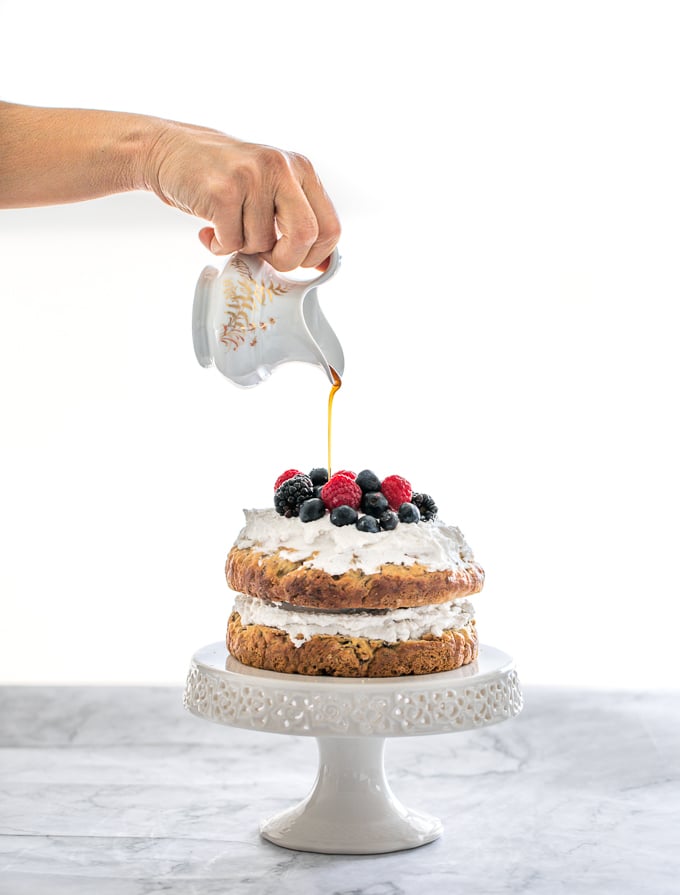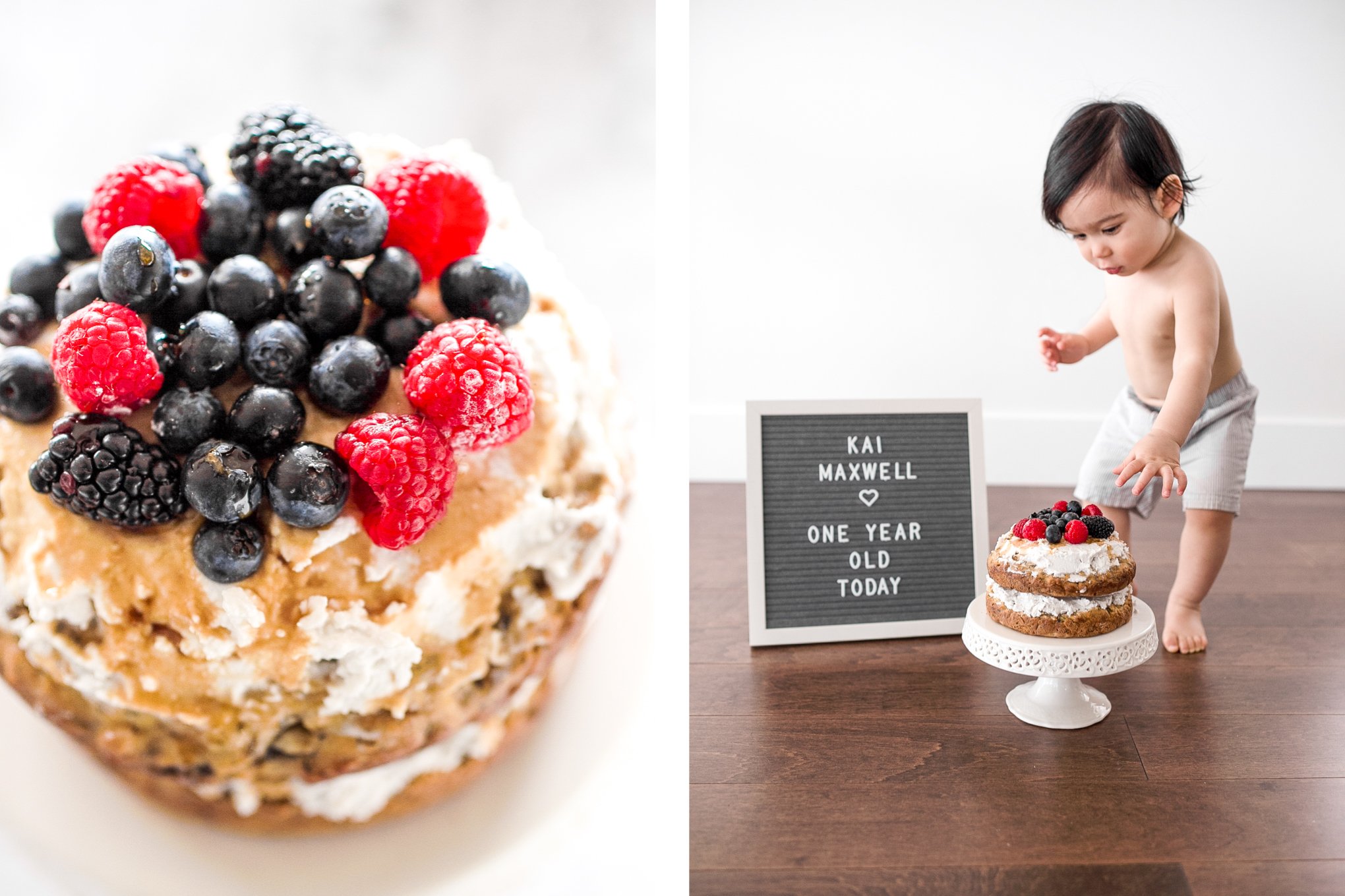 What is a Smash Cake?
A smash cake is a small frosted cake given to a one year old child on their birthday. They are allowed to "smash" it and eat it with their hands. You basically place the cake in front of them and let them go wild. It makes for great memories and amazing photographs that we will treasure forever.
My sister Leili, of the incredible Heidema Photography, made the trip down to Vancouver with her two kids to celebrate Kai's birthday with us. We are so grateful to have been able to celebrate his birthday just before social distancing became the norm. I made him this healthy banana smash cake to celebrate on his actual birthday, and she captured all of these beautiful photographs for us. We were also able to celebrate on with family and friends on the weekend with a big "Wild One" birthday party.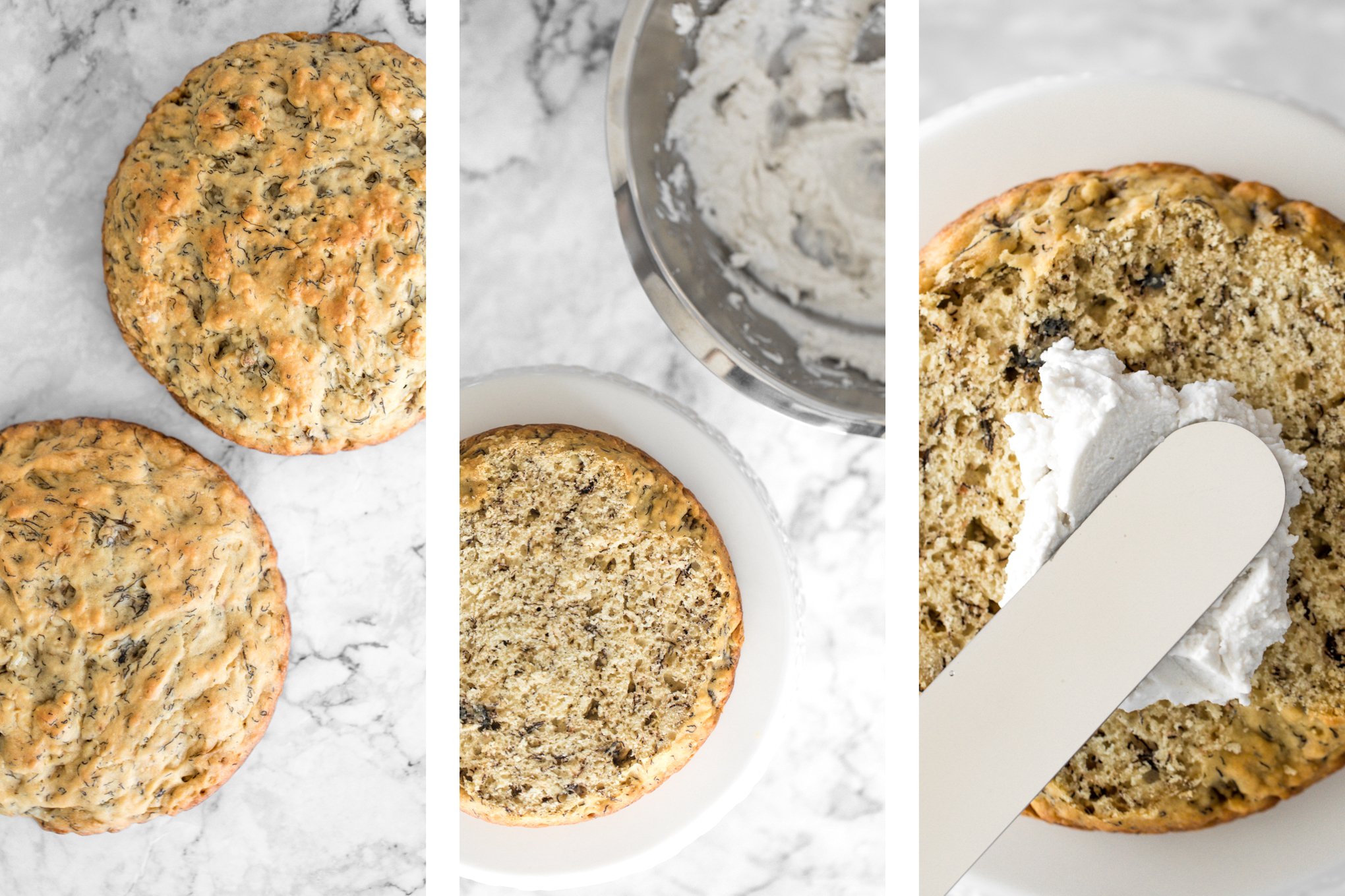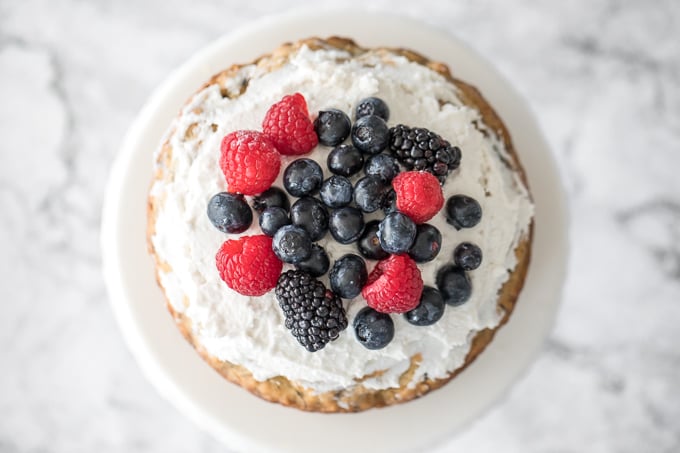 How to Make a Healthy Smash Cake
So first, you have to make your cake layers, which basically consists of flour, baking powder and soda, ripe banana, egg, coconut oil, maple syrup, vanilla extract and whole milk. Once cooled, you are ready to prep your coconut cream frosting and build your cake.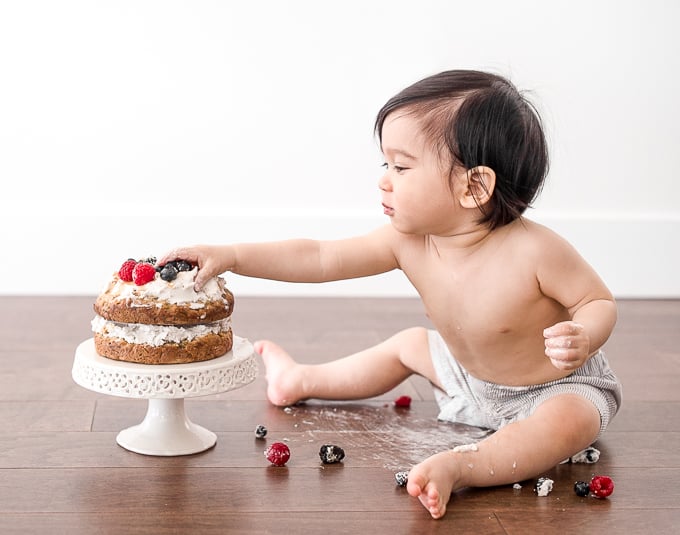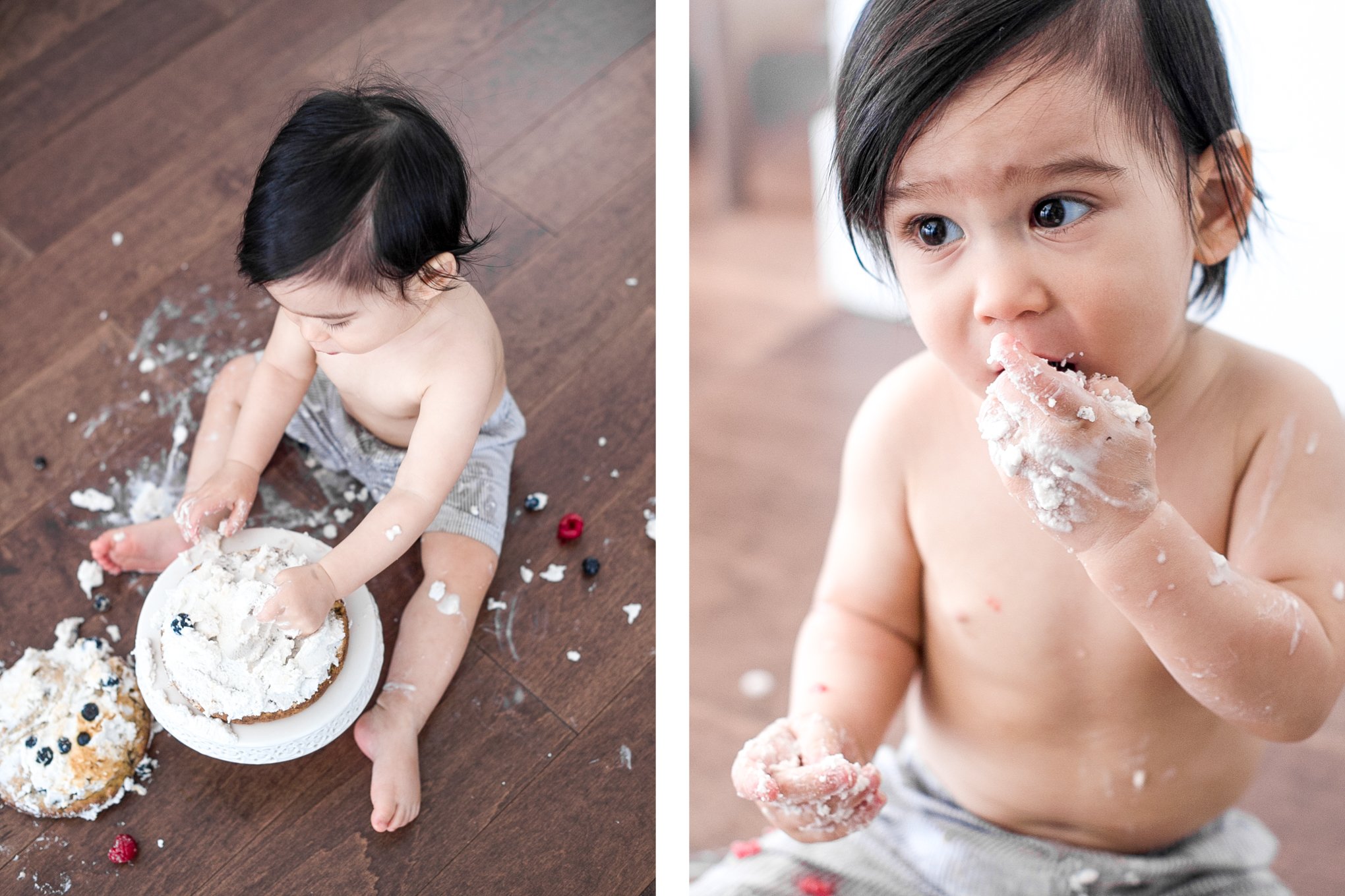 How is this Smash Cake Healthy?
no refined sugar - this cake is sweetened with ripe bananas and a little maple syrup. It takes like banana bread, just not as sweet. I mean, my baby doesn't yet know what he is missing since we haven't offered him anything with refined sugar. So this cake worked really well.
healthy frosting - the frosting is made out of coconut cream (aka 100% coconut) and also sweetened with a little maple syrup. Plus, it is topped with berries for added sweetness.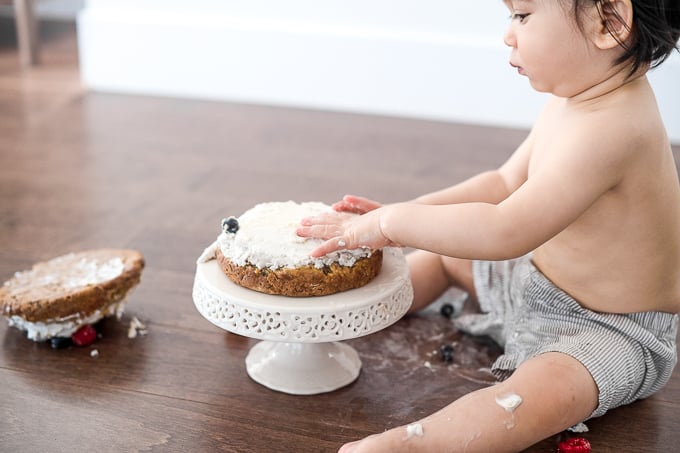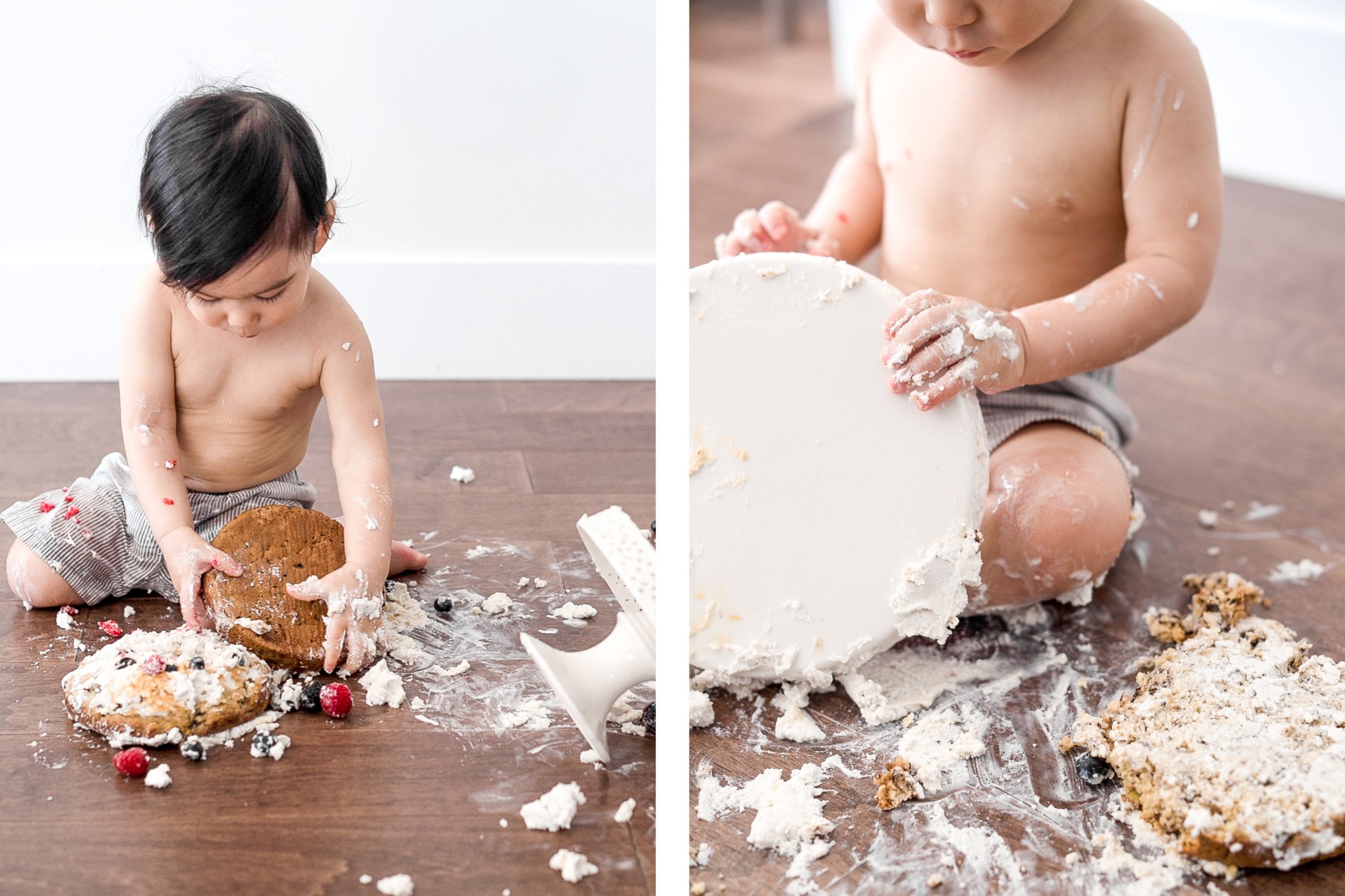 Monthly Progression + Cake Smash Video
I also filmed a few segments from his cake smash to share with you. In the video below, you can see clips of Kai's month-by-month progression from a newborn baby to a 12 month old, and ending with his smash cake. He really did a number on that cake!
Print
Recipe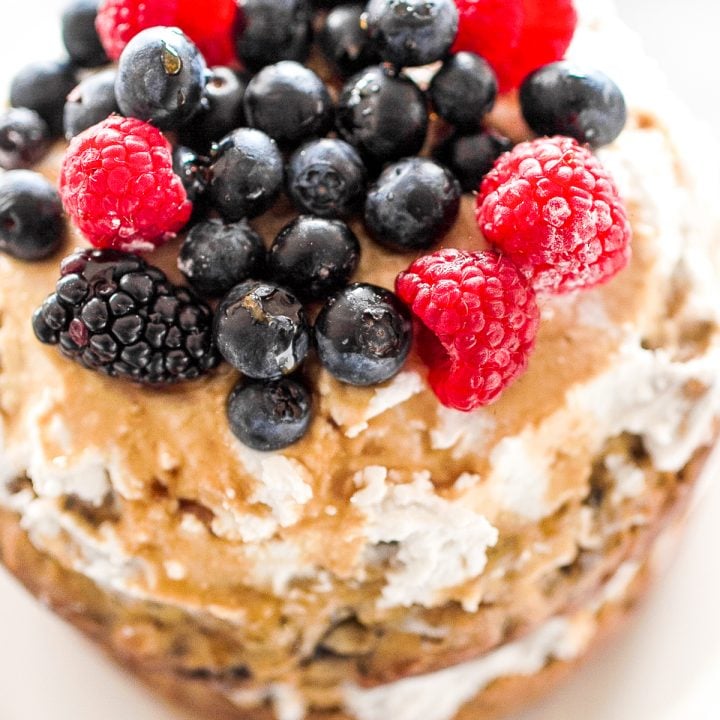 Healthy Banana Smash Cake with Coconut Cream Frosting
---
Author:

Total Time:

40 minutes

Yield:

1 smash cake (or 6-8 servings)
Description
This healthy banana smash cake is held together with a whipped coconut cream frosting and topped with more cream, mixed berries and a drizzle of maple syrup.
---
For the Smash Cake:
2 cups

all-purpose flour

1

and ½ teaspoons baking powder

1 teaspoon

baking soda

1 cup

ripe banana, mashed (approximately

2

bananas)

1

large egg, separated

1 tablespoon

coconut oil

2 teaspoons

maple syrup

1 teaspoon

vanilla extract

½ cup

whole milk
For the Coconut Cream Frosting:
1

can coconut cream

1 teaspoon

maple syrup
mixed berries, for topping
---
Instructions
Make the Smash Cake:
Preheat oven to 350 F. Lightly grease 2 mini 6-inch cake pans with coconut oil and line with round parchment paper inside.
In a medium bowl, whisk together flour, baking powder, and baking soda.
In a large bowl, whisk together mashed banana, egg yolk, coconut oil, maple syrup, and vanilla, until smooth.
Slowly add one third of the flour mixture to the wet ingredients, until just combined. Then alternate with a third of the milk. Continue adding and alternating flour mixture and milk to the batter, and ending with the flour mixture. Stir until just combined.
In a small bowl, beat egg white on high until stiff peaks form. Gently fold in the egg white into the batter until no streaks are remaining.
Divide batter evenly among prepared cake pans. Bake for 20-22 minutes, until toothpick comes out clean when inserted into the centre of the cake. Allow cake to cool in the cake pans for 10 minutes, then remove from pans and place on wire cooling rack until completely cooled.
Make the Coconut Cream:
Place can of coconut cream into the refrigerator and chill overnight. Place a mixing bowl into the freezer for 30 minutes to chill.
Remove coconut cream and mixing bowl. Open the canned coconut cream and scoop out the cream from the top off the can and place into the chilled mixing bowl. You only want the thick cream -- leave the watery milk in the can.
Using an electric hand mixer until soft peaks form. Fold in the maple syrup. Spread immediately onto the cooled smash cake, or place in the refrigerator until ready to use.
Assemble the Smash Cake
Spread approximately half the coconut cream frosting on top of the first cake. Be sure to stay close to the centre so that the frosting does not pour out of the sides.
Gently place the second cake on top, and top with another layer of coconut cream frosting. Top with mixed berries and a drizzle of maple syrup.
Prep Time:

20 minutes

Cook Time:

20 minutes

Category:

Dessert
Keywords: smash cake, healthy cake, banana cake