This right here, ladies and gentlemen, are what fall dessert dreams are made of....decadent and light, homemade healthier caramel apple fall cheesecake. It is made with a graham cracker crust, coated in caramel sauce, and topped with caramel apples and almonds. Heaven.
With the holidays approaching around the corner, you kind of need a showstopper on your Thanksgiving holiday dessert table. Well this is it. This caramel apple cheesecake is also healthier which means you don't have to cut back on your delicious comforting holiday dinner because you are already saving some calories with this one.
So what makes this fall cheesecake healthier? Two things:
It has less sugar. Typically, in a classic 8-inch cheesecake, you would add about 1 or 1.5 cups of sugar. We have added just ½ cup.
It has less fat. Also, in a typical cheesecake of this size, you would add 3 packs of cream cheese. We have cut that down to just two packs and replaced the third pack with Greek yogurt.
Caramel Apple Topping
This basic cheesecake is taken over the edge by the caramel apple toppings, obviously. I mean... come on. Look at that caramel drizzle, look at those apples, look at the almonds. I don't know about you, but just thinking about this cheesecake makes my mouth drool.
It doesn't really take that much expertise to decorate something like this. It might look hard but it's actually quite simple. What you do is simply drizzle caramel sauce on the cheesecake, arrange apples in a round floral-type arrangement (or any type of pattern that you want), and sprinkle a handful of sliced almonds around the outer edge of the cake. Really, that's it!
How to Store Cheesecake
Store this cheesecake in the refrigerator, and do not leave it out for more than a couple of hours. It will last up to 4 days when stored in the refrigerator.
You can also freeze cheesecake for up to 3 months. To thaw, just move the cake into the refrigerator and let it thaw overnight. However, if you are freezing, I would suggest freezing the cheesecake without the caramel sauce and apple topping, and preparing those toppings once you decide to thaw the cheesecake.
Serve this apple caramel cheesecake as is, or with extra caramel sauce on top of every slice. Enjoy!
Print
Recipe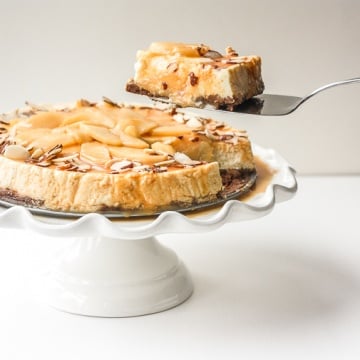 Healthier Caramel Apple Fall Cheesecake
---
Author:

Total Time:

3 hours

Yield:

8-inch cake
Description
Decadent and light, homemade healthier caramel apple fall cheesecake is made with a graham cracker crust, topped with caramel apples and caramel sauce. It's fall heaven.
---
Cheesecake Crust:
2 cup

graham cracker crumbs

1 tablespoon

granulated sugar

3 tablespoons

butter, melted
Cheesecake Filling:
2

(8 oz.) packages cream cheese, at room temperature

1 cup

plain Greek yogurt, at room temperature

½ cup

granulated sugar

1 teaspoon

vanilla extract

4

large eggs
Caramel Apple Topping:
1

and ½ tablespoons butter

2

small apples, peeled, cored and sliced

1 tablespoon

packed brown sugar
pinch of cinnamon
sliced almonds
---
Instructions
Prepare the cheesecake crust. Preheat oven to 350 F. In a large bowl, stir together graham cracker crumbs and sugar. Gradually pour in melted butter, continuing to stir until well mixed. Press crumbs firmly into a 8-inch springform pan. Bake crust for 10 minutes. Allow crust to cool completely before filling, approximately one hour.
Prepare the cheesecake filling. Mix cream cheese, yogurt, sugar and vanilla extract in a large bowl using a hand mixer until well blended. Add 1 egg at a time and beat just until blended. Repeat this step until all eggs are blended (NOTE: Do not overmix to avoid cracking during baking).
Assemble the cheesecake. 

Pour filling into the cooled crust and smooth out the surface. Wrap the outside of the springform pan tightly with aluminum foil and place the pan in a large baking dish. Fill the baking dish with 1 inch of boiling water.
Move the baking dish to the oven and bake for 1 hour in the boiling water bath (This helps prevent sudden temperature drop and cracking). After an hour, turn off the heat and leave the cheesecake inside the oven for another 1 hour. The cheesecake will continue to bake during this time.
Take the pan out of the oven and run a paring knife gently around the outside of the cheesecake to loosen it from the sides of the pan.
Cover the pan with plastic wrap and transfer to the refrigerator overnight.

Prepare the caramel apple topping. In a small saucepan, melt butter over medium high heat. Add apples and stir until they are coated with butter. Stir in brown sugar and mix until dissolved. Cook for until apples are tender, about 5-10 minutes, stirring occasionally.
Add toppings to cheesecake. Drizzle desired caramel sauce on the cheesecake (I usually add enough to coat the entire surface of the cake). Arrange apples in a round floral-type arrangement on the cake, starting from the outside curve, and work your way inside. Sprinkle a handful of sliced almonds around the outer edge of the cake.
Prep Time:

1 hour

Cook Time:

2 hours

Category:

Dessert