Whether it's your first time baking for Christmas or you are an experienced holiday baker, we are sharing our comprehensive Christmas Baking Guide, featuring everything you need to know about common baking ingredients and tools, how to measure ingredients the right way, tons of tips including storing and packaging tips (with common mistakes to avoid!), Christmas dessert recipes and ideas, and free checklists to help you prepare for holiday baking like a pro this year!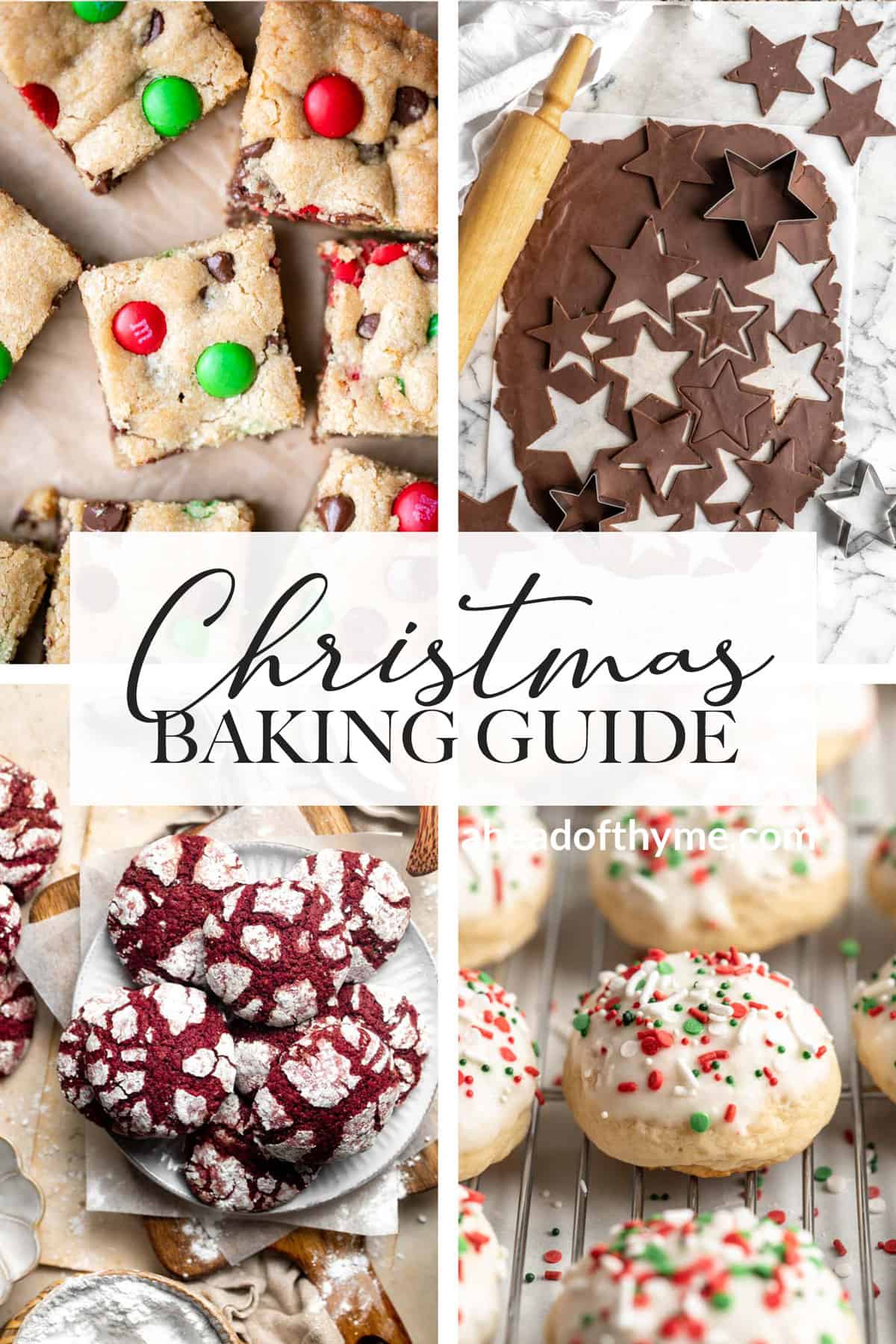 Christmas is coming, and it's a holiday that many of us have been looking forward to all year. But it also comes with an overwhelming amount of preparation. There's shopping to be done, relatives to visit, and an overwhelming amount of baking to tackle. Make baking a little less intimidating by using our handy Christmas Baking Guide jam-packed with information and tips including all things ingredients and tools, plus special tips for baking things ahead of time and mailing cookies to friends and family.
Common Baking Ingredients
How to Choose the Right Ingredients
Butter vs. Margarine
Butter and margarine are both sources of fat, which is a critical component to many baking recipes. Butter will usually result in a tender baked good with a richer flavor. Margarine has a higher water content than butter and should be used as a finishing agent for spreads and frostings.
Oils
In most recipes, you can use any neutrally-flavored oil like vegetable oil, avocado oil, coconut oil, or avocado oil. Some have stronger flavor than others, so keep this in mind when deciding which oil to use.
All-Purpose Flour vs. Specialty Flour
Recipes will typically tell you when to use all-purpose vs. a more specialized flour. Bread recipes may call for bread flour or 00 flour, cake recipes may call for cake flour, etc. You can always use all-purpose if you don't have a certain type of wheat flour on hand, but it may change the texture of the final product.
Eggs
Most recipes call for large eggs, but smaller eggs will work. If they're especially small or the recipe calls for more than one egg, double the number of small eggs you're using.
Milk vs. Milk Alternatives
Milk is typically used as a baking ingredient because of its natural fat content. Milk alternatives typically have less fat, but can be used in place of milk whenever you want to make a recipe dairy-free.
Granulated vs. Confectioners' Sugar
Confectioner's sugar is typically used to create light and fluffy or delicate frostings and glazes or as a finishing touch for baked goods. It dissolves faster than granulated sugar. Granulated sugar has a coarser crystal and is typically used in the mix to sweeten baked goods.
Our Best Baking Tips
Create a baking plan. If you plan on hosting or otherwise plan to bake several types of goods, creating a baking plan will help you stay organized and allow you to use your time and kitchen resources in the most efficient way. A baking plan might consist of a complete shopping list for all the ingredients you'll need, a checklist for the types of equipment you'll have to use, and a baking schedule to get goods in the oven in succession. Grab a copy of our essential checklists in the next section below — for free!
Prepare ahead. As mentioned above in this Christmas Baking Guide, several things can be prepped for baking or baked and stored prior to the big day! Most kinds of cookie dough can be refrigerated or frozen and then baked right before they're needed. Brownie batter can be refrigerated for several days before baking. Pies can be made several days in advance and refrigerated or frozen!
Gather your tools and ingredients. Don't wait until you're halfway through each recipe to dig through the utensil drawer or pantry. Gather all of your ingredients and the necessary tools ahead of time and organize them into groups based on the recipe they'll be needed for to streamline the baking process.
Baking Recipes
No Christmas Baking Guide is complete without a list of our best and most popular holiday baking recipes. Here are our latest Christmas cookie recipes, Christmas cakes and desserts, and Christmas pie recipes. Click the links below to browse more.
Final Tips
Dress things up. You don't need a degree in decorating to make beautiful holiday desserts and breads! Add garnishes like fresh or candied cranberries, sprigs of rosemary or thyme, dried orange slices, or a dusting of powdered sugar to take ordinary baked goods to the next level.
Don't forget about servingware. Speaking of the next level, you can really go the extra mile by breaking out your best servingware to display your finished baking projects.
Use dry beans or lentils as weights for pie crusts. It's often necessary to blind bake pie crusts using pie weights to make sure the crust stays crispy. You can skip the pie weights, though, if you have dry beans or lentils hanging out in your pantry! Use them in place of the weights and hang on to them for future pie crusts.