I had never tried or heard of this vegetable until I met my husband, who is of Chinese descent. He grew up eating this quite regularly. The stir-fried lotus root with green onions is a classic Chinese stir-fry vegan dish that will make an excellent addition to your dinner table.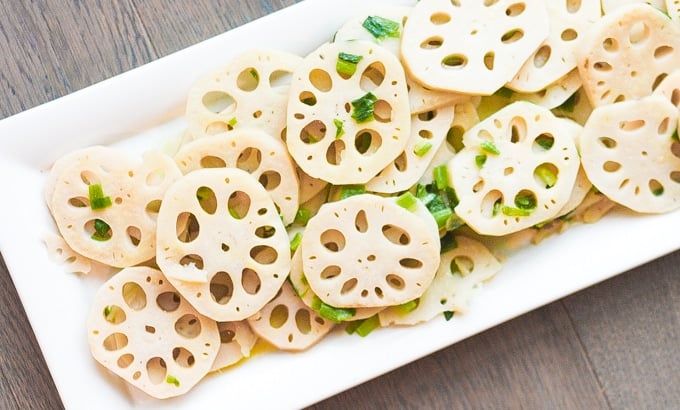 The lotus root vegetable is starchy vegetable similar to a potatoes. It is very popular in China and other Asian countries but is still not that popular in the West. I cannot find this vegetable at any of the big chain grocery stores. The only place that I have been able to pick up some is at a Chinese supermarket.
This vegetable has a wide range of health benefits. The Chinese believe that it is of high medicinal value. It is high in fibre, vitamins and minerals. 100 grams of this bad boy contains 73% of your daily vitamin C requirement! The lotus root aids in stimulating blood circulation, promotes mental clarity and mood, regulates blood pressure, aids in digestion and promotes heart health.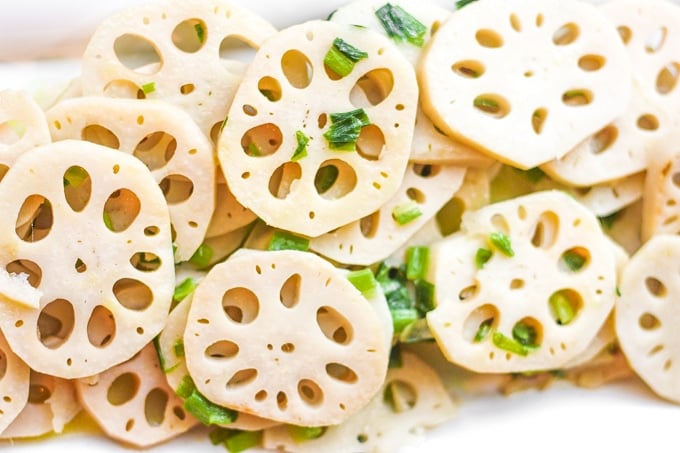 To prepare this vegetable for a stir-fry, you need to peel it like a potato using a potato peeler. Then rinse under cold water and into thin slices, about ⅛ " thick. Raw lotus roots will start to change colour and darken very quickly. To prevent this natural process, put the slices in water with a splash of vinegar or peel and prepare the vegetable just before you are about to fry it.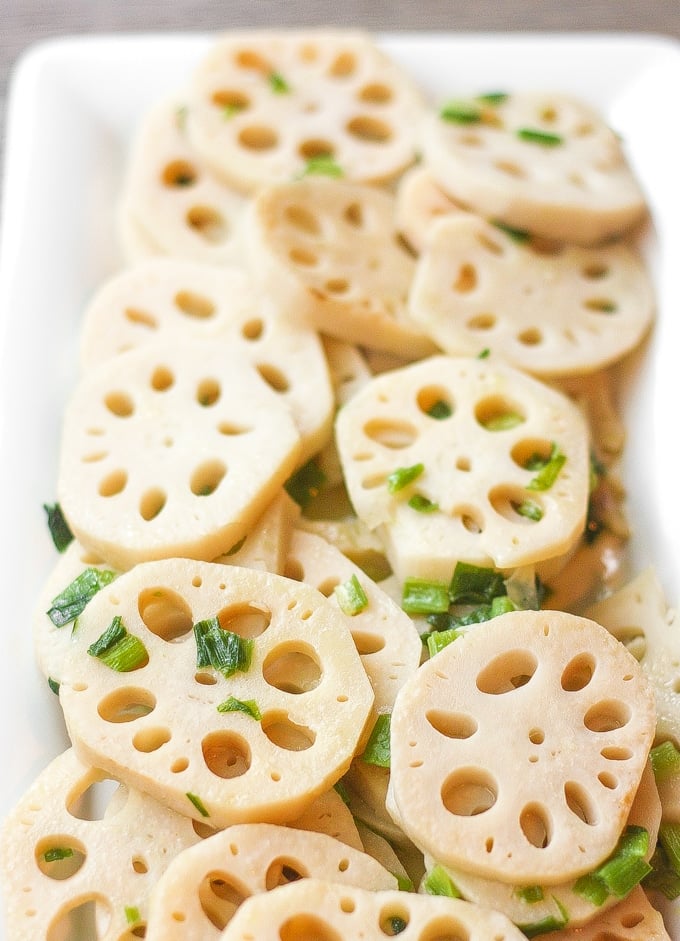 Print
Recipe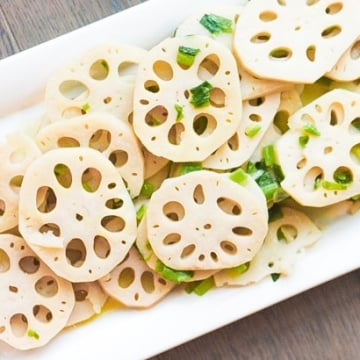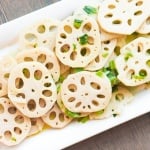 Stir-fried Lotus Root with Green Onions
---
Author:

Total Time:

10 minutes

Yield:

5-6 side servings
Description
Stir-fried Lotus Root with Green Onions is a classic Chinese stir fry dish that makes for an excellent vegan side dish at your dinner table.
---
2 tablespoon

olive oil

1

clove garlic, minced

1 teaspoon

ginger, grated

3

lotus roots, peeled and cut into thin slices

¼ teaspoon

salt

½ cup

water

¼ cup

green onions, chopped

1 teaspoon

sesame oil
---
Instructions
Heat oil in a large frying pan. Saute garlic and ginger until fragrant.
Add sliced lotus roots and salt. Pan-fry over medium heat for 1-2 minutes.
Add water. Continue to fry for 5-8 minutes depending on your preference (less time = more crunchy)
Add green onions and sesame oil and fry for one more minute.
Optional: sprinkle sesame seeds on top and serve.
Prep Time:

5 mins

Cook Time:

5 mins

Category:

Entree

Cuisine:

Chinese