I am not a big meat-eater but when I do incorporate meat into my diet, my favourite is chicken. This dish, in particular, is one I have been cooking for years. Chicken thighs with green beans and potatoes is a dish that my mother taught me to make. But whenever my mother shares a recipe with me it goes something like this: "Fry an onion or two, add some turmeric, add half a can of tomato paste, keep adding water so it doesn't dry out and add salt and pepper." "How much salt and pepper, mom?" "Just keep adding enough until it tastes good."Umm? (scratches head). Her instructions are self-explanatory to an extent but it did take me a few tries to get the measurements right.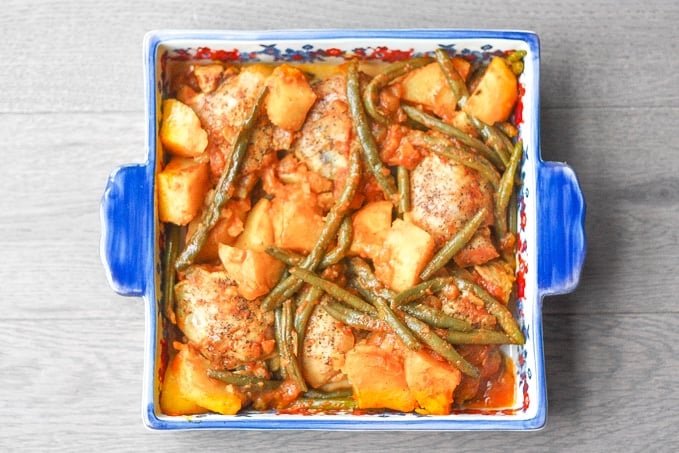 The prep time for this recipe does not take too long, I would say about 30 minutes total to prepare the chicken and to make the sauce. But because the chicken takes about an hour and a half to cook, you need to start making this meal ahead of thyme time. I get home from my day job at 5 pm on weeknights; so for me, this is a meal I prefer to cook on the weekends. I could make this on a weeknight, but then I won't be eating dinner until 7 pm and I just simply can't wait that long!
I made this meal last night and because it is only my husband and I in my household, there were lots of leftovers for me to take to for lunch today! SCORE! My favourite side to go with this dish is white rice (which I also made sure to make extra so that I would have leftovers of both). I am eating this right now while using my lunch break to publish this post 🙂
Print
Recipe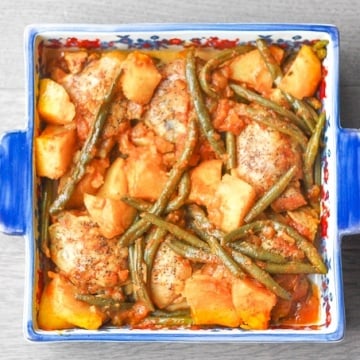 Chicken Thighs with Green Beans and Potatoes in a Tomato Sauce
---
Author:

Total Time:

1 hour 40 minutes

Yield:

4-6 servings
Description
Budget-friendly chicken thighs make for a delicious dinner packed with flavour in this Middle Eastern inspired dish: chicken thighs with green beans and potatoes in tomato sauce.
---
6

chicken thighs, bone-in

1 teaspoon

vegetable oil

½

medium onion

1

clove garlic, minced

⅛ teaspoon

turmeric

3 tablespoon

tomato paste

2 cups

water

½ teaspoon

salt

½ teaspoon

pepper

1

large russet potato, chopped into

½

-inch cubes

2 cups

green beans
---
Instructions
Preheat oven to 400 F.
Arrange chicken thighs on a square casserole dish (about 9 x 9). Season generously with salt and pepper.
Bake uncovered for 1 hour.
About 30 minutes into baking, start preparing your sauce. Heat oil over medium-high.
Add onions, garlic, and turmeric. Stir well to coat onions yellow. Saute until onions are translucent (about 4-5 minutes).
Add tomato paste, water, salt and pepper. Stir until combined.
Add potatoes and bring sauce to a simmer.
Turn heat down to low and simmer uncovered for 10 minutes.
Add green beans and continue to simmer for 10 more minutes or until sauce is slightly creamy (not watery and not dry), If sauce is too dry, add some water. If it is too watery, turn up the heat and allow some of the water to evaporate.
At this time, your chicken should have been baking for 1 hour. Remove from oven and pour your sauce over top. Cover dish with aluminum foil. Use oven mitts because the casserole dish will be very hot.
Place back in the oven and bake for another 30 minutes.
Prep Time:

10 mins

Cook Time:

1 hour 30 mins

Category:

Dinner

Cuisine:

Middle Eastern