Spring is in the air and Easter is right around the corner. So, let's bring out the Easter recipes! I'm getting festive this week with these adorable no bake butterscotch and peanut butter bird's nest cookies. Now that's a mouthful!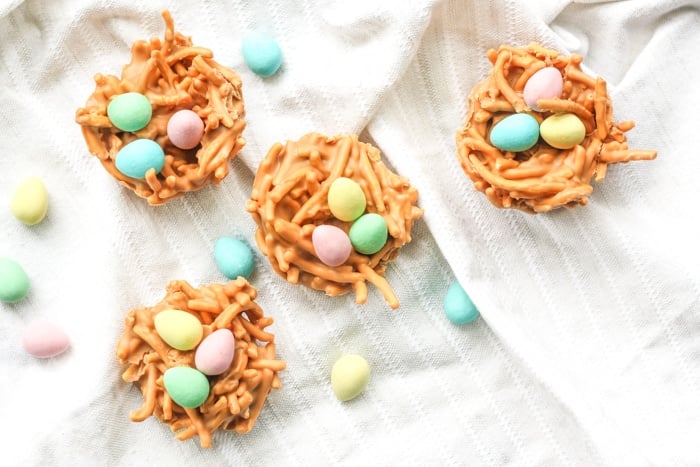 These are my favourite Easter cookies to make (and to be honest, the only Easter cookies that I make apart from egg-shaped sugar cookies). Not only is it fun to make something that is so aesthetically appealing, but everyone that I share these with fall in love with them. I know that my husband and I could finish all of these at home in one day, but I have decided to pawn them off as mini Easter gifts to some of our friends.
What's so great about these cookies is that they are so easy to make that even the kids can help out. There are only 4 ingredients that you need to gather: chow mein noodles (yup, you read that right!), butterscotch chips, peanut butter, and chocolate eggs. I use Cadbury mini eggs because I just can't live without them this time of year and they fit perfectly in these nests.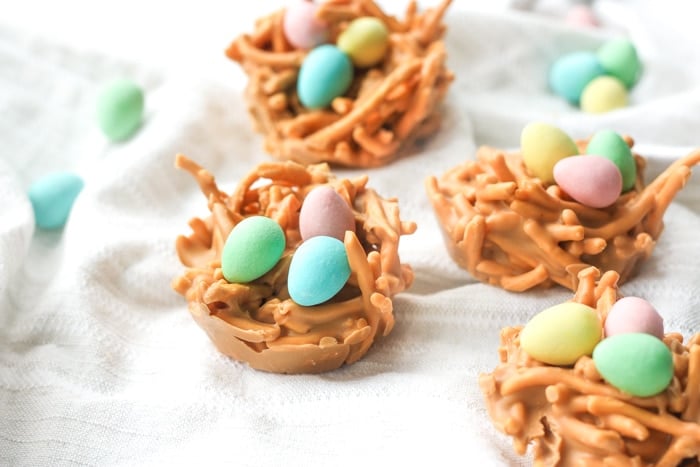 Just based on the fact that there are only 4 ingredients, you can assume that this recipe really cannot be that complicated. And you've got that right. There is no baking involved just a little stove-top butterscotch chips and peanut butter melting action. Within 5 minutes, your nests have been created and after a cooling period of 10 more minutes, you are ready to add chocolate eggs to your nests and start eating these adorable creations. So go ahead and bring the kids on in the fun!
No Bake Butterscotch and Peanut Butter Bird's Nest Cookies
No Bake Butterscotch and Peanut Butter Bird's Nest Cookies: Spring is in the air and Easter is right around the corner. This calls for a batch of adorable no bake butterscotch bird's nest cookies | aheadofthyme,com
Author:
Sam | Ahead of Thyme
Ingredients
¾ cup butterscotch chips
½ cup smooth peanut butter
2 cups chow mein noodles
¼ cup chocolate eggs (Cadbury mini eggs recommended)
Instructions
Melt the butterscotch chips with the peanut butter in a wide saucepan over low heat. Stir continuously until melted.
Pour the mixture into a large bowl of the chow mein noodles and stir to combine.
Fill up each compartment of your muffin tray with a spoonful of this mixture.
Let cool for 10 minutes and remove from the tray. Be careful when you are removing the nests, as to not break them.
Add in some chocolate Easter eggs (I used Cadbury mini eggs).