When east meets west, savoury pumpkin congee rice porridge with corn is born. It's thick, it's creamy, and it screams fall comfort! What better way to start your day?
What is Congee?
A congee is a classic, savoury Chinese rice porridge served for breakfast. Although, you can eat this any time of the day really. There are so many different variations of ingredients that you can add to the basic congee from meats to seafood, to vegetables. The options are really endless.
We take on a western influence and add pumpkins and corn. I mean, that's what fall flavours in the west are all about, so why not throw it into the mix? So, that is exactly what we did.
Congee is also an ideal food to fight the common cold. It has been around for thousands of years in Chinese cuisine, and has been used in ancient Chinese history (and up to this day) to combat colds. So pumpkin congee is basically the perfect vegan alternative to classic chicken noodle soup. Plus, pumpkins are packed with vitamins that boost your immunity. So you really can't argue with that!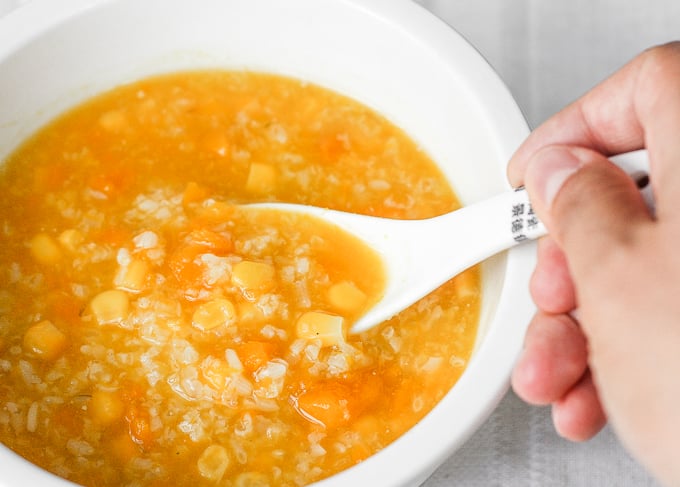 Print
Recipe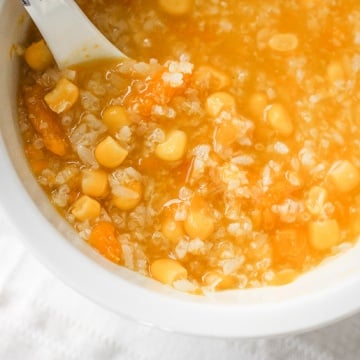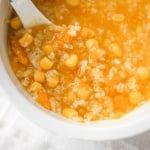 Pumpkin Congee Rice Porridge with Corn
---
Author:

Total Time:

35 minutes

Yield:

4 servings
Description
When east meets west, savoury pumpkin congee rice porridge with corn is born. It's thick and creamy -- the ultimate fall comfort food.
---
½

Japanese pumpkin (Kent pumpkin), seeds removed

1 cup

regular medium-grain white rice

½ cup

glutinous rice

4 cups

water, divided

1 cup

sweet corn, thawed if frozen

1 tablespoon

soy sauce (or miso paste)

1 tablespoon

salt
---
Instructions
Place whole half pumpkin in a steamer to cook for 10 minutes. This will help to soften and peel off the skin. Cut the pumpkin into strips and remove the skin. Transfer pumpkin to a food processor or mash it manually using a fork or spatula.
In a large pot, add medium-grain white rice, glutinous rice and 3 cups of water. Bring to a boil over high heat. When the water is boiling, turn the heat down to medium-low and continuously stir rice for 5 minutes to avoid it burning at the bottom. After 5 minutes, turn the heat down to low and add 1 more cup of water.
Stir occasionally until the rice has the thick, creamy texture of porridge (this can take up to half an hour,  depending on the rice).
Add mashed pumpkin, corn, soy sauce (or miso paste), and salt. Stir for 2 minutes to mix everything together.
Serve warm in a bowl.
Prep Time:

20 minutes

Cook Time:

15 minutes