Do you love to cook? Do you love to write? Do you want to someday make money for doing something you love? Well, let me tell you my story and then let's start to write yours!
I have always loved to cook and take pictures of my creations to share with family and friends. I started sharing photos on instagram and then decided to take the leap into the blogging world and start a food blog. This was all just a hobby which in less than a year has basically turned into a whirlwind romance. In one year, I have gone from 0 to over 300,000 page views a month and have started to earn some real income from my blog. I never, in a million years, would have thought that what started off as a hobby would actually earn me almost as much money as my current full-time job.
In 15 short minutes and a few simple steps, you too can start your own success story!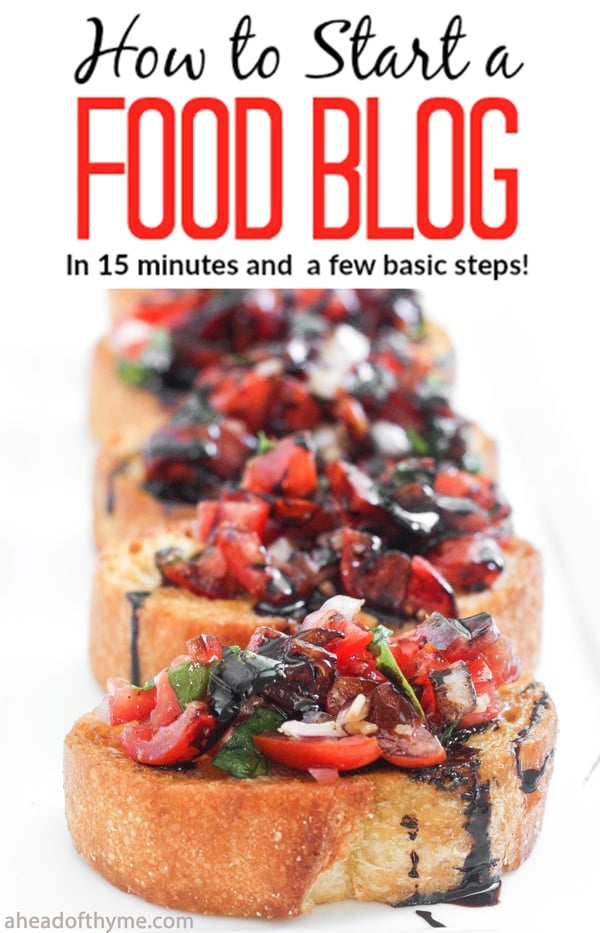 1) Name your Blog
Brainstorm some ideas and name your blog. If your first choice is taken, don't give up! Just keep brainstorming ideas until one works. Check if your domain is available via Bluehost's domain checker.
2) Register your Domain Name
Once you find an available domain, you can get it for FREE when you sign up for a 1 year Bluehost web hosting plan. Who doesn't like freebies! 🙂
3) Sign up for Web Hosting
There are 2 ways you can create a blog: hosted (free) and a self-hosted (not free). If you are interested in making money from your blog at some point, then self-host! Self-hosting gives you FULL control over design and content, advertisements, and affiliate links. It is a very small investment for potentially substantial reward. Plus, with Bluehost you get your domain for free!!
I highly recommend Bluehost as the place to start.
First, it is easy, taking only 10-15 minutes to set up your brand new blog.
Secondly, it is affordable. Normally, their basic plan costs $7.99 but for Ahead of Thyme readers, they are offering a discounted price

$3.95 per month for unlimited web hosting

! Plus, like I said, you get a free domain and $150 FREE ad credits!! That's right, a little boost to getting some real traffic to your site. Hurry before this offer expires!
Bluehost technical support is also available 24/7 for all your concerns which comes quite in handy in the beginning when you have tons of questions!


Signing up for Bluehost
Once you click through the link, click "get started now".

Next, select your plan. I would recommend the basic plan for those of you who are just starting out. You get more than enough webspace and still get your free domain.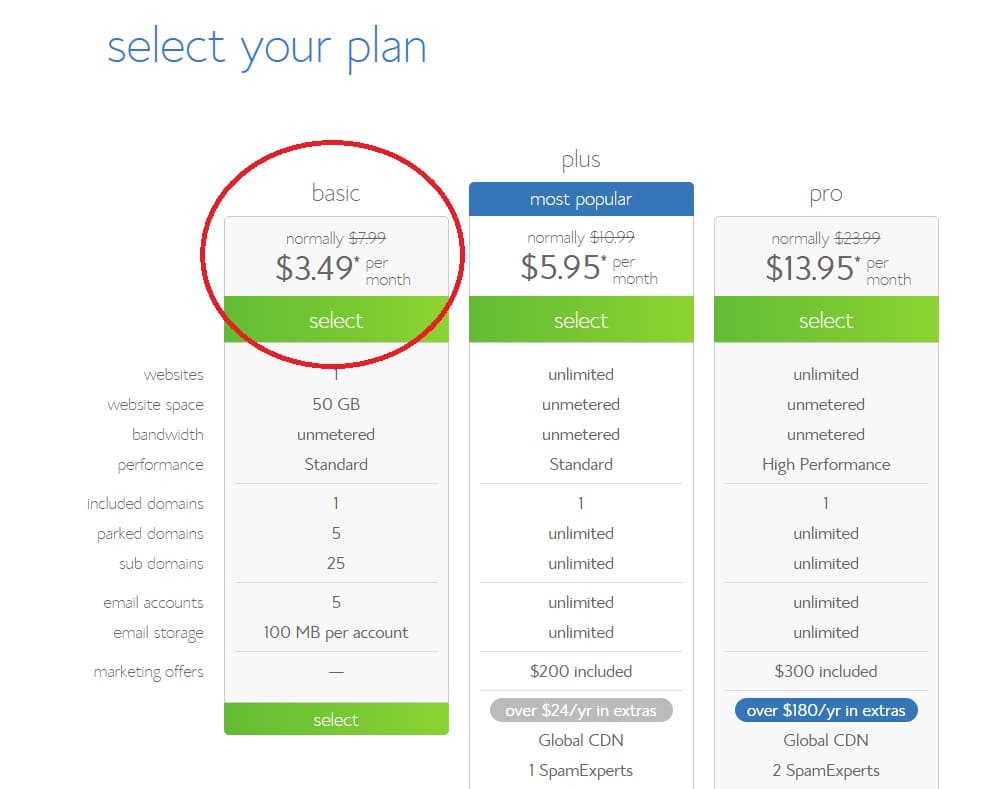 Next, enter the domain that you want in the first box. If you have already signed up for a domain, enter it in the second box.
Then fill in your details to compete the registration. Under "Package Information",  I highly recommend that you add the domain privacy protection circled below. This will hide your name and address from domain searches and keep it anonymous.
Enter your credit card details and submit.
On the next page you will be asked to create a password. You will then receive a confirmation email from Bluehost containing your login information.
Congratulations! You now have your own self-hosted domain!
4) Install WordPress
Once you are signed up, install WordPress. This is easily done from your Bluehost home page on the "website" panel. Click here for detailed instructions on installing WordPress on Bluehost.
5) Design your Blog
Now make your blog pretty and customize a theme. There are free, basic themes available on WordPress that you can play around with at first. But, if you want attract a lot of traffic, you may want to consider investing a few bucks on a quality and professional theme. After all, first impressions are everything! My recommendation: the Foodie Pro theme which is a Studiopress theme geared towards food bloggers. It costs $129.95 and WORTH EVERY PENNY!
Foodie Pro theme - HIGHLY recommended food blog theme (created by Shay Bocks and available via Studiopress). It makes customization super easy and you will have a professional looking blog set up in no time!
Yumblog theme - a food blog theme (provided by UpThemes)
Other more cost effective themes can be found at Studiopress.
Once you have your brand new theme, learn how to install it into WordPress.
6) Install WordPress Plug-ins
With a self-hosted WordPress blog, you can customize your blog with plug-ins. They make your blog more effective and functional. What is the best part? They are completely FREE!
Some of my top recommended plug-ins are:
Social Warfare – This is my favourite social sharing plugin!! (and I have tried a LOT!). The plug-in displays share buttons at the start and end of my posts to enable my readers to share my posts on their favourite social media sites. More shares = more traffic to your blog. Plus, it let's my readers see how many times my post has been shared.
Akismet – Akismet protects your blog from unwanted spam comments. This plug-in is especially important as your blog grows. You will not have time to sift through hundreds of spam comments by yourself.
Easy Recipe  – This plug-in makes it easy to add recipes to your blog. It also plays an integral role in getting your  recipes to show up nicely on Google searches.
Yoast SEO – This plug-in puts you in control of your meta descriptions for search engine optimization. It analyzes every posts and provides a checklist at the end of what you can do further optimize your SEO for that post.
WordPress Related Posts – At the end of my posts, I also display 5 related posts that are chosen at random based on the recipe category. However, you have the option of selecting exactly which posts show up or even selecting a couple and letting the rest populate randomly.
7) Sign up for Google Analytics and Webmaster Tools
Using a Google account, sign up for Google Analytics and Webmaster Tools.
Google Analytics tracks the traffic to your blog. Just to name a couple of features out of the vast amount of information it provides, it shows you how many people are visiting your site every day and which pages they are viewing.
Google Webmaster Tools adds your website to the Google search engine. It also makes you aware of any broken links on your website so that you can fix it!
8) Start blogging!
You are now officially part of the food blogging community! Start blogging and sharing your recipes! The world is your oyster 🙂
What's Next? 
Check out Blogging Basics for tips and more resources on how to grow your blog and make money!