When your husband takes on a new fishing and crab catching hobby, new seafood dishes are born in your house. We are lucky here in Vancouver for the abundance of Dungeness crabs in our waters. Yesterday my hubby came home with 3 crabs! He went straight to work in the kitchen and created this ginger and scallion Dungeness crab dish. Umm... yum!
And lucky for me, my only role in the kitchen was to document the whole thing and take photos of this gorgeous dish. Yes, you guessed it... my hubby took the reins in the kitchen on this one and taught me a thing or two in under 30 minutes (yes, this dish is that quick).
I like to generously season everything. But I learned that you do not need to put too much seasoning on the crab as it already very rich in flavour.
I also learned the key to getting that gorgeous crust is cornstarch. Simmering the crab in cornstarch creates texture on the crab, saturates the incredible flavours onto the surface of the crab and instensifies the flavours in each and every bite.
Print
Recipe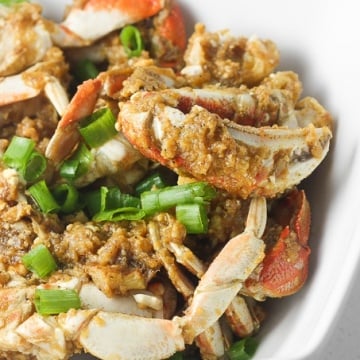 Ginger and Scallion Dungeness Crab
---
Author:

Total Time:

25 minutes

Yield:

3-4 servings
Description
Ginger and scallion Dungeness crab is the ultimate Asian seafood experience stir-fried to perfection and coated with intense flavours.
---
2

lbs. Dungeness crab, rinsed and chopped

8 tablespoons

cornstarch, divided

1 tablespoon

sugar
seasoning salt or sea salt
black ground pepper

4 tablespoons

vegetable oil

4

-

5

slices of fresh ginger

1 tablespoon

garlic, minced

2

hard-boiled salty duck egg yolks, crushed (optional)

3

stalks of scallions, sliced
---
Instructions
Place crab in a large bowl and add cornstarch, sugar, and salt and pepper (to taste).  Toss to coat fully.
Transfer to a large colander and allow crab to marinate for 10-15 minutes. Place a plate underneath the colander to allow water to seep out.
In a large wok, heat oil on high heat. Add ginger and cook for about 2 minutes until ginger changes colour and texture. Add crab and garlic and stir continuously until fully coated in oil.
Continue to cook until crab starts to change colour. Cook for another 5 minutes.
Add salty duck egg yolks (optional) and stir to coat.
At this point, you will start to see a sauce forming at the bottom of the wok. Slowly add remaining cornstarch, one tablespoon at a time. Stir and observe the consistency of the sauce after each tablespoon. Make sure that the sauce is getting thicker and the cornstarch starts to stick to the surface of the crab.
Once the mixture sticks to the crab shells, turn the heat down to low. Continue to stir and cook for 2 minutes, allowing the mixture to immerse into the crab.
Turn heat off, sprinkle with scallions and serve.
Notes
Be careful not to overcook the crab as it will destroy the crab meat, causing it to turn "rubbery".
Use one 2-pound crab or two 1-pound crabs for this recipe.
Prep Time:

10 min

Cook Time:

15 min

Category:

Seafood

Cuisine:

Chinese