It's The Most Wonderful Time Of The Year! It's the hap -happiest season of all! One of my favourite things about the holidays are the delicious festive treats. Every holiday party needs a showstopper and boy do I have one for you!! It's called candy cane layered cake!!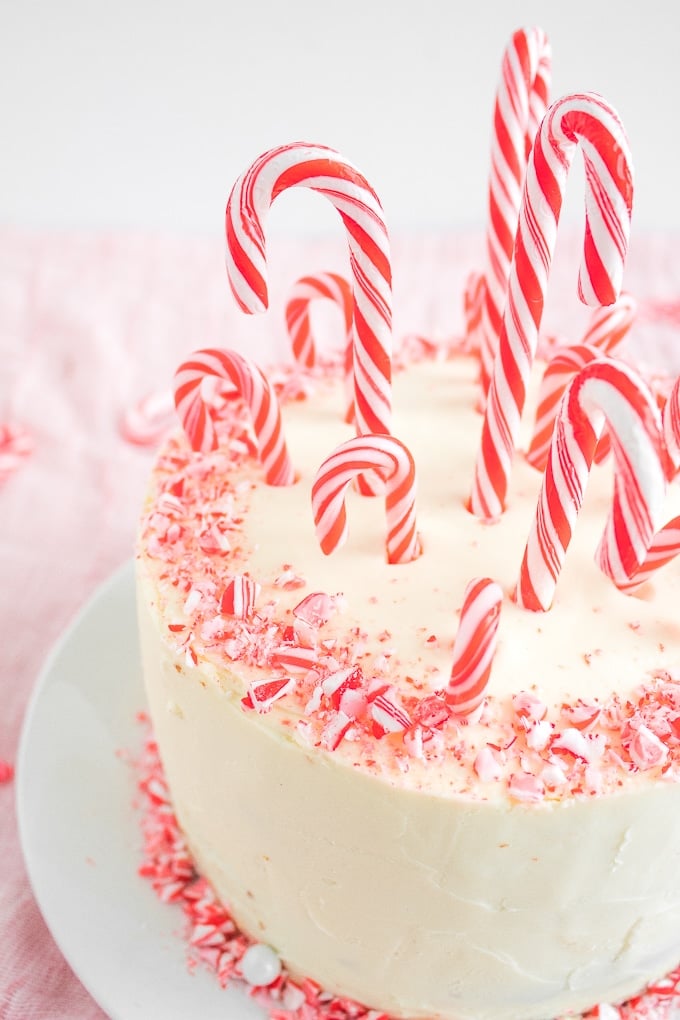 This gorgeous festive cake incorporates the minty taste of candy canes that give a nice cooling feeling in your mouth with every bite. The cake is bursting with flavour from the inside to the candy cane decoration on the outside. I seriously can't get enough!
Who doesn't like the minty taste of candy canes?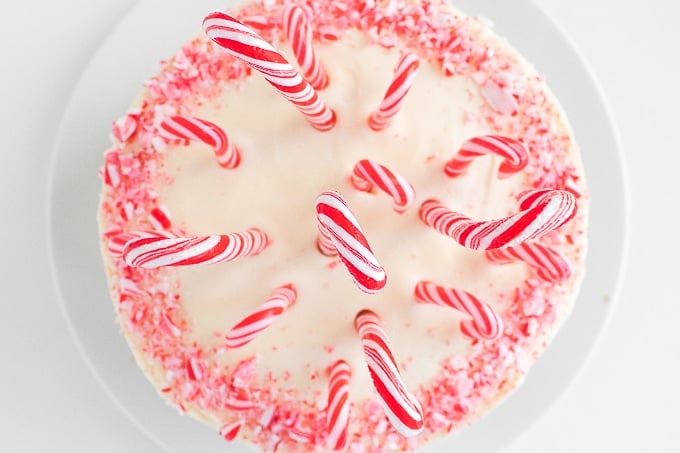 Candy Canes
How about a little history lesson? I just learned some fun facts about candy canes and how they came to be.
They originated in Germany over 300 years ago.
They were originally white sugar sticks.
They were used to keep children quite during the Christmas eve church service.
They were shaped like a shepherds crook.
Around 100 years ago, the red stripes and peppermint flavour was added.
Bon appetit!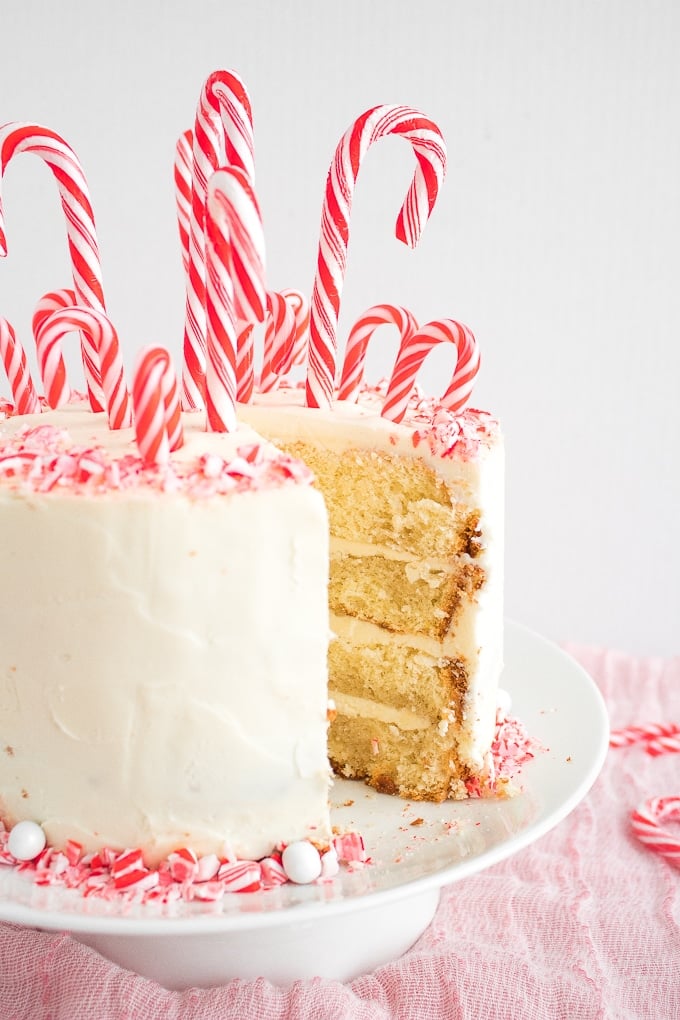 Print
Candy Cane Layered Cake
---
Author:

Sam | Ahead of Thyme

Prep Time:

1 hour

Cook Time:

35 minutes

Total Time:

1 hour 35 minutes

Yield:

12 servings
Description
Looking for a showstopper at your next holiday party? Incorporate the minty taste of candy canes into this gorgeous, festive candy cane layered cake!
---
Ingredients
Cake:
8 eggs
2 cups sugar
2 cups flour
1/2 teaspoon vanilla extract
1/2 cup candy canes, crushed
14 whole candy canes
Syrup:
1 cup water
a small bunch of mint
1 cup sugar
Buttercream Frosting:
2 cups unsalted butter, at room temperature
1/2 cup icing sugar
1/4 teaspoon vanilla extract
1 cup heavy cream, at room temperature
Cream Cheese Frosting:
12 oz. cream cheese, at room temperature
1/2 cup icing sugar
1/4 teaspoon vanilla extract
---
Instructions
Cake:
Preheat the oven to 400 F.
Separate egg whites and egg yolks into separate bowls (Note: make sure that there are no traces of egg yolk in the egg white, otherwise you will not get the right texture).
Whisk the egg whites with a hand mixer until they form a firm white foam. Slowly add half of the sugar (1 cup) and continue whisking. Set aside.
Whisk the egg yolks with the remaining cup of sugar and vanilla extract.
Slowly fold in the egg whites using a spatula or spoon. DO NOT whisk or mix quickly as it will ruin the texture.
Slowly mix in the flour until fully incorporated. Also, DO NOT whisk the mixture.
Separate the mixture into two 20-inch cake pans and place in the oven. Bake for 30 to 35 minutes. Check with a toothpick (it must come out dry).
Let the cakes cool down completely and cut them horizontally into halves.
Syrup:
In a small pot, add sugar and mint. Bring to a boil over high heat and let boil for 10 minutes.
Remove the mint, add sugar and continue boiling for 10 more minutes.
Turn off the heat and cool the syrup down to room temperature.
Soak the cooled down cake with the room temperature syrup and let it rest while you are preparing the frosting.
Frosting:
Buttercream Frosting

: Whisk the butter with a hand mixer for a minute or two. Slowly add the icing sugar and continue to whisk. Whisk in the vanilla extract. Gradually add in the cream in small batches. Whisk until smooth and creamy.

Cream Cheese Frosting

: Whisk the cream cheese with the sugar and vanilla extract using the hand mixer. Whisk until it increases (almost twice) in volume.
Assembly:
Layer the cake with the buttercream frosting. If you have any buttercream frosting left, spread it evenly on the top and sides of the cake. Let the cake rest in the fridge for an hour.
Cover the cake with the cream cheese frosting and decorate with crushed and whole candy canes.