Cardamom, cinnamon, hyacinth and rose water, that is just a sample of what my house smells like right now. It is Persian New Years! Happy Now Ruz everyone! So I am in a baking mood and whipping out a batch of my absolute favourite Persian pastries: Ghotab or Qottab (there are so many different spellings for this). Ghotab is a traditional Iranian almond and walnut-filled crescent pastry that is made anytime of year, but they are particularly delightful during the new year festivities.
This pastry originated in the city of Yazd, where my dad was raised before moving the Tehran. So it really hits home.  As a treat, my parents would buy us some from the Persian bakery stores. I remember a year when my great aunt came to visit us and it felt like she was in the kitchen the entire summer baking us batches of these sweet pastries. The homemade version was just something else. They tasted unbelievable and really put the store bought pastries to shame. I kind of lost a taste for them after having experienced the real, authentic thing.
Persian New Year (Norouz) Haft Seen Table Spread
If you are wondering why my pastries are placed near a display that includes an apple, dried fruit and a fishbowl, well there is a simple explanation! This arrangement of items is the traditional "haftseen" or in English, the seven S's. During Persian New Years, it is customary to set up a table a few days prior to the New Year with an arrangement of these seven items that all begin with the letter S in the Persian language. These spreads tend to be quite large and elaborate. Since I live in a condo, mine is more of a mini, compact version.
Each "S" item is put there for a reason and has a symbolic meaning for the new year.
Sabzeh (wheat or lentil sprout) - rebirth
Samanu (sweet pudding) - affluence
Senjed (dried oleaster) - love
Seer (garlic) - medicine and health
Seeb (apple) - beauty
Somaq (sumac) - sunrise
Serkeh (vinegar) - age and patience
There are other symbolic items that are normally placed on the table in addition to the seven required pieces. These include: goldfish, hyacinth flower, a mirror, a Persian poetry book, painted eggs, coins, candles and an array of decadent Persian pastries.
Happy Norouz! Wishing you all a happy and prosperous new year!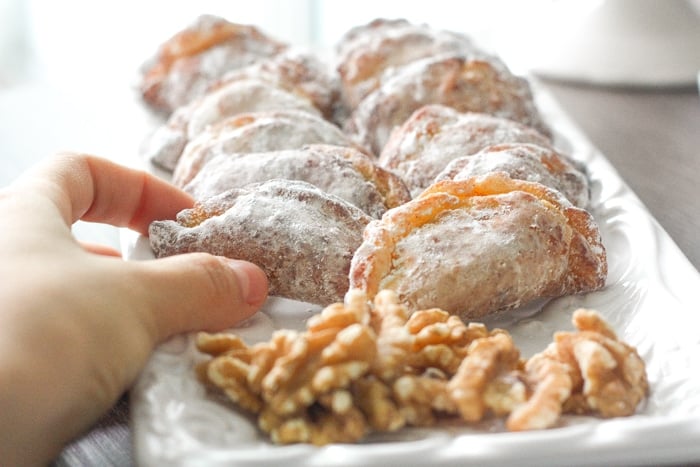 Print
Recipe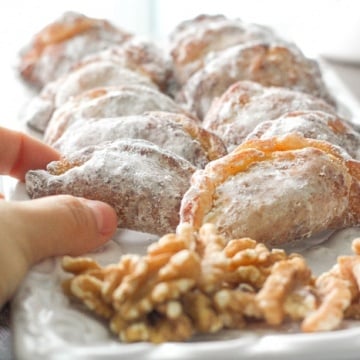 Ghotab / Qottab Pastry (Traditional Iranian Almond and Walnut-Filled Crescents)
---
Author:

Total Time:

2 hours 20 minutes

Yield:

24 cookies

Diet:

Vegetarian
Description
Ghotab or Qottab is a traditional Iranian almond and walnut-filled crescent pastry that is infused with cardamom and cinnamon flavours to make the perfect treat.
---
⅓ cup

vegetable oil

⅓ cup

plain yogurt

2

egg yolks

1

+

⅓ cups

all-purpose flour

1 teaspoon

baking powder

¼ cup

Confectioners sugar
For the filling:
½ cup

almonds

¼ cup

walnuts

¼ teaspoon

ground cardamon

½ teaspoon

ground cinnamon

¼ cup

granulated sugar
---
Instructions
In a large bowl, add the vegetable oil, yogurt and egg yolks and stir together until fully combined.
In another bowl, combine the flour and baking powder. Sift the dry ingredients slowly to the large bowl, whisking continuously.
Once your batter forms a soft and sticky dough, knead for a few minutes. Cover the bowl with plastic wrap and set aside for 2 hours (at room temperature).
Make the filling: Grind the almonds and walnuts in a food processor or blender. Add the cardamon, cinnamon and sugar and continue to blend. Set aside
Roll out the dough very thin, almost paper-like, at about 1/16 inch thick on a well-floured surface. Using a round 2-inch cookie cutter, cut out circular shapes.
Add 1 and ½ teaspoon of the almond/walnut filling onto the centre. Fold over to form half-circle shape. Press down on the edges and roll them over to seal or seal them using a fork and make mini impressions onto the seal. Repeat with all the dough.
Fill up a pot about 2 inches of vegetable oil and heat on medium. Deep fry the crescents, one by one. It will only take a few seconds until the crescents brown. Do not overcook or they will burn. Place the cooked crescents onto paper towels to remove any excess oil.
In a small plate, pour out some Confectioners sugar. Dip the cooked crescents into the sugar while they are still hot, but cool enough to handle, or the Confectioners sugar will not stick on properly. Place on a tray and allow it to cool completely.
Prep Time:

2 hours

Cook Time:

20 minutes

Category:

Dessert

Method:

Deep Fry

Cuisine:

Persian
Keywords: ghotab, qottab, persian cookie, persian pastry, almond and walnut-filled crescents, iranian cookie, iranian pastry