It's winter. It's cold. I've had a stressful week. What am I craving? A warm plate of smooth and creamy pasta with turkey bacon, obviously!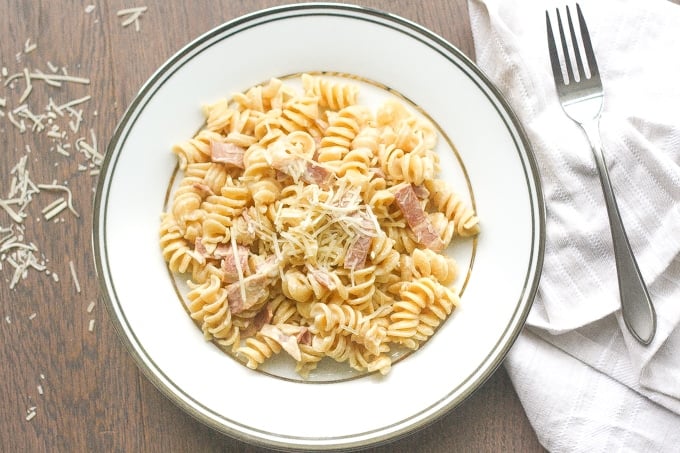 I have been so stressed this entire week with planning a retirement party for our office manager. Initially, I offered to help and somehow I found myself in charge of a large bulk of the event. Why is there always miscommunication and misunderstandings in these types of situations? The person whom I thought was taking on the decorating job was in fact not. And when did I find out? Wednesday at 4 pm. Yup, the afternoon before the party. So, a colleague and I scrambled around the morning of to set up and decorate at literally the very last minute. The whole process kind of reminded me of wedding planning. It was the type of stress that I was glad to never have to experience again! But, in the end everything came together and it was all worth it. It was so great to be able to show our manager how much we have appreciated her and to see her enjoy her special day. I am not going to lie, though, thank goodness that it's over! And thank you for listening to my rant! 🙂
Now let me sit down and enjoy my plate of pasta, please!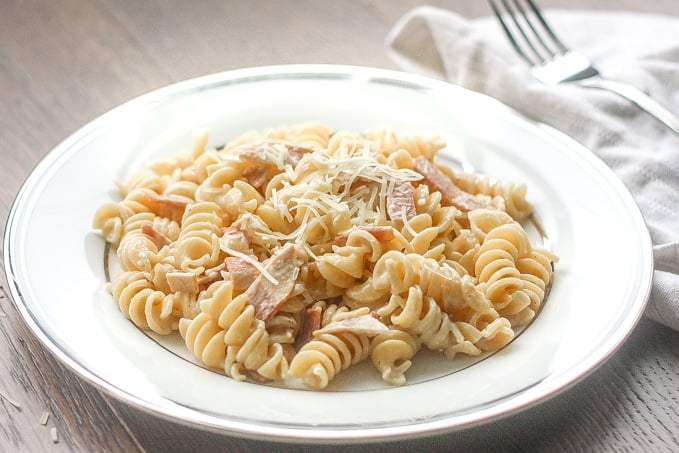 Mmm, mmmm, mmmm! This delicious, warm, smooth and creamy pasta is loaded with cheese and turkey bacon to yield the ultimate comfort food. I think I deserve it! This pasta kind of tastes a little bit like a carbonara pasta but without the egg. Not too bad, my friend, not too bad. I initially had fettuccine alfredo in mind, but didn't have fettuccine pasta. I had a box of rotini pasta instead. Exploring my fridge for anything else that I could add, I noticed my turkey bacon was expiring in a couple of days. So, *light bulb moment* I decided to throw that in there. Best decision ever.
Tip: This pasta heats very well the next day and is one of those foods that the leftovers give the fresh stuff some major competition. So if you don't finish it all in one go, pack it up for lunch tomorrow.
Bon appétit!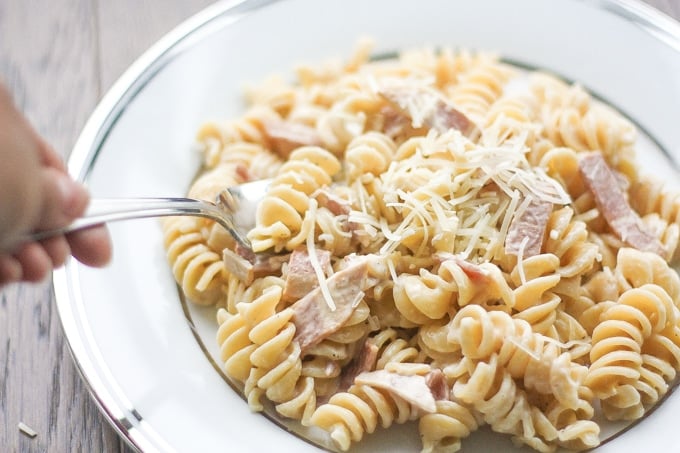 Print
Recipe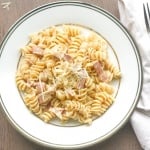 Creamy Pasta with Turkey Bacon
---
Author:

Total Time:

20 minutes

Yield:

3-4 servings
Description
This delicious, smooth and creamy pasta is loaded with cheese and turkey bacon to yield the ultimate comfort food.
---
2 cups

dry pasta

½ teaspoon

salt

1

and ½ tablespoon olive oil

4

strips of turkey bacon, cut in small slices

2 tablespoons

butter, melted

1 cup

heavy cream

1

clove garlic, pressed

¾ cup

parmigiano reggiano (parmesan cheese), freshly grated

3 tablespoons

asiago cheese, grated (reserve some for garnish)
salt and pepper to taste
---
Instructions
Cook pasta according to package instructions. When boiling the pasta, add salt and 1 tbsp. olive oil to the water.
Heat ½ tbsp. olive oil in a large frying pan over medium heat.
Add the bacon and cook for about 4-5 minutes until they start to get crispy.
Add the butter and cream. Add salt and pepper to taste. Simmer for 5 minutes.
Add the garlic and whisk in the parmesan cheese and asiago cheese, until melted.
Once pasta is cooked and drained, put it back in the pot and heat on low.
Pour in the sauce and mix thoroughly until pasta is evenly coated.
Serve and sprinkle some asiago cheese on top.
Prep Time:

5 mins

Cook Time:

15 mins

Category:

Entree

Cuisine:

Italian